You've got a saucy snap of your food, ready to go onto your Instagram feed or even in a greeting card, but just can't think of a captivating quote? We've got you covered with this 'souper' (sorry, it's a pun!) list of the best food quotes for Instagram, Pinterest, Facebook and more!
Over 400 of the ultimate quotes about food, plus captions or food quotes that you could use on other social media platforms, in a presentation or even as your WhatsApp status!
So, without 'munch' further ado, let's snack on a few sizzling food quotes!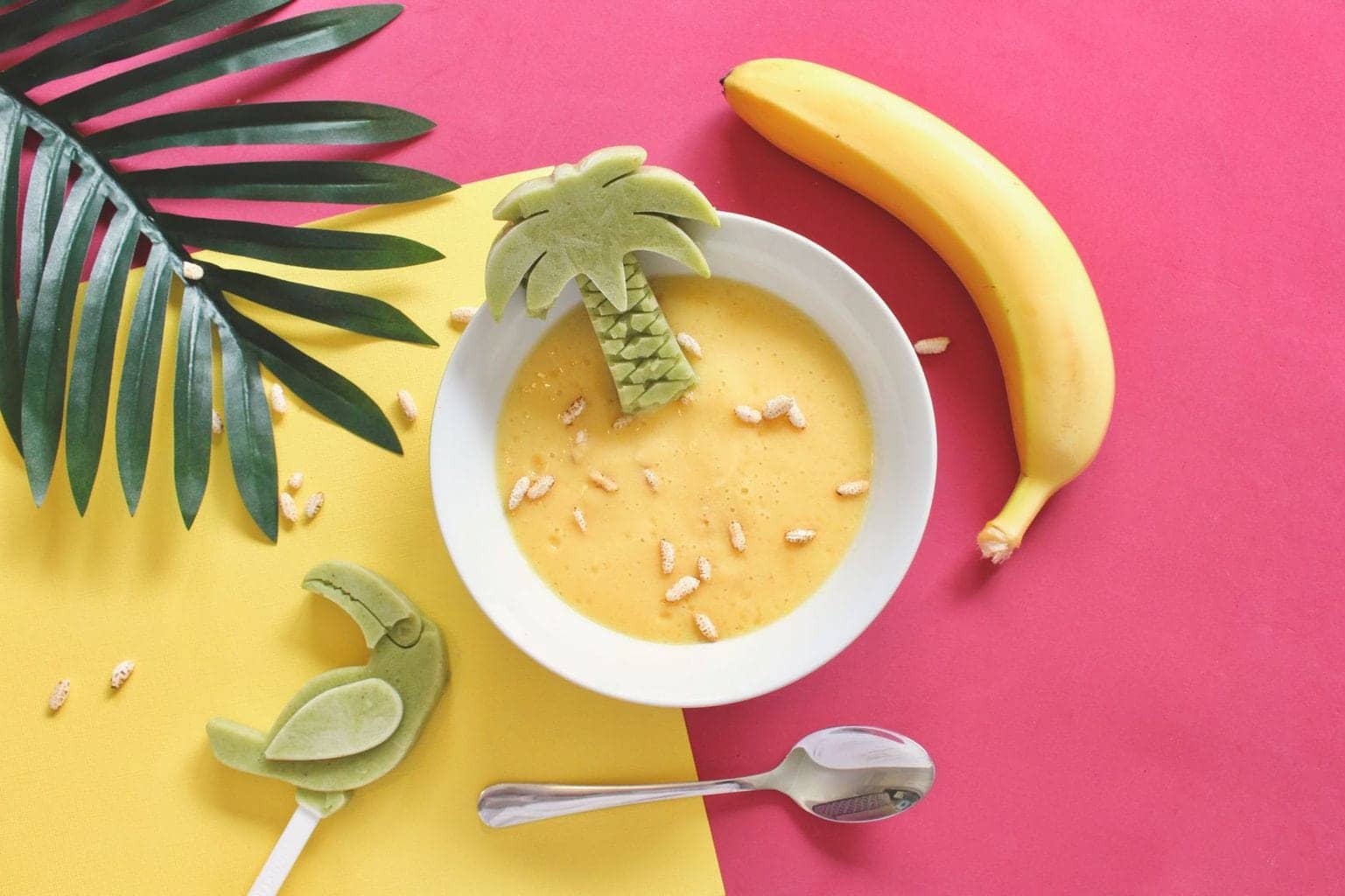 Best food quotes for Instagram
Not keen on reading the entire list and just want the best of the best? Well here are our favourite 10 food quotes for Instagram:
Life is uncertain. Eat dessert first. Ernestine Ulmer
My favourite thing to make for dinner is reservations.
I cook with wine, sometimes I even add it to the food. W. C. Fields
Ice cream is exquisite. What a pity it isn't illegal. Voltaire
If more of us valued food and cheer and song above hoarded gold, it would be a merrier world. J. R. R. Tolkien
Never eat more than you can lift. Miss Piggy
People who love to eat are always the best people. Julia Child
There is no love sincerer than the love of food. George Bernard Shaw
You don't need a silver fork to eat good food. Paul Prudhomme
When a man's stomach is full it makes no difference whether he is rich or poor. Euripides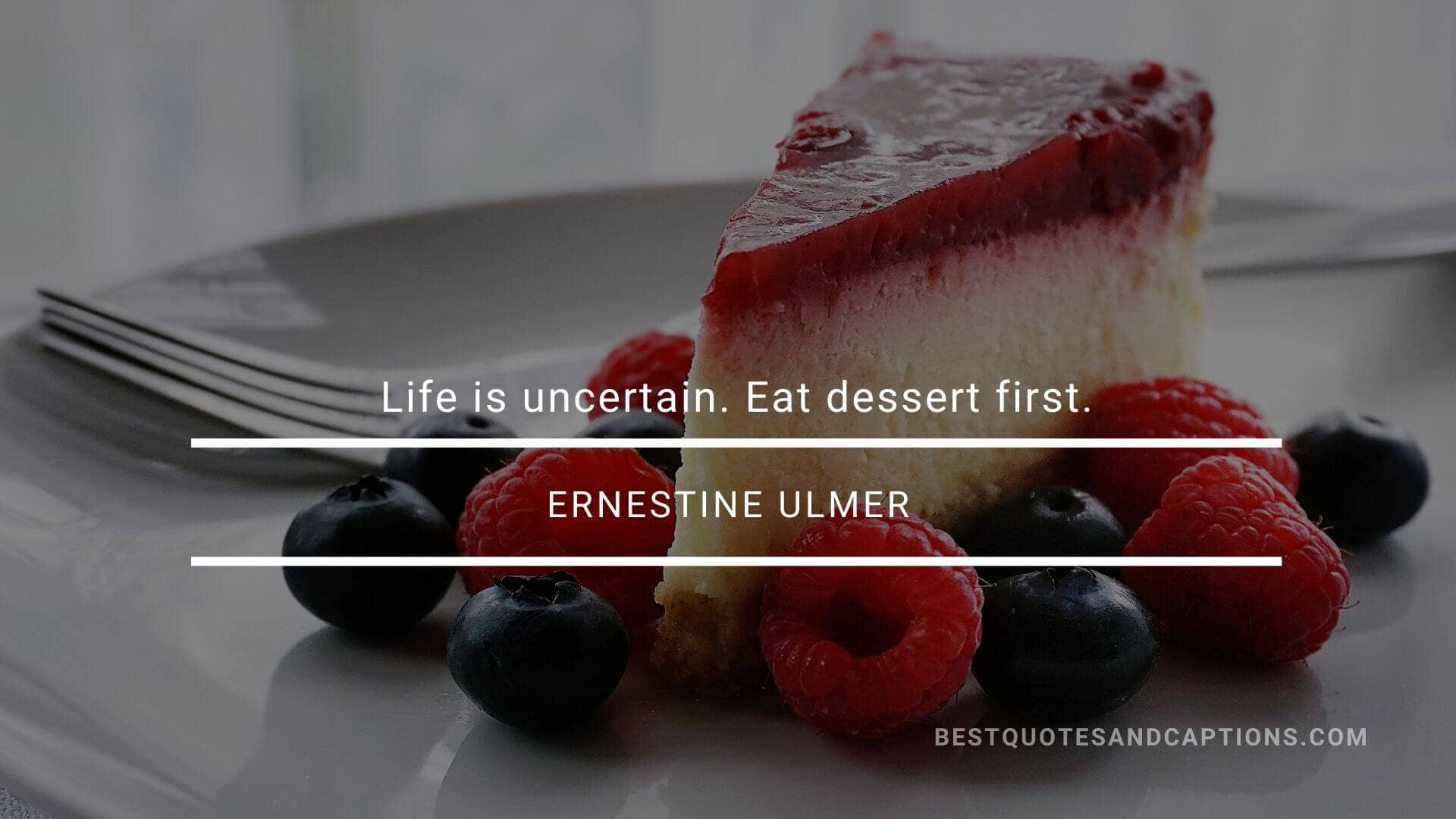 Famous Food Quotes
You've probably landed on this article since you want the best ever food quotes and food sayings. So, we've gone ahead and collected all the most famous ones in this cracking list below:
All happiness depends on a leisurely breakfast. John Gunther
An onion can make people cry, but there has never been a vegetable invented to make them laugh. Will Rogers
Eat breakfast like a king, lunch like a prince, and dinner like a pauper. Adelle Davis
Eating is always a decision, nobody forces your hand to pick up food and put it into your mouth. Albert Ellis
First we eat, then we do everything else. M.F.K. Fisher
Food brings people together on many different levels. It's nourishment of the soul and body; it's truly love. Giada De Laurentiis
Food is everything we are. It's an extension of nationalist feeling, ethnic feeling, your personal history, your province, your region, your tribe, your grandma. It's inseparable from those from the get-go. Anthony Bourdain
Food is our common ground, a universal experience. James Beard
Food is symbolic of love when words are inadequate. Alan D Wolfelt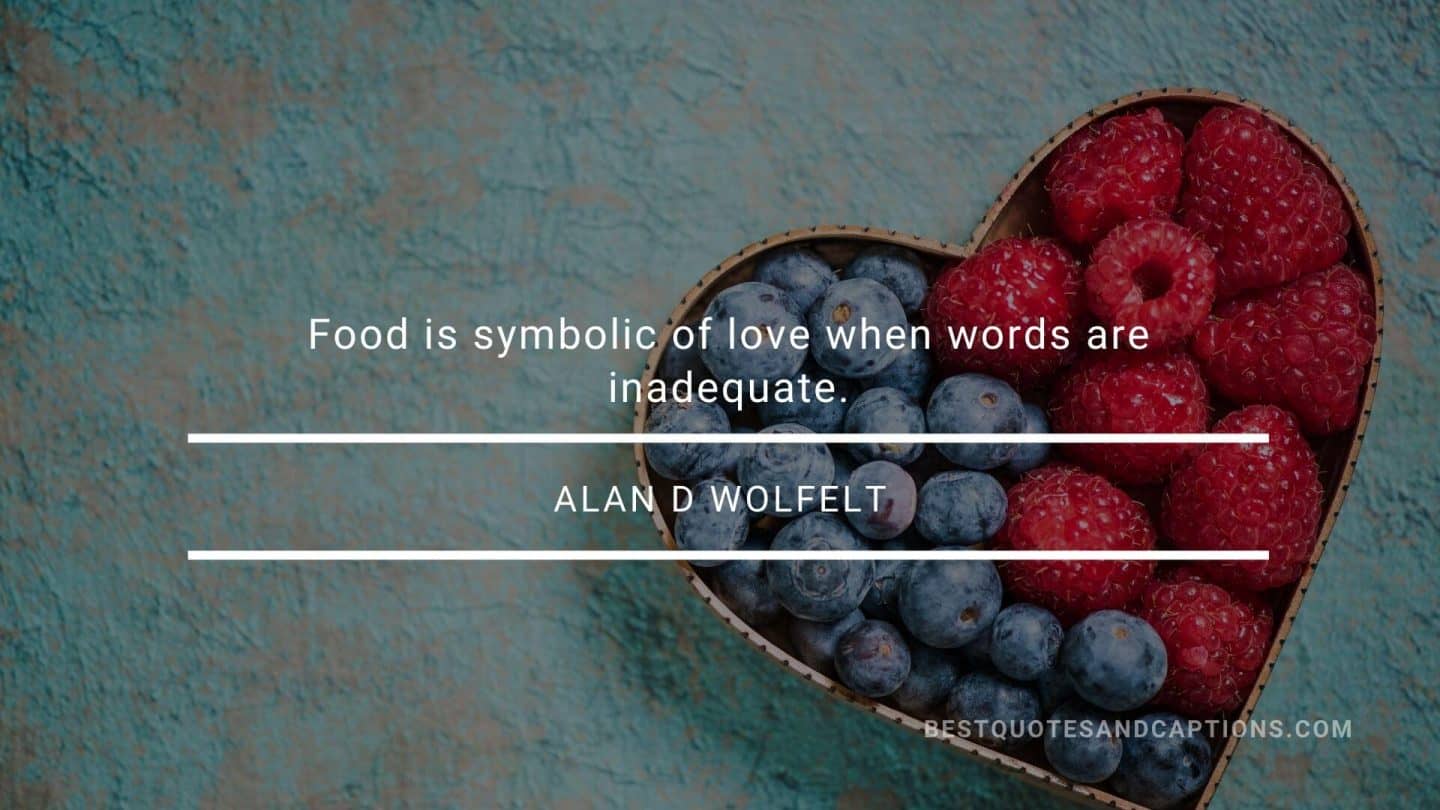 Read next: A definitive list of cool captions and quotes
Food is the most primitive form of comfort. Sheila Graham
He who does not mind his belly, will hardly mind anything else. Samuel Johnson
He who eats alone chokes alone. Arabian Proverb
I have made a lot of mistakes falling in love, and regretted most of them, but never the potatoes that went with them. Nora Ephron
If you really want to make a friend, go to someone's house and eat with him… the people who give you their food give you their heart. Cesar Chavez
Laughter is brightest in the place where the food is. Irish Proverb
Life expectancy would grow by leaps and bounds if green vegetables smelled as good as bacon. Doug Larson
My weaknesses have always been food and men — in that order. Dolly Parton
One cannot think well, love well and sleep well if one has not dined well. Virginia Woolf
Pull up a chair. Take a taste. Come join us. Life is so endlessly delicious. Ruth Reichl
Rice is born in water and must die in wine. Italian Proverb
Tell me what you eat, and I will tell you what you are. Anthelme Brillat-Savarin
The secret of success in life is to eat what you like and let the food fight it out inside. Mark Twain
To eat is to appropriate by destruction. Jean-Paul Sartre
Vegetables are food of the earth, but fruits taste of the heavens. Terri Guillemets
We all eat, an it would be a sad waste of opportunity to eat badly. Anna Thomas
We don't get fat because we overeat; we overeat because we're getting fat. Gary Taubes
You can tell a lot about a fellow's character by his way of eating jellybeans. Ronald Reagan
If soup isn't hot enough to make a grown man wince, it's undrinkable. Terri Guillemets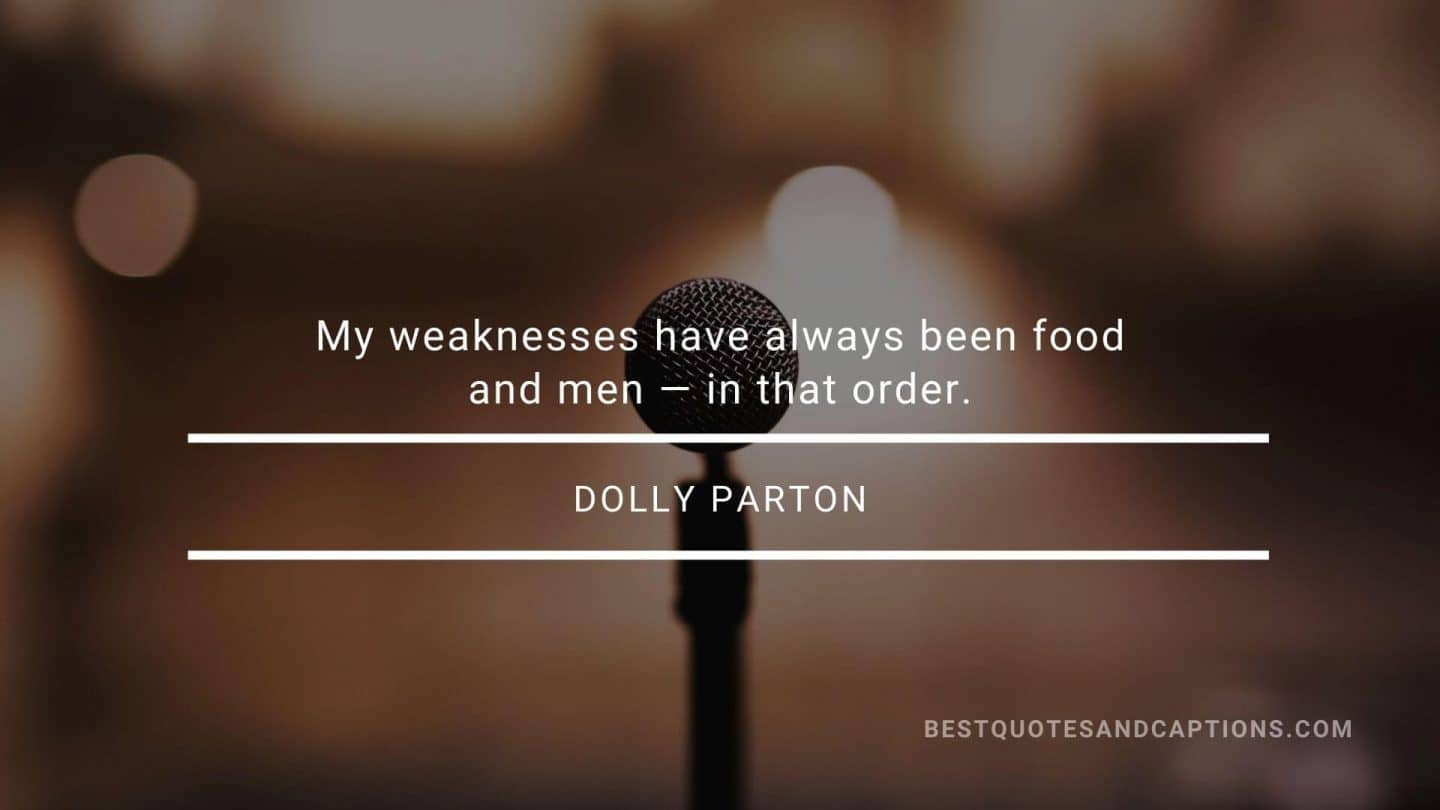 Recommended reading: Food Captions for Instagram
Food Quotes for the Cook
Whether it's time baking the perfect buns or concocting a new recipe, some of the best sayings are cooking quotes. We've gone ahead and found the ultimate options; the best quotes about cooking are below:
A recipe has no soul. You, as the cook, must bring soul to the recipe. Thomas Keller
Cooking is all about people. Food is maybe the only universal thing that really has the power to bring everyone together. No matter what culture, everywhere around the world, people get together to eat. Guy Fieri
Cooking is like love. It should be entered into with abandon or not at all. Harriet Van Horne
Food is art and science. So, you take something out, you have to work with the recipe to make sure that you're providing delicious food with cleaner labels. Denise Morrison
I'm just someone who likes cooking and for whom sharing food is a form of expression. Maya Angelou
In France, cooking is a serious art form and a national sport. Julia Child
My general rule is that if everyone knew how to cook fresh produce from their local area, and Monday to Thursday within 20 minutes, you know, there's millions of recipes out there to be had. Jamie Oliver
Only the pure in heart can make a good soup. Ludwig van Beethoven
There is one thing more exasperating than a wife who can cook and won't, and that's a wife who can't cook and will. Robert Frost
When baking, follow directions. When cooking, go by your own taste. Laiko Bahrs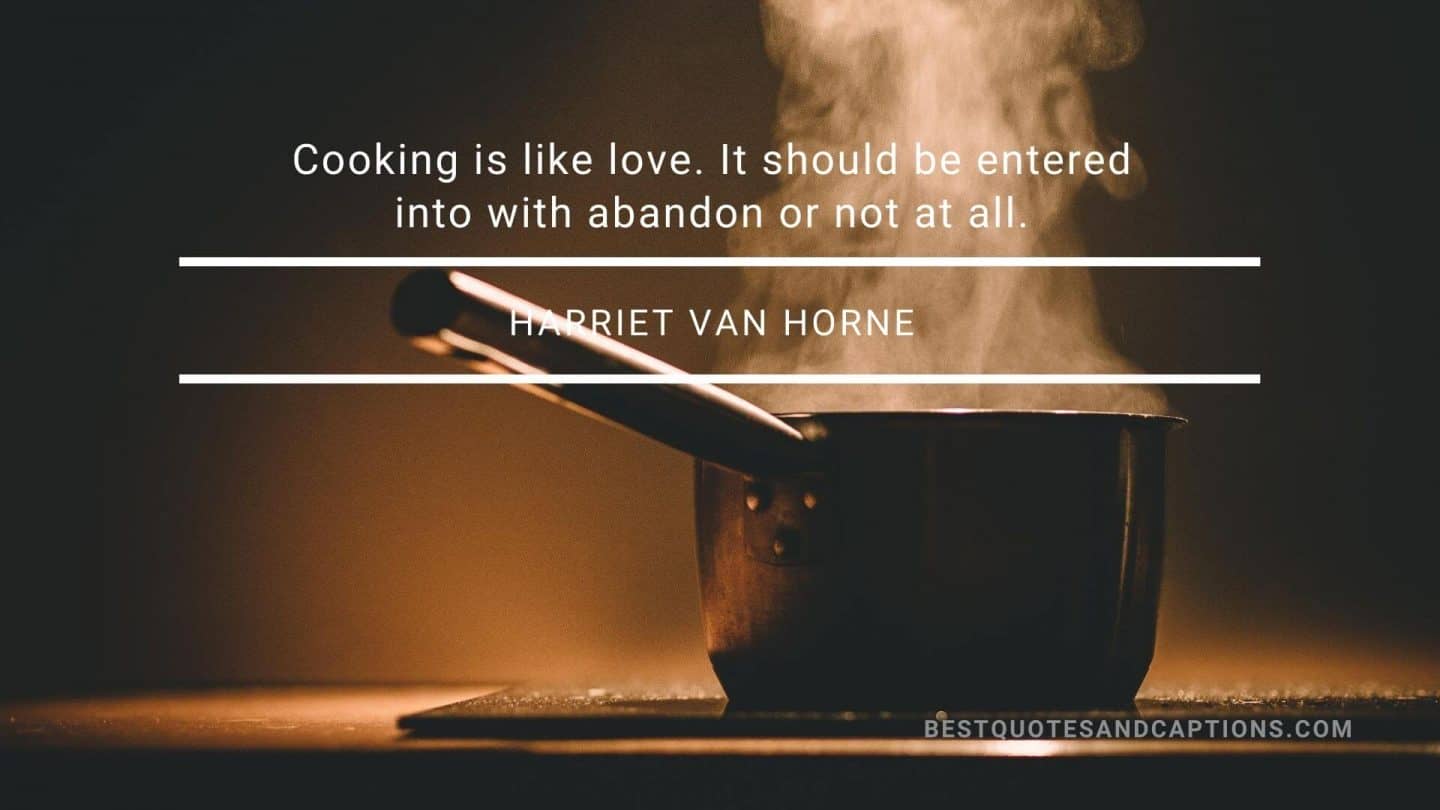 Love for Food Quotes
You're here because you love food, right? Us too. Let's channel that abandon in some of the best love quotes about food below:
All you need is love. But a little chocolate now and then doesn't hurt. Charles M. Schulz
Animals feed; man eats; only a man of wit knows how to eat. Jean Anthelme
Anything is good if it's made of chocolate. Jo Brand
Every time you use the word 'healthy,' you lose. The key is to make yummy, delicious food that happens to be healthy. Marcus Samuelsson
Food is a huge passion of mine, and because I want to eat whatever I want, I run every morning, and then I do weights a few times a week. It's just how I can balance eating pancakes in the morning, a big burger for lunch, and then a fat steak and cheesecake at night. Matt Barr
I get way too much happiness from good food. Elizabeth Olsen
I hate people who are not serious about meals. It is so shallow of them. Oscar Wilde
I like food. I like eating. And I don't want to deprive myself of good food. Sarah Michelle Gellar
I love food. I'm a big food person. I'm really passionate about eating good food all the time. Dreama Walker
I think about food literally all day every day. It's a thing. Taylor Swift
If I have one addiction in life, it's probably food. Liam Hemsworth
Let's face it, a nice creamy chocolate cake does a lot for a lot of people; it does for me. Audrey Hepburn
There ain't no such thing as wrong food. Sean Stewart
To eat is a necessity, but to eat intelligently is an art. François de la Rochefoucauld
You can't just eat good food. You've got to talk about it too. And you've got to talk about it to somebody who understands that kind of food. Kurt Vonnegut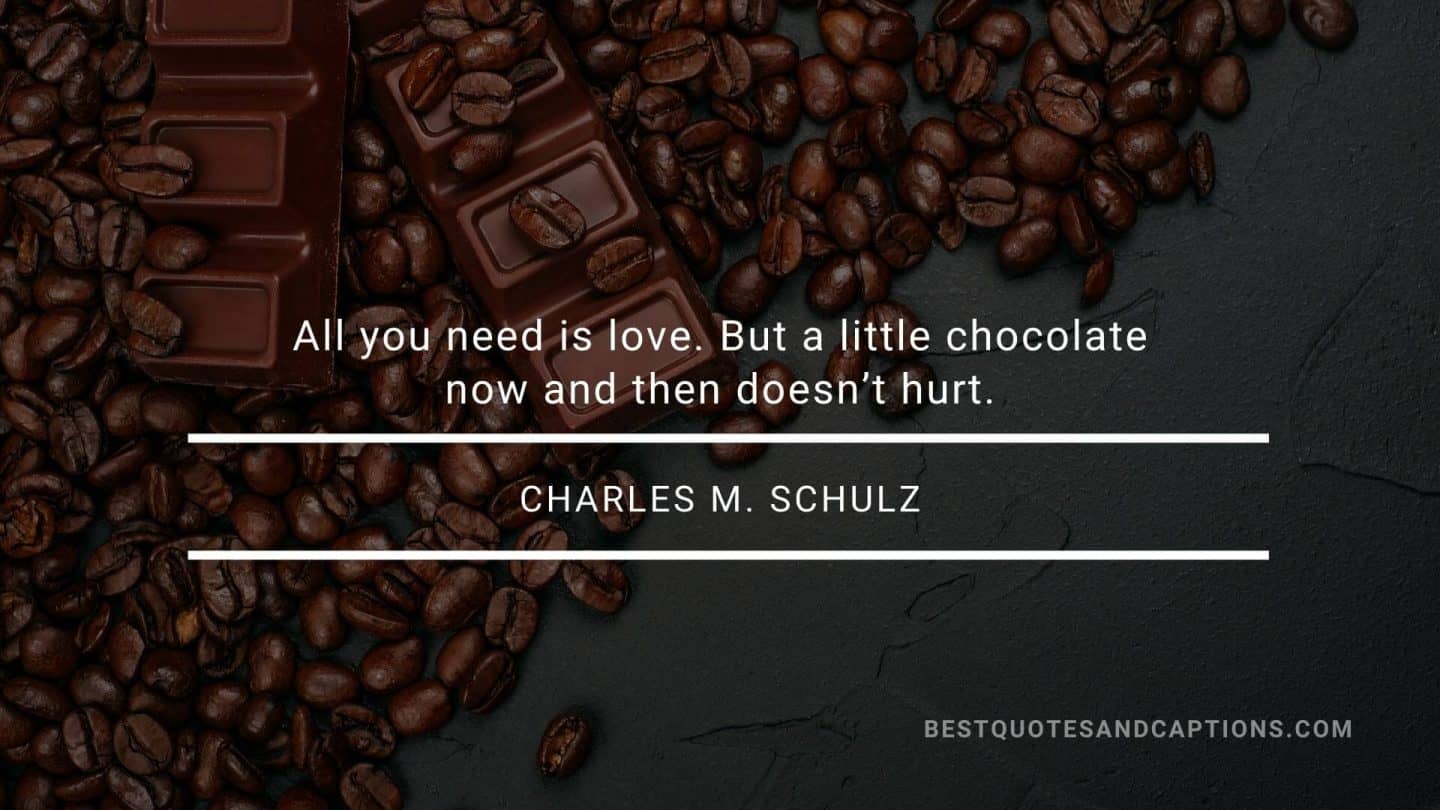 Read next: All the best comforting quotes and captions
Funny Food Quotes
Need something with a little humour to make someone giggle? We like funny food quotes, and here are some of our absolute favourites:
A little chocolate a day keeps the doctor at bay. Marcia Carrington
Always serve too much hot fudge sauce on hot fudge sundaes. It makes people overjoyed and puts them in your debt. Judith Olney
Cakes are healthy too, you just eat a small slice. Mary Berry
Condensed milk is wonderful. I don't see how they can get a cow to sit down on those little cans. Fred Allen
I am a better person when I have less on my plate. Elizabeth Gilbert
I only drink Champagne on two occasions, when I am in love and when I am not. Coco Chanel
If there were only turnips and potatoes in the world, someone would complain that plants grow the wrong way. Georg C. Lichtenberg
I'm pretty sure that eating chocolate keeps wrinkles away because I have never seen a 10 year old with a Hershey bar and crows feet. Amy Neftzger
In wine there is wisdom, in beer there is strength, in water there is bacteria. David Auerbach
It's okay to eat fish because they don't have any feelings. Kurt Cobain
My doctor told me I had to stop throwing intimate dinners for four unless there are three other people. Orson Welles
Popcorn for breakfast! Why not? It's a grain. It's like, like, grits, but with high self-esteem. James Patterson
Seize the moment. Remember all those women on the 'Titanic' who waved off the dessert cart. Erma Bombeck
So long as you have food in your mouth, you have solved all questions for the time being. Franz Kafka
Soup is just a way of screwing you out of a meal. Jay Leno
You might like: The best funny captions for Instagram
The most dangerous food is wedding cake. James Thurber
The secret of success is to eat what you like and let the food fight it out inside. Mark Twain
There are only three things women need in life: food, water, and compliments. Chris Rock
Vegetables are a must on a diet. I suggest carrot cake, zucchini bread and pumpkin pie. Jim Davis
We must have a pie. Stress cannot exist in the presence of a pie. David Mamet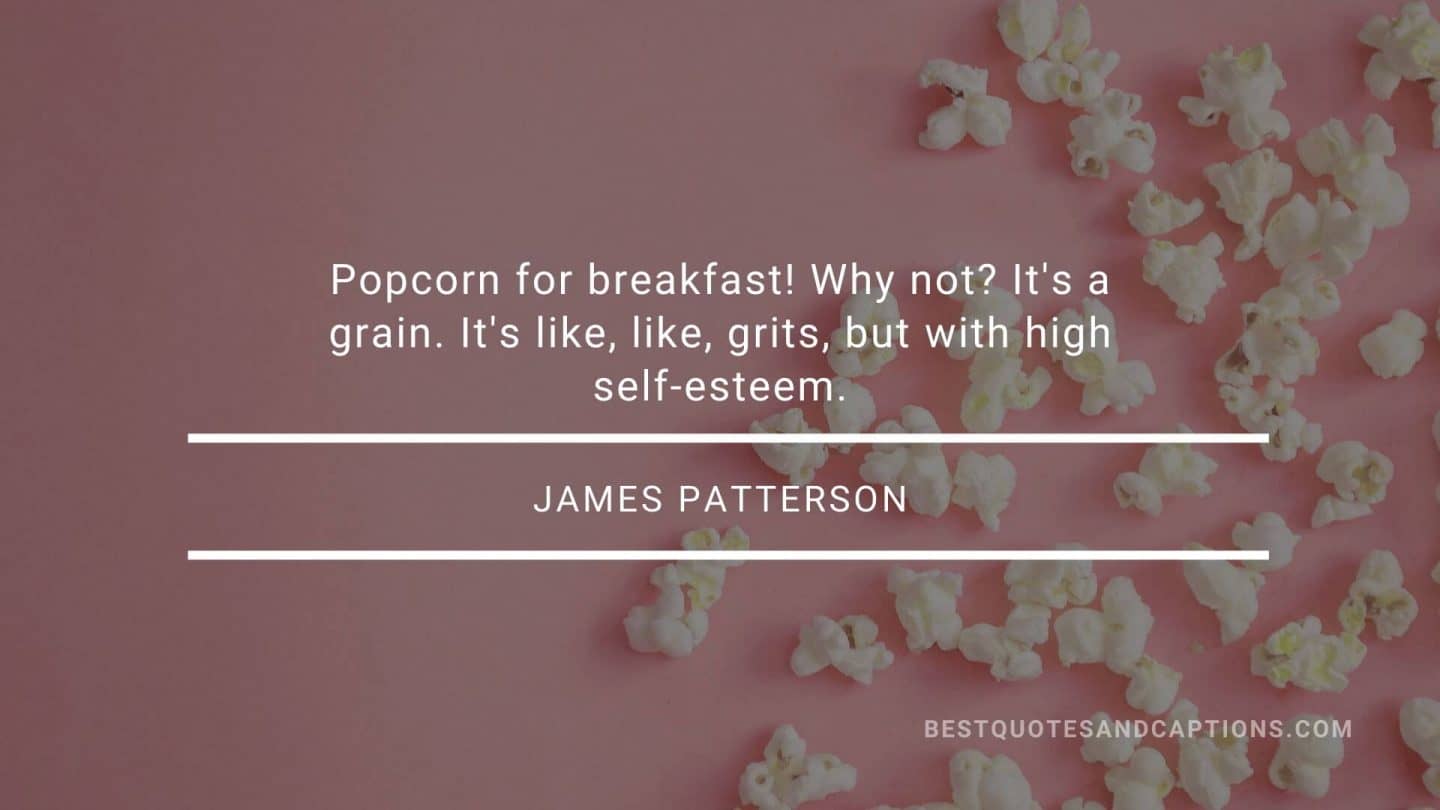 Good sayings about food
It's great to use quotes, since it's often that famous people and celebrities post some really profound things. With that in mind, we've found some of the best food lover quotes for you:
Age and glasses of wine should never be counted. Unknown
Cooking is like love. It should be entered into with abandon or not at all. Harriet Van Horne
Everything you see I owe to spaghetti. Sophia Loren
Food is not rational. Food is culture, habit, craving and identity. Jonathan Safran Foer
Great food is like great sex. The more you have the more you want. Gael Greene
I have made a lot of mistakes falling in love, and regretted most of them, but never the potatoes that went with them. Nora Ephron
Laughter is brightest in the place where the food is. Irish Proverb
My weaknesses have always been food and men — in that order. Dolly Parton
Never eat more than you can lift. Miss Piggy
People want honest, flavourful food, not some show-off meal that takes days to prepare. Ted Allen
People who love to eat are always the best people. Julia Child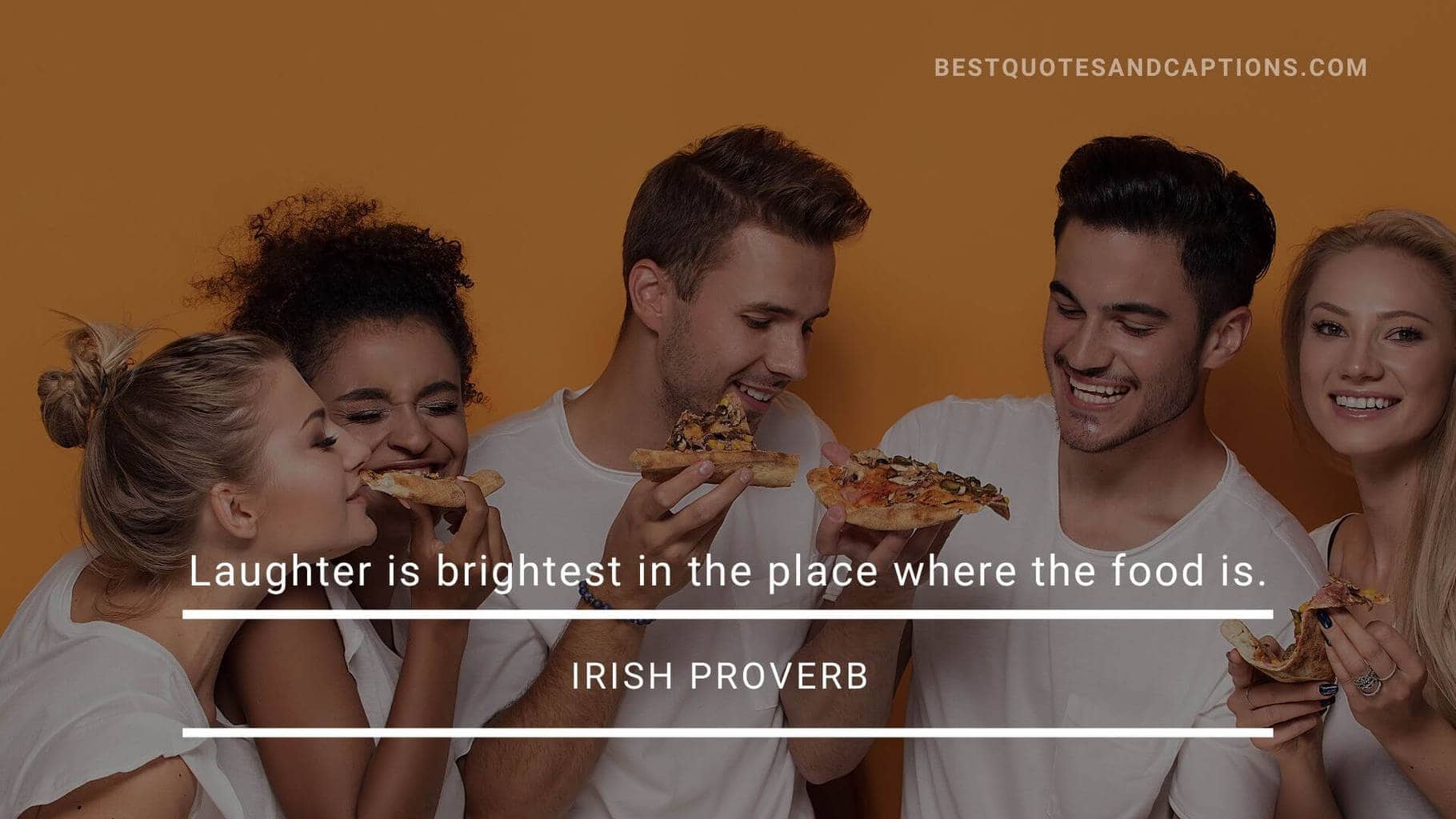 Recommended: Love Hashtags for Instagram
Short food quotes and captions
Want a food quote for Instagram that is short and sweet? It's good to have a short food quote since often people don't like reading long 'novels' when just scrolling their feed. So, we've got our longest list of quotes for food pictures below, all of which are short!
Anything is good if it's made of chocolate.
Calories don't count on the weekend.
Carbs 4 President.
Cheese – milk's leap towards immortality.
Eat less from the box, more from the earth.
Eat, drink and be merry, for tomorrow we may die.
Either I eat all my food or I eat all my food. There is no in between.
Felt cute, might eat later.
First, we eat, then we do everything else.
Food is fuel, not therapy.
Food is really and truly the most effective medicine.
Forget cutting back — food is the best and you know it.
Good food is a good mood.
I am a better person when I have less on my plate.
I cook with wine. Sometimes I even add it to the food.
I get way too much happiness from good food.
I like food. I like eating. And I don't want to deprive myself of good food.
I like rice, rice is great if you're hungry and want 2000 of something.
I think about food all day every day. It's a thing.
I think I was immediately fed, so food became a very important part of my life.
I was always a junk food person, still am.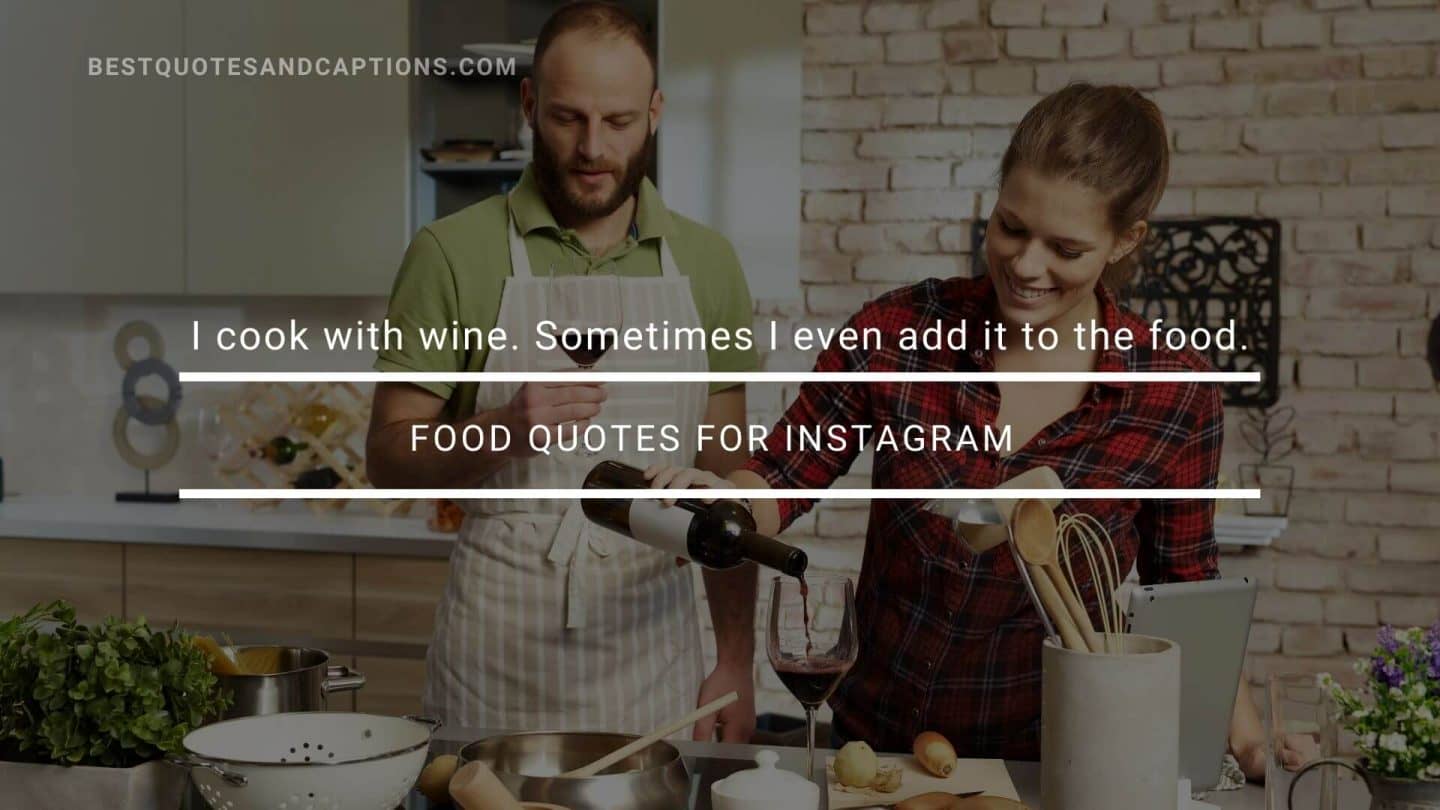 I'm just someone who likes cooking and for whom sharing food is a form of expression.
I'm not like other girls. I know what I want for dinner. I've been thinking about it since lunch.
If I can, I like to be in my pajamas all day and watch movies and eat good food.
If someone else pays, the food tastes much better.
If you are afraid of butter, use cream.
Let food be thy medicine and medicine be thy food.
Looks too good to eat, but I'm gonna do it anyway. Call me a rebel.
Making Martha Stewart proud since the '90s.
My friends tell me that cooking is easy, but it's not easier than not cooking.
Peace. Love. Charcuterie.
Probably the best meat eater in the world.
Shout out to wine for being the most consistent relationship I'll ever have.
Square box, round pizza, triangle slices, now that's confusing.
The food is combustible.
The kitchen is like love. It must be inserted with abandon or not at all.
The only thing better than talking about food is eating it.
The promises and the pie crusts are bound to break.
There is nothing more romantic than Italian food.
Time spent eating this: two minutes. Time spent coming up with this caption: much, much longer.
Ways to my heart: 1. Buy me food 2. Make me food 3. Be food.
When I am eating I am deaf and dumb.
Worth every penny.
You don't need a silver fork to eat good food.
I think they fed me immediately, so food has become a very important part of my life.
I've always been junk food, I still am.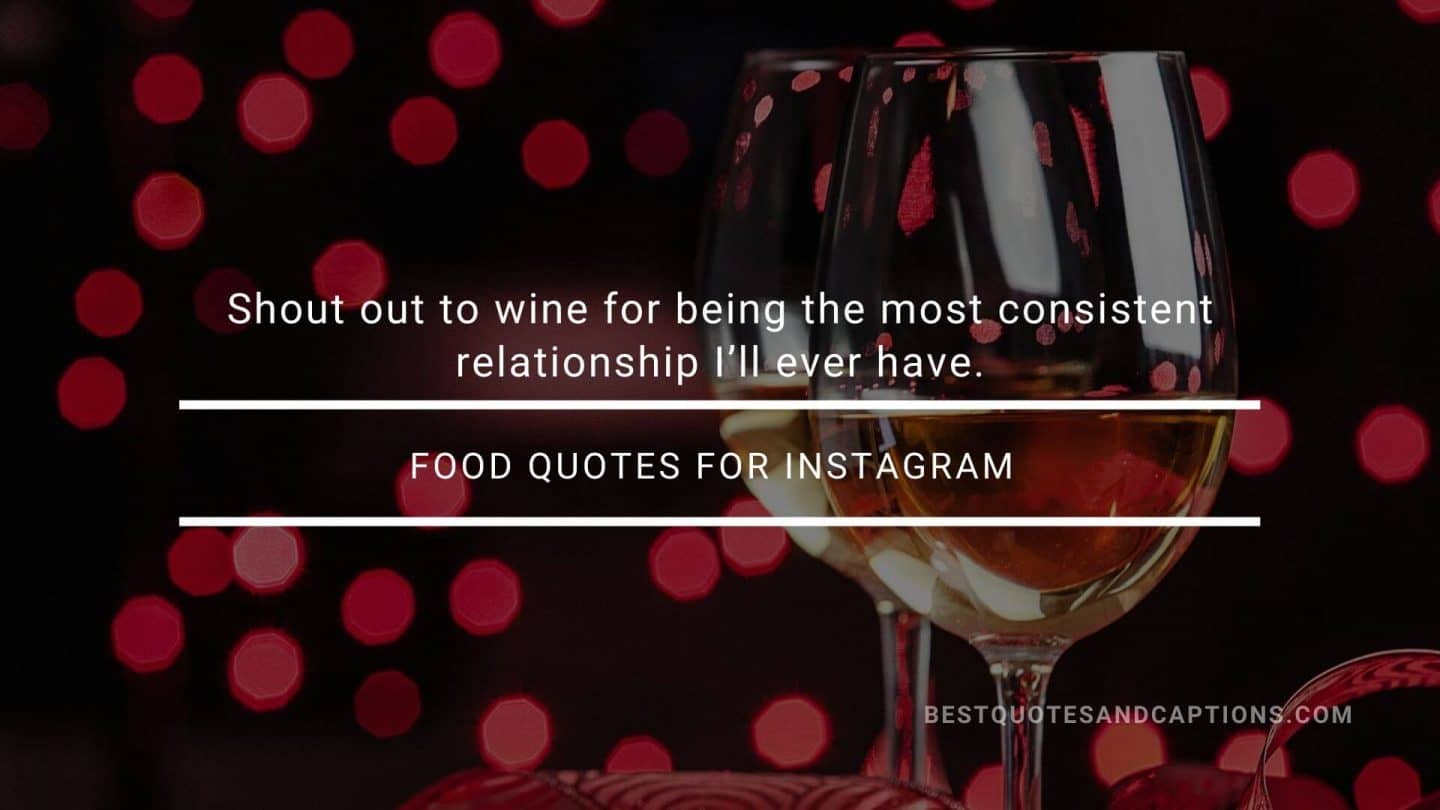 If you're wanting to make a real impact on your Instagram engagement, we'd suggest that you look into Ingramer!

With a full suite of tools, Ingramer acts as an automation partner – essentially the most powerful way to grow your account. It includes hashtag generators, and Instagram Downloader and a Story Viewer that watches other accounts' stories in a bid to attract them to follow you. With advanced targeting filters and an autobot, this is currently the best growth tool on the market.

Sign up here and use SCRIBESMEDIA to save up to 22% on some of the features!
Cool food quotes and snippets
Want even more awesome quotes for your food? Here are some really cool ones that will set your food photo on fire (well, not really – cajun food is not our style):
A balanced diet is a biscuit on each side.
A fancy restaurant is not good at all, if it does not serve my favorite food.
A festival of flavors.
Bliss on a plate.
Drink, drink and be happy because tomorrow we can die.
Follow your taste instructions while baking.
Food is fuel, not cure.
Good friend, good food, good time.
Good food, good life.
I am the one who wants to cook, and the food to share is a form of expression.
I only eat in three places… here, everywhere and everywhere.
I think that I was fed immediately, so food became an essential part of my life.
If you do not eat well, you cannot think well, can love well, sleep well.
My Life: Pizzas and movies!
Our famous [food name].
People do not bring along like good food.
Satisfy your taste.
There is no sincere love than the love of food.
There is no wrong food.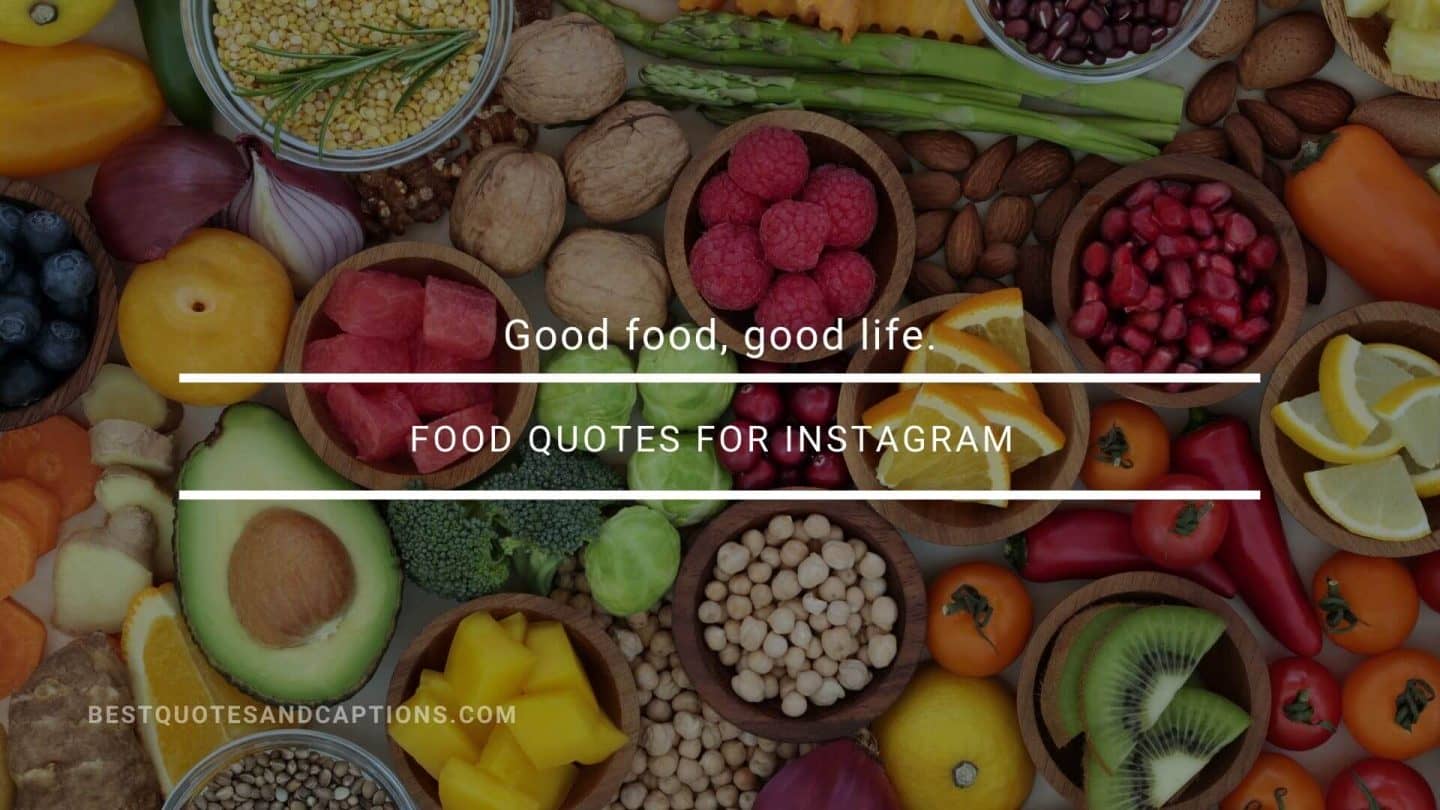 Funny food quotes and captions
Looking for funny captions for food pictures? We love some of these funny food quotes from movies and Instagram below!
All you need is love. But a little chocolate now and then doesn't hurt.
Every time you use the word 'healthy,' you lose. The key is to make yummy, delicious food that happens to be healthy.
Exercise? I thought you said extra fries!
Healthy + delicious.
I don't need a trainer but someone to follow me around and slap the unhealthy foods out of my hand.
If food were free, why work?
Jello from the other sideeeeeee.
Just waiting to find someone who looks at me the way I look at food.
One of life's mysteries is how a two-pound box of candy can make a woman gain five pounds.
So glad for salad.
Thai Thai for now.
The trouble with eating Italian food is that five or six days later, you're hungry again.
Totally guilt-free and healthy.
Why meal prep when you can Postmates?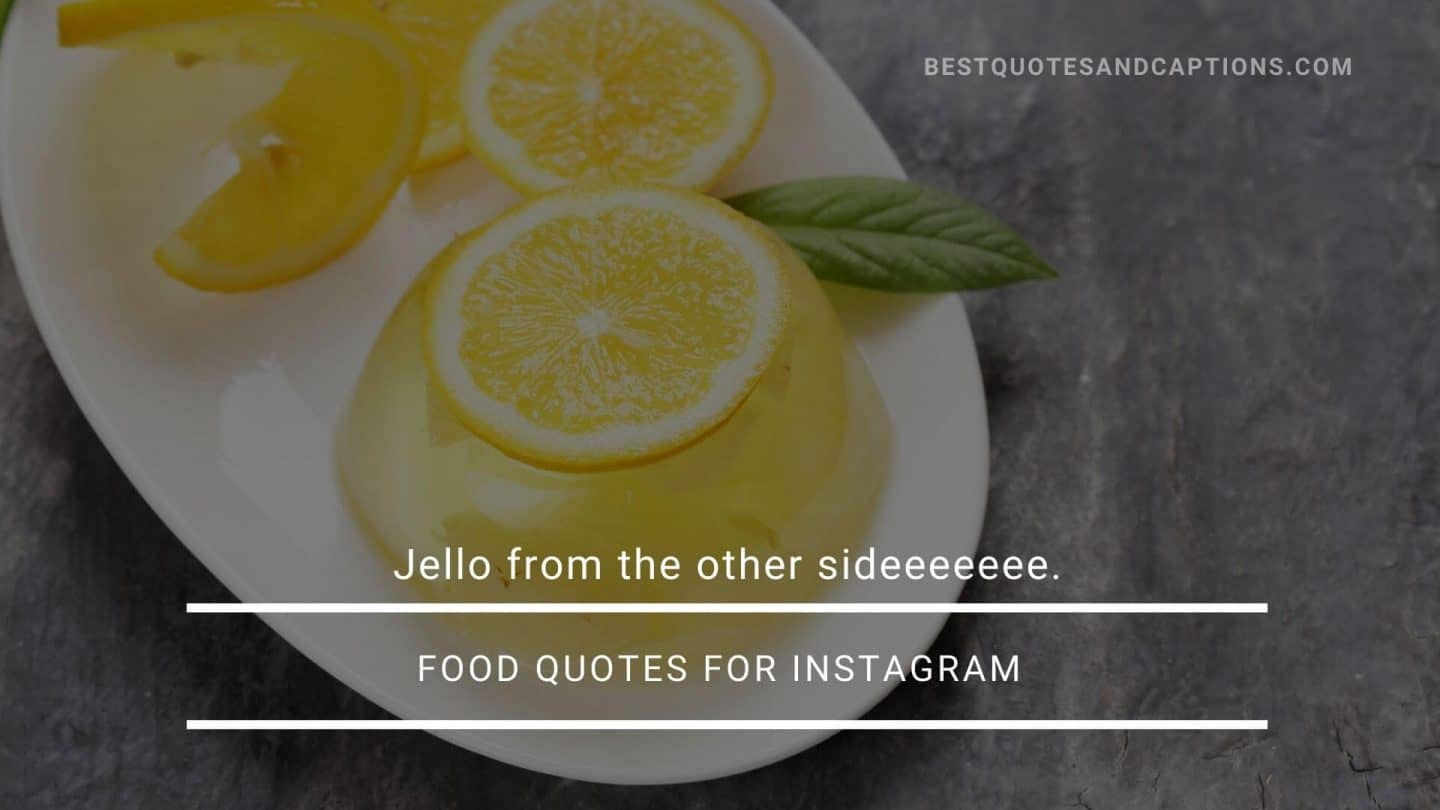 Quotes for food lovers
Want a simple quote for delicious food? Look no further than some of these fantastic sayings, including some compelling cake quotes and interesting food proverbs:
A piece of bread in one's pocket is better than a feather in one's hat.
At the table with good friends and family you do not become old.
Better to have peace of mind than a piece of cake!
Eat whatever you want, and if someone tries to lecture you about your weight… Eat them too!
Find someone who looks at you like she's looking at this burger.
Friends buy you food. Best friends eat your food.
I don't eat to live, I live to eat.
I eat cake because it's someone's birthday somewhere today.
I enjoy taking long romantic walks, to the fridge.
I love Instagram because it allows me to maintain a record of my every meal.
Inside me is a thin woman trying to get out… I usually shut the bitch up with chocolate.
Just Eat It.
The only time to eat diet food is while you're waiting for the steak to cook.
There is no love sincerer than the love of food.
To eat is human, to digest, divine.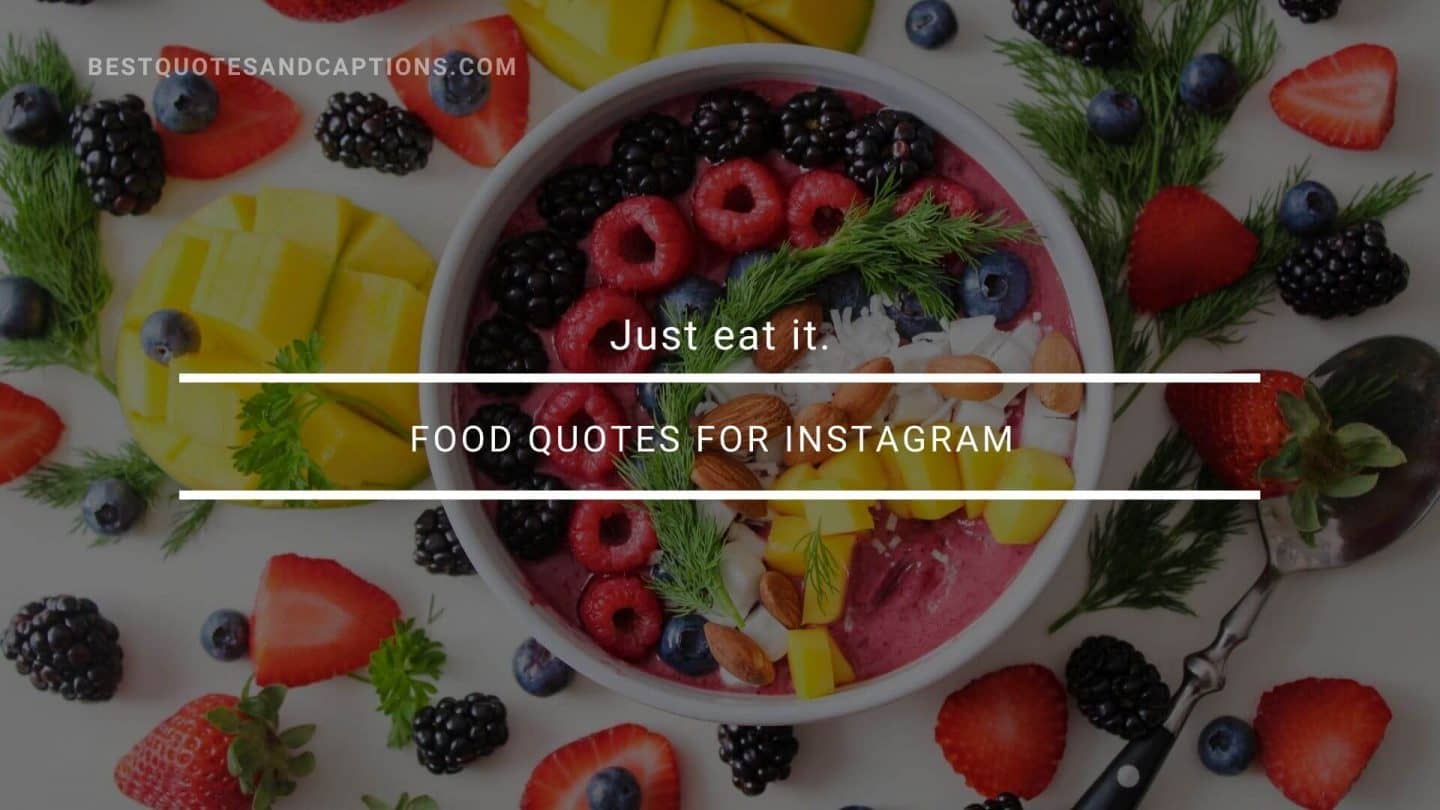 Recommended: The ultimate list of friend hashtags
Best food quotes to capture your mood
Feeling elated at tackling one of your most difficult recipes? Or did you burn those delicious buns you put in the oven? Here are some quotes about good food to reflect your mood:
All day favorite.
All is fair in love and food.
Ambience goals.
Carpe diem.
Evening mood.
Feast mode.
Feeling salty.
Food is fuel.
Food vibes only.
Grateful for this place.
Happy here.
Healthy Food = Happy Food. Happy Food = Happy Body. Happy Body = Happy Mind.
I followed my heart and it led me to the fridge.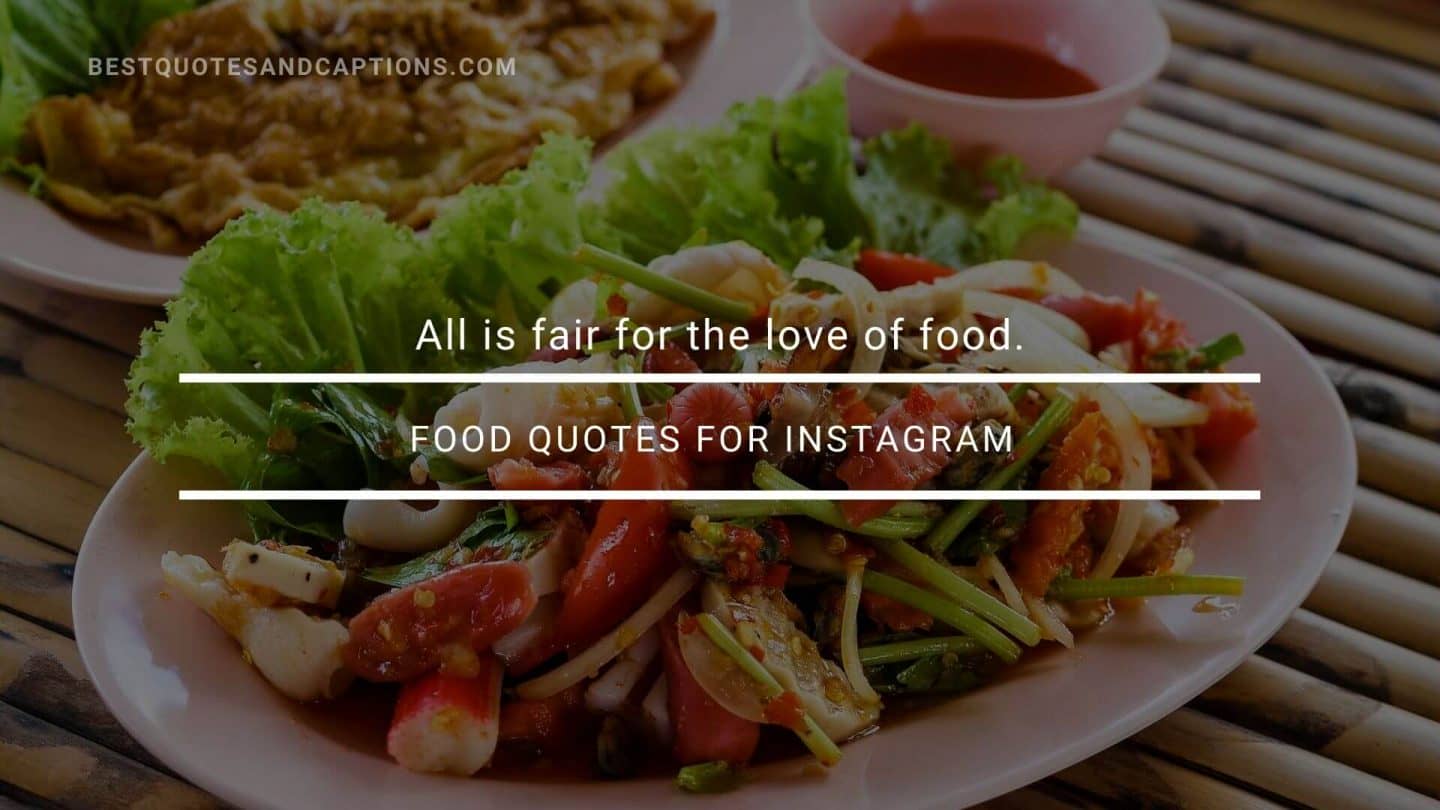 Recommended: Find the perfect sad status for WhatsApp
I only came for the food.
I think about food literally all day every day. It's a thing.
I'm sorry for what I said when I was hungry.
Love it here.
Morning mood.
My food pics bring all the boys to the yard, and I'm like, "No, I will absolutely not share with you."
No words needed.
OMW to steal your [food item].
Posting this because I wish it was in my mouth.
Take a seat, grab a treat.
What I think about during spin class:
Work hard, eat hard.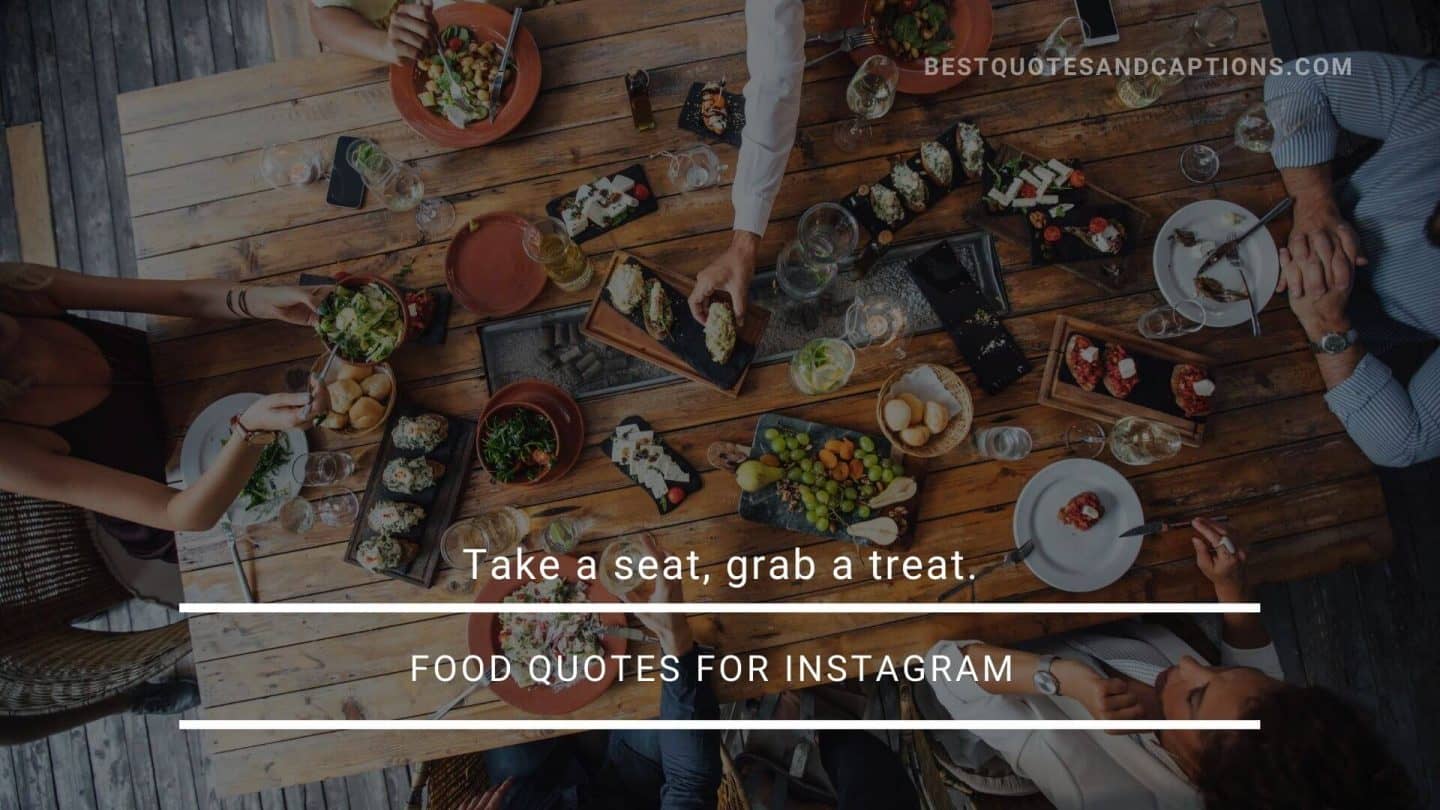 Related: The best happy status for WhatsApp
Dieting quotes
Sometimes loving food so much means the inevitable – eating less of it and going on a diet! We had to add some dieting captions to this list, including some healthy food quotes that got us giggling!
A balanced diet is a cookie in each hand.
A balanced diet means a cupcake in each hand.
A diet is just code for a time when you eat food you dislike and still feel hungry.
Daily protein fix.
Dear Diet, things just aren't going to work out between us. It's not me, it's you. You are tasteless, boring and I can't stop cheating on you.
Diet rule #1: If nobody sees you eating it, it doesn't contain any calories.
He who takes medicine and neglects to diet wastes the skill of his doctors.
I do not need a coach but someone who follows me and gives me a slap in unhealthy foods.
I'm on the Gin and Tonic diet… So far I have lost 2 days.
It's called balance.
It's called DIET because all the other 4-letter words were taken.
It's not a cheat day, it's a cheat lifestyle.
My diet for today: 1% food, 99% Halloween candy.
My diet plan: Make all of my friend's cupcakes; the fatter they get, the thinner I look.
The food is as good as the S-E-X. The more you have more desires.
The second day of a diet is always easier than the first. By the second day, you're off it.
Waiting for the movie to start eating your popcorn, the hardest thing in the world.
You can do a lot for your diet by eliminating foods that have mascots.
You had me at "let's split an order of French fries."
Your diet is a bank account. Good food choices are good investments.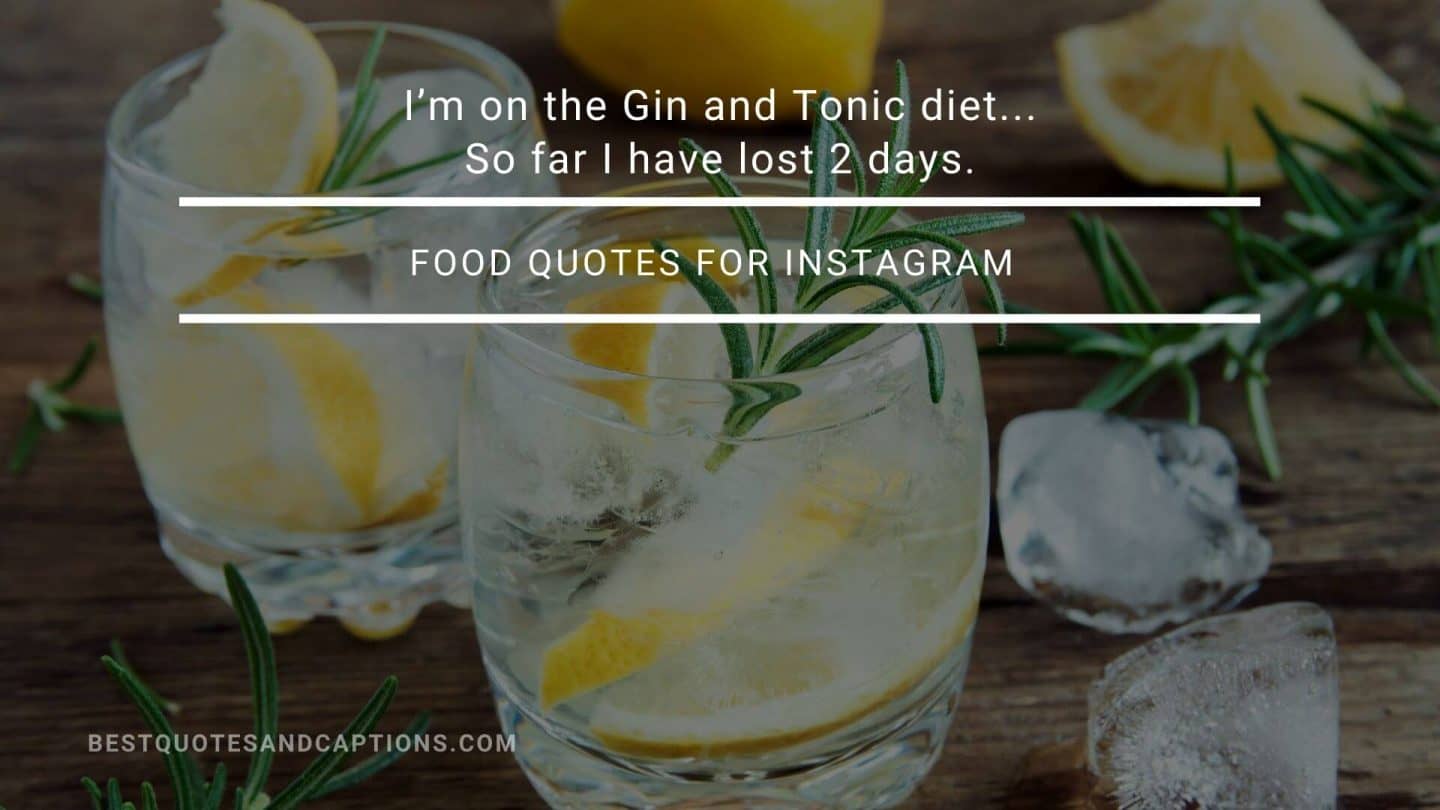 Read next: The best fitness and dieting hashtags
Burger quotes and captions
For some reason burgers really make people go crazy when it comes to captions – juicy patties paired with toasted buns and iceberg lettuce? You've got us drooling already! Here are a few bold burger quotes for Instagram:
Bacon — it's like meat candy.
Burger + bacon = perfect combo.
Every day is burger day.
Friends with burger-fits.
Heaven between two buns.
I only have eyes for burgers and fries.
If you put an egg on a burger, you've got breakfast.
Is it a food baby? nah, just a burger
It's a messy bun kind of day.
Just like Carrie Bradshaw, I love a good Burger.
Let's meat up…
Life is too short for a well-done burger.
Living that burger life.
Meat or veggie, all burgers are beautiful.
Nice buns.
Perfect burgers, perfect date.
Stop. Burger time.
The best burgers are like life — messy and topped with bacon.
The only bad burger is the one you didn't eat.
This burger has too much cheese, said no one ever.
We followed our hearts and it led us to burgers.
We go together like a burger and fries.
Who's the burger boss?
Wind in my hair, smell of fries in the air.
Yeah, i lift…this burger to my mouth.
You are the bacon to my cheeseburger.
Recommended: Full list of the best burger captions for Instagram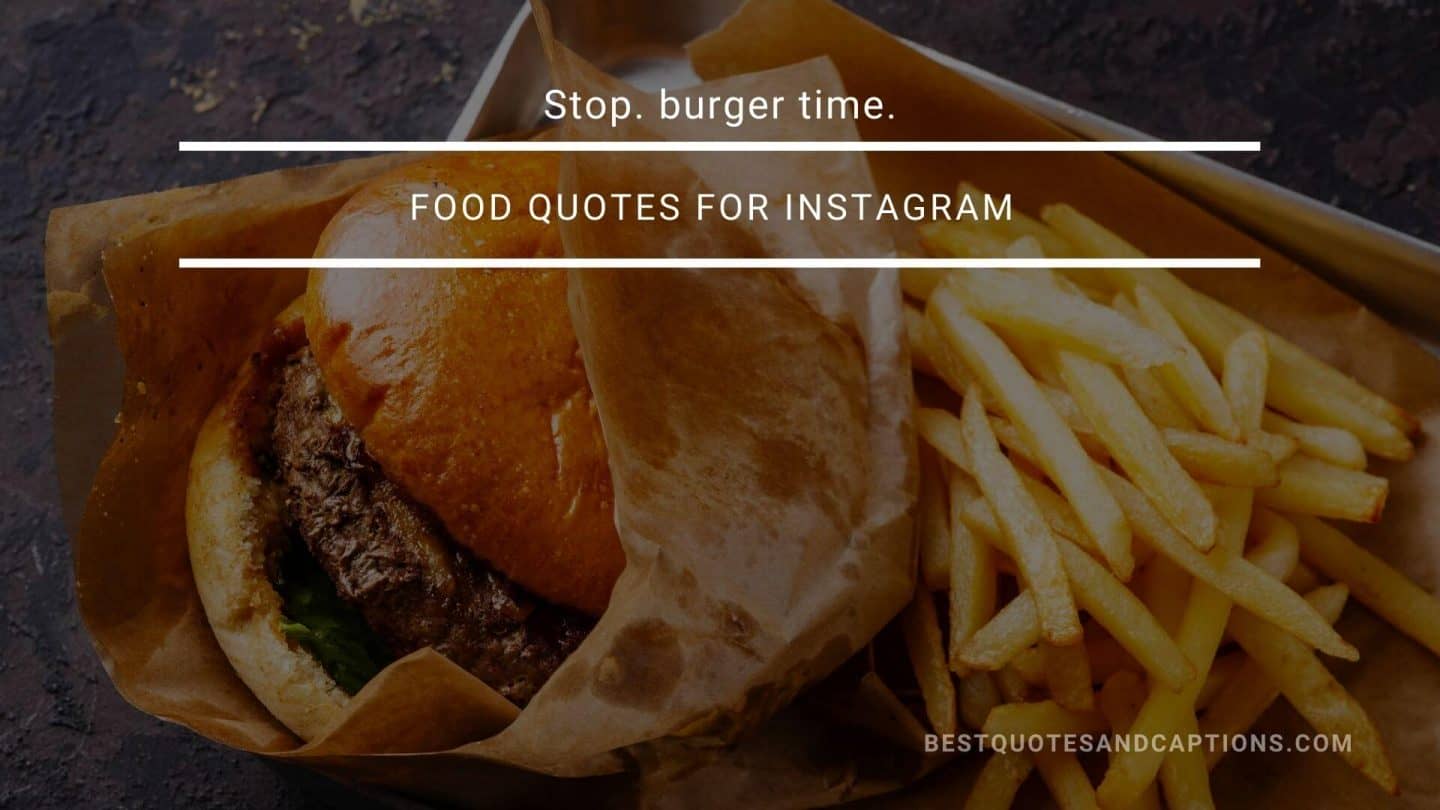 Burrito quotes and captions
A balanced diet is a burrito in each hand.
A burrito bowl is basically a salad.
A burrito's beauty is more than skin-deep.
Bae-ritto.
Beans and rice and everything nice.
Black beans or pinto beans? Yes.
Burrito baby.
Burritos are our business. Chimichangas are burritos' final form.
Dip into perfection.
Don't be hangry. Eat a burrito.
Don't be scared, it's just a boo-rito.
Eat more burritos.
Every now and then I fall apart.
Extra cheese please.
Friends don't let friends eat boring burritos.
I hope there are burritos in heaven.
I used to think the perfect food didn't exist. Then i had a burrito…
I'm just a girl, standing in front of a salad, asking it to be a burrito.
If eating burritos is a sport, I'm a world-class athlete.
in a relationship with this burrito.
It's burrito o'clock.
Life is burritoful.
Livin' la vida burrito.
Our burritos are mex-cellent.
Powered by burritos.
Put a burrito in your belly.Rice and beans — a match made in heaven.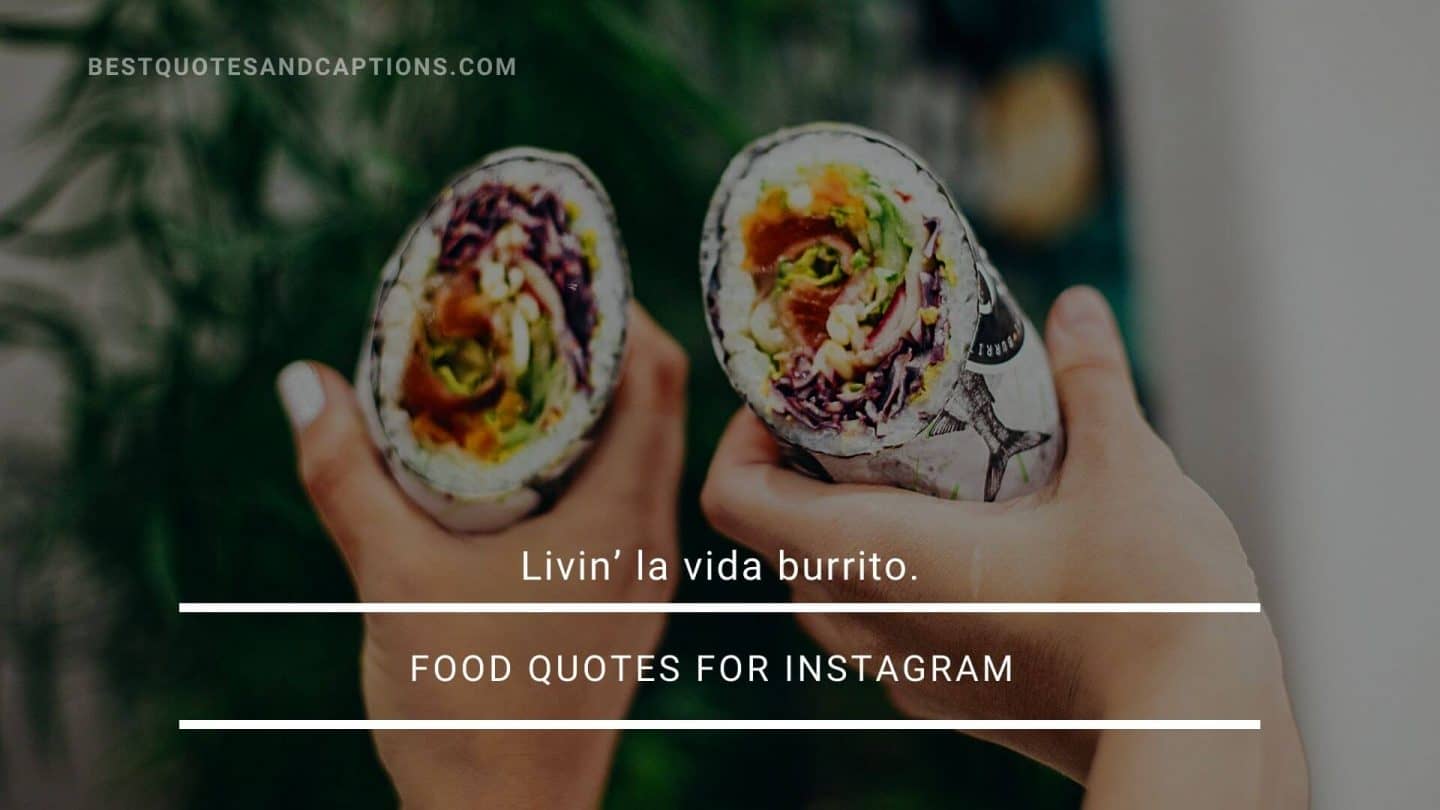 Pizza quotes and sayings
Whether you need these food quotes for Facebook or just want to wax lyrical about your perfect pizza pie, we've collected some of the best pizza quotes for Instagram below:
A pizza on your plate is a smile on your face.
A pizza's worth a thousand words.
Another one bites the crust.
Any time is a good time for pizza.
Crust me.
Do you want a pizza me?
Don't listen to people who tell you you can't eat a whole pizza, you don't need that kind of negativity in your life.
Gettin' cheesy.
Going shopping for some toppings.
Hangin with my home slice.
Have your pizza and eat it too.
I love pizza I want to marry him, but he would only eat his family at the wedding.
I pepper-only have eyes for you.
I want all of you, forever, you and me every day.
I'm into fitness — fitness whole pizza in my mouth.
If at first you don't succeed, order pizza.
In crust we trust.
Pizza wishes and breadstick dreams.
Promises and pie crust and made to be broken.
Save the planet, there's pizza here.
Say "cheese".
There's no better feeling in the world than a warm pizza box on your lap.
You had me at pizza.
You wanna pizza me?
Read next: Ultimate list of pizza captions for Instagram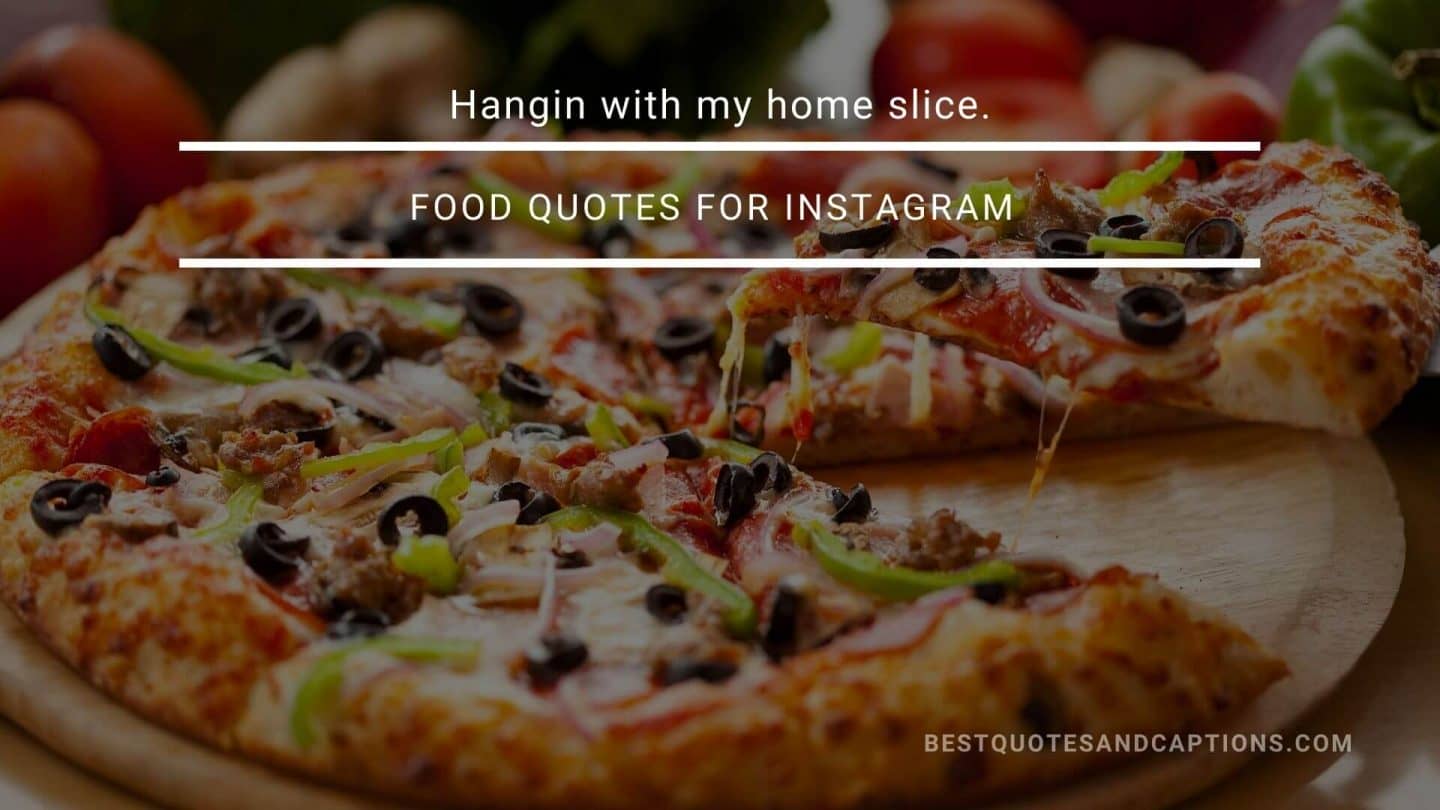 Pasta quotes – the best quotes about ramen, noodles and more
Whether it's a steaming bowl of slurpy rice noodles or a plate of penne, pasta is one of those meals that is so comforting although sometimes difficult to photograph! If you have taken a great snap, pair it with one of these awesome pasta quotes for Instagram:
A pastastic experience.
A penne for your thoughts?
Bite into the cheesier side of life.
Carbe diem.
Cravin ramen.
Don't be upsetti, eat spaghetti.
Everything you see I owe to spaghetti.
Holy macaroni.
How ramen-tic
Legalize marinara.
Mac and cheese please.
Noodle pull game strong.
Pasta la vista!
Penne for your thoughts?
Return of the MAC.
Send noods.
Started from Top Ramen, now we here.
The ultimate comfort food.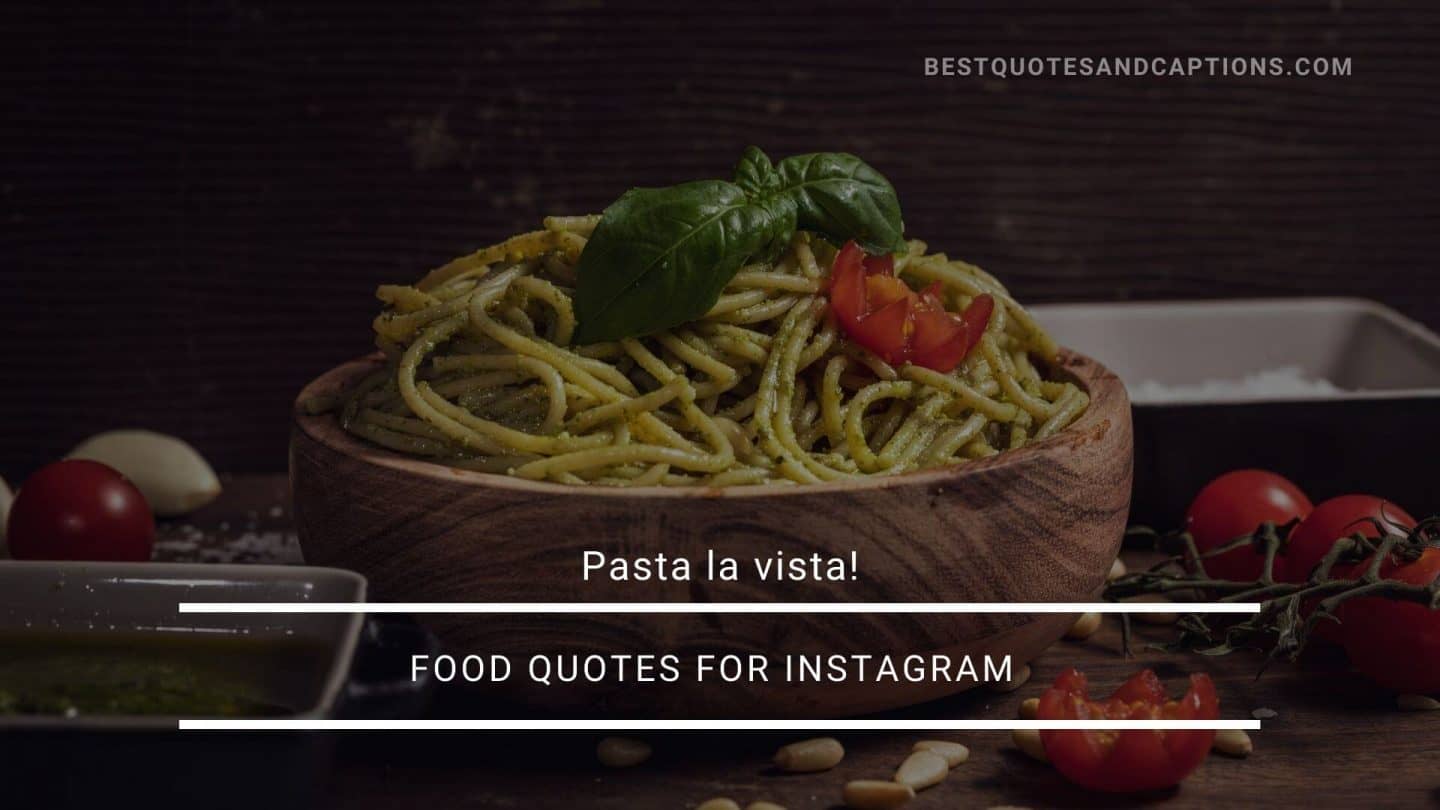 Sushi quotes and sayings
If there is one food we could live on, its sushi so we are pretty passionate about finding fantastic sushi quotes. Below are some of the best:
A party without sushi is just a meeting.
Can't wait sushi you.
Catch of the day.
Don't miso sushi night.
Don't take my tako.
Feast your eyes on this sushi.
Holy mackerel.
Holy roller.
It's not a date without sushi.
It's sushi o'clock.
Let's go sailing on the sushi boat.
Let's rock this roll.
Looking for love in eel the right places.
Want more? Check out all the sushi captions for Instagram here
Make every day sushi day.
Never far from the sushi bar.
No more mr. rice guy.
Rock & roll.
Roe, roe, roe your sushi boat.
Shrimply the best.
So much sushi, so little time.
Sushi — the best food in the tunaverse.
Sushi and wasabi — better together.
Sushi makes miso happy.
Sushi rainbow.
Sushi-addicts welcome.
Sushi, because it's cheaper than therapy.
There is an I in "sushi", so get your own.
There's always room for more sushi.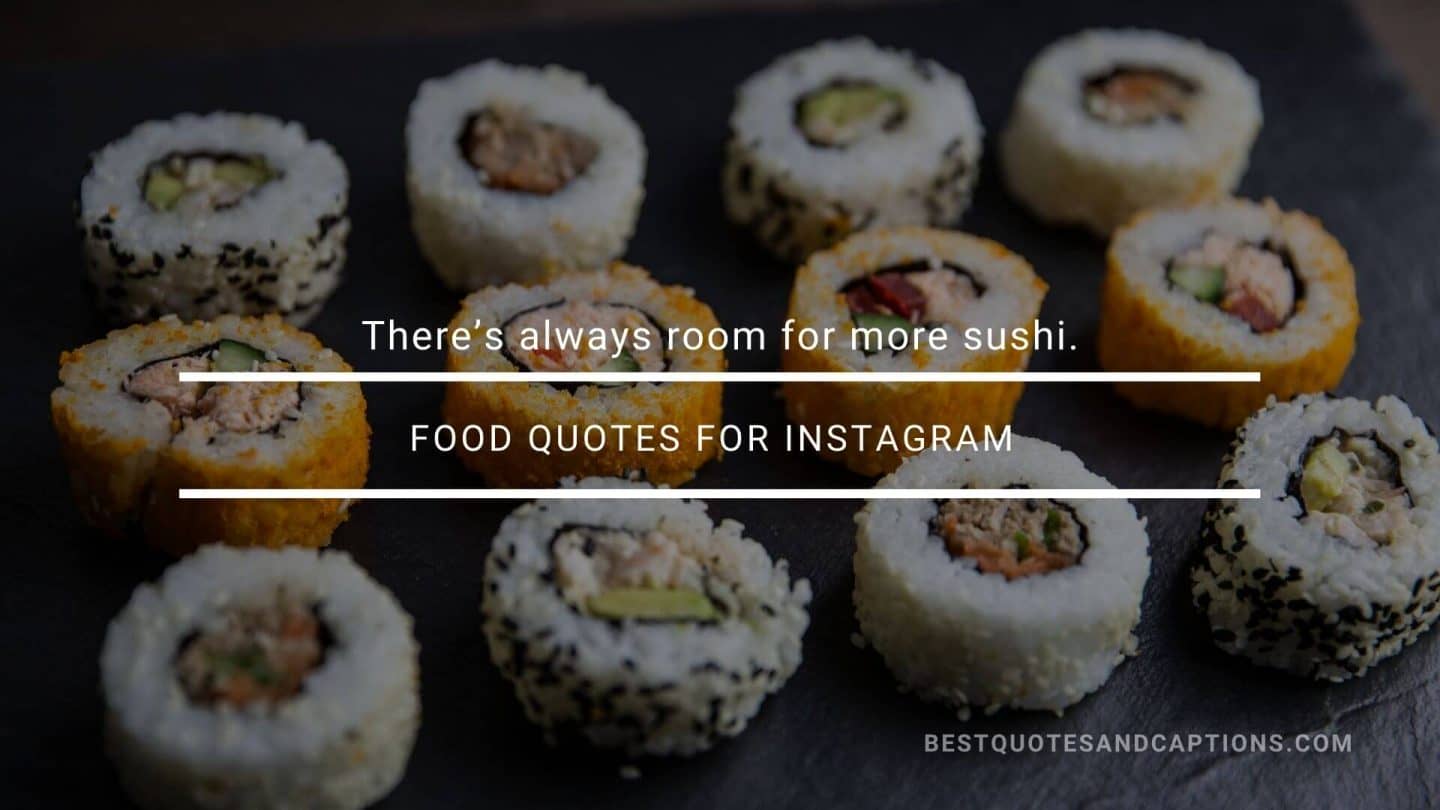 Taco quotes and captions
It's taco time! To celebrate your taco picture for Instagram, we found some amazing quotes for you:
A flavorful shell-ebration.
Best Disney princess? Taco belle.
Craving carnitas.
Eat tacos, take naps.
Every day is taco day.
Forget the flowers, buy her tacos.
Have your guac and eat it too.
How to turn me on with just one word… tacos.
I believe in love at first sight. after all, I've seen tacos.
I can't make everyone happy. I'm not a taco.
If you don't like tacos, I'm nacho type
In case of taco emergency, call 9 Juan Juan.
It's beginning to look a lot like tacos.
Life without tacos is no life at all.
Live every day like taco Tuesday.
My head says gym but my heart says tacos.
Name three better words than "we're having tacos".
Peace, love, & tacos.
specTACOlar.
Stressed, blessed, and taco-obsessed.
Swimsuit season is just around the corner, but so is the taco truck.
Taco chance on us.
Read next: Guide to taco captions for Instagram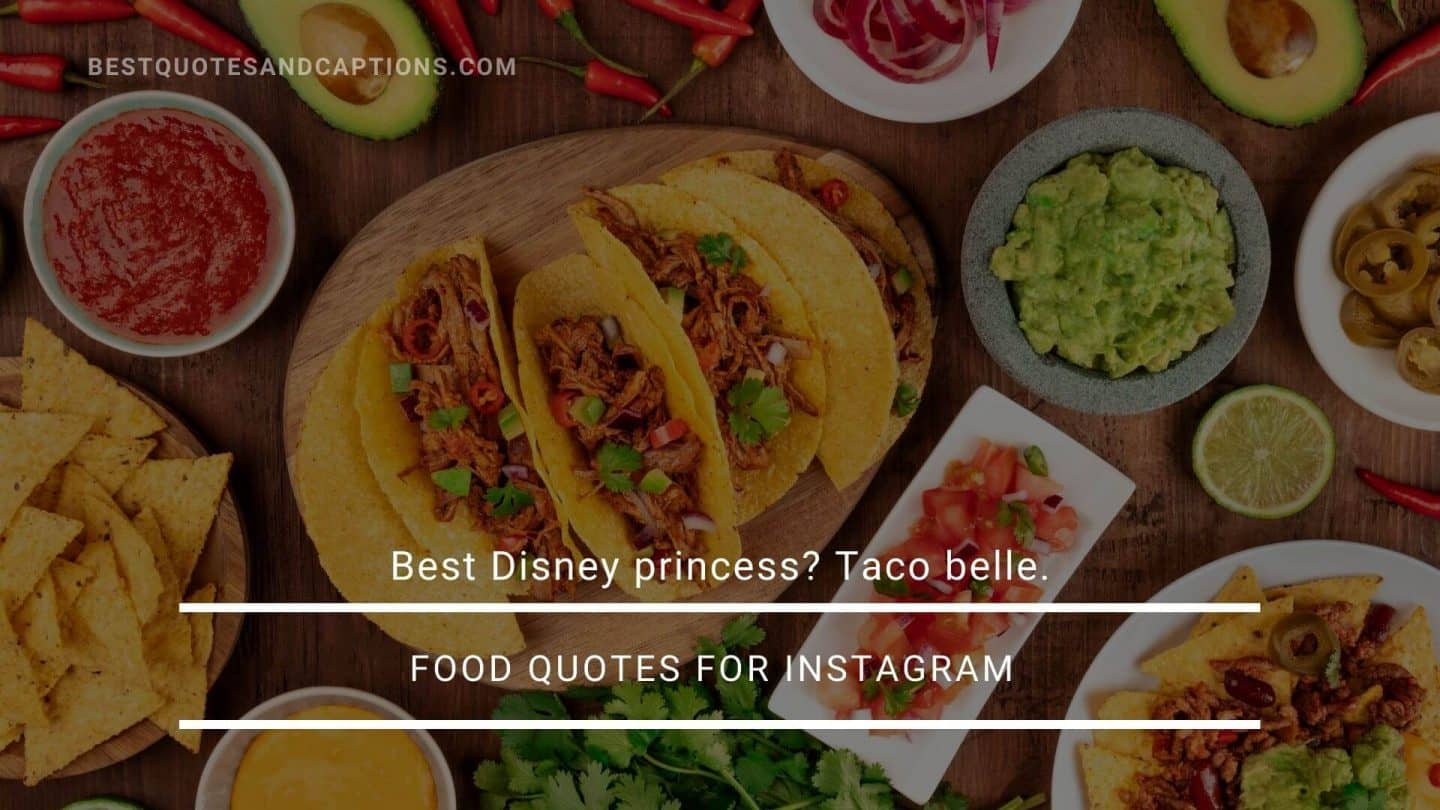 You've made it to the end – time fries when you're having fun right? We hope you enjoyed this epic list of food quotes for Instagram and that it inspired you to try out even more recipes in the future!
If you're looking for even more awesome Instagram captions and quotes, do check out some of our other guides including the ultimate list of motivational captions, some inspirational quotes for women and sunset quotes to end the day.
Other essential Instagram growth tools
---
Want to save this for later? Why not pin it…