As one of these quotes says: If at first you don't succeed, order pizza. We're kidding – we know that you're here since you probably need a saucy caption for that perfect pizza pie and can't think of a good saying! So, with that in mind, we've collected over 150 of the ultimate pizza captions for Instagram, Facebook, WhatsApp and even more social media platforms.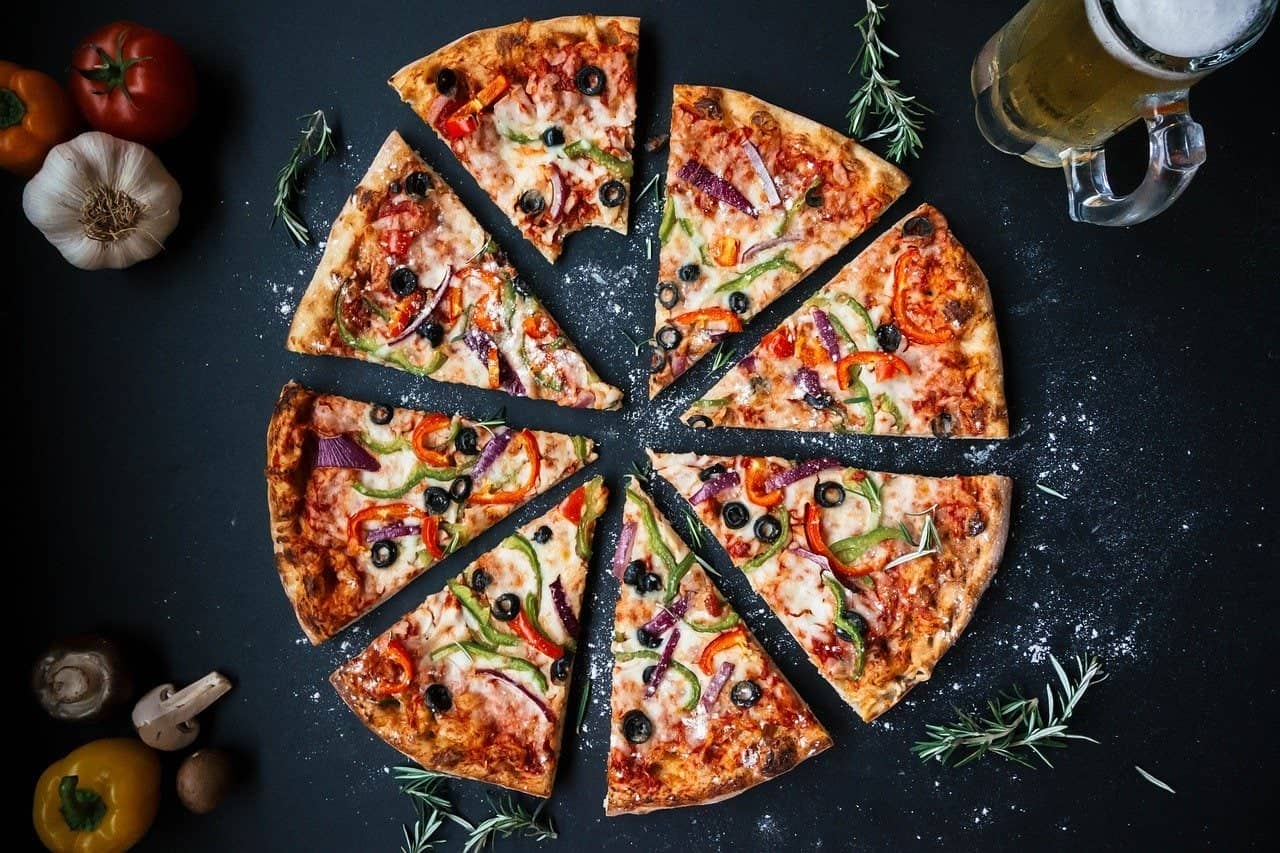 So, before another Instagram pizza post bites the crust, let's get started on capturing our love for pizza:
Best pizza captions for Instagram
Now there are 150 great pizza captions in this list to choose from but, if you're lazy like us, you might just want to choose one of the best. Here are our favourite 10:
A well-balanced meal is a slice in both hands.
Everything I am, I owe to pizza.
I can't turn water into wine, but I can turn pizza into breakfast. Anonymous
If at first you don't succeed, order pizza.
Pizza wishes and breadstick dreams.
Promises and pie crust are made to be broken.
Surround yourself with pizza, not negativity.
There is no better feeling than a warm pizza box on your lap.
Those pizzas I ate were for medicinal purposes. Amy Neftzger
Whatever the question, pizza is the answer.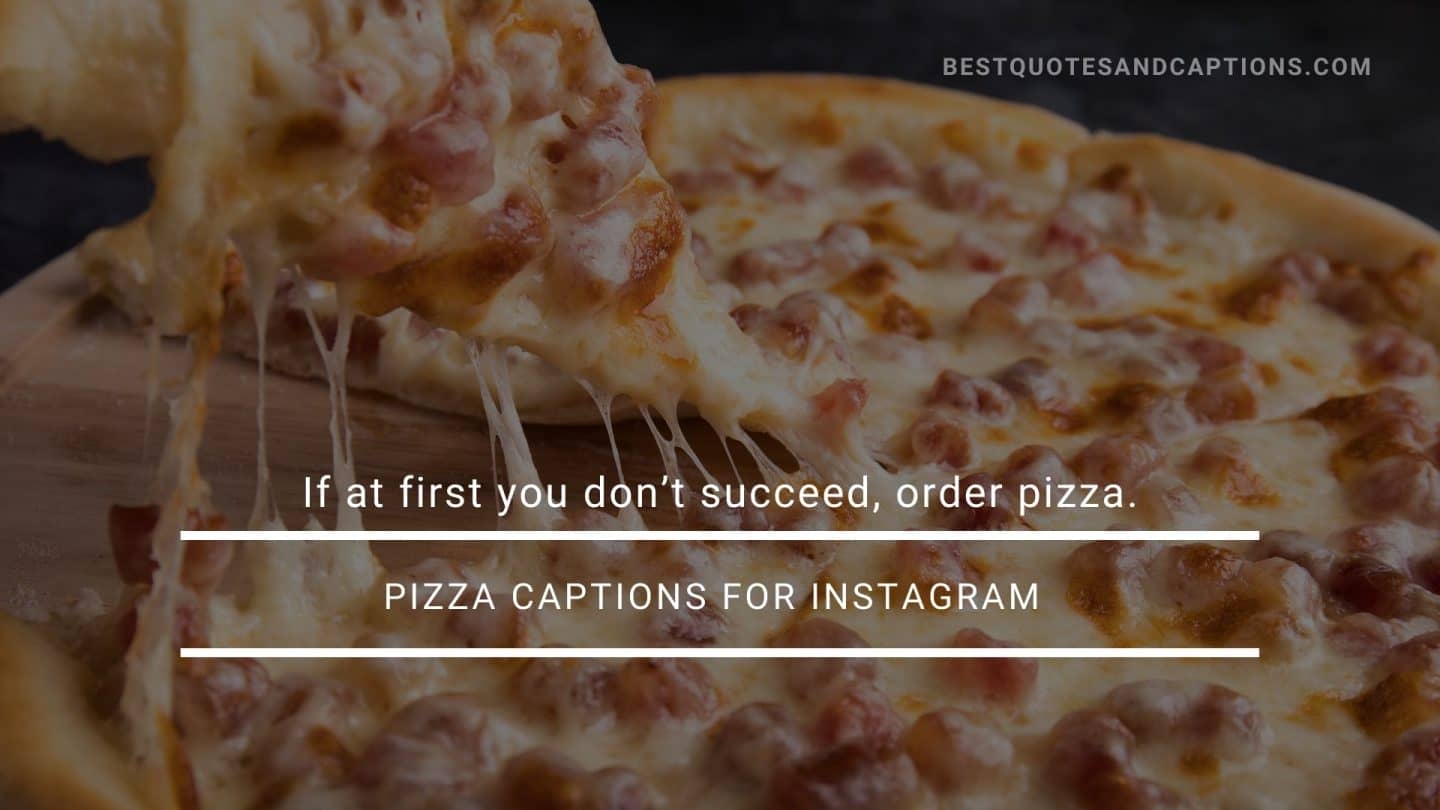 Read next: The ultimate list of food captions for Instagram
Famous pizza quotes
Why not use a famous celebrity quote for your caption? We've scoured the web to find some of the best from authors, actors and authors who love a slice!
And I don't cook, either. Not as long as they still deliver pizza. Tiger Woods        
But magic is like pizza: even when it's bad, it's pretty good. Neil Patrick Harris                   
Do good. Be nice. Order pizza. Repeat. Anonymous                       
Every pizza is a personal pizza if you try hard and believe in yourself. Bill Murray             
I would never win an award for not loving pizza. Dwayne Johnson          
Heaven would be a comfortable chair, a library, diet coke, and an occasional cheese pizza. Sex once in a while. No talking. Jayden Hunter
I'd rather have leftover pizza than leftover feelings. Sarah Burgess                         
My love is pizza shaped. Won't you have a slice? It's circular, so there's enough to go around. Dora J. Arod                         
Pizza is not a 'trend' it's a way of life. Anonymous                          
Pizza makes me think that anything is possible. Henry Rollins
That was one of the best pizzas I have ever eaten in my life. The cheese was so good it made me faint. Elvis Presley               
Wise men say, 'Forgiveness is divine, but never pay full price for late pizza'. Michelangelo, Teenage Mutant Ninja Turtles 
You know what? Part of me just wants to eat pizza and go to sleep. Gwen Stefani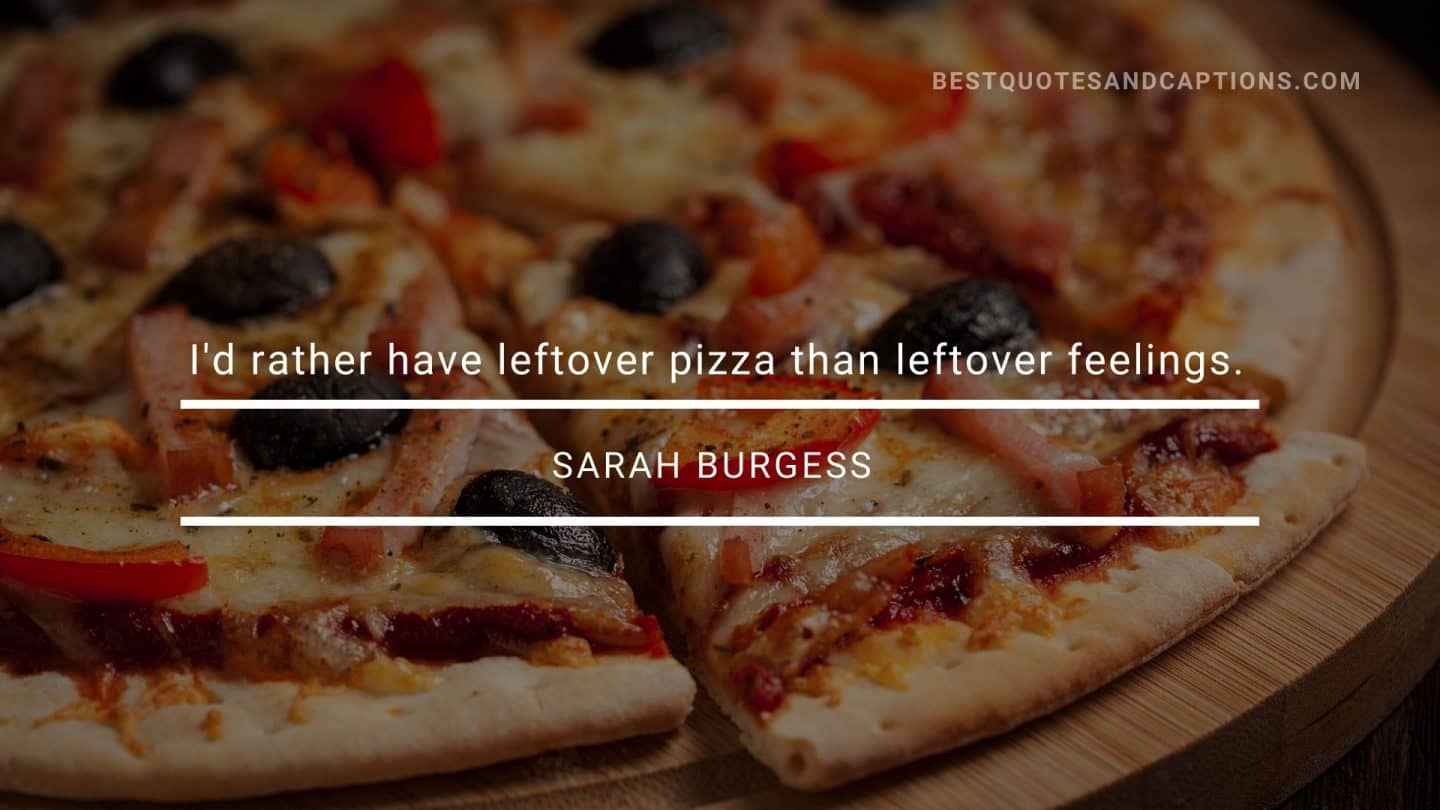 If you're wanting to make a real impact on your Instagram engagement, we'd suggest that you look into Ingramer!

With a full suite of tools, Ingramer acts as an automation partner – essentially the most powerful way to grow your account. It includes hashtag generators, and Instagram Downloader and a Story Viewer that watches other accounts' stories in a bid to attract them to follow you. With advanced targeting filters and an autobot, this is currently the best growth tool on the market.

Sign up here and use SCRIBESMEDIA to save up to 22% on some of the features!
Captions for pizza lovers
Pizza is love. Pizza has inspired many to write poems – whether that's the love of a Margherita pizza, or actually of a girl named Maria. Here are some fantastic pizza quotes and captions about love:
Find someone who looks at you the way I look at pizza.
Hangin with my home slice.
I love you to pizzas.
I want all of you, forever, you and me every day.
I want someone to look at me the same way I look at pizza. – Anonymous
I'll stop the world and melt with you.
I'm in love with the shape of you.
I'll stop the world and melt with you.
Keep your friends close, and your pizza closer.
Life is not about finding yourself, it's about finding pizza.
Love is in the air…it smells like pizza.
Make pizza, not war.
My love language is pizza.
Pizza is the only love triangle I ever want.
Pizza lover.
That's amore.
You had me at pizza.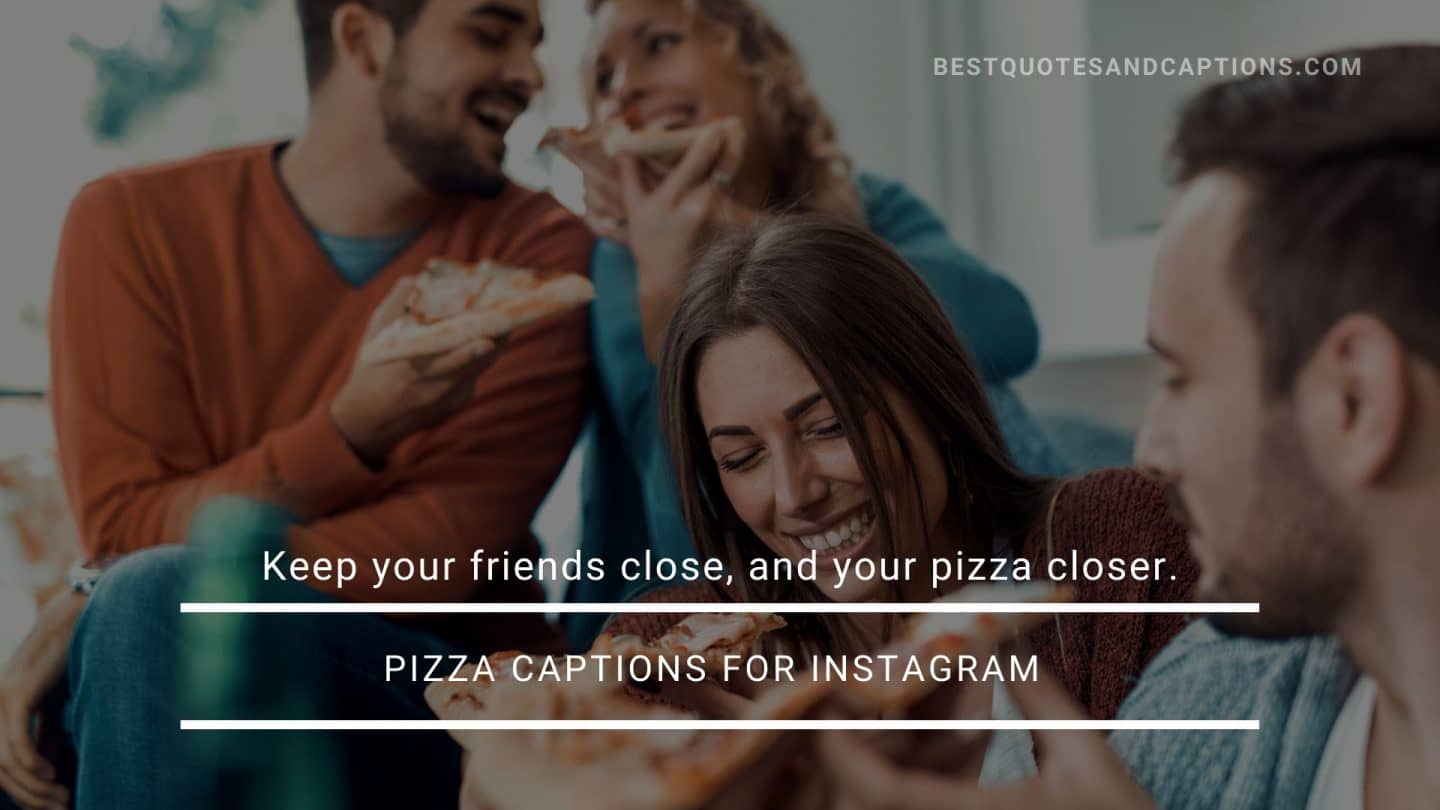 Recommended: Love Hashtags for Instagram
Funny pizza captions
Somehow sharing a slice brings out the comedian in some of us. So why not use a hilarious caption about your pizza that will have your fans and friends giggling away at your gourmet pic and caption? Here are a few ideas:
Always crust your instincts.
Don't listen to people who tell you you can't eat a whole pizza, you don't need that kind of negativity in your life.
Every meal would be better if it were pizza.
I followed my heart and it led me to pizza.
If pizza can't fix it, it's a serious problem.
Life happens, pizza helps.
Money can't buy happiness, but it can buy pizza and that's almost the same thing.
No one is perfect, except pizza.
On the eighth day, God created pizza.
Problems come and go, but pizza is forever.
Save the planet, there's pizza here.
Say no to drugs, say yes to pizza.
The answer to "What time is it?" is always "Pizza time".
Work hard, be nice, eat pizza.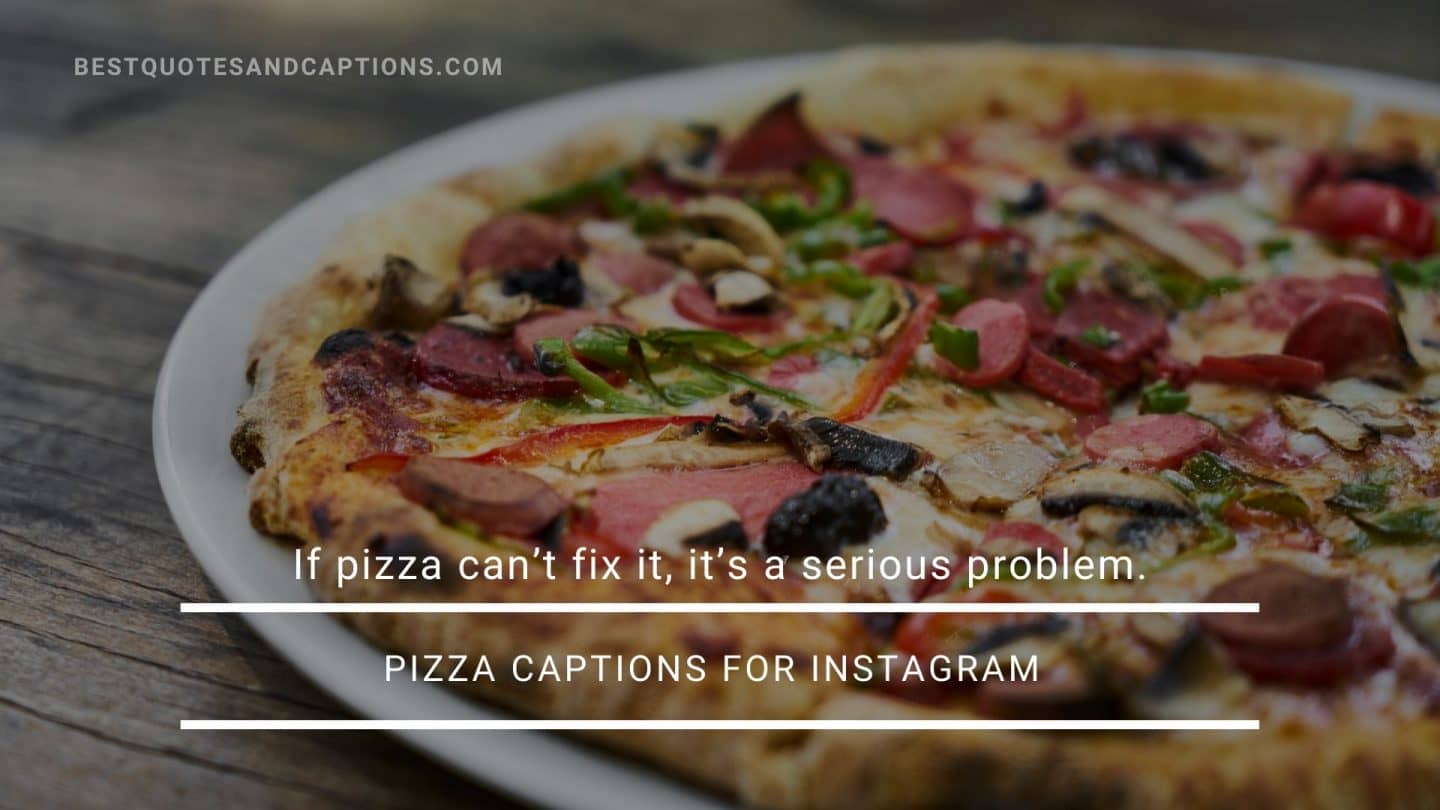 Related: The best happy status for WhatsApp
Fantastic pizza puns
We love puns! They really do make us laugh and are really clever ways to bring across your point, particularly when it's about pizza! Check out some of these funny pizza puns to use on your Instagram.
Another one bites the crust.
Do you want a pizza me?
Going shopping for some toppings.
I never sausage a beautiful pizza.
I pepper-only have eyes for you.
Let's get sauced.
Olive you with all of my heart.
Oregano? orega-yes.
People who don't like pizza are weirdoughs.
Pizza is perfect, no matter which way you slice it
Secret's in the sauce.
The slice is right.
You wanna pizza me?
You're my mozzarella fella.
You've stolen a pizz-a my heart.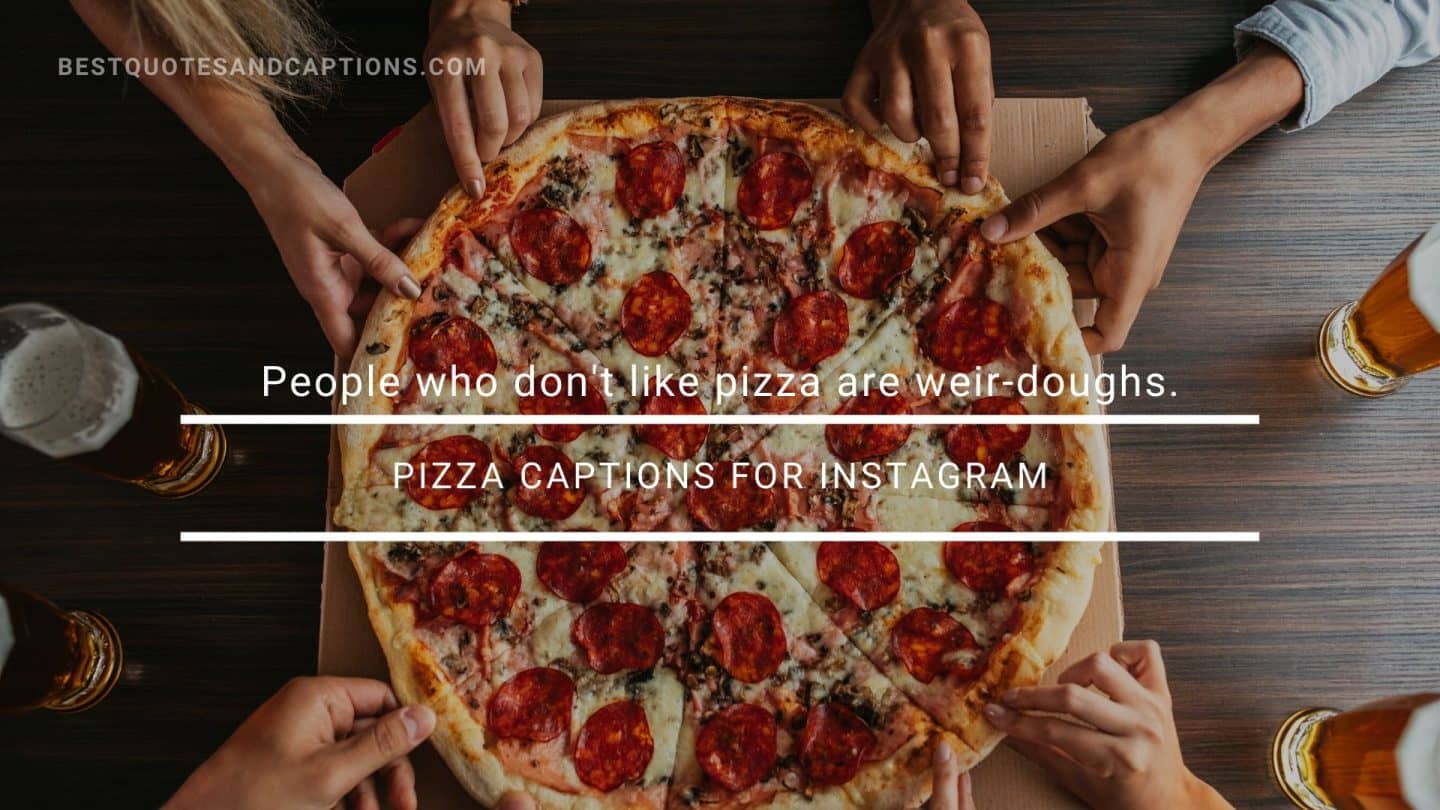 Dieting and pizza quotes
Let's be honest, dieting and pizza don't seem to go together right? But just in case you do want to talk about limiting your calories (while chowing down on a pizza pie) then here are some good options:
Being thin would be nice, but have you ever tasted pizza.
I think of dieting, then I eat pizza. Lara Stone
I'm into fitness — fitness whole pizza in my mouth.
Is an all pizza diet healthy? Asking for a friend.
Pizza is self-care.
Round or square, thick or thin, every pizza is beautiful.
Seven days without pizza makes one weak.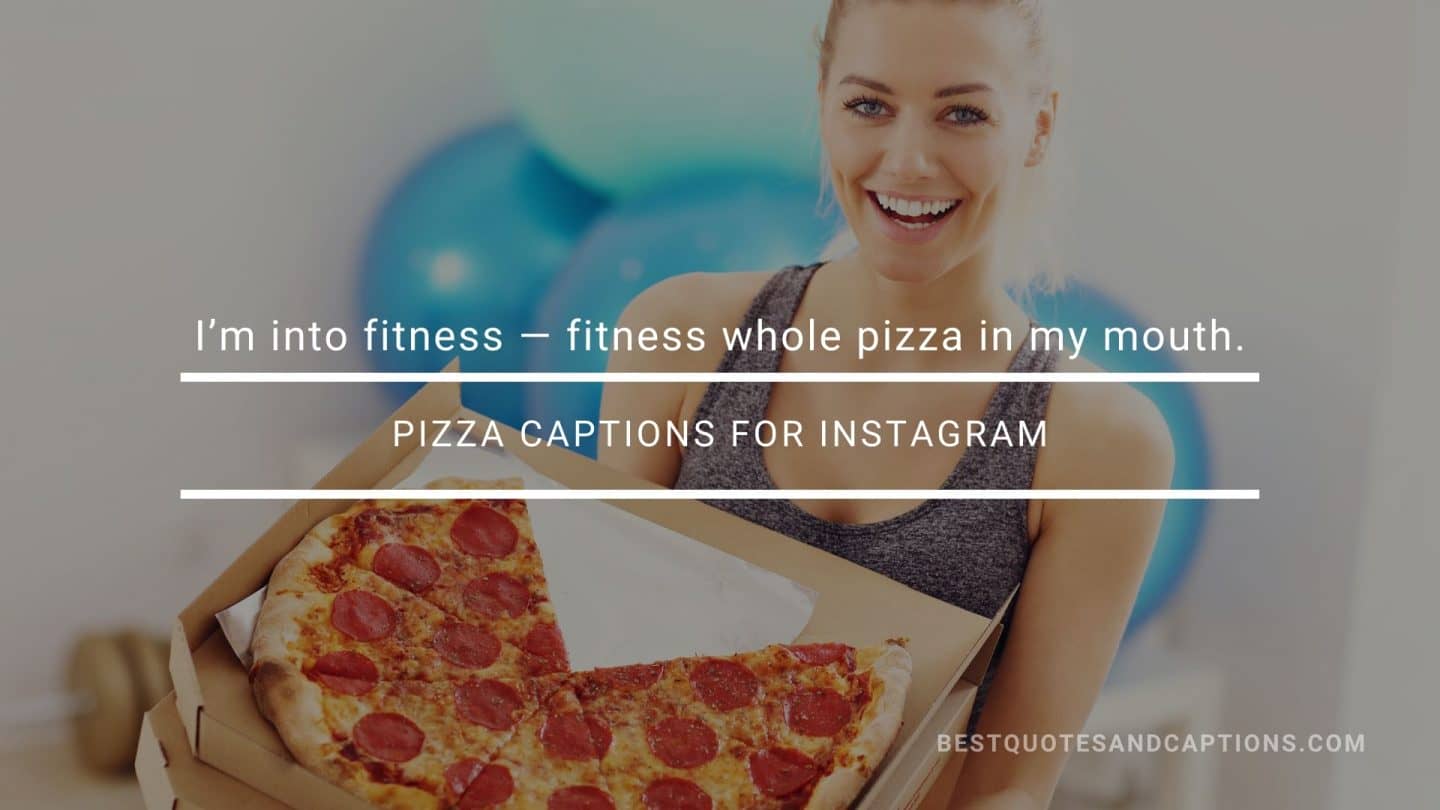 Read next: The best fitness and dieting hashtags
More-ish pizza quotes
We gave you a whole list of famous pizza quotes earlier but the list of quotable pizza quotes doesn't end there! Perhaps use one of these great quotes about pizza:
Anyone who says that money cannot buy happiness has clearly never spent their money on pizza. Andrew W.K.               
Beauty comes in all shapes and sizes. Small, large, circle, square, thin crust, thick crust, stuffed crust, extra toppings. Anonymous      
I love pizza, meaning: Even when I'm in the middle of eating pizza, I wish I were eating pizza. Jandy Nelson        
I love pizza. I want to marry it but it would just be to eat her family at the wedding. Mike Birbiglia
I want to live in a world where the need for pizza belittles that of war. Jason Barnett    
I will never sit around and wait for a man unless he is delivering a pizza. Anonymous
Keep calm and order pizza. Anonymous
Life is mostly pain and struggle; the rest is love and deep dish pizza. Benedict Smith       
No matter what happens, pizza will always be there for you, thick and thin, in the crust we trust. Anonymous  
Pizza is like the entire food pyramid! Madeline Oles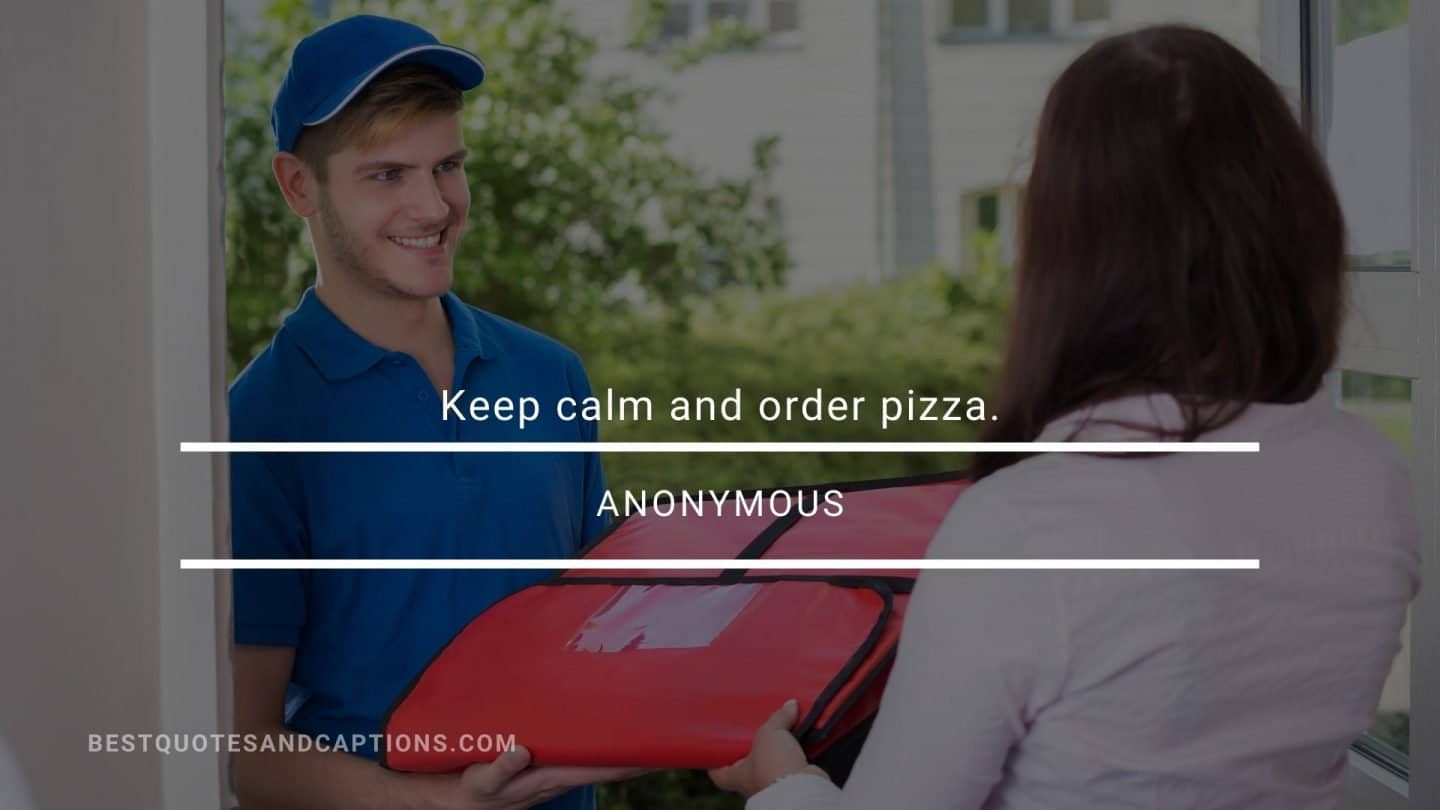 Problems come and go. Pizza is forever. Anonymous
Roses are red, pizza sauce is, too. I order a large, and none of it's for you.  Anonymous
Sugar, spice, and a large pizza slice.  Anonymous
The perfect lover is one who turns into a pizza at 4:00 A.M. Charles Pierce          
The secret ingredient is always cheese.  Anonymous
There's no better feeling in the world than a warm pizza box in your lap. Kevin James   
There's very little in my world that a foot massage and a thin-crust, everything-on-it pizza won't set right. GA McKevett
Time is money, money is power, power is pizza, and pizza is knowledge, let's go! Aubrey Plaza 
You better cut the pizza in four pieces because I'm not hungry enough to eat six. Yogi Berra
You can do irrefutably impossible things with the right amount of planning and support from intelligent and hardworking people and pizza. Scott Gimple
You can't buy happiness. But you can buy pizza, and that's kind of the same thing. Anonymous
You can't make everyone happy. You're not pizza. Anonymous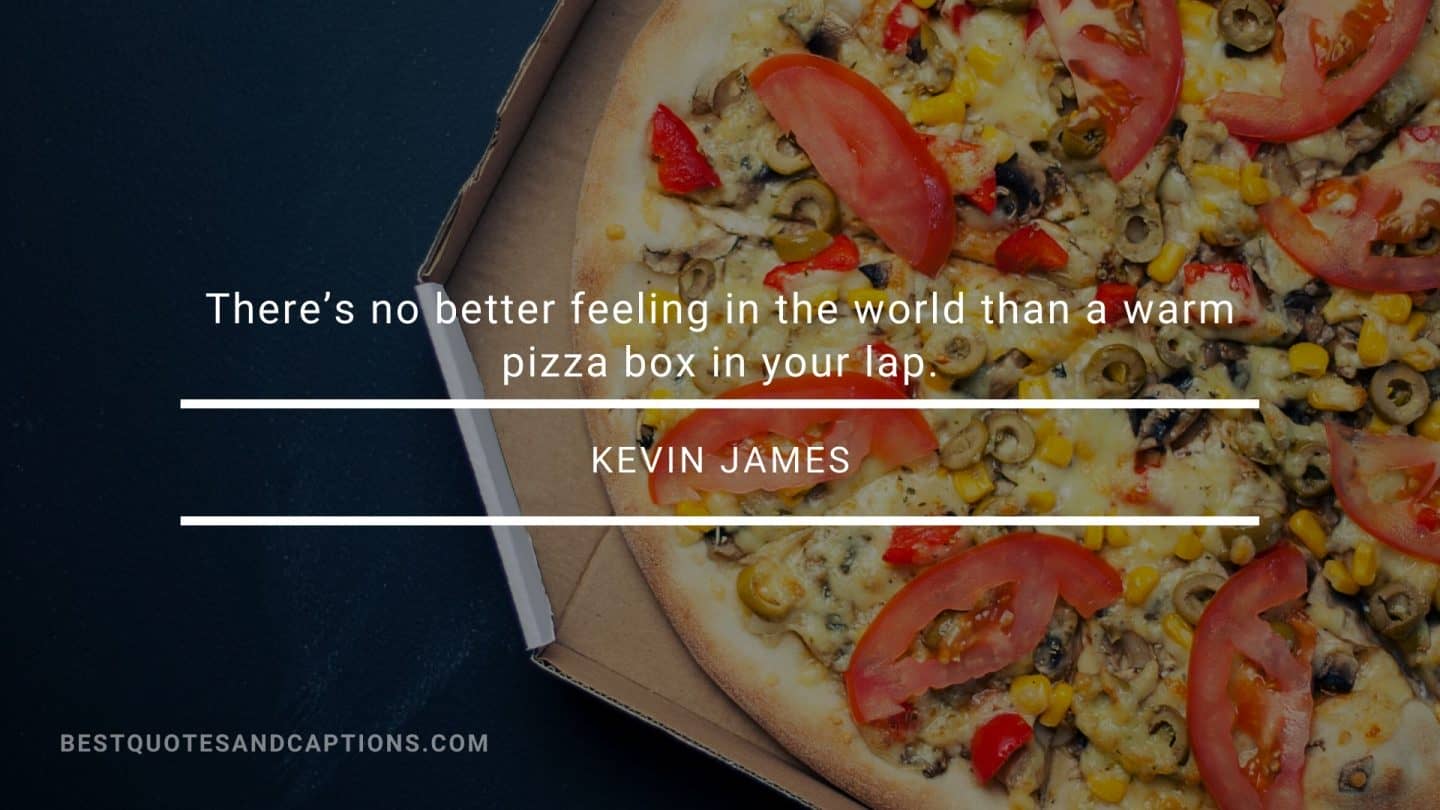 Read next: The best list of motivational captions
Short pizza Instagram captions
Maybe you're posting that perfect pizza photo (or even selfie!) before you've finished off the food? In that case you better hurry and write something brief! We've included some great short pizza captions for that purpose below!
A pizza's worth a thousand words.
Ain't no party like a pizza party.
All day I dream about pizza.
Always be yourself, unless you can be a pizza.
But first, pizza.
Cheese are a few of my favorite things.
Crust me.
Cutie pie.
Easy breezy cheesy.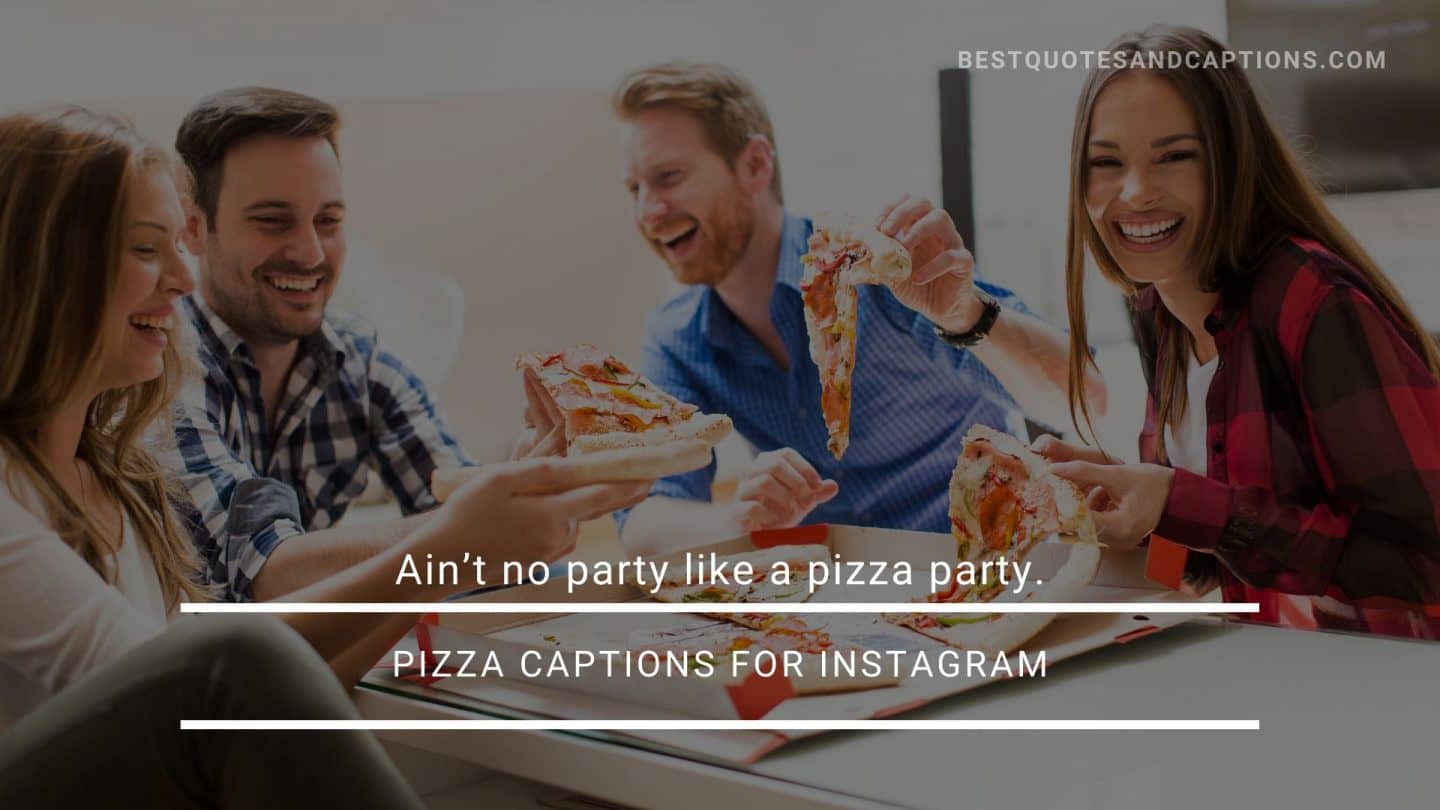 It's pizza o'clock.
Pizza goals.
Pizza is a way of life.
Pizza is life.
Pizza makes the world go 'round.
Pizza never goes out of style.
Pizza perfection.
Say "cheese".
Slice slice baby.
Slice to meet you.
There are three food groups — crust, cheese, and sauce.
Triangles of happiness.
Viva la pizza.
Winner winner pizza dinner.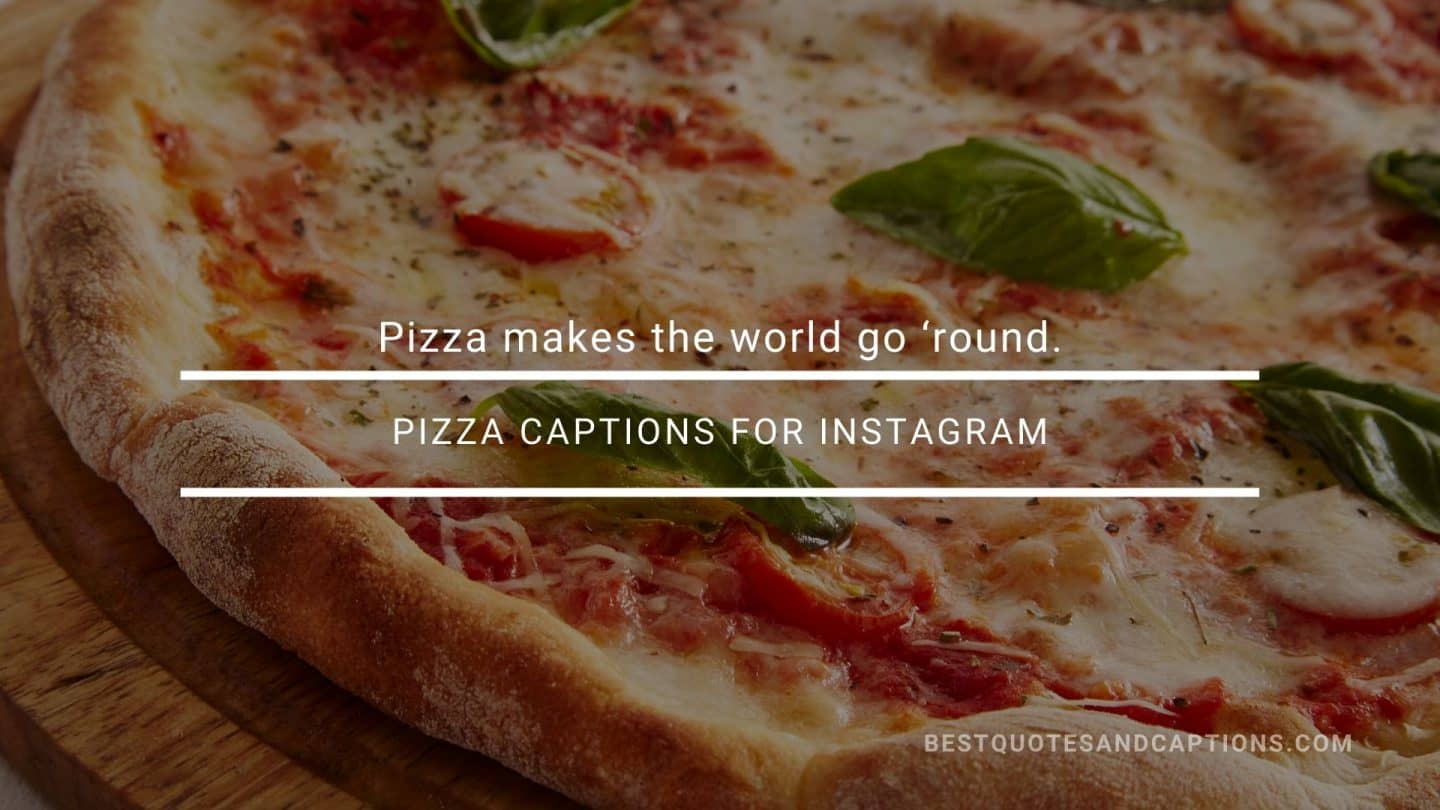 What about the pizza Instagram hashtags? Read our Instagram Hashtags Cheat Sheet here!
Good pizza captions for Instagram
Want even more fantastic pizza captions? There are so many more we could include, but we've selected more of our favourites below:
A little slice of heaven.
A pizza on your plate is a smile on your face.
All I need are wifi and pizza.
All I need is sunshine, dogs, and pizza.
Any time is a good time for pizza.
Be nice, share a slice.
Everything is better with pizza.
Gettin' cheesy.
Have your pizza and eat it too.
Having a bad day? here, have a pizza.
Home is where the pizza is.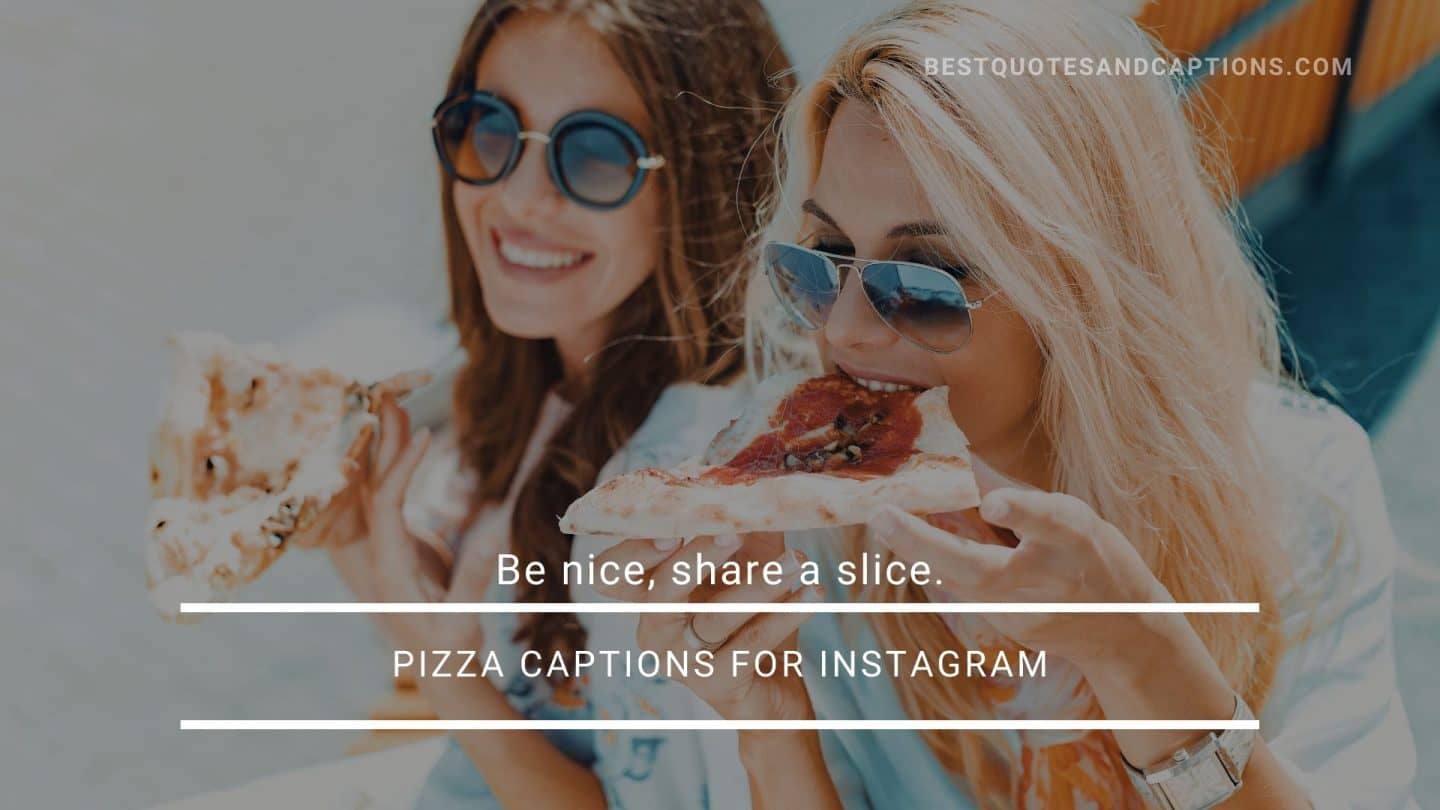 I wanna be where the pizzas are.
I worship at the altar of pizza.
if you try hard enough, anything can go on a pizza.
In crust we trust.
My life: Pizza and movies!
Never sit around and wait for someone unless they're delivering a pizza.
Pizza — quite possibly the only perfect food.
Pizza cures whatever ails you.
Praise be to pizza.
The best pizzas are the ones we eat with friends.
There's food…and then there's pizza.
Worry less and eat more pizza.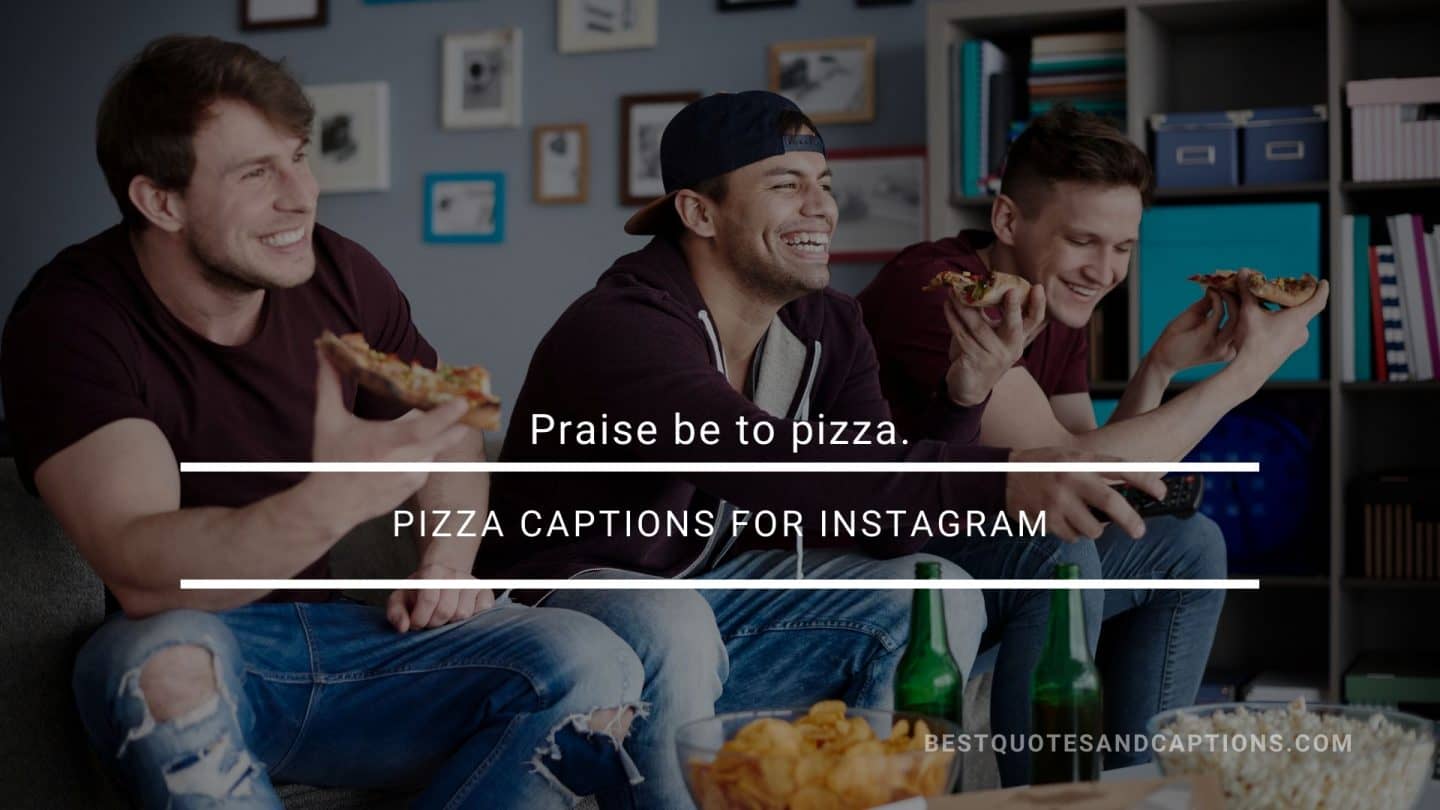 We hope this list has given you the best ever pizza caption for your perfect Instagram picture – maybe we've inspired you to try one of the pizza recipes out there! Either way, let us know in the comments or do get in touch.
Lastly, if you want even more fantastic content for your Instagram feed, do check out our inspirational quotes for women and sunset quotes to end the day.
Other essential Instagram growth tools
---
Want to save this for later? Why not pin it…