Finished those burpies or that amazing yoga session and ready to post it on social media? Yup, we know the feeling. You've got a red hot photo or just a Twitter update and need the right hashtags to ensure your fitness photo goes viral. To help you do just that, we've put together this handy guide jammed full of the best fitness hashtags with lists for fitness, exercise, yoga, cycling and more.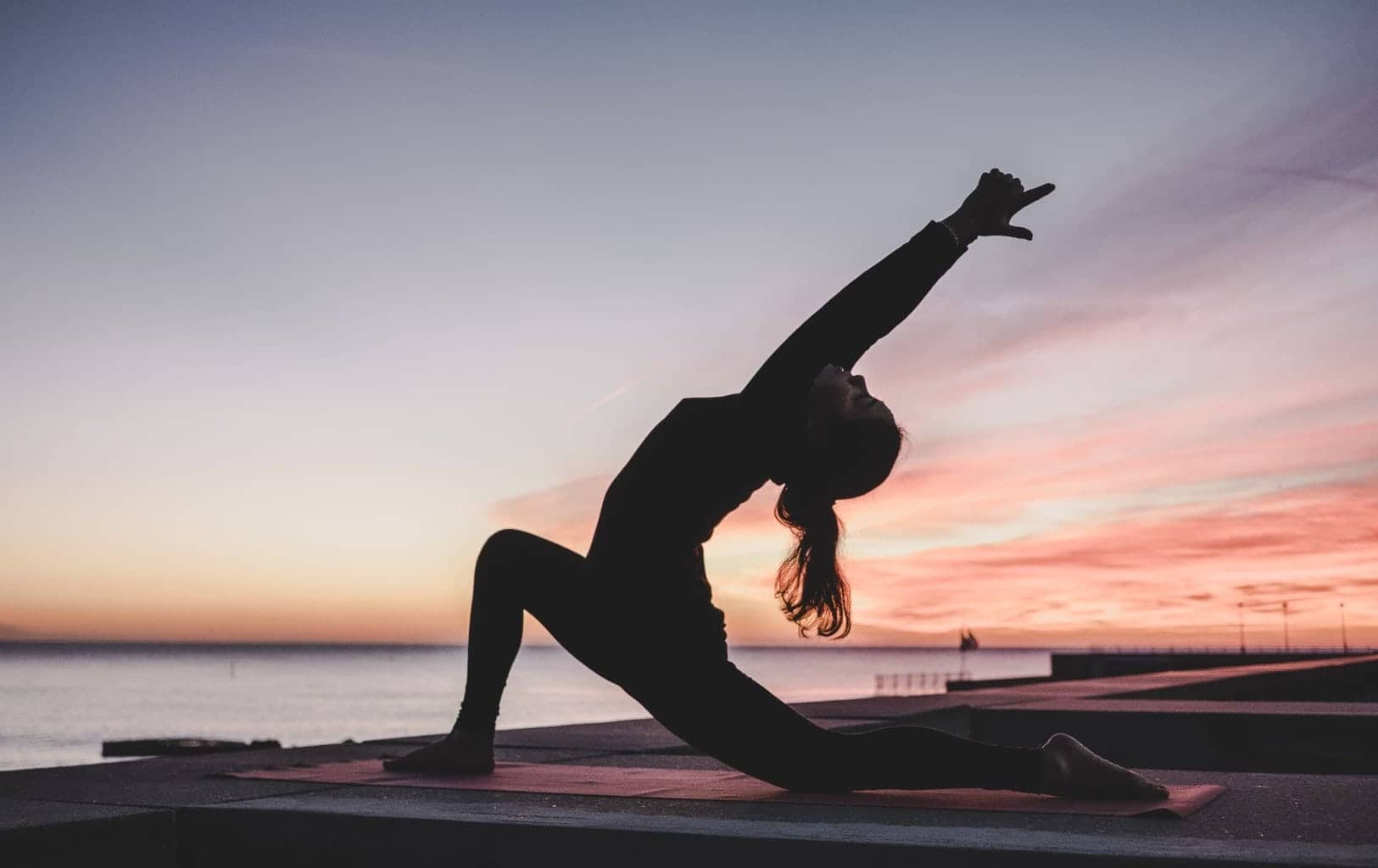 Why should you use fitness hashtags?
The crux is that on most social networks, hashtags help you to increase the 'reach' or how many people see your update. In the case of platforms LinkedIn or Pinterest, they help to categorize posts but also expose your photo or caption to more people.
Copy and Paste: List of the best fitness hashtags
Now its not really the best idea to just copy and paste this list of fitness hashtags but, if you're really in a rush, then you can just do that. Otherwise, we recommend you mix different hashtags together – read more about that in our advice in the article below.
Popular fitness hashtags
#fit #fitbit #fitbody #fitlife #fitness #fitnessaddict #fitnessaddicted #fitnessaddiction #fitnessaddicts #fitnessaddictsrevolution #fitnessandhealth #fitnessbody #fitnesschallenge #fitnessclass #fitnessclub #fitnesscommunity #fitnessday #fitnessdiary #fitnessfam #fitnessfirst #fitnessfirstme #fitnessforlife #fitnessfriday #fitnessfun #fitnessgirls #fitnessgoal #fitnessgoals #fitnessgram #fitnesshumor #fitnessinspiration #fitnessinspo #fitnessisfun #Fitnessislife #fitnessjourney #fitnessjunkie #fitnesslife #fitnesslifestyle #fitnesslove #fitnesslover #fitnesslOvers #fitnessmeme #fitnessmemes #fitnessmettle #fitnessmode #fitnessmotivation #fitnessmOtivatiOn #fitnessmotivations #fitnessmum #fitnesspage #fitnesspageforall #fitnesspark #fitnessphotography #fitnessphysique #fitnessprogress #fitnessquote #fitnessquotes #fitnessshoot #Fitnessstudio #Fitnesstime #fitnesstips #fitnesstraining #fitnesstransformation #fitnessvideo #fitnessvideos #fitnessworld #fitspiration #fitspo #fitstagram
Fitness hashtags for those who make a living from fitness 
#fitnessathlete #fitnessblog #fitnessblogger #FitnessCenter #fitnesscoach #fitnesscoaching #FitnessCompetitor #fitnessfreak #fitnessfreaks #fitnessguru #fitnessgym #fitnessinstructor #fitnessmodel #fitnessmodeling #fitnessmodels #fitnessphotographer #fitnesspro #FitnessTrainer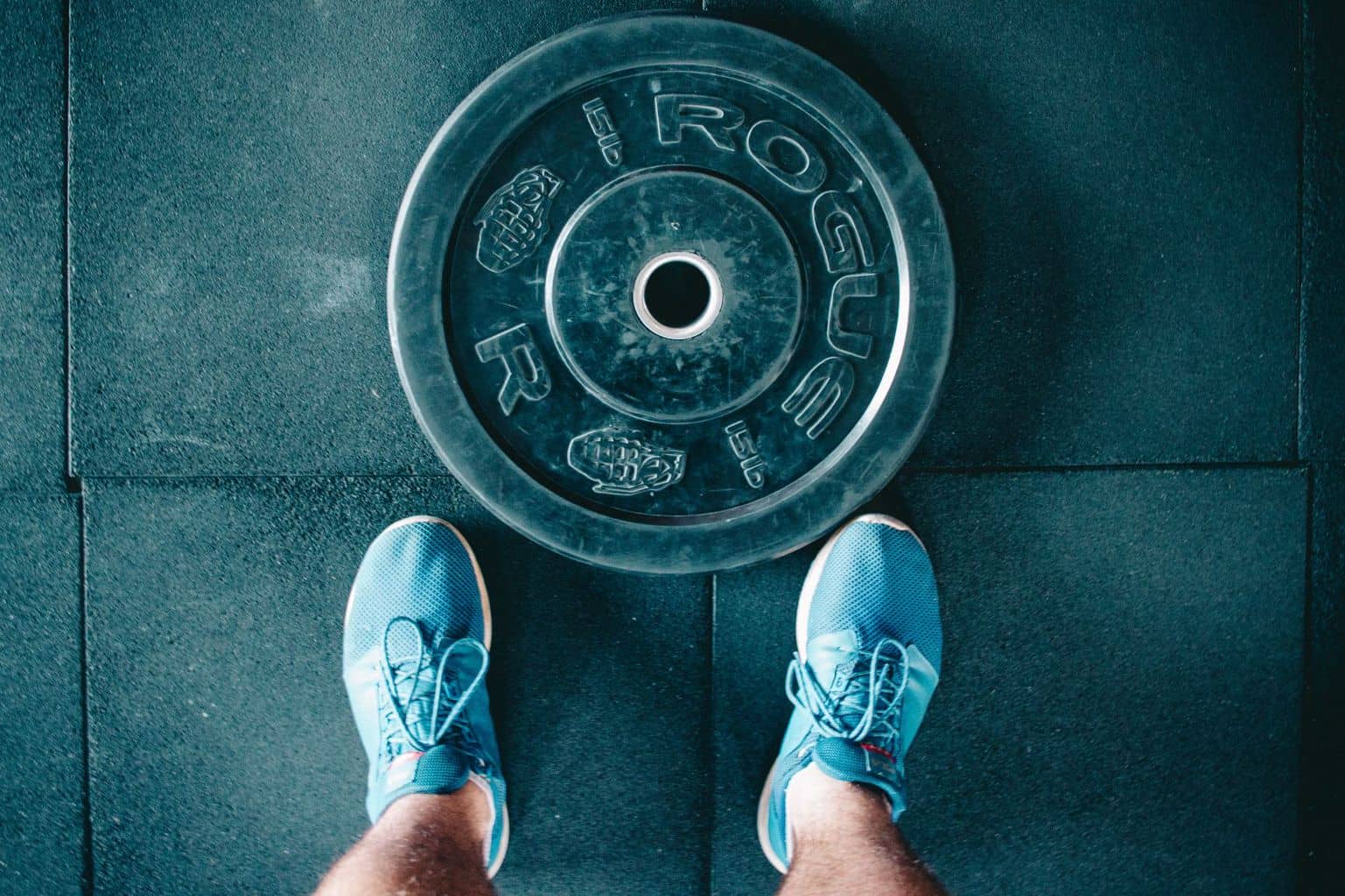 Fitness hashtags for women
#fitchick #fitchicks #fitgirl #fitgirls #fitmom #fitnessbabe #fitnesschick #fitnessdiva #fitnessgirl #fitnessgirlsmotivation #fitnessmama #fitnessmom #fitnesswoman #fitnesswomen
Related: Best inspirational quotes for women
Exercise hashtags
#exercise #exercise4less #exerciseaddict #exerciseaddiction #exerciseadvice #exerciseanywhere #Exerciseathome #exercisebecause #exercisebenefits #exerciseclass #exerciseclasses #exercised #exercisedaily #exerciseday #exerciseeveryday #ExerciseForLife #exercisegoals #exerciseideas #exerciseisfun  #exerciseismytherapy #exercisejourney #exercisemakesmehappy #exercisemore #exercisemotivation #exerciseoftheday #exerciseoutside #exerciseplan #exerciseprogram #exercisequote #exercisequotes #exerciser #exerciseright #exerciseroutine #exerciseroutines #exercises #exercisesmart #exercisetherapy #exercisetime #exercisetip #exercisetips #exercisevideo #exercisevideos #exercisevids
Fitness gear or clothing hashtags
#exerciseclothes #exercisegear #exercisewear #FitnessApparel #fitnessbikini #fitnessblender #FitnessClothing #fitnessfashion #fitnessgear #fitnessjewelry #fitnessstyle #fitnesstracker #fitnesswear #gymapparel #gymclothes #gymfashion #gymstyle #gymswag #gymwear #runninggear #runningshoe #runningshoes #runningstyle #yogapants  #yogawear
Gym hashtags
#gym #gymaddict #gymaddicted #gymaesthetics #gymaholic #gymbeast #gymbody #gymboy #gymbuddy #gymbunny #gymday #gymfam #gymfit #gymFLOW #gymfreak #gymgear #gymgirl #GymGirls #gymgoals #gymgrind #gyminspiration #gymislife #GymJunkie #gymlife #gymlifestyle #gymlove #gymlover #gymlovers #gymmeme #gymmemes #gymmotivation #gymquotes #gymrat #gymrats #gyms #gymselfie #gymtime #gymvid #gymvideos #gymworkout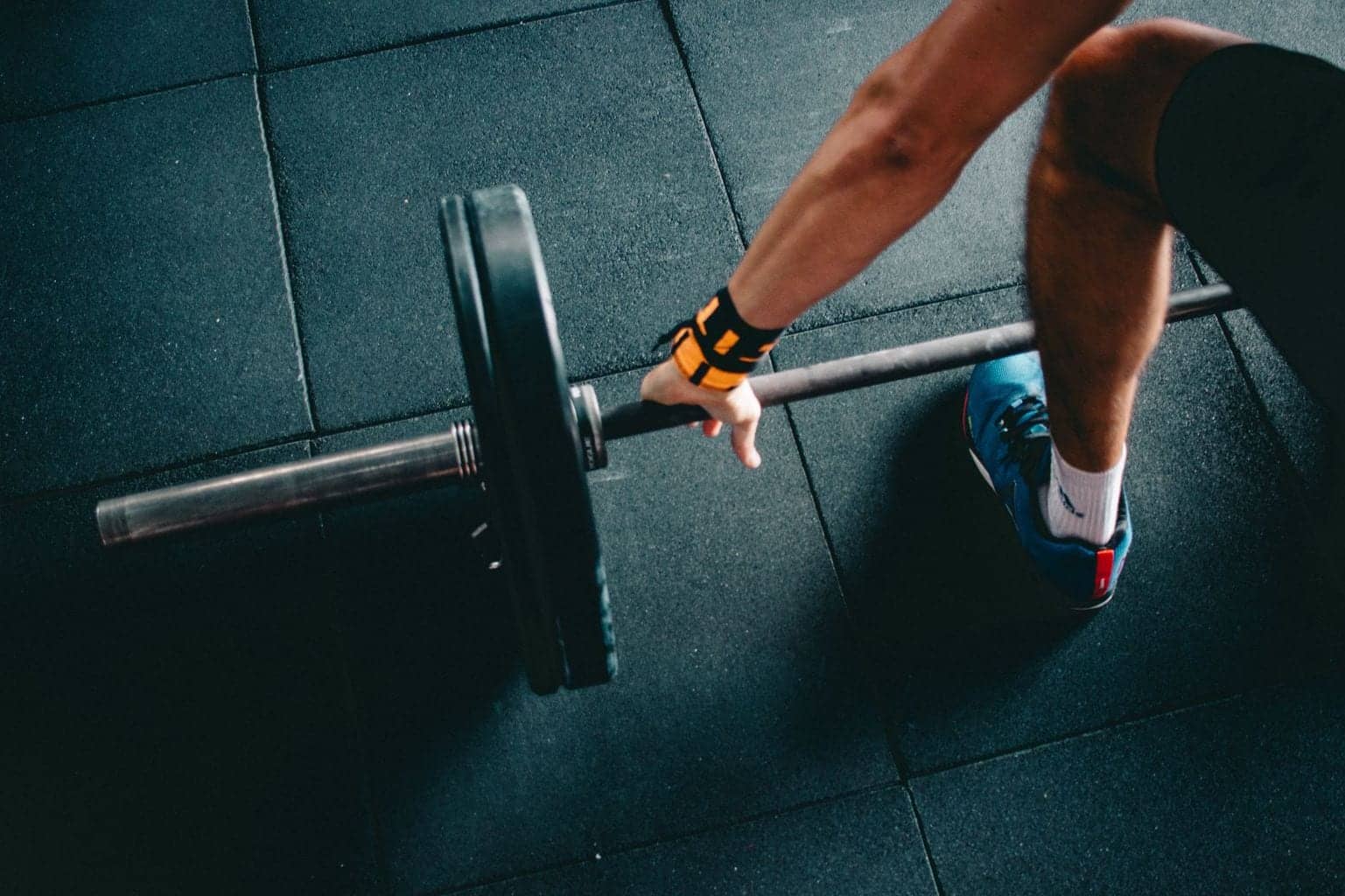 Yoga hashtags
#yoga #yogaaddict #yogachallenge #yogacommunity #yogadaily #yogaeverydamnday #yogaeveryday #yogaeverywhere #yogafam #yogafit #yogaflow #YogaForLife #yogafun #yogagram #yogainspiration #yogajourney #yogalife #yogalifestyle #yogalove #yogalover #yogaphotography #yogapose  #yogaposes #yogapractice #yogaretreat #yogatime
Related: The most motivational captions for your pictures
Health hashtags
#health #healthandfitness #healthandwellness #healthcare #healthfood #healthiswealth  #healthy #healthybody #healthybreakfast #HealthyChoice #healthychoices #HealthyDiet #healthydinner #HealthyEating #healthyeats #healthyfood #healthyfoodshare #healthyhabits #healthylife #healthylifestyle #healthyliving #healthymeal #healthymeals #healthymind #healthyrecipes #healthysnack
Wellbeing hashtags
#wellbeing #wellbeing4you #wellbeingatwork #wellbeingblogger #wellbeingcoach #wellbeingday #WellbeingMadeEasy #wellbeingmagazine #wellbeingnetwork #WellbeingQuotes #wellbeingrevolution #WellbeingWarrior #wellbeingwarriors #wellbeingwednesday #wellbeingweek #wellbeingworldwide
Diet hashtags
#diet #dietandexercise #dietapaleo #dietary #dietatkins #dietbet #dietblog #dietdiary #dietfood #dietgm #dietgram #dieting #DietingTips #dietjourney #dietlife #dietmode #dietmotivation #dietocd #dietplan #dietplans #dietprogram #diets #dietstartsmonday #dietstartstomorrow #diettips
Running hashtags
#running #RunningAddict #RunningAdventure #RunningAndFunning #runningback #runningbuddies #runningbuddy #runningchallenge #runningclub #runningcommunity #runningcouple #runningcrew #runningculture #runningdad #RunningDay #runningfamily #runningfree #runningfriends #runninggirl #runninggirls #runninggoals #runningheroes #runninginspiration #runningirl #runningislife #runningismytherapy #runninglife #runninglove #runningmakesmehappy #runningmom #runningmotivation #runningmum #runningonempty #runningquotes #RunningTeam #runningterritory #runningtime #runningtips #runningviews #runningwear #runningwild #runningwithfriends #runningwoman #runningwomen #runningworld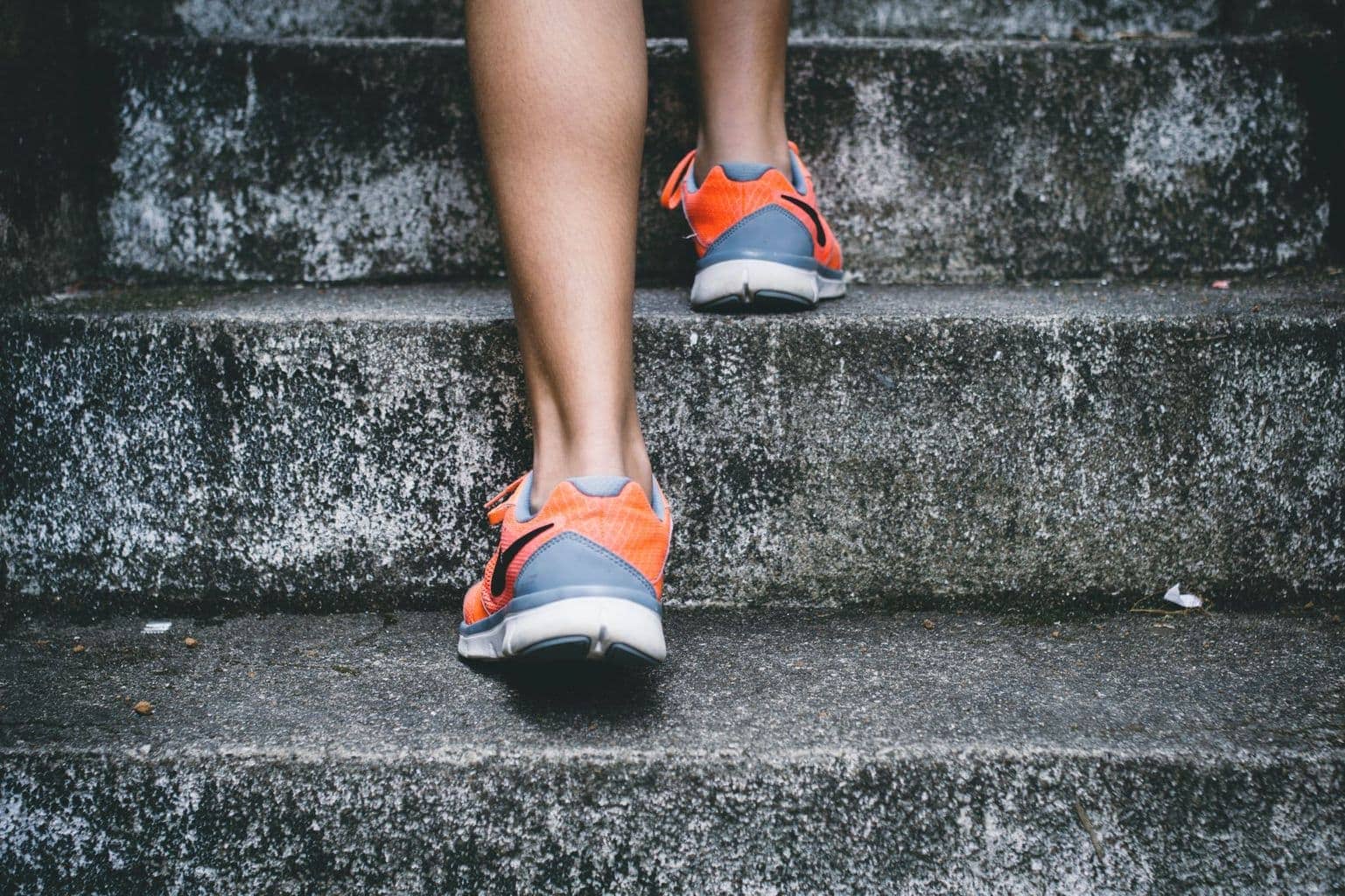 Cycling hashtags
#cycle #cyclebar #cyclechic #cyclecross #cyclefit #cycleforsurvival #cyclegear #CycleGram #cyclelaw #cyclelife #cyclelove #cycleoflife #cyclepath #cycler  #cycleride #cycles #cycleshots #cyclestyle #cycletour #cycletouring #cycletraining #cyclewear #cycling #cyclingaddict #cyclingadventure #cyclingadventures #cyclingapparel #cyclingart #cyclingclub #cyclingday #cyclingfans #cyclingfashion #cyclingforever #cyclinggear #cyclinggirl #cyclinggirls #cyclinghype #cyclingindoor #cyclingisfun #cyclinglegs #cyclinglife #cyclinglifestyle #cyclinglove #cyclinglovers #cyclingmemes  #cyclingmemories #CyclingMotivation #cyclingnews #cyclingpassion #cyclingphoto #cyclingphotography #cyclingphotooftheday #cyclingphotos #cyclingpic #cyclingpics #cyclingrace #cyclingroad #cyclingselfie #cyclingshoots #cyclingshot #cyclingshots #cyclingstyle #cyclingteam #cyclingtips #cyclingtour #cyclingtraining #cyclingtrip
Crossfit hashtags
#crossfit #crossfitaddict #crossfitaddiction #crossfitathlete #crossfitbabes #crossfitbox #crossfitboys #crossfitchick #crossfitchicks #crossfitcoach #crossfitCommunity #crossfitcompetition #crossfiter #crossfiters #crossfitfam #crossfitfriends #crossFITgirl #crossfitgirls #crossfitguys #crossfitkids #crossfitlife #crossfitlifestyle #crossfitlove #crossfitlover #crossfitlovers #crossfitman #crossfitmen #CrossFitMom #crossfitmotivation #crossfitopen #crossfitphotography #crossfitproblems #crossfitt #crossfitteens #crossfitter #crossfitters #crossfittraining #crossfitweightlifting #crossfitwod #crossfitwoman #crossfitwomen
If you're wanting to make a real impact on your Instagram engagement, we'd suggest that you look into Ingramer!

With a full suite of tools, Ingramer acts as an automation partner – essentially the most powerful way to grow your account. It includes hashtag generators, and Instagram Downloader and a Story Viewer that watches other accounts' stories in a bid to attract them to follow you. With advanced targeting filters and an autobot, this is currently the best growth tool on the market.

Sign up here and use SCRIBESMEDIA to save up to 22% on some of the features!
Using fitness hashtags on different social platforms – Instagram, Facebook, LinkedIn and Twitter
If you've made it this far in this article – great! That means you want to know more than just copy and pasting your hashtags for success. With that in mind, here's our guide to using hashtags on the top social networks:
Twitter
Fun fact: Twitter practically invented the hashtag. When the platform was first launched, its users used hashtags as a way to create an informal search. Today they still work that way but also show the different trending topics.
Suggestion: Use two, strong hashtags, since hashtags get twice as much engagement on Twitter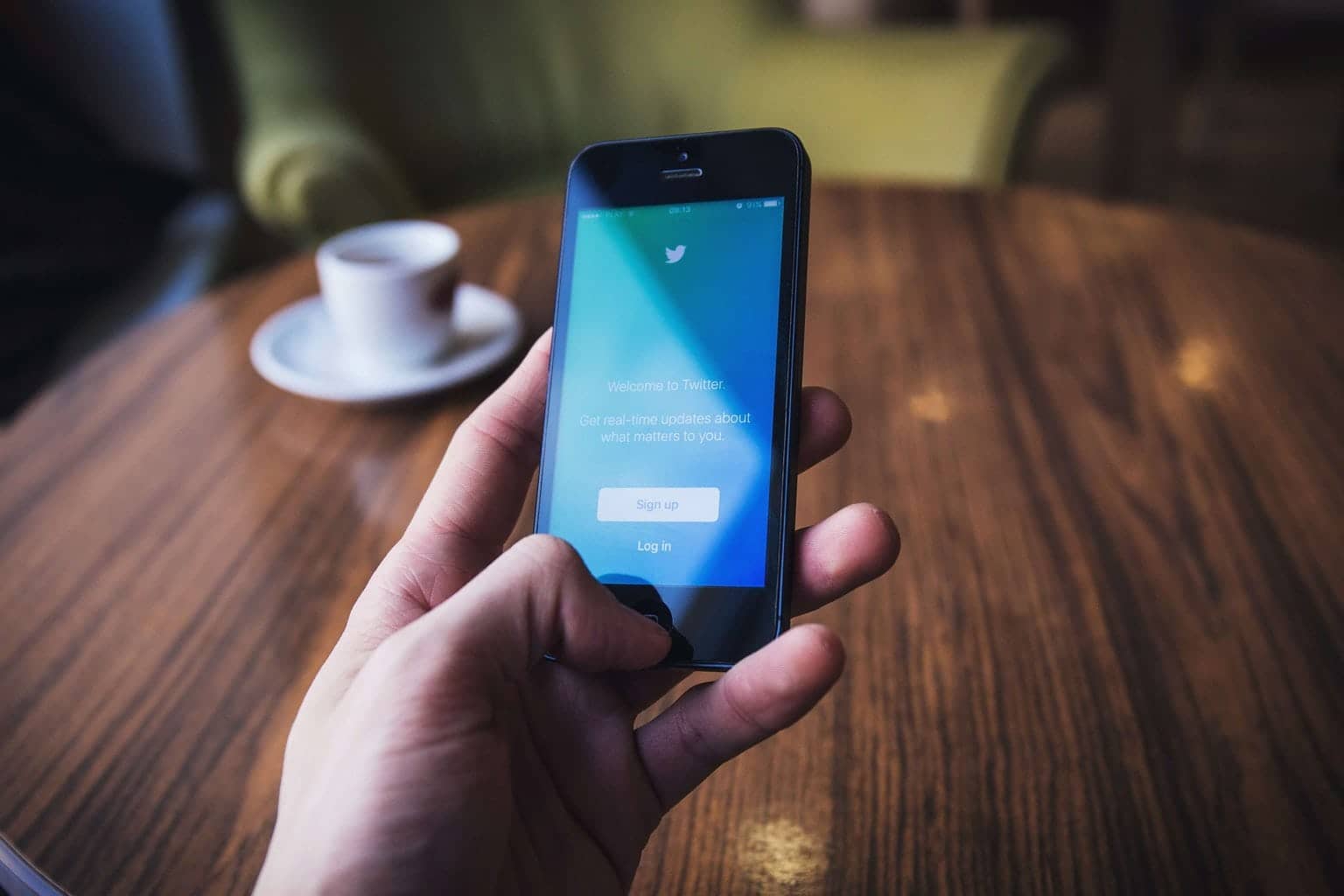 LinkedIn
We love how LinkedIn using hashtags since its so easy peasy! When you create an update, LinkedIn actually suggests the best hashtags for you.
Suggestion: Their own recommendation is to use up to four hashtags.
Facebook
Facebook wanted to get in on the hashtag game but because the platform is different – you generally are in private mode except for your friends and family, hashtags don't work that well for individuals.
If you're a brand or have a fan page, then you can use them else they aren't visible, so really not worth the effort.
Suggestion: Don't use hashtags on Facebook as an individual, only as a business
Instagram
Now the trickiest of the lot since hashtags became a famous way to grow your Instagram account in it's early years. Now hashtags are not as useful but still serve a purpose!
For your Instagram Feed Posts you can use up to 30 hashtags. Nowadays it seems most people use ten but, regardless of the number, you should mix up hashtags from popular and niche hashtags.
Don't know what we mean? Well, for example, if you used #fitness you would be competing for a spot in the Top 9 with 387 million other posts! Quite competitive. But if you used #fitnessaddicts it would only be 342 thousand.
For your Instagram Stories it's worth trying to change it up – use a different hashtag from your list on every second frame. Then, go into your Viewers and see which one worked best!
Suggestion: Use around 10 mixed hashtags on feed posts and a different hashtag on every second Story frame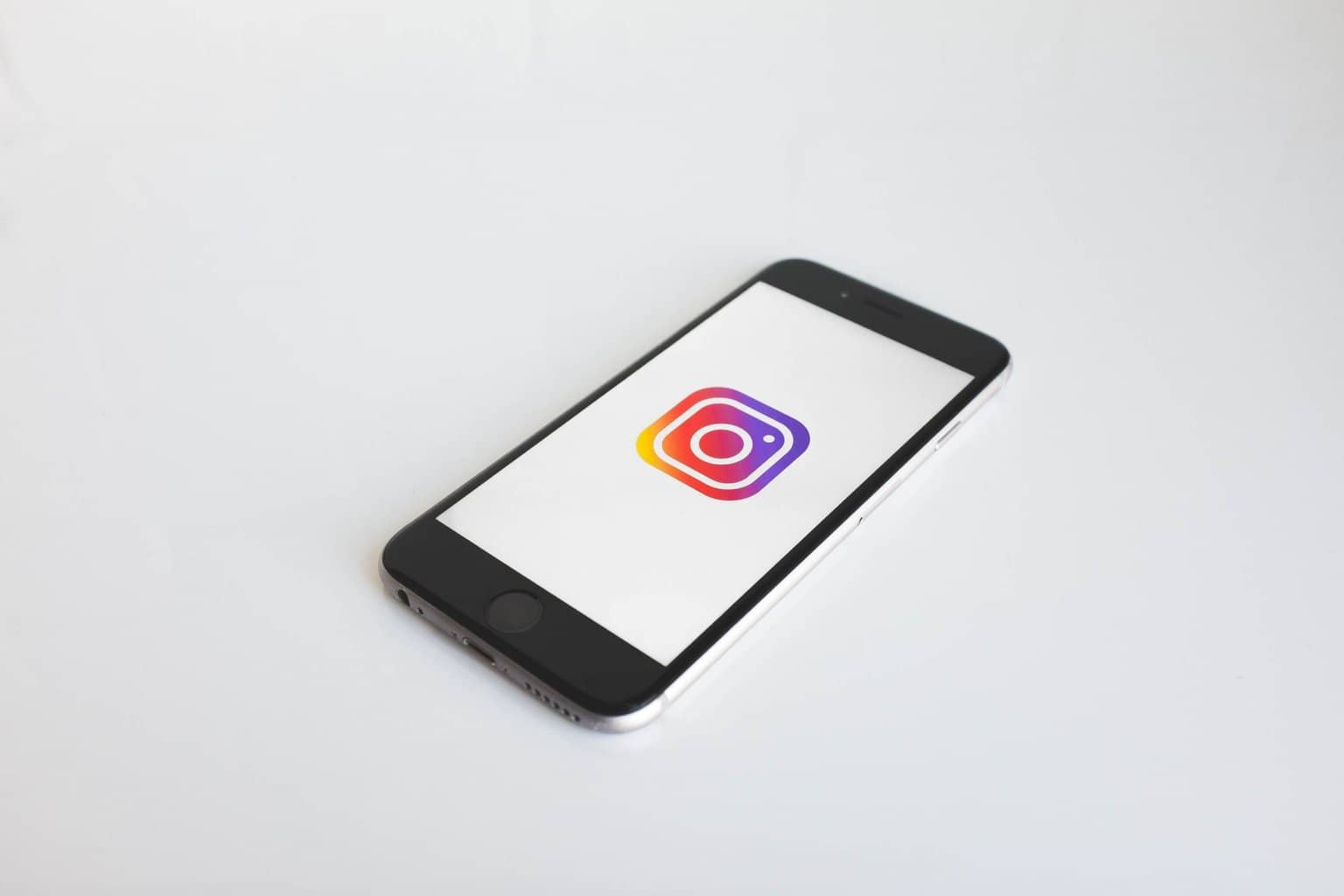 Want to know more about using Instagram Hashtags effectively? We've actually poured all of our know-how into one comprehensive guide: Read our Instagram Hashtags Cheat Sheet here.
Pinterest
Up last in the line-up is Pinterest. This social network wants you to use hashtags to help them organize their pins!
Suggestion: Use up to 20 hashtags on your pin
Where do I find the best fitness hashtags?
So we've given you lots of options but if you want to find some more relevant, or even niche fitness hashtags, we can support you in that search.
Let's check it for three of the social networks: Twitter, Facebook and Instagram.
Twitter
The best bet here is to use the automatic search that Twitter has built into its platform! Just use your first hashtag, like #fitness, and see the options come up.

Facebook
No need here – hashtags are really only useful for brands.
Instagram
Here you can use Instagram's own search, or a third-party tool.
We like to use hashtag generators like the free one – All Hashtag or the best in the business, Hashtags for Likes.
Sometimes we also try to use Instagram's Search itself. To do that just type in your hashtag in the search bar i.e. #fitness and see the other options. As you'll see in this picture, there are great options like #fitnesspark (365k) or the previously mentioned #fitnessaddicts (342k).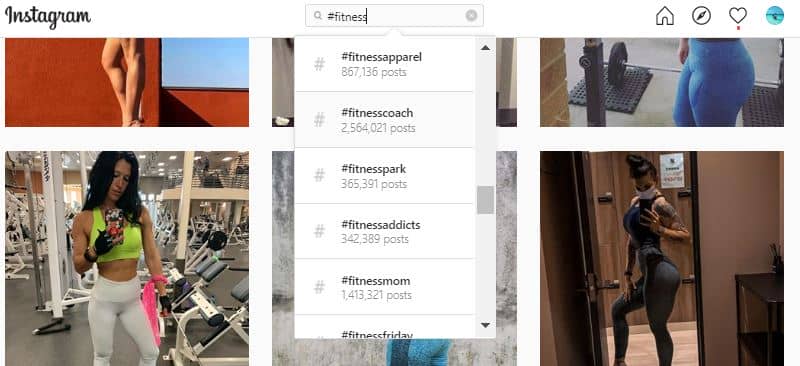 Top 10 Fitness Hashtags for 2021
Now this is the least scientific part of this article but we are fascinated by stats. With that in mind, we wanted to count down the most popular hashtags on Instagram, the platform that really made hashtags famous.
While we don't want to ignore the other social networks, there is no doubt that Instagram is the most famous for hashtags right now. With that in mind, here are some of the most popular fitness hashtags for 2021 on Instagram:
#fitness
#fitnessmotivation
#fitnessmodel
#fitnessaddict
#fitnessgirl
#fitnessjourney
#fitnesslifestyle
#fitnesslife
#fitnessfreak
#fitnessgoals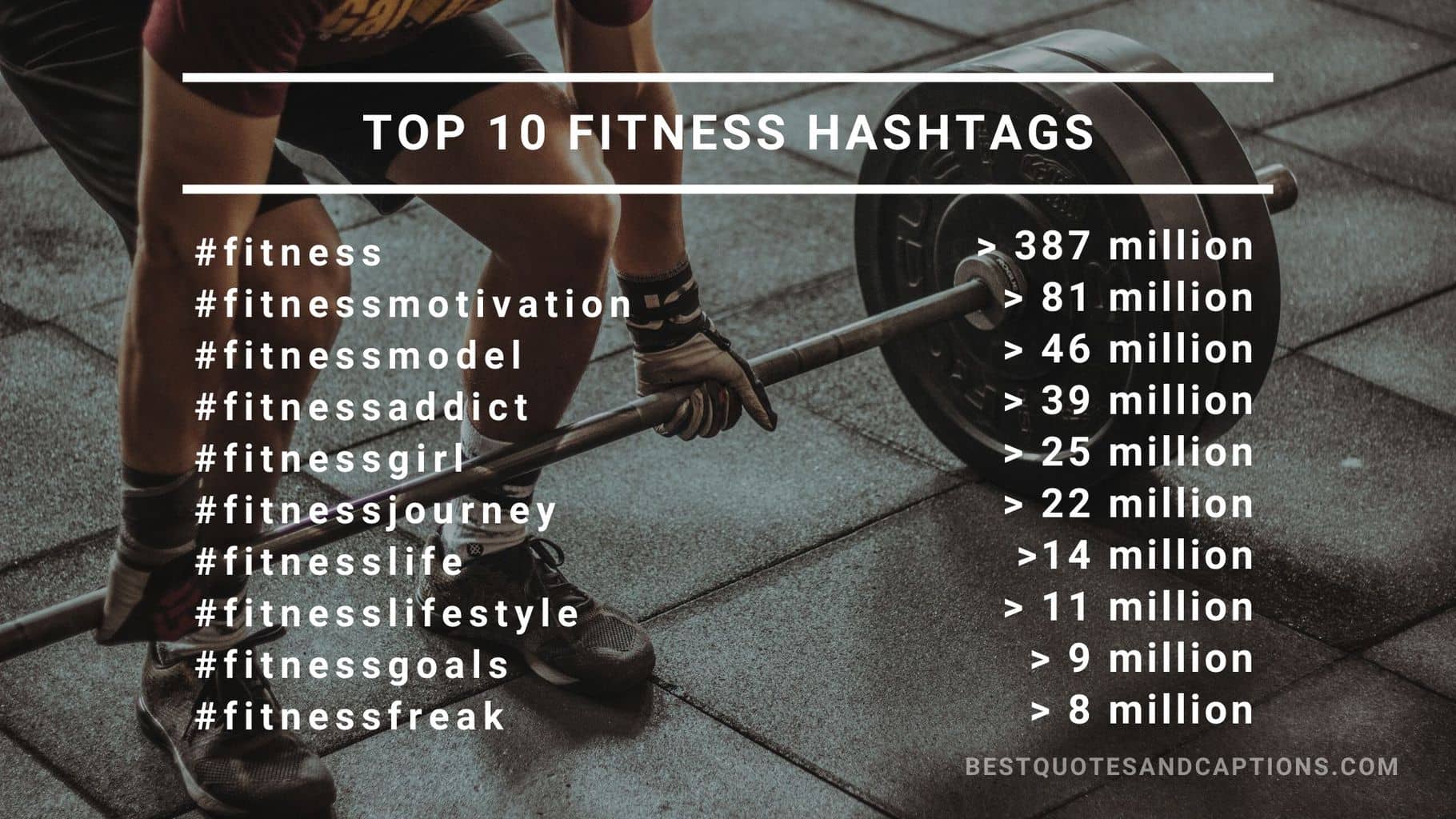 FAQ: Fitness Hashtags
What is the maximum number of fitness hashtags you can insert in a comment on an Instagram photo?
You can insert a maximum of 30 fitness hashtags in your posts. However, it's worth trying lower numbers and mixing it up – current guidance suggests 10 hashtags of varying volume.
How do I find all the photos using a specific Instagram fitness hashtag?
Simple, just search the fitness hashtag in Instagram's search bar, and you'll find all the photos sorted by Top and by Recent.
Should I put the fitness hashtags in the Instagram caption or the comment?
Either is fine and seems to make no difference. That said, many people put their hashtags in their first comment so that the caption space seems 'cleaner'.
How many hashtags can I put on a Pinterest pin?
You are allowed up to 20 hashtags per pin.
How many hashtags can I put in a Twitter tweet?
Technically, as many as your character limit allows. However, Twitter recommends up to 2 hashtags per tweet.
What did you think of this article? If you loved this, then definitely try our Nature Hashtags or Love Hashtags guide. If you're looking to document your post-workout glow on WhatsApp, you can also check out options for a happy status for WhatsApp here.
Other essential Instagram growth tools
---
Want to save this for later? Why not pin it…