Looking for the perfect hashtags for your couples' picture on Instagram, or wanting to figure out the right hashtag to use on LinkedIn or Twitter? We've curated a full guide on the best couple hashtags on the internet, including comprehensive lists and some tips and tricks on how to use them. Keep reading below…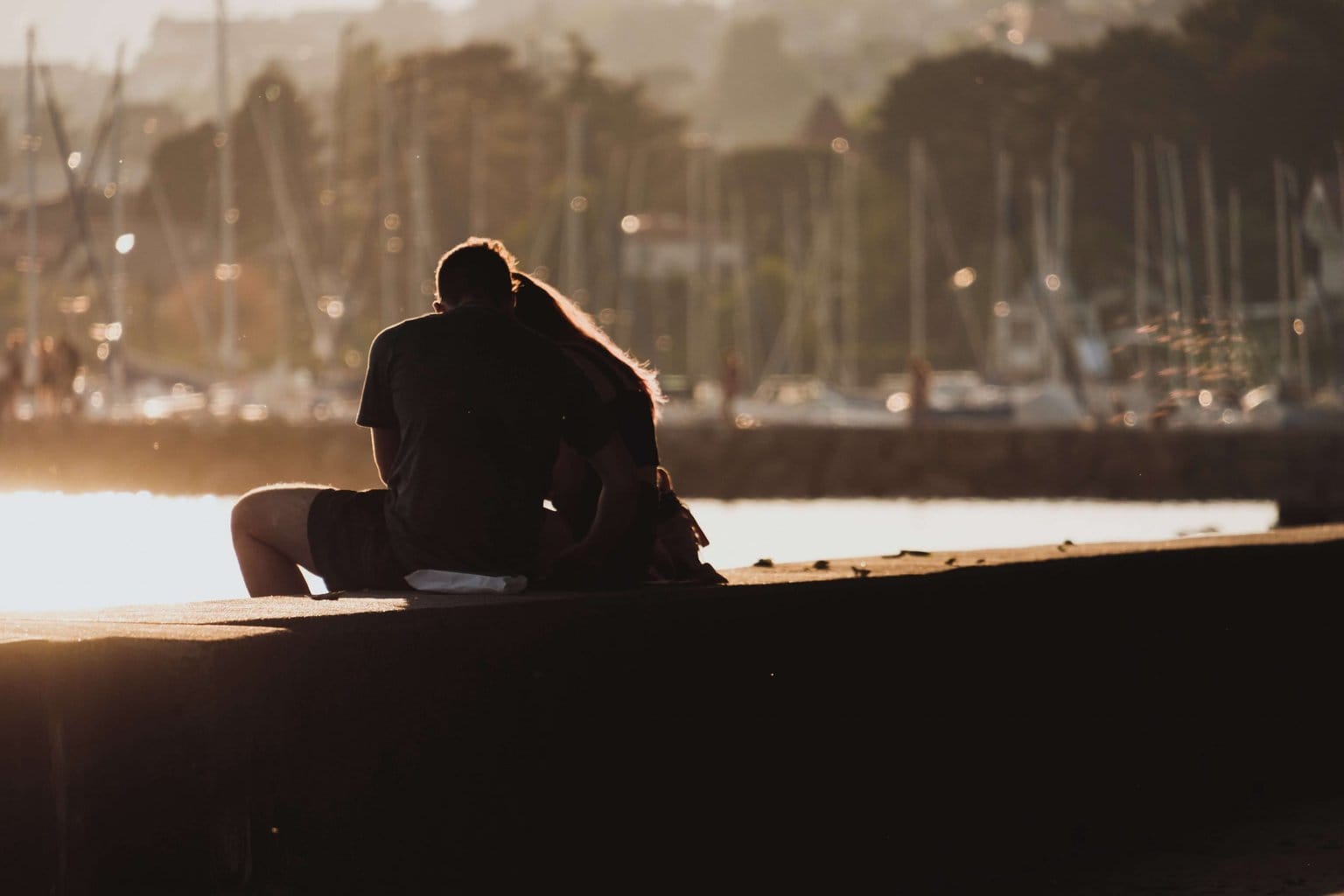 Why should you use couple hashtags?
Now, first up, using hashtags really depends on the platform, something we've gone into in detail in our section on 'Using Hashtags on Different Social Platforms' below.
But, on the whole, either hashtags increase your viral reach on platforms like Instagram and Twitter or they help to categorize posts (Twitter, Pinterest and LinkedIn).
Copy and Paste: List of the best couple hashtags
We've included some tips on how to best use hashtags depending on the platform (spoiler: make sure you mix them up), but if you're just in a rush and wanting to copy and paste a few, we've curated these killer couples hashtag lists for you below:
#beautifulcouples #couple #couplecase #couplegoal #couplegoals #coupleinlove #couplelove #couplelover #couplelovers #coupleloves #couplephoto #couplephotography #couplepic #coupleportrait #couplequotes #couplering #couples #coupleselfie #coupleset #couplesgoals #coupleshoot #coupleshot #couplesofinstagram #couplesphotography #couplestyle #coupletime #coupletravel #coupletrip #couplevideos #instacouple
Relationship hashtags:
#dreamlover #dreamlovers #relationship #relationship101 #relationshipgoal #relationshipgoals #relationshipmemes #Relationshipposts #relationshipquote #relationshipquotes #relationships #relationships101 #relationshipsbelike #relationshipsgoals #relationshipsmatter #relationshipstatus #soulmate #soulmate_love_ #soulmatelove
Related: The best love hashtags
Travel couple hashtags:
#couplelovetravel #couplesthattravel #couplestravel #coupleswhotravel #coupletraveltheworld #couplewhotravel #creativetravelcouples #earthcouples #globecouples #inspiredtravelcouples #travelcouple #travelcouplelife #travelingcouple #travelingcouples #travellingcouples #travelpassport #travelustcouples #welovetravel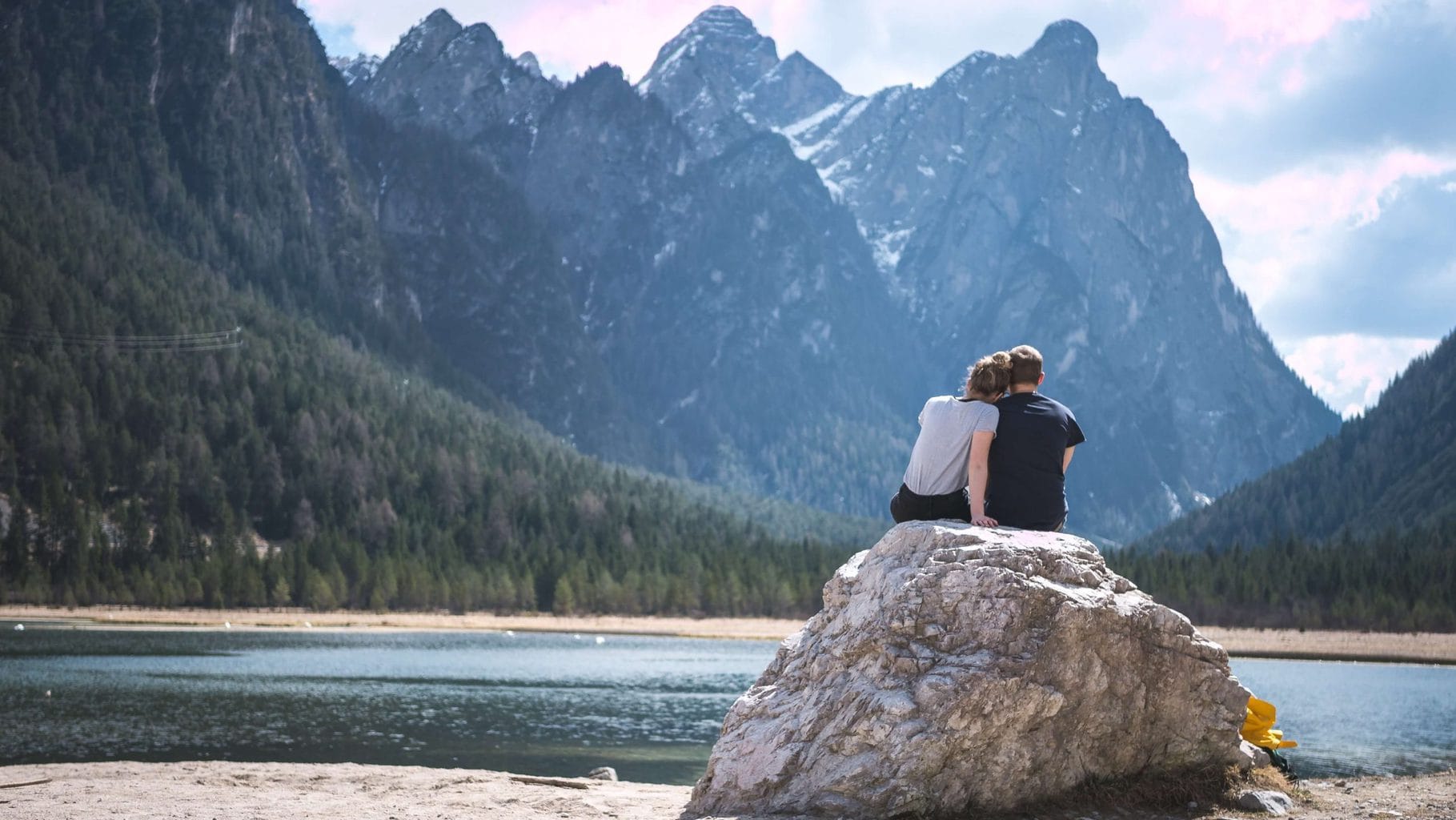 Cute couple hashtags:
#blessed #boywithluv #cute #CuteAF #cutecouple #cutecouple #cutecouples #cutelove #cutelovers #cuteness #cutenessoverload #cutest #lovehim #luckygirl #luva
Girlfriend or boyfriend hashtags:
#bf #boyfriend #boyfriend #boyfriendandgirlfriend #boyfriendappreciation #boyfriendappreciationpost #boyfriendday #boyfriendgirlfriend #boyfriendgoals #boyfriendlove #boyfriendmaterial #boyfriendquotes #boyfriendsofinstagram #boyfriendtag #boyfriendtime
#gf #girlfriend #girlfriendandboyfriend #girlfriendbeautiful #girlfriendgoals #girlfriendlove #girlfriendmaterial #girlfriendpost #girlfriendquotes #girlfriendtime #loveher #luckygirlfriend
Related: Inspirational quotes for women
Engagement hashtags:
#engagement #engagementring #engagementphotos #engagementsession #EngagementParty #engagementrings #engagementphotography #engagementshoot #engagementphotographer #engagements #EngagementPhoto #engagementpictures #engagementideas #engagementday #engagementmakeup #engagementgift #engagementphotoshoot #engagementseason #engagementinspiration #engagementpics #engagementportraits #engagementportrait  #engagementpic
Married couple hashtags:
#hubbylove #marriage #marriage101 #marriage365 #marriagebootcamp #marriagegoals #marriagegoals #marriageisfun #marriagelife #marriagematerial #MarriageMatters #marriagequotes #marriagerocks #marriages #marriagetime #marriagetips #wifey #wifeyforlifey #wifeywednesday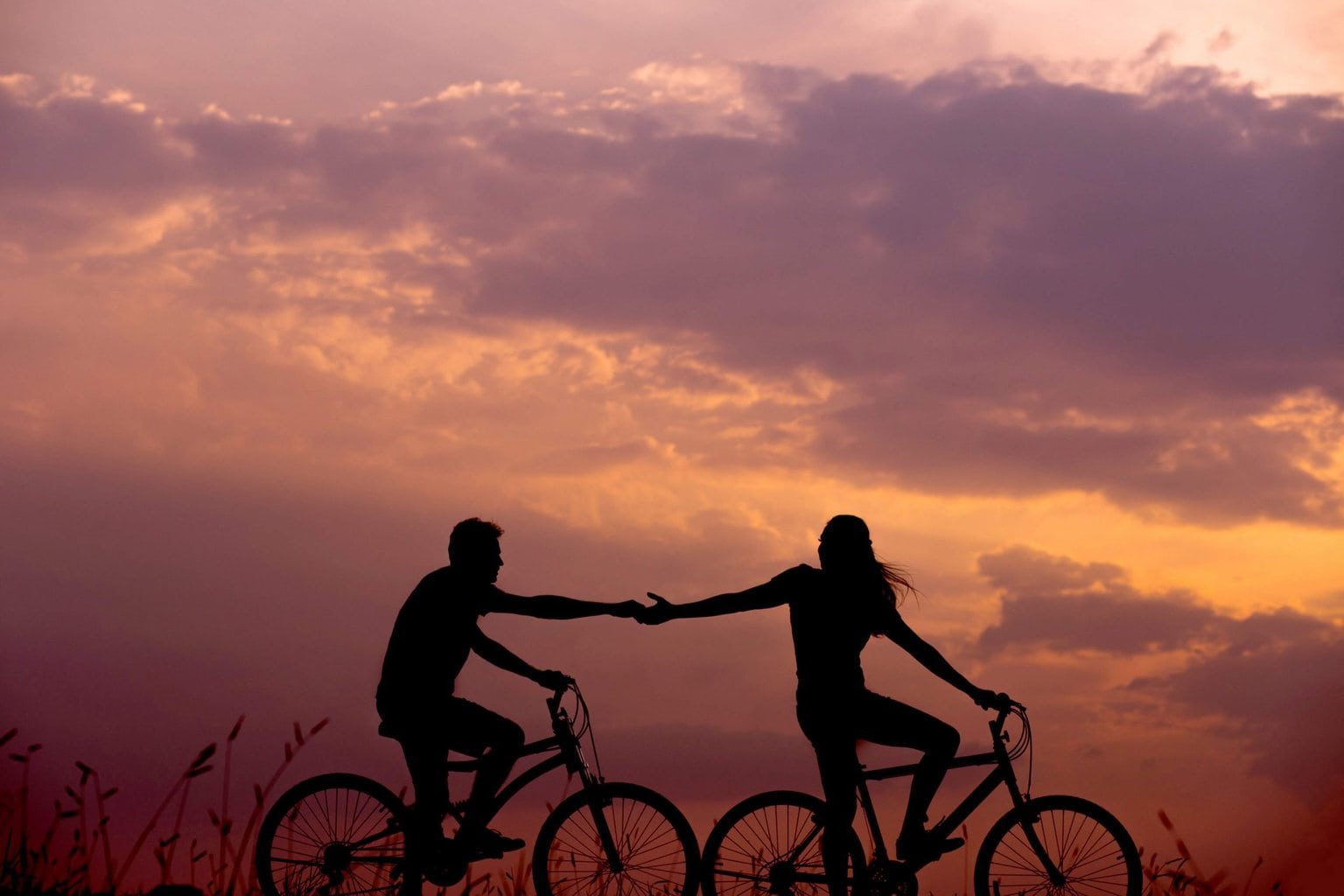 Wedding hashtags:
#wedding #weddingdress #weddingday #weddingphotography #weddings #weddingphotographer #weddinginspiration #weddingplanner #weddingideas #weddingphoto #weddingdecor #weddingparty #weddingplanning #weddingcake #weddingmakeup #weddinggown #weddinghair #weddingseason #weddinginspo #weddingstyle #weddingflowers #weddingring #weddingdetails #weddingtime #weddinggift #weddingblog #weddingfun #weddingku #weddingreception #weddingphotos
If you're wanting to make a real impact on your Instagram engagement, we'd suggest that you look into Ingramer!

With a full suite of tools, Ingramer acts as an automation partner – essentially the most powerful way to grow your account. It includes hashtag generators, and Instagram Downloader and a Story Viewer that watches other accounts' stories in a bid to attract them to follow you. With advanced targeting filters and an autobot, this is currently the best growth tool on the market.

Sign up here and use SCRIBESMEDIA to save up to 22% on some of the features!
Using hashtags on different social platforms – Instagram, Facebook, LinkedIn and Twitter
Since each platform is a little different, we thought we'd delve into how hashtags work for each of them below:
Twitter
Did you know that Twitter invented the hashtag? Essentially in the infancy of the platform, the hashtag was invented to 'categorize' tweets before Twitter Search came into being, and now its used to keep those topics together and show 'trends' on popular topics.
Nowadays, tweets that use hashtags get an average of two times more engagement. But, keep it simple – if you use more than two hashtags, your engagement drops by an average of 17 percent.
Recommendation: Use two, well-researched hashtags
Facebook
Similar to Twitter, Facebook hashtags 'tie together' conversations from different users in one stream. However, unlike Twitter, most users are private and therefore the hashtags aren't searchable.
This means that, as in this guidance from Facebook itself, hashtags on Facebook are best used by brands and companies, rather than individuals.
Recommendation: Don't use hashtags on Facebook as an individual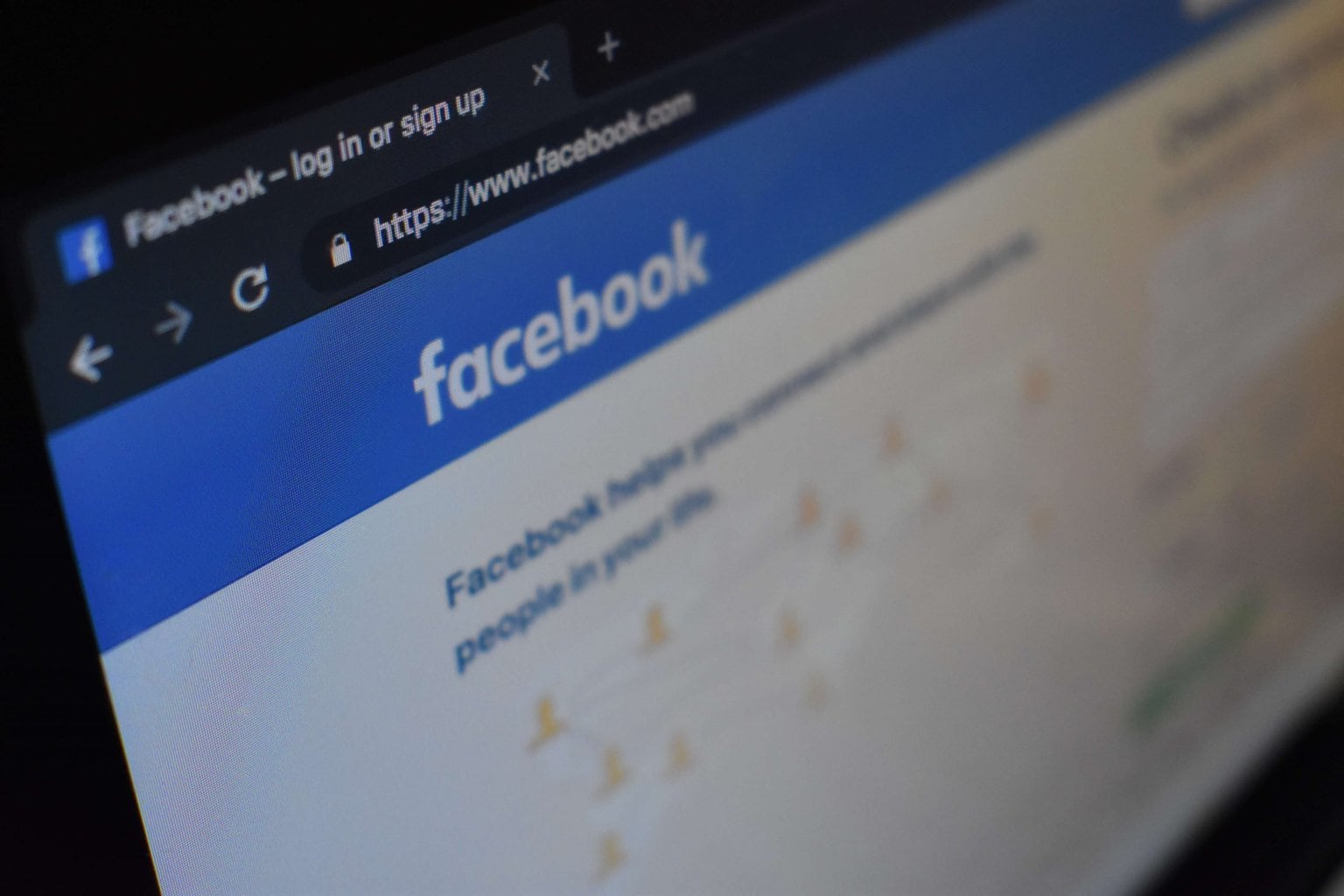 LinkedIn
Like Instagram or Facebook, you can follow relevant hashtags on LinkedIn and add them to your posts or updates. Actually, LinkedIn is really handy in that when you create a post, it usually shows you recommend hashtags for that update!
Recommendation: Use three to four of the recommended hashtags
Pinterest
Pinterest, the visual search engine, really encourages its users to make use of hashtags, again as a way of sorting content. So, if you're wanting your picture of couples travel to feature in someone's Pinterest feed, its definitely worth using a hashtag like #couplestravel.
According to Pinterest itself, you can use up to 20 hashtags per pin.
Recommendation: Use up to 20 hashtags on your pin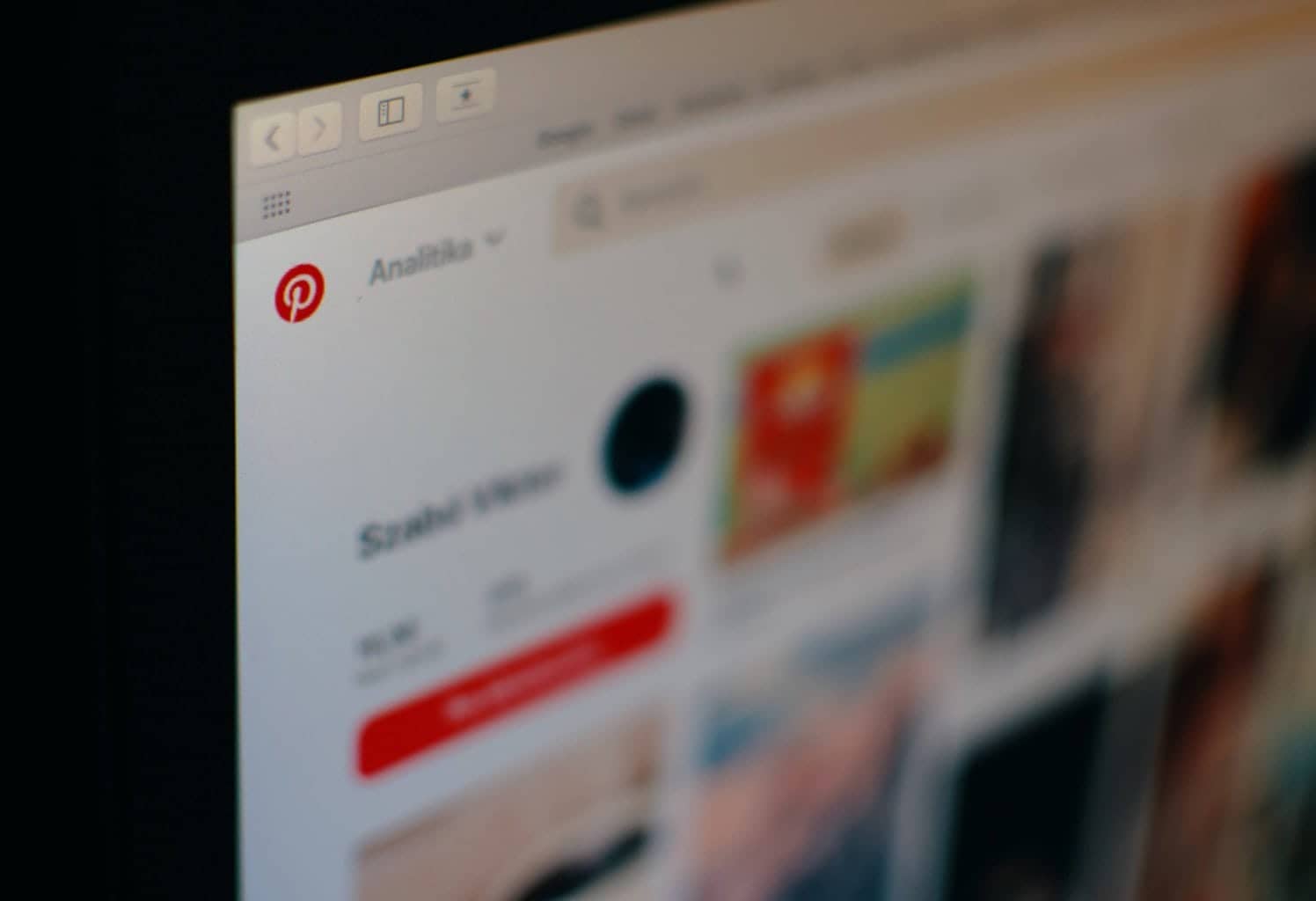 Instagram
Now Instagram is a little different to the others, as hashtags are an integral part of increasing reach on both feed posts and stories.
For Instagram Feed Posts the latest guidance is that it's suggested that you use around 10 hashtags, all perfectly curated i.e. a mix of popular, less popular and 'niche' hashtags, although you can use up to 30 hashtags on every post.
Remember: don't just use the popular hashtags, since your post will compete with thousands, if not millions of other posts. As an example, if using the hashtag #couple, you're going up against 21 million other posts!
For Instagram Stories, it's worth trying a different hashtag every few frames to see which ones gives you the most views.
Lastly, if you're doing an Instagram Carousel Post i.e. a multi-image post in your feed, it might be that hashtags don't work properly on your post. This is a known bug in Instagram since 2020.
Recommendation: Use around 10 mixed hashtags on feed posts and a different hashtag on every 2nd to 3rd Stories frame
Want to know more about using Instagram Hashtags effectively? We highly recommend this Instagram Hashtag Cheat Sheet.
Where do I find the best couple hashtags?
Now we've told you how to use them, but what about how to find them? Again, let's explore each platform in a bit more detail:
Twitter
Your best bet to find good couple hashtags for Twitter is using Twitter Search itself. Do a simple search in the search bar, like #couple, and you'll see some more options pop up.
If you want to really find an opportunity to increase reach on your tweet, you could also consider Twitter's Trending Topics, or even using something like Trendsmap to find hyper-local hashtag suggestions.

Facebook
As mentioned above, it's honestly not worth trying to use hashtags as an individual, so we won't even cover the search options here.
Instagram
Now Instagram is where you'll find a bit more meat on the social media bone. First up, you can use Instagram's on built-in Search functionality.
So, simply type in your hashtag like #couple and find yourself a lot more options such as #coupletime (333k) or #couplephoto (534k).
Alternatively, if you want to use a third party tool, there are both free and paid options on the market.
The best in the business is Hashtags for Likes, although its on a paid basis. For a free, although not as comprehensive tool, definitely try All Hashtag, a free of charge couple hashtags generator.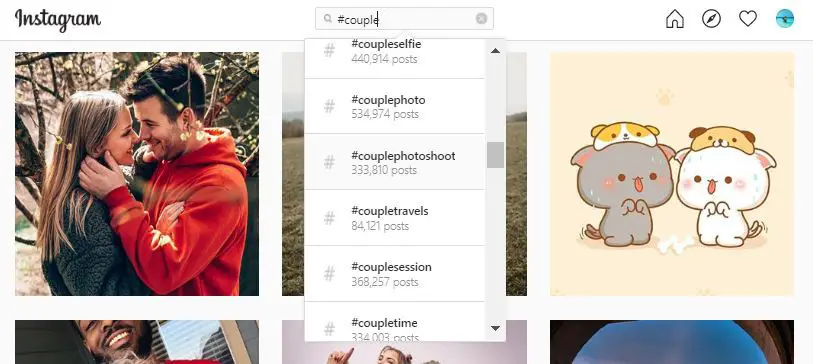 Top 10 Couples Hashtags for 2021
This is possibly very unscientific, but since Instagram is the largest outlet for hashtags, we've gone ahead and found the most popular ten hashtags about couples hashtags. Our advice? Don't use these if you want to increase your engagement, since they are very competitive!
#couple
#couplegoals
#relationshipgoals
#couples
#relationships
#couplesgoals
#cutecouples
#coupleshoot
#couplelove
#couplegoals❤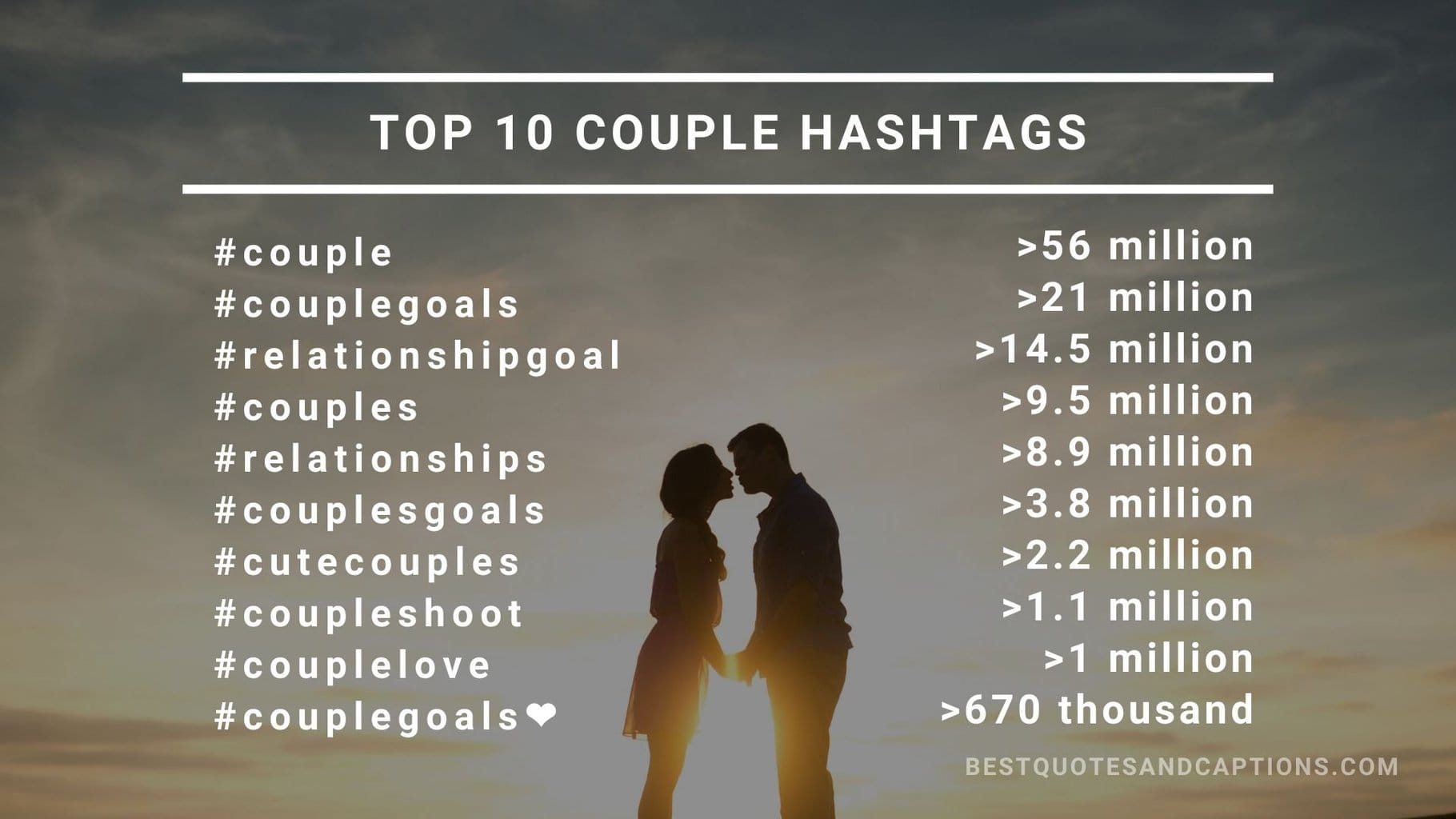 FAQ: Couple Hashtags
What is the maximum number of hashtags you can insert in a comment on an Instagram photo?
You can insert a maximum of 30 hashtags in your posts. However, it's worth trying lower numbers and mixing it up – current guidance suggests 10 hashtags of varying volume.
How do I find all the photos using a specific Instagram couple hashtag?
Simple, just search the couple hashtag in Instagram's search bar, and you'll find all the photos sorted by Top and by Recent.
Should I put the hashtags in the Instagram caption or the comment?
Either is fine and seems to make no difference. That said, many people put their hashtags in their first comment so that the caption space seems 'cleaner'.
Related: The best motivational captions for Instagram
How many hashtags can I put on a Pinterest pin?
You are allowed up to 20 hashtags per pin.
How many hashtags can I put in a Twitter tweet?
Technically, as many as your character limit allows. However, Twitter recommends up to 2 hashtags per tweet.
What did you think of our Couple Hashtag Guide? Let us know in the comments below!
We also have a lot more for you! Like guides for sunset hashtags and sunset quotes, as well as nature hashtags for those who love the outdoors.
Other essential Instagram growth tools
---
Want to save this for later? Why not pin it…