Is there anything more spectacular than the sun setting on a good (or even a bad) day? Perhaps you've got a stunning sunset picture or want to reference the falling of dusk in a short tweet or two. Either way, we've put together this ultimate guide on the best sunset hashtags, with some handy copy and paste lists and recommendations for using them on Instagram, Twitter, Pinterest, Facebook and even LinkedIn.
So, let's get going, shall we?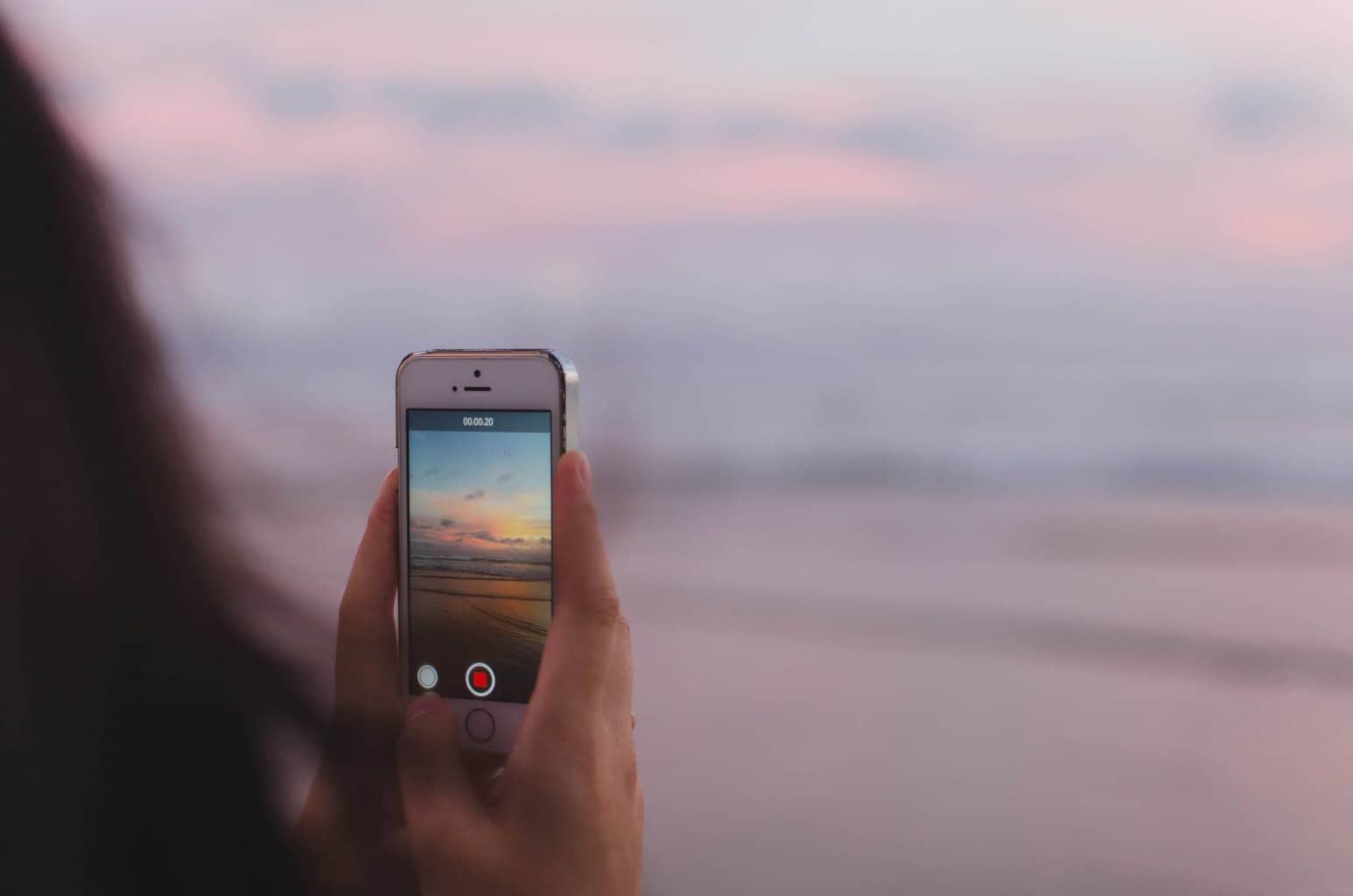 Why should you use sunset hashtags?
Well, that depends. If you're wanting to increase the number of people seeing your Instagram post or your tweet, then hashtags are critical. Or, if it's for Pinterest, perhaps you want to make sure your sunset pin shows up in the home feed.
Usually hashtags help you to either increase the eyeballs to your post, Instagram caption or tweet, or just to categorize posts. Either way, they are definitely worthwhile!
We'd put together a short guide on 'Using Hashtags on Different Social Platforms' below which goes into a bit more detail.
Copy and Paste: List of the best sunset hashtags
Okay, you just want the good stuff? Well here are some cracking sunset hashtags you could use on different platforms below. That said, do try to read on in this guide for some tips and tricks on how to use them properly, depending on the platform you use.
General sunset hashtags
#sunset #sunsets #sunsetlovers #sunsetporn #sunsetlover #sunsetsky #sunsetsniper #sunsetphotography #sunsetbeach #sunsethunter #sunsetmadness #sunsetview #sunsetting #sunsetvision #sunsetstrip #sunsetlight #sunsetcolors #sunsetphoto #sunsetpic #sunsetpics #sunsetsofinstagram #sunsetgram #SunsetTime #sunsetcliffs #sunsetoftheday #sunsetpark #sunsetlove #sunsetchaser #sunsetoftheworld
#sunsetvibes #sunsetglow #sunsetsnipers #sunsetphotographs #sunsetorsunrisemagazine #sunsetniper #sunsetshots #sunsetaddict #sunsetbar #sunsethair #sunsetclouds #sunsetchasers #sunsetonthebeach #sunsetwalk #sunsetparty #sunsetlicious #SunsetSunday #sunsetsession #sunsetskies #sunsetcaptures #sunsetsuperstar #sunsetstream #sunsetphotos
#sunsetsunrise #sunsetsilhouette #sunsetrun #sunsetorange #sunsetviews #sunsetoverdrive #sunsetpoint #sunsethunters #sunsetmood #sunsetart #sunsetsgram #sunsetlandscape #sunsethub #sunsetpainting #sunsetcolours #sunsethills #sunsetgoals #sunsetskyline #sunsetdinner #sunsetandsunrise #sunsetbeauty #sunsetshot #SunsetCity #sunsetaroundtheworld #sunsetpalette
Related: 300+ of the best sunset quotes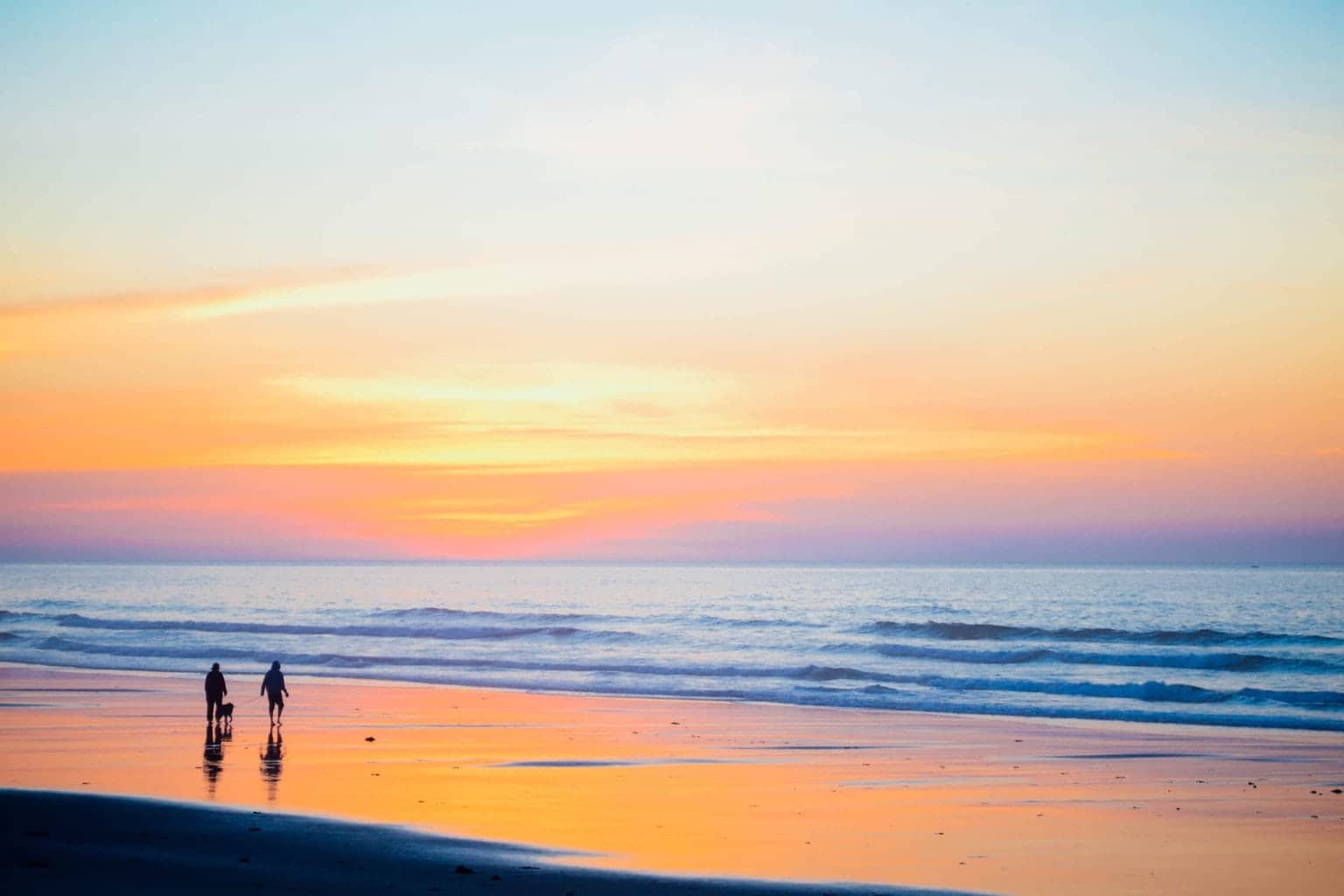 Twilight or dusk hashtags
#dusk #dusktilldawn #dusklight #dusktodawn #duskypink #duskphotography #dusktildawn #duski #duskotosic #dusksky #dusklifestyle #duskobsessed #duskcomplex #duskanddark #twilight #twilightscapes #twilightsparkle #TwilightZone #twilightforever #twilightphotography #twilighter #twilighttime #twilightlove #twilightmemories #twilightsky #twilightwolves
If your hashtag is meant to accompany a picture, it's also worth thinking about other elements in the picture and their relevant hashtags. Is it a sunset above an ocean? Or a forest? Or a city? These are all hashtags you could consider:
Ocean hashtags
#ocean #oceanview #Oceanside #oceanlife #Oceans #oceanbeach #oceanlove #oceandrive #oceanlover #oceanphotography #oceanfront #oceanviews #oceanart #oceanvibes #oceanbreeze #oceanlovers #oceanwaves #sea s #seascape #SeaShore #SeaLife #seaview #sealovers #sealover #seascapes #seapunk
Nature hashtags
#nature #naturephotography #naturelovers #NatureLover #natureza #Naturegram #natureaddict #naturephoto #natureshots #naturelove #natureonly #naturewalk #natureshot #natureart #naturepic #naturesbeauty #naturebeauty #naturepics #natureperfection #natureisbeautiful #naturediversity #naturelife #naturephotographer #natureloversgallery #naturephotos #naturegeography #natures
Related: A full list of the best nature hashtags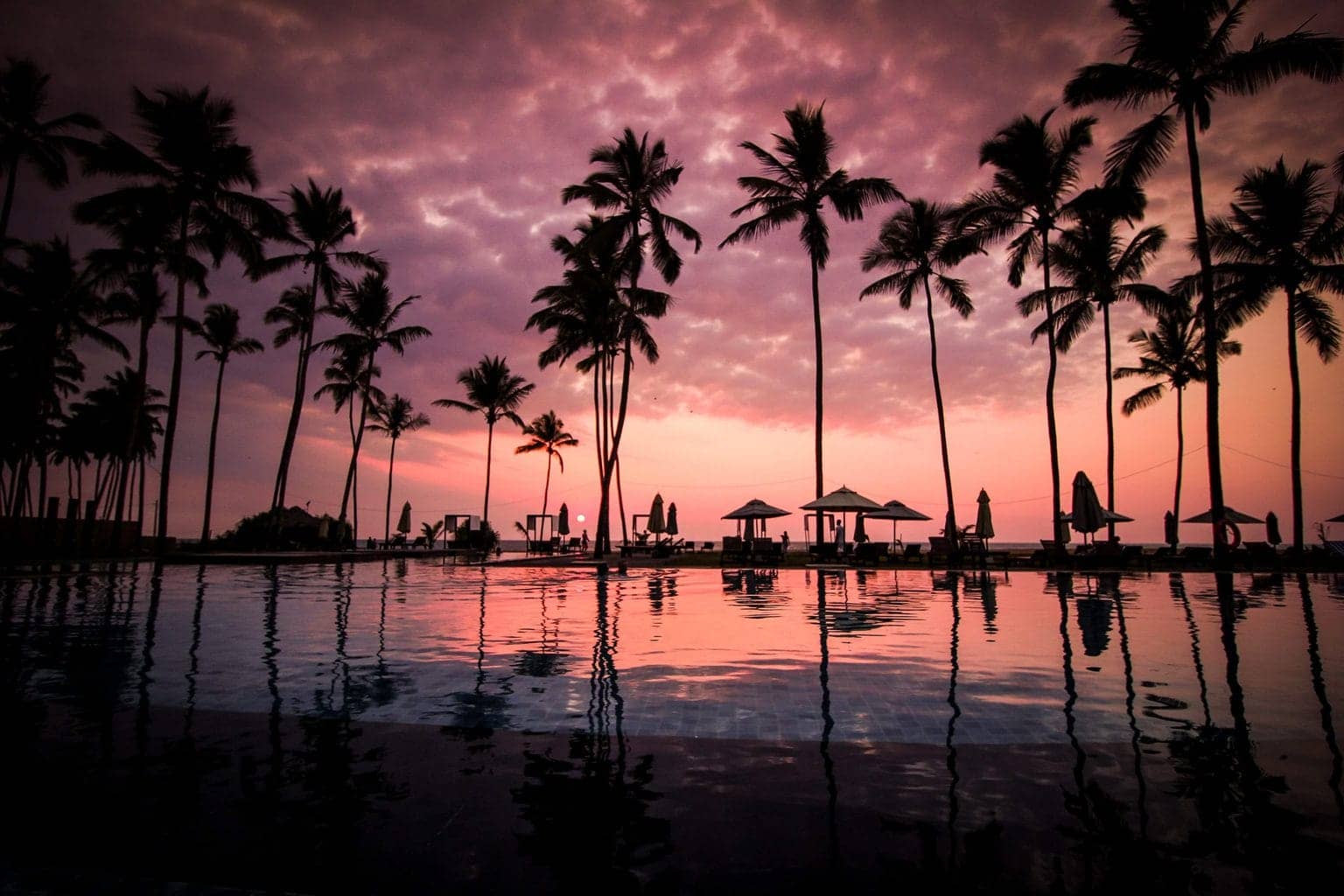 City hashtags
#City #citylife #cityscape #cityview #citylights #citytrip #cityphotography #citykillerz #citybestpics #citywalk #citybreak #cityscapes #citycenter #citytour #cityliving #citystreets #cityviews #citygrammers #citypicz #cityoflove #citycentre #citystyle #CityofDreams #citylimitless #citynights #cityvibes
If you're wanting to make a real impact on your Instagram engagement, we'd suggest that you look into Ingramer!

With a full suite of tools, Ingramer acts as an automation partner – essentially the most powerful way to grow your account. It includes hashtag generators, and Instagram Downloader and a Story Viewer that watches other accounts' stories in a bid to attract them to follow you. With advanced targeting filters and an autobot, this is currently the best growth tool on the market.

Sign up here and use SCRIBESMEDIA to save up to 22% on some of the features!
Using sunset hashtags on different social platforms – Instagram, Facebook, LinkedIn and Twitter
How you use hashtags really depends on the platform of choice. With that in mind, let's look at how to best use them, plus our recommendation, for the major social networks:
Twitter
Did you know that Twitter invented the hashtag? Back when the platform was new, users created hashtags as a well to organize it, before Search was invented.
Today, hashtags still have a key purpose in showing your tweet to more users, particularly on trending topics and the research shows that tweets with hashtags get double the engagement.
Recommendation: Use two, well-researched hashtags
Facebook
Now Facebook uses hashtags in a similar way to Twitter BUT there is a big caveat here: most Facebook profiles are private or limited, so the hashtags aren't searchable. This generally means that hashtags on Facebook are only useful for companies and brands.
Similar to Twitter, Facebook hashtags 'tie together' conversations from different users in one stream. However, unlike Twitter, most users are private and therefore the hashtags aren't searchable.
Recommendation: Don't use hashtags on Facebook as an individual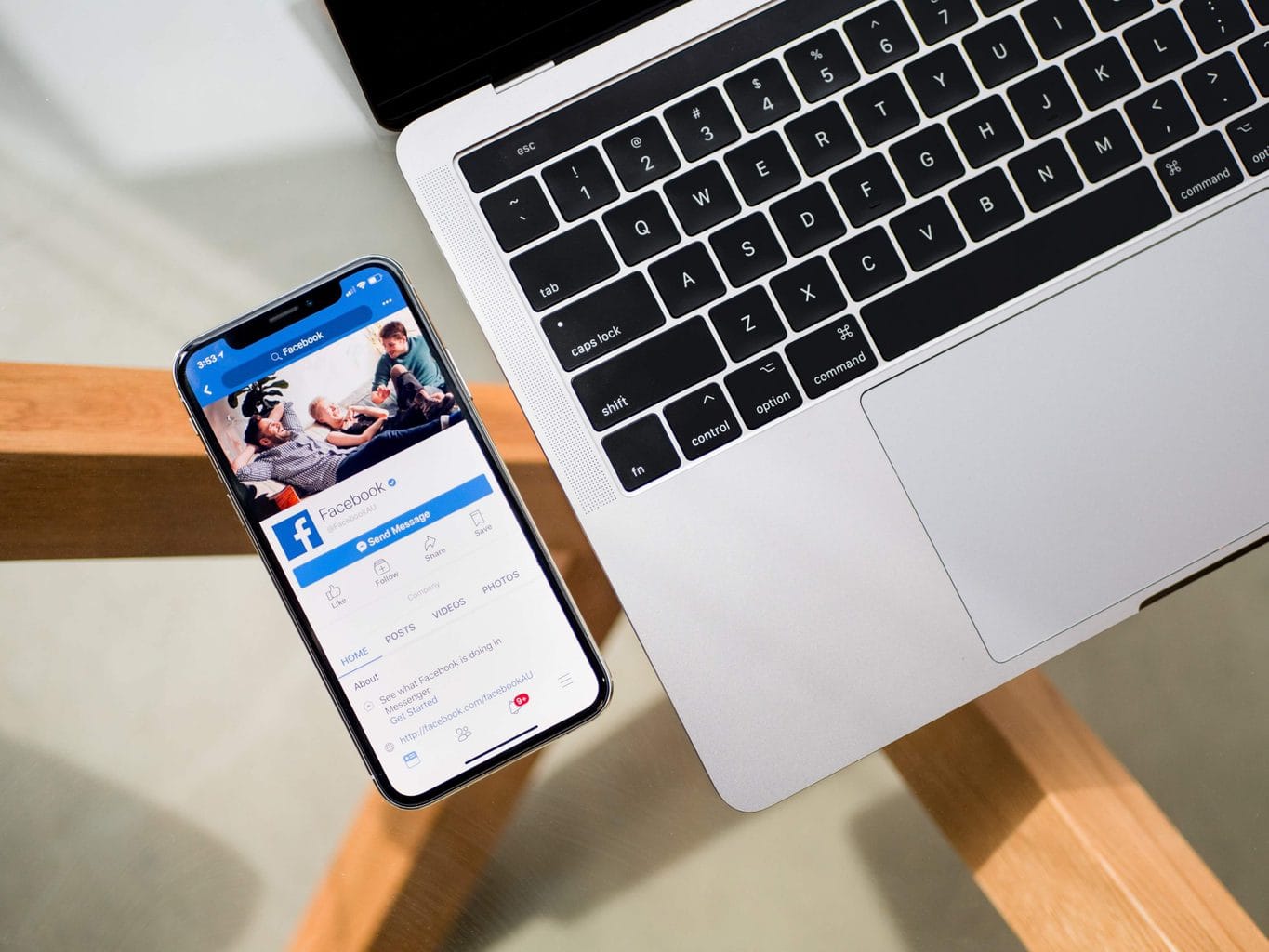 LinkedIn
This business social network is the easiest of them all – LinkedIn actually suggests hashtags for you, when you write a post or update! At time of writing you can't use hashtags in actual articles, only in posts, but its still a nifty feature!
Recommendation: Use three to four of the recommended hashtags
Instagram
Where do we start with Instagram? Well hashtags are crucial if you want to extend your post or stories beyond your own community of followers and friends.
When it comes to Feed Posts, you can use up to 30 hashtags but the most recent stats show that around 10 is the 'magic number' for getting hashtag impressions. For these hashtags, make sure you 'mix it up' by using hashtags with different volumes. As an example, if you just used the #sunset, you'd be competing with 242 million other posts. But if you used #sunsetgram (262k), there's a much better chance someone will see your post under that hashtag.
For Stories, it's suggested to try out different hashtags on every 2-3 frames, and then to check your Viewers and see which hashtag got you the most views.
Recommendation: Use around 10 mixed hashtags on IG Feed Posts and a different hashtag on every 2nd to 3rd IG Stories frame.
Want to know more about using Instagram Hashtags effectively? We highly recommend this comprehensive Instagram Hashtags Cheat Sheet.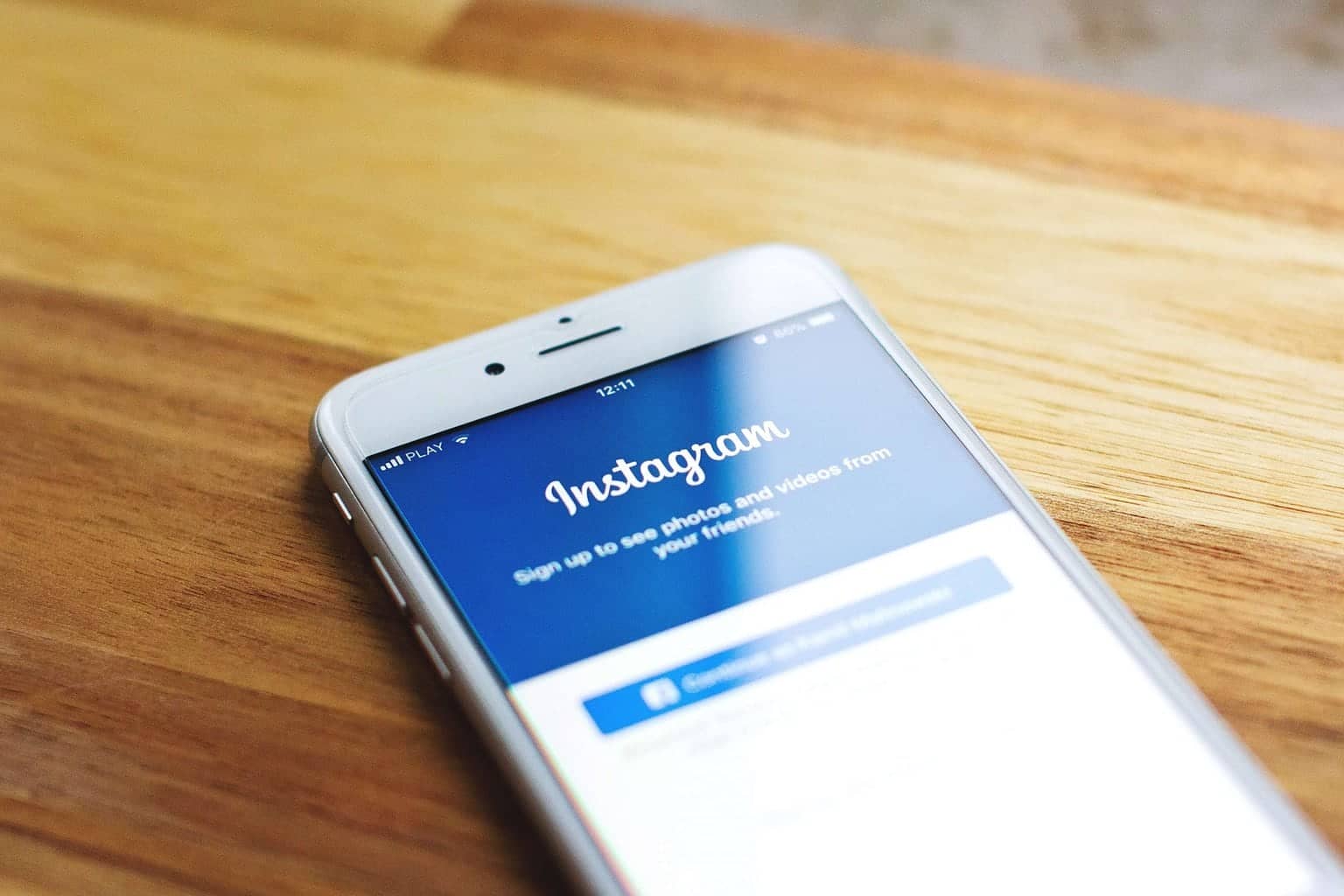 Pinterest
Last, but definitely not least, is Pinterest. Here you definitely should use hashtags – they actually recommend it! Let's say that you have a fantastic sunset pic, try to use up to 20 hashtags (that's their max recommended number) to try and get your sunset photo into someone's Pinterest home feed.
Recommendation: Use up to 20 hashtags on your pin
Where do I find the best sunset hashtags?
So we gave you the lowdown on how to use them, but where on earth do you find them? Let's try that again, looking at each platform for different search options:
Twitter
Simple – it's Twitter Search. Just use the Twitter Search bar, enter your hashtag (in this case #sunset) and a few more related options should auto-populate. If you want something a little unrelated, you could also try out something like Trendsmap to see what's trending in your country or area, for some more popular hashtags.

Facebook
Like we said above, hashtags on Facebook are nearly exclusively meant for companies and brands.
Instagram
Instagram is probably the platform where you want to spend the most time searching for that perfect hashtag mix. And your first port of call is the platform's own search.
Just type in the first hashtag – like #sunset – and you'll find yourself given a number of other ideas, like #sunsetshots (238k) or #sunsetcolors (387k).
You can also use some fantastic third-party tools. The best one is the paid version of Hashtags for Likes although you can try the free sunset hashtags generator, All Hashtag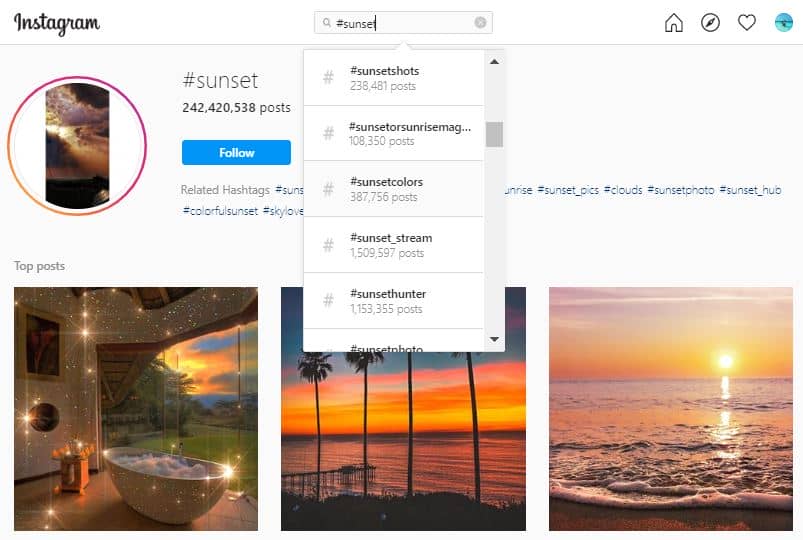 Top 10 Sunset Hashtags for 2021
Now we definitely don't recommend that you use many of these, but we are always interested in finding out the most popular hashtags (on Instagram). And, for sunsets, drumroll please….
#sunset
#sunsets
#sunset_pics
#sunset_madness
#sunsetsky
#sunset_vision
#sunset_hub
#sunset_stream
#sunset_ig
#sunsetview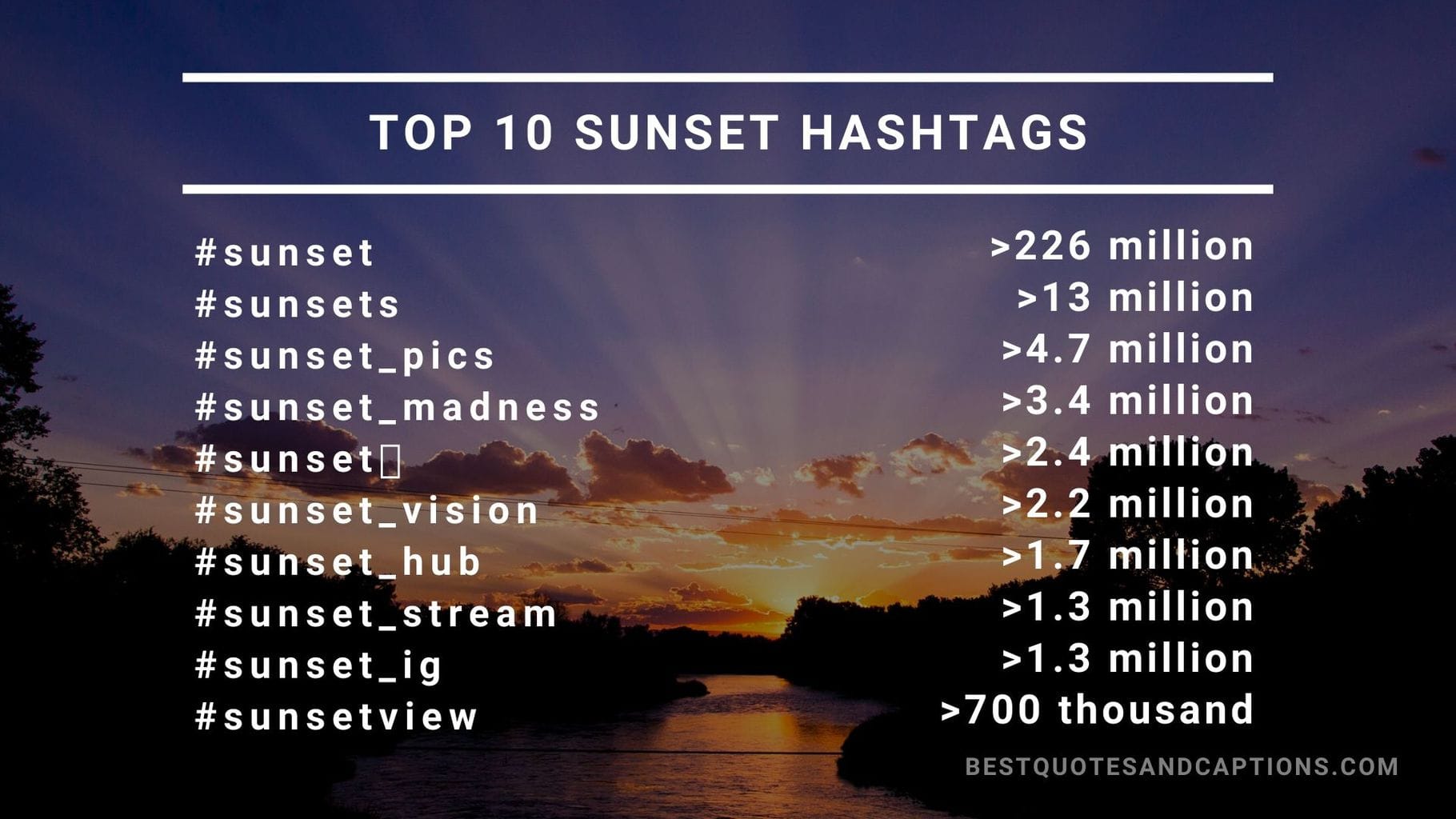 FAQ: Sunset Hashtags
What is the maximum number of sunset hashtags you can insert in a comment on an Instagram photo?
You can insert a maximum of 30 hashtags in your posts. However, it's worth trying lower numbers and mixing it up – current guidance suggests 10 hashtags of varying volume.
How do I find all the photos using a specific Instagram sunset hashtag?
Simple, just search the sunset hashtag in Instagram's search bar, and you'll find all the photos sorted by Top and by Recent.
Should I put the sunset hashtags in the Instagram caption or the comment?
Either is fine and seems to make no difference. That said, many people put their hashtags in their first comment so that the caption space seems 'cleaner'.
Related: The best quotes and captions for women
How many sunset hashtags can I put on a Pinterest pin?
You are allowed up to 20 hashtags per pin.
How many sunset hashtags can I put in a Twitter tweet?
Technically, as many as your character limit allows. However, Twitter recommends up to 2 hashtags per tweet.
Did you love our Guide to Sunset Hashtags? We have heaps more hashtag guides, including hashtags for couples and for love, if that's what you need.
Other essential Instagram growth tools
---
Want to save this for later? Why not pin it…