Ah, Instagram. That social network that gave rise to the selfie and launched a thousand influencer careers. We love the platform but, like you, sometimes find it a little difficult to get our content out to the masses, beyond the people that follow us of course. Enter, the humble hashtag. In this guide we'll outline everything you need to know about finding, using and tracking hashtags effectively, in our epic Instagram Hashtags Cheat Sheet.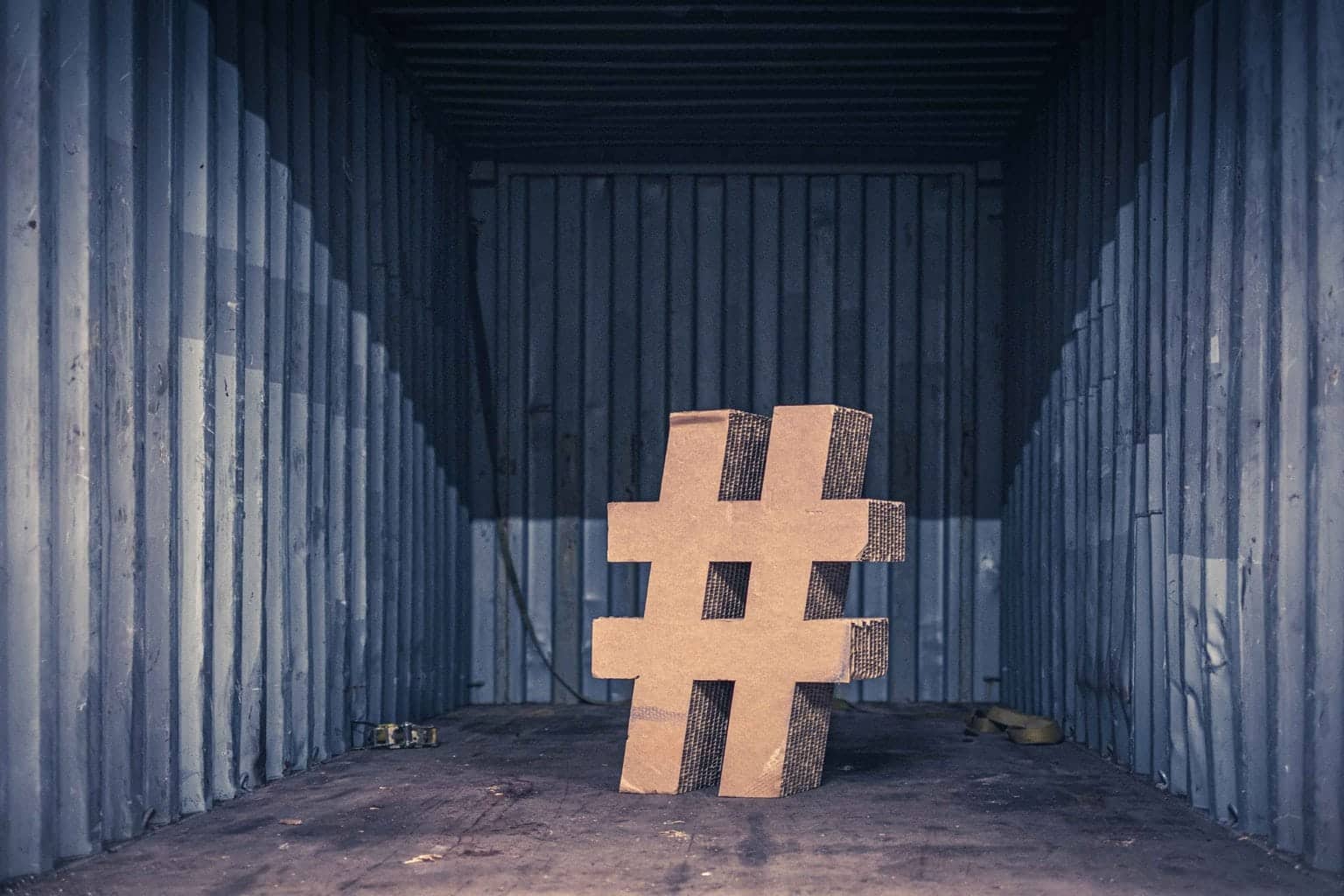 What is a hashtag?
A hashtag or # is essentially a number sign or symbol used as a 'tag' on social networks like Twitter, Facebook, Pinterest and, of course, Instagram.
It originally rose to fame on microblogging platform, Twitter, as users made use of hashtags to be able to categorize messages. Nowadays the hashtag is used across social media platforms and is currently most famous on Instagram, since it helps people grow their accounts and gain new followers.
How do hashtags work on Instagram?
First up, like the other social media networks, Instagram uses hashtags to bring together specific topics or themes. As an example, anything tagged #cat would be visible to users under that hashtag and brings together cute cat posts from around the globe.
Then, for Instagrammers themselves, hashtags are a way to increase reach on their content and provide Instagram growth. Using hashtags on an Instagram feed post, for example, will mean that possibly users outside of your own followers would be able to find that post, either on the hashtag itself, or on their Explore page (home feed).
In short, you'll be able to get more followers, improve your likes, comments and engagement numbers and hopefully find a larger community for your content!
The results speak for themselves since just one Instagram hashtag averages nearly 13 percent more engagement than posts that have no hashtags.
Like this example from one of our posts. Of the more than 8,000 accounts that this feed post reached, nearly 80% of that was through hashtags!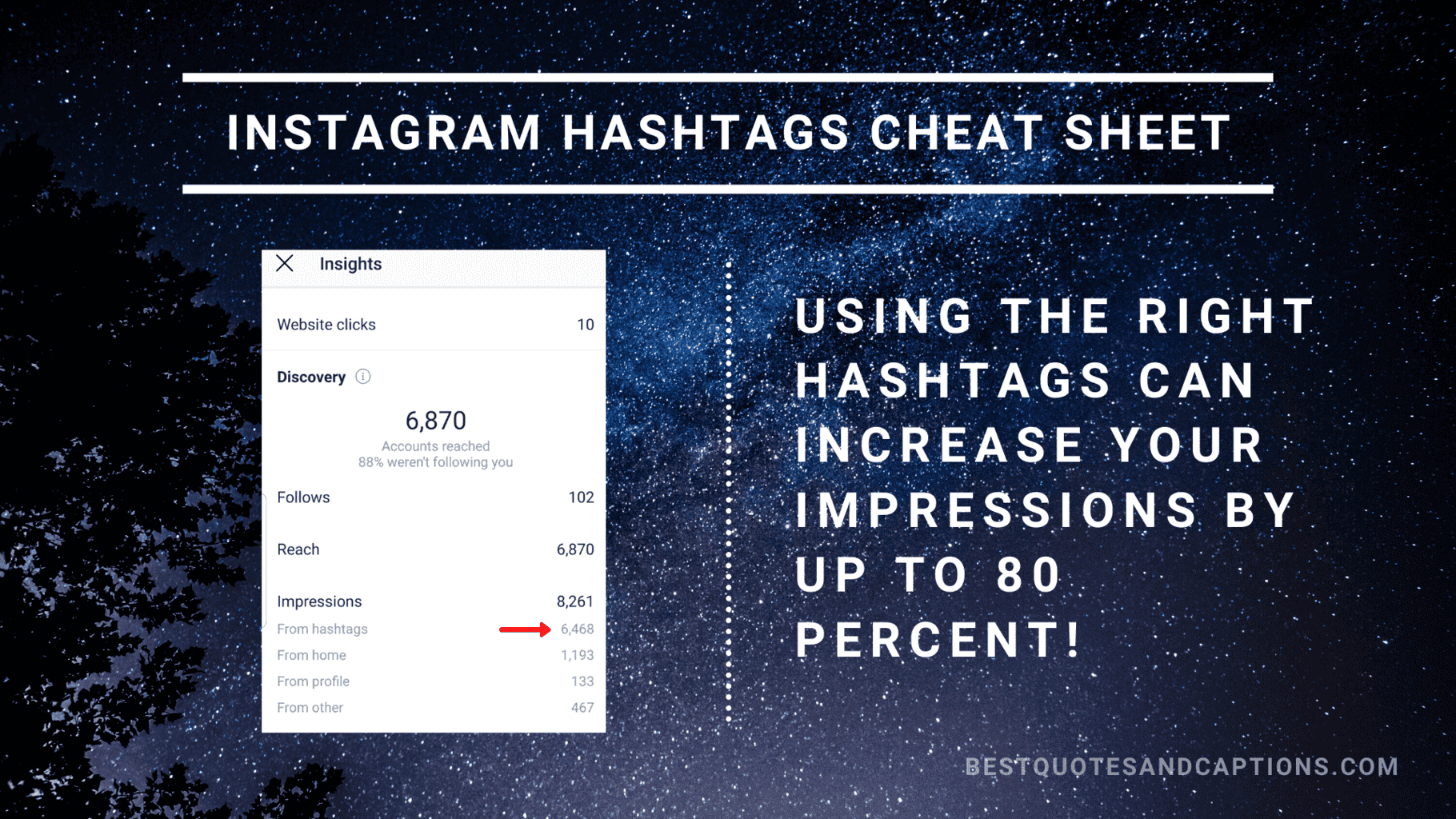 If you're wanting to make a real impact on your Instagram engagement, we'd suggest that you look into Ingramer!

With a full suite of tools, Ingramer acts as an automation partner – essentially the most powerful way to grow your account. It includes hashtag generators, and Instagram Downloader and a Story Viewer that watches other accounts' stories in a bid to attract them to follow you. With advanced targeting filters and an autobot, this is currently the best growth tool on the market.

Sign up here and use SCRIBESMEDIA to save up to 22% on some of the features!
So, what are you waiting for?
Instagram Feed Posts
The original place for hashtags, feed posts are where hashtags are the most useful. By adding hashtags either in the caption or in a comment (either works), you are able to 'expose' your post to more people than you have following you.
All you need to do is to paste them into the caption area (preferably at the bottom after your text) or publish the post and then paste them into the first comment (either approach works).
Insider Tip: Ever posting multi-image posts aka carousel posts? You might notice that you get little to no impressions from hashtags on these. As of 2021, hashtags don't seem to work well on hashtags.
You can see the evidence in the screenshot below – this multi-image post did okay, in that it got nearly 10, 000 impressions but only 16 of those from hashtags; a definite fail!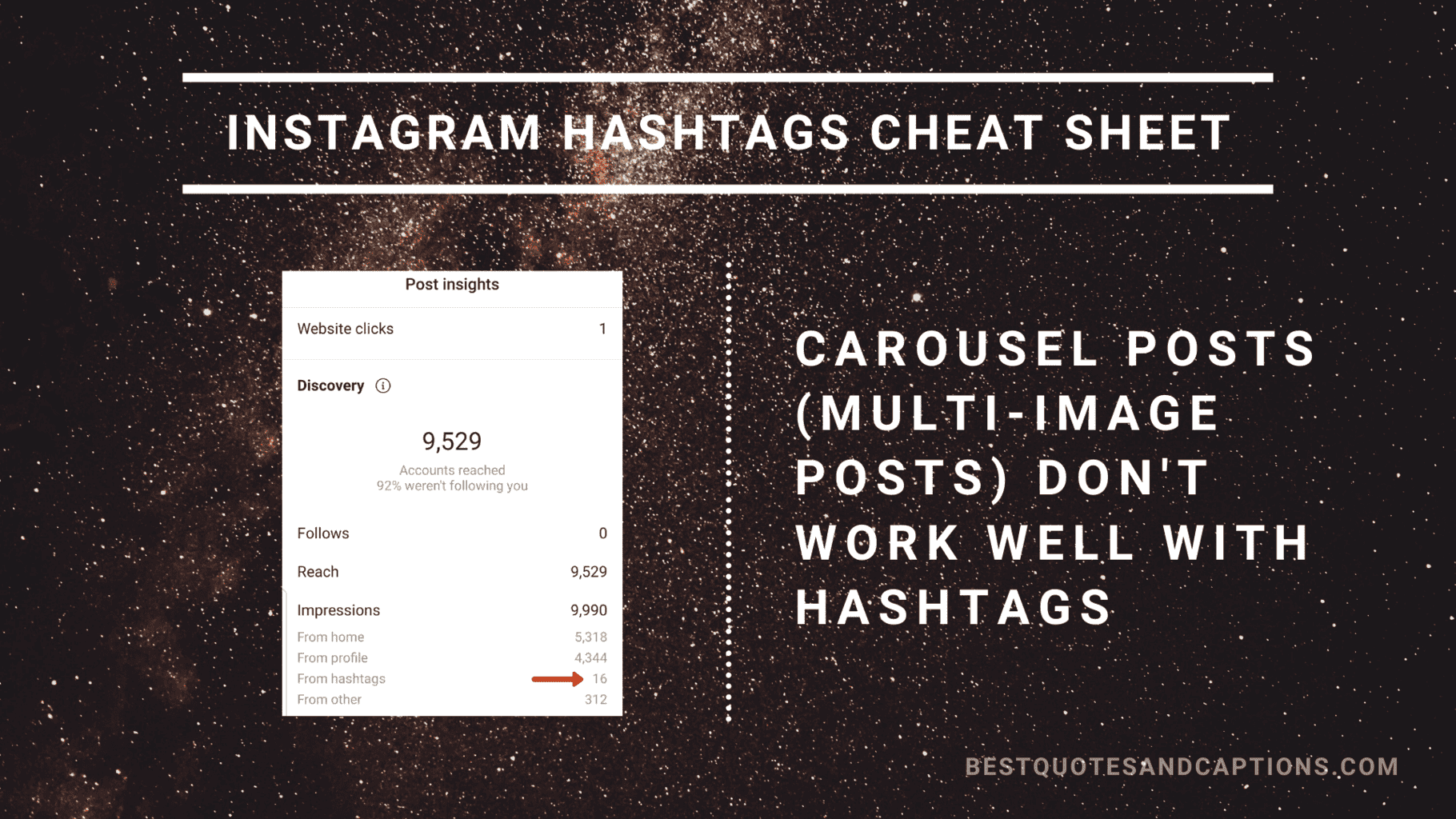 Related: The best motivational captions for Instagram
Instagram Stories
Like feed posts, hashtags in IG Stories are there to help you grow your reach on your Stories, as people can 'follow' hashtags.
To add hashtags to Instagram Stories it's as simple as selecting Hashtags from the 'smiley face' icon on your Stories Creator (the one with Location tags, emojis etc).
Where do I find the right Instagram hashtags?
Firstly, this website! We have a number of great hashtag guides for topics range from love and couples to nature and sunsets. Check all of them out on our Hashtags page.
Instagram Search
One of the best, and most useful, ways to find the best hashtags for Instagram? Use Instagram itself!
Just head over to the search bar at the top and key in your first hashtag, to get a list of recommendations.
Take this example: You have a fantastic photo of your house cat, Bob. And you want everyone on Instagram to see his adorable furry face, right? Just type in #cats, which has a post volume of 99 million posts and you'll start seeing better hashtags with lower volumes as recommendations, like #cats_today (295k posts), #catsofday (794k) and #catsofinstagram (441k).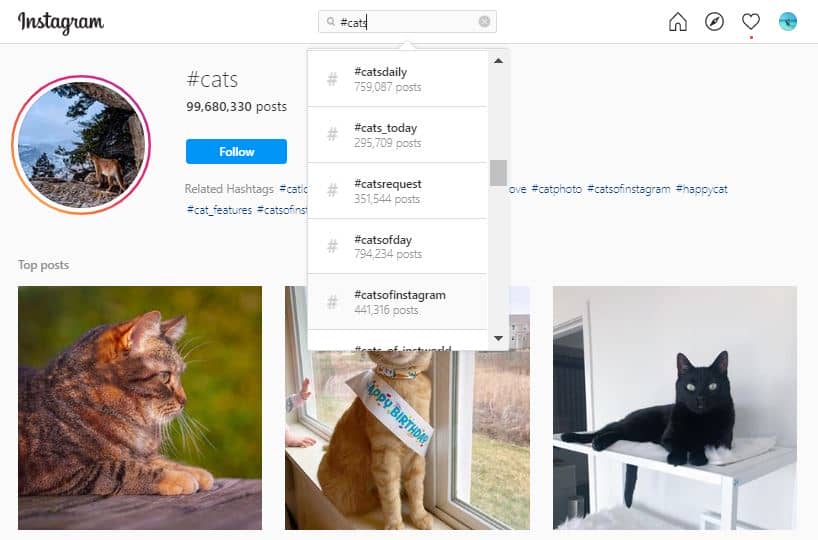 Instagram Hashtag Generators
Now there are a number of good services out there that help you to generate your set of hashtags, both on a free and paid basis.
The best in class is definitely Hashtags For Likes, a premium service. This service is a game changer in finding hashtags that increase your reach and is undoubtedly worth the small monthly fee. It's used by nearly 12,000 brands in 60 countries, so it's the best of the best.
Not willing to shell out the cash? The best free generator is All Hashtag. You can input your hashtag and choose between Top, Random and Live results. You just need to be a little wary – typing in #cat gives you some good results but also irrelevant results like #catania (in Spain) or #catchandrelease.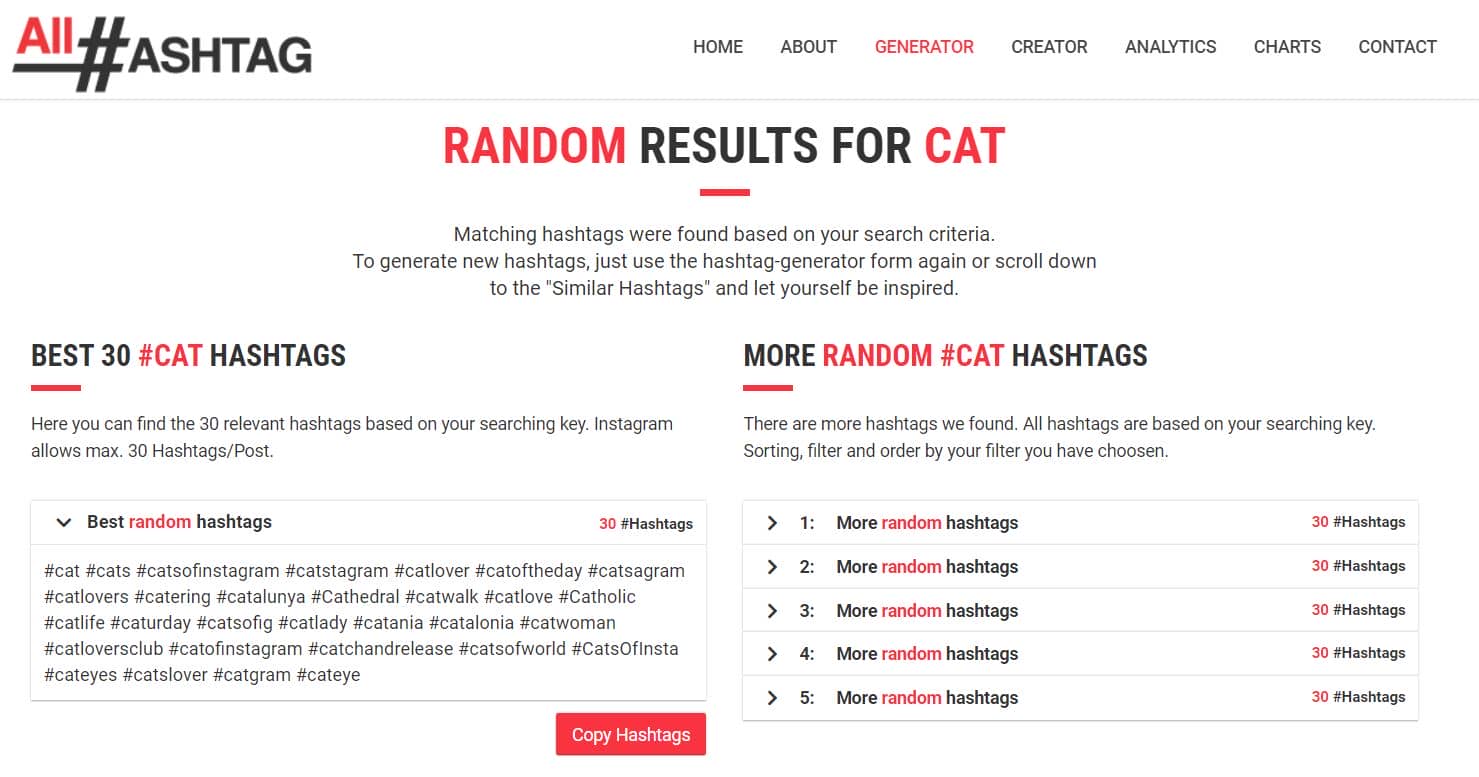 Check your competitors
Now you won't be the only one looking to increase the reach on your Instagram posts and stories, your 'competitors' or other influencers or Instagrammers in your niche will too. Again, if we use our example of cats, we would go about checking out our competitors by through a quick search and then for successful posts adapt it for our own. Find one of their 'successful' posts that includes a cat, and check out the hashtags they have used. (Note they could be using it in the comments section).        
How do I use Instagram hashtags effectively?
So in this Instagram Hashtags Cheat Sheet, we've told you what hashtags do and where to find them, but what about using them the right way? Now of course this guidance changes all the time but, for 2021, here's the take.
Instagram Feed Posts
Firstly, its worth talking about hashtag recipes. Again, it's going to be almost impossible for you to make it into the Top 9 for #cats which has nearly 10 million posts but you could try to do #cats_today with just under 300k.
The advice? Mix it up! Try to include a few hashtags that are super popular, some mildly popular and then some niche. It's like hedging your bets in that you'll be able to 'rank' your post for the smaller volume hashtags but you *might* just get lucky and make it into the Top 9 for the very popular ones.
Then, in terms of the number of hashtags, you are able to use up to 30. Currently marketers are suggesting you use around 10 Instagram hashtags, or AT LEAST 10 Instagram hashtags.
Our advice is to 'test and learn'. Try to use 11 hashtags on one post and the maximum of 30 on the next. And, either way, use a Hashtag Recipe like the one we've made for you below.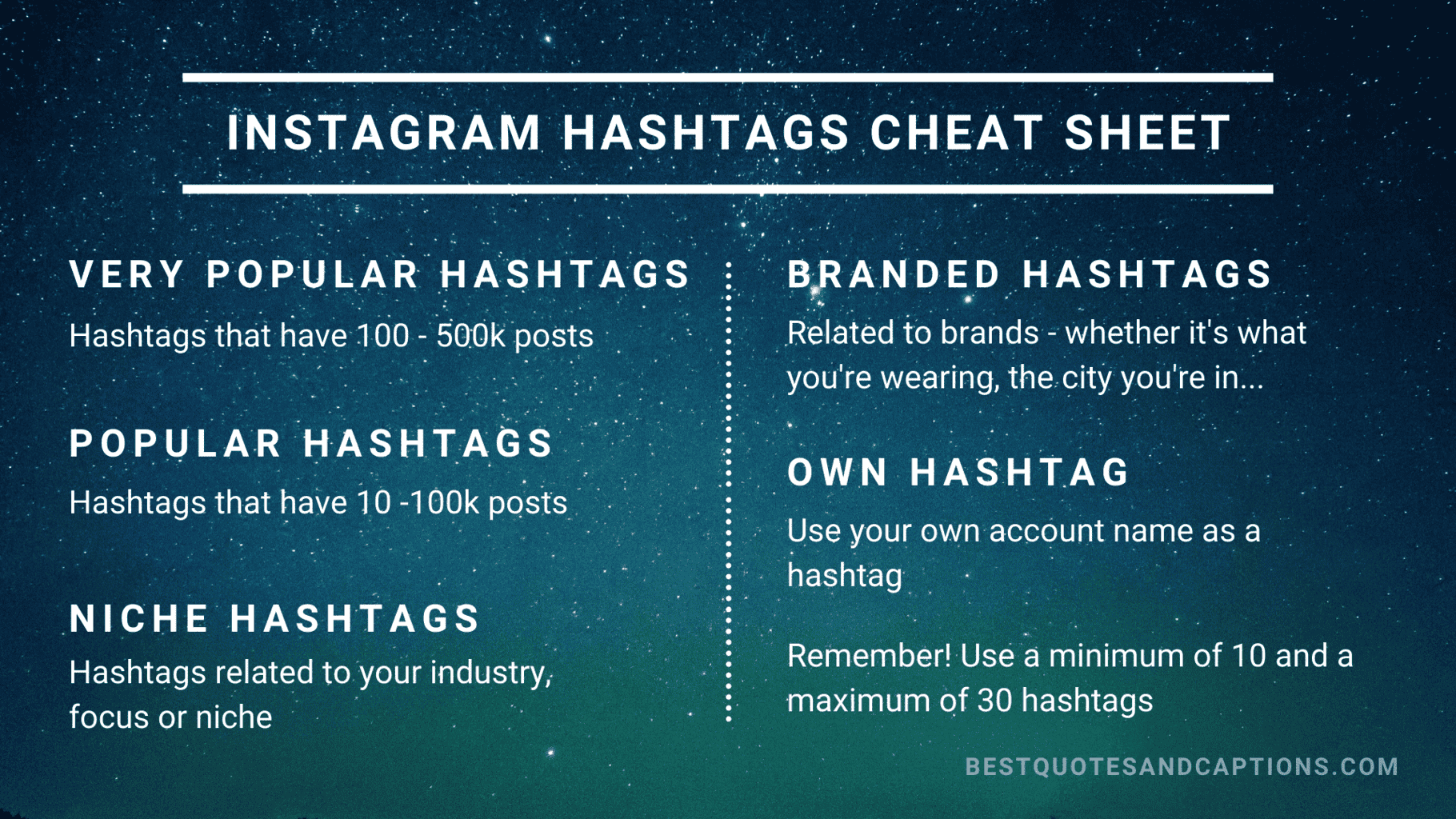 Our suggested Instagram Hashtag Recipe for Feed Posts
Choose a few from each of the following categories:
Very popular hashtags – hashtags that have between 100-500k posts
Popular hashtags – hashtags that are more than 10k but less than 100k posts
Niche hashtags – hashtags related to your industry i.e. if you are in fashion, include some hashtags for that!
Branded hashtags – are you in a specific city? Find the hashtag for it and include it. Or maybe wearing an outfit from a brand? Use their hashtag and tag them!
Own hashtag – it's worth using your account name as a hashtag too – who knows when it would get big enough to be a popular hashtag too….!
Instagram Stories
Now, turning our attention to IG Stories for this Instagram Hashtags Cheat Sheet – how are they different?
Well, first, the maximum you can use in an Instagram Story is 10. But you definitely shouldn't use all of those!
Our recommendation is to try and use one hashtag every 2-3 frames of your story. Why? So you can test! After you've used the hashtags, go into your Viewers and see how many people viewed each story from the hashtag. This will give you a good idea of which hashtags work for you!
Insider Tip: Don't like how the hashtags look in your story? Just hide hashtags! You can put them behind other text or emojis, so they aren't noticeable.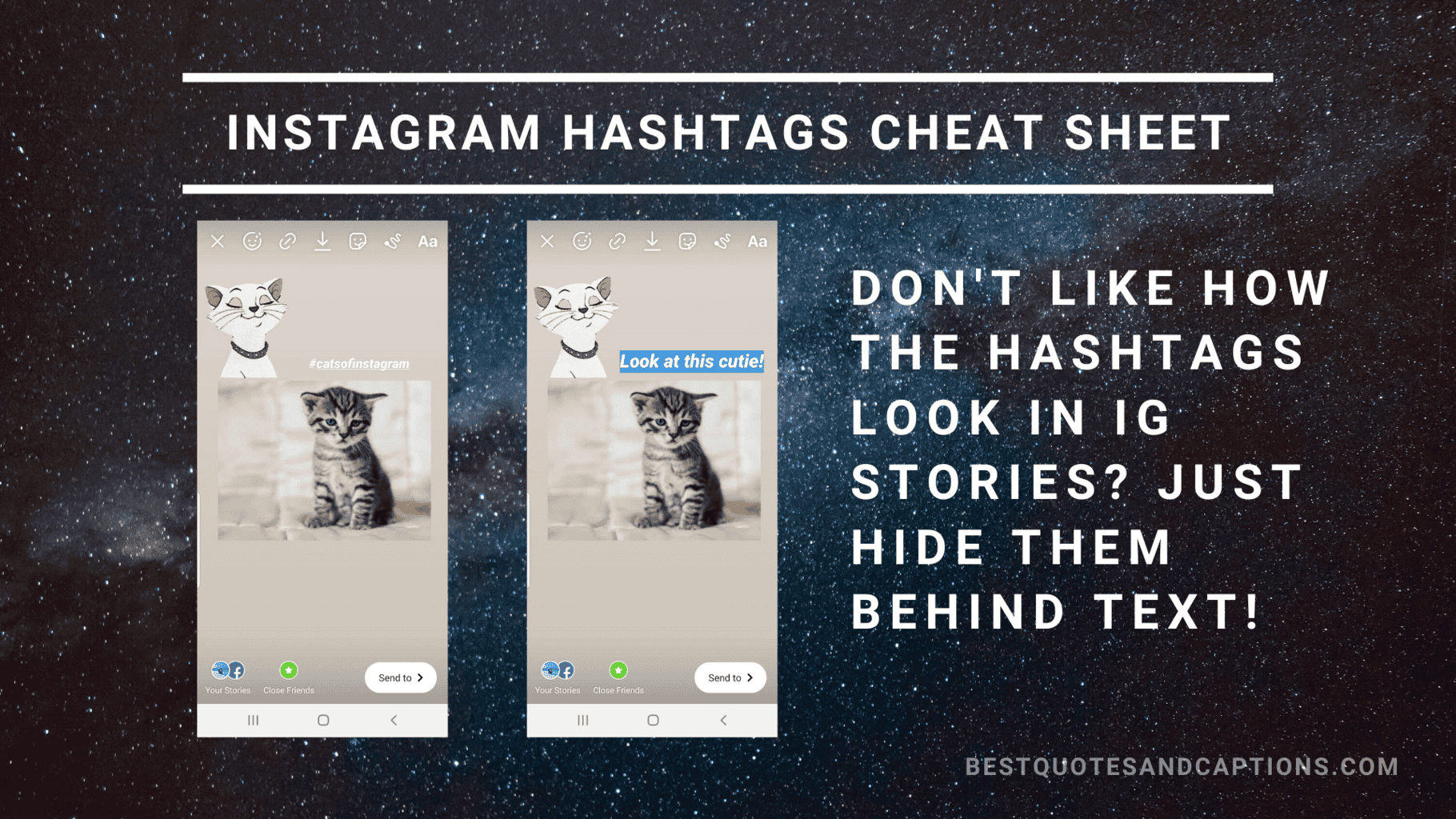 Savings your Instagram hashtags
Did you find some cracking hashtags for Instagram that you want to re-use in future? Just save them! Not sure how…?
Well there are a few methods: something as simple as a word document, using a third-party tool or saving lists to your mobile device. Let's look at the last two in detail:
Using a third-party tool to save Instagram lists
There are a number of fantastic third-party tools that act not just as places to save your hashtag lists, but publishing and scheduling tools too!
First up is Preview, where you easily create Hashtag Groups and save them for upcoming posts. A similar tool is Later, where you create Saved Captions, essentially the same thing.
You could also try a paid tool like Tailwind (get your free month here).
Using your mobile device
You can create text shortcuts on your phone where you put all your hashtags under a specific word and when you type that word – hey presto – they all appear.
Here are the instructions for Android and iOS:
Text shortcuts – Android
Go to Settings> General Management>Language and Input
Choose Onscreen Keyboard>Samsung Keyboard
Tap Smart Typing>Text Shortcuts
Select Add Shortcut
Under Expanded Phrase, put in your hashtags (e.g. #catsofinstagram #catlady….)
Under Shortcut, use something like 'hashtagcats
Text shortcuts – iOS
Go to Settings > General > Keyboard
Choose Text Replacement
Click the + sign on the top right
Under Phrase, put in your hashtags (e.g. #catsofinstagram #catlady)
Under Shortcut, use something like 'hashtagcats'
Tracking your Instagram hashtags
Now that we've taught you nearly everything you need to know in this Instagram Hashtags Cheat Sheet, the only thing we've missed is how you should measure success!
Here, the only real solution is to check your Insights, which is only available to Business and Creator accounts. If you are on a Personal account, just switch to a Business or Creator Instagram account to get them.
To do that, hit your Profile Icon, the Settings wheel and Account before choosing 'Switch to a Professional Account'.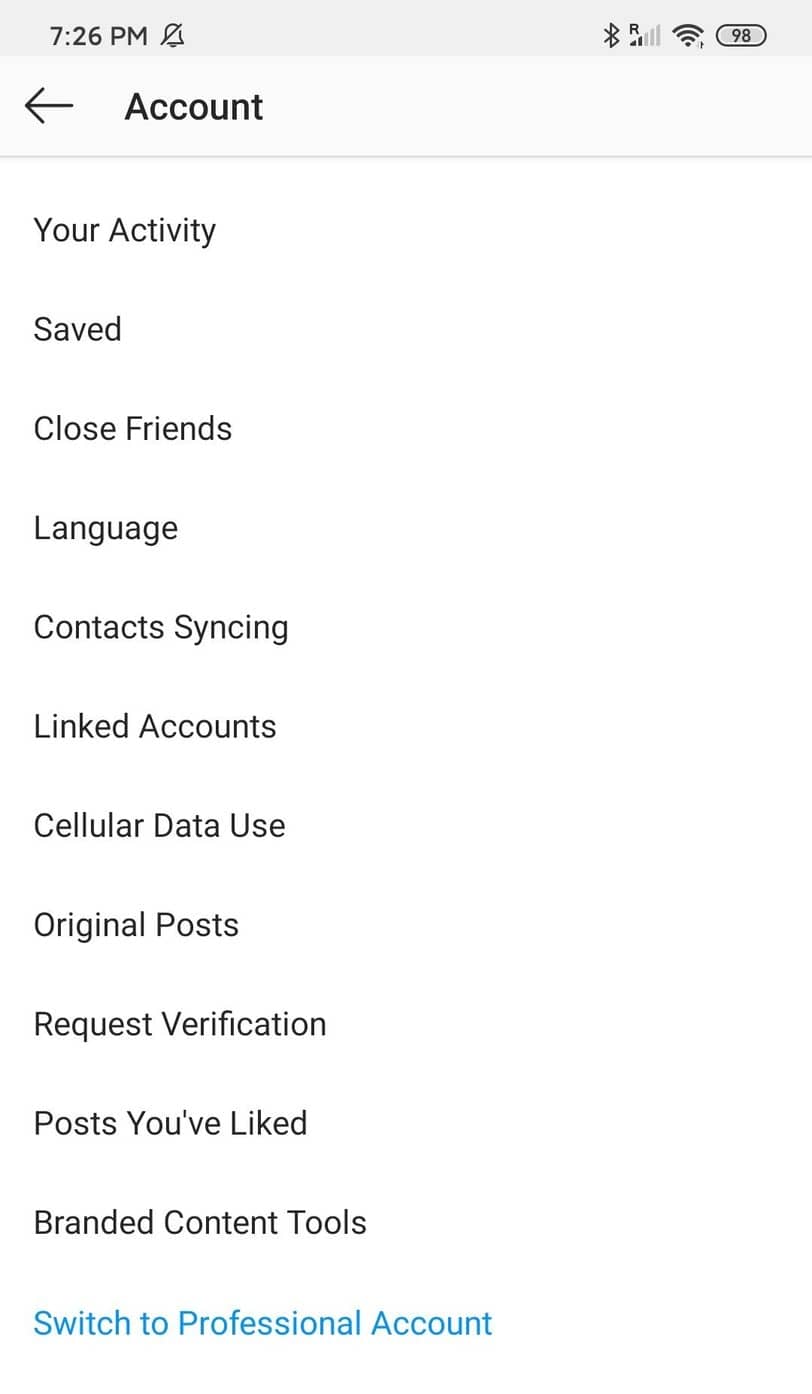 Bonus: How do I use Instagram feature account hashtags?
You've made it to the end of our ultimate Instagram Hashtag Cheat Sheet but, as an extra bonus, we thought we'd explore the wide world of using Instagram feature accounts, also known as repost accounts.
Not sure what those are? Essentially Instagram feature accounts are accounts that repost pictures in their niche, finding the best photographs for their feed. They are a great way to get your own account noticed, as they usually have made larger followings and fans.
The way to get featured is to use the account tag and right hashtags for the relevant feature account. In the example of cats, you could look to try and get featured on a Repost Account like Best Cats Club. Simply 'tag' their account (@best.cats.club) on your photograph and use their hashtag #bestcatsclub in your hashtag recipe!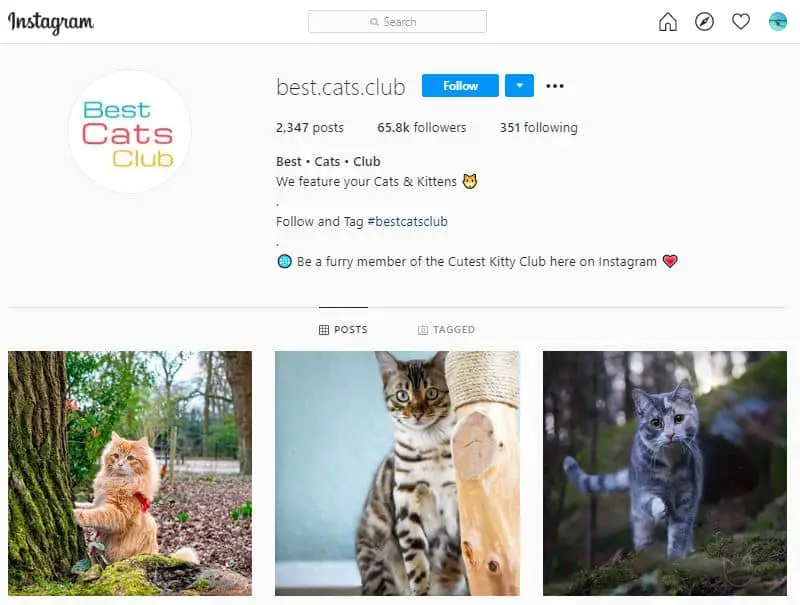 What did you think of our Instagram Hashtags Cheat Sheet? Did we miss anything off? Feel free to drop us a line from our Contact Page or sound off in the comments below!
Also, if this tickled your fancy, do visit some of our other Instagram content guides, like the Best Sunset Quotes or Inspirational Captions for Women.
FAQ – Instagram Hashtags Cheat Sheet
What are banned hashtags?
Instagram doesn't allow certain hashtags, which are blocked. They firstly won't work but it could be that you get an entire account ban if you use them!
There are a few banned hashtags on Instagram, for things like nudity or even politics. Even the hashtag #wtf isn't allowed. Make sure you check your list of hashtags against the list of banned hashtags – there is a good one from Social Insider here.
Should I put my Instagram hashtags in the caption or a comment?
Either works fine. Studies have been done that have shown there is no tangible difference between putting them in the caption or a comment.
How many hashtags can I use in an Instagram feed post or caption?
You can use up to 30 hashtags in an Instagram feed post or caption.
How many hashtags can I use in an Instagram story?
You can use up to 10 hashtags in an Instagram story.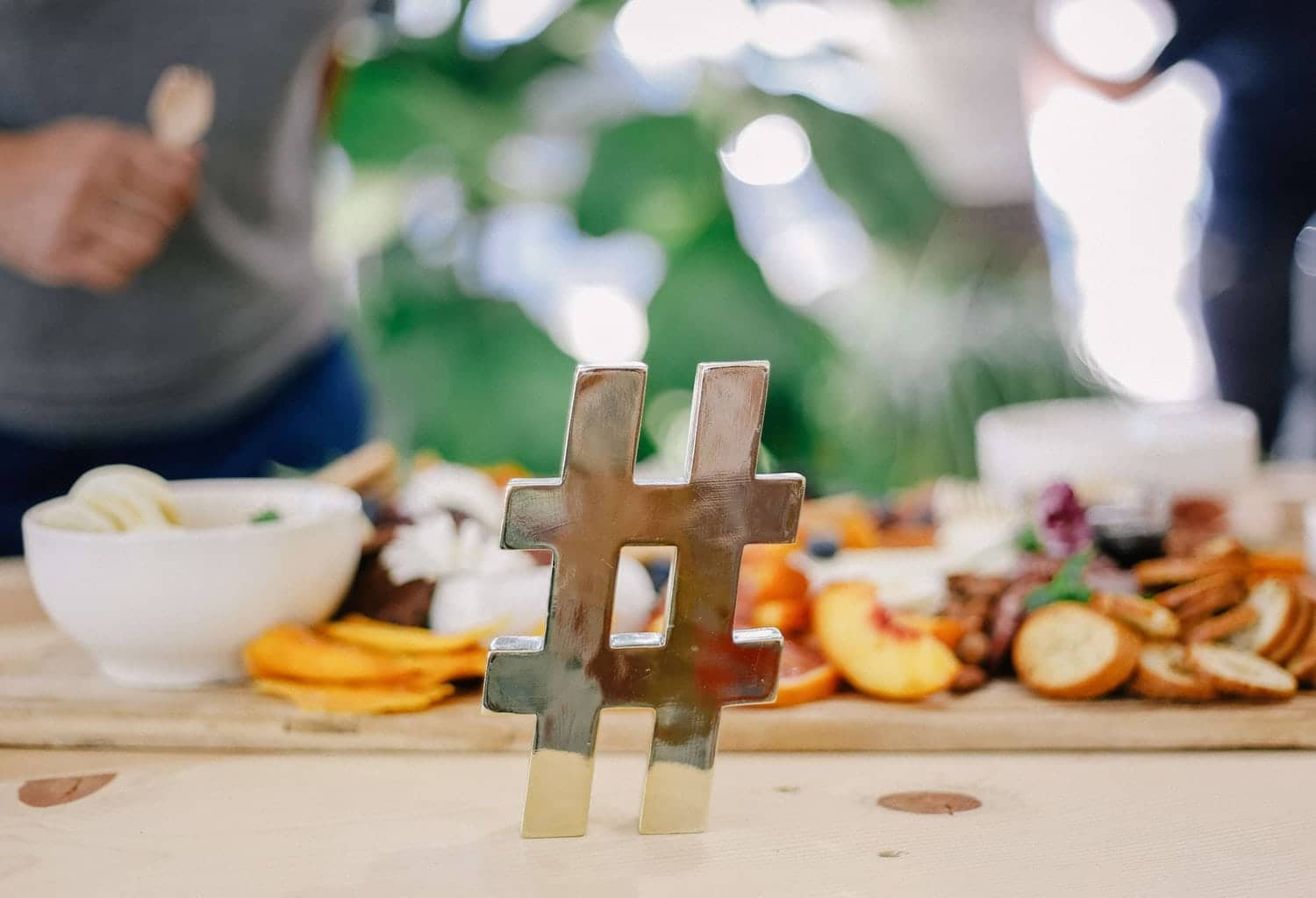 Why doesn't my post show up on the relevant hashtag?
Firstly, it could be that you've chosen a very popular hashtag and so your post either didn't make the Top Posts or has already disappeared from 'Recent'. Alternatively, you could be shadow banned from Instagram.
Why can't I just copy and paste hashtags from other posts?
For some reason, Instagram doesn't allow you to copy and paste text from other captions. If it's your own old post or caption, just 'Edit' the post and copy it from there. It does also seem like you can copy from your desktop computer or laptop (but not on mobile or tablet) so you could try to access the relevant post from that kind of device.
Are Instagram hashtags case sensitive?
No. Hashtags are not case sensitive.
Are hashtags used the same way on other social networks?
Yes and no. For most social platforms, hashtags are used to tie different conversations and threads together. However, each platform handles this differently.
For Facebook, hashtags are used by brands and companies since most users are on a private profile and their hashtags aren't searchable.
For LinkedIn, hashtags are actually suggested or recommended when you create an update.
For Twitter, hashtags have always been useful and you should use at least two, to create more engagement and reach.
Other essential Instagram growth tools
---
Want to save this for later? Why not pin it…