So you've got your 'money shot' – the perfect photograph of you, or your friends that shows exactly what you intended. Now just the small matter of writing the perfect caption for girls, right?
Whether that caption is for Facebook, or Instagram, or another social network, it can be difficult to put your thoughts into words! We've got you covered and we've put together a bumper guide of the best captions, quotes and snippets to caption your picture of a girl (or girls!); from short captions to well-known quotes.
We've also got some great Instagram guides, particularly ones for selfie captions, or if you're smiling just in case non of these work!
Remember: If there is an author, you must credit them! We've put credits below wherever possible.
Best Quotes for Girls
Celebrities and authors often say it best; with some of the best captions made out of famous quotes. We've scoured lists of the best quotes for your photographs, and here is our list of good quotes for girls:
A girl should be two things: who and what she wants. Coco Chanel
A real girl isn't perfect and a perfect girl isn't real. Harry Styles
A wise girl knows her limits, a smart girl knows that she has none. Marilyn Monroe
A woman is like a teabag, you will never know her strength until you put her in hot water. Eleanor Roosevelt
And one day she discovered that she was fierce, and strong, and full of fire, and that not even she could hold herself back because her passion burned brighter than her fears. Mark Anthony
Be a first-rate version of yourself, not a second rate version of someone else. Judy Garland
Be that strong girl that everyone knew would make it through the worst, be that fearless girl, the one who would dare to do anything, be that independent girl who didn't need a man; be that girl who never backed down. Taylor Swift
Beautiful people are not always good but good people are always beautiful. Imam Ali
Courage, sacrifice, determination, commitment, toughness, heart, talent, guts. That's what little girls are made of; the heck with sugar and spice. Bethany Hamilton
Give a girl the correct footwear and she can conquer the world. Bette Midler
Heels and red lipstick will put the fear of God into people. Dita Von Teese
I am too intelligent, too demanding, and too resourceful for anyone to be able to take charge of me entirely. No one knows me or loves me completely. I have only myself. Simone de Beauvoir
I believe in being strong when everything seems to be going wrong. I believe that happy girls are the prettiest girls. I believe that tomorrow is another day, and I believe in miracles. Audrey Hepburn
I hate to hear you talk about all women as if they were fine ladies instead of rational creatures. None of us want to be in calm waters all our lives. Jane Austen, Persuasion
If you are always trying to be normal, you'll never know how amazing you can be. Maya Angelou
Imperfections are beauty, madness is genius, and it's better to be absolutely ridiculous than absolutely boring. Marilyn Monroe
No one can make you feel inferior without your consent. Eleanor Roosevelt
No one ever told me I was pretty when I was a little girl. All little girls should be told they're pretty, even if they aren't. Marilyn Monroe
Some girls are just born with glitter in their veins. Paris Hilton
The only thing more beautiful than the woman that knows what she wants I the woman who isn't waiting on anybody else to get it for her. Rob Hill Senior
The saddest thing for a girl to do is to dumb herself down for a guy. Emma Watson
The world needs strong women. Women who will lift and build others, who will love and be loved. Women who live bravely, both tender and fierce. Women of indomitable will. Amy Tenney
We cannot all succeed when half of us are held back. We call upon our sisters around the world to be brave – to embrace the strength within themselves and realize their full potential. Malala Yousafzai
We need women who are so strong they can be gentle, so educated they can be humble, so fierce they can be compassionate, so passionate they can be rational, and so disciplined they can be free. Kavita Ramdas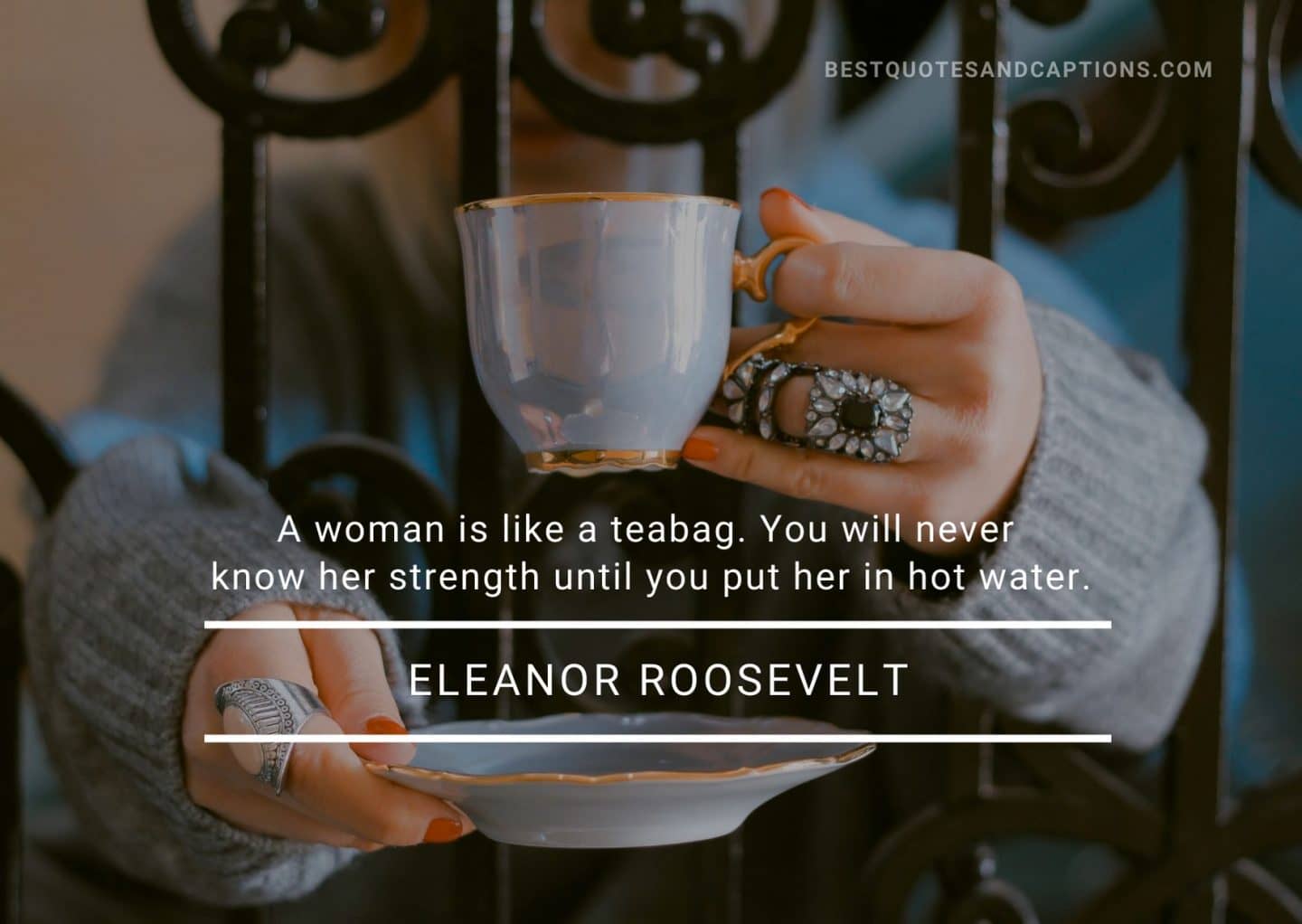 Related: Here are some awesome Inspirational Quotes for Women!
Increasing engagement
If you're wanting to make a real impact on your Instagram engagement, we'd suggest that you look into Ingramer!

With a full suite of tools, Ingramer acts as an automation partner – essentially the most powerful way to grow your account. It includes hashtag generators, and Instagram Downloader and a Story Viewer that watches other accounts' stories in a bid to attract them to follow you. With advanced targeting filters and an autobot, this is currently the best growth tool on the market.

Sign up here and use SCRIBESMEDIA to save up to 22% on some of the features!
Beautiful captions for girls
You might want to convey a sense of beauty; either because you think you're looking great in this photo or since you want to show off inner beauty. Either way, here are our favourite beautiful girl quotes and captions.
A flower doesn't think of competing to the flower next to it. It just blooms.
Be your own kind of beautiful.
Beauty begins the moment you decide to be yourself.
Beauty is being the best possible version of yourself on the inside and out.
Beauty only gets attention, but personality captures the heart.
Beauty without expression is boring!
Being yourself is the prettiest thing you can be.
Don't be afraid to sparkle a little brighter.
Every girl is beautiful in her own unique way.
Have courage and be kind.
If you stumble, make it part of your dance!
It's the heart of gold and stardust that make a girl beautiful.
Kill them with kindness and bury them with smile.
Let your smile be the "Expecto Patronum" against all the negativity around.
Like flowers, every girl has her season to blossom.
May your day feel as good as taking a perfect selfie on the first try.
No beauty shines brighter than that of a good heart.
Portrait of an awkward girl.
Real beauty never asks for attention.
Sometimes people are beautiful not in looks, just in the way there are.
The happier you are the more beautiful you become.
The most beautiful curve on a woman's body is her smile.
There is always a wild side to an innocent face.
True beauty comes from within.
You are never fully dressed without a smile.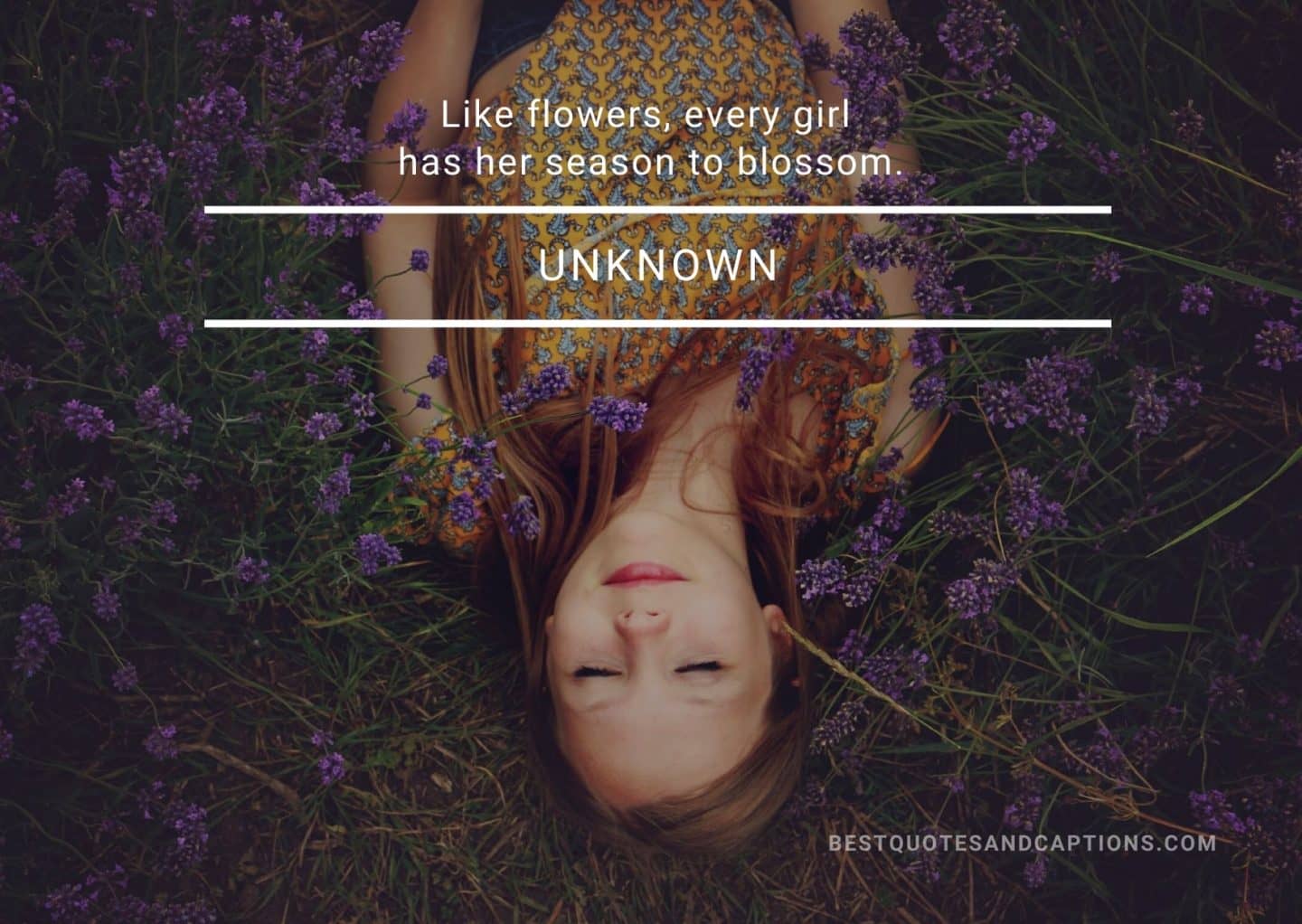 Motivational and inspirational captions for girls
Female empowerment and strong women (or girls) are great themes to work within, particularly if you've got a great, compelling photograph. We love these motivational and inspirational captions for girls that showcase strong, confident women at their finest!
A girl should be two things: who and what she wants.
A girl's best friend is her brain.
A smiling girl is the CEO of her own world.
A successful woman is one who can build a firm foundation with bricks others have thrown at her.
Always try to keep your heels, head, and standards high.
Behind every bad b*tch is a sweet girl who got tired of everyone's bullsh*t.
Behind every successful woman are her dreams to rule the world.
Behind every successful woman is herself.
Better to be strong than pretty and useless.
Don't be like the rest of them, darling.
Girls are changing the world.
I am a crafty girl, I make things, lots of things.
I am strong, I am beautiful, I am enough.
I don't compete for a spot, I am the spot.
I don't need to make noise – my accomplishments will do that for me.
I love the person I've become because I fought to become her.
I'm my first priority.
I'm not one in a million, I'm one in 7 billion.
Keep your head up princess, if not the crown falls.
Little girl with dreams become women with vision.
No matter how you feel Get up, Dress up, Show up and Never give up.
Nothing is stronger than a woman who is fighting for what she believes in.
Power's not given to you. You have to take it.
The most attractive accessory a girl can have is confidence.
The strongest actions for a woman is to love herself, be herself.
The world has a red carpet for any girl who is determined.
They told me I couldn't that's why I did.
What she tackles she conquers.
When life gets blurry adjust your focus.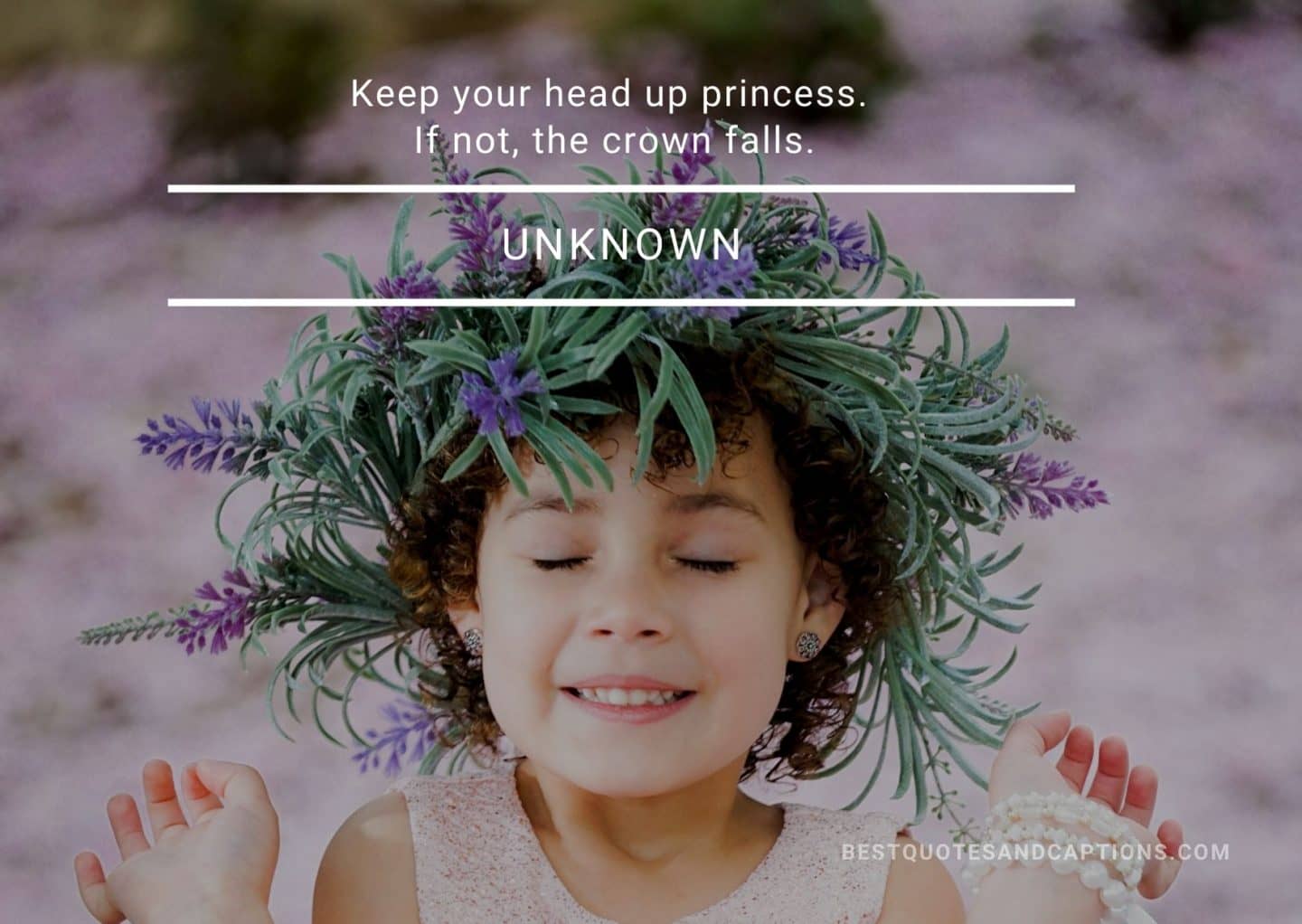 Funny captions for girls
It's great to inject some humour into your captions. A bit of a wink and a laugh goes a long way, and usually encourages engagement. We've put together a killer list of funny Instagram and social media captions you could use for girls.
All things are possible with coffee and mascara.
Aside from gravity, nothing in life can keep me down.
Be a beautiful cupcake in a world full of muffins.
Be a Fruit Loop in a world full of Cheerios.
Be a girl with a mind, a woman with attitude, and a lady with class.
Be classy, sassy and a bit smart assy.
Behind every successful man is a woman rolling her eyes.
Chocolate doesn't ask questions. Chocolate understands.
Cinderella is proof that a new pair of shoes can change your life.
Eyebrows – the one thing you can get into shape without exercising.
Give a girl the right hairstyle, and she will conquer the world.
God is really creative, I mean… just look at me.
Good girls are bad girls that didn't get caught!
Good girls go to heaven, bad girls go to [INSERT YOUR LOCATION].
Gravity can't forget to pull me back to the ground again.
I am just a girl standing in front of a salad, asking for it to be a donut.
I am not short, I am just concentrated awesome.
I don't really "rise and shine" – most days, I just caffeinate and hope for the best!
I like long romantic walks… to the makeup aisle.
I may be a sweet girl, but… if you make me mad, I have a pocket full of crazy waiting to come out!
I'm a queen crowned in my curls.
I'm nicer when I like my outfit.
I'm the perfect combination of all my flaws.
If life gives me lemons – I'll ask for tequila and salt.
If opportunity doesn't knock, build a door.
If you're going to be two-faced, at least make one of them pretty.
Life is short, buy the makeup!
Looks aren't everything, but I have them just in case.
Mastering the art of awkward posing.
Money can't buy happiness… but it can buy amazing makeup.
My daily routine: Get up, be brilliant, go back to bed, repeat.
My favourite makeup is confidence.
My hairstyle is called – I tried.
My heels are higher than your standards.
Sarcasm is my superpower.
She is the beauty. She is grace. She can also punch you in the face.
Shopping is still cheaper than therapy?
Sleep… Eat… Makeup… Repeat.
Sugar and spice. And everything nice. That's what little girls are made of.
I swear I am normal.
Tangled hair, don't care.
The only person I dress to impress is me.
True happiness is when your hair and makeup look good at the same time!
Whether for eyeliner or life, just wing it!
You are magic.
You can't spell awesome without me.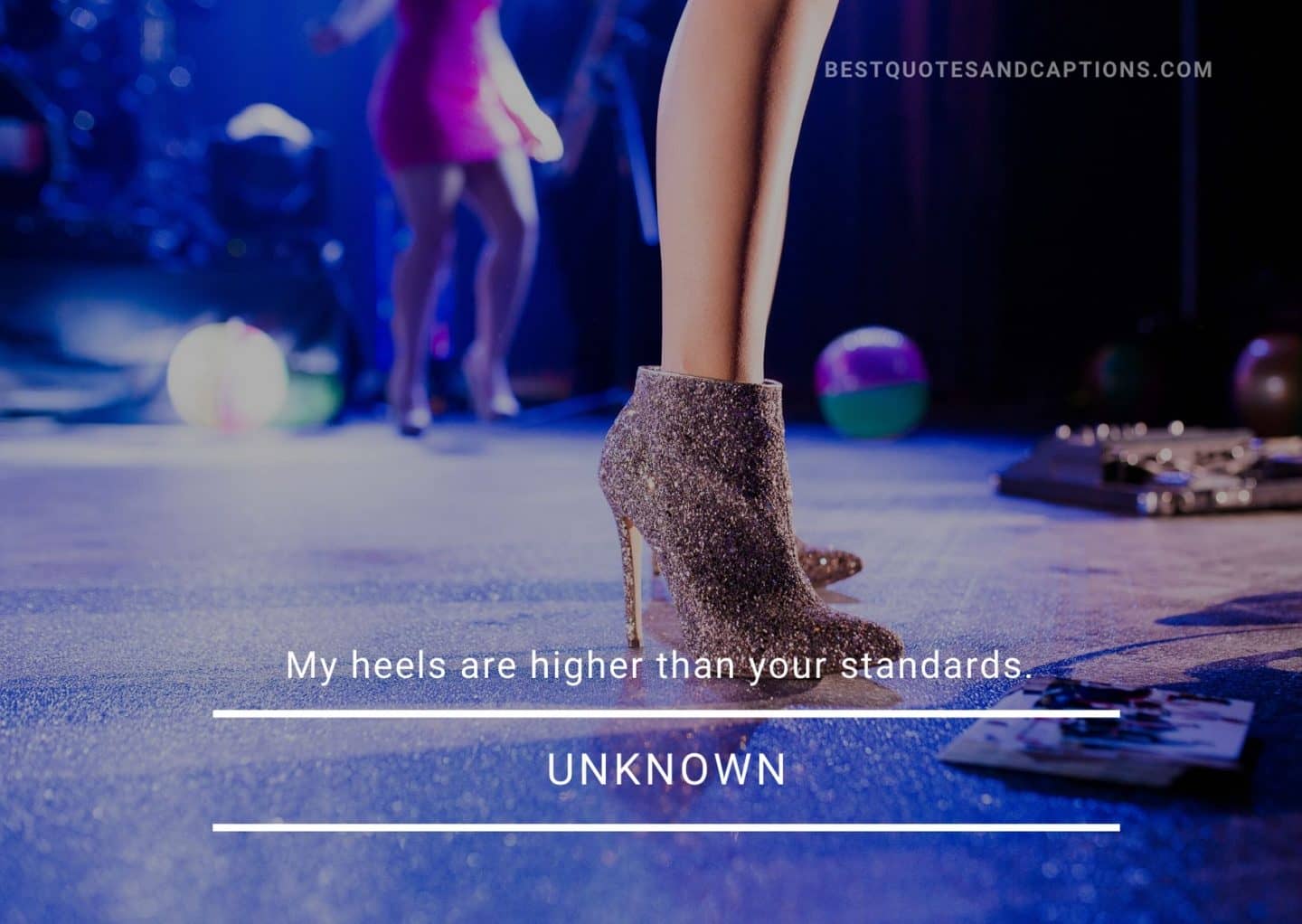 Short and sweet captions for girls
Okay, sometimes you don't want to write a novel in your caption, and prefer to keep it a little brief. We like to have a punchy, short line for our captions, that doesn't need too much thought but delivers your message in just one word or one line!
A smart girl knows she has no bounds.
A smile is the prettiest thing you can wear.
Aspire to inspire.
Be brave, be kind, be you.
Be. You. Tiful.
Confidence – wear it like makeup.
Dress up.
Escape the ordinary.
Girls just wanna have fun.
I am who I am, your approval isn't needed.
I have not changed. You just didn't know me enough.
I'm entirely made up of flaws but stitched up perfectly by grace.
I'm feeling myself.
I'm the way I am and I will always be.
Imperfection is beauty.
It destroys who want to destroy you.
Messy bun and having fun.
People will stare make it worth their while.
She turned can't into cans and dreams into plans.
Sparkle every single day.
Strong women rule the world.
Wakeup and makeup.
Who's awesome? You are!
Wine + Dinner = Winner.
With brave wings, she flies.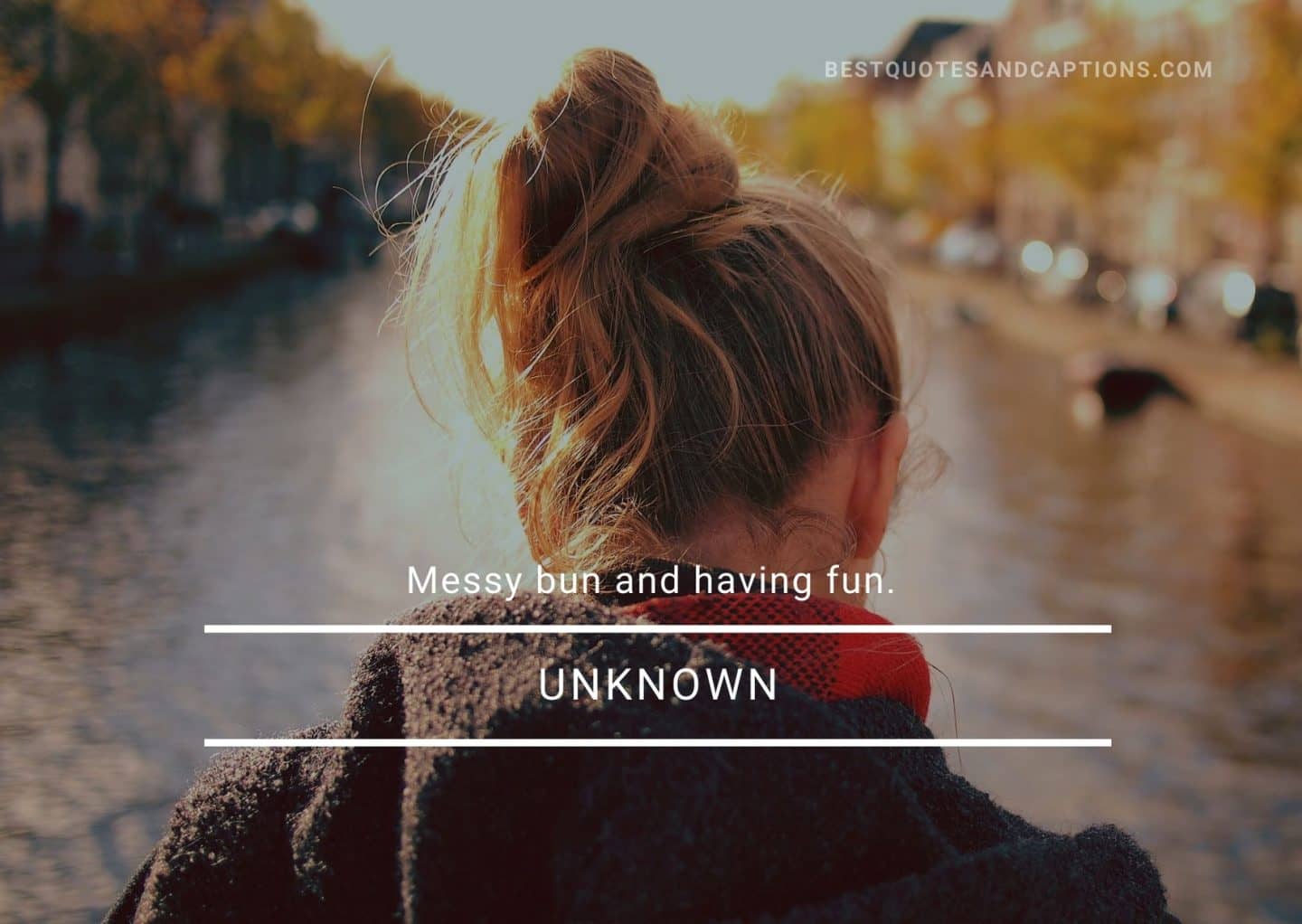 Captions for single girls
Inevitably you might find yourself a single girl, which means you have the world at your feet! In this instance, it's great to promote your single status with a great, pithy caption to announce your singledom. Here are a few cracking captions for you to try:
Because she competes with no one, no one can compete with her.
Cry only for cuts and stitches not for bastards and b*tches.
Don't ever let anyone dull your sparkle.
Find who you are in this world and what you need to feel good alone.
I am the Queen of my own little world.
Single is an opportunity to live life on your own terms and not apologize.
Single is not a status.  It is a word that describes a person who is strong enough to live and enjoy life without depending on others.
Sometimes 'I'm single' means 'I'm drama free, less stressed, and refuse to settle for less'.
Stay single until someone complements your life in a way that it makes it better to not be single.  If not, it's not worth it.
The best thing about being single is sleeping around.  You can sleep all over that bed of yours. Left. Right. Middle. Wherever!
There was a whole glorious soul burning brightly behind her shy.
Yes … I'm single.  And you'll have to be totally amazing to change that.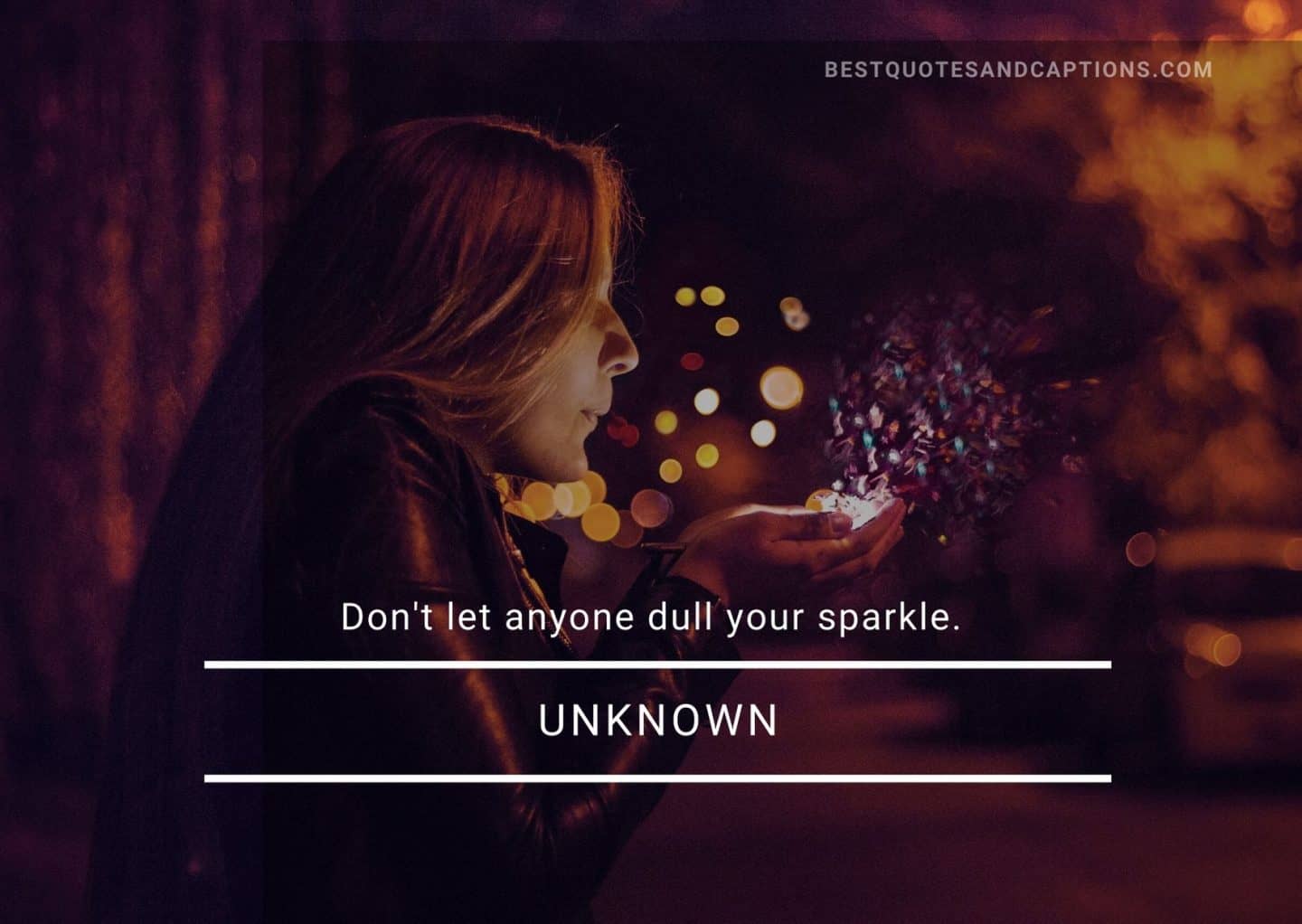 Group captions – great for friends
Perhaps your photo isn't solo but features you with your girl gang, or best friend or two? Friendship bonds are some of the strongest, and your caption should reflect that.
Don't mess with my clique.
Giggles, secrets, tears and friends – through the years.
I don't know what's tighter, our jeans or our friendship.
If you wanna be my lover, you gotta get with my friends.
In squad we trust.
Laugh until we think we'll die, barefoot on a summer night.
Look who I found here to chill with me.
No boys allowed.
Not sisters by blood, but sisters by heart.
Oh yes, it's ladies night…
The 'she' to my 'nanigans.
There's no better group to escape with.
We gonna party like it's your birthday.
We will be the old ladies causing trouble in the nursing home.
Who run the world? GIRLS.
Working on our tans and our resting beachface.
Yes, we know how obnoxious we are together. No, we don't care!
You can't do epic stuff with basic people.
You might call it girls' vaca, I call it therapy.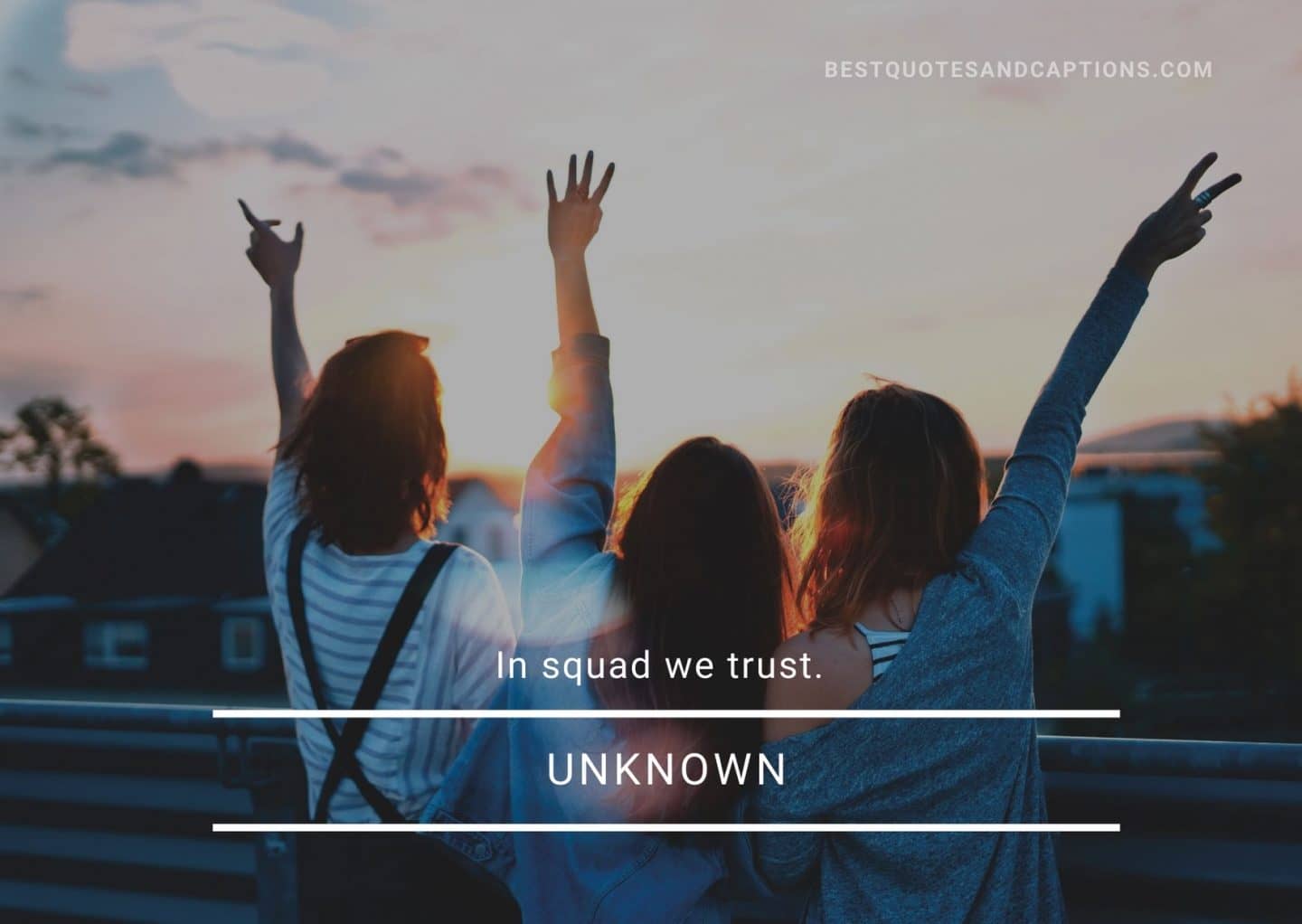 Recommended: Here are the best friend hashtags to go with that quote!
Sassy and attitude captions for girls
Feeling a little sassy? Want to show some attitude in your caption? This is our longest list of captions yet, since there are so many opportunities to be a little feisty in your delivery.
A girl should be like a butterfly. Pretty to see, hard to catch.
Above all, be the heroine of your life, not the victim.
Attitude is the reward you get after dealing with stupid people for years.
Be a flamingo in a flock of pigeons.
Classy is when a woman has everything to flaunt but chosen not to show it off.
Don't like me? Cool! I LOVE myself!
DRESS how you want to be ADDRESSED.
Elegance is when the inside is as beautiful as the outside.
Every girl should realize that it is okay to be a glowstick. Sometimes, we need to break before we can shine.
Her attitude kinda savage but her heart is pure gold.
I am a girl who laughs at her mistakes, so excuse me if I laugh at yours.
I am not beautiful like you. I am beautiful like me.
I am the girl everyone wants, not the girl everyone had.
I don't have an attitude problem, I just carry a personality you can't handle.
I don't need makeup to shine bright like a diamond.
I don't race, I don't chase that's why I can't be replaced.
I got beauty, I got class.
I have both the angel & the demon inside me. Who do you want?
I like my coffee how I like myself: Bitter, dark and too hot.
I told you, you should not play with fire unless you really want to burn.
I'm just a vibe you can't find anywhere else.
I'm no beauty queen, I'm just beautiful me.
If you can't handle me with my double chin snapshot you don't deserve me at my Instagram selfie.
In every angel, a demon hides and in every demon, an angel strides.
Keep your friends close, enemies closer and lipstick closest.
Keep your heels, head, and standards high.
Keep your standards higher than your heels.
Leave a little sparkle everywhere you go.
Life is tough, my darling, but so are you.
My attitude is relative. I'll have to explain it with the theory of relativity.
My personality is up and down, sassy and cheeky.
Once a queen, always a queen.
People will stare. Make it worth their while
Real girls are never perfect and perfect girls are not real.
She dreamed incredible dreams, followed her heart and created her own fantasy.
She has a fire in her soul and grace in her heart.
She loves moonlight and rainstorms and so many other things that have a soul.
So many smiles began with you.
Some days I'm more wolf than a woman, and I'm still learning how to stop apologizing for my wild.
Sometimes you gotta be a beauty and a beast.
Spark will ignite.
Sunshine mixed with a little hurricane.
The way you carry a style reflects your personality.
There's a million fish in the sea. But I'm a mermaid.
Too glam to give a damn.
What others think of me is none of my business.
You couldn't handle me even if I came with instructions.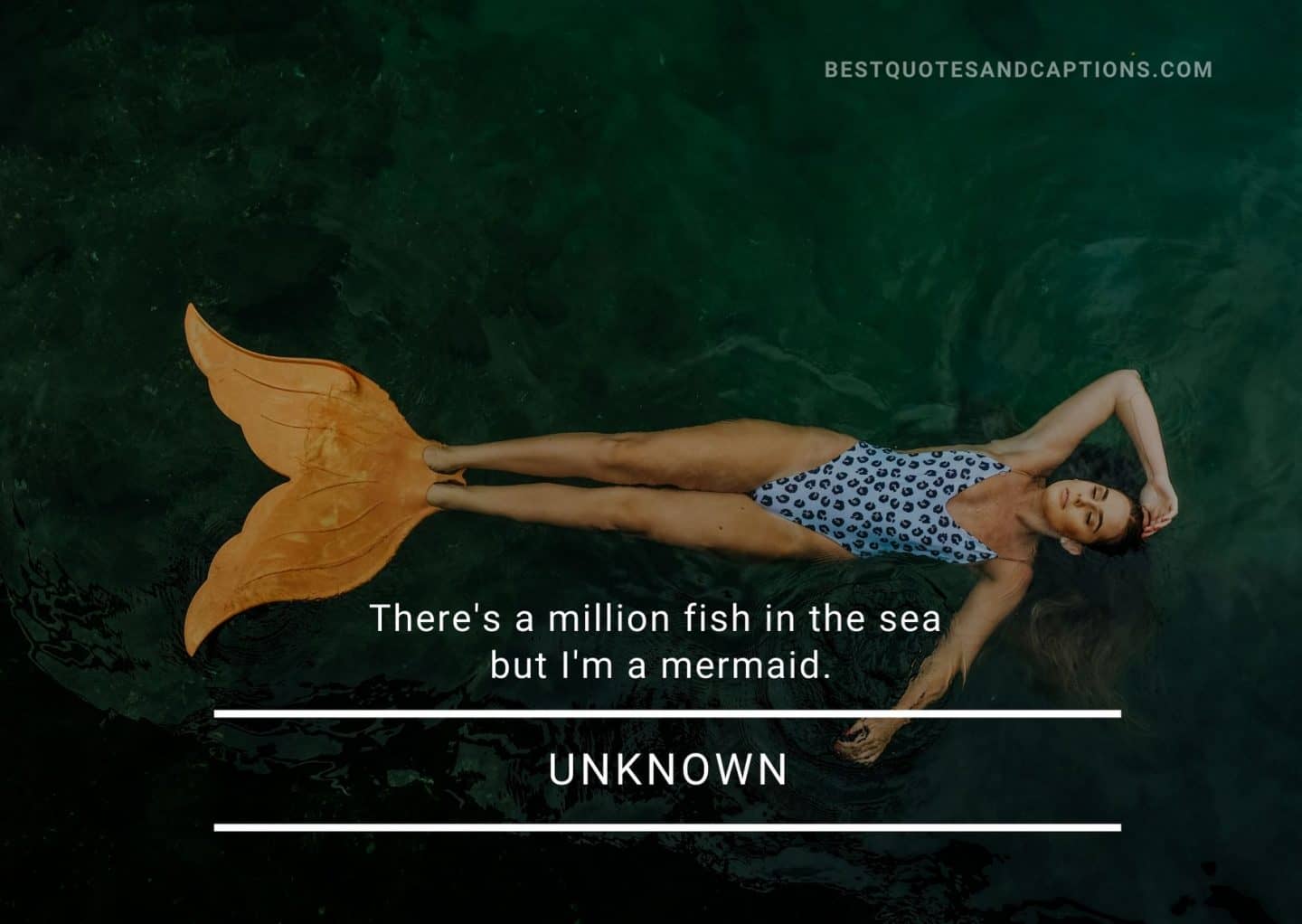 Sexy captions for girls
Sometimes you want to flaunt what you got. Yup, you want to showcase a little bit of sex appeal in your playful photograph and need a caption to match it, right? Here is our collated list of the sexiest captions for girls:
A girl's eyes have their own vocabulary.
Be savage, not average.
Beauty is about being cozy in your own skin.
Beauty never asks for attention.
Being sexy is about attitude possessed, not a body type. It's a state of mind.
Cinderella never asks for a prince.
Confidence level: Selfie with no filter.
Curls run the world.
Everyone said I could be anything. So I became sexy!
First God created man, then he had a better idea.
Flashing those eyes like highway signs.
Focused, intelligent, motivated. Oh, and sexy!
Girly and flirty to edgy and chic.
Good times and tan lines.
I am a flamingo in a flock of pigeons.
I am the mixture of a cutie with a mission and hottie with an ambition.
I know looks are not everything but I have them just in case.
I run on coffee, sarcasm, and lipstick.
I suffer an extreme case of not being Beyonce.
It's all about the glow.
It's better to arrive late than to arrive ugly.
Life is a party. Dress like it.
Life isn´t perfect, but your outfit can be.
Live a bikini kinda life.
Never underestimate the power of good attire on a bad day.
Nothing can dim the light that shines from within.
Pray, slay and conquer the day.
Sexiness is a state of mind.
Sexy is being confident, independent and having fun.
She leaves a little sparkle wherever she goes.
She was like a storm, not the kind you run away from, the kind you chase.
Some girls are just born with glitter in their veins.
Sweeter than honey.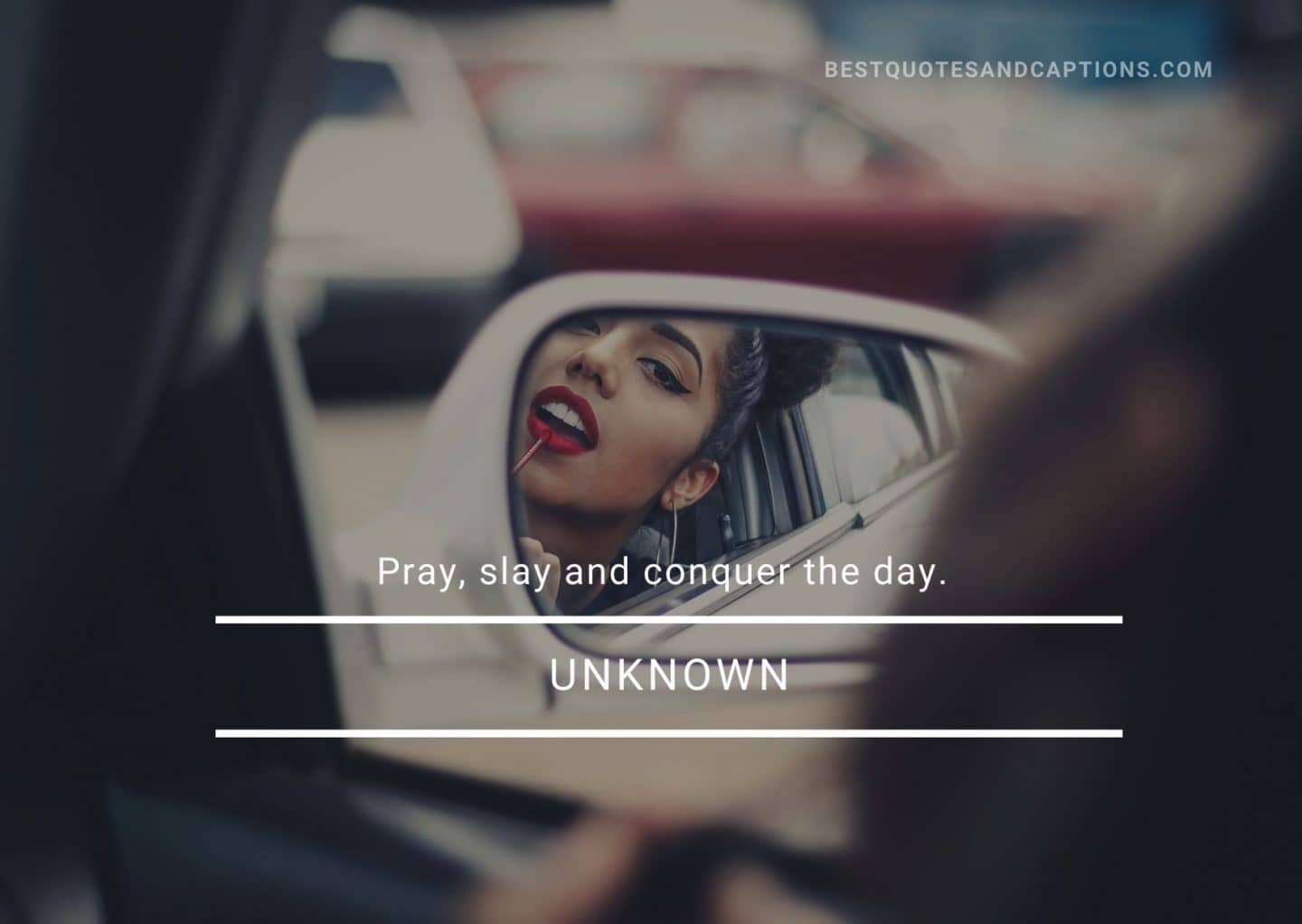 Song lyrics for girls
Okay, so maybe not all of these songs explicitly state 'girl' in their lyrics. But here is our ultimate list of song lyrics inspired by girls. Thumping tunes and love songs for confident, inspiring, beautiful, kind and wonderful girls. Pick your favourite and use it as your caption!
Confident by Demi Lovato
So you say I'm complicated / That I must be outta my mind / But you had me underrated, rated, rated / What's wrong with being, what's wrong with being, what's wrong with being confident?
Do what you want by Lady Gaga and Christina Aguilera
Write what you want, say what you want 'bout me / If you're wondering, know that I'm not sorry
Girl by Maren Morris
Baby girl, don't you hang your head low / Don't you lose your halo / Everyone's gonna be okay
God is a woman by Ariana Grande
And I can be all the things you told me not to be / When you try to come for me, I keep on flourishing / And he see the universe when I'm in company / It's all in me
Hey Girl by Lady Gaga and Florence Welsh
Hey girl, hey girl / We can make it easy if we lift each other / Hey girl, hey girl / We don't need to keep on one-in' up another / Hey girl, hey girl / Hey girl, hey girl / If you lose your way / Just know that I got you
Man! I Feel Like A Woman by Shania Twain
I want to be free yeah, to feel the way I feel / Man! I feel like a woman!
Scars to your beautiful by Alessia Cara
But there's a hope that's waiting for you in the dark / You should know you're beautiful just the way you are / And you don't have to change a thing, the world could change its heart / No scars to your beautiful, we're stars and we're beautiful
That's my girl by Fifth Harmony
You've been down before / You've been hurt before / You got up before / You'll be good to go, good to go
Wannabe by the Spice Girls
If you wanna be my lover, you gotta get with my friends / Make it last forever, friendship never ends / If you wanna be my lover, you have got to give / Taking is too easy, but that's the way it is
You don't own me by Lesley Gore
I don't tell you what to say / I don't tell you what to do / So just let me be myself / That's all I ask of you
Bonus: Creating strong Instagram captions
If your photo and caption are for Instagram, you'll know that the key to growth on that platform is through consistent engagement. Comments are becoming increasingly important in the Instagram algorithm with the possibility of likes being hidden entirely. So, how to increase engagement?
Other than a fantastic photograph, your caption itself should ideally encourage comments. We have found that the best way to do that is to be funny or, ideally, to ask a question or two, to get responses.
Some examples could include:
What do you think of my selfie?
Guy or girl? Let me know in the comments!
Tag your favourite girl in the comments
You should also clearly think about which hashtags to use – check out our Instagram hashtag cheat sheet here for more tips.
We hope you've enjoyed our guide to the best Instagram captions for girls. If you want to add to the list or just need some caption advice, please get in touch!
Other essential Instagram growth tools
---
Want to save it for later? Why not pin it…