Feeling full of joy? We know the feeling! Well to capture that funky, frivolous feeling we've put together what we think is the most comprehensive guide to the best happy status for WhatsApp, with over 250 happy status options!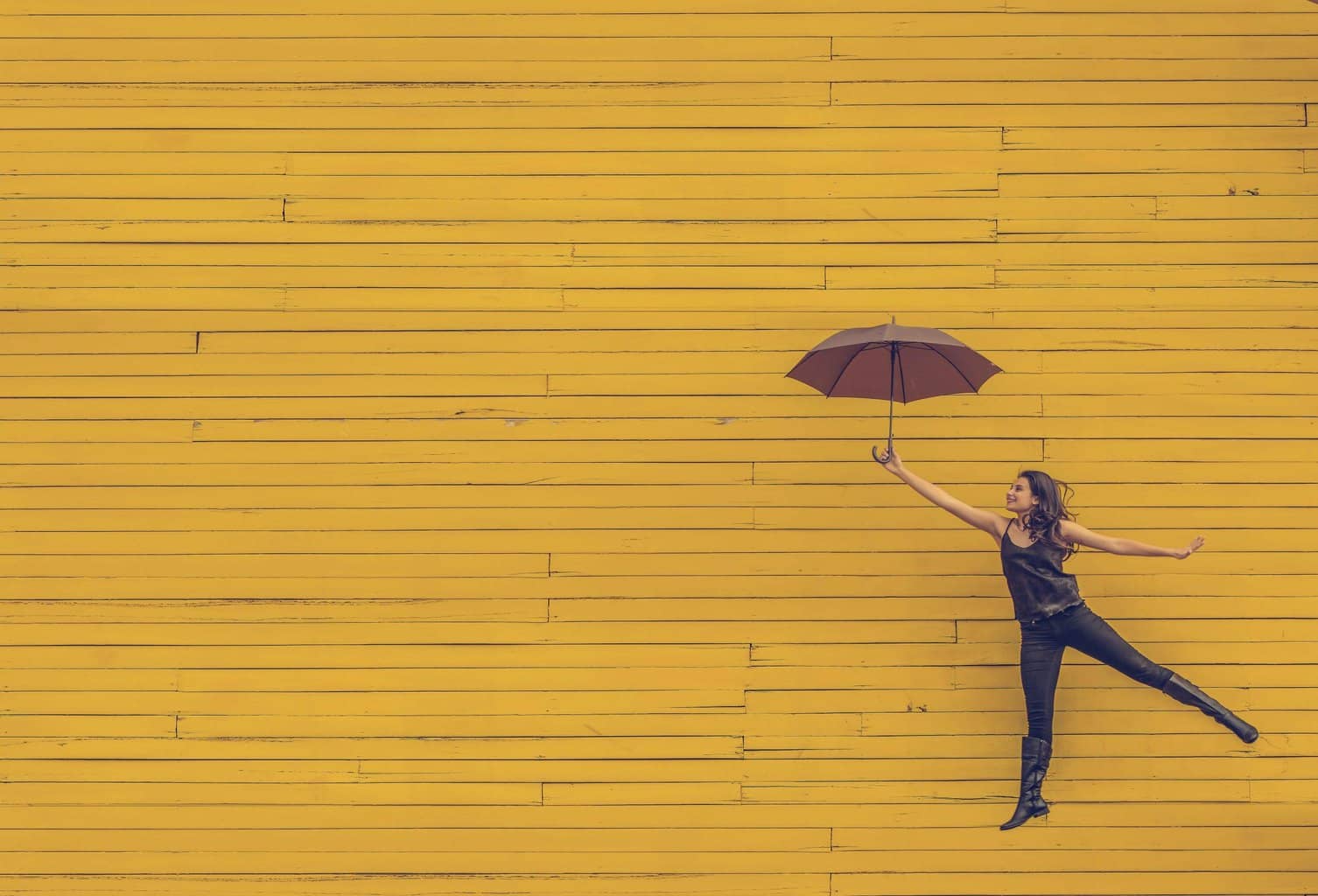 What is a WhatsApp status?
Like an Instagram Story, a WhatsApp status allows you to post content – photos, videos, GIFs and text overlays like a 'status update' to your WhatsApp.
This status is only live for 24 hours (again, similar to Instagram) and only visible to your Contacts that have your number saved in their phone.
Want to know a bit more about a WhatsApp status? We really enjoyed this guide.
Best happy status for WhatsApp
So, we've got literally hundreds of options for your happy WhatsApp status in this article but which ten are the best of the best? We've selected ten for you below:
Dreams are today's answers to tomorrow's questions.
For every minute of anger, you lose sixty seconds of happiness. So, smile big and enjoy every minute of life!
God, grant me the serenity to accept the things I cannot change, the courage to change the things I can, and the wisdom to know the difference.
Happiness is a perfume you cannot pour on others without getting a few drops on yourself.
Happiness is where we find it, but very rarely where we seek it.
Hold on to things that make you happy and let go of things that make you sad.
Hug harder. Laugh louder. Smile bigger. Love longer.
Love is the master key that opens the gates of happiness.
Play the moments. Pause the memories. Stop the pain. Rewind the happiness.
You know what's beautiful? Read the first word again.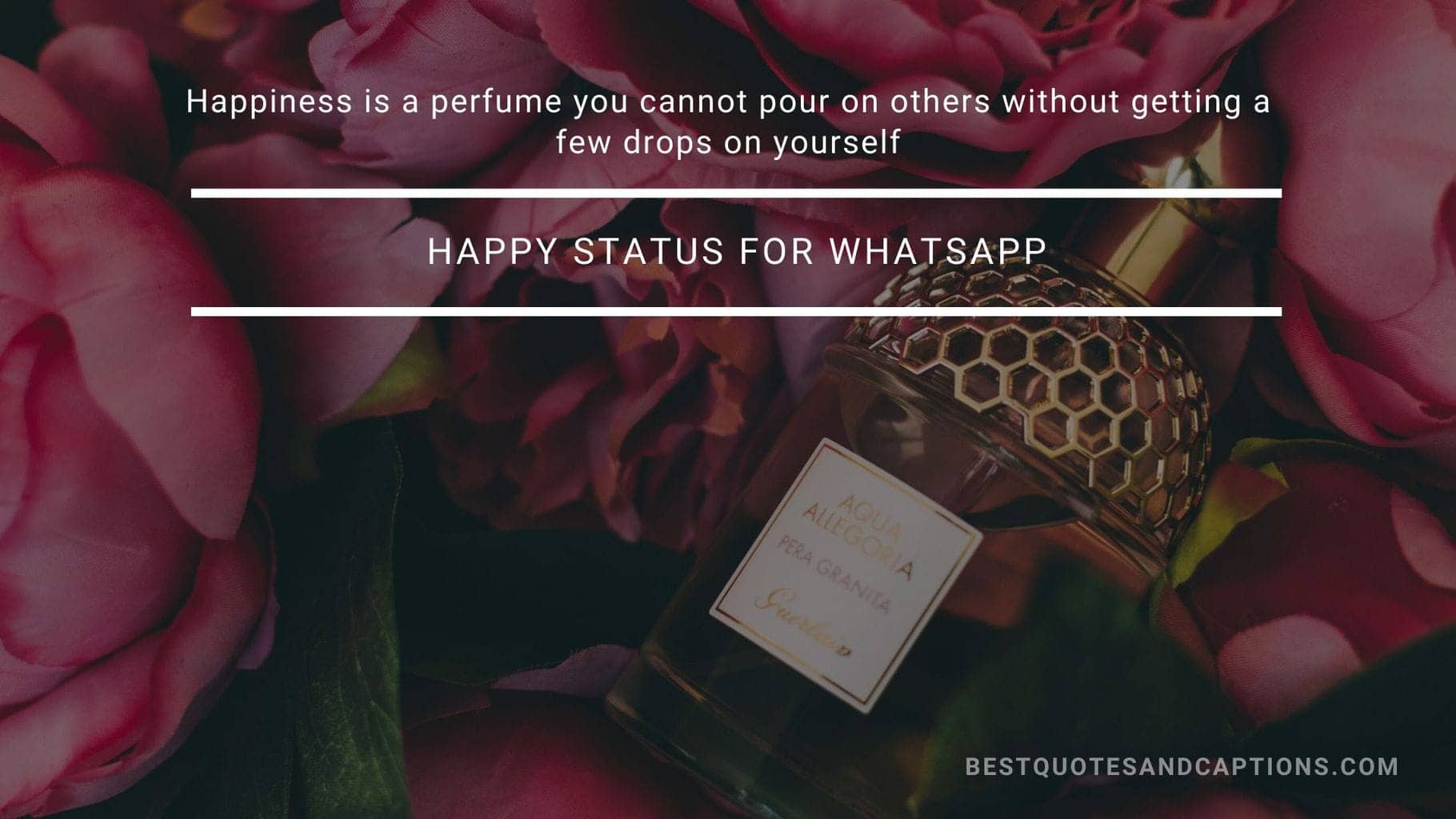 Beautiful happy status
We loved some of these beautifully worded happy status updates, perfect for a feeling happy status for Facebook if you don't want to put them on WhatsApp!
A person must be able to be alone and find happiness within themselves, before they can ever expect to be happy with someone else.
Being happy doesn't mean you're perfect. It just means you've decided to look beyond the imperfections.
Don't let the sadness of your past and the fear of your future win the happiness of your present.
Every man has his secret sorrows which the world knows not; and often times we call a man cold when he is only sad.
If we all had perfect lives, we would never know what happiness was because we would never be sad or mad enough to know the difference.
Life's short, forget your problems, be happy, and live your life because you never know if there will be another tomorrow.
May you have enough happiness to make you sweet, enough trials to make you strong, enough sorrow to keep you human and enough hope to make you happy.
One of the sanest, surest and most generous joys of life comes from being happy over the good fortunes of others.
Positive thinking evokes more energy, more initiative and more happiness.
Realize that true happiness lies, within you. Waste no time and effort searching for peace and contentment and joy in the world outside.
Tension is who you think you should be, relaxation is who you are.
The happiest is the one who brings happiness to the greatest number of people.
The happiest people don't necessarily have the best of everything, they just make the best out of everything that comes their way.
True happiness lies within yourself. It doesn't come from others.
You don't need to do everything just to be happy. You just need to take care of the people who are making you happy.
You will never be happy if you continue to search for what happiness consists of.
You will never live if you are looking for the meaning of life.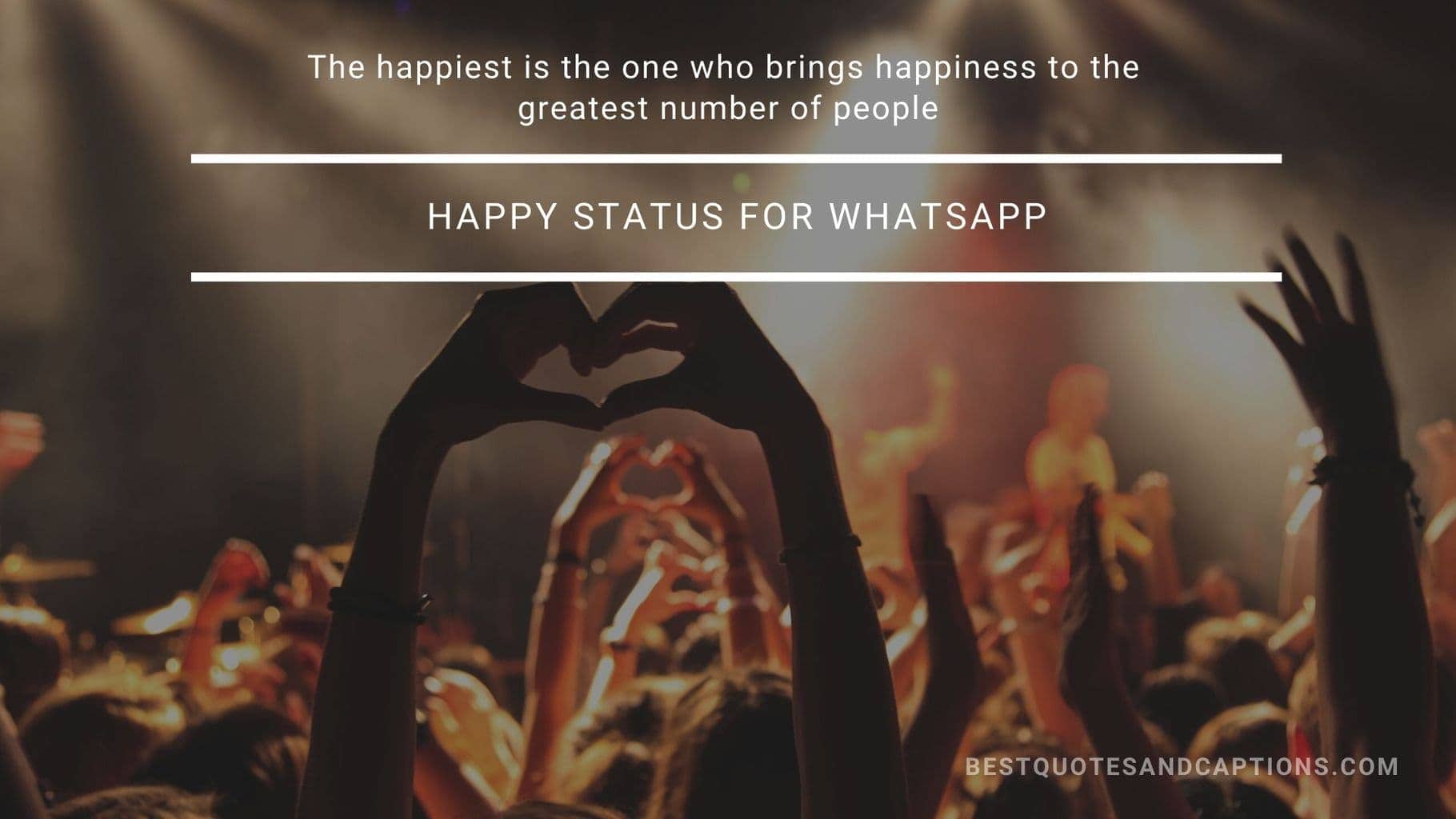 Clever and cute happy status
Checking for something smart and a bit sassy or cute? We've collected the best clever happy status updates for you:
A table, a chair, a bowl of fruit and a violin; what else does a man need to be happy?
Born to express not to impress.
Don't put the key to happiness in someone else's pocket.
Happiness is a well-balanced combination of love, labour, and luck.
Happiness is homemade…
Happiness is when "Last seen at" changes to "online" and then to "typing…"
Life is like a camera. So, face it with a SMILE!
Nobody can be un-cheered with a balloon.
The worst part of success is trying to find someone who is happy for you.
Think big thoughts but relish small pleasures.
True happiness is not expensive. If it requires a high price it's a fake.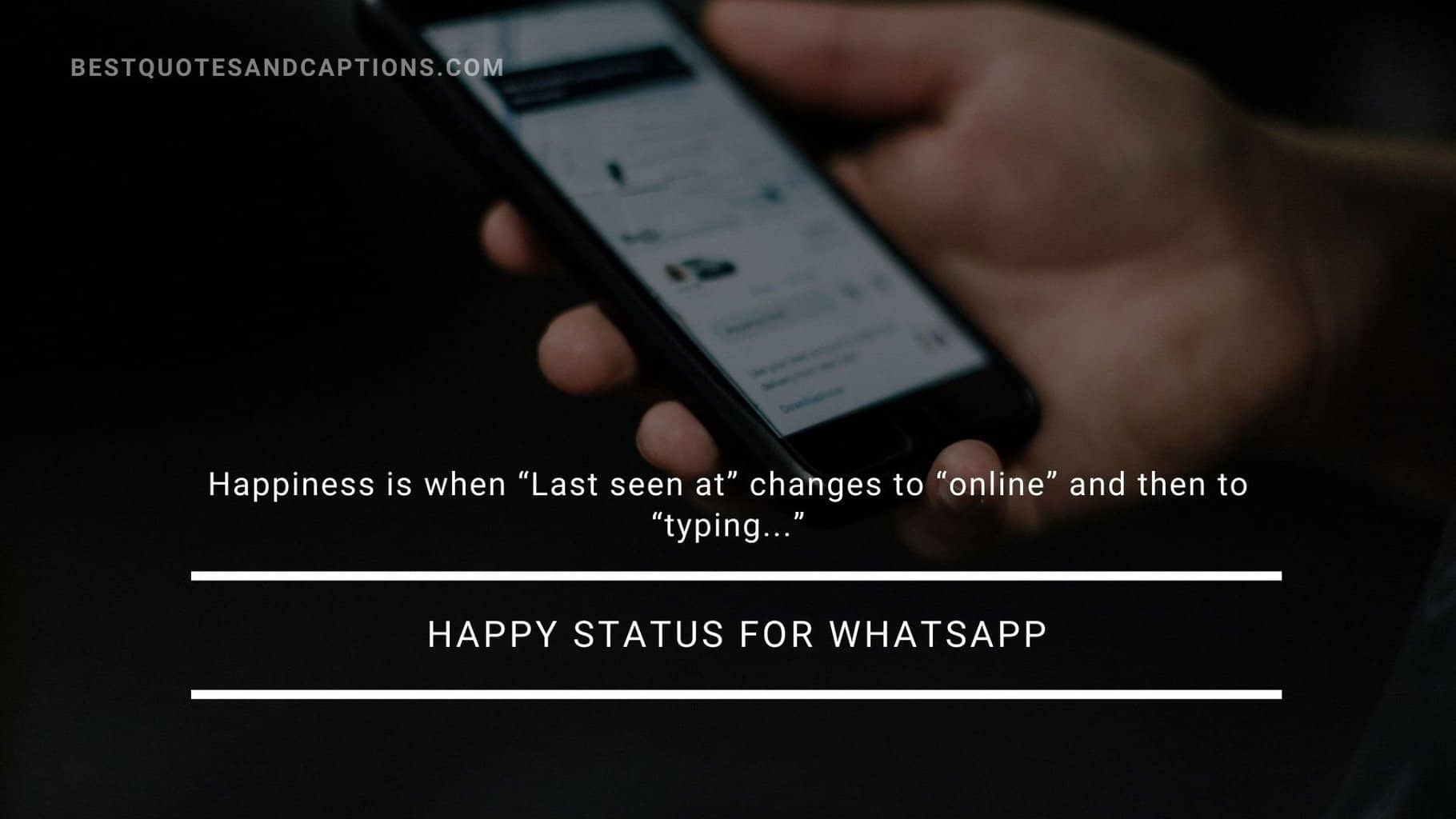 Happy life status
Life is for living, right? We think so! Perhaps use one of these cracking status updates for enjoying life, and being happy:
Always believe that something wonderful is about to happen.
Be believing, be happy, don't get discouraged. Things will work out.
Be happy at the moment, that's enough. Each moment is all we need, not more.
Do not set aside your happiness. Do not wait to be happy in the future. The best time to be happy is always now.
Dream as if you'll live forever, live as if you'll die today.
Every day is a new day, and you'll never be able to find happiness if you don't move on.
Every day may not be good, but there's something good in every day.
Every day we are given is a gift and we should treat it that way.
Everything in life happens for a reason. Stop worrying about the reason and just live for what happens!
I don't want a perfect life. I want a happy life.
I like people that enjoy life, 'cause I do the same.
Live for the moments you can't put into words.
New Year. New feels. New chances.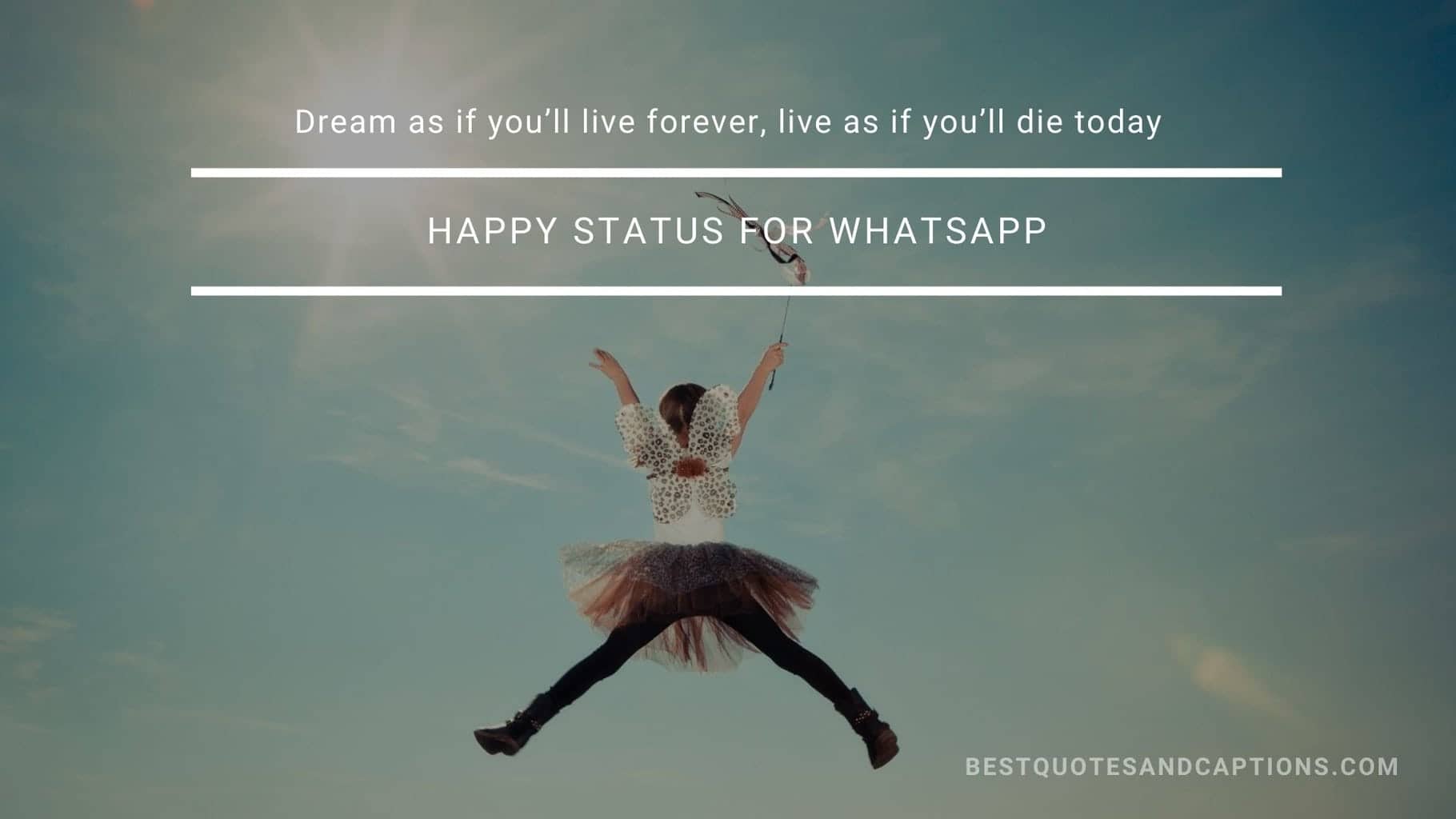 Funny happy messages
It's a good idea to be funny in your WhatsApp status update, since everyone loves a bit of humour! With that in mind, we've curated some of the best WhatsApp status updates for happy, humorous people:
A good mood is like a balloon. One little prick is all it takes to ruin it.
Enjoy life. There's plenty of time to be dead.
I prefer to be crazy and happy rather than normal and bitter
Laugh alone and the world thinks you're an idiot.
Life is like a roller coaster, live it, be happy, enjoy life.
Life is like riding a bicycle. To keep your balance, you must keep moving.
Money sure doesn't buy happiness, but its easier to cry in a Porsche than on a bike.
One of the keys to happiness is a bad memory.
She thinks that happiness is a mat that sits on her doorway.
Smile and the world will smile with you. Laugh and they'll all think you are on drugs.
Smile! It is the second best thing you can do with your lips.
The best vitamin to be a happy person is to B1.
The thicker the skin, the happier the man.
There are two ways to be happy: improve your reality or lower your expectations.
Time, you can't keep it, but you can spend it.
You can't buy happiness, but you can buy ice cream. and that's kind of the same thing.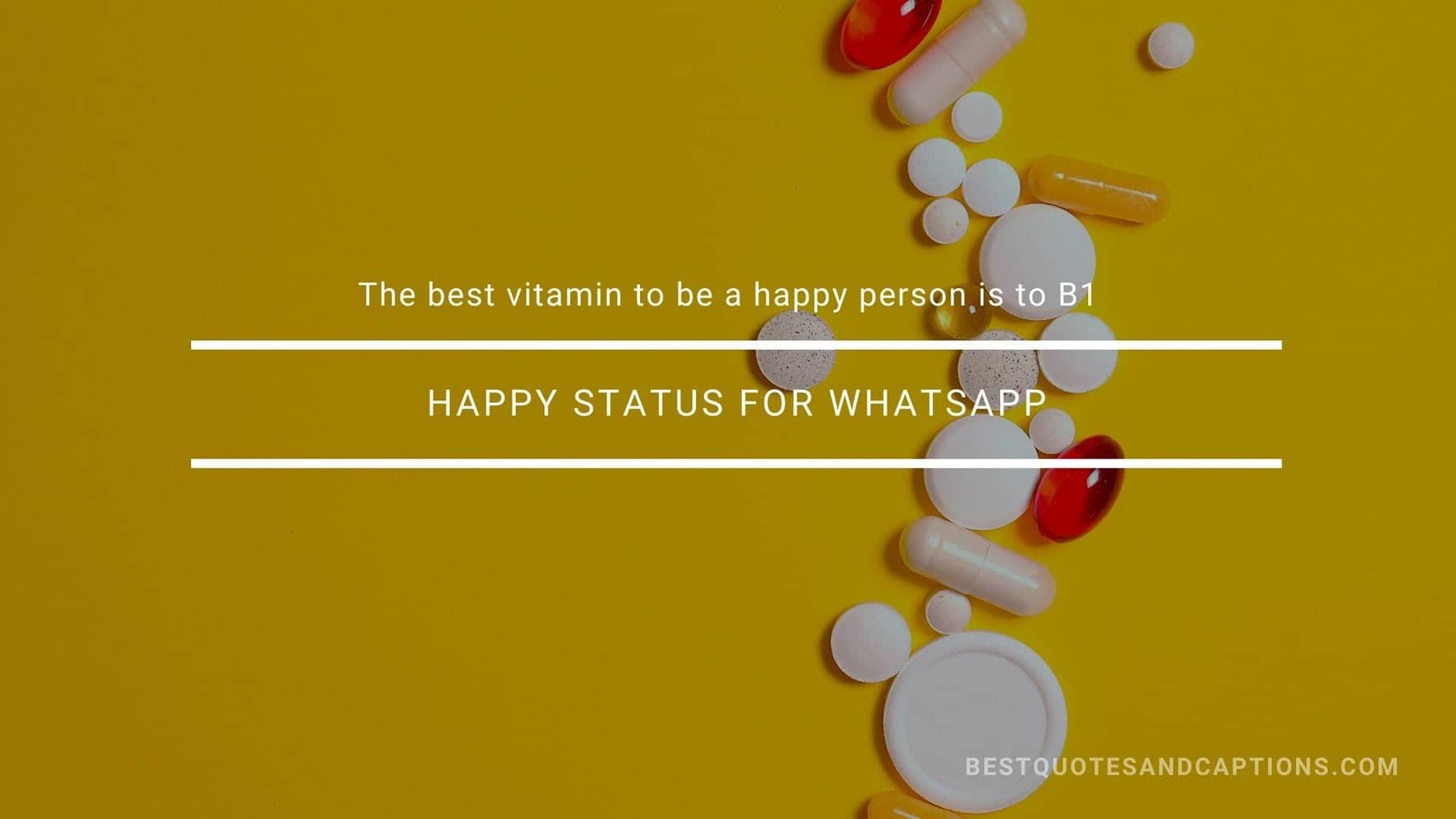 Good status messages about life and happiness
Just in search of a solid status update about your happiness? Try one of the following on for size:
At the end of the day, what really matters is the moments you were happy, not the sad ones.
Be happy with what you have. Be excited about what you want.
Count blessings. Not problems.
Cry. Forgive. Learn. Move on. Let your tears water the seeds of your future happiness.
Deal with your problems before they deal with your happiness.
Don't postpone joy until you have learned all of your lessons. Joy is your lesson.
Expand your happiness by sharing it with. The larger a rainbow, the more brightly it shines.
Expect less and you would be more happy than ever.
Folks are usually about as happy as they make their minds up to be.
It is not how much we have, but how much we enjoy, that makes happiness.
Life is short, and it is up to you to make it sweet.
My crown is called content, a crown that seldom kings enjoy.
Sometimes the greatest gifts in life are the ones you cannot see, but the one you can feel.
Success is getting what you want, happiness is wanting what you get.
The greatest pleasure people can feel, is giving happiness to others.
To enjoy the rainbows, you gotta go through some rain.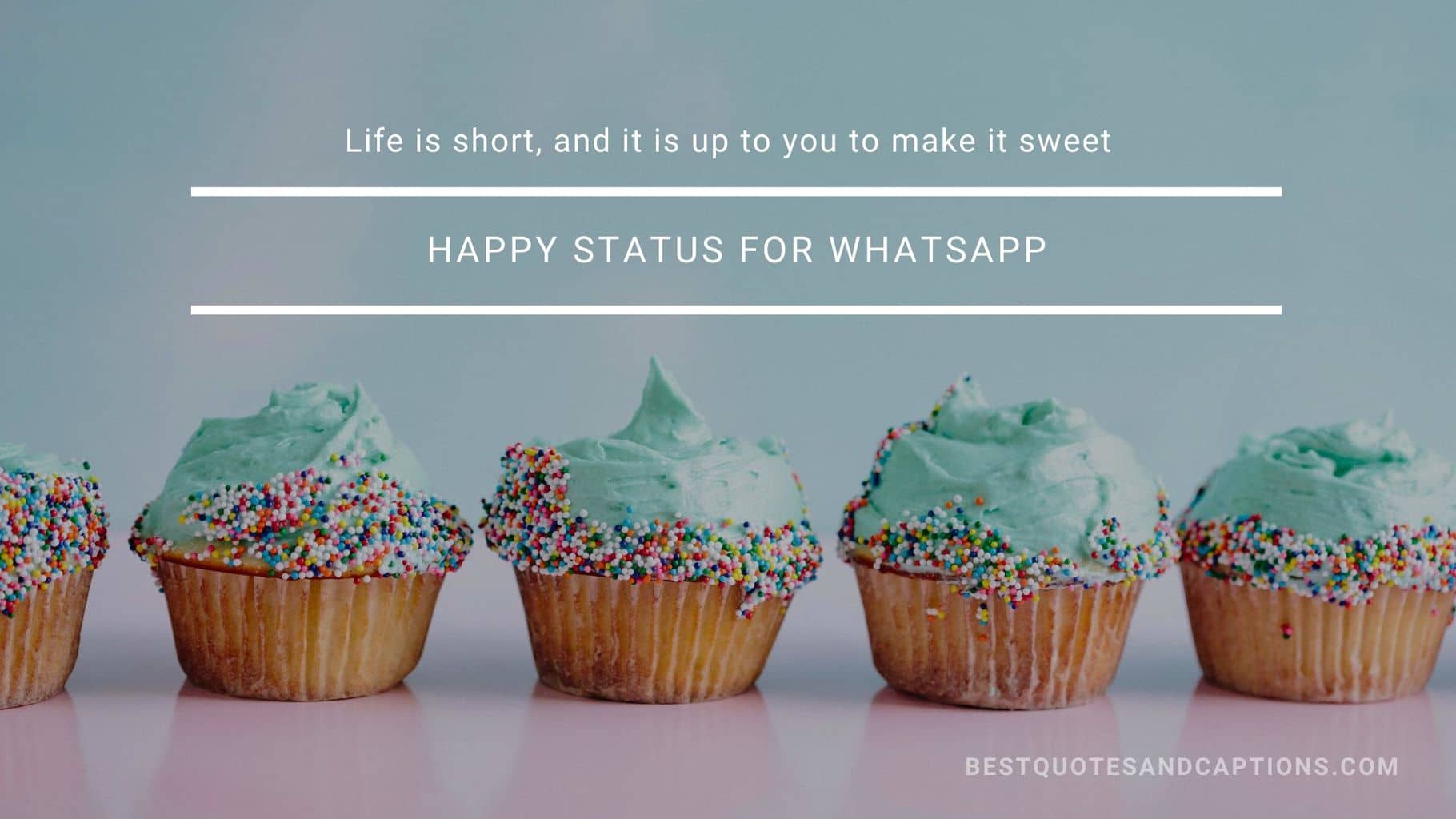 Happiness status in one line
Just want to talk about happiness in your update? We've found some of the best one-liners about happiness for your status update:
Doing what you like is freedom. Liking what you do is happiness.
Happiness depends not on material things but on our view on the things.
Happiness depends on your mindset and attitude.
Happiness depends upon ourselves.
Happiness does not consist in pastimes and amusements but in virtuous activities.
Happiness in intelligent people is the rarest thing I know.
Happiness is a choice and a skill and you can dedicate yourself to learning that skill and making that choice.
Happiness is not a life without worries and sorrows, happiness is a state of mind
Happiness is not in living a good life but in understanding and feeling what a good life is
Happiness is not ready made it comes by our own actions.
Happiness is the default state. It's what's there when you remove the sense that something is missing in life.
I have only two kinds of days: happy and hysterically happy.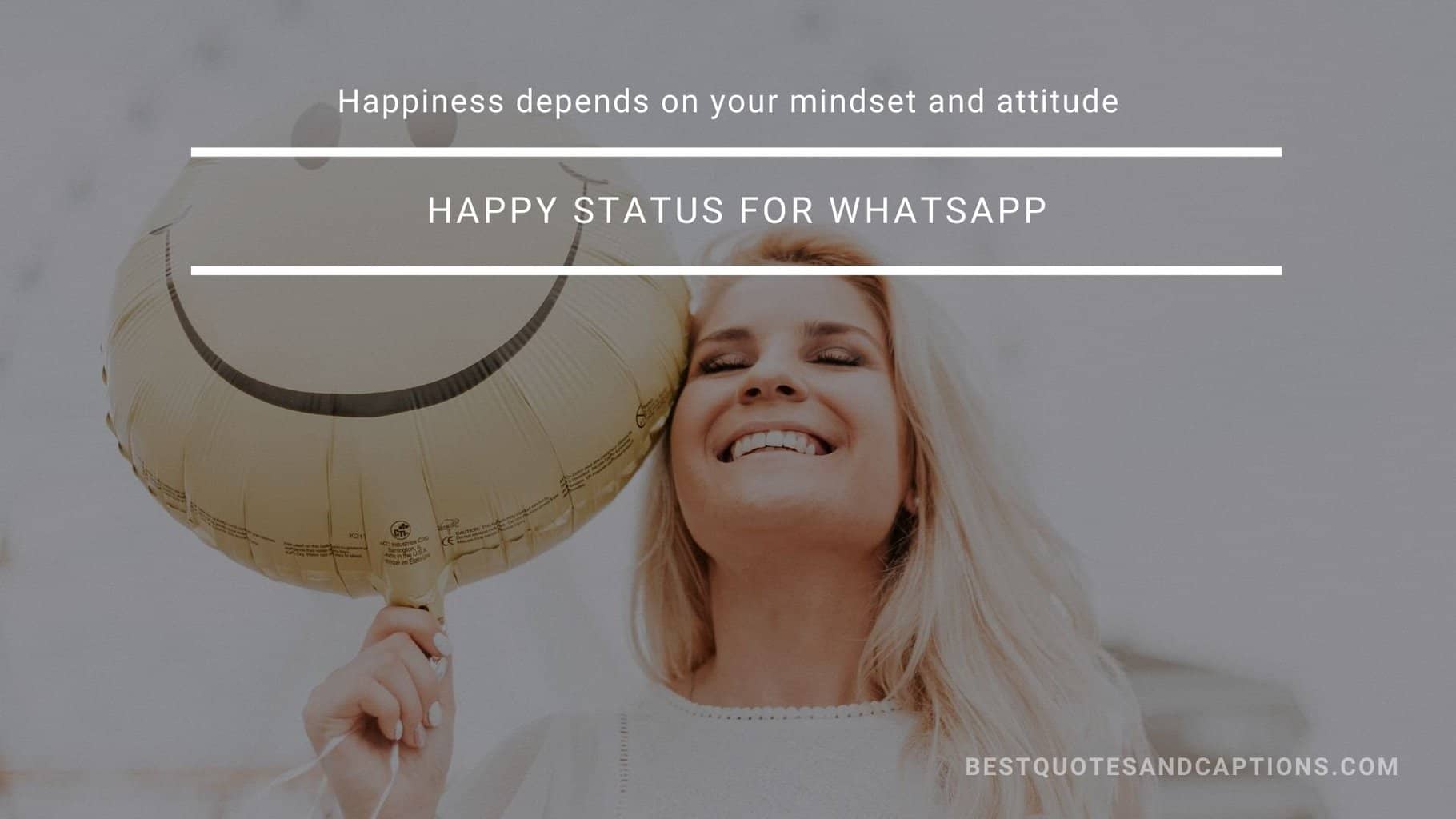 Inspirational happy status ideas
Want to inspire people when they are reading your status update? We totally understand! To help you with that, we've collected the best inspirational happy life status ideas for you…
Aspire to inspire before you expire.
I don't need to make the world a better place. I'm happy just making my home a better place.
Happiness can be found even in the darkest of times, if one only remembers to turn on the light.
Happiness does not lead to gratitude. Gratitude leads to happiness.
Happiness is a gift and the trick is not to expect it, but to delight in it when it comes.
If we wait for happy moments, we will wait forever… But if we start believing that we are happy, we will be happy forever!
If you want to be happy, set a goal that commands your thoughts, liberates your energy, and inspires your hopes.
Life's short, forget your problems, be happy, and live your life because you never know if there will be another tomorrow.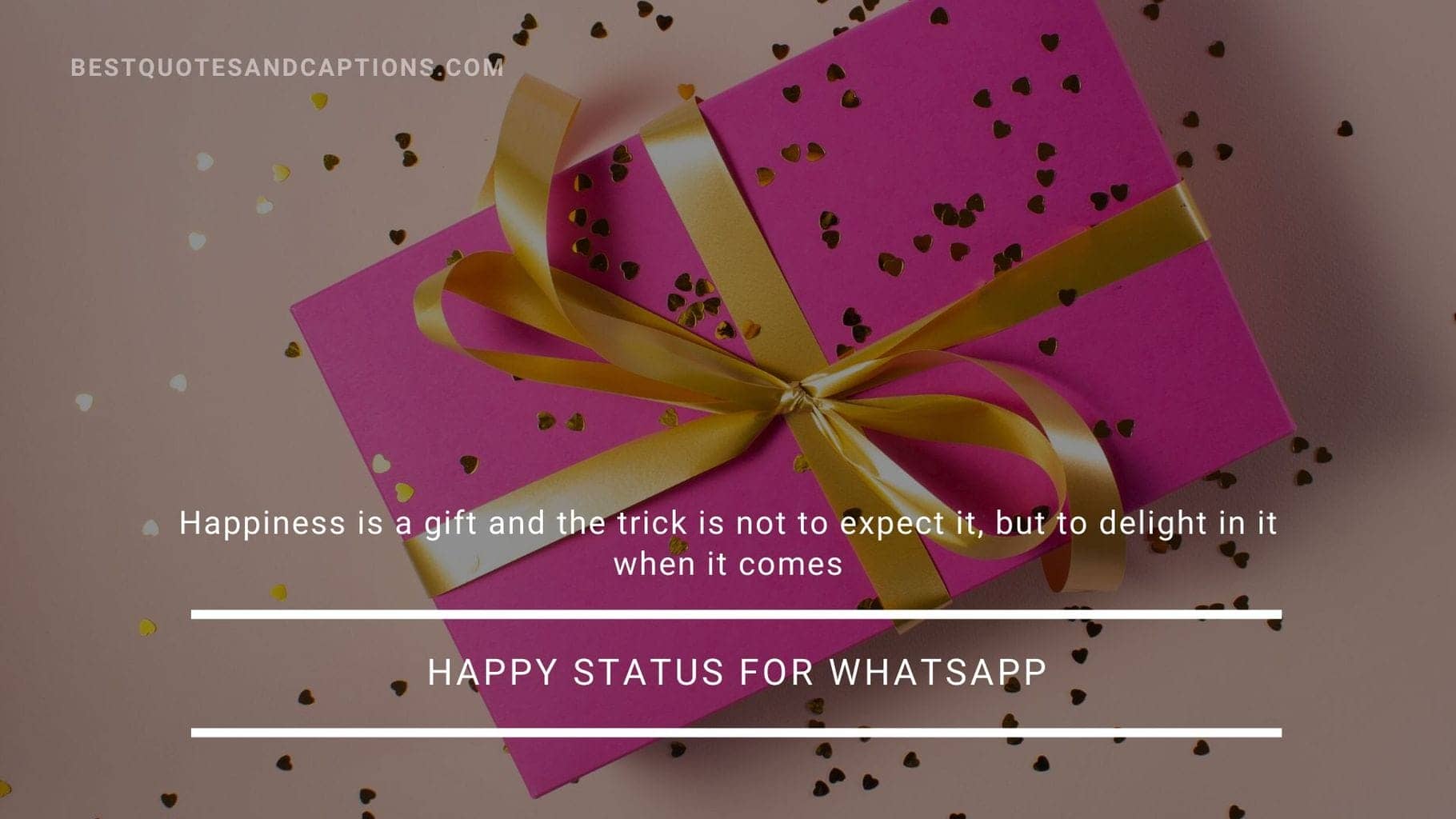 Life's too short not to be happy. Dance like no one is watching, sing like no one is listening, love like it will last forever and live like today is your last.
Live with intention. Walk to the edge. Listen hard. Practice wellness. Play with abandon. Laugh. Choose with no regret. Do what you love. Live as if this is all there is.
The greatest happiness you can have is knowing that you do not necessarily require happiness.
The greatest secret to happiness and peace is letting every life situation be what it is, instead of what you think it should be. Then, make the very best of it.
The key to achieving inner happiness is to strive to make someone else happy, instead of trying to make yourself happy all the time.
The most important thing is to enjoy your life—to be happy—it's all that matters.
The unthankful heart… discovers no mercies; but the thankful heart… will find, in every hour, some heavenly blessings.
They say a person needs just three things to be truly happy in this world: someone to love, something to do, and something to hope for.
What we think determines what happens to us, so if we want to change our lives, we need to stretch our minds.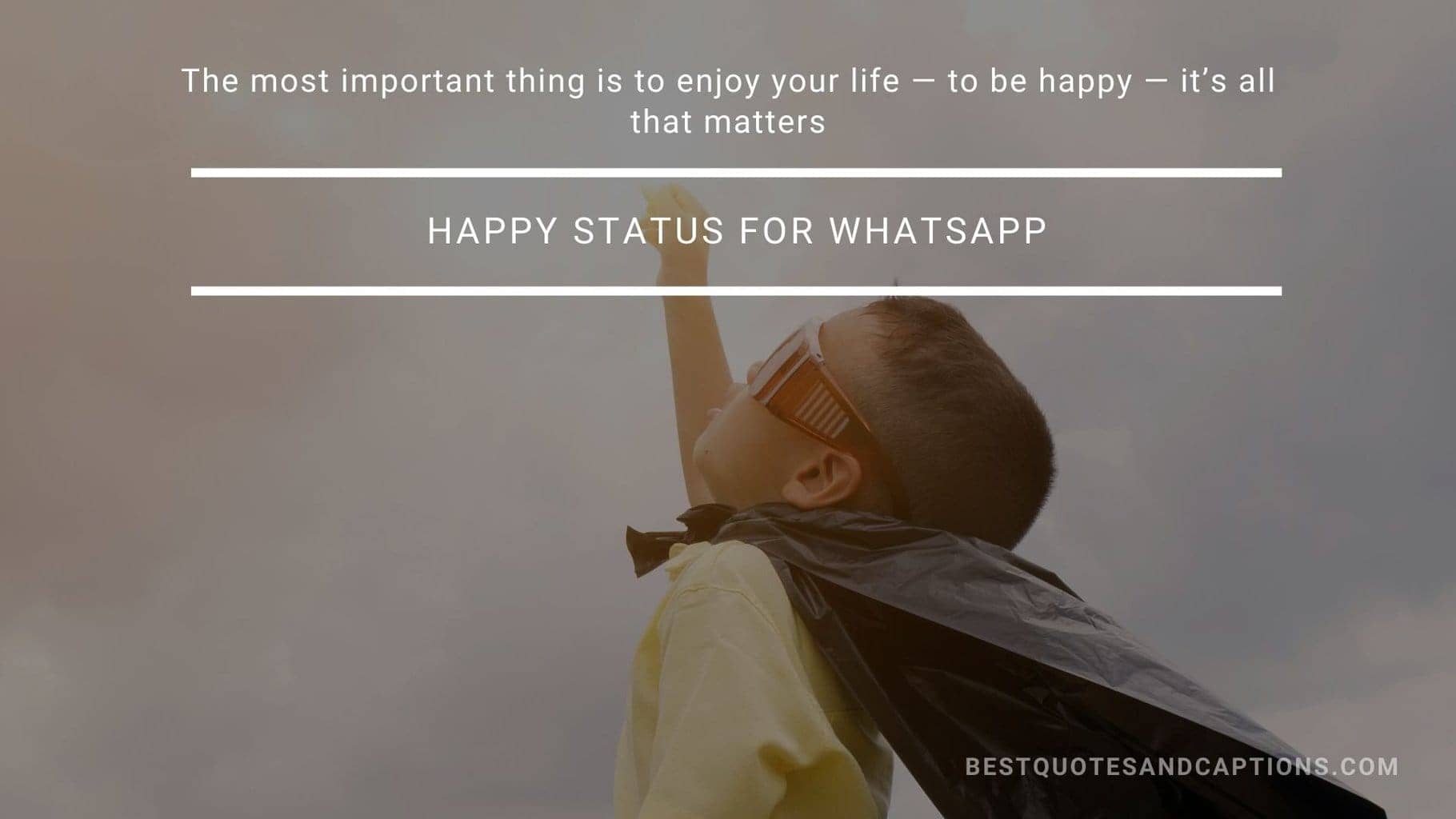 Feeling happy status for laughing and smiling
There is nothing like a big grin to make you feel happy, or a well-placed giggle to bring about that smile. Maybe you've got a great photo of yourself smiling? In that case, you can use one of these red hot happy statuses for laughing or smiling below:
A day without laughter is a day wasted.
A good laugh and a long sleep are the best cures for anything.
A smile is a curve that sets everything straight.
A smile is the happiness you'll find right under your nose.
And when you smile the whole world stop & stares for a while.
I hope you always find a reason to smile.
I'm always gonna be smiling. I'm always gonna be in a good mood.
I'm wearing the smile you gave me.
I've got nothing to do today but smile.
If you really love a person, a little smile can make you happy!
Let your smile change the world But, don't let the world change your smile.
Life is better when you're laughing.
Smile and let everyone know that today, you're a lot stronger than you were yesterday.
Smile and others will smile back.
The most important decision you make is to be in a good mood.
There's nothing like deep breaths after laughing that hard. Nothing in the world like a sore stomach for the right reasons.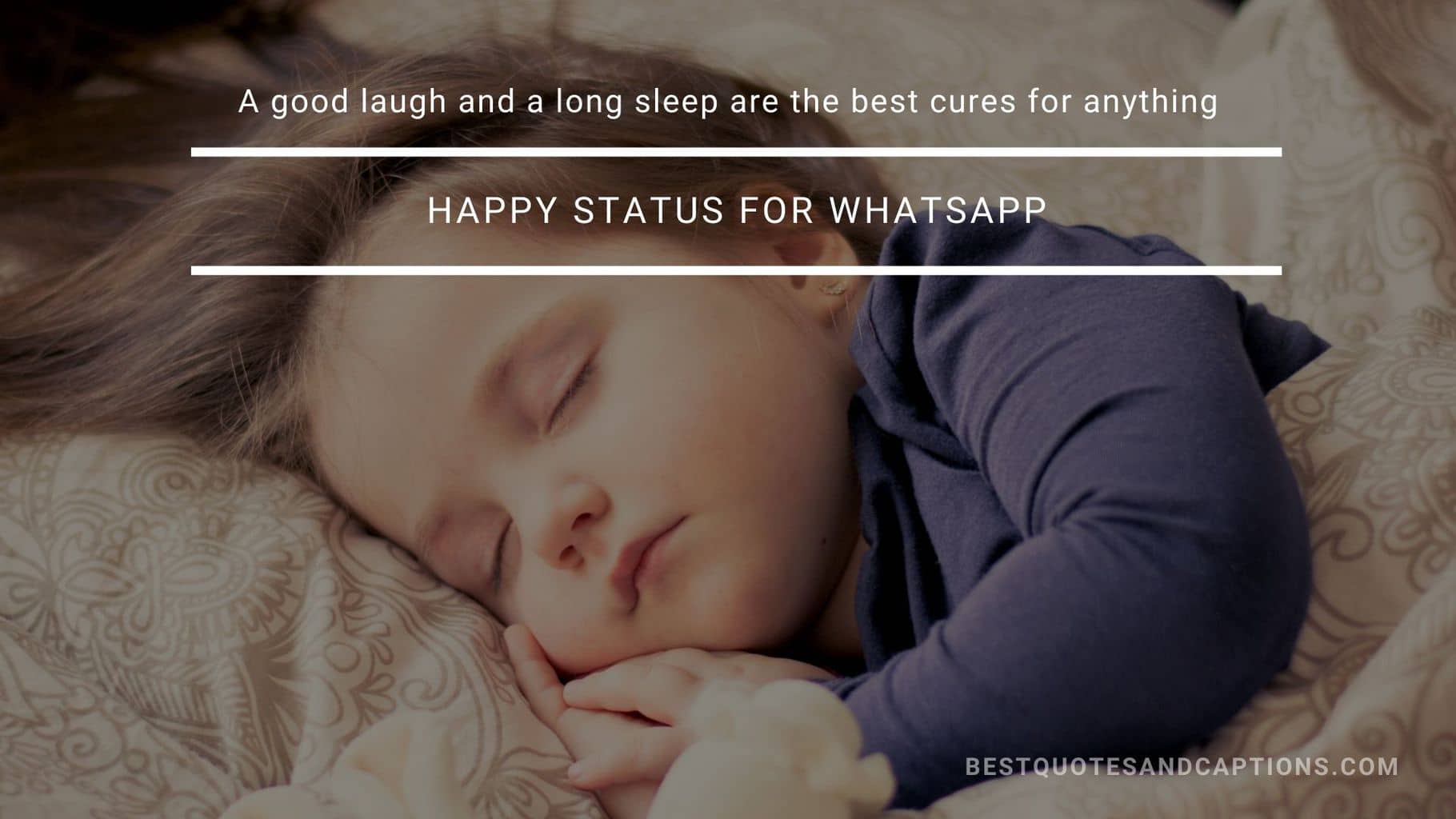 Happy status about love
Ahhh… love. Whether it's falling in love, being in love or even breaking up with a loved one, we've got the best happy status updates for your WhatsApp. There are even some quotes about being single and happy, since you don't always have to be in a relationship to have joy!
Every time you smile, I smile.
Everyone can make you smile, but only certain people can make you happy…
Faith keeps you strong. Love keeps you whole and happiness keeps you alive. So, don't be a downer! Be happy, be strong, be free, be alive.
Find someone who can change your life, and not just your relationship status.
Happiness is anyone and anything that's loved by you.
Happiness is like a kiss. You must share it to enjoy it.
Happiness means you. I love you.
I do not want horses or diamonds – I am happy in having you.
I think the hardest person to love is you.
Related: The best hashtags for couples
Of all forms of caution, caution in love is perhaps the most fatal to true happiness.
So many of my smiles begin with you.
When your heart beats for someone, it's amazing. When your heart skips a beat for someone, it's breath-taking.
Why waste your time getting hurt by someone, when there's someone else out there waiting to make you happy?
You don't need a boy to keep you happy, all you need is to be yourself!
You like the person if you wish him happiness.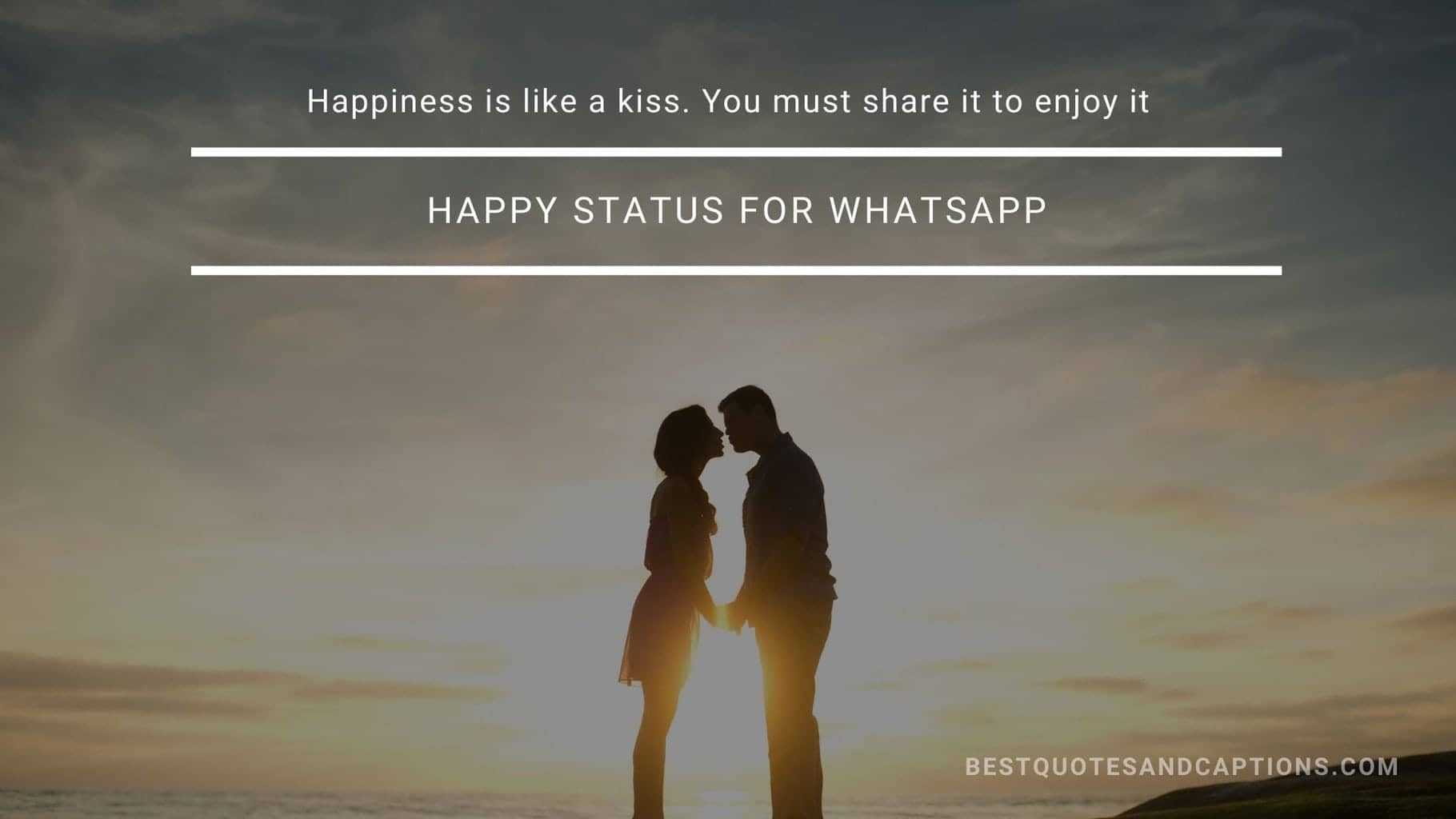 Motivational happy vibes quotes
Need something to pick you up and motivate you? We've selected some of the best motivational happy status for WhatsApp below. Keen to get a motivational caption for your Instagram? We also have a full guide of motivational captions here! 
As long as you are looking back on the past you will never see what's ahead in.
Don't waste a minute not being happy. If one window closes, run to the next window or break down the door.
Don't wait for the good days, just live the bad days as good as possible!
Happiness is not something ready made. It comes from your own actions.
Happy people don't necessarily have the best of everything; they must make the best out of everything they have.
If you carry joy in your heart, you can heal any moment.
If you want to live a happy life, tie it to a goal, not to people or things.
People wait all week for Friday, all year for summer and all life for happiness.
The only way to find true happiness is to risk being completely cut open.
What is happiness? The feeling that power is growing, that resistance is overcome.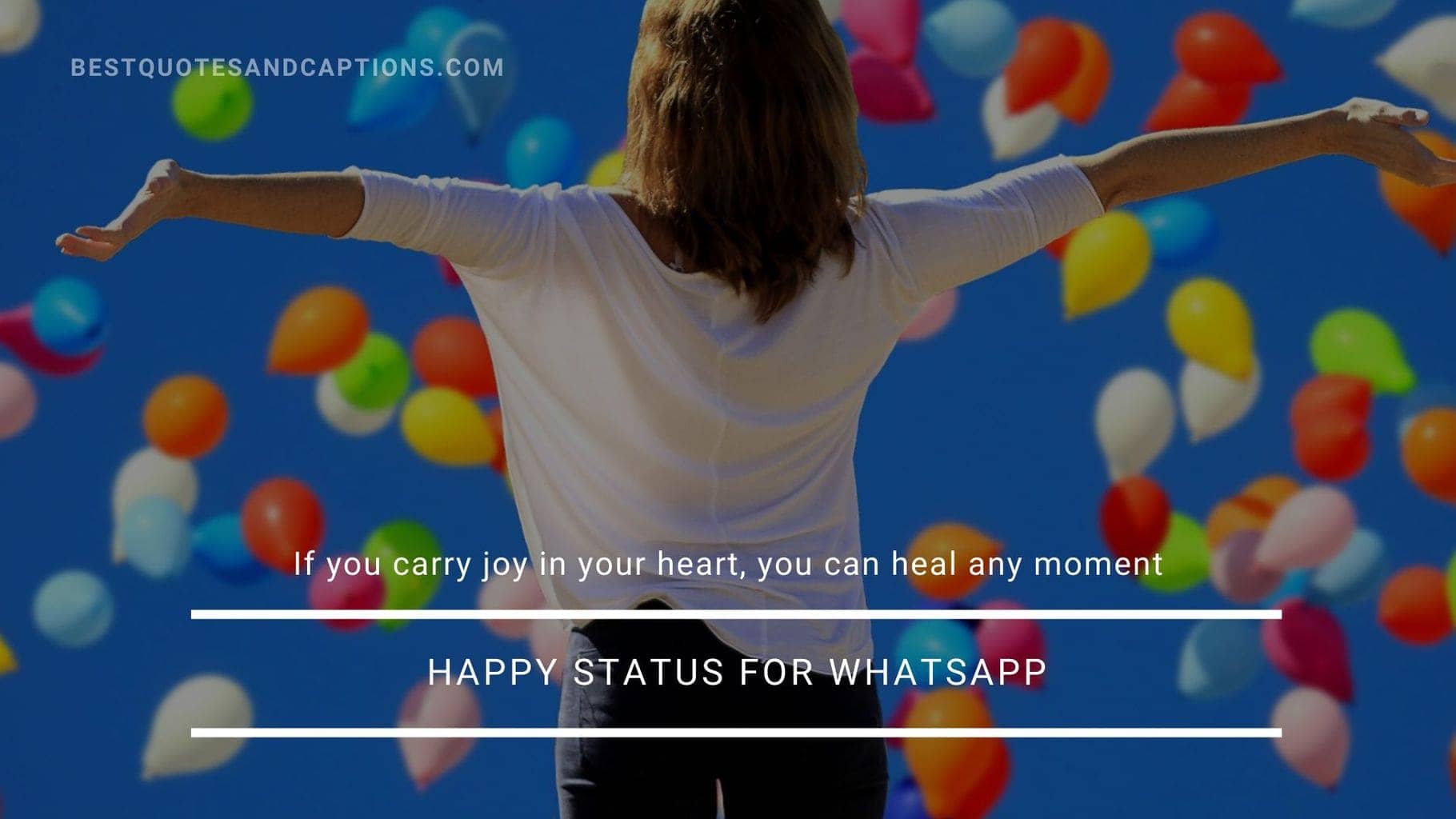 Poetic happy status ideas
It's nice to use a piece from a poet or author, or even just to put something that sounds absolutely beautiful as your status update. Try out one of the below:
A truly happy person is one who can enjoy the scenery while on a detour.
Accept what is, Let go of what was, and have faith in what will be.
Be happy not because everything is good, but because you can see the good in everything.
Be happy, and a reason will come along.
Dwell on the beauty of life. Watch the stars and see yourself running with them.
Enjoy the little things in life, for you'll one day look back and realize they were the big things.
Happiness is the soundtrack of my life.
Happiness isn't a destination. It's the journey you choose to take.
Happiness resides not in possessions and not in gold; the feeling of happiness dwells in the soul.
I felt my lungs inflate with the onrush of scenery—air, mountains, trees, people. I thought, "This is what it is to be happy".
It is the very mark of the spirit of rebellion to crave for happiness in this life.
Sometimes the things that you are most afraid of are the things that make you that happiest.
The foolish man seeks happiness in the distance; the wise grows it under his feet.
Time you enjoy wasting is not wasted time.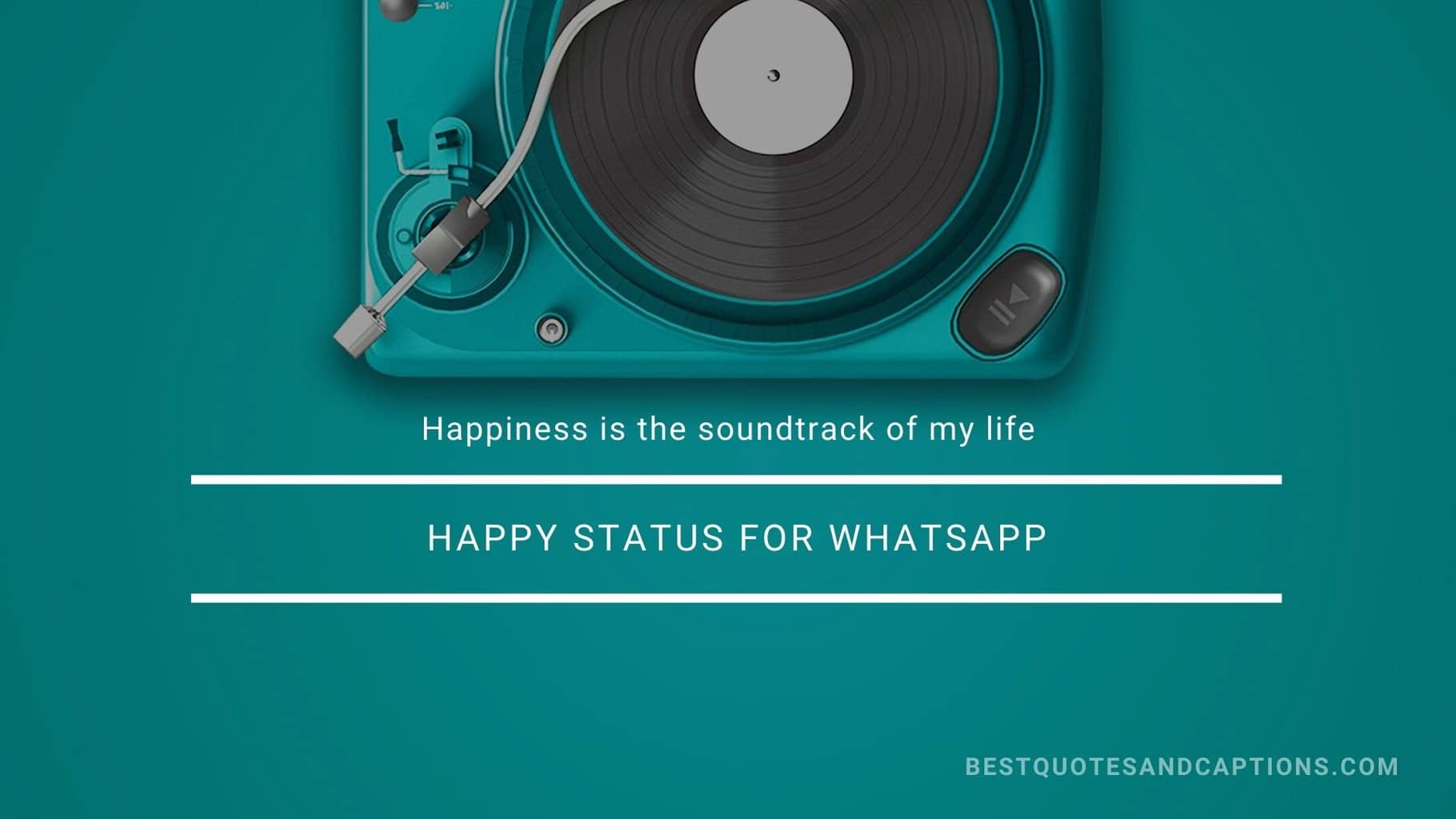 Quotes to be happy in life
Celebrities, recording artists, authors, you name it: famous people have made some quotable quotes about happiness that would be perfect for a feeling happy status for Facebook or WhatsApp. Here are some of the favourites:
A mind always employed is always happy. This is the true secret, the grand recipe, for felicity. Thomas Jefferson
Happiness cannot be travelled to, owned, earned, worn or consumed. Happiness is the spiritual experience of living every minute with love, grace, and gratitude. Denis Waitley
Happiness comes when we stop complaining about the troubles we have and offer thanks for all the troubles we don't have. Unknown
Happiness doesn't depend on any external conditions, it is governed by our mental attitude. Dale Carnegie
Happiness is a choice. You can choose to be happy. There's going to be stress in life, but it's your choice whether you let it affect you or not. Valerie Bertinelli
Related: Inspirational Quotes for Women
Happiness is not something you postpone for the future; it is something you design for the present. Jim Rohn
Happiness is when what you think, what you say, and what you do are in harmony. Mahatma Gandhi
Happiness radiates like the fragrance from a flower and draws all good things towards you. Maharishi Mahesh Yogi
It's kind of overwhelming right now… I can barely walk. I'm tired and sore, but really happy to have finished. Chris Connelly
The art of being happy lies in the power of extracting happiness from common things. Henry Ward Beecher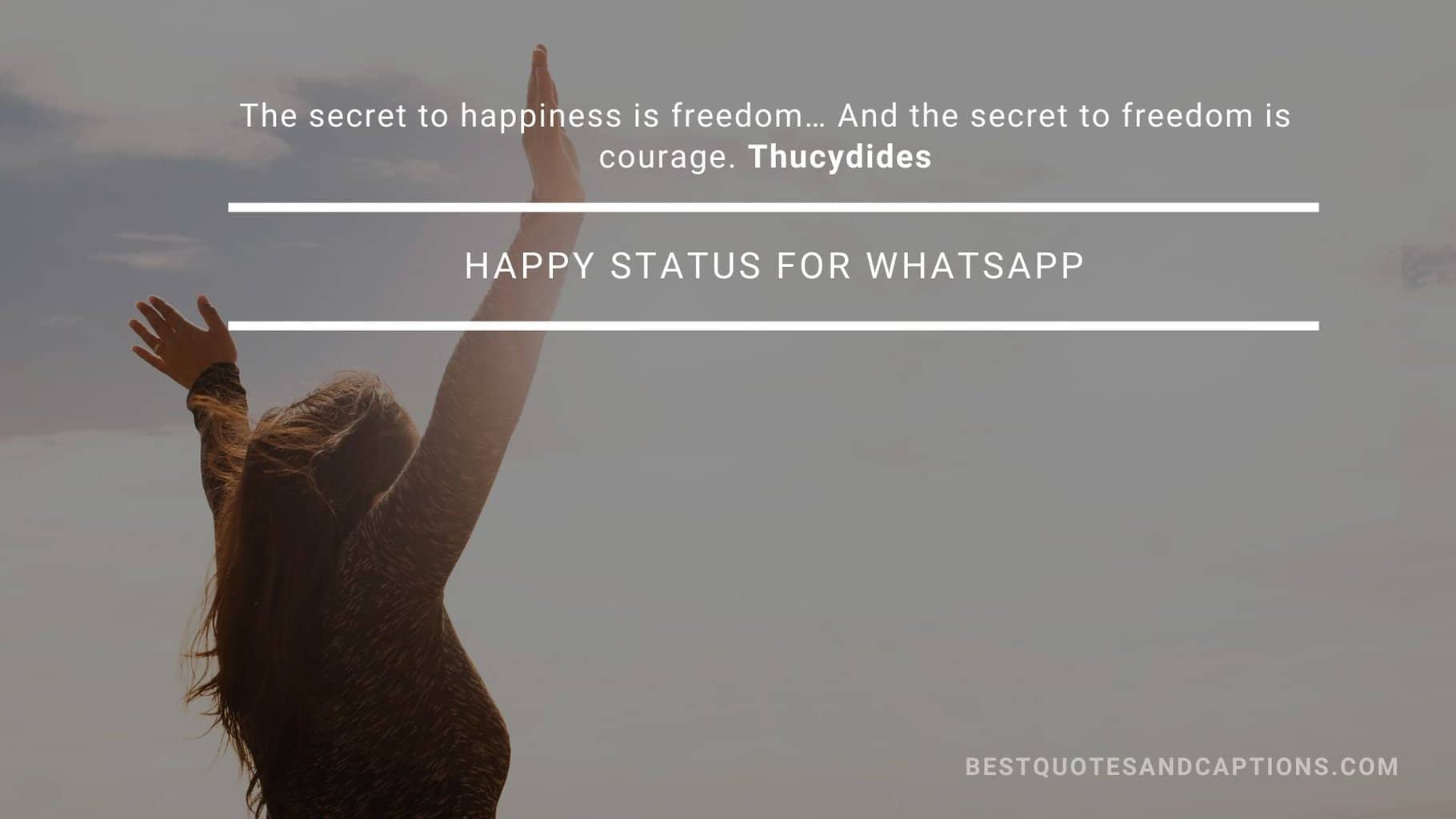 The belief that youth is the happiest time of life is founded on a fallacy. The happiest person is the person who thinks the most interesting thoughts, and we grow happier as we grow older. William Phelps
The key to being happy is knowing you have the power to choose what to accept and what to let go. Dodinsky
The only thing that will make you happy is being happy with who you are, and not who people think you are. Goldie Hawn
The secret to happiness is freedom… and the secret to freedom is courage. Thucydides
The talent for being happy is appreciating and liking what you have, instead of what you don't have. Woody Allen
There is only one happiness in this life, to love and be loved. George Sand
Train your mind to see the good in everything. Positivity is a choice. The happiness of your life depends on the quality of your thoughts. Unknown
Two things prevent us from happiness; living in the past and observing others. Unknown
When one door of happiness closes, another opens; but often we look so long at the closed door that we do not see the one which has opened for us. Helen Keller
You deserve to be happy. You deserve to live a life you are excited about. Don't let others make you forget that.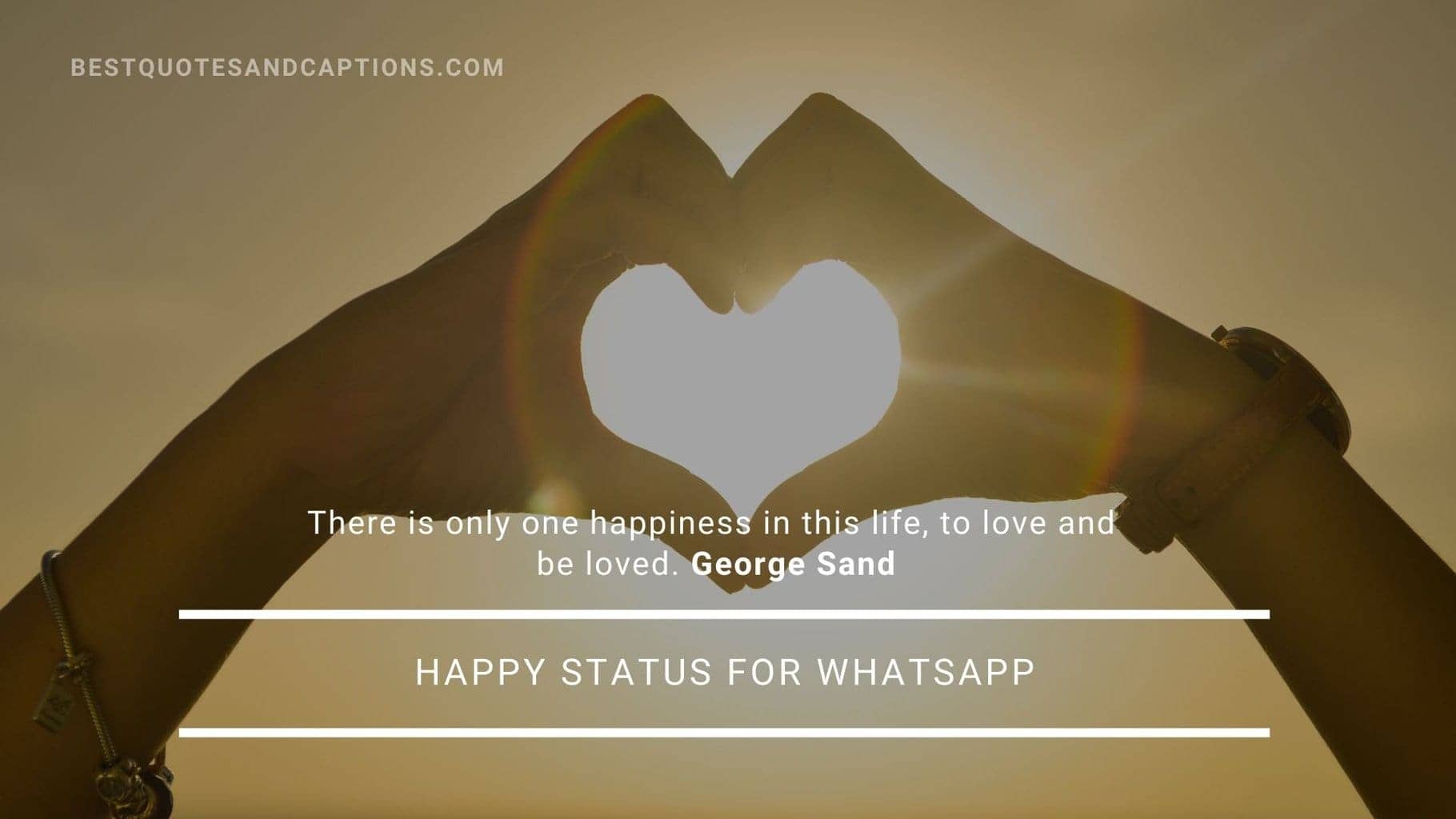 Turning sadness into happiness status
Sometimes you have to turn a frown upside down, into a smile! For times like that, we've curated the best status updates and text for turning sadness and anger into joy and happiness.
A fake smile can hide millions of tears…
A lot of people end up unhappy because they make permanent decisions on temporary emotions.
Don't cry because it's over, smile because it happened.
Every temporary happiness is much better than permanent misery.
For every minute you are angry you lose sixty seconds of happiness.
Life is too short to spend time with people who suck the happiness out of you.
Negativity will only bring sadness in your life, so you might as well let go and just be happy.
One of the simplest ways to stay happy is to let go of all of the things that make you sad.
When life gives you a hundred reasons to cry, show life that you have a thousand reasons to smile.
You can't be happy unless you're unhappy sometimes.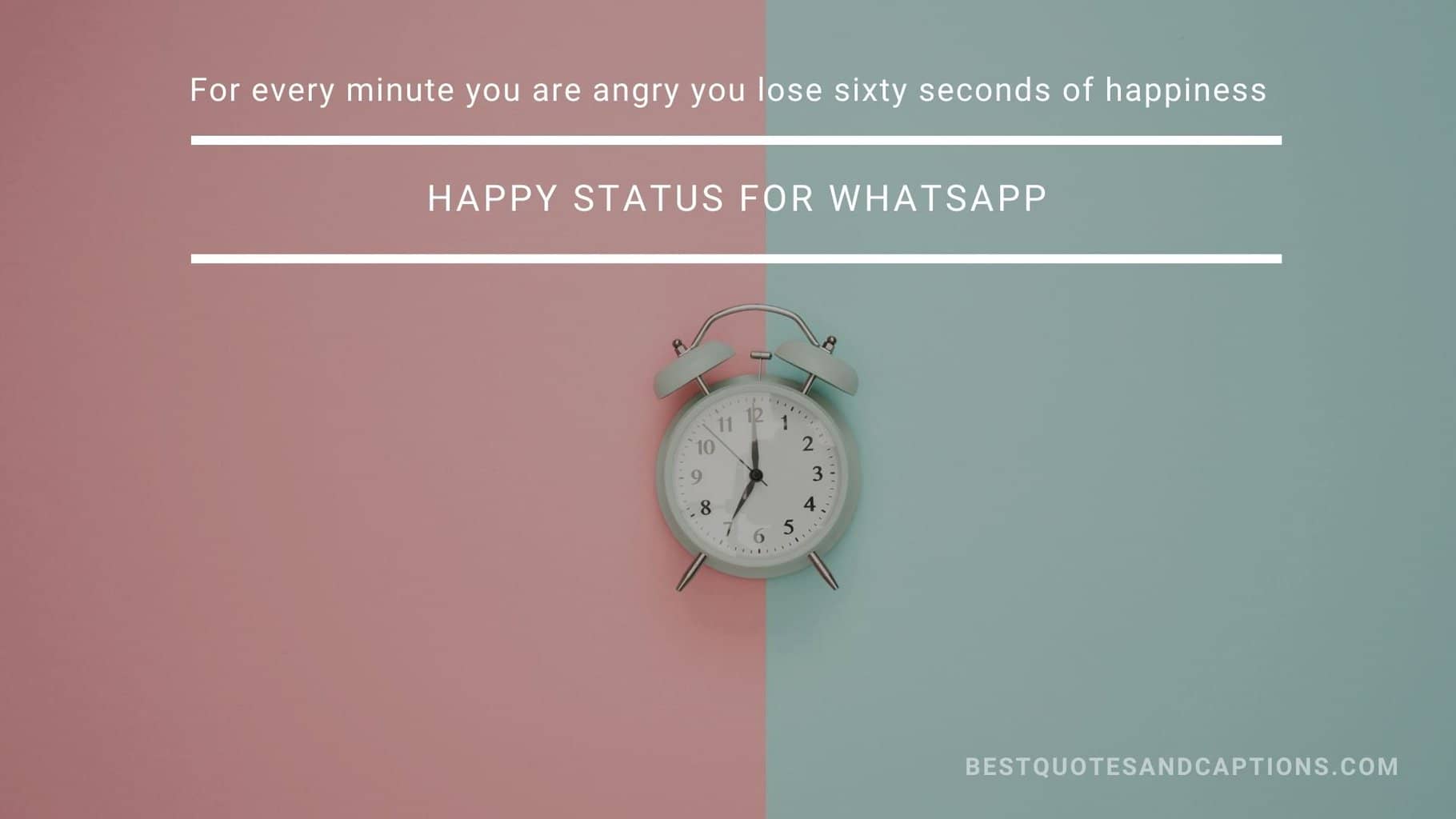 We have also got a bumper guide to Sad Status for Whatsapp, you should check out!
Short happy quotes
Just want something short and sweet for your status update, to go with your happy video, GIF or photo? Here are the ultimate short happy quotes or captions for your status update:
All happiness depends on courage and work.
Be happy for this moment. This moment is your life.
Be happy. It's one way of being wise.
Be the reason someone smiles today.
Being happy is not the only happiness.
Do good for others.  It will come back in unexpected ways.
Don't give up on things that make you smile.
Enjoy it. Because it's happening.
Finding happiness is easy: stop being busy.
Free your mind from worries.
Happiness is acceptance.
Happiness is inversely correlated with desire.
Happiness is not a feeling… It is a choice….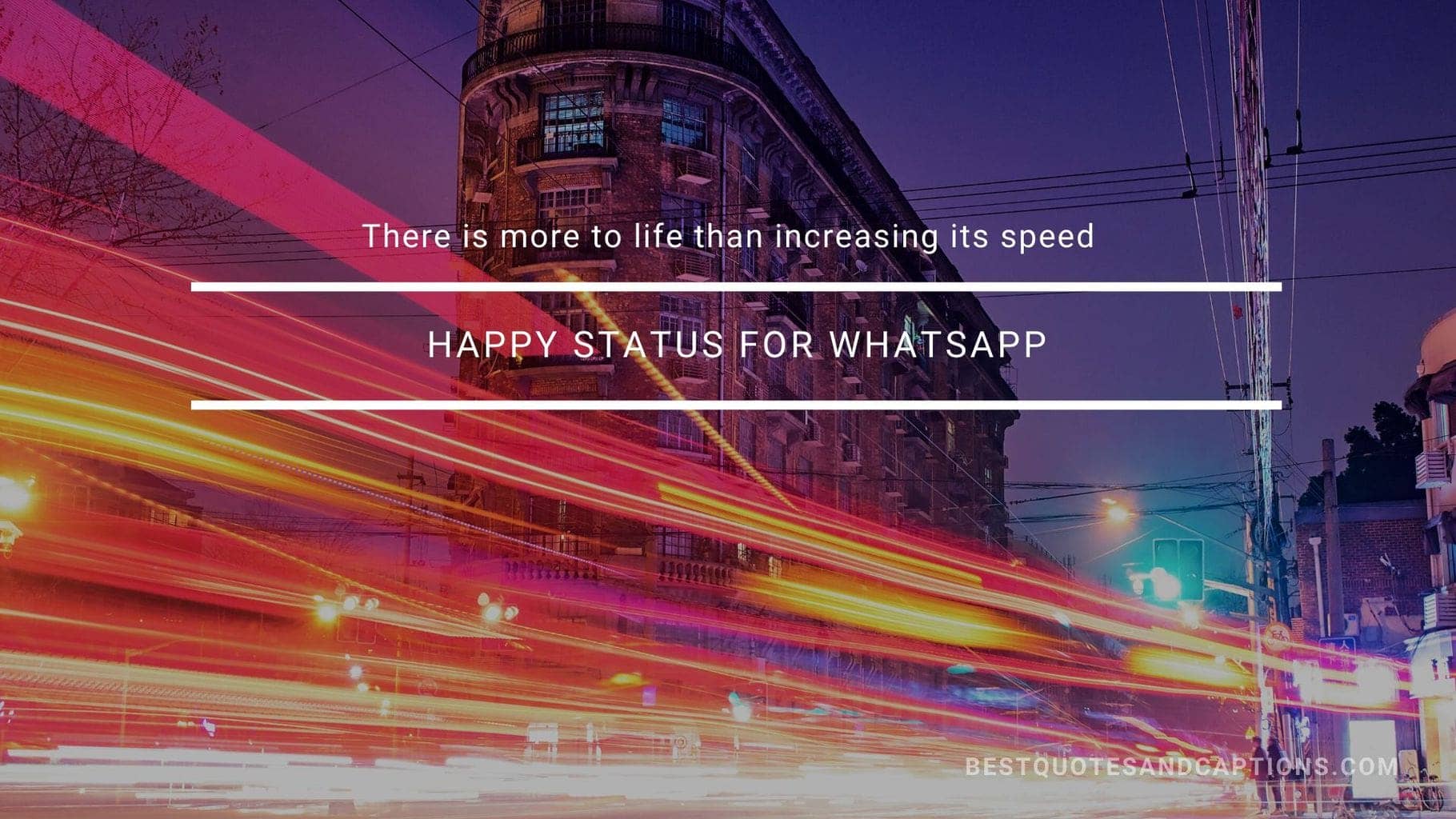 I am happy being what I am.
I think it's time to be happy again.
I'm happy. Which often looks like crazy.
If you want to be happy, be.
It's the little things in life.
No medicine cures what happiness cannot.
Only a life lived for others is a life worthwhile.
The constant happiness is curiosity.
The purpose of our lives is to be happy.
There is more to life than increasing its speed.
We forge the chains we wear in life.
Whoever is happy will make others happy.
You can only have bliss if you don't chase it.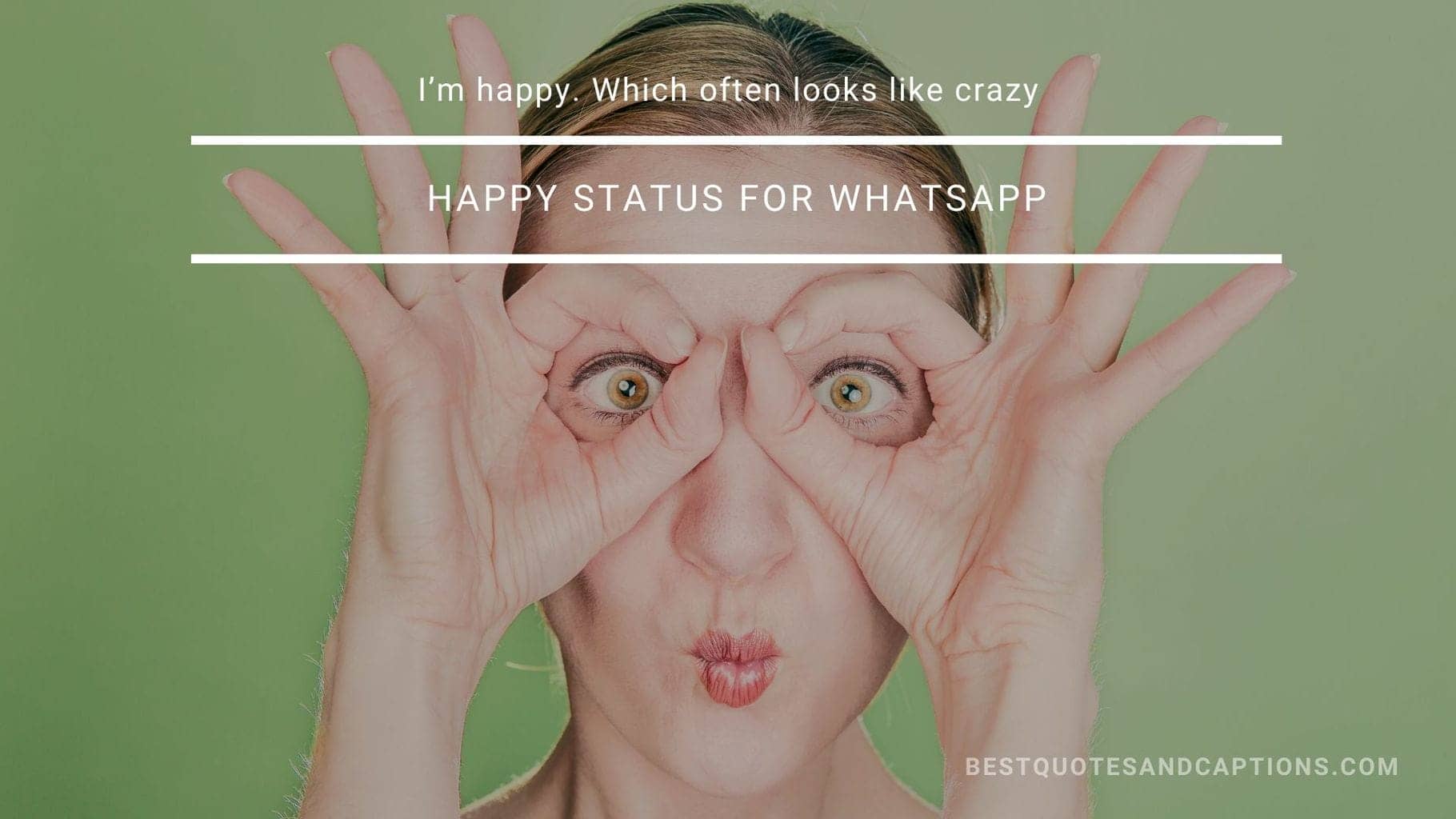 What did you think of our happy status quotes and updates article? Let us know if we've missed anything by dropping us a note in the comments below!
We've also got so many more guides to explore. Everything from Quotes for Sunsets to our pieces on sunset or nature hashtags, plus a comprehensive Guide to Hashtags on Instagram!
Frequently Asked Questions – Happy status for WhatsApp
How do I create a happy status for WhatsApp?
Click into the Status Bar on your app and choose 'Tap to add Status Update'. There you can upload your photo or video (choose the camera icon) and add your text over this image.
You can also upload up to 30 sad status images at a time by pressing the "+" button.
Who can see my happy WhatsApp status?
Your default settings should mean that only your Saved Contacts have access. However, you can edit this in your Privacy Settings to either My Contacts, My Contacts Except and Only Share With.
How do I delete my happy WhatsApp status?
It automatically deletes after 24 hours but you can manually delete it before this time but clicking the 'three dots' on the Status screen, choosing the one you want to delete and then pressing the 'delete' button.
How do I view other people's WhatsApp Status?
Just go to the Status tab on the app and anyone who does have a WhatsApp Status, it will show there.
How do I reply to a WhatsApp Status?
That one's simple: you just swipe up and you can reply!
---
Want to save this for later? Why not pin it…