That little empty caption box staring back at you? Not sure exactly what to put as your perfect caption to capture your mood? We've been there. So, to help cure that writer's block we decided to put together this epic guide crammed full of over 600 of the best cool captions for Instagram, Facebook, WhatsApp or really any social media platform of your liking!
We've covered everything from love captions, to cool captions for friends, ones for the holidays, captions to motivate you and inspire you, and the most awesome cool Instagram quotes you can use no matter the occasion. Just skip ahead to the section that suits you and copy and paste away!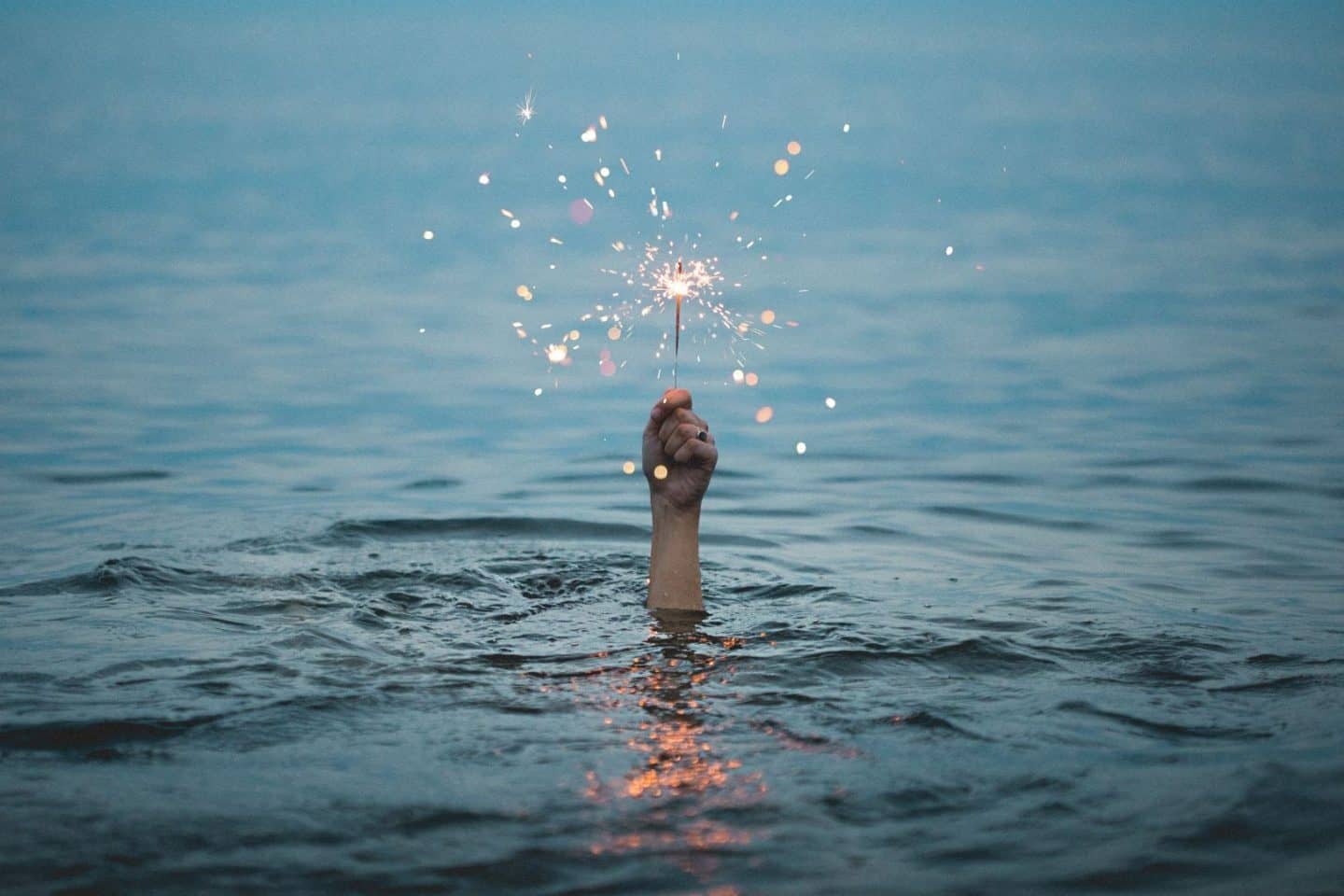 Best cool captions for Instagram
With over 800 to choose from, this list is an absolute beast! So in case you're just looking for a few super simple captions for Instagram, here are ten of the best.
Be heroes of your own stories. Constance Wu
I'm just a girl standing in front of a camera asking if this is Instagram worthy?
If I don't post a picture, did it even really happen?
If I was funny, I'd have a better Instagram caption for this.
If you think adventure is dangerous; try routine. It's lethal. Paulo Coelho
In the book of life, the answers aren't in the back. Charlie Brown
May your day feel as good as taking a perfect selfie on the first try.
Maybe she's born with it, maybe it's the Clarendon filter.
My life isn't perfect but it's the best thing that's ever happened to me.
Well behaved people don't make it into history books.
Cool quotes for Instagram
Now we're definitely delivering heaps of cool caption ideas in this guide, but one of the best techniques to get engagement is to use famous quotes! With that in mind, we've collected some cool quotes you could use for your feed:
I didn't fail the test, I just found 100 ways to do it wrong. Benjamin Franklin
It always seems impossible until it's done. Nelson Mandela
It had long since come to my attention that people of accomplishment rarely sat back and let things happen to them. They went out and happened to things. Leonardo Da Vinci
It is hard to fail, but it is worse never to have tried to succeed. Theodore Roosevelt
It is impossible to escape the impression that people commonly use false standards of measurement — that they seek power, success and wealth for themselves and admire them in others, and that they underestimate what is of true value in life. Sigmund Freud
It is never too late to be what you might have been. George Eliot
It is our choices, that show what we truly are, far more than our abilities. J. K Rowling
Let us always meet each other with smile, for the smile is the beginning of love. Mother Theresa
Life is what happens while you are busy making other plans. John Lennon
The most important thing is to enjoy your life – to be happy – it's all that matters. Audrey Hepburn
This is a wonderful day, and I have never seen this one before. Maya Angelou
Twenty years from now you will be more disappointed by the things that you didn't do than by the ones you did do. Mark Twain
When I dare to be powerful, to use my strength in the service of my vision, then it becomes less and less important whether I am afraid. Audre Lorde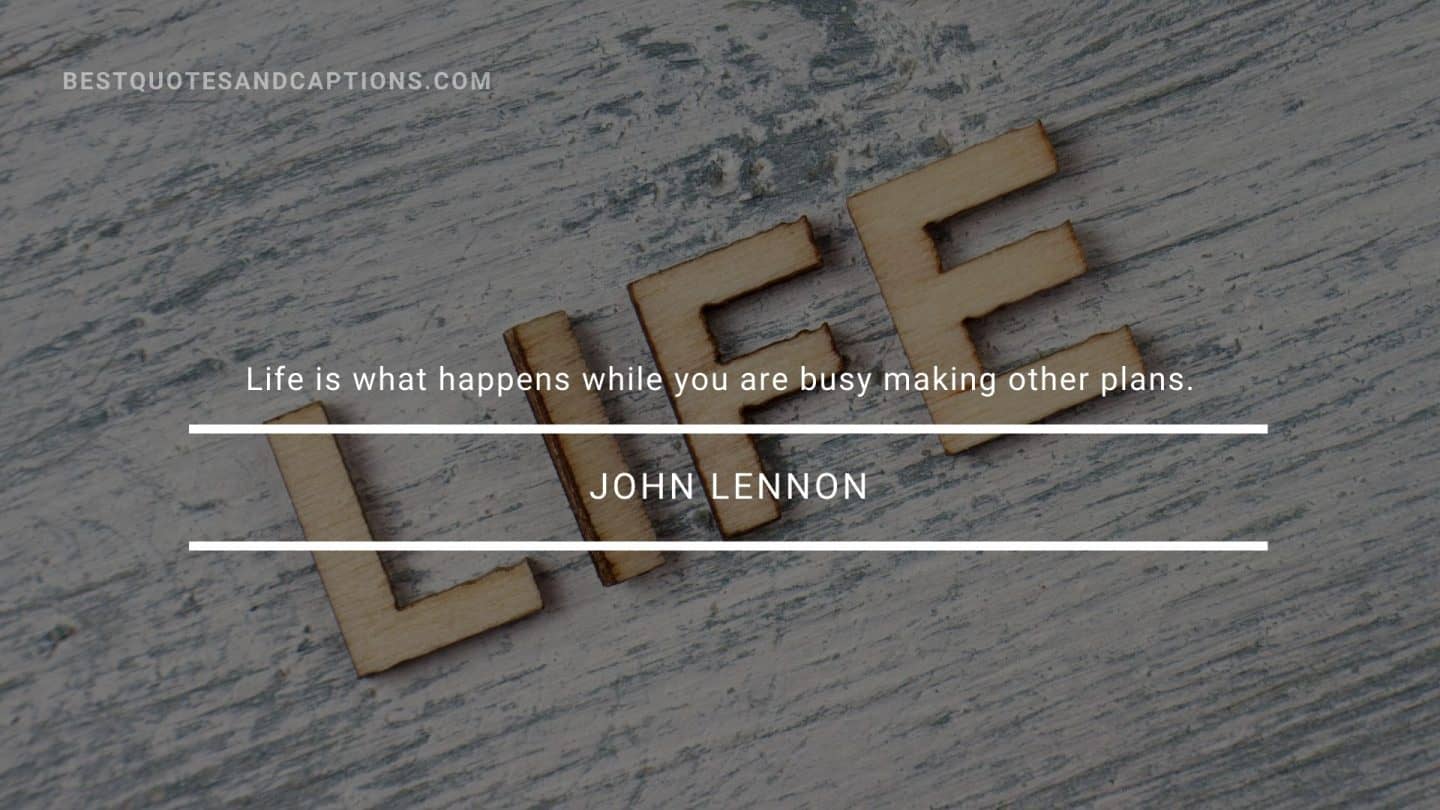 If you're wanting to make a real impact on your Instagram engagement, we'd suggest that you look into Ingramer!

With a full suite of tools, Ingramer acts as an automation partner – essentially the most powerful way to grow your account. It includes hashtag generators, and Instagram Downloader and a Story Viewer that watches other accounts' stories in a bid to attract them to follow you. With advanced targeting filters and an autobot, this is currently the best growth tool on the market.

Sign up here and use SCRIBESMEDIA to save up to 22% on some of the features!
Clever Instagram captions
With a side of sass, why not try a clever Instagram caption – a mix of slightly sarcastic, witty and a few smart to have your friends and followers giggling along?
Doesn't expecting the unexpected make the unexpected expected?
Don't apologise for honest mistakes that were a result of taking a chance.
Don't judge someone by their mistakes but on how they fix them.
Every day is a new day. It does not matter what happened yesterday. And you know why? Because you cannot change it anyway.
Genius is in knowing when to hold on and when to let go.
Google Earth gives you an amazing chance to see amazing places all over the world, from the comfort of your own home. With this amazing privilege, what do most people look at? Their own house, their friend's houses, and most places they have already been to!
I just rolled my eyes so hard I saw my brain.
If the world was created in 7 days but it took 9 months to make me, I'm clearly a big deal.
It's funny how sometimes the people you'd take a bullet for are the ones behind the trigger.
Keep your face to the sunshine and you cannot see a shadow.
Life is not about how hard you can hit. It's about how hard you can get hit and keep moving forward.
One does not simply create a clever Instagram caption.
People will judge everything you do, so you do you.
They call me ranch 'cuz I be dressing.
You know you've made it when your idols become your rivals.
You never realize how boring your life is until someone asks you what you do for fun.
You never run out of things that can go wrong.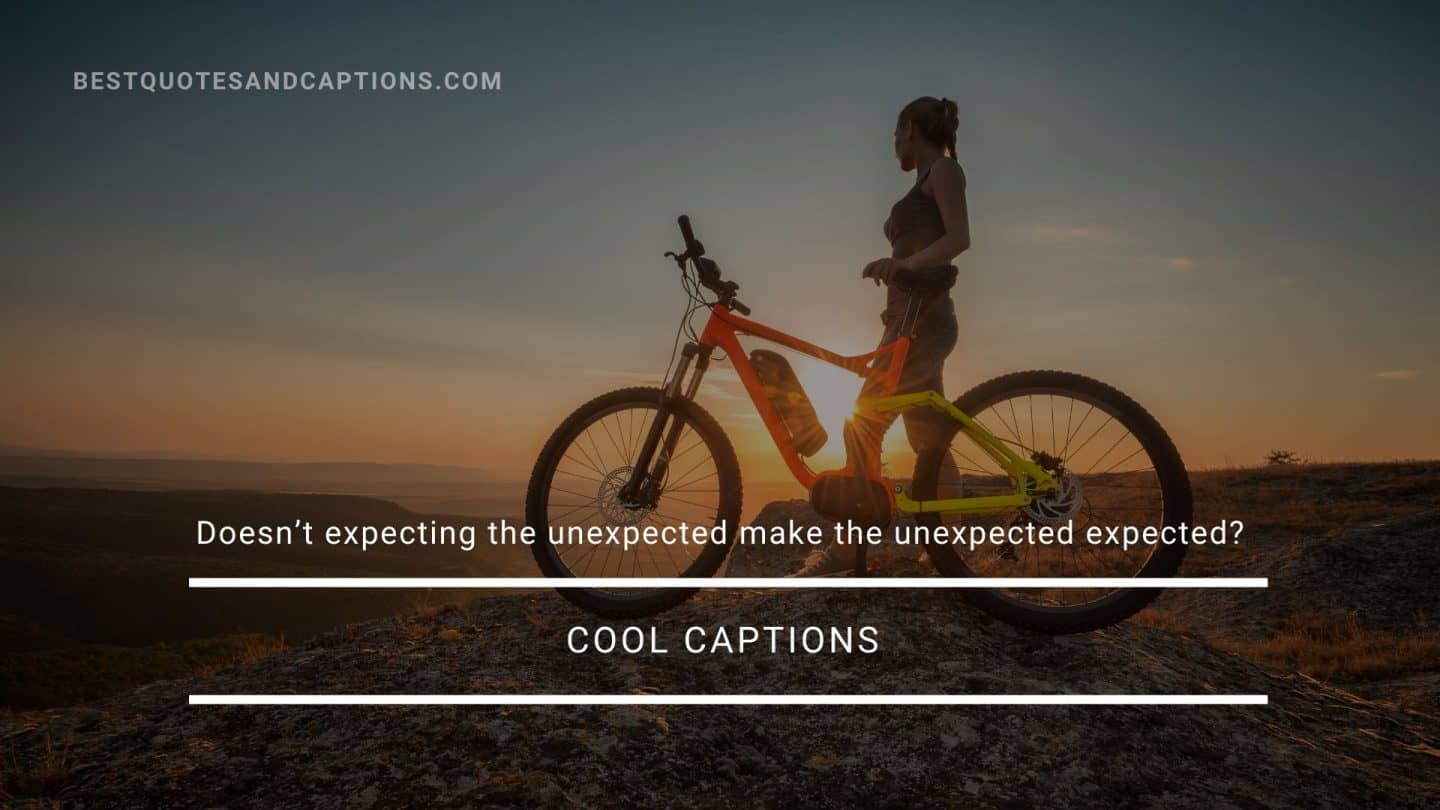 Cool attitude captions
Got a cracking picture that just screams 'attitude'? You have to pair it with a cool caption! To do just that, here are some ideas for attitude captions for Insta, Facebook and the like:
Don't let people know too much about you.
Feelings are just visitors, let them come and go.
If common sense is so common why are there so many people without it?
Light travels faster than sound. This is why some people appear bright until they speak. Steven Wright
She wore a smile like a loaded gun…
Sometimes what you want doesn't deserve you.
The best way to take revenge against those who insult you is to be more successful than them.
Be the EXTRA in extraordinary.
I don't believe in SOMEDAY, I believe in TODAY.
I may be down to earth but I'm still above you.
I'd rather be someone's Sunday morning, not Saturday night.
I'm confident, your opinion of me won't change that.
I'm not lucky, I'm talented.
I've got hustle and heart.
My life my rules.
When life gives me lemons, I make lemonade then sell it.
You can beat me down but I'll just jump back up.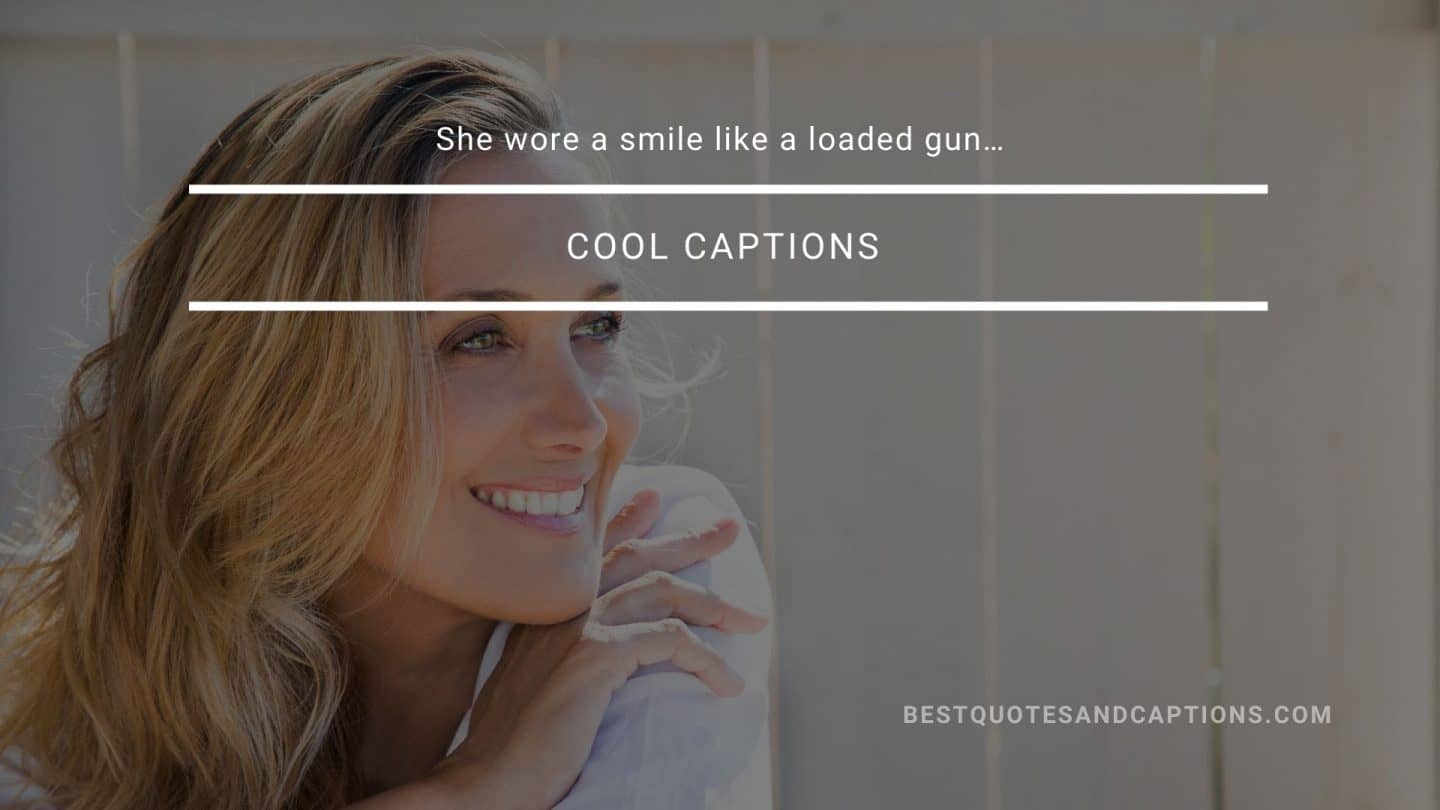 Specifically looking for a WhatsApp status? Read our guide to attitude status for WhatsApp here.
Cool captions for girls
Calling all the ladies, these captions are for you. We've curated some great Instagram captions for girls that you'll want to use. #girlpower for sure!
A great girl is classy not trashy.
A real girl isn't perfect and a perfect girl isn't real.
Boys fall for me, because I trip them.
Girls are changing the world.
I got it from my mama.
I still miss my ex. But guess what? My aim is getting better.
I'm wild and free.
It is better to arrive late than to arrive ugly.
Just like my eyeliner, I always wing it.
Leave a little sparkle everywhere you go.
Messy bun and having fun.
Single and ready to get nervous around anyone I find attractive.
The only person I dress to impress is me.
The wrong girl will distract you. The right girl will motivate you.
Who run the world? GIRLS.
Why do they call it beauty sleep when you wake up looking terrible?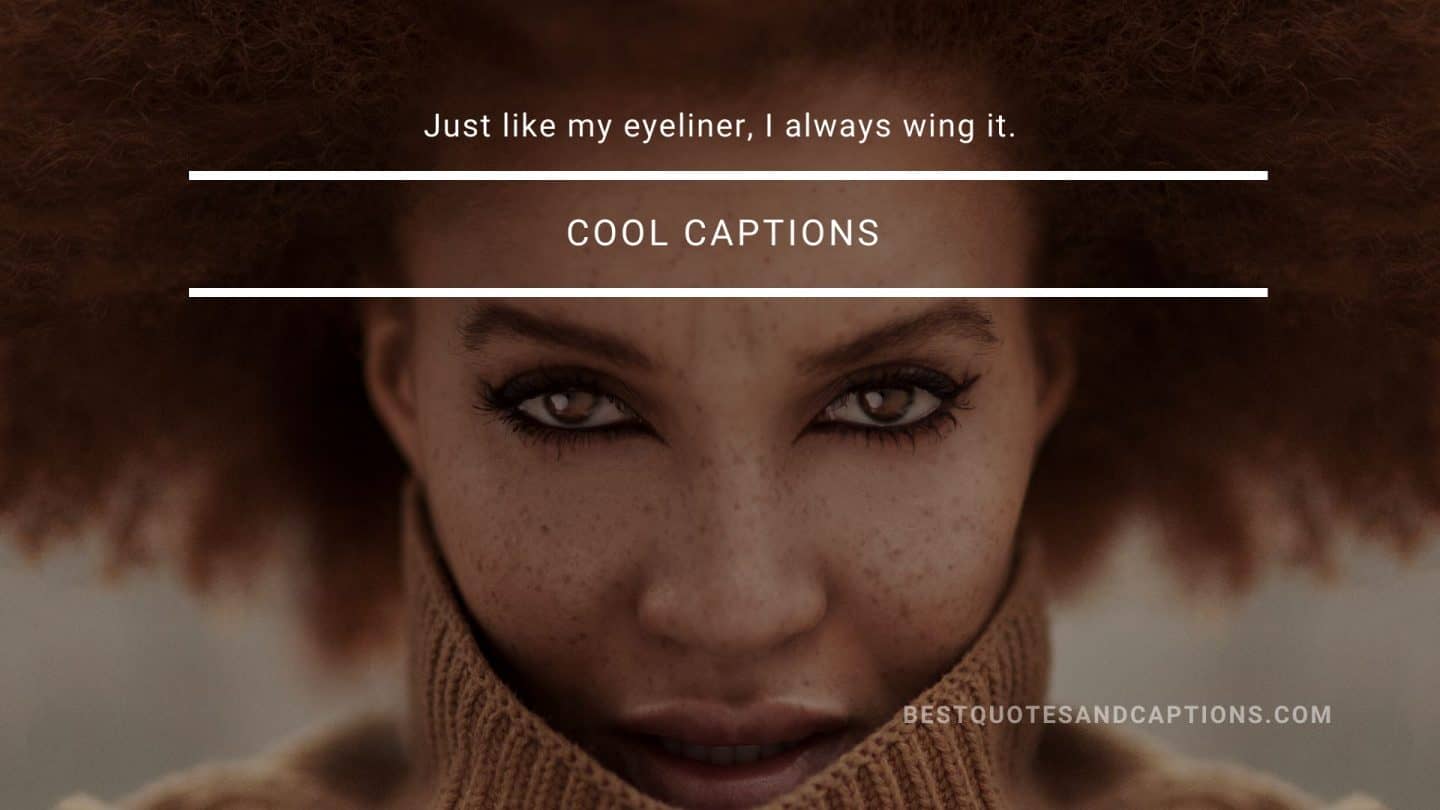 Related: List of the best inspirational quotes for women
Cool captions for boys
Gents, it's your turn! Use one of the below cool quotes for men and boys, to flex that masculine muscle. Here are a few great Instagram captions for boys:
A great man is strong because he can be gentle.
A real man provides, protects and perseveres.
All guys hate the words don't and stop unless they're put together.
Be a warrior in a room of worriers.
Boys got swagger, men have style, but gentlemen have class.
Boys will be boys.
Chillin' with my bros.
Haters are my greatest motivators.
Have you ever noticed that anybody driving slower than you is an idiot, and anyone going faster than you is a maniac?
If you are hurt by words, it means other people can control you simply by saying stuff to your face.
If you have been hurt many times and you are still smiling, you are very strong!
My room is like the Bermuda triangle, stuff goes in and is never seen again.
No guts, no glory.
Release the beast within.
The only time a man should ever lie is to surprise someone.
Think you're smart? Come over and help me with my homework.
What are the three words guaranteed to humiliate men everywhere? "Hold my purse."
When someone tells you cannot do it, then do it twice and take pictures!
When you stop chasing girls, they will start chasing you.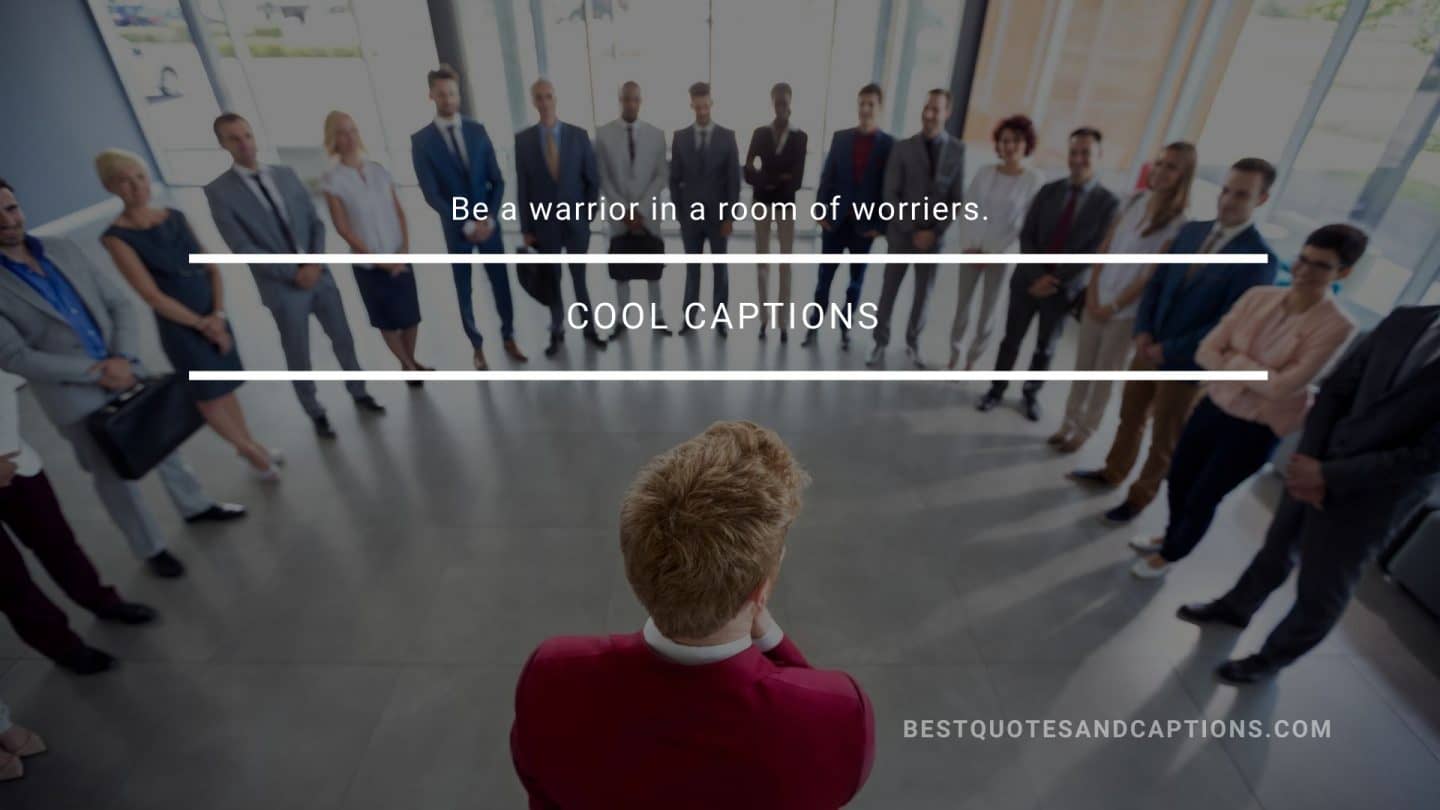 Instagram captions for friends
Want to get your buddies around you for an awesome Insta snap? Pair it with a cool friends caption, to make it really stand out. Here are a few ideas:
A real friend is one who walks in when the rest of the world walks out.
As your best friend, I'll always pick you up when you fall, after I finish laughing.
Don't walk behind me; I may not lead. Don't walk in front of me; I may not follow. Just walk beside me and be my friend. Albert Camus
Friends are chocolate chips in the cookie of life!
Friends are like rainbows, always there to cheer you up after a storm.
Friends can help each other. A true friend is someone who lets you have total freedom to be yourself and especially to feel. Or, not feel. Whatever you happen to be feeling at the moment is fine with them. That's what real love amounts to… letting a person be what he really is. Jim Morrison
Friendship is like peeing on yourself: everyone can see it, but only you get a warm feeling that it brings.
Good friends show their love in times of trouble, not just in times of happiness.
Happiness is having a bunch of freaking awesome and crazy friends.
I cannot see heaven being much better than this.
I don't know what's tighter, our jeans or our friendship.
I like to hang out with people who make me forget to look at my phone.
I like to think I'm a pretty good friend. I love having a good time, and I enjoy being able to share those good times with others. Jacob Batalon
I made my Facebook name "Benefits," so when you add me now it says "you're friends with benefits."
I never let my friends do stupid things… alone!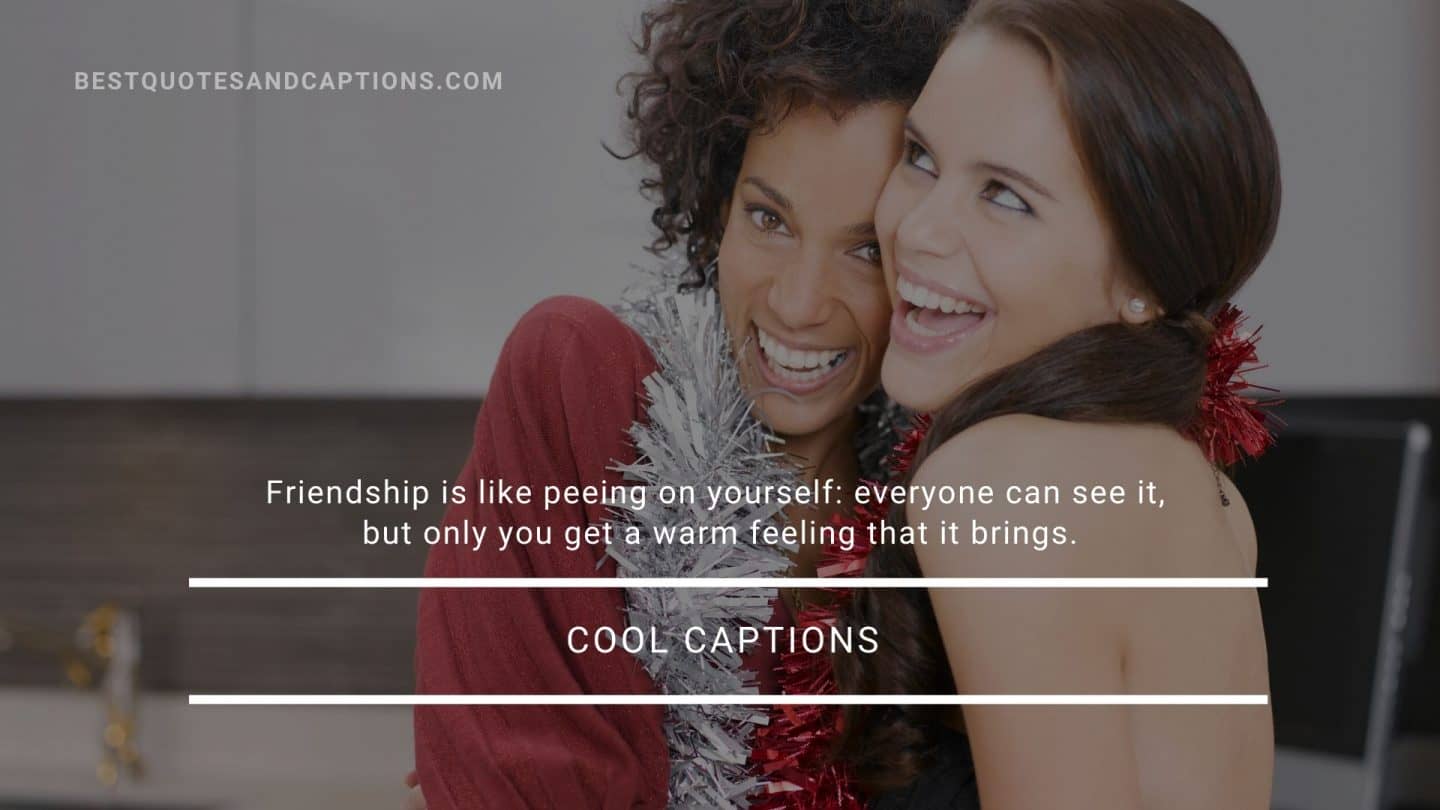 I'd walk through fire for my best friend. Well, not fire because that's dangerous. But a super humid room… well not too humid, because you know… my hair.
If you love a friend, let them go. If they come back with coffee, it was meant to be.
It takes a long time to grow an old friend. John Leonard
Pay close attention to people who don't clap when you win.
Side by side or miles apart real friends are always close to the heart.
The only way to have a friend is to be one. Ralph Waldo Emerson
True friendship multiplies the good in life and divides its evils. Strive to have friends, for life without friends is like life on a desert island… to find one real friend in a lifetime is good fortune; to keep him is a blessing. Baltasar Gracian
Walking with a friend in the dark is better than walking alone in the light. Helen Keller
You don't have to be crazy to hang out with me… I'll train you.
You had me at "We'll make it look like an accident."
Your crowd should be clapping loudest when you win. If they don't, look for a new crowd.
Let's get the party started!
If I were rich, I'd pull a Netflix and spend $100 million on my Friends.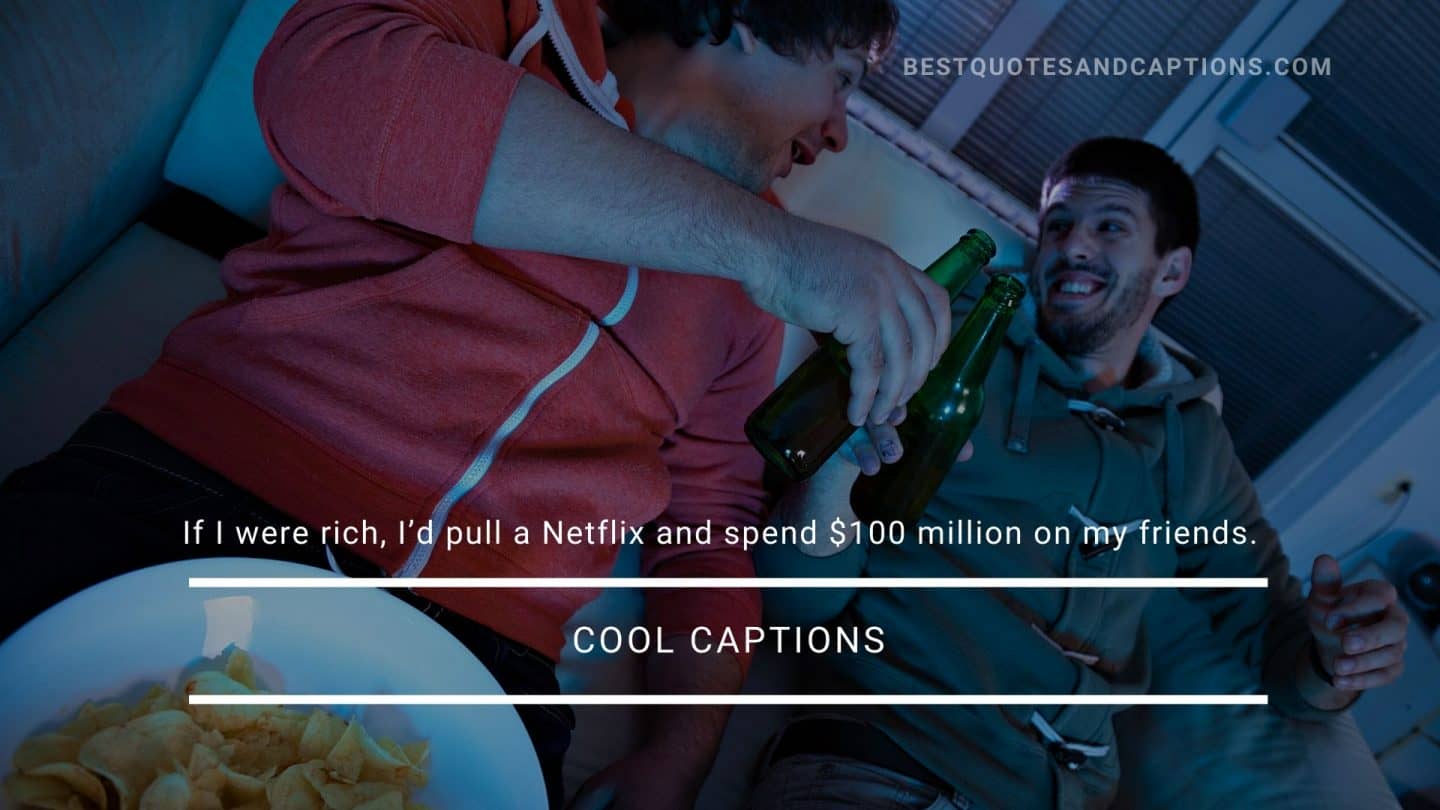 Read next: The best friend hashtags for Instagram.
Cute Instagram captions
Whether it's a cuddly pic or just something drool-worthy, we wanted to arm you with some awesome IG caption ideas for your cute photos. Here are a few of the best:
Where there is love there is life. Indira Gandhi
Always wear cute pajamas to bed, you'll never know who you will meet in your dreams.
Come live in my heart and pay no rent.
Don't try to be what you're not. If you're nervous, be nervous. If you're shy, be shy. It's cute.
Everything looks cute when it's small.
I am absolutely, definitely, positively, unquestionably, beyond any doubt, in love with you.
I am happiest when I'm right next to you.
I know I am in love with you because my reality is finally better than my dreams.
I myself never feel that I'm sexy. If people call me cute, I am happier.
I will love you until the stars go out, and the tides no longer turn.
I've fallen in love many times… but always with you.
In a sea of people, my eyes will always be searching for you.
My night has become a sunny dawn because of you.
There's nothing that can help you understand your beliefs more than trying to explain them to an inquisitive child.
Wherever you go, go with all your heart.
You know you are happy when you catch yourself smiling even when no one is around.
All I could ever want is right in front of me.
Be kind. Be love.
Don't wait for the storm to pass, go out there and dance in the rain.
Follow your heart in everything you do.
Je t'adore.
Keep your chin up so your crown doesn't slip.
This is me in all my glory.
Your smile is my favourite.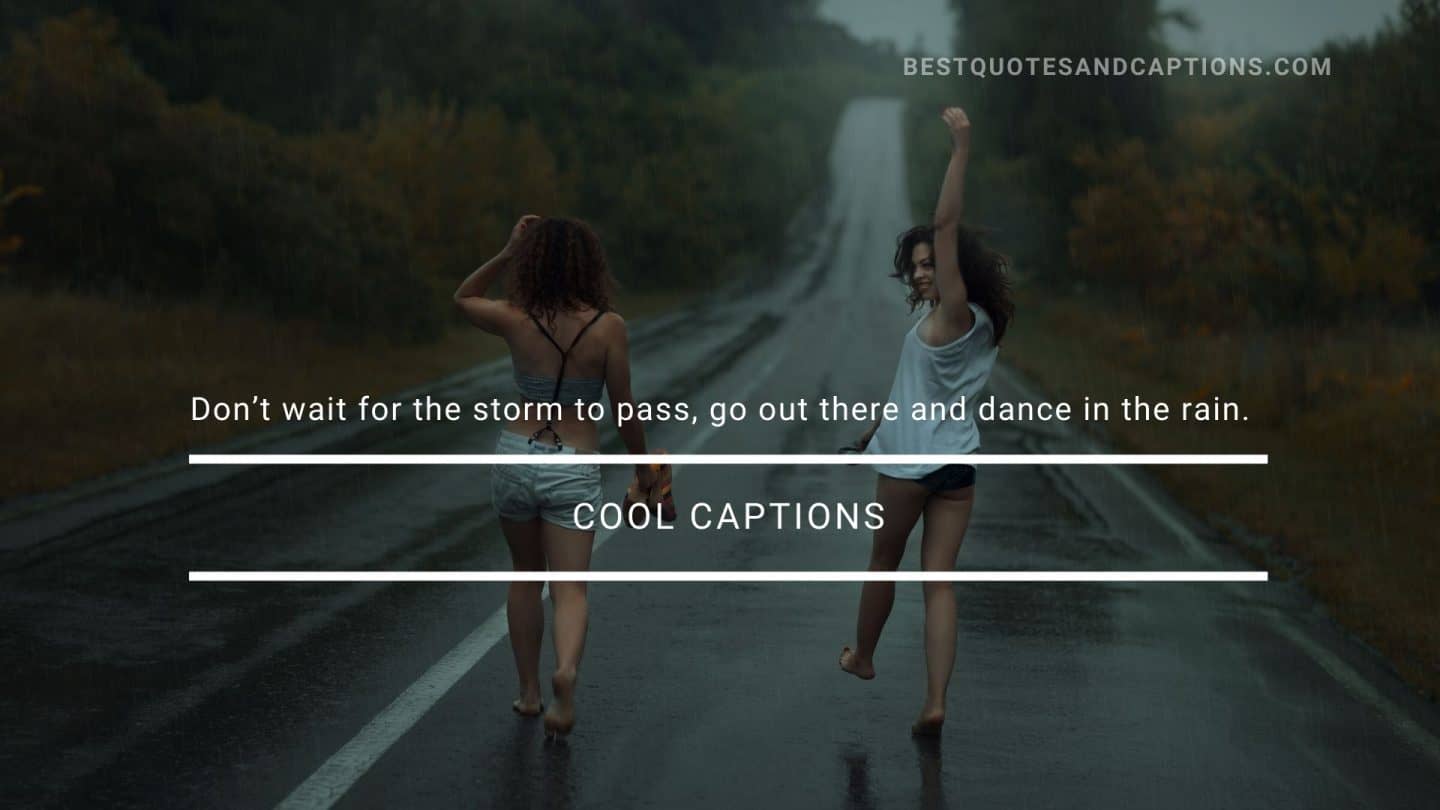 Cool Instagram captions about life
Life can throw many a curve ball. If you want to wax lyrical, or need someone to commiserate about what's going on in your life, use one of these cool Insta captions:
An apple a day will keep anyone away if you throw it hard enough.
Be the person you needed when you were young.
Decluttering my life like Marie Kondo.
Don't live a life regretting the things you didn't do. Go do things!
Get out there and live a little
Give second chances but not for the same mistake.
I'd rather spend one moment holding you than a lifetime knowing I never could.
I'm an original and that's perfection in itself.
I'm thankful for the struggles that made me the person I am today.
In the arena of human life, the honours and rewards fall to those who show their good qualities in action. Aristotle
Life is a practice. You are what you do each day. Isaac Asimov
Life is about taking chances and having fun.
Life is better when you're laughing.
Life is the biggest party you'll ever be at.
Life must be lived as play. Plato
Live life to the fullest. Ernest Hemingway
My life is as crooked as Rami Malek's bowtie.
Never sacrifice three things: family, love, and or yourself.
So grateful for this moment.
Stress less and enjoy the best.
The best thing to hold onto in life is each other.
You can't dull my sparkle.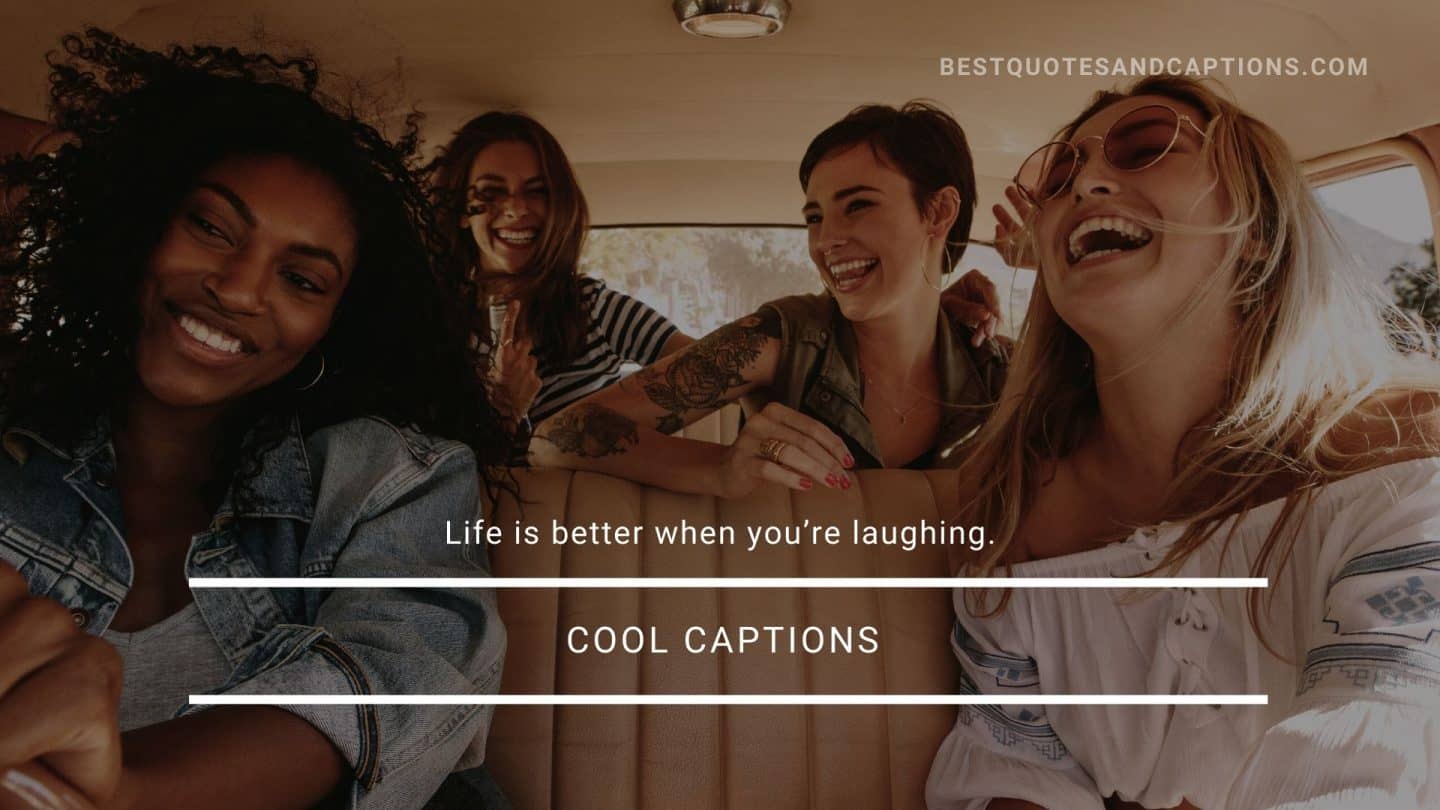 Motivational captions for Instagram
Want a really uplifting, motivational quote or caption for Facebook or Instagram? Check out these captions below:
Do whatever makes you happiest.
Dreams don't have expiration dates, keep going.
Having the dream is easy, making it come true is hard. Serena Williams
I may not be there yet, but I'm closer than I was yesterday.
If you don't believe in yourself, who will?
If you want opportunity to knock, it's time to build a door.
It always seems impossible until it's done.
It may be stormy now but it never rains forever.
Look for the magic in every moment.
Oops is always better than what if.
Set goals you don't tell anyone about. Achieve them. Then give yourself the highest of fives!
The little things in life matter.
There's a dream that I've been chasing want so badly for it to be reality. Justin Bieber
Whatever is good for your soul, do that.
You can regret a lot of things but you'll never regret being kind.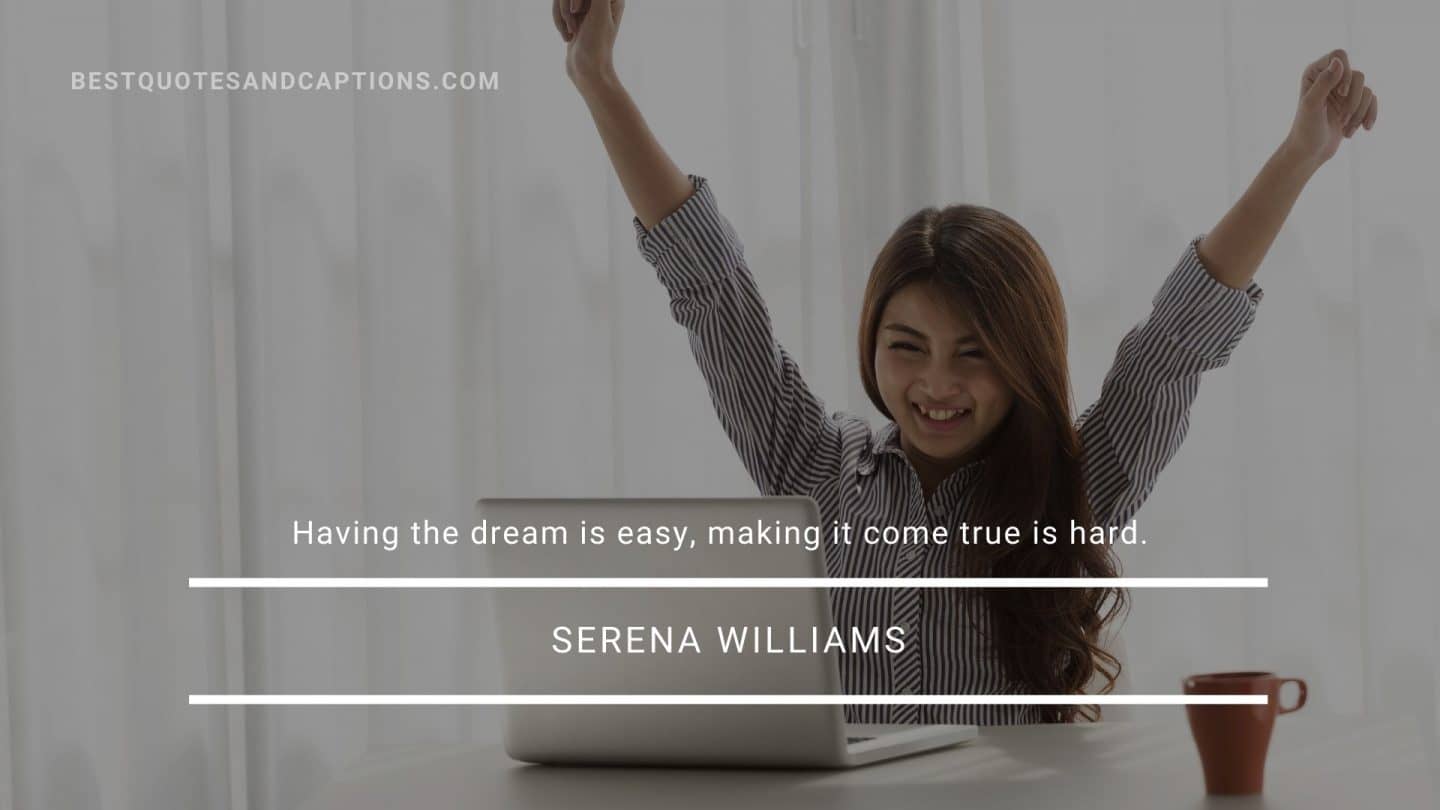 Cool captions about success
Climbing your way to the top of the ladder? Got a sizzling selfie of you in a suit? We've got a few options for cool captions about success:
Entrepreneur life.
Hustlin'.
It wasn't always easy but it's worth it.
Perseverance pays… a lot!
Pursue your passion and you'll never work a day in your life.
Say yes, take risks, and live life on your own terms.
The impossible is now possible.
We did it!
When daydreams become reality.
Work hard then work harder.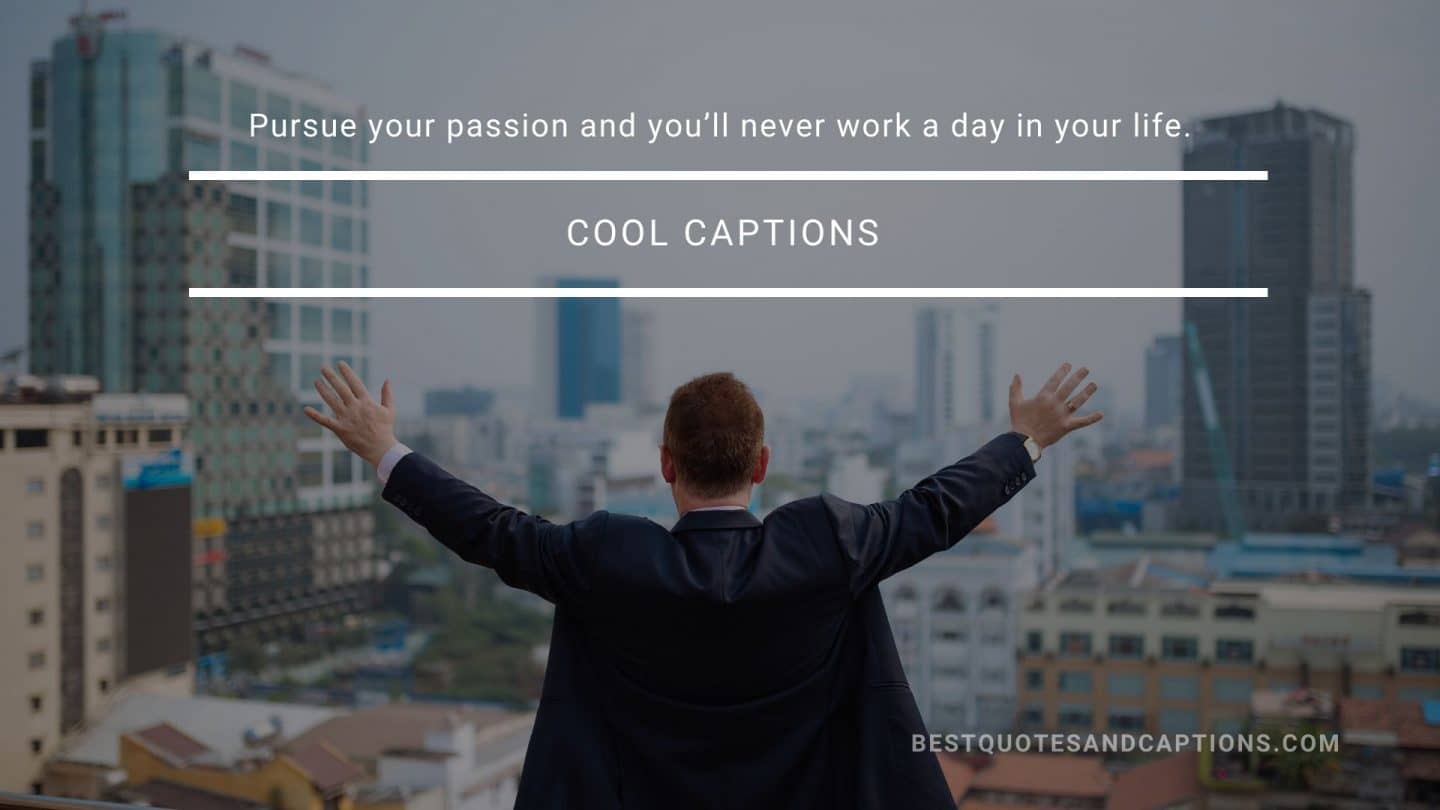 Good Instagram captions for selfies
Searching for some funny selfie captions? We've pulled together some cool options for captions for pictures of yourself:
….lemme take a selfie.
A selfie a day keeps the doctor away.
But first, let me take a selfie.
Good morning world, here is my selfie you desperately asked for.
How on earth do you make a good selfie?! Why do I always turn out like a goblin?
I don't always take a selfie, but when I do…
I haven't posted a selfie in a while…
I was born to shine… and take selfies!
I woke up like this!
I'm not perfect, I'm original.
Just me.
Lighten up, just enjoy life. Smile more, laugh more, and don't get so worked up about things.
Me, myself and I.
Me: *click*
Ooooh… that's why!
Selfie Sunday!
Sometimes you gotta be a beauty and a beast.
The only person you should try to be better than is the one you were yesterday.
The ugly selfie you deleted is the real you. Accept it!
Things I do in the gym: 20% work-out, 80% selfies!
Typical me.
What do you think of this look?
You only live once, but if you do it right, once is enough.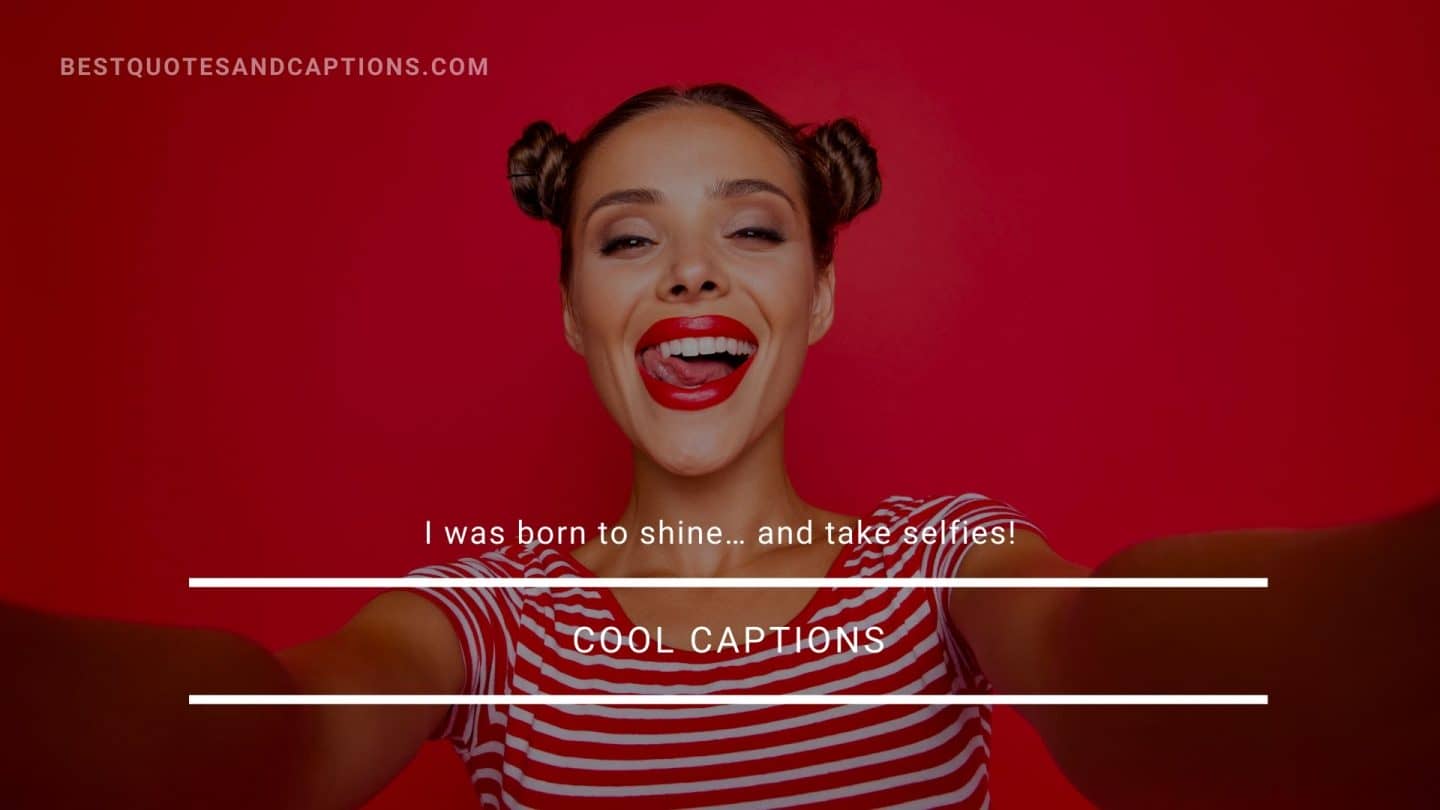 Cool captions about love and couples
Got a great cheesy pic of you and your significant other? Or want to signal to everyone on your Instagram or Facebook page that you're now off the market? Try one of these great captions about love or cool Instagram captions for couples:
Bae.
He's my best friend.
He's my King, I'm his Queen.
I always thought perfect couples only exist in books and movies. That changed when I met you.
I don't care how hard being together is, nothing is worse than being apart.
I knew the second I met you that there was something about you I needed. Turns out it wasn't something about you at all. It was just you.
I love making memories with you.
I miss you like the deserts miss the rain!
I used to think I knew exactly what I wanted in the perfect soulmate. I was wrong because you are even better than I ever imagined.
I want a relationship like Tom & Jerry: To fight daily but you still can't live without each other.
It is one thing to fall in love with. It's another to feel someone else fall in love with you and to feel a responsibility toward that love.
Just the two of us.
Love assures us that we will never be alone.
Love is a two-way street constantly under construction. Carroll Bryant
Love is not perfect. This is what makes it perfect.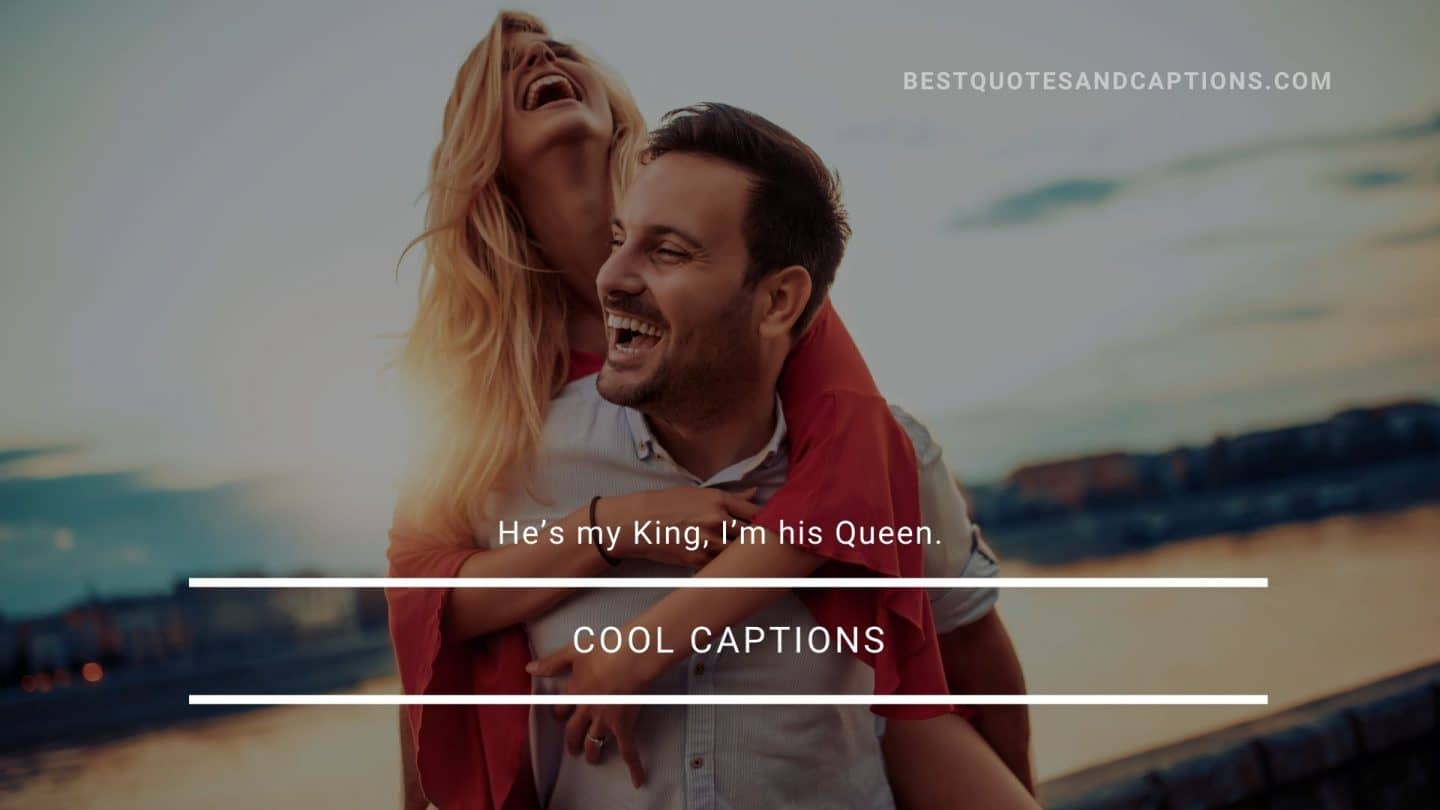 Love is when two hearts become one. True love is when two souls become one.
My love.
My one and only.
My wife dresses to kill. She cooks the same way.
My world, my heart, my everything.
One day you will kiss a man you can't breathe without and find that breath is of little consequence.
One word frees us of all the weight and pain of life: That word is love.
Save water and shower together.
So, I love you because the entire universe conspired to help me find you. Paulo Coehlo
Sometimes I can't see myself when I'm with you. I can only just see you.
Sometimes relationships end so love stories can begin.
There is never a time or place for true love. It happens accidentally, in a heartbeat, in a single flashing, throbbing moment.
We are totally #couplegoals.
We go together like copy and paste.
What made you fall for him? He never asked me to justify my past.
You are the compass that guides me in life.
You can't rush something you want to last forever.
You wanna know who I'm in love with? Read the first word again.
You're my 1 in 7 billion.
Your love is all I need to feel complete.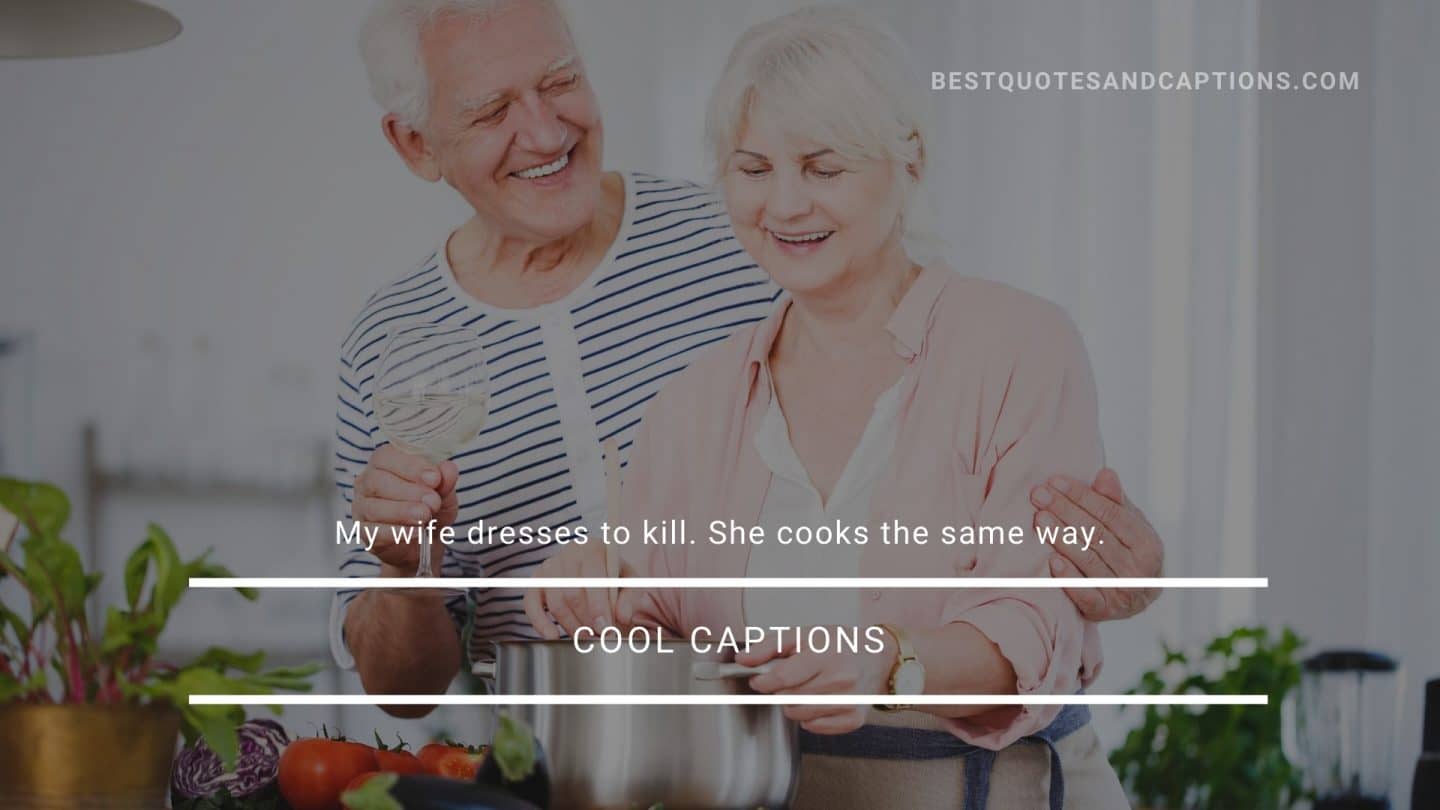 Read next: Our guide to couple hashtags.
Cool food captions for Instagram
Instagrammers love a curated capture of their food. Perfectly plated pizza, brightly tinted macaroons, and coffee art abound on the platform, with some great food captions to match. We've put a few for you below to try:
"Made with love," means I licked the spoon and kept using it.
#foodporn.
A waffle a day keeps the doctor away.
Chocolate is cheaper than therapy.
Don't be upsetti, eat some spaghetti.
Everybody loves chocolate.
First, we eat, then we can do everything else.
Food before dudes.
Food is symbolic of love when words are inadequate.
Food. Friends. Sunshine.
Good food, good mood.
I am sorry for what I said when I was hungry.
I just never want to look back and think: "I could have eaten that!"
I like people that protect their food like it would be their baby.
I like the foodies.
I'm on a seafood diet. I see food I eat it.
If someone accuses you of drowning your chicken in gravy, tell them it's not your responsibility to teach a chicken how to swim.
If we shouldn't eat at night, why is there a light in the fridge?
Isn't pizza the best thing to happen to you as well?
Read next: All the best pizza captions and quotes.
Love the taste, taste the love.
Make time for the things that are important. This morning I made time for breakfast, this afternoon I made time for lunch, and this evening I've made time for dinner.
Never give up on the things that make you smile. Like that cake in the oven.
Never settle for just one scoop.
Pasta la vista baby.
People who love to eat are the best people.
The first wealth is health.
There has never been a sadness that cannot be cured by breakfast.
There is no love sincerer than the love of food.
Waffles are just pancakes with abs.
Why does cooking take like 5 hours, eating like 3 seconds and washing dishes like 7 days?
You can't live a full life on an empty stomach.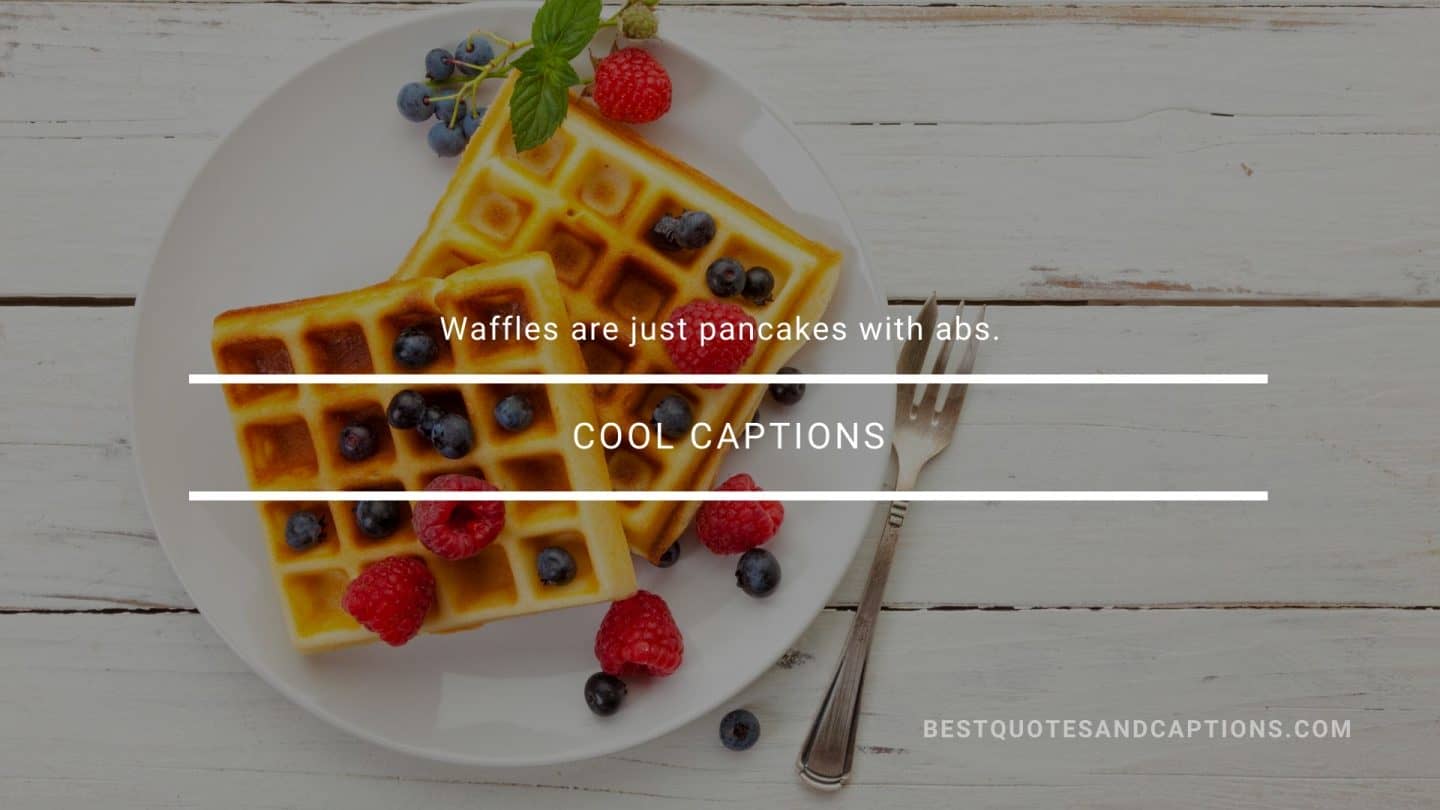 Cool nature captions and quotes
Getting out and about in the fresh air usually results in some of the best content: forests, lakes, the ocean and beautiful landscape shots. Pair those with the perfect cool caption about nature:
An early morning walk is a blessing for the whole day. Henry David Thoreau
I am glad I will not be young in the future without wilderness.
I like this place and could willingly waste my time in it. William Shakespeare
I wonder if the snow loves the trees and fields, that it kisses them so gently? And then it covers them up snug, you know, with a white quilt; and perhaps it says 'Go to sleep, darlings, till the summer comes again. Lewis Carroll, Alice's Adventures in Wonderland
If I were a tree, I would have no reason to love a human.
In the spring, at the end of the day, you should smell like dirt. Margaret Atwood
Nature does not hurry, yet everything is accomplished. Lao Tzu
Nature is full of infinite causes that have never occurred inexperience. Leonardo Da Vinci
The mountains are calling and I must go. John Muir
Read next: Mountain captions for Instagram.
A best friend is like a four-leaf clover, hard to find, lucky to have.
Green is the prime colour of the world and that from which its loveliness arises.
Just living is not enough… one must have sunshine, freedom, and a little flower. Hans Christian Andersen
Look deep into nature, and then you will understand everything better. Albert Einstein
Nature is not a place to visit. It is at home.
If you have a garden and a library, you have everything you need. Marcus Tullius Cicero
A walk in the woods feels like home.
By getting lost in nature, you get closer to finding yourself.
Go to the place where you feel most alive.
If you're looking for beauty, you'll find it in nature.
If you're looking for heaven on earth step outside.
Life is short and the world is wide so get out there and explore it.
Sometimes all the soul needs is a walk in nature.
Wherever you go, leave a trail.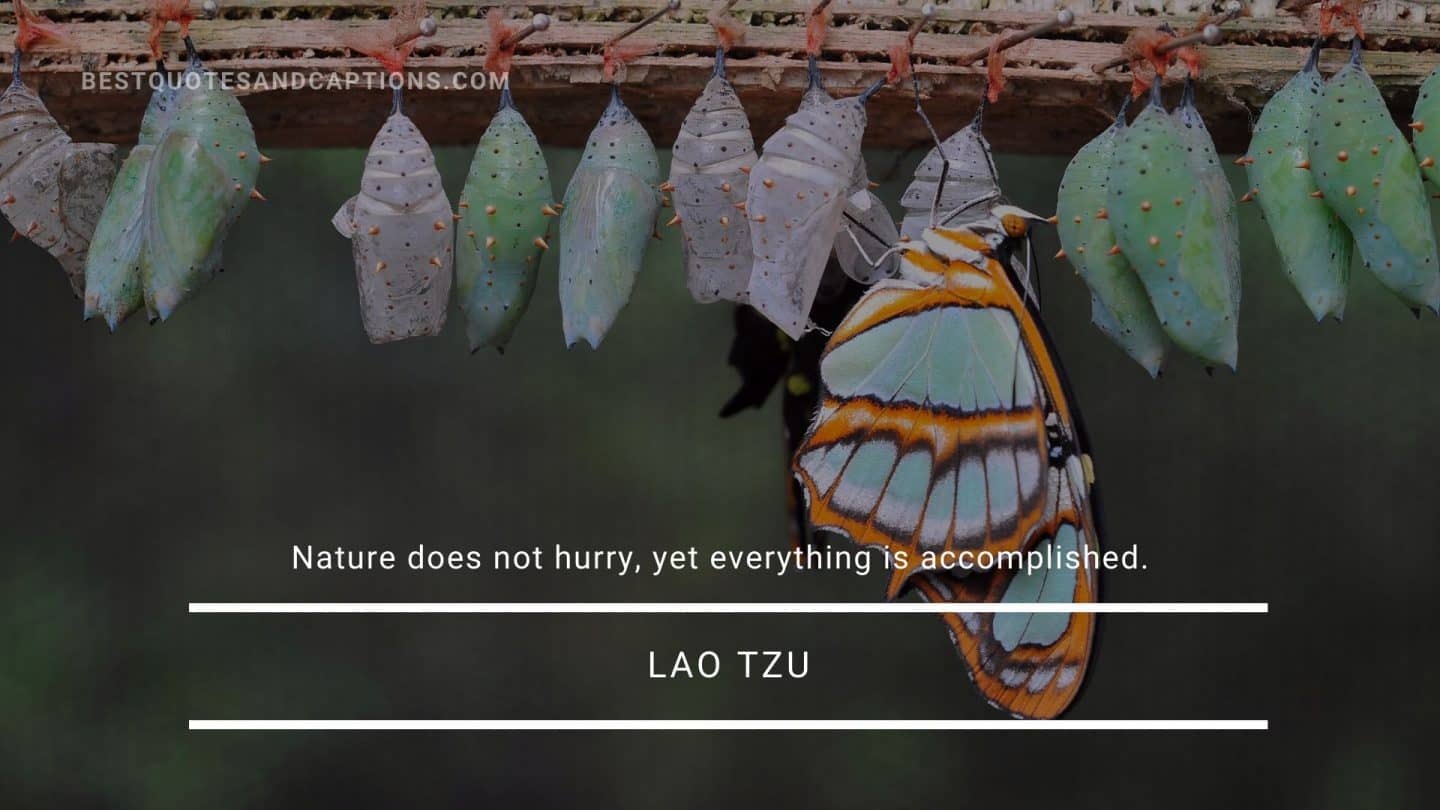 Related: All the best nature hashtags for Instagram.
Cool funny captions
While some of the captions above are definitely designed to elicit a chuckle (or two), we wanted to put together a section crammed full of the best funny Instagram captions:
1f you c4n r34d 7h15, you r34lly n33d 2 g37 l41d.
But first, let me take 40 selfies until choosing one that actually works.
Cats have 32 muscles in each ear, to help them ignore you.
Did you hear about the mathematician who's afraid of negative numbers? He'll stop at nothing to avoid them.
Give me the chocolate and nobody gets hurt.
Gravitation can not be held responsible for people falling in love.
I have lots of hidden talents. The problem is, even I can't find them.
Have you ever tried to eat a clock? It's very time-consuming.
Hear about the new restaurant called Karma? There's no menu: You get what you deserve.
I don't know what's tighter: my jeans or our love.
I had fun once, it was horrible.
I invented a new word: Plagiarism.
I keep pressing the space bar, but I'm still on Earth.
I liked memes before they were on Instagram.
I want someone who will look at me the same way I look at chocolate cake.
I'm a model… Well… an Instagram model. Same thing right?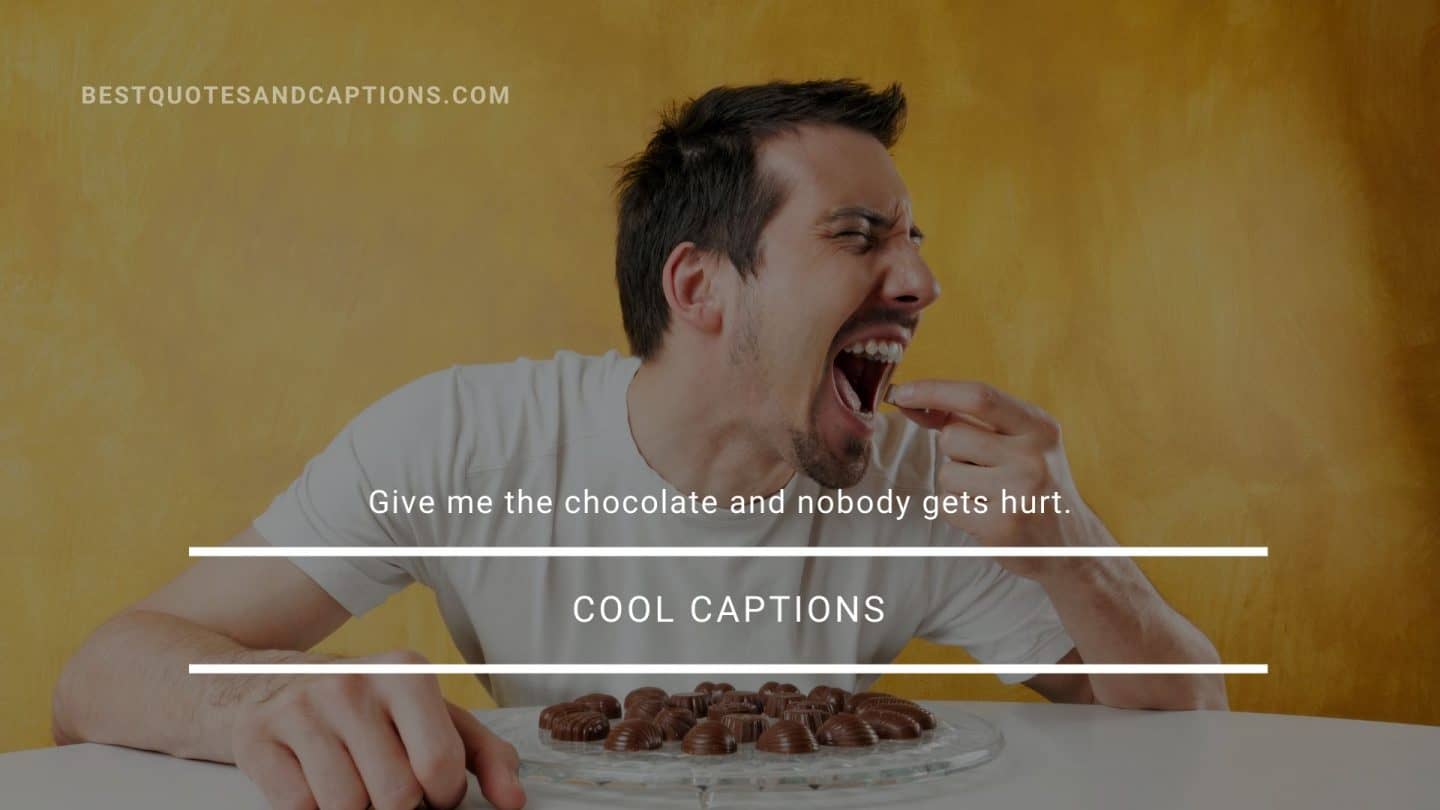 I'm a multi-tasking procrastinator. I can put off multiple things at once.
If I won the award for laziness, I would send somebody to pick it up for me.
In this section, we include funny Instagram captions and short jokes anyone can remember. You can also try to find funny puns too.
Mirror: you look amazing today. Camera: Nope, you don't.
My excuse is that I'm young.
Namast'ay in bed.
Never let anyone treat you like regular glue. You are glitter glue.
Practice makes perfect but then nobody is perfect so what's the point of practicing?
Putting the 'we' in weird.
The best workout is a cross between a lunge and a crunch. Lunch.
This is my pretty hungry face.
Walking past a class with your friends on it.
We all have that one friend…
We're all born a little crazy, some of us just choose to stay that way.
When I feel like giving up on my dreams, I keep sleeping.
When nothing is going right, go left.
Where are the average things manufactured? The satisfactory.
Whoever invented knock-knock jokes should get a "No Bell" prize.
Why don't scientists trust atoms? Because they make up everything.
Your secrets are safe with me… I wasn't even listening.
Even the stars were jealous of the sparkle in her eyes.
Vodka may not be the answer but it's worth a shot.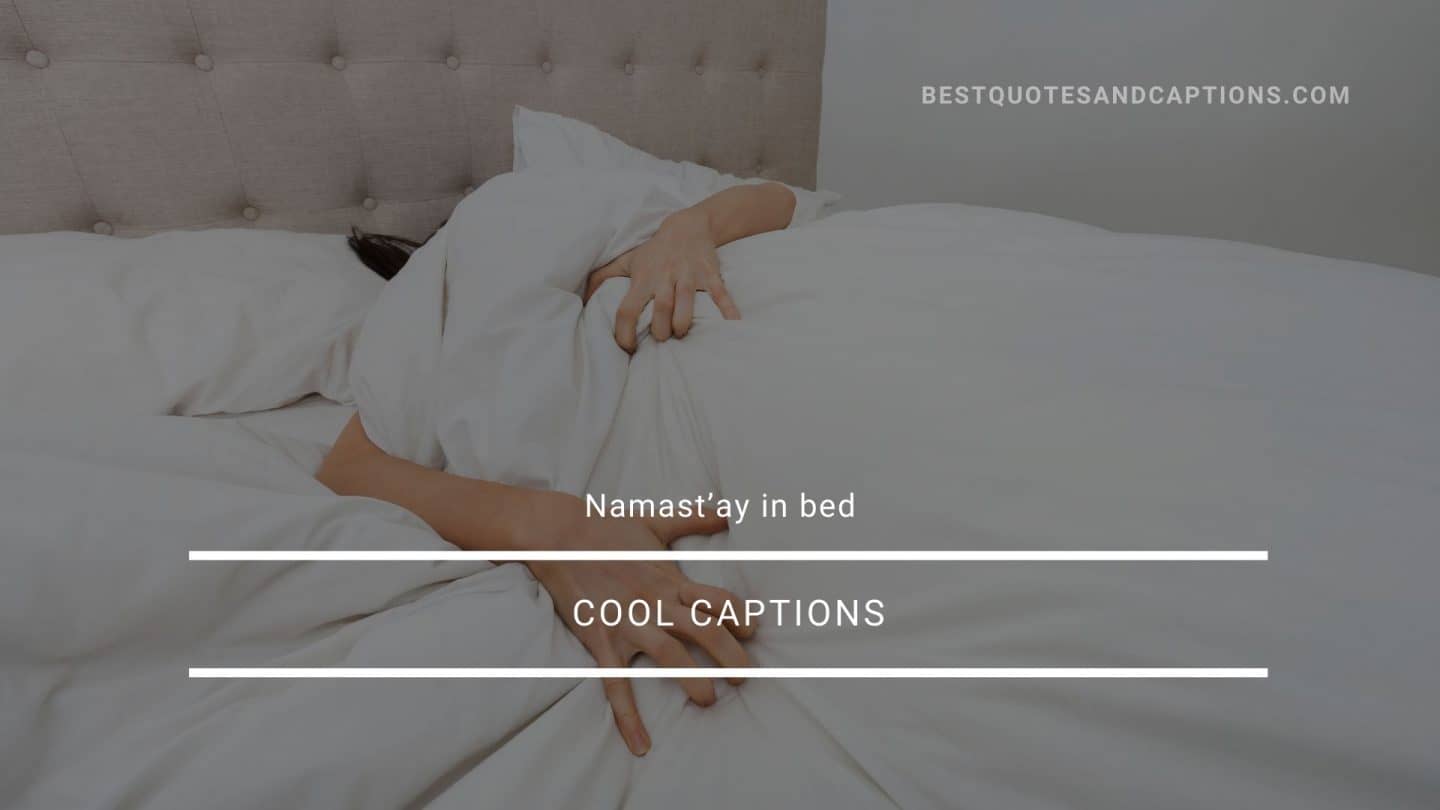 Cool captions with uestions
One of the best ways to get engagement on platforms like Instagram or Facebook is to ask a question! It encourages your friends and fans to answer, dropping that coveted comment on your Instagram posts. Try one of these ideas:
How gorgeous is this?
If you could be doing anything right now, what would it be?
Miss me?
Trivia Time: How many people have tried [fill in the blank]?
What do you think of this?
Which [fill in the blank] are you?
Yes or No?
Can you imagine a different world?
Have you ever been to [fill in the blank]?
Have you ever wanted to grab somebody by the shoulders, give them a good shake and whisper "Nobody cares!"
How many roads must a man walk down… Before you can call him a man? Bob Dylan
If Cinderella's shoe fit perfectly, then why did it fall off?
If everyone else jumped off a cliff, would you do it too?
If practice makes perfect, and no one's perfect, then why practice? Billy Corgan
If you could be anywhere, where would you choose to be?
If you have a few months to live, what will you do?
Imagine you get $1000 right now. What would you do with it?
Is the sky blue?
So you mean to tell me a stress ball isn't for throwing at people who stress you out?
What if soy milk is just regular milk introducing itself in Spanish?
Where do you travel next?
Why isn't the number 11 pronounced onety one?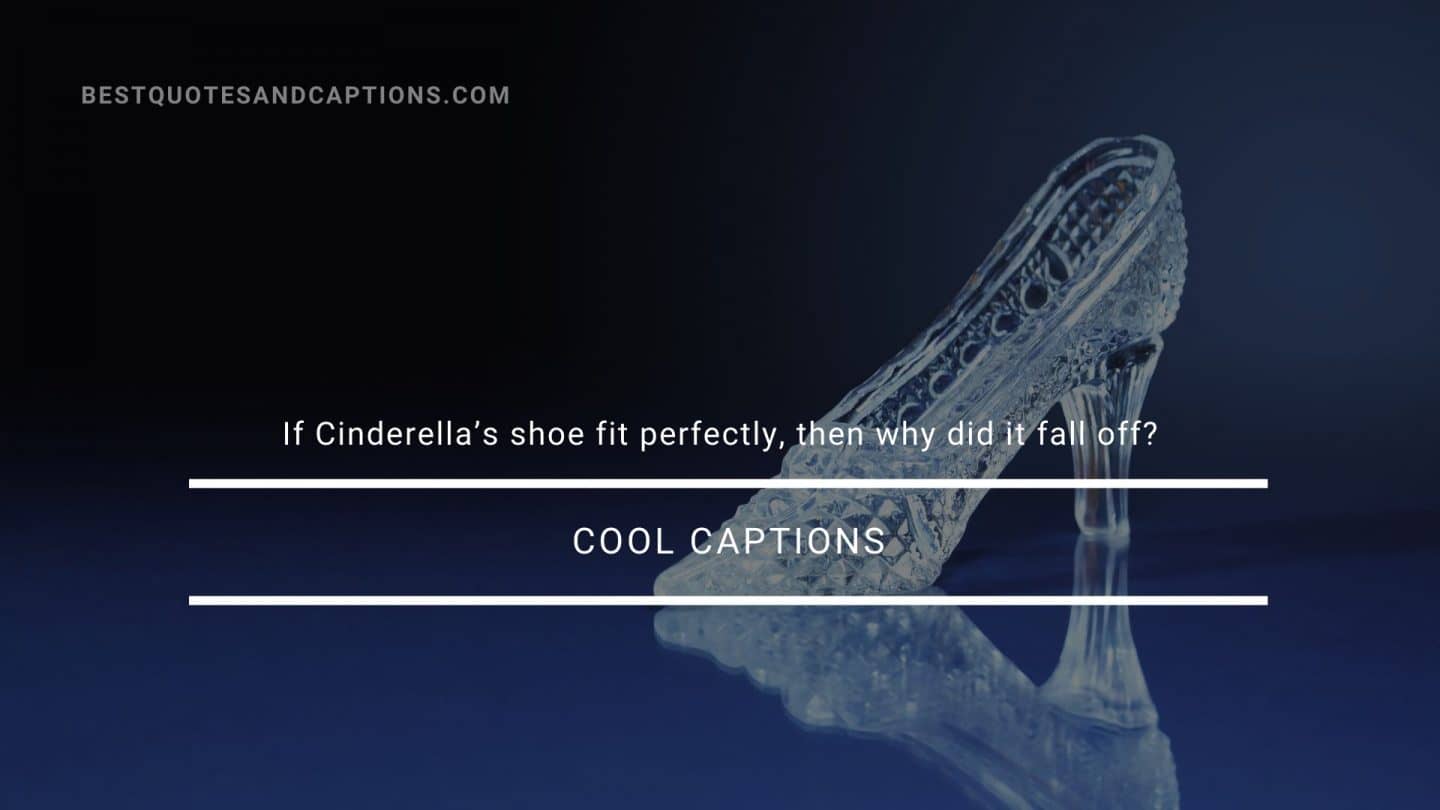 Sad captions for Instagram
It's still cool to be sad sometimes. And, when you are, and you decide to post about it, try and use a really great caption to accompany it:
Learning is a gift. Even if pain is the teacher. Maya Watson
As a kid I was afraid of monsters under my bed but as I grow older I realize they live inside my head.
Even when I'm sad, I show off my big smile anyways.
I didn't change. You did. You stopped loving me.
I miss you…
Sometimes, at night, I hope to fall asleep before I fall apart.
Tears come straight from the heart.
The rumour is true, I'm sad. Again.
Until you've heard my story, you have no idea.
Want to be happy? Care less.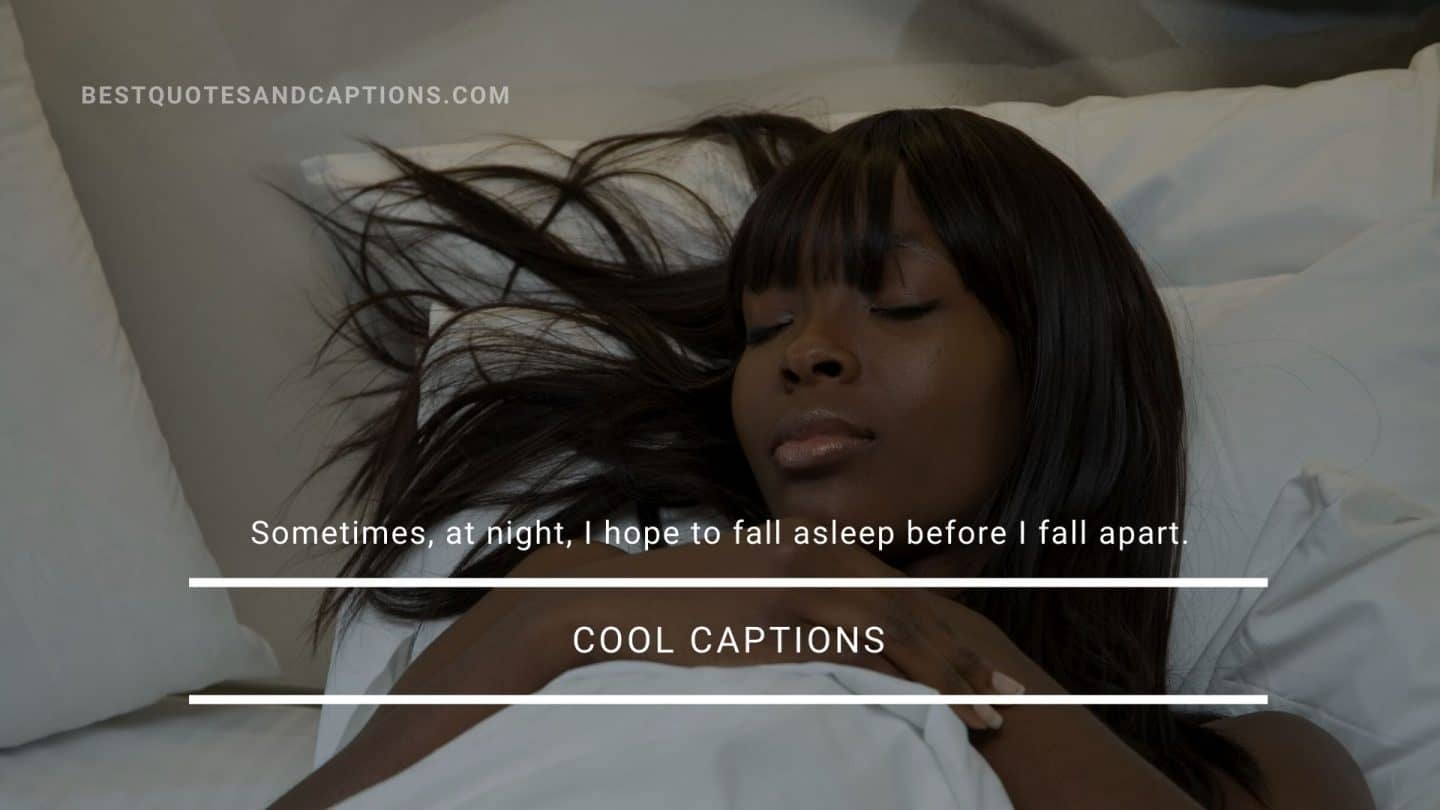 Want to update your WhatsApp? Check out our best Sad WhatsApp status guide.
Savage and sassy Instagram captions
More than just a bit of attitude, sometimes you just want to be totally savage in your delivery. With that in mind, we've collected some amazing sassy captions to try out:
A sass a day keeps the basics away.
Act like you own the world because you do.
Ambition on fleek.
As long as my bank account keeps growing, I couldn't care less about anything else.
Don't be average, be savage.
I can easily tell how intelligent someone is by how stupid they think I am.
I don't care if you approve of me, I approve of myself.
I keep it real because I'm not afraid of having enemies.
I wouldn't chase you because I'm the catch.
I'll do the stupid thing first and then you shy people follow.
I'm not gonna sugar coat the truth, I'm not Willy Wonka.
I'm not high maintenance, you're just low effort.
I'm the reason why I smile everyday.
I'm too glam to give a damn.
I've got my sassy pants on. Watch out world!
If you are testing my water, you better know how to swim.
If you treat a girl like a dog, she's going to piss on you.
It is easy to stand with the crowd. It takes courage to stand alone.
It's not my fault truth hurts, here's a band aid.
Know your worth but don't forget to add tax.
Looks aren't everything but I have them just in case.
Me sarcastic? Never.
People say I act like I don't care but it's not an act.
Since there is only one of me, does that make me a limited edition?
Single as a dollar but not looking for change.
Sorry for being late, I was enjoying my last few minutes of not being here.
You were my cup of tea but I drink wine now.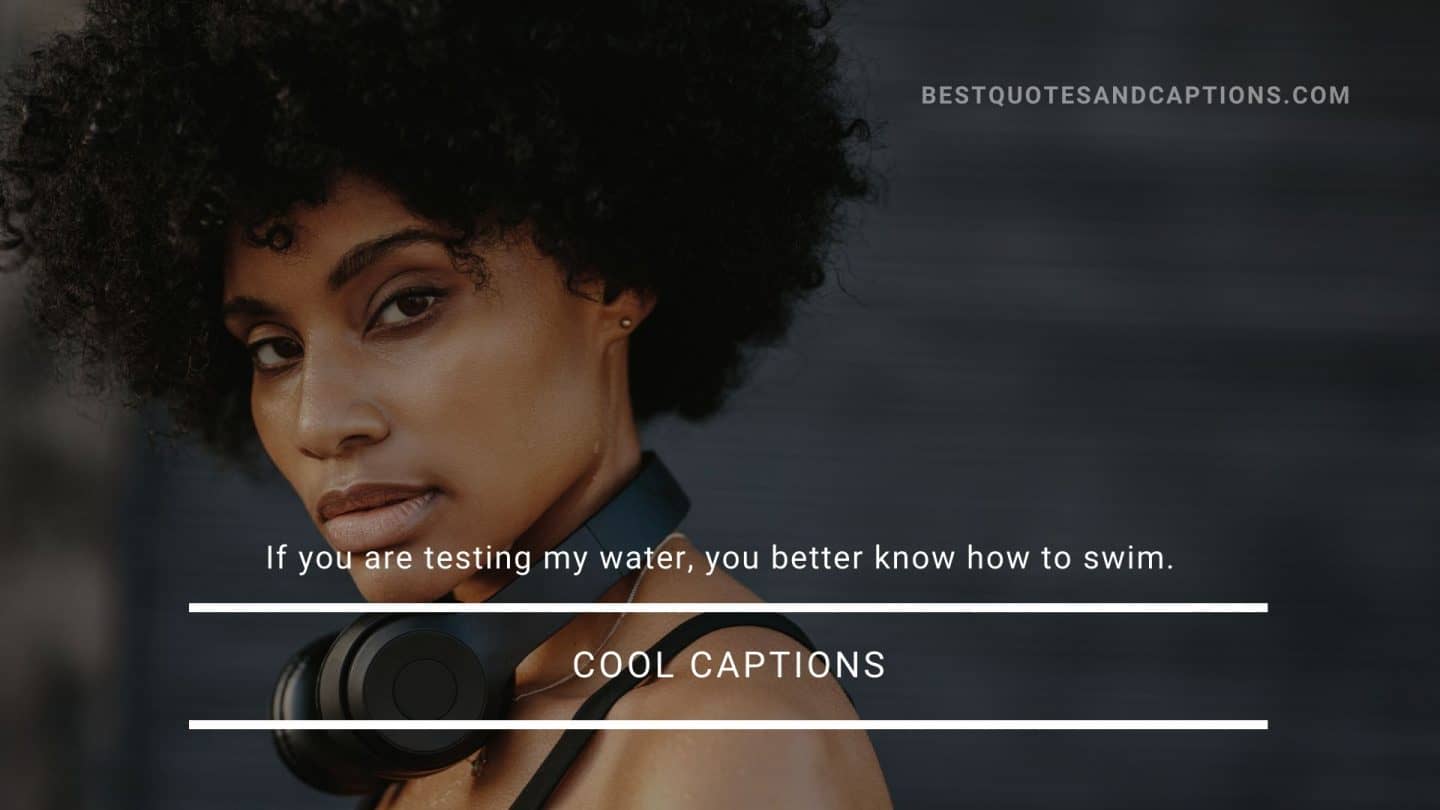 Cool song lyrics captions
Singers often say it best. So why not use a poppin' line from a popular song or artist? We've collected a whole bunch of cool lyrics you could use below:
Can't forget that I'm golden, can't forget where I'm going. A$AP Rocky
Drop it like it's hot. Snoop Dogg
Find me where the wild things are. Alessia Cara, Wild Things
Hello, it's me. Adele, Hello
I could build a castle out of all the bricks they threw at me. Taylor Swift, New Romantics
I don't care if you tear me apart. Coldplay, A Sky Full of Stars
I don't know 'bout you, but me, I'm important, I'm so gorgeous. Mac Miller
I got one less problem without ya. Ariana Grande, Problem
I got sinning on my mind. Ed Sheeran, Bloodstream
I got some weight on my shoulders, to me, it's like feathers. Lil Wayne
I need somebody who can take control. Sam Smith
I think I'm ready for my close up. Britney Spears, Kill the Lights
I would sell my soul for a bit more time. Halsey
I'd rather die like a man than live like a coward. 2Pac
I'll just keep on living, the way I want to live. Chris Brown, Welcome to My Life
I'm bringing sexy back. Justin Timberlake, Sexy Back
I'm feelin' myself. Nicki Minaj
It was you who taught me living is togetherness. Calvin Harris feat. Rag'n'Bone Man
It's a hard time finding your freedom. Slushii
My ex asked me, 'Where you movin'?' I said, 'On to better things'. Drake
No you're not perfect but you're not your mistakes. Kanye West
Pictures of last night ended up online, I'm screwed. Katy Pery, Last Friday Night (T.G.I.F.)
The more money we come across, the more problems we see. The Notorious B.I.G
There's no way I could be stopped, was coming for your spot. Lady Gaga
Why would I hop in some beef? When I could just hop in the Porsche. Cardi B
You know what you're doin' to me. Ariana Grande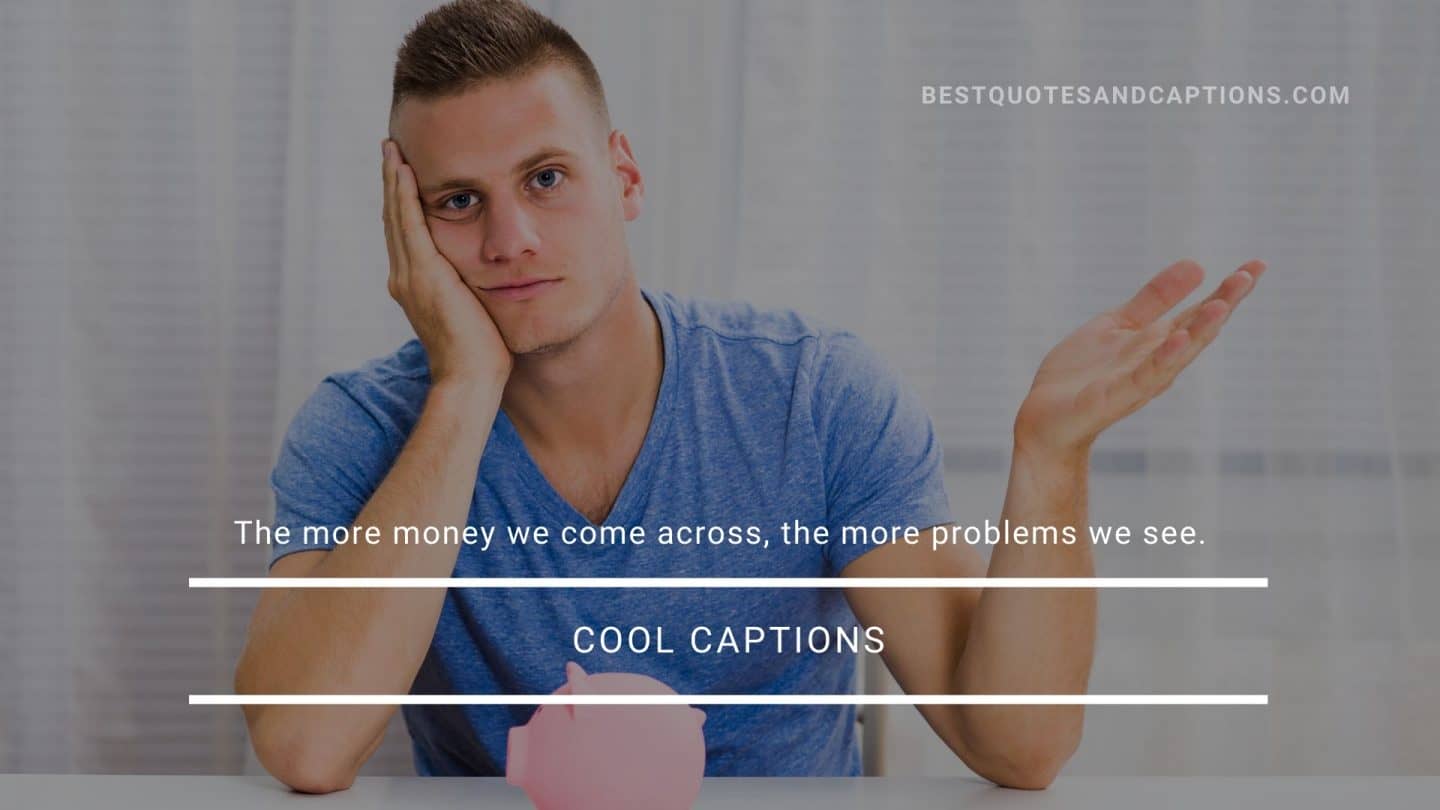 Cool short Instagram captions
Short and sweet is best, right? We usually think so, particularly since its shown that shorter Instagram caption lengths do better.
Burn for what you love.
Fear is only temporary. Regrets last forever.
I am so tired of love songs. Oh, awesome, Ed Sheeran is on…
If you never go, you will never know.
Life is short. Talk fast!
Put in work. Believe in it.
Smile… it confuses people.
The best is yet to come.
The world is yours.
I got nothing.
Just chillin'.
Just livin' life.
Oh hey there!
Short and sweet.
Time for a change.
Today's perfect.
Why so serious?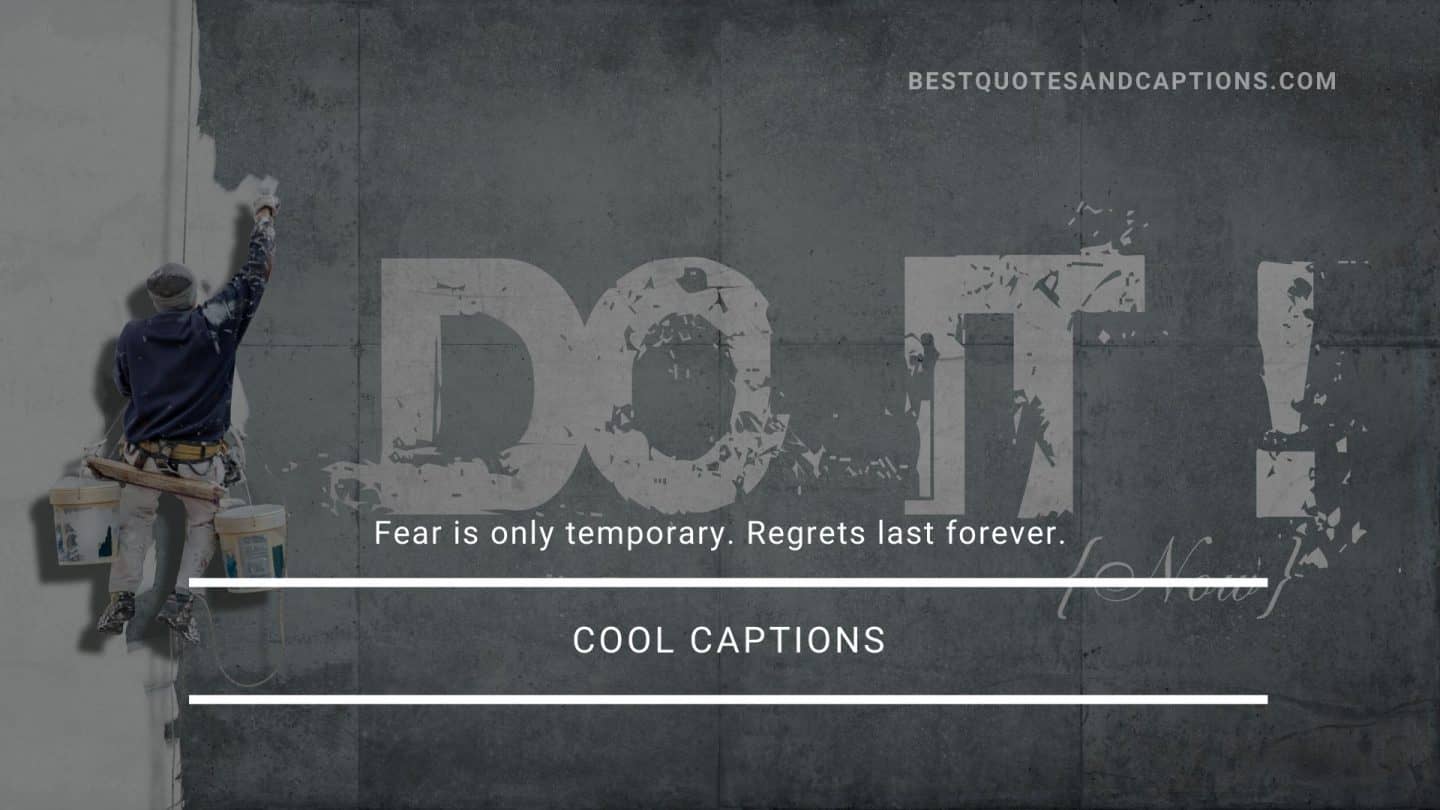 Cool captions for travelling and vacations
Jetting off somewhere exotic? Got that banging beach selfie to post on the 'gram? Below we've delivered some awesome captions about vacations and travelling, for you to use:
Adventure, here we come!
And the adventure begins.
Be right back, exploring the world.
BEACH: Best Escape Anyone Can Have.
Blue skies, high tides and good vibes.
Catch flights, not feelings.
Explore the unexplored.
Feed your wanderlust, not your Instagram!
I got 99 problems, but travel is not one of them.
I have got a crush on the world.
I travel because you can always get more money, but you can never get more time.
If you had to choose between true love and traveling the world, which country would you visit first?
It's not polite to keep a vacation waiting.
Life is better with the sand between your toes.
Of all the books in the world, the best stories are found between the pages of a passport.
People don't take trips, trips take people.
People forget years and remember moments.
The only vacation you'll ever regret is the one you don't take.
There is always some next adventure waiting for us.
Travel is Addictive!
Tripophobia: The fear of not having your next travels booked.
Up in the clouds on my way to unknown things.
We travel not to escape life, but for life not to escape us.
Wherever you go, go with all your heart. Confucius
Time for an adventure!
Work. Save. Travel. Repeat.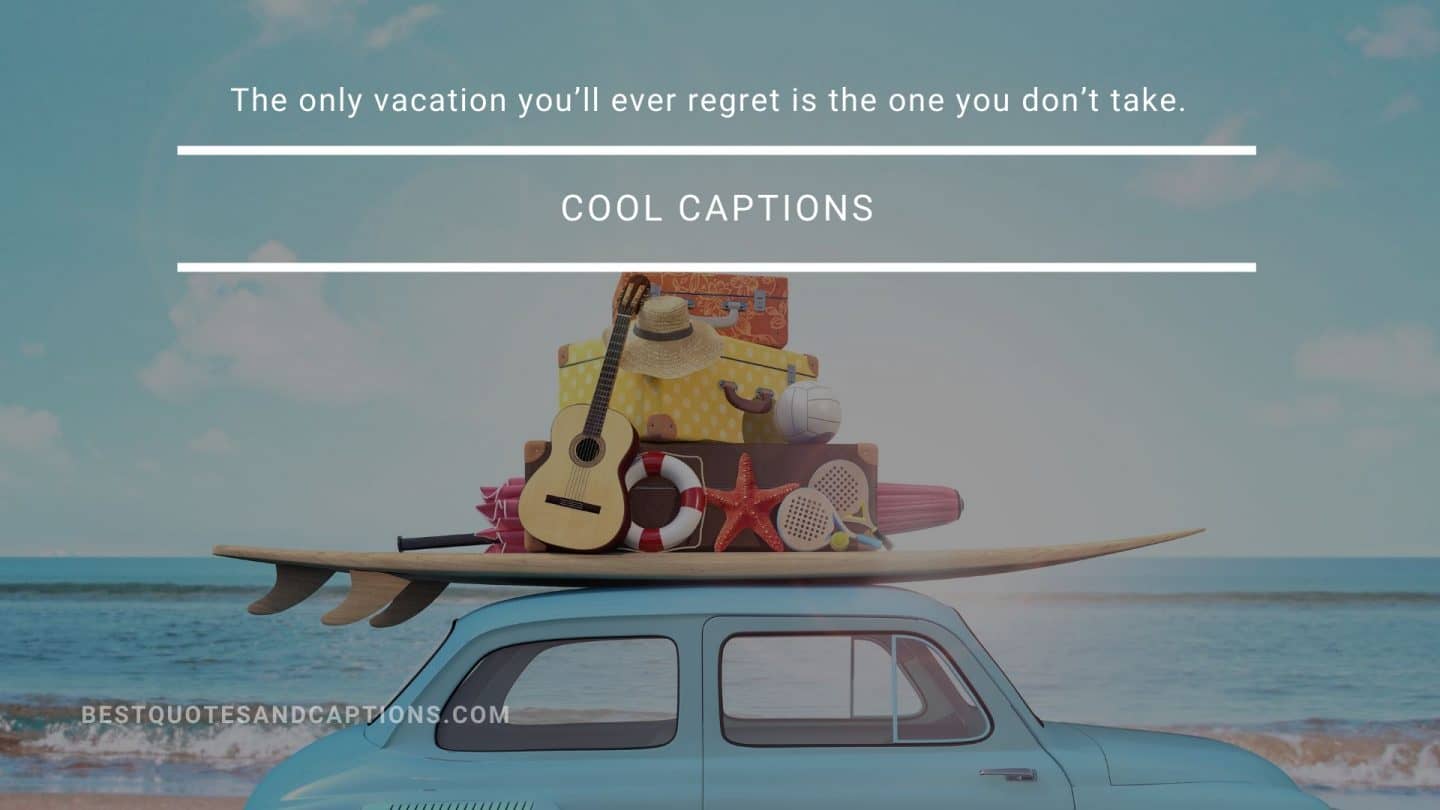 Cool caption ideas for the week
Got those Monday blues? Or is it Throwback Thursday? Pair your pic with the day of the week using one of these great captions about the days of the week:
Friday, Friday, gotta get down on Friday.
Friday, my second favourite F word.
Happy #Caturday y'all.
Here's a throwback Thursday picture. If you don't comment aww, I'll unfollow you.
It's Sleepy Sunday. So here's a selfie of me pretending to sleep.
It's Wednesday so here's my wise quote of the day… actually I got nothing.
Motivation Monday? I'm motivated seven days a week.
Taco Tuesday is my favourite day of the week.
Related: All the best taco captions.
This basically sums up my entire weekend
Weekend vibes…
It's a chill in bed kinda day.
Me jamming out to New Music Friday.
So this just happened!!!!
Today's been the best day.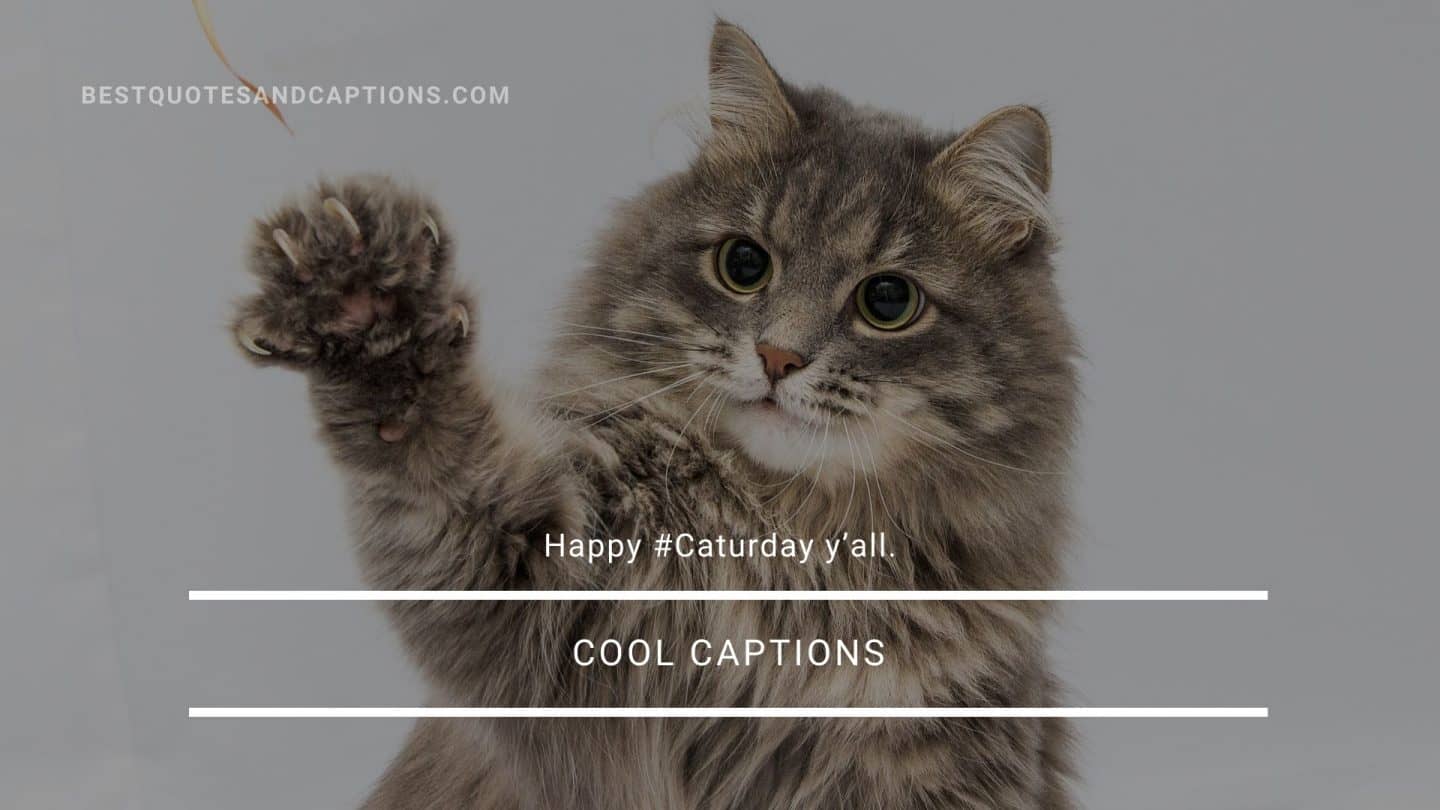 Cool birthday captions
Want to wish your best a happy birthday? Or is it your day of birth and you want to shout it out to all your followers? Light those candles and post that caption!
Another adventure filled year awaits you.
Count not the candles… see the lights they give. Count not the years, but the life you live.
Count your life by smiles, not tears. Count your age by friends, not years.
Forget about the past, you can't change it. Forget about the future, you can't predict it. Forget about the present, I didn't get you one.
Happy birthday to one of the few people whose birthday I can remember without a Facebook reminder.
May your Facebook wall be filled with messages from people you never talk to.
I hope that today, at your party, you dance and others sing as you celebrate with joy your best birthday.
It takes a long time to grow young. Pablo Picasso
May you be gifted with life's biggest joys and never ending bliss. After all, you yourself are a gift to earth, so you deserve the best.
A year wiser.
Another year older, wiser, and happier
Experience level: [age]
Go shawty, it's my birthday.
Gonna party like my birthday… oh wait, it is!
Having my cake and eating it too.
Making my birthday wish.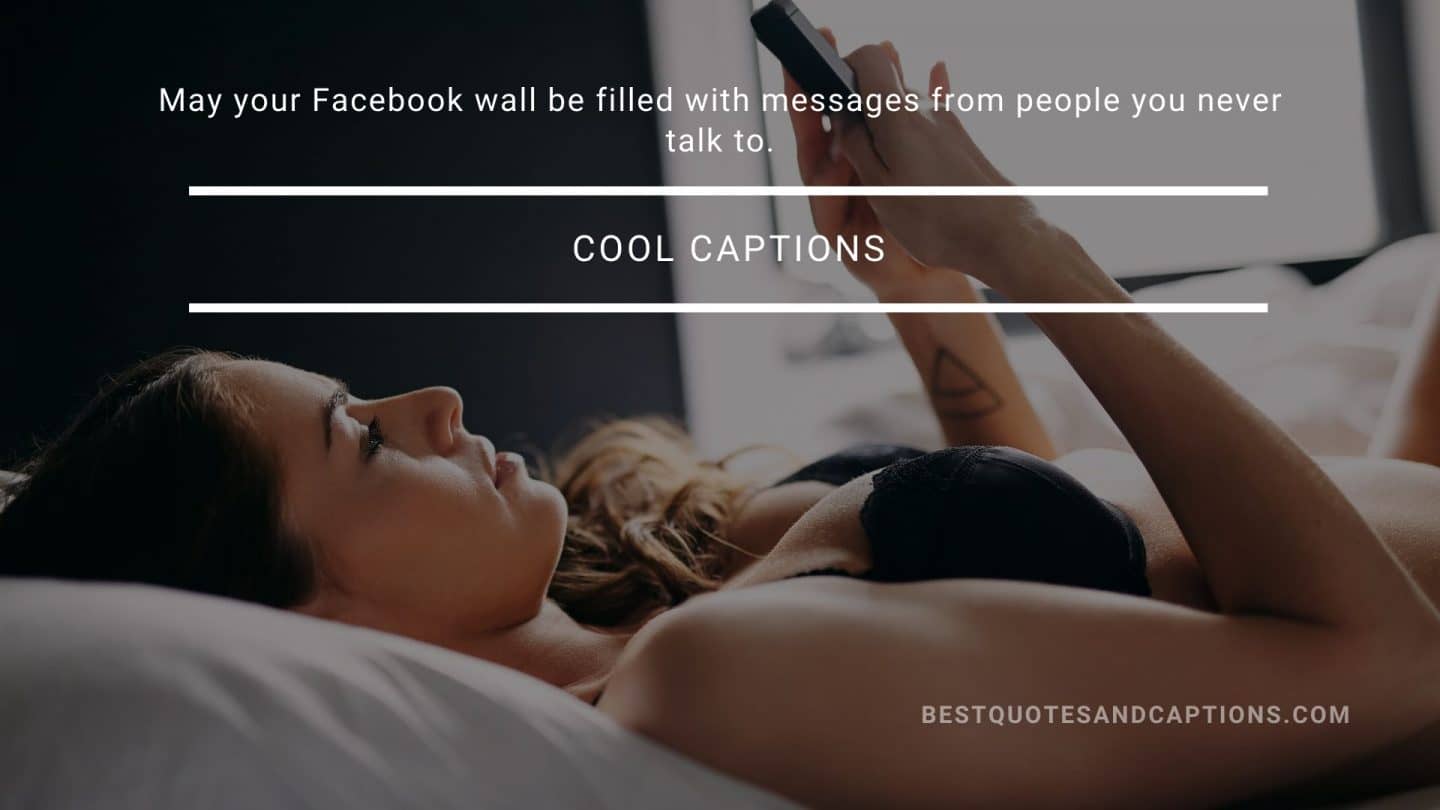 Cool captions for the holidays
Need to check out a caption for Christmas? Or about to see in the New Year? We've got some great ideas for important holidays and festivities, to pair with that perfect Instagram pic.
HALLOWEEN
Bow down witches!
Creep it real.
Happy Halloween!
I'm under your spell.
If you've got it, haunt it.
Pumpkin and spice and everything nice.
Straight Outta Coffin.
This is Spooktacular.
Trick or treat?
You're my favorite BOO!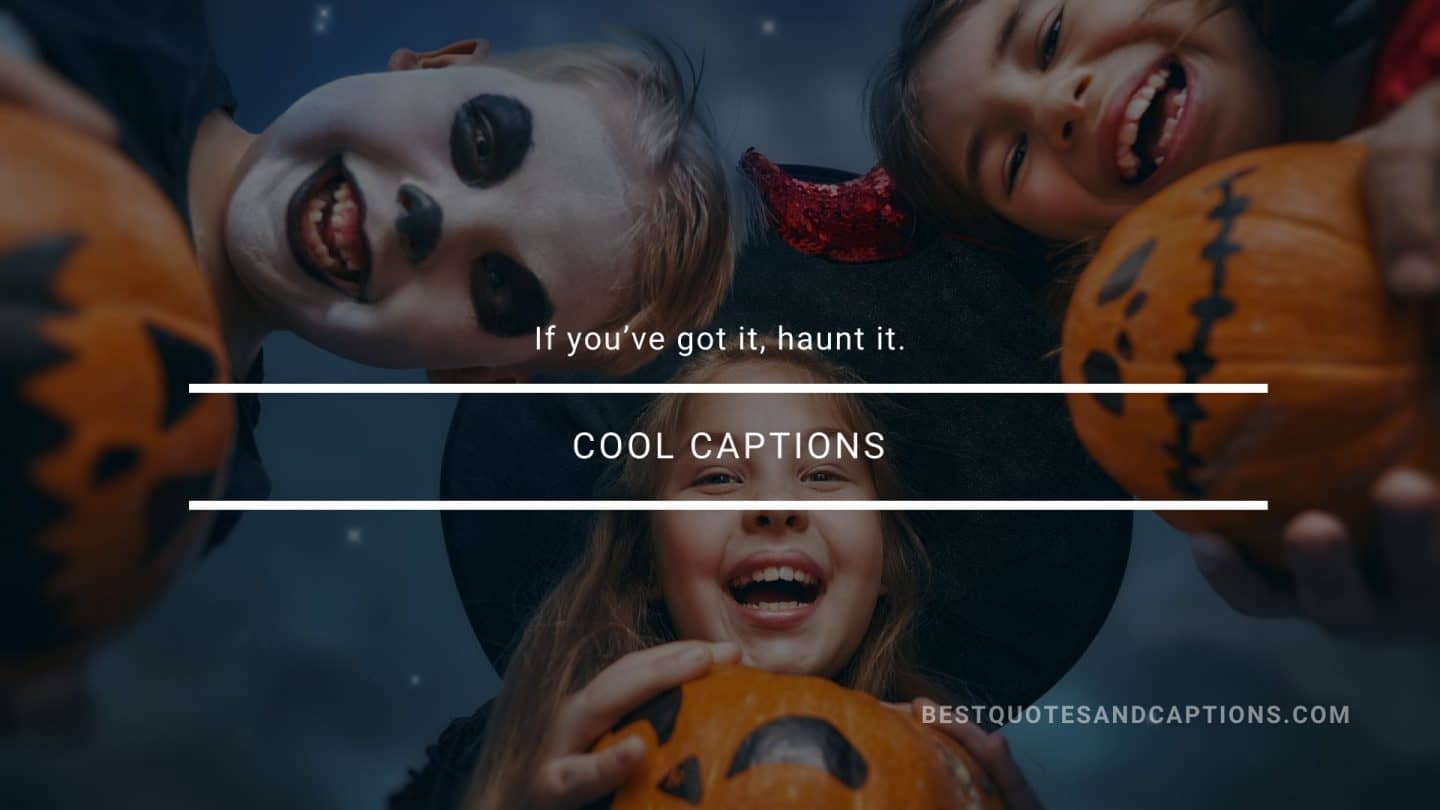 CHRISTMAS
Can I wrap you up?
Christmas is a baby shower that went totally overboard.
Christmas is the season when you buy this year's gifts with next year's money.
Christmas waves a magic wand over this world, and behold, everything is softer and more beautiful. Norman Vincent Peale
Don't get your tinsel in a tangle.
Drink up Grinches, it's Christmas.
Hanging out under the mistletoe.
I haven't taken my Christmas lights down. They look so nice on the pumpkin.
I love Christmas. I receive a lot of wonderful presents I can't wait to exchange.
I'm dreaming of a white Christmas. But if the white runs out, pour me some red.
Next Christmas I want to be at a beach… with a coconut in my hand!
Nothing's as mean as giving a little child something useful for Christmas.
One of the most glorious messes in the world is the mess created in the living room on Christmas Day. Don't clean it up too quickly.
Silent night… Oh, well we tried.
This is my Christmas list, don't forget to check it twice.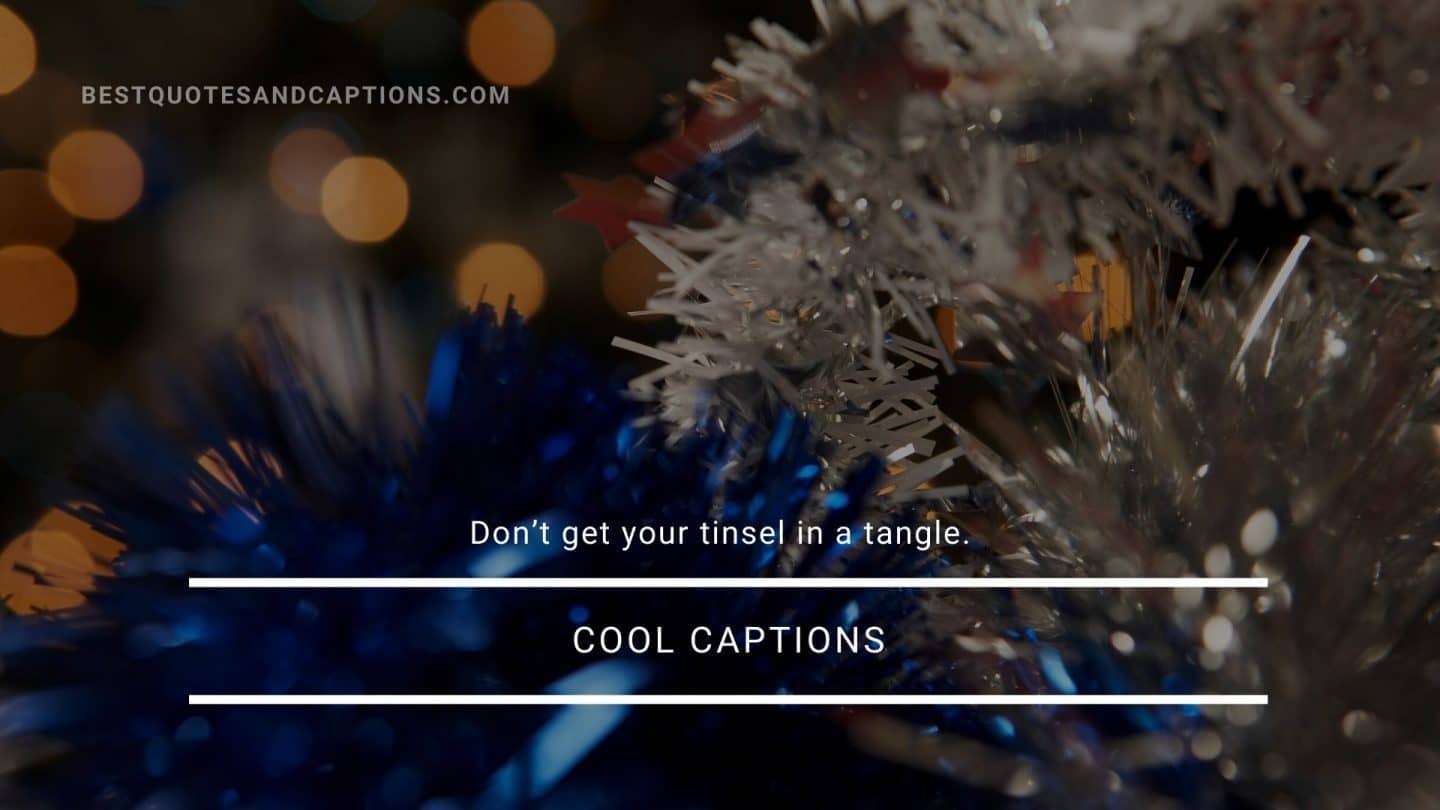 NEW YEAR
365 new days, chances, and opportunities to go after.
A journey of a thousand miles begins with a single step. Chinese Proverb
Cheers to a new year of love, happiness and success.
Happy new dreams, happy new goals, happy new wins, happy new love, happy new days, and Happy New Year!
It's only January 1st and I've already failed at my resolutions…
New year, new look.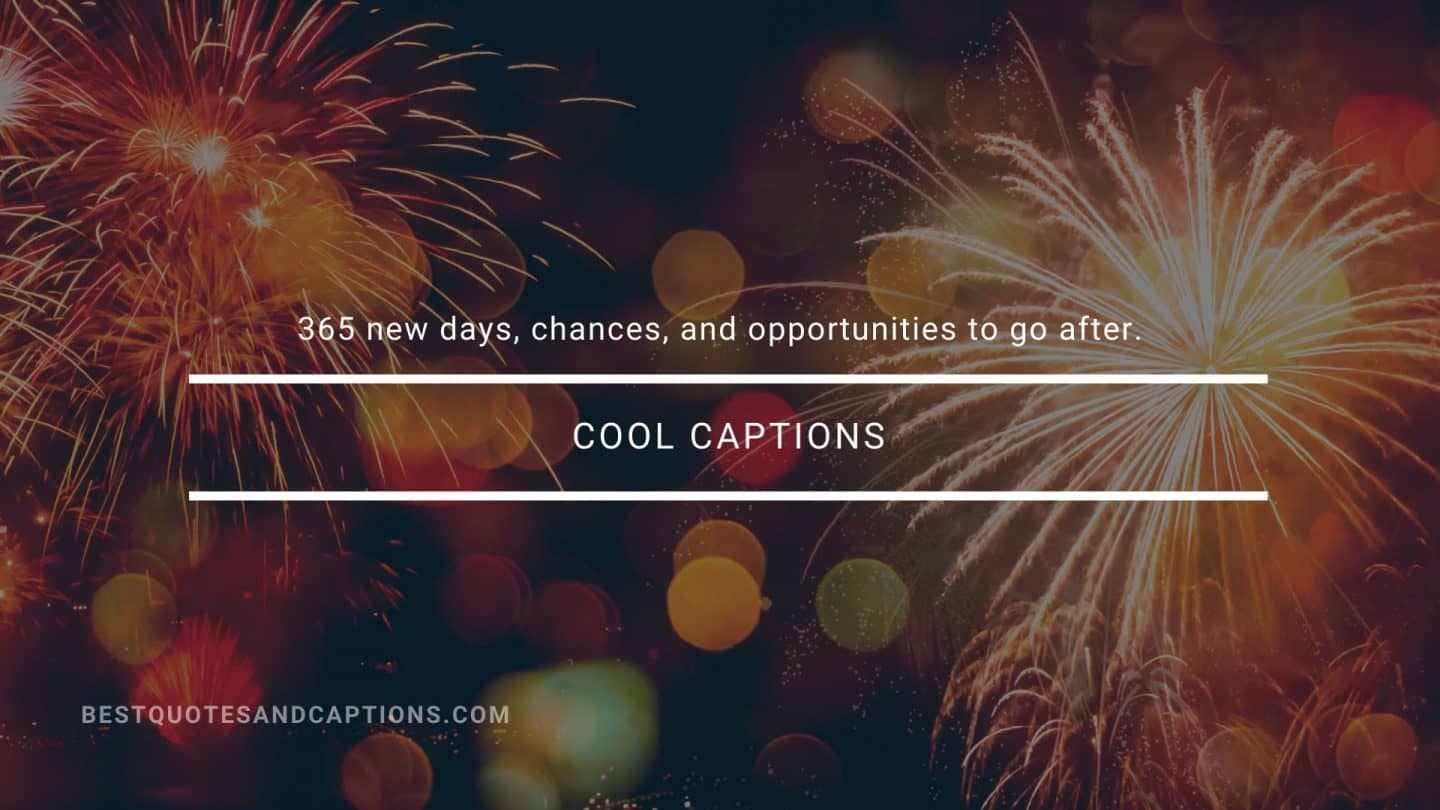 Cool captions for the seasons
Whether you're a beach baby or ski bunny, each season brings its own charm. If you want to caption your seasonal pic properly, we've put together a few ideas for each season below:
SPRING
Spring is nature's way of saying, 'Let's party! Robin Williams
All the flowers of all the tomorrows are in the seeds of today.
April showers bring May flowers.
Girls just wanna have sun.
Happiness is waking up to a sunny day during spring.
Less Mondays, more sunshine.
Let your joy burst forth, like flowers in the spring.
No winter lasts forever; no spring skips its turn.
Spring: a lovely reminder of how beautiful change can truly be.
The best time for new beginnings is now.
This season puts a little spring in my step.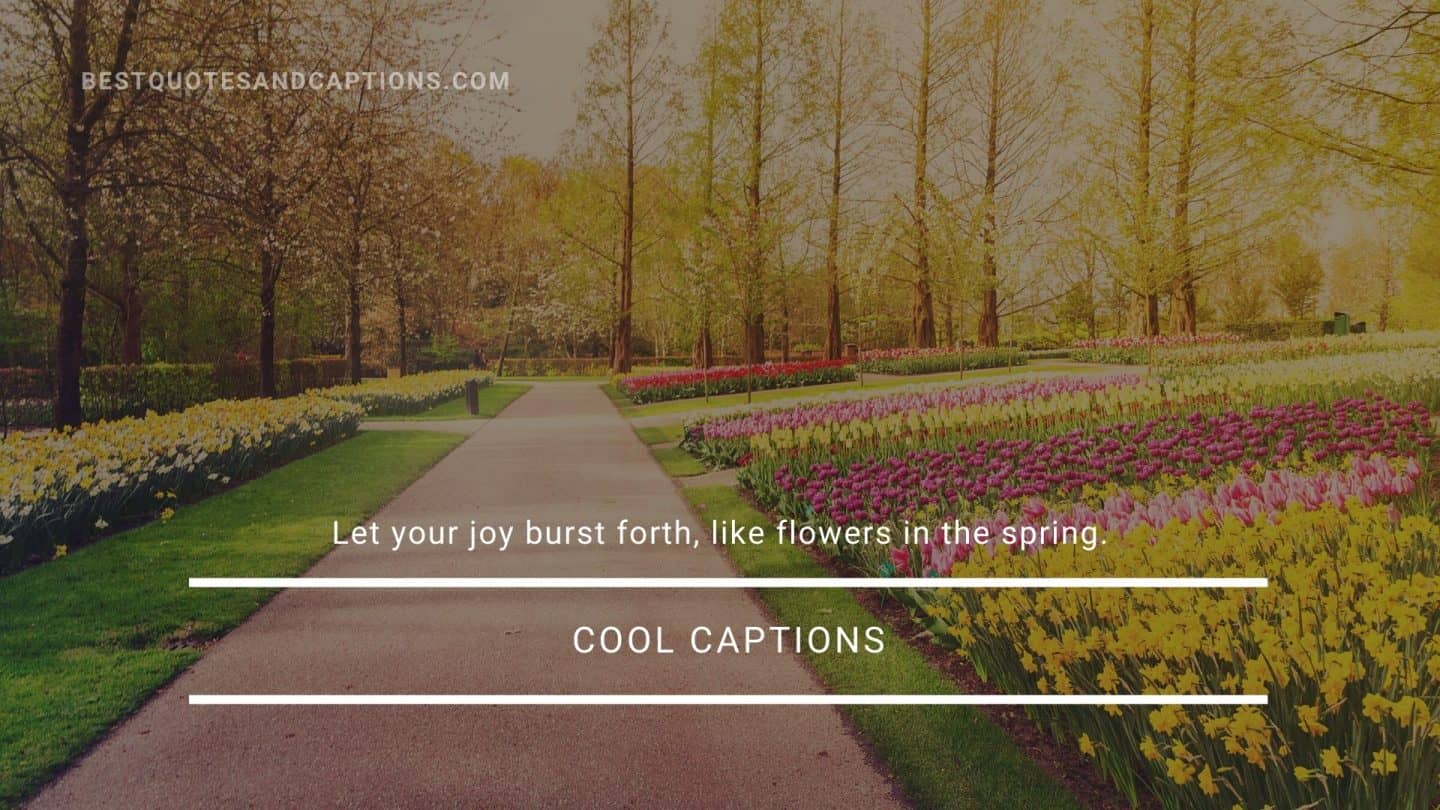 SUMMER
Cause a little bit of summer is what the whole year is all about. John Mayer
Chasin' the sun.
Deep summer is when laziness finds respectability.
Eat, tan, sleep, repeat.
Friends, sun, sand, and sea, that sounds like a summer to me.
It is always summer somewhere.
It was one of those March days when the sun shines hot and the wind blows cold: when it is summer in the light, and winter in the shade. Charles Dickens
Life's a beach.
No more winters. Summers for president!
No pants, no problem.
Oh, the summer night, has a smile of light, and she sits on a sapphire throne. Bryan Procter
Sea, Sun and Smiles.
Shall I compare thee to a summer's day? William Shakespeare
Summer is the best. Are you with me?
Summertime is always the best of what might be. Charles Bowden
Sweet, sweet burn of sun and summer wind, and you my friend, my new fun thing, my summer fling. K.D. Lang
The summer night is like a perfection of thought. Wallace Stevens
This is my resting beach face.
This summer fashion? My bikini!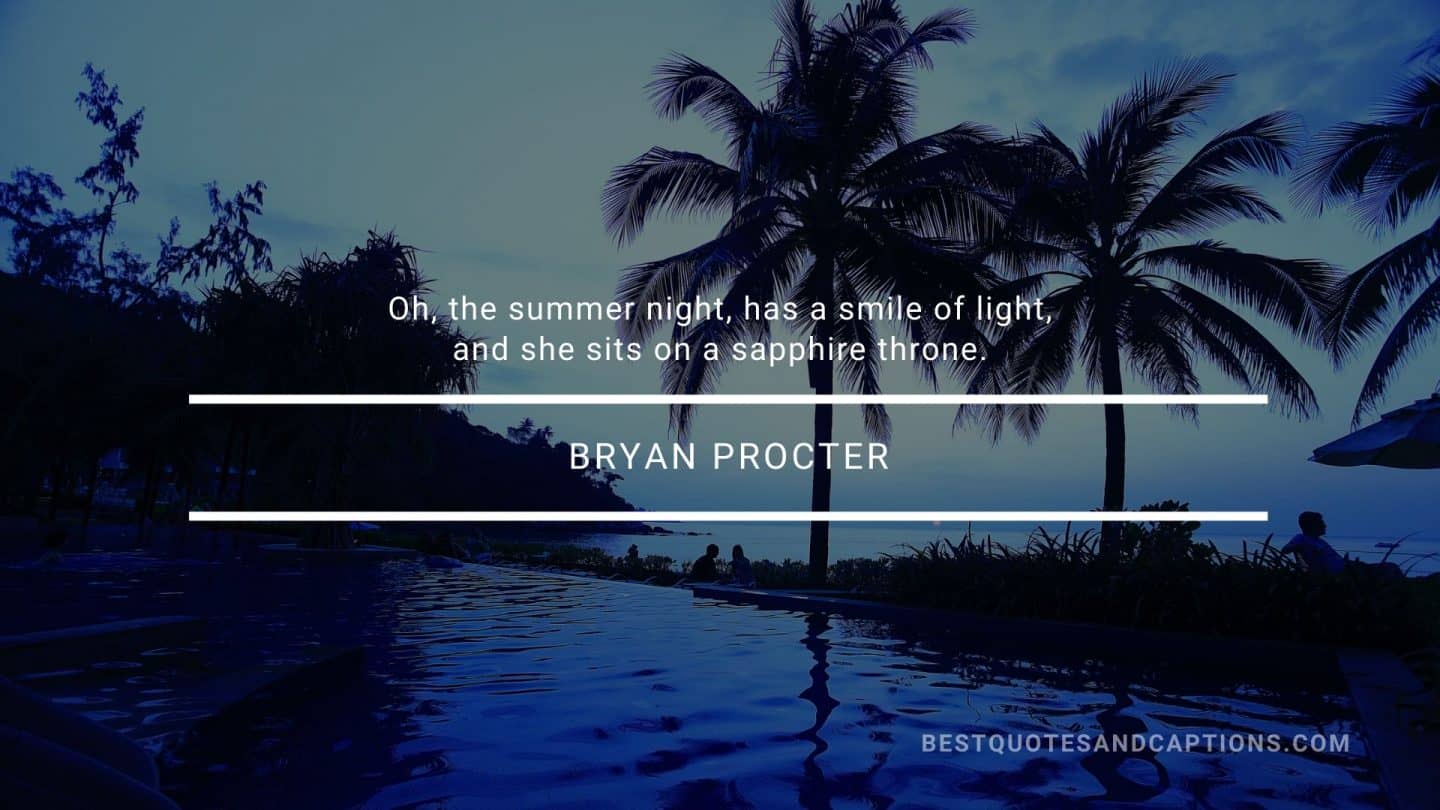 AUTUMN / FALL
Autumn arrives in the early morning, but spring at the close of a winter day.
Autumn shows us how beautiful it is to let things go.
Autumn skies and pumpkin pies.
Leaves are falling. Autumn is calling.
My favorite colour? October.
The only good thing happening in Autumn is nothing.
You are the pumpkin spice to my fall.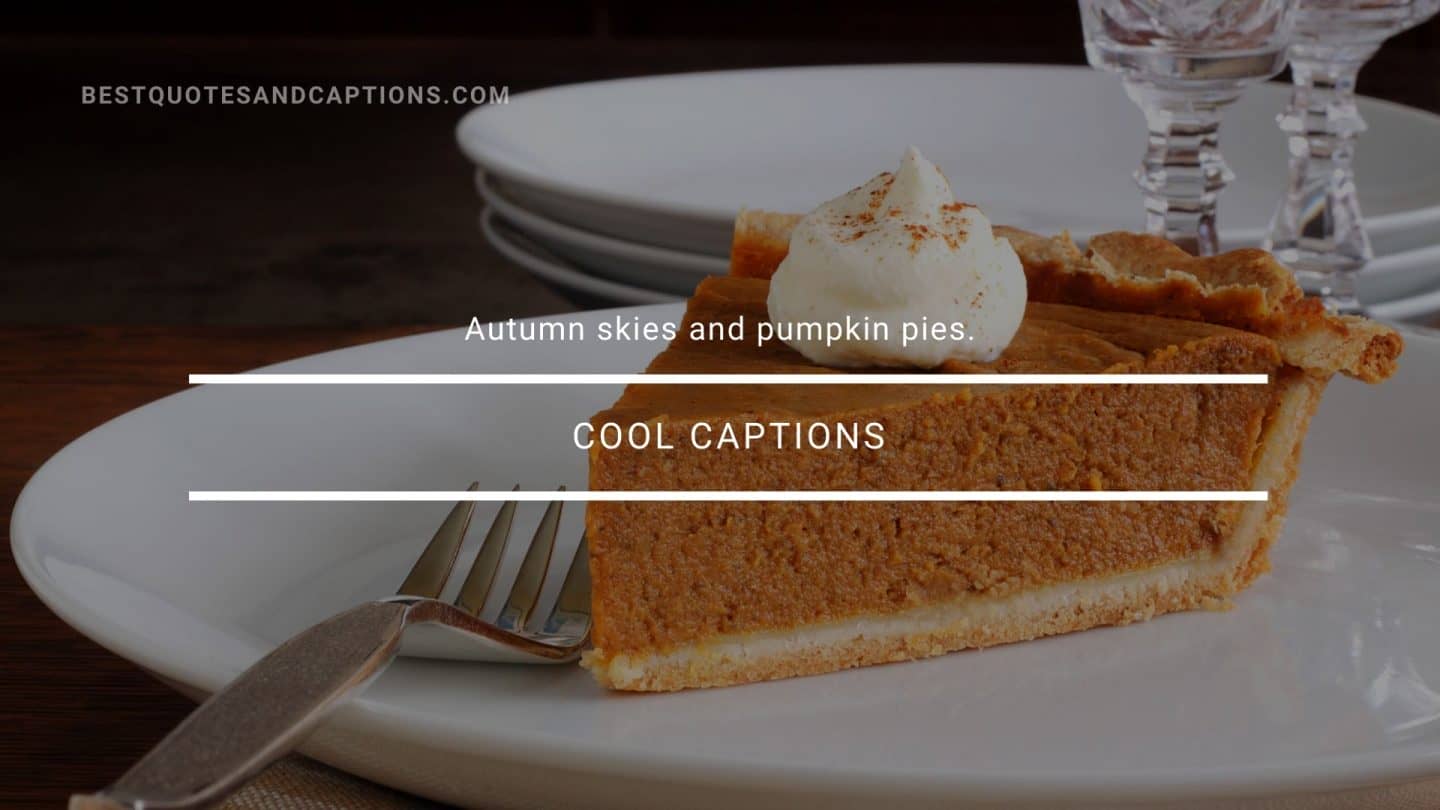 WINTER
Give me a hot drink, and I'm happy. Hot cider, hot chocolate, coffee… I like all winter beverages!
I love this winter feeling. This way I can stay home and just snuggle up in the bed without feeling guilty.
In the depth of winter, I finally learned that there was in me an invincible summer.
Laughter is the sun that drives winter from the human face.
Nothing burns like the cold.
People don't notice whether it's winter or summer when they're happy.
The combination of olive oil, garlic, and lemon juice lifts the spirits in winter.
There are only two seasons: winter and baseball.
There is no cold weather, only bad clothing.
They who sing through the summer must dance in the winter. Italian Proverb
To appreciate the beauty of a snowflake it is necessary to stand out in the cold. Aristotle
What good is the warmth of summer, without the cold of winter to give it sweetness.
Winter is coming.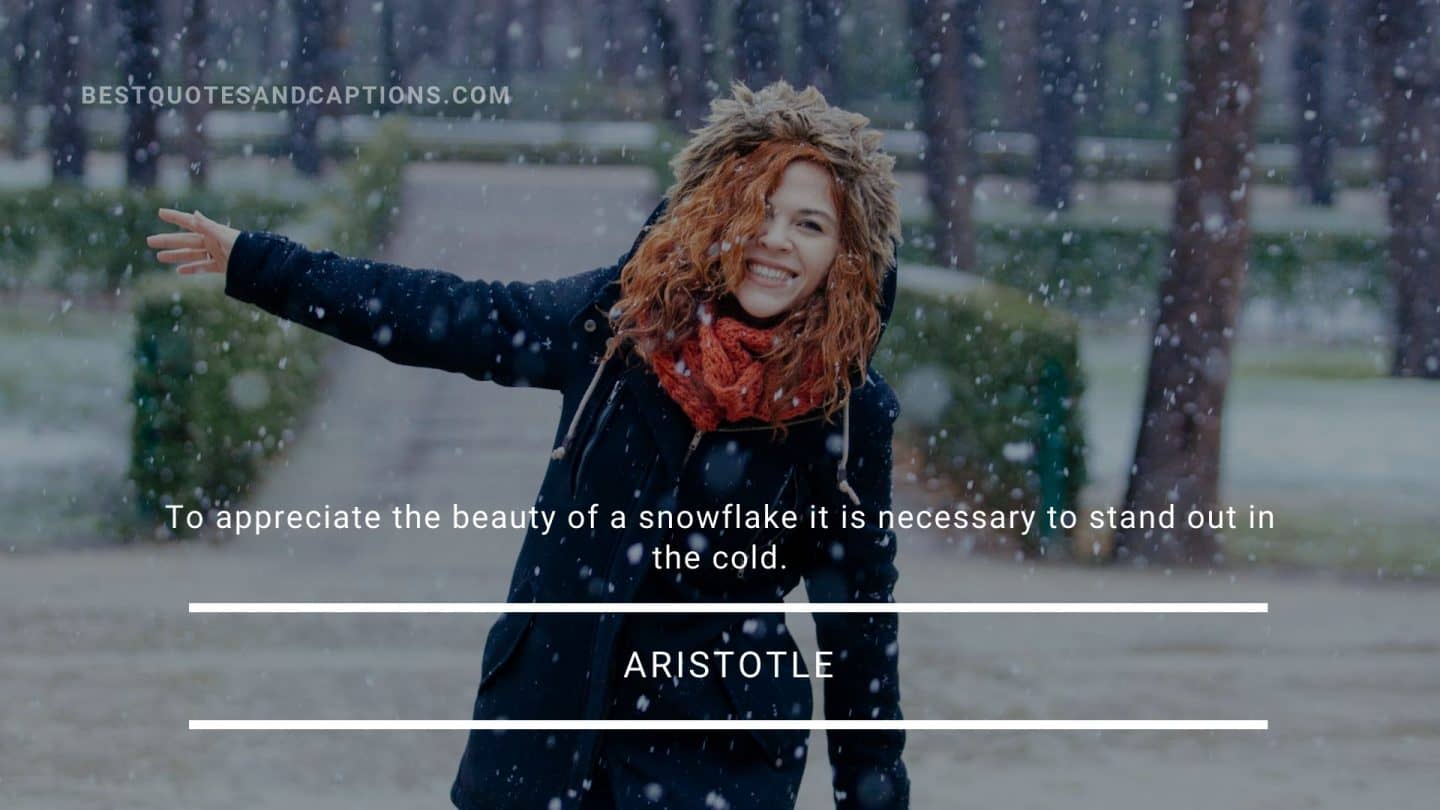 We hope you enjoyed this comprehensive list of the best cool captions for Instagram, Facebook, WhatsApp and other social media channels. Did we miss one off the list? Do get in touch or drop us a comment below!
Other essential Instagram growth tools
---
Want to save this for later? Why not pin it…