Okay, so we need to 'taco about' tacos. That handful of delicious meat, perfectly positioned in it's tortilla and dressed with more-ish spoonful's of guacamole, salsa and more. But what if you want to talk about your tantalizing taco on your social media feed and don't know what to say? We've got you covered with over 100 of the best taco captions for Instagram, Facebook, WhatsApp and other social media platforms.
Let's 'shell-elebrate' our collective love for tacos but picking out some cracking taco captions!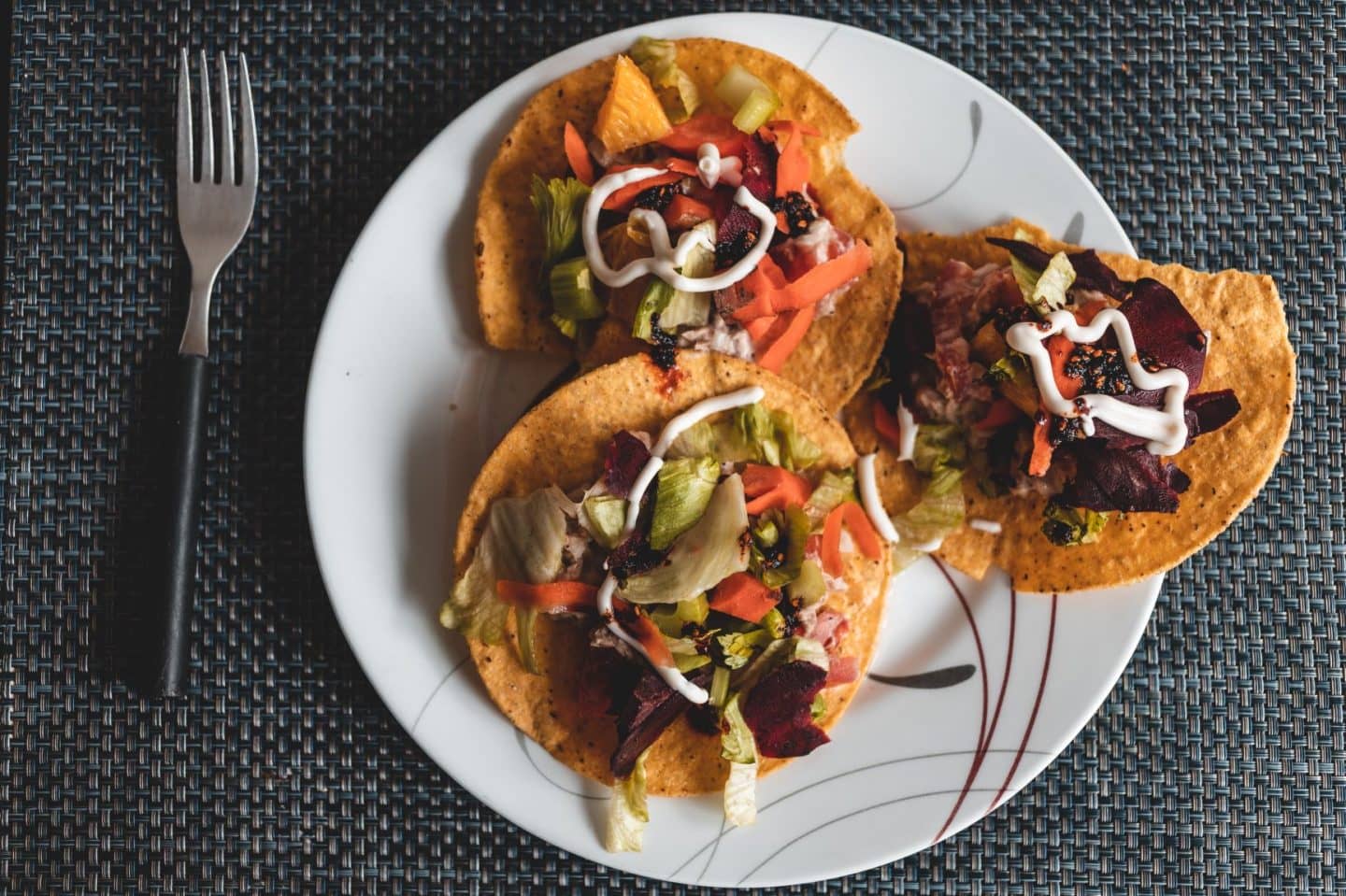 Best taco captions for Instagram
Now this article has over 100 of the best captions to use for your IG. But in case you just want to copy and paste with speed, here are ten of the best to try:
All I want to hear are three little words… I brought tacos.
Best Disney princess? Taco belle.
Everything goes better with tacos. Rachel Caine
Forget the flowers, buy her tacos.
How many tacos is too many? Asking for a friend.
I didn't get this physique by not eating tacos. Jon Tester
I'm sorry for what I said when you tried to eat my tacos.
Tacos are my love language.
The only bad taco is the one you didn't eat.
You might say he was one taco short of a combination platter. Robin Williams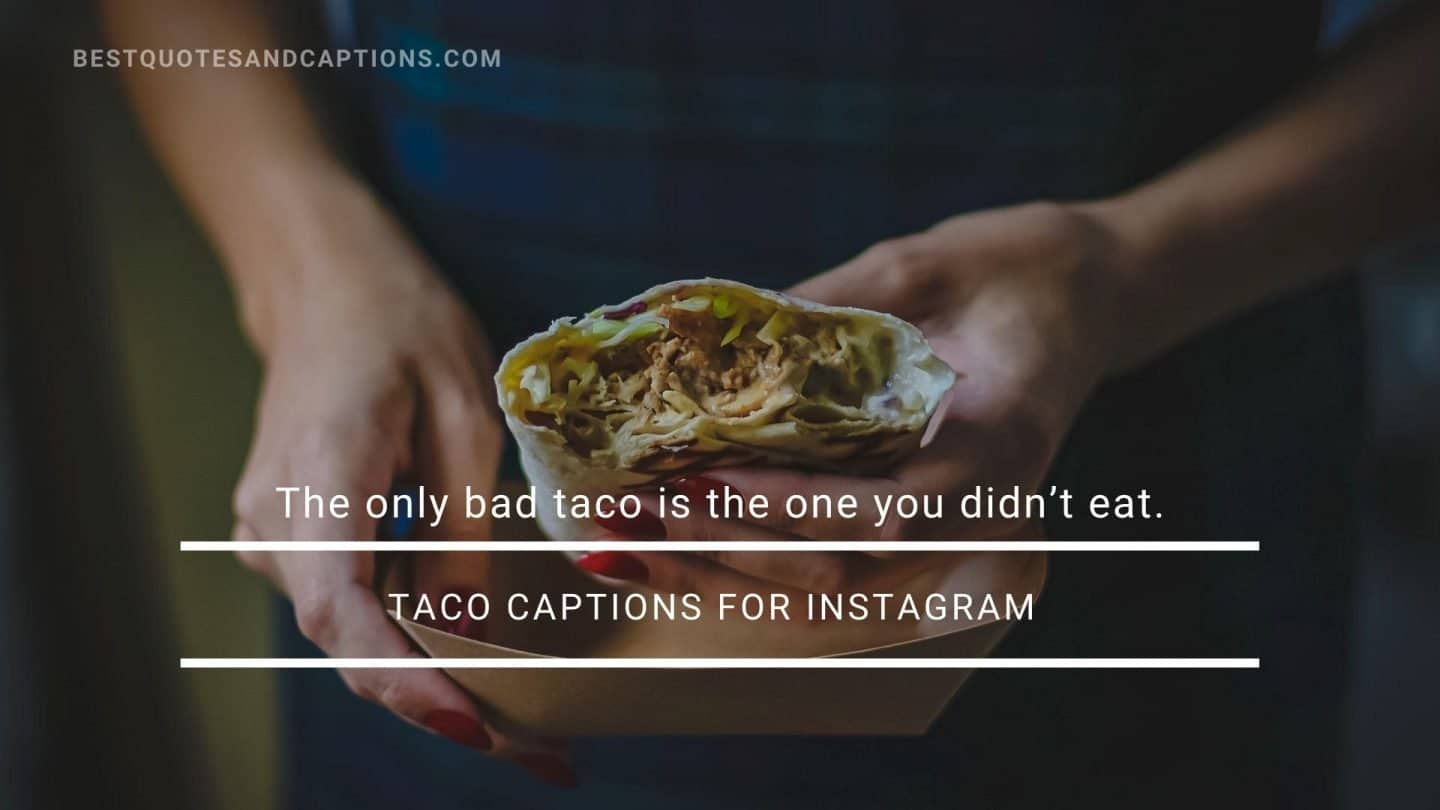 Read next: Epic guide to food captions for Instagram
Famous taco quotes
Celebrities – whether actors, authors or even reality TV stars – often say it best. So you could always use one of these fantastic, sometimes funny taco quotes from the stars:
Don't judge your taco by its price. Hunter S. Thompson
Great art is horsesh*t, buy tacos. Charles Bukowski
I don't eat fast food often, but I love tacos. I could write prophetically about how perfect the taco is. Ken Baumann
I wonder if anybody ever decided to commit suicide, then thought; but first I'm going to stop by that taco place I like so much. Dov Davidoff
Little known fact, gentlemen. Tacos are the food of genius. Heather Brewer
My Spanish is limited to burrito and taco. Janet Evanovich
Recommended: Epic guide to pizza captions
Never underestimate how much assistance, how much satisfaction, how much comfort, how much soul and transcendence there might be in a well-made taco and a cold bottle of beer. Tom Robbins
No one had ever called me unnatural before, except for the time I put ketchup on a taco. But seriously, we'd been out of salsa, so what else was I supposed to do? Richelle Mead
Tacos are like what the voices of a hundred angels singing Bob Dylan while sitting on rainbows and playing banjos would taste like if that sound were edible. Isabel Quintero
Thank you, hard taco shells, for surviving the long journey from factory, to supermarket, to my plate and then breaking the moment I put something inside you. Thank you. Jimmy Fallon
To this day, I love eating steak tacos before going to the red carpets. Lupita Nyongo
When it's done properly, taco should be a verb. Jonathan Gold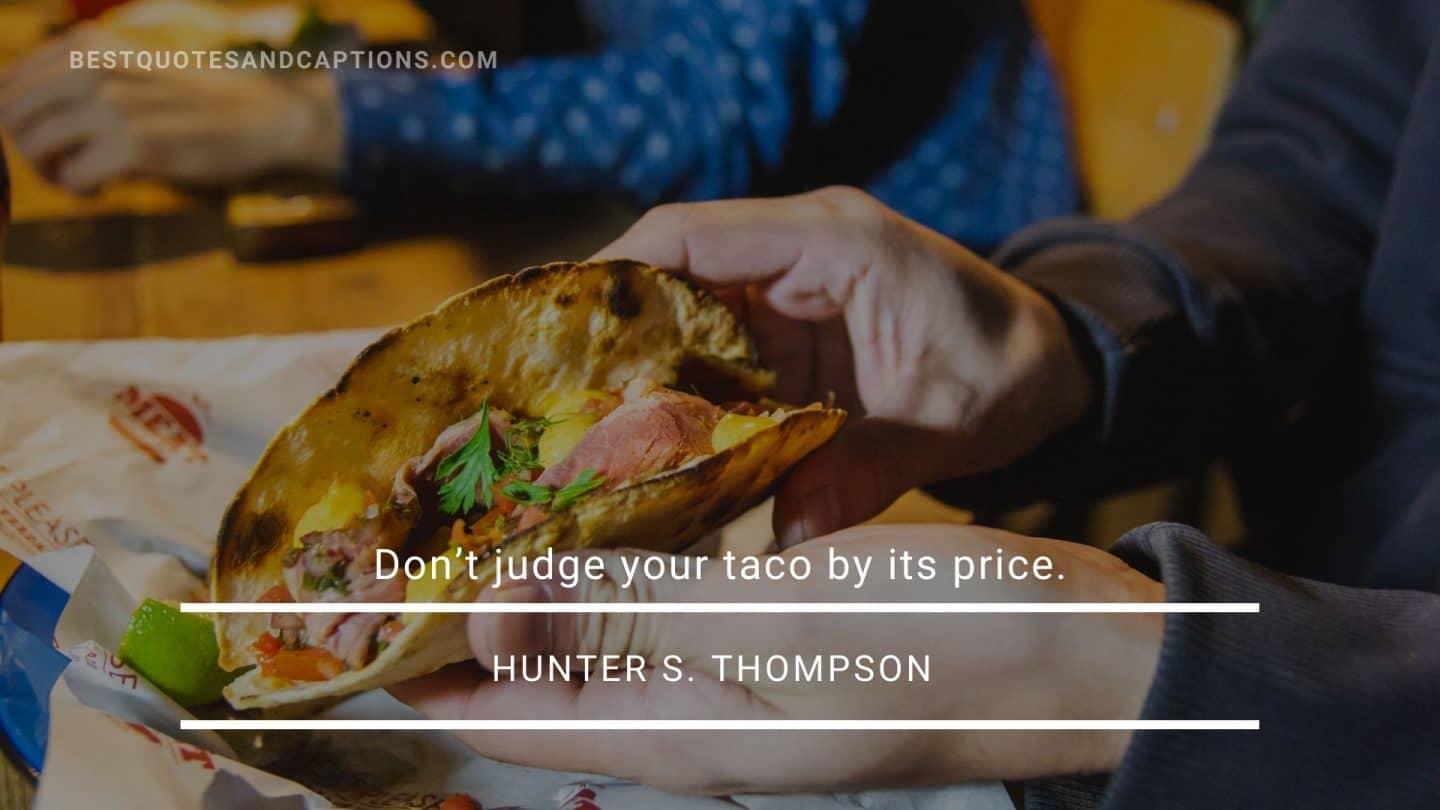 If you're wanting to make a real impact on your Instagram engagement, we'd suggest that you look into Ingramer!

With a full suite of tools, Ingramer acts as an automation partner – essentially the most powerful way to grow your account. It includes hashtag generators, and Instagram Downloader and a Story Viewer that watches other accounts' stories in a bid to attract them to follow you. With advanced targeting filters and an autobot, this is currently the best growth tool on the market.

Sign up here and use SCRIBESMEDIA to save up to 22% on some of the features!
Captions for taco lovers
Yes, we know you love tacos – they do inspire some 'fillings' of love. With that in mind, here are a few great Instagram captions about tacos and love:
All you need is love and tacos.
Feed me tacos and tell me I'm pretty.
How to turn me on with just one word… tacos.
I believe in love at first sight. After all, I've seen tacos.
If you love someone, bring them tacos.
In a relationship with tacos.
Inhale tacos. Exhale negativity.
Show your love with tacos.
Tacoholic.
Tacos understand me.
We always have time for tacos.
We have big taco energy.
Work hard, be nice, eat tacos.
You can't be sad while eating tacos.
You had me at tacos.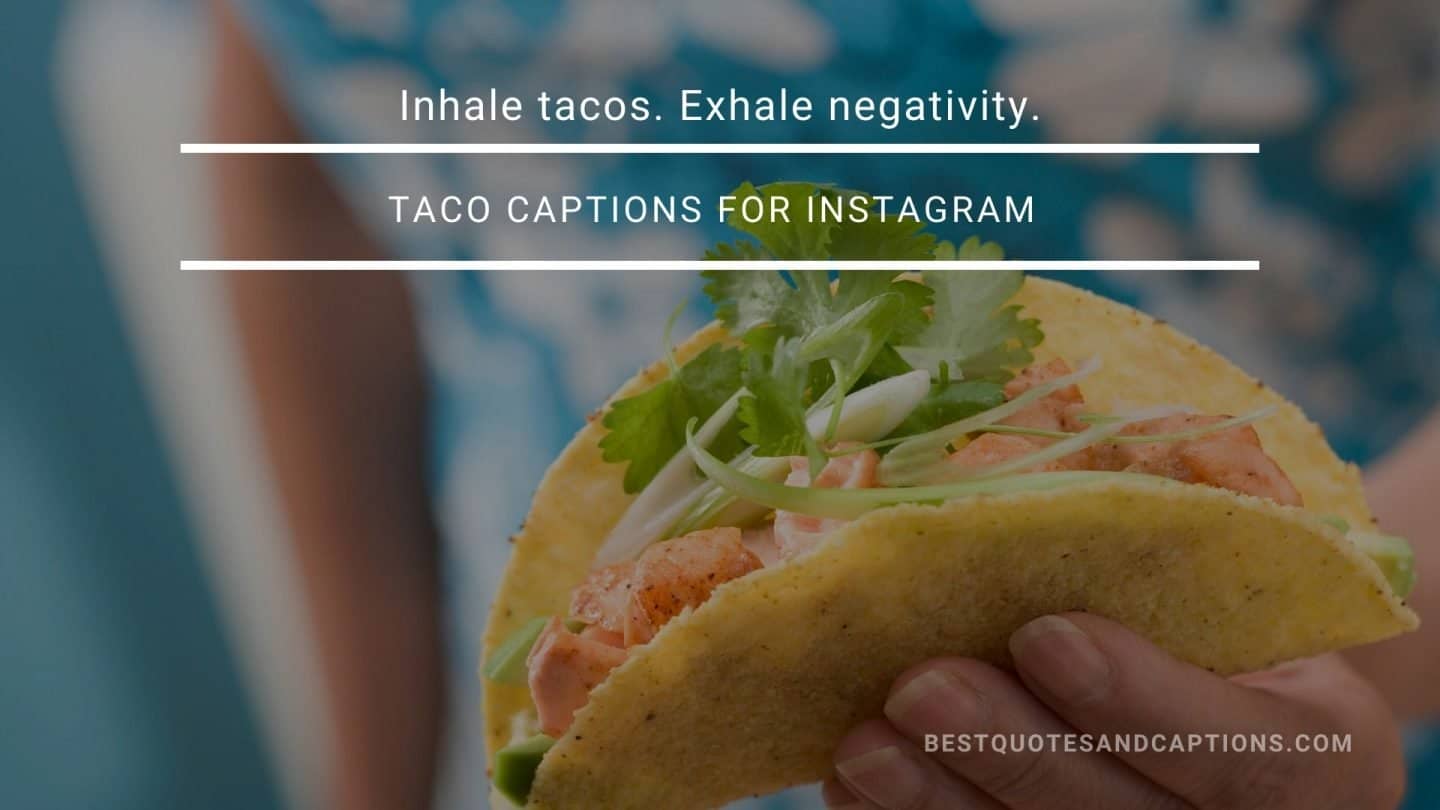 Recommended: Love Hashtags for Instagram
Funny taco captions
Tacos can be the butt of a joke, or just a way to share a laugh with someone you love. To get a giggle out of your taco caption, select one of the taco caption ideas below!
All I'm saying is that you've never seen me crying and eating tacos at the same time.
Don't trust people who don't like tacos.
I can't make everyone happy. I'm not a taco.
I may look like I'm paying attention, but I'm really just thinking about tacos.
I wish I was full of tacos instead of emotions.
I'm sorry for what I said before I had tacos.
Tacos are the answer, it doesn't matter what the question is.
Tacos with a side of tacos please.
Thank goodness I don't have to hunt for food… I don't even know where tacos live.
The early bird gets the worm. I'll sleep in and have tacos.
Wanna see a magic trick? I can make these tacos disappear.
Why go wine tasting when you can go taco tasting?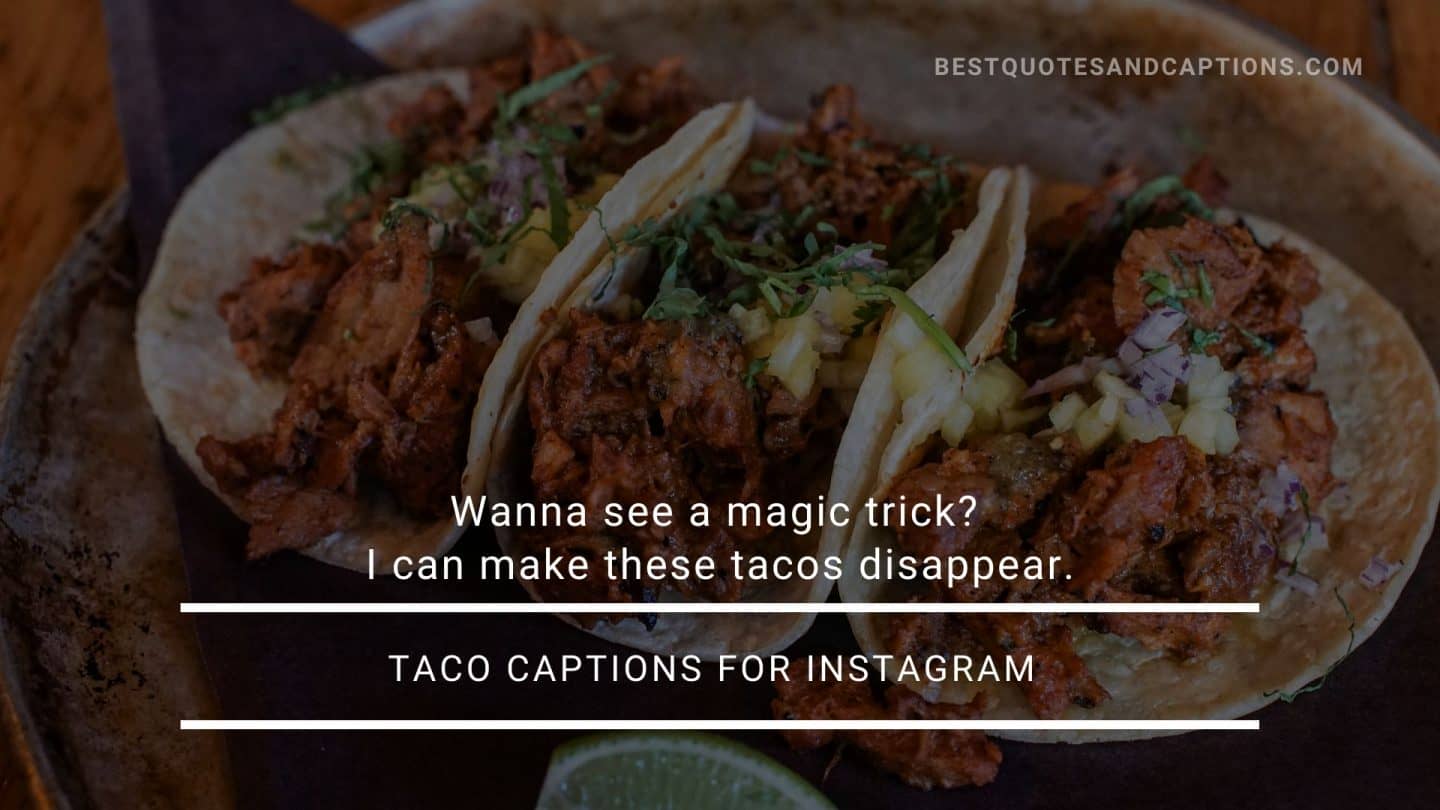 Related: The best happy status for WhatsApp
Terrific taco puns
Is there any more clever caption for Instagram than a pun? We've come up with a great list of funny taco puns, although some are perhaps more questionable bad Mexican food puns!
"I hate tacos" said no Juan ever.
A flavorful shell-ebration.
Have a specTACOlar day!
I got these fillings for you.
If you don't like tacos, I'm nacho type.
In case of taco emergency, call 9 Juan Juan.
Let's give 'em something to taco about.
Let's taco 'bout it.
Let's taco about awesome you are.
Our tacos are Mexcellent.
Party like a guac star.
SpecTACOlar.
Taco chance on us.
Taco dirty to me.
Taco walk on the wild side.
We're the taco-f the town.
What's happenin', hot sauce?
You are spec-taco-lar.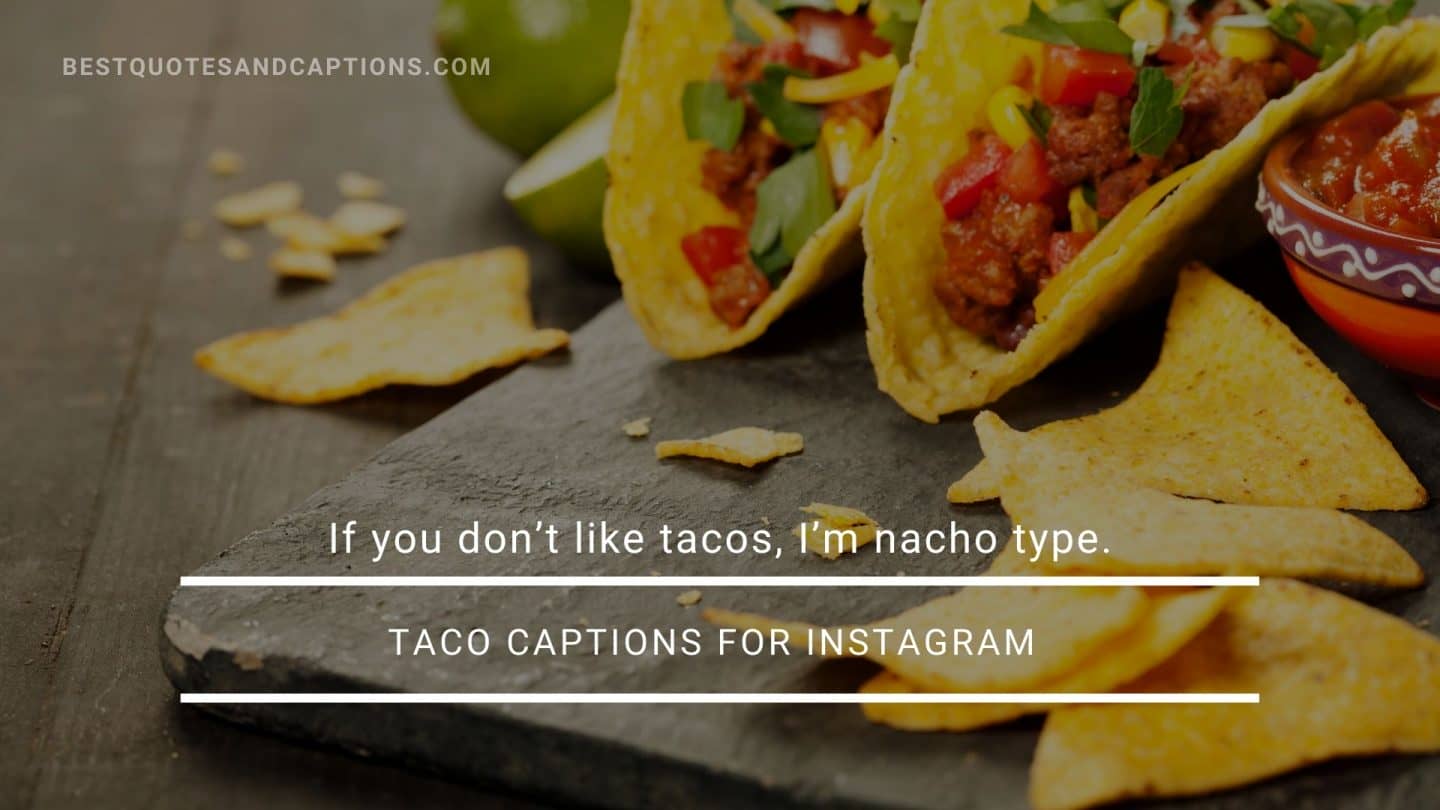 Related: Sassy funny attitude status for WhatsApp
Dieting and taco quotes
While tacos might not be the food for those looking to get fit, there are definitely some great captions about tacos for those wanting a quick quote about dieting and fitness.
A well-balanced diet is a taco in each hand.
I work out so I can eat tacos.
I'd rather eat tacos than be skinny.
I'm into fitness. Fit'ness taco in my mouth.
My head says gym but my heart says tacos.
Swimsuit season is just around the corner, but so is the taco truck.
Tacos — part of a balanced diet.
Tacos are my favorite food group.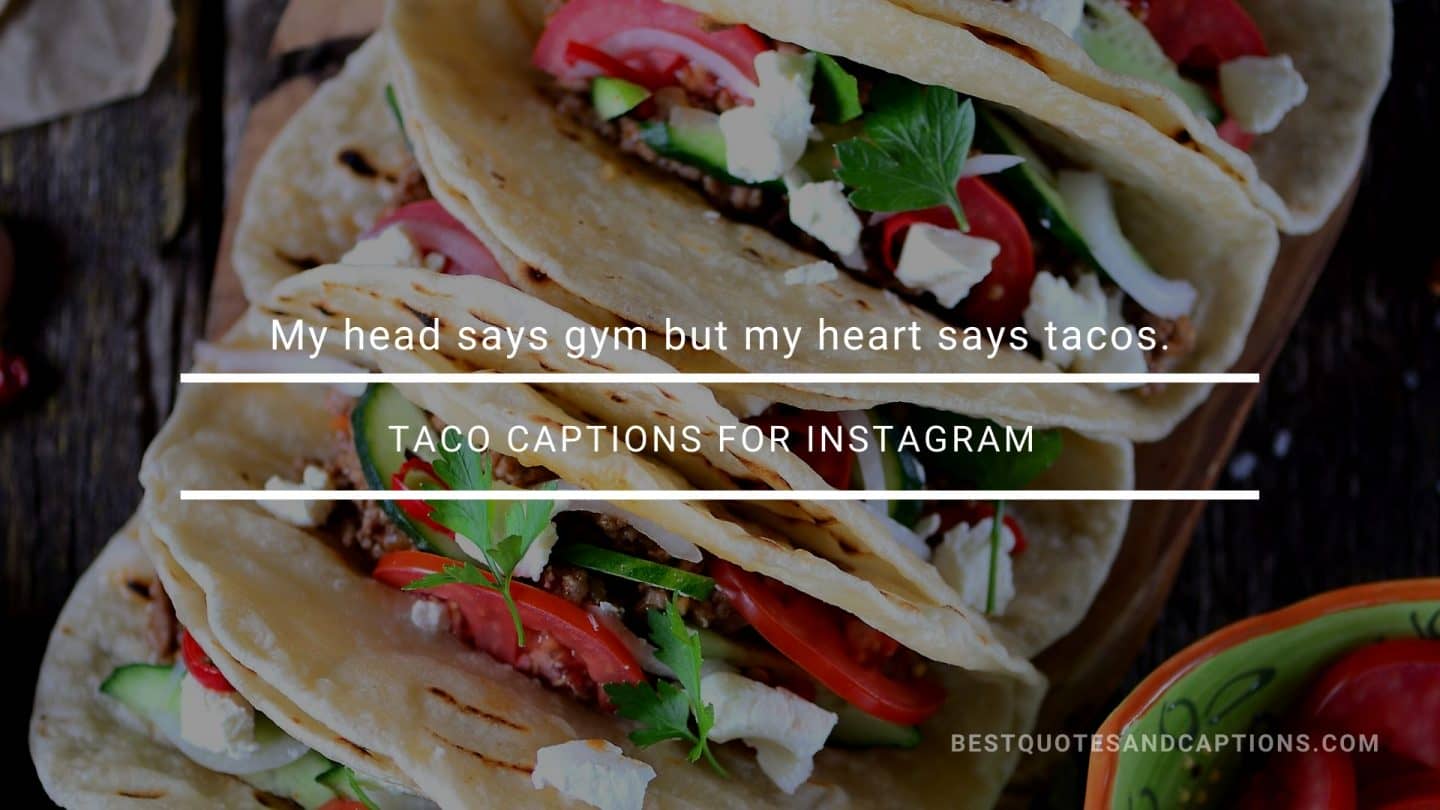 Read next: The best list of fitness and dieting hashtags
Taco Tuesday quotes
So Tuesday has rolled around and you're keen to get out and about, to eat tacos! For the perfect Taco Tuesday slogans, we've put these Mexico food quotes below:
I oppose taco Tuesdays only because it sends the message that other days aren't for tacos.
If this country wants to elect someone with no political experience who is racially insensitive and golfs… In my first 100 days, I will make Taco Tuesday the law. George Lopez
It's tac-o'clock.
Its Tuesday I'm in love.
Live every day like taco Tuesday.
Taco Tuesday.
Tgitt — thank god it's taco Tuesday.
We only eat tacos on days that end in "y".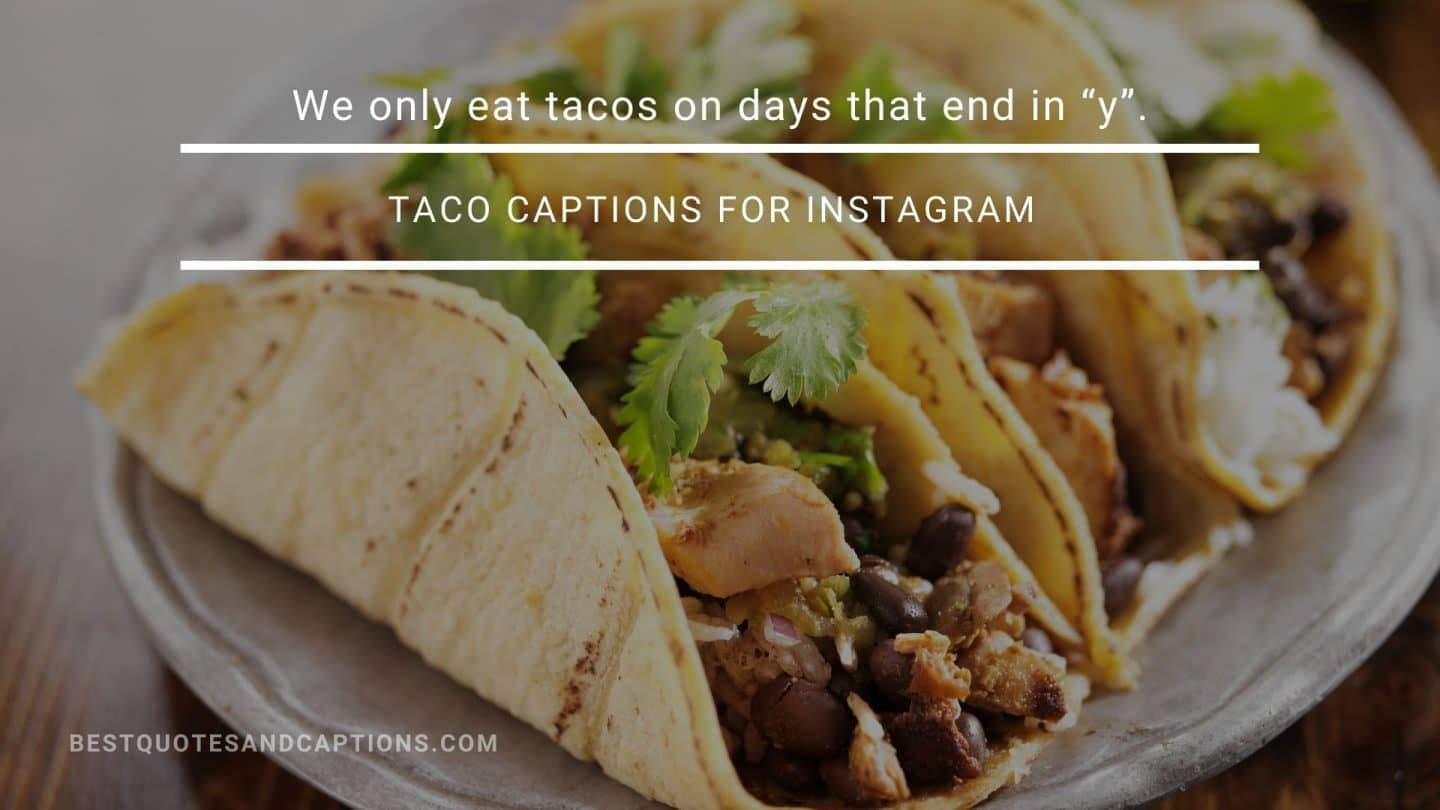 Short taco captions for Instagram
Keep it short and sweet, to ensure the focus remains on your cute taco pictures! Here are a few ideas for taco one liners:
Ain't no party like a taco party.
Eat tacos, take naps.
Every day is taco day.
Have your guac and eat it too.
Less hate, more tacos.
Let's day drink and eat tacos.
Make salsa, not war.
No tickie, no taco.
Pork belly in my belly.
So grateful for tacos.
Taco squad.
Taco tribe.
Tacos & tequila.
Tacos = happiness.
Tacotarian.
Will work for tacos.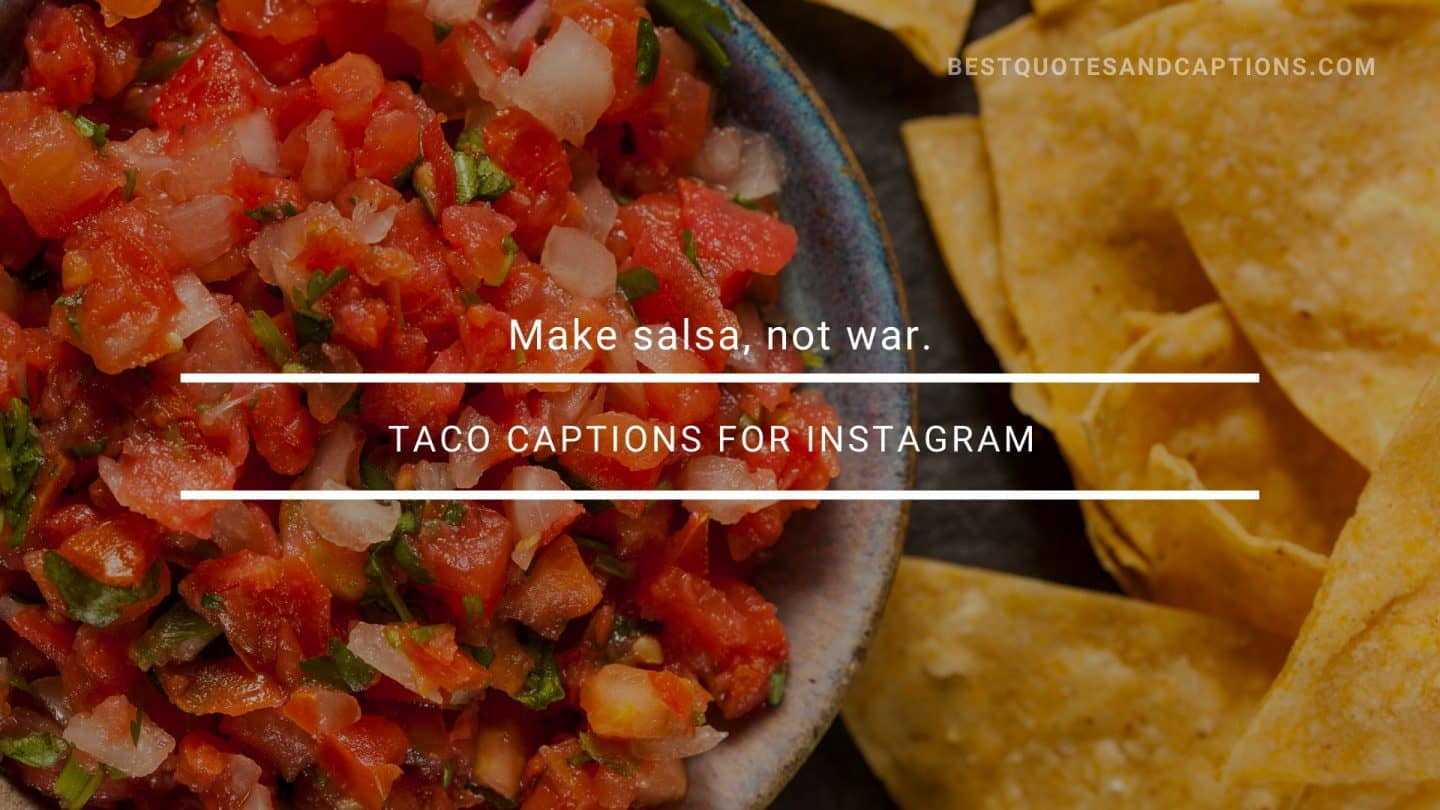 What about the adding some taco Instagram hashtags? Read our Instagram Hashtags Cheat Sheet here!
Good taco Instagram captions
Want even more fabulous taco captions? We've dished up some great taco IG captions for you to use with your photos of tacos:
Daydreaming about tacos.
Don't tell me to stop eating so many tacos. I don't need that kind of negativity in my life.
Hot sauce is like ketchup after it's all grown up.
It's beginning to look a lot like tacos.
My favorite animal is a tacosaurus.
Peace, love, & tacos.
Stressed, blessed, and taco-obsessed.
Tacos are like a hug in a tortilla.
Tacos are the best idea you'll have today.
Tacos, margaritas, siesta, repeat.
The key to happiness? Tacos.
Wake up and smell the tacos.
When the going gets tough, the tough get tacos.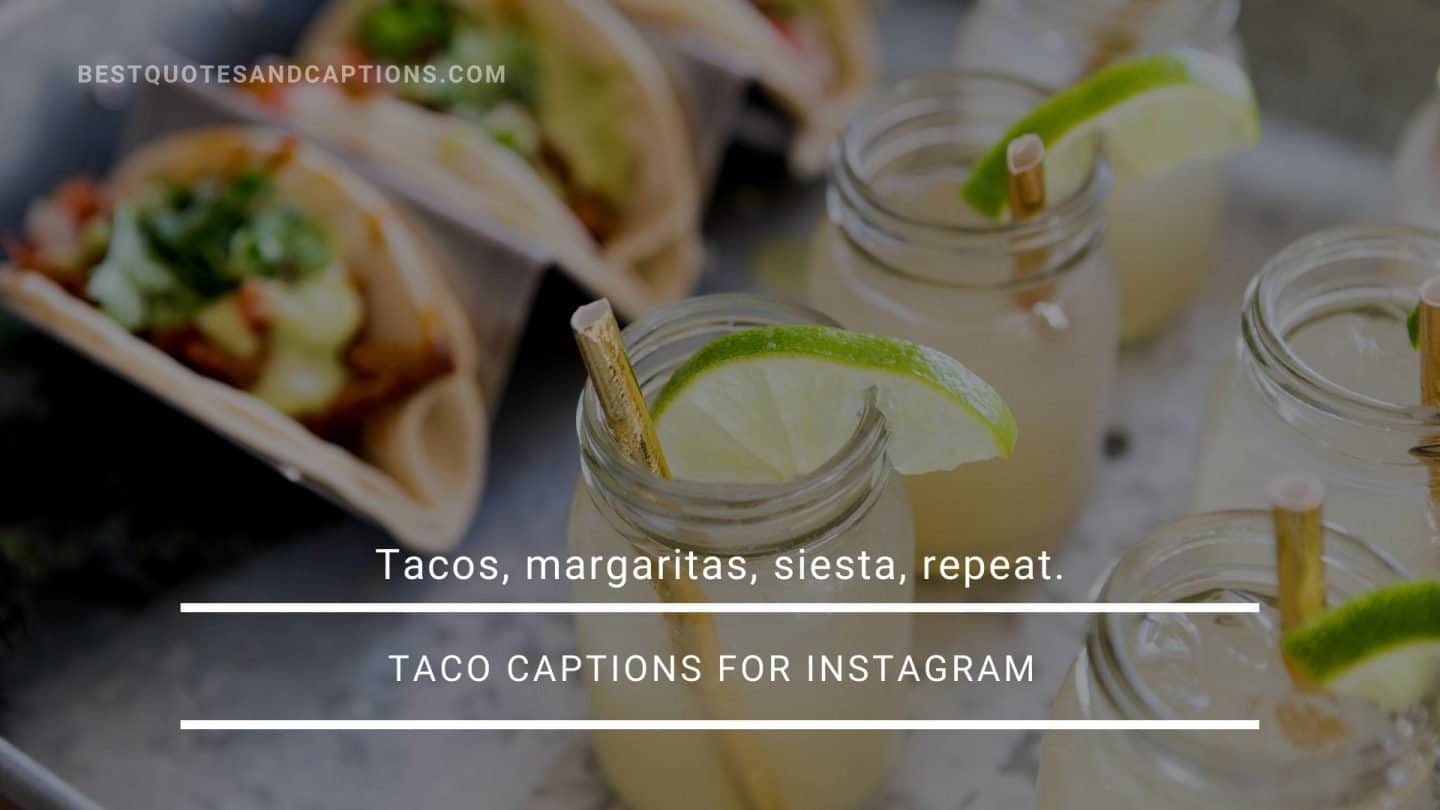 Read next: Ultimate burger captions for Instagram
More-ish taco captions
Still not satisfied? Here's our last attempt to help you find the perfect caption for your taco photo, with a list of even more captions for tacos and funny quotes about tacos:
7 days without tacos makes one weak.
As for me and my house, we will serve tacos.
Craving carnitas.
I don't know much about the Supreme Court. If it's anything like the Supreme Taco, it's like a regular court, but with extra sour cream. Craig Ferguson
I like a nice chicken taco. And of course fajitas. Lil Jon
I like it when a man puts thought into the kind of restaurant we're going to. That doesn't mean it needs to be fancy – some of the best meals of my life have been having a taco on a street corner. Meghan Markle
I've met a few people who were passive-aggressive, but I've never met anyone who was aggressive-passive. I don't want tacos! Maybe.
Life isn't always tacos. But it should be.
Life without tacos is no life at all.
Name three better words than "we're having tacos".
Say no to drugs, say yes to tacos.
Surround yourself with tacos, not negativity.
Tacos are cheaper than therapy.
The country of Mexico has just gotten its first Taco Bell. You're Welcome. Finally, Mexicans will have access to… Mexican food. Bon appetit. I can't imagine how confused they will be when they get a taco. Jon Stewart
The mothership is a taco truck.
Tofu tacos are not Mexican. I think putting tofu on anything and calling it Mexican is an insult to my people. Simone Elkeles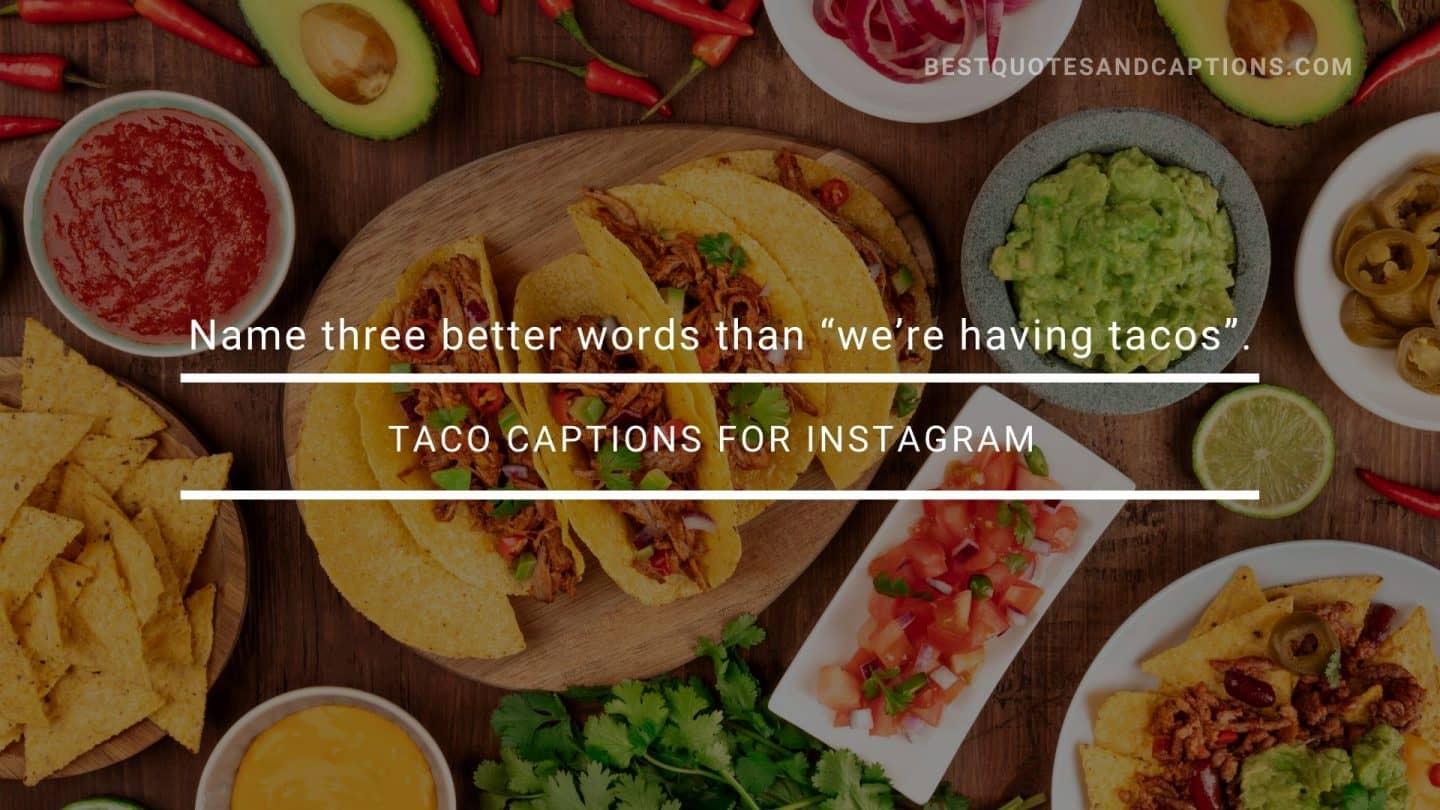 Read next: The best list of motivational captions
Bonus: Margarita captions
What better way to enjoy a taco than to pair it with the perfect drink, a margarita! Just in case you're looking for a margarita-led caption, we thought we'd put down a few ideas:
Health experts: 'Make sure to have 4 servings of fruit per day.' Me: *pushes wedge of lime off the rim and into my margarita* 'Consider it done.'
I was drinking a margarita and the waitress screamed 'does anyone know CPR?' I yelled, 'I know the entire alphabet' and we all laughed and laughed. Well, except one guy.
I wonder if there is a margarita somewhere out there thinking about me too.
Margarita Flowchart. Do you want a margarita? Yes. No. Sure you do.
Margaritas are the answer, but I don't remember the question.
Things to do today: 1) Drink margaritas. 2) Drink more margaritas. Check…and check!
Wanna know the difference between a man and a margarita? Margarita hits the spot every time.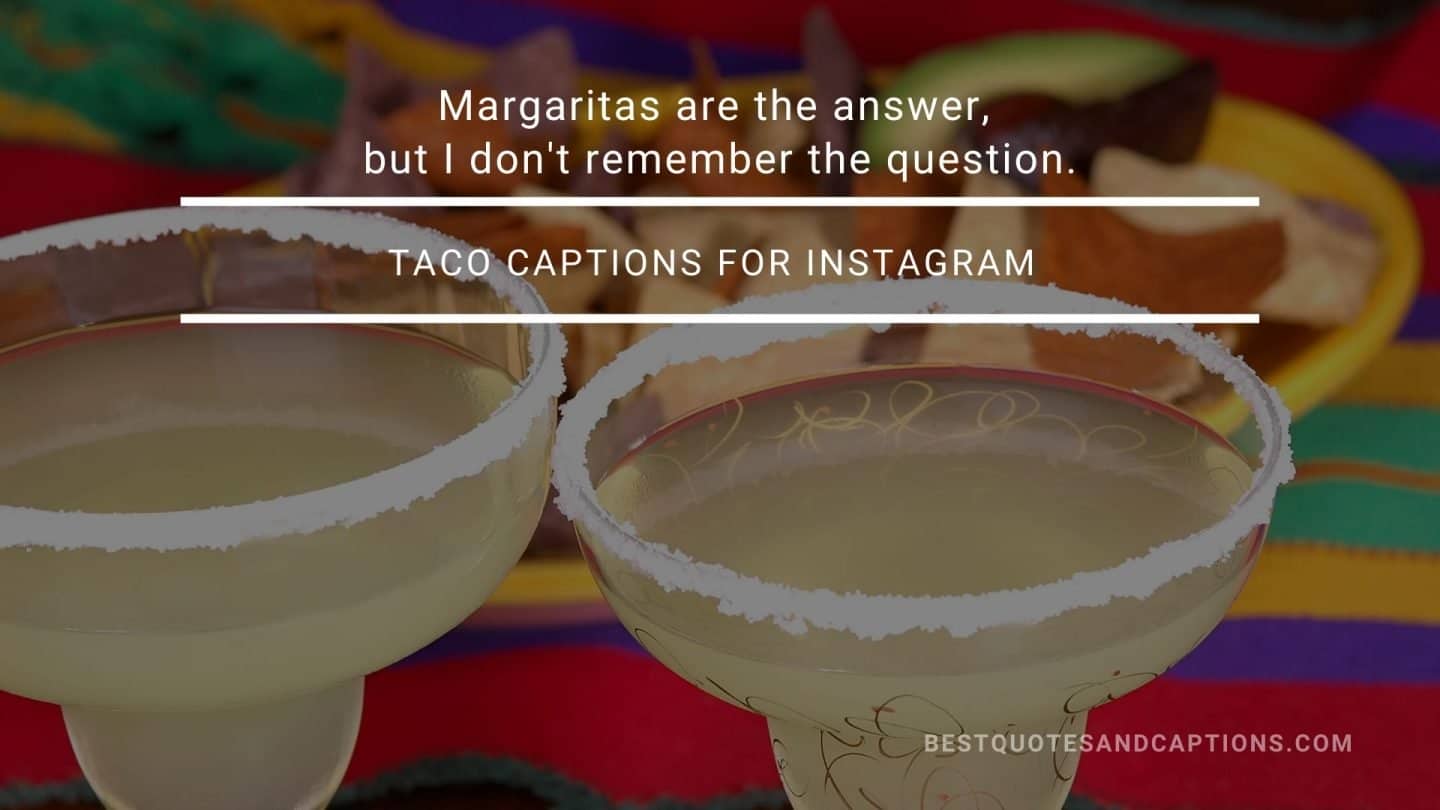 Here's hoping this guide to the ultimate taco captions has served up the perfect saying, quote or caption for your picture on Instagram, Facebook, WhatsApp or whichever social media platform you've chosen. Maybe it has even inspired you to try a new taco recipe or two?
Either way, if we've missed a good one, please drop it in the comments below!
Other essential Instagram growth tools
---
Want to save this for later? Why not pin it…