We 'mustard' you a question: what do you want to say about your beautiful burger? Now we love burger puns as much as the next person, which is why we wanted to help you find the perfect caption for your burger photo in this epic list of over 150 of the best burger captions for Instagram and other social media networks like Facebook, WhatsApp and more!
Whether it's a veggie burger, a meaty beef stack or even a healthy bunless concoction, we've got the ultimate guide to burger quotes and captions. Say cheese and get ready for them!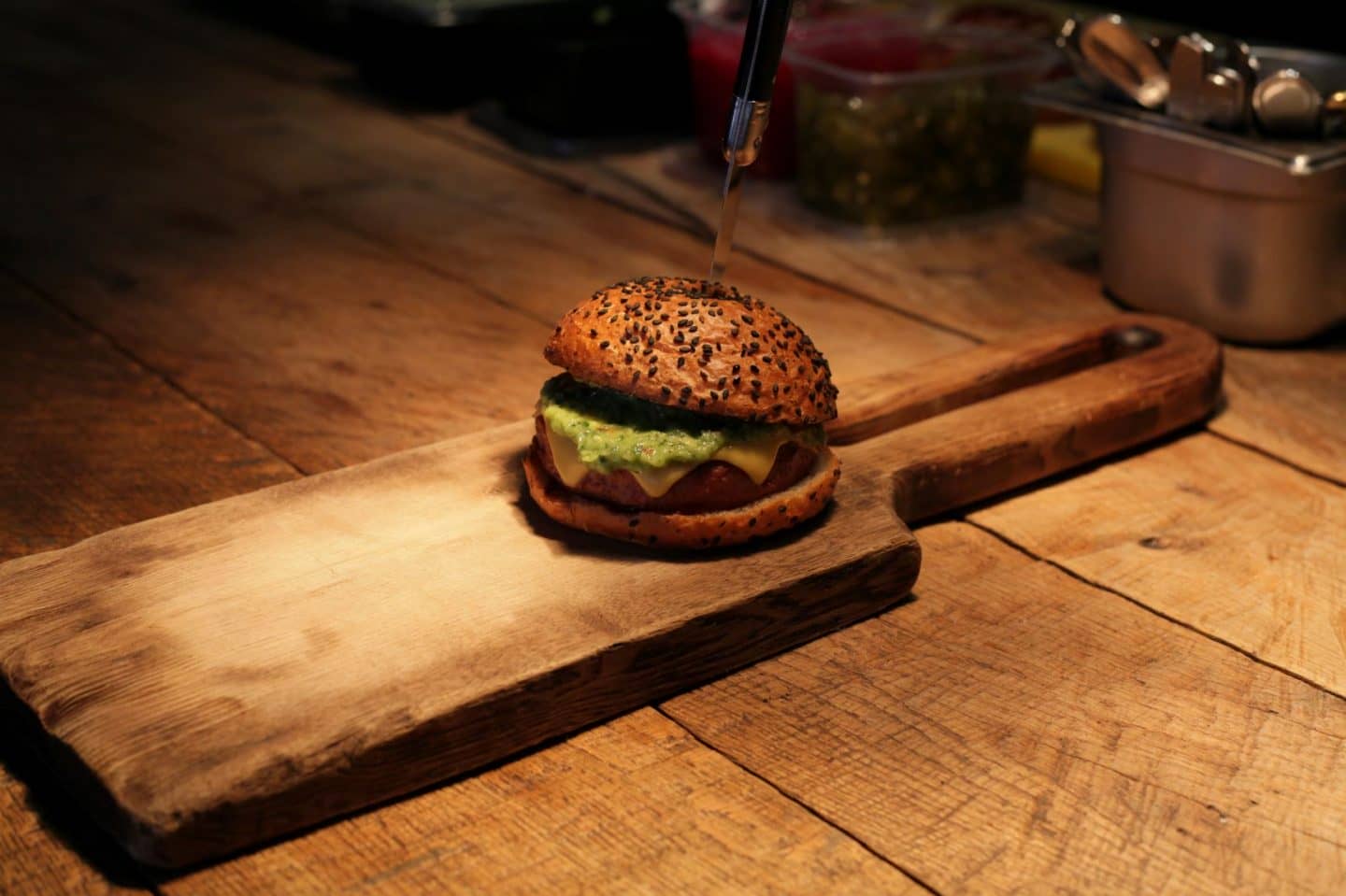 Best burger captions for Instagram
Well of course this article is stuffed with fantastic captions for burgers, with all the different types you can choose from. But, if you have to ask us, which would be our favourites? Here's our top 10…
Don't be sad… we live in a world with cheeseburgers.           
Flipping burgers is not beneath your dignity. Your grandparents had a different word for burger flipping – they called it opportunity. Bill Gates
Grill and chill.            
If it's not too late, make it a cheese-burger. Lyle Lovett
If you put an egg on a burger, you've got breakfast.
It has lettuce and tomato… so a burger is basically a salad.  
Life is too short to miss out on beautiful things like a double cheeseburger. Channing Tatum
Meat or veggie, all burgers are beautiful.     
The journey of a thousand pounds begins with a single burger. Chris O'Brien
You hamburgled my heart.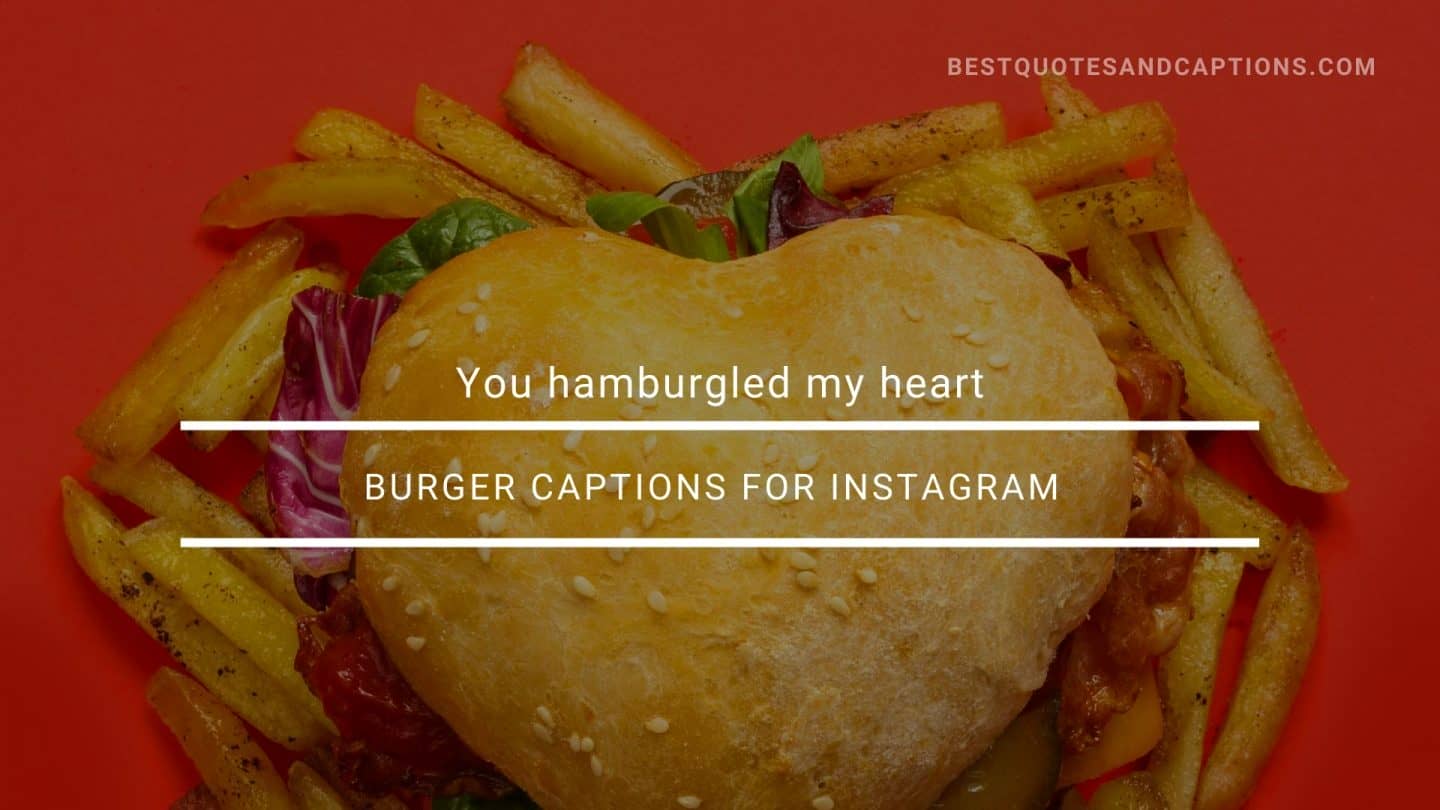 Want to add a side of fries or some ice cream for dessert in your caption? Check out our ultimate list of food Instagram captions.
Great eating burger quotes
Quotes are a great way to start an Instagram burger caption – celebrities are often great at making funny, cute comments that work well in captions. With that in mind, we've curated some of the best burger funny quotes including everything from motivational captions to cheeseburger quotes!
A burger is a black dress; a kebab is a Met Gala gown. Samin Nosrat      
A burger is something anyone can do, just follow the rules. Anthony Bourdain
A hamburger is an icon of layered circles, the circle being at once the most spiritual and the most sensual of shapes. Tom Robbins
Hamburgers! The cornerstone of any nutritious breakfast. Quentin Tarantino
I am burger obsessed and I love playing with the idea of what a burger can be for people. I make burgers out of everything from grains to seafood to, of course, browned meats of every kind. What I love about the burger is it makes food accessible and fun for everyone. Rachael Ray
I don't know if you call a burger recession food. It's comfort food. Michael Mina
I enjoy the burger joint the same way I enjoy fancy meals. Aby Rosen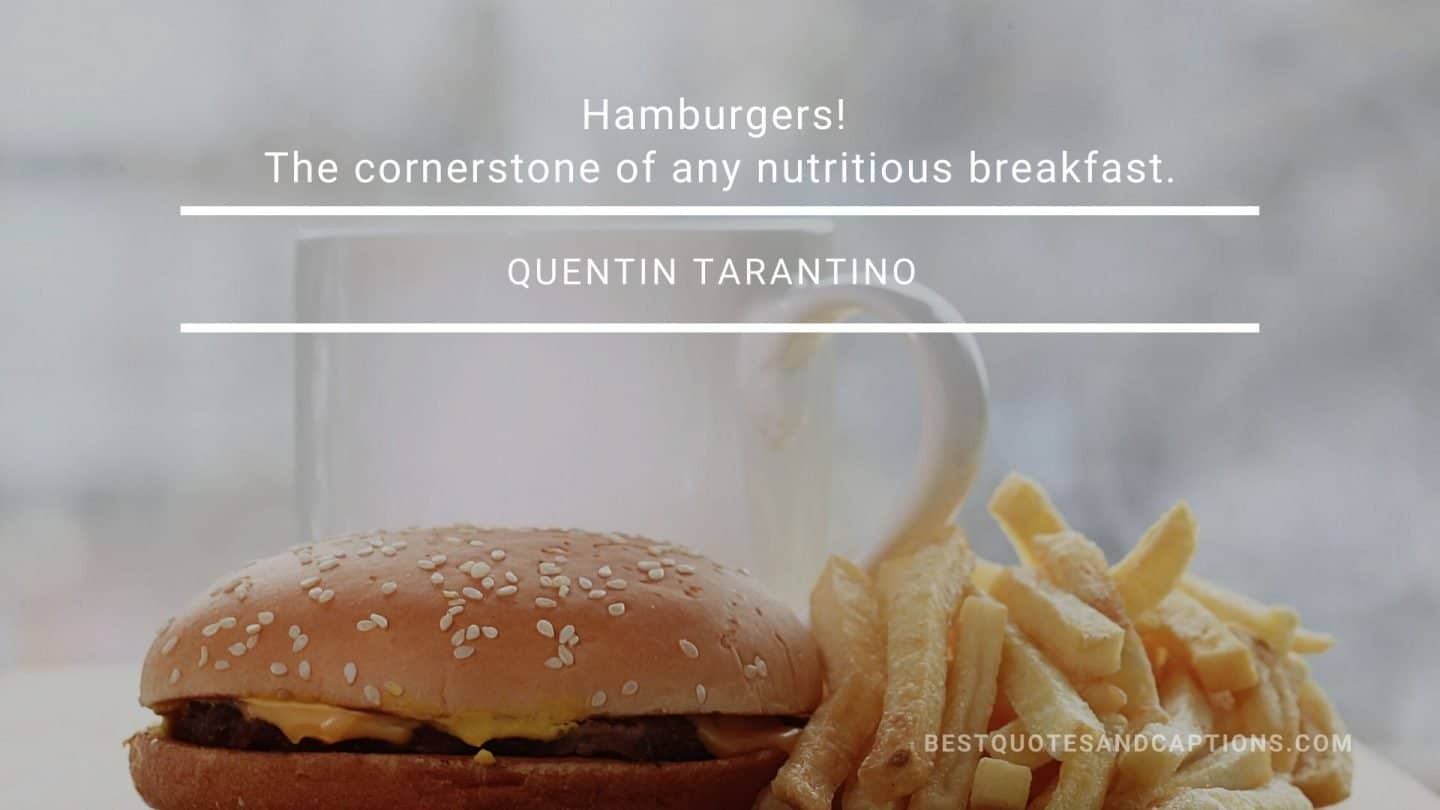 I love french fries, I like a good burger, and I like pie. And that's okay. I would be depressed if I felt I could never eat the things that I love. I also don't want my girls to be obsessed about food. We don't have a "no junk food" rule – I just want them to think about their choices. Michelle Obama
I still eat a burger at a counter with ketchup dripping down my face. Scarlett Johansson
I would rather be having a burger and beers with my mates but I can't do that when I know I've got to dance. Michael Flatley
I'm a big hiker, and I like boxing. I mean, I love a good burger, but I keep things in moderation. Guy Fieri             
It requires a certain kind of mind to see beauty in a hamburger bun. Ray Kroc
Just because people want to eat the burger doesn't mean they want to meet the cow. Steve Buscemi
Once you kill a cow, you gotta make a burger. Lady Gaga
Sacred cows make the best hamburger. Mark Twain
We all need to make time for a burger once in a while. Erica Durance
When people pile seven things onto one burger, it drives me nuts! Bobby Flay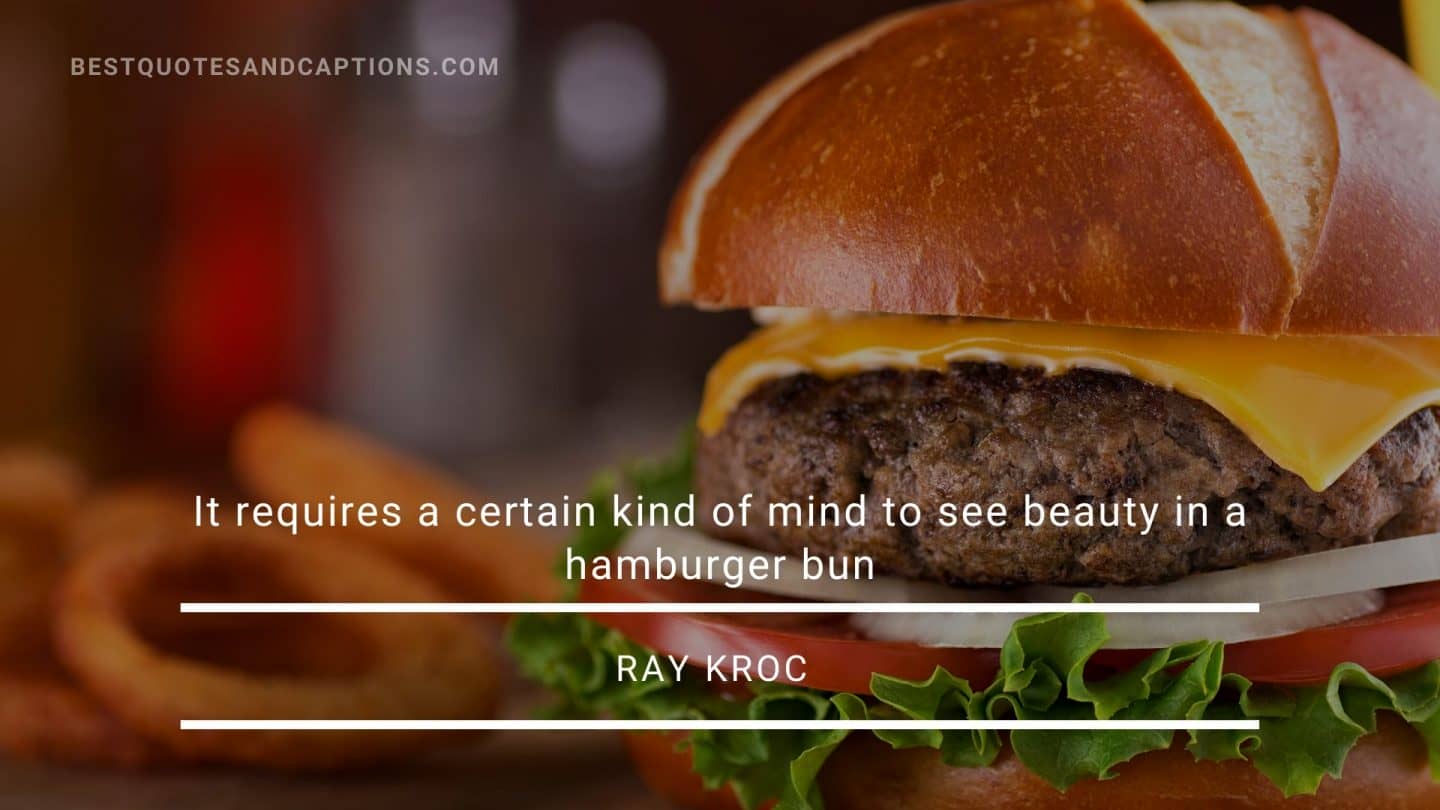 More a pizza kind of person? Check out our list of the best pizza captions here.
Funny burger puns
Puns are great for buns! No, but seriously, puns are a humorous way to create an Instagram caption for burgers, and they're also easy and short! Here are some of our favourite burger puns for your burger posts:
Friends with burger-fits.
Fry day is the best day.
It's a messy bun kind of day.
Let's meat up…
Nice buns.
Nice to meat you.
Our abc's — always be cheesin'.
Our pickles are kind of a big dill.
So… we meat again.
Suns out, buns out.
The meat is on.
You're the only bun for me.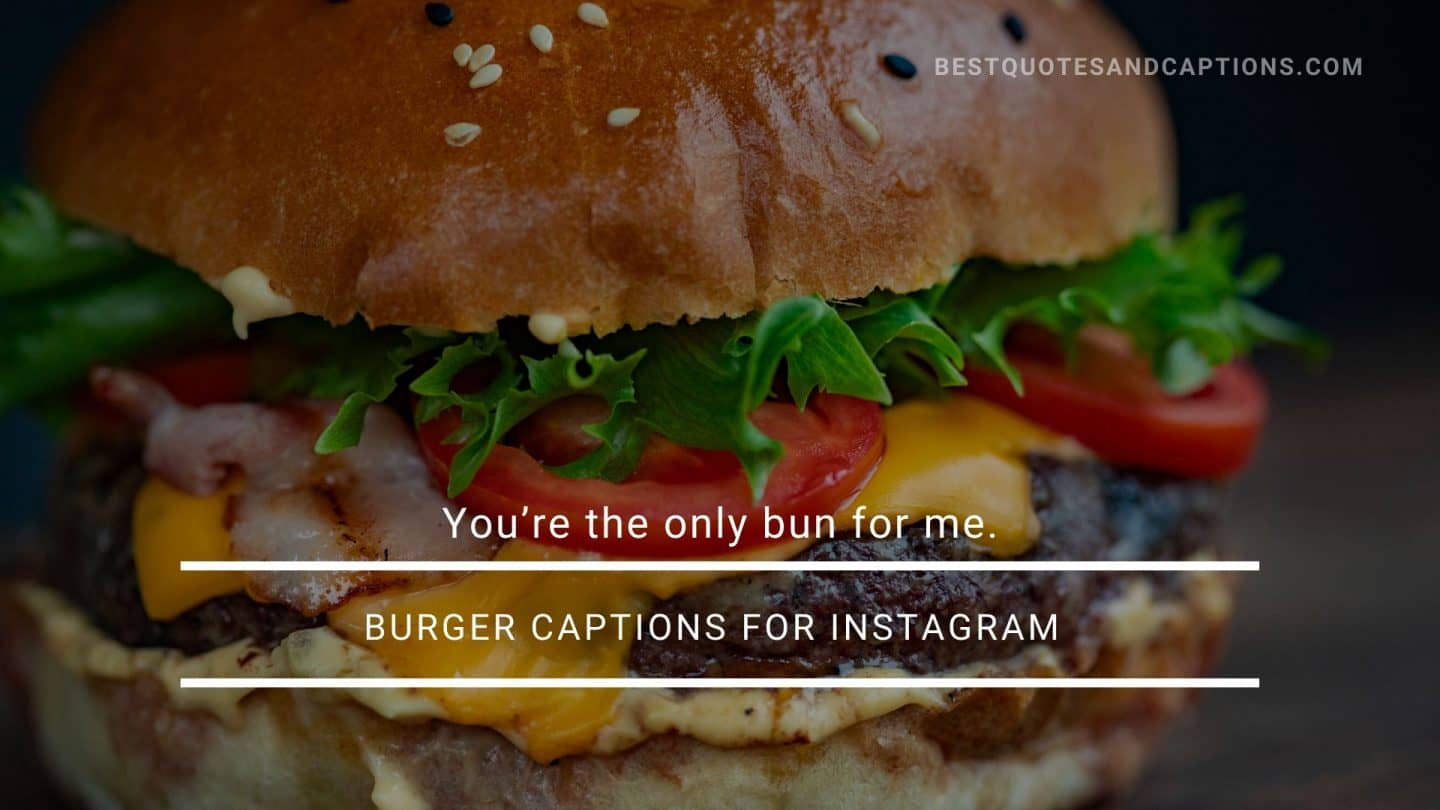 Related: The best happy status for WhatsApp
Funny burger captions for Instagram
Don't fancy a pun but still want to make your Instagram followers giggle over your pics? We've collected some of the best funny captions for burgers to pick from below!
Bacon — it's like meat candy.
Cheeseburgers are proof that God loves us.
Come for the burger, stay for the fries.
I'm into fitness… fitness whole burger in my mouth.
I'm sorry for what I said before I had my burger.
in a relationship… with this burger.
Is it a food baby? Nah, just a burger.
Lady in the streets, freak when she eats (cheeseburgers).
My heart belongs to burgers.
So many burgers, so little time.
The only bad burger is the one you didn't eat.
This burger has too much cheese, said no one ever.
What's slower — a microwave minute, or a "waiting for my burger" minute?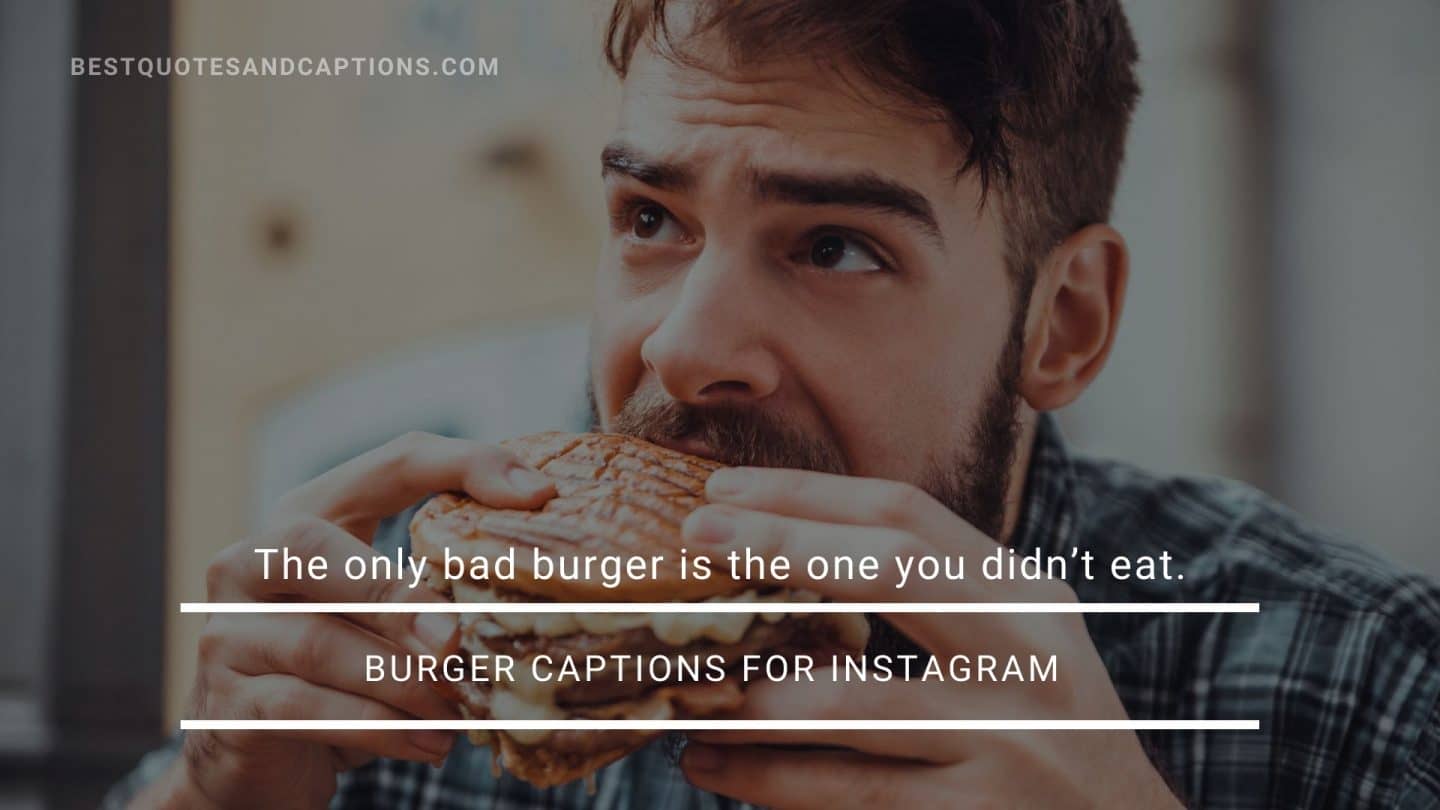 If you're wanting to make a real impact on your Instagram engagement, we'd suggest that you look into Ingramer!

With a full suite of tools, Ingramer acts as an automation partner – essentially the most powerful way to grow your account. It includes hashtag generators, and Instagram Downloader and a Story Viewer that watches other accounts' stories in a bid to attract them to follow you. With advanced targeting filters and an autobot, this is currently the best growth tool on the market.

Sign up here and use SCRIBESMEDIA to save up to 22% on some of the features!
Captions for burger lovers
Is there anything like a loaded burger that warms your heart? We love burgers as much as you probably do, which is why we looked for heart-warming quotes about burgers to include!
A burger is meant to be eaten like you love it.
A burger without cheese is like a hug without a squeeze.
A perfectly round quarter pound.
Always a good time for burgers.
Burgers are our love language.
Heaven between two buns.
I only have eyes for burgers and fries.
Love is in the air, and it's medium rare.
Perfect burgers, perfect date.
Taylor Swift actually wrote "Gorgeous" about this burger.
Treat yo'self (to a burger).
We followed our hearts and it led us to burgers.
We go together like a burger and fries.
When life throws you a burger, eat it.
Yeah, i lift…this burger to my mouth.
You did something today to deserve a burger.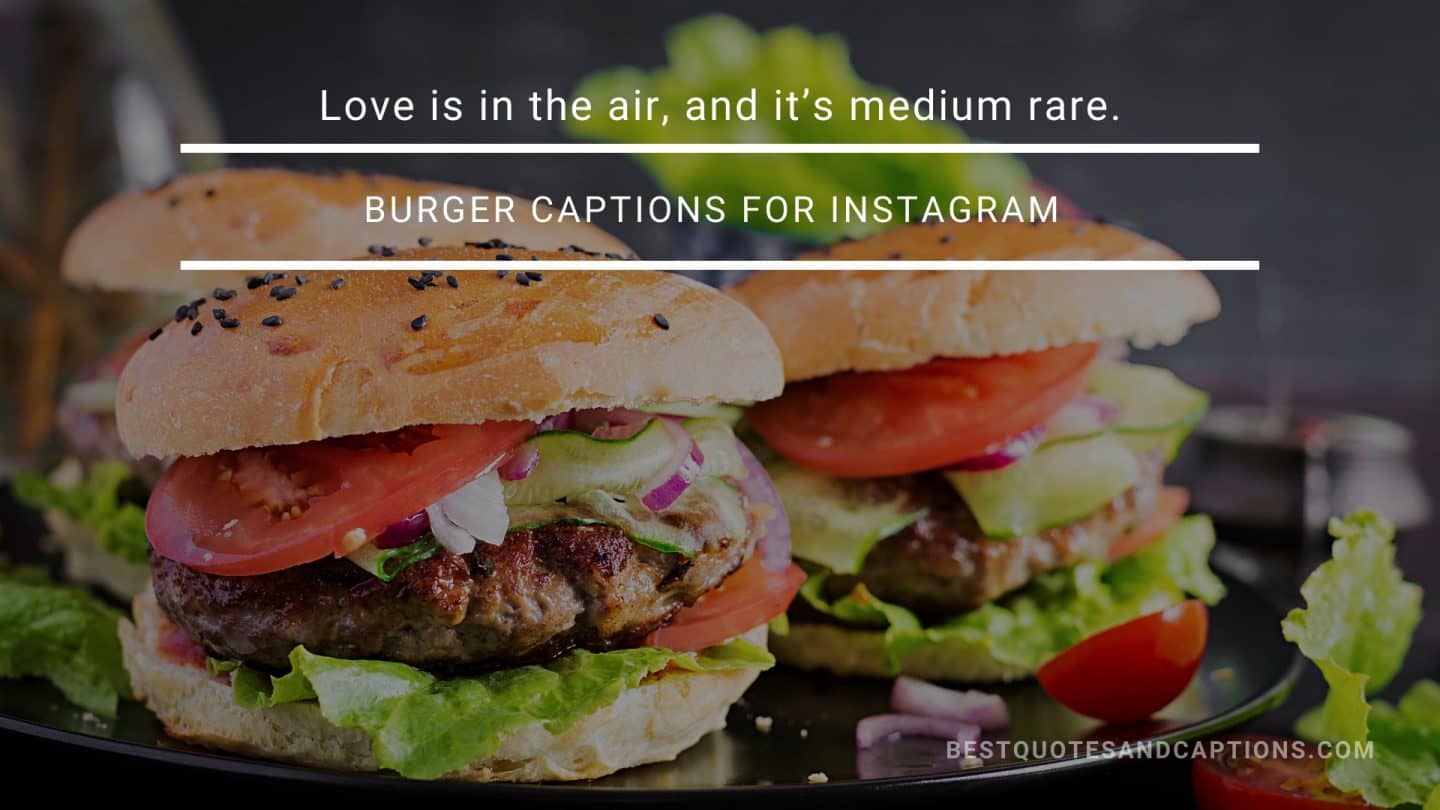 Recommended: Love Hashtags for Instagram
Healthy burger captions about dieting and fitness
Now it seems like burgers have nothing to do with dieting, and we definitely think they shouldn't! But, there are lots of people trying to drop a bit of weight that see burgers as their nemesis. We're here to help you find the right caption for your healthy burger, or why you just have to break your diet for a bacon burger and a side of fries!
A balanced diet is a burger in each hand.             
Body by burgers.             
Burgers — the ultimate cheat meal.       
Burgers are my favorite food group.      
Everyone likes a burger now and then, and that's absolutely fine. Steve Easterbrook     
Extra beef, hold the lettuce leaf.             
Food rules. Little rivals the pleasure of tearing into a glistening burger. Mary H.K. Choi  
I enjoy healthy foods but I'm not scared to have a cheat meal or cheat day, have a burger or whatever. Jimi Manuwa               
I hate eating vegetables. The only vegetables I eat are lettuce on a burger. Chance The Rapper 
I work out because I love burgers.          
I'm an extremist. Either I'm being healthy and organic, or I want a big, juicy In-N-Out burger, I want it all now! It sure makes me happy. Paula Patton
I'm stopped. I'll never eat another burger. Oprah Winfrey
I've always said, 'Eat clean to stay fit, have a burger to stay sane.' Gigi Hadid
So what I did was stuff my face with anything around, any old rubbish, burgers, chocolate, crisps, fish and chips, loads of it, till I felt sick – but at least I'd had the pleasure of stuffing my face and feeling really full. John Prescott
You need a good support system when you're trying to make positive lifestyle changes. If everyone is eating burgers and fries while you're having fish and salad, it's easy to lose your willpower. Bob Harper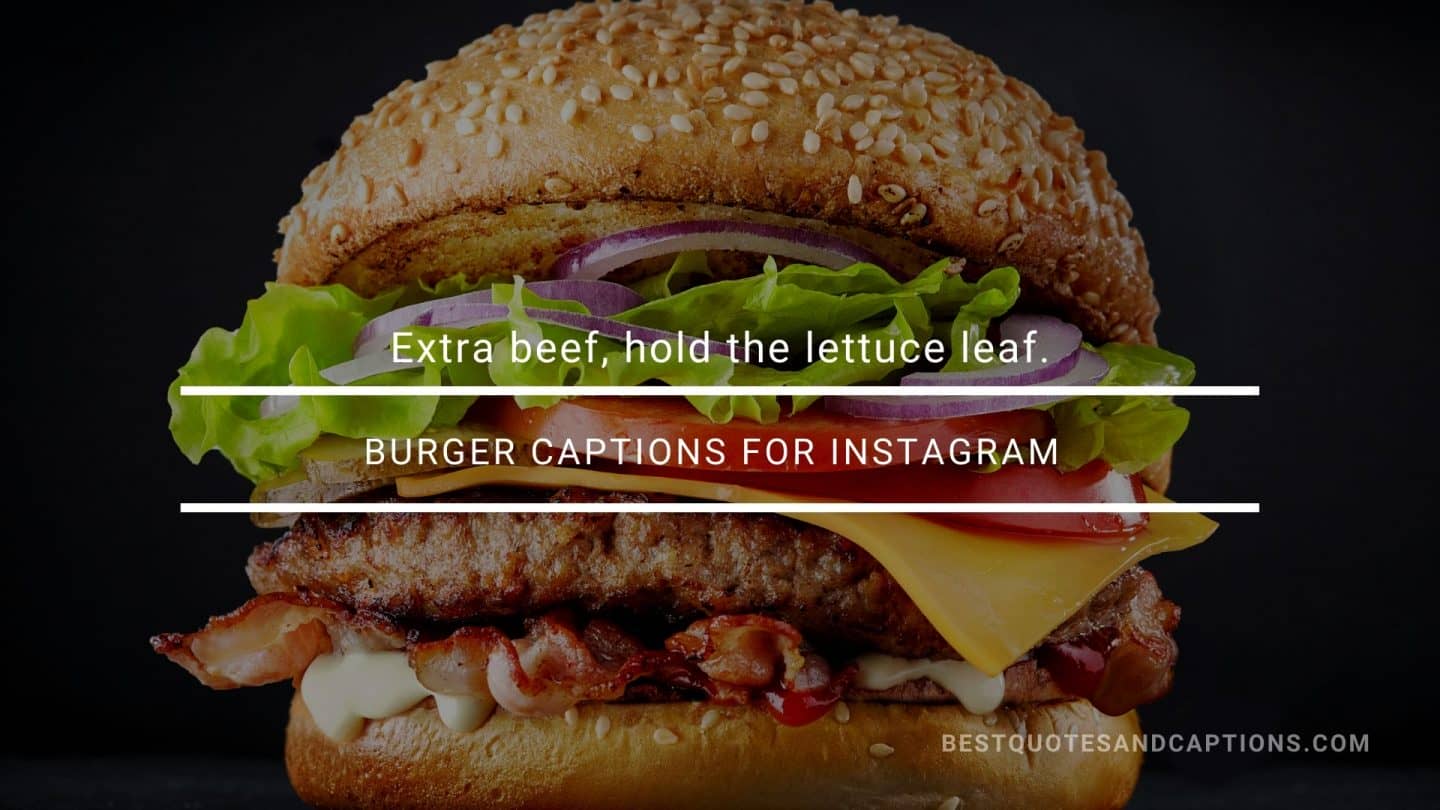 Read next: The best fitness and dieting hashtags
Hamburger captions for your country
Need a caption for Burger King? Or why the States is the pinnacle for fast food? We've put together some awesome captions that are perfect for your country, or to reflect how the US has invented (well, some say) and perfected the art of the burger.
Anybody who doesn't think that the best hamburger place in the world is in his hometown is a sissy. Calvin Trillin
But once in a while you might see me at In and Out Burger; they make the best fast food hamburgers around. Thomas Keller
Everyone has a right to a university degree in America, even if it's in Hamburger Technology. Clive James
I never needed much, and I never thought I'd get more than what I had. A trip to Burger King was the biggest thing in the world to me. Heaven. Dave Grohl
I would love to eat a really great burger, but it doesn't exist in our part of the world. Rene Redzepi
It is the Americans who have managed to crown minced beef as hamburger, and to send it round the world so that even the fussy French have taken to le boeuf hache, le hambourgaire. Julia Child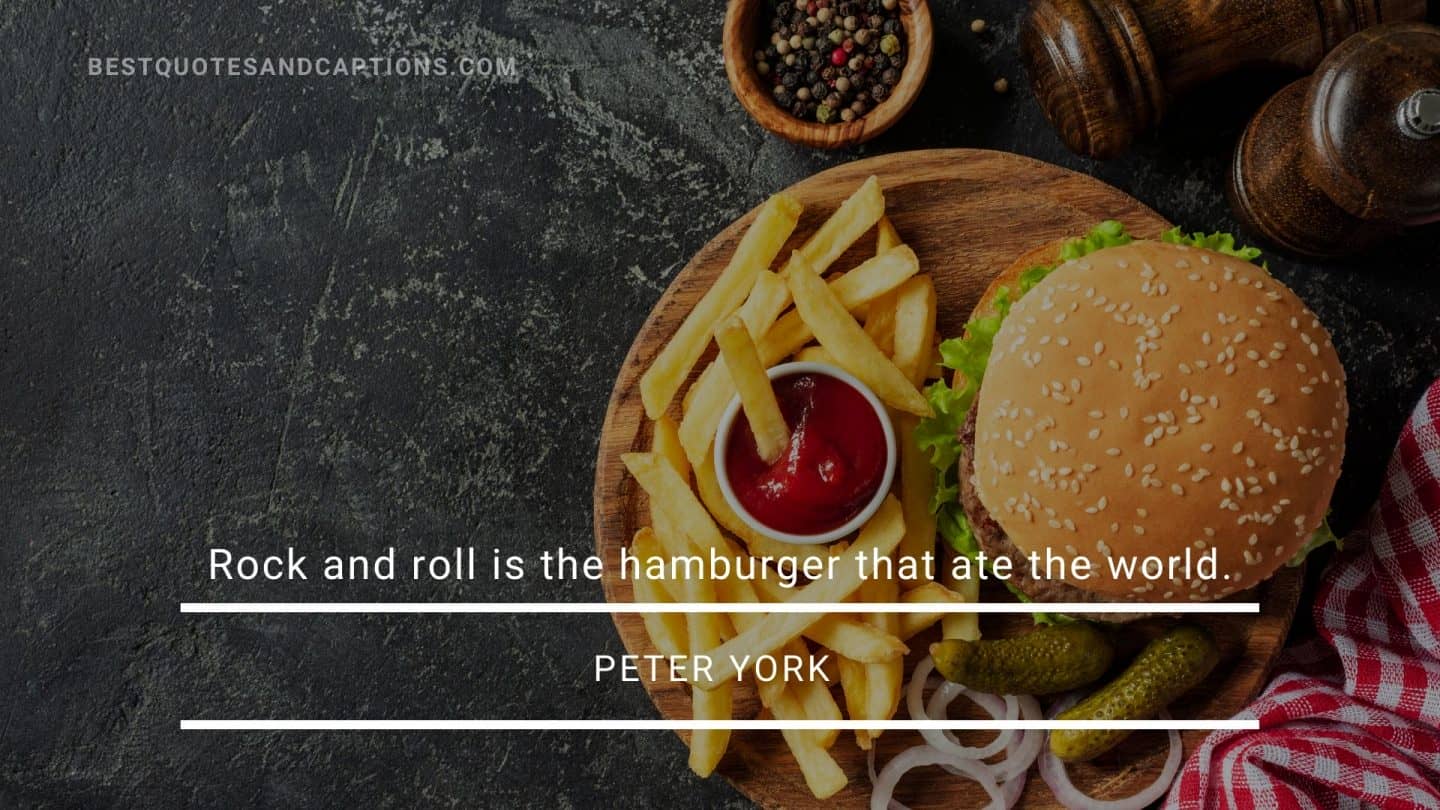 Man who invented the hamburger was smart; man who invented the cheeseburger was a genius. Matthew McConaughey
Rock and roll is the hamburger that ate the world. Peter York
The hamburgers in America are the best in the world. Liam Hemsworth
There are only two things our customers have, time and money – and they don't like spending either one of them, so we better sell them their hamburgers quickly. James McLamore
There are some people who are Burger King people, and there are some people who are McDonald's people. Anderson Cooper           
We take the hamburger business more seriously than anyone else. Ray Kroc
You can find your way across this country using burger joints the way a navigator uses stars. Charles Kuralt
The French like burgers, Madonna and Miami Vice. Nicolas Sarkozy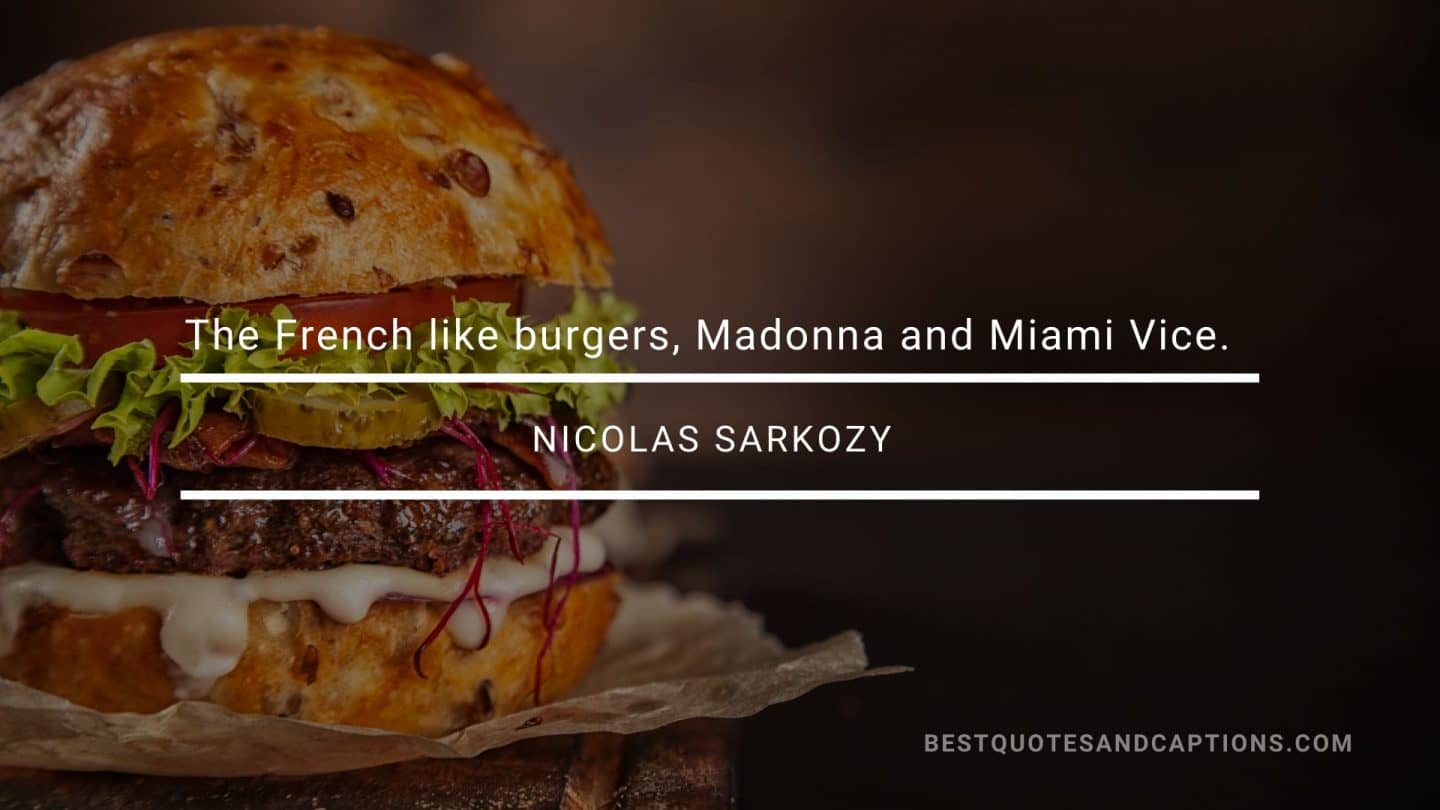 Burger one liners and short burger caption ideas
Need something short and sweet? We like a food caption that is brief, especially since people are lazy and don't like reading a long Instagram post! With that in mind, we've put some cool short burger Instagram captions below!
Burger + bacon = perfect combo.
Burger bae.
Burger goals.
Burger heaven.
Burger is always better.
Burger vibes.
Burgermania.
Burgers cure what ails you.
Burgers make the world go round.
Cheeseburger in paradise.
Gouda is good, but cheddar is better.
Ground beef between your teeth.
I can haz cheezburger?
it's burger o'clock.
Living that burger life.
Say cheese(burgers)!
Stop. Burger time.
That last rogue fry in the bottom of the bag…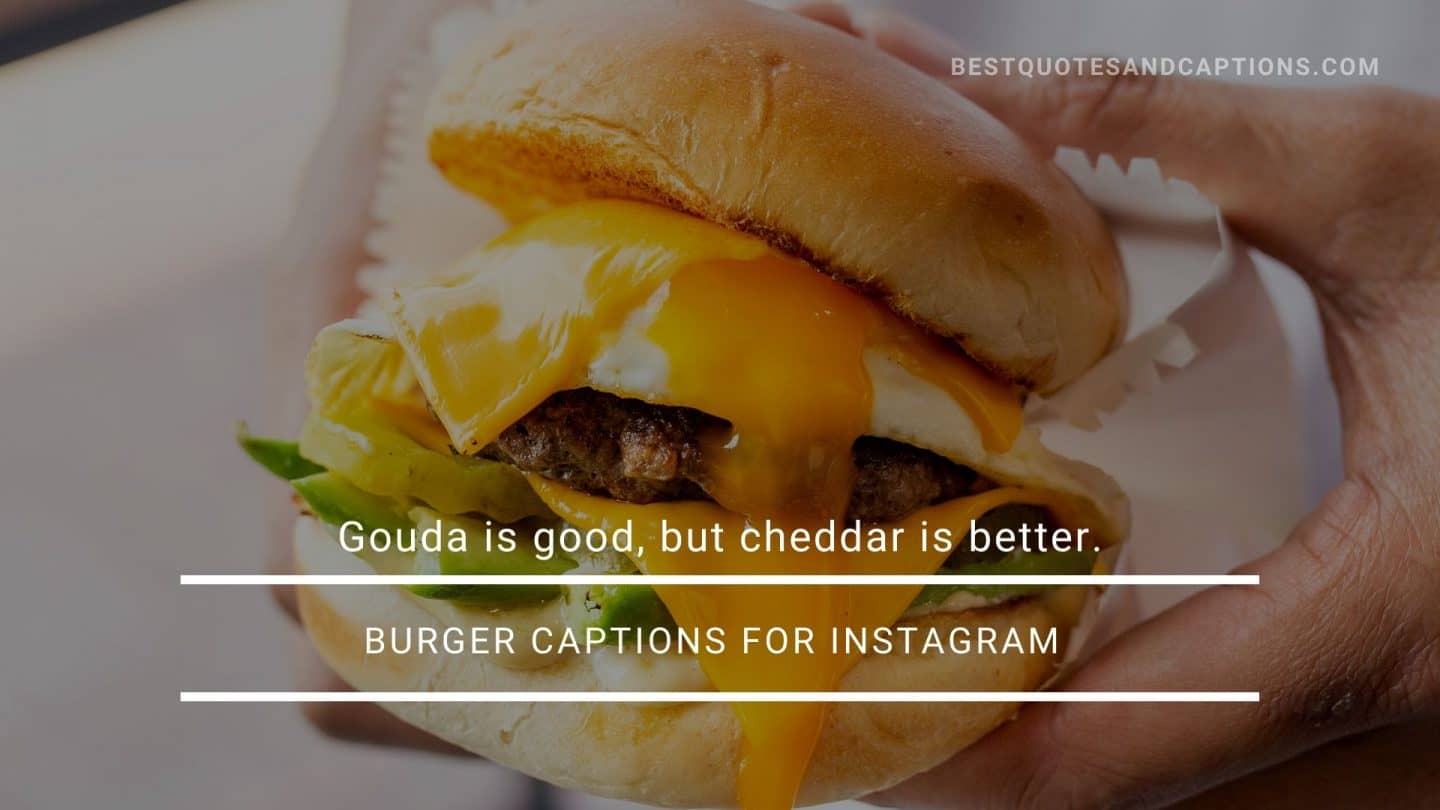 Even more great burger status and captions
None of the above satiated your appetite for hamburger slogans and sayings? Well here are even more burger captions for your pictures!
Burger = good. Cheeseburger = better. Bacon cheeseburger = ?
Burger dates for burger mates.
Burger-holic.
Burger magic.
Burger on the brain.
Burger party at my place.
Burgerlicious.
Burgers are great, but bacon burgers are magic.
Every day is burger day.
Gigi Hadid eats a burger once a week and so do I.
Just like Carrie Bradshaw, I love a good burger.
Let's Get This Bread.
Now THAT is a tasty burger.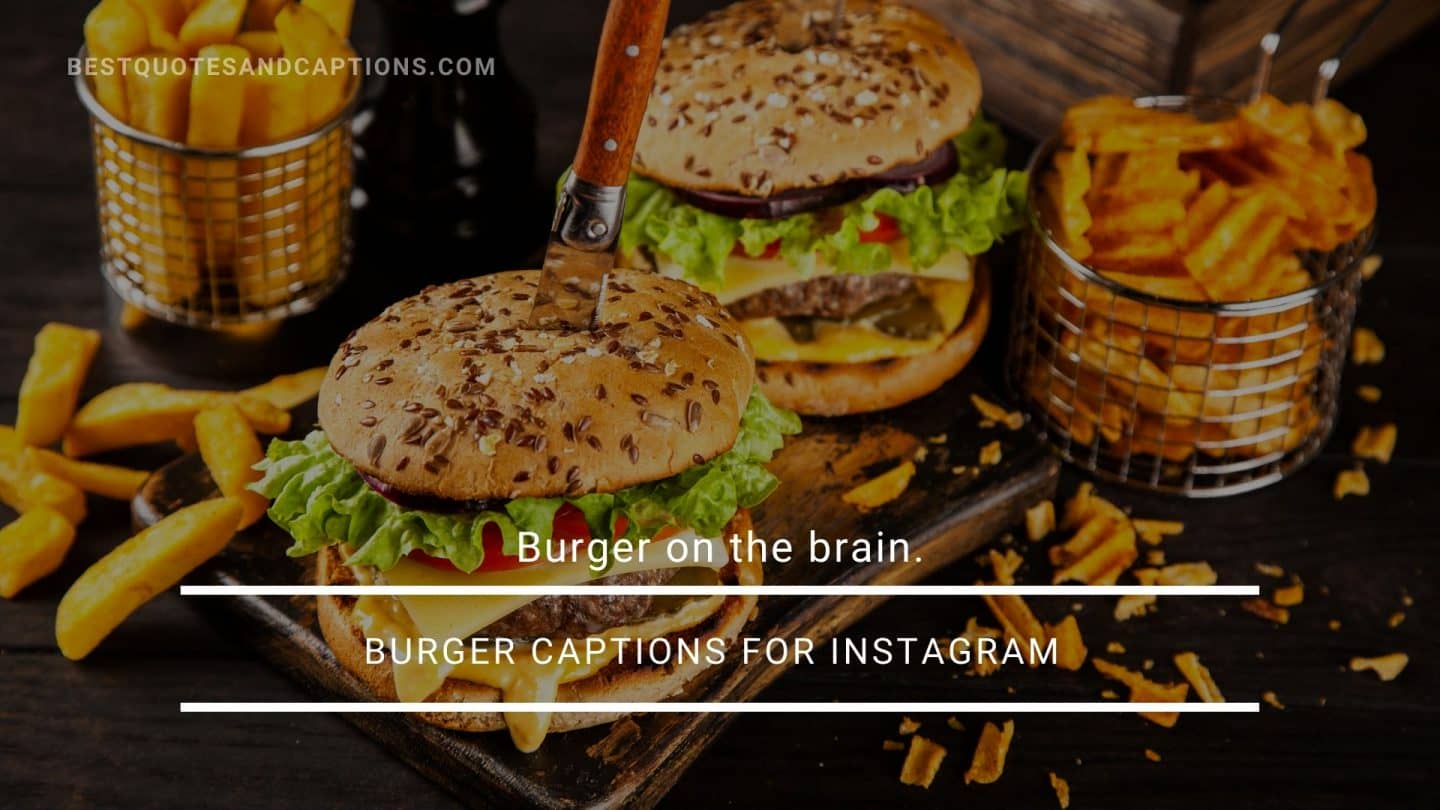 One patty, two patty, three patty, four…
The best burgers are like life — messy and topped with bacon.
The best burgers come from the best cows.
There's no "i" in cheeseburger.
Tomatoes grow up to be ketchup.
We don't want none unless you got buns hun.
Welcome to Good Burger.
Where's the beef?
Who's the burger boss?
Wind in my hair, smell of fries in the air.
You are the bacon to my cheeseburger.
You can finish that cheeseburger. I believe in you.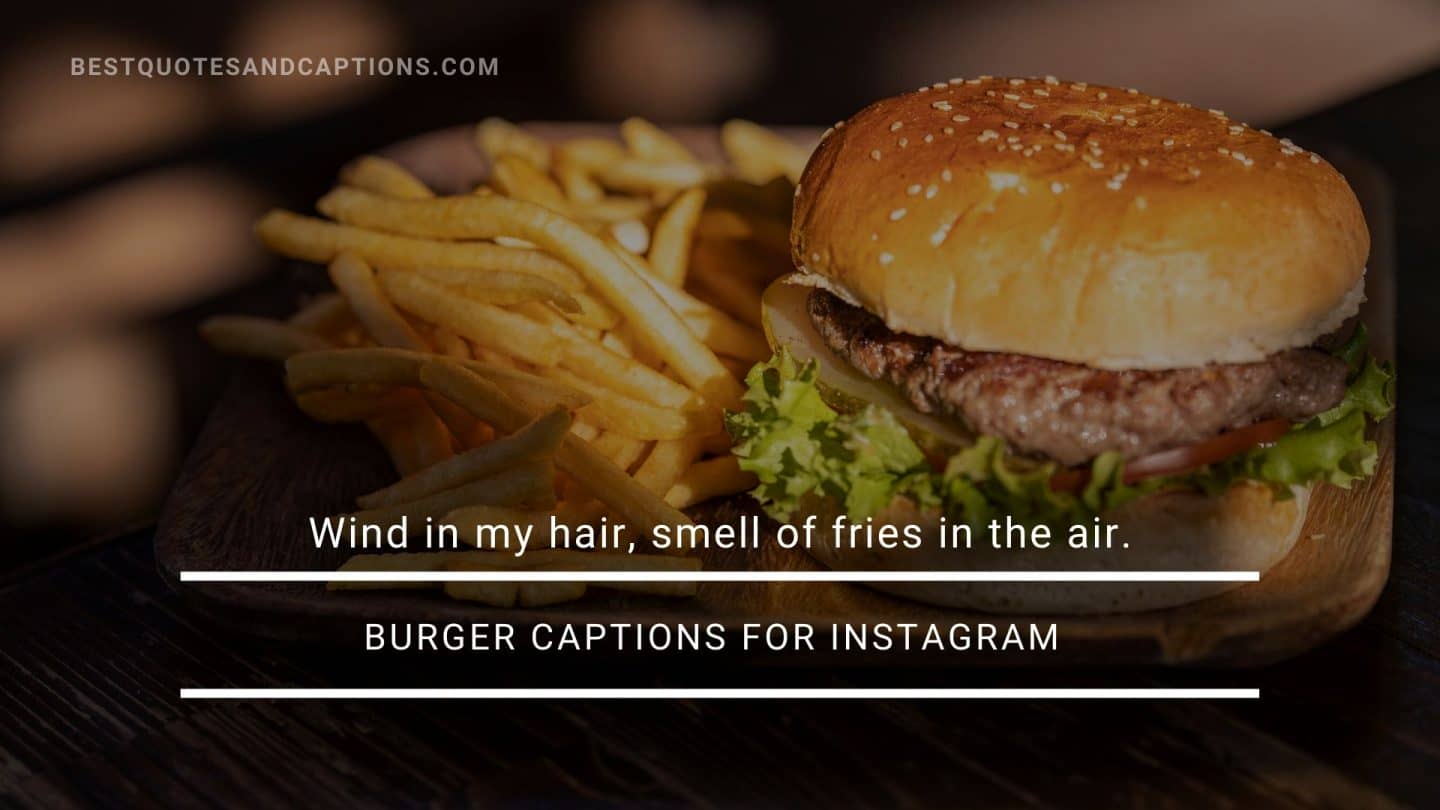 What about Instagram burger hashtags? Read our Instagram Hashtags Cheat Sheet here!
We hope this list has given you some great ideas for burger or restaurant captions, and how to make your burger pictures stand out with fantastic, well-written food captions. Maybe we've even made you think about trying out a new burger recipe or two!
If you loved this article, we do recommend you try some of our other Instagram content, like this article about Sunset Captions or even the best inspirational captions for women.
Other essential Instagram growth tools
---
Want to save this for later? Why not pin it…