Got an amazing sushi pictures for your Instagram feed and don't have the caption to roll with it? We've got you covered! We've collected over 150 of the best sushi captions for Instagram, the ultimate list of sushi quotes for Instagram, Facebook and more!
Whether it's sashimi quotes or waxing lyrical about nigiri, check out our list of Insta captions about sushi so you don't 'miso' out!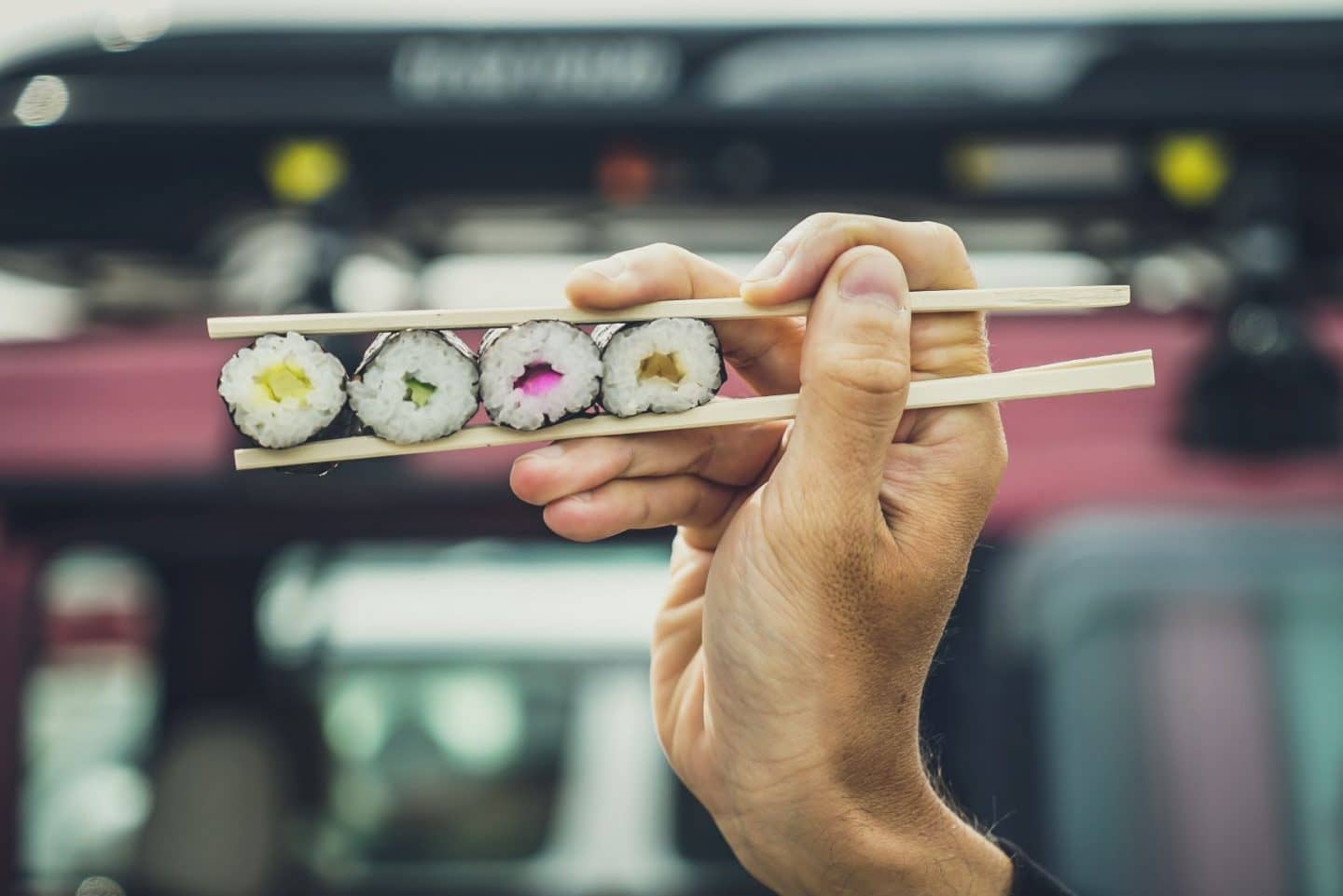 Best sushi captions for Instagram
In a rush and just need a snappy sushi caption quickly for your Insta post? Here are ten of our favourite sushi food captions:
A good rule to remember for life is that when it comes to plastic surgery and sushi, never be attracted by a bargain. Graham Norton
Keep your friends close and your sushi closer.          
Let's get avo-control.            
Life's too short to eat bad sushi.      
No more Mr. Rice Guy          
So much sushi, so little time.            
Wake up little sushi.             
We dance to a different tuna.           
We're jammin' with salmon.             
You had me at sushi.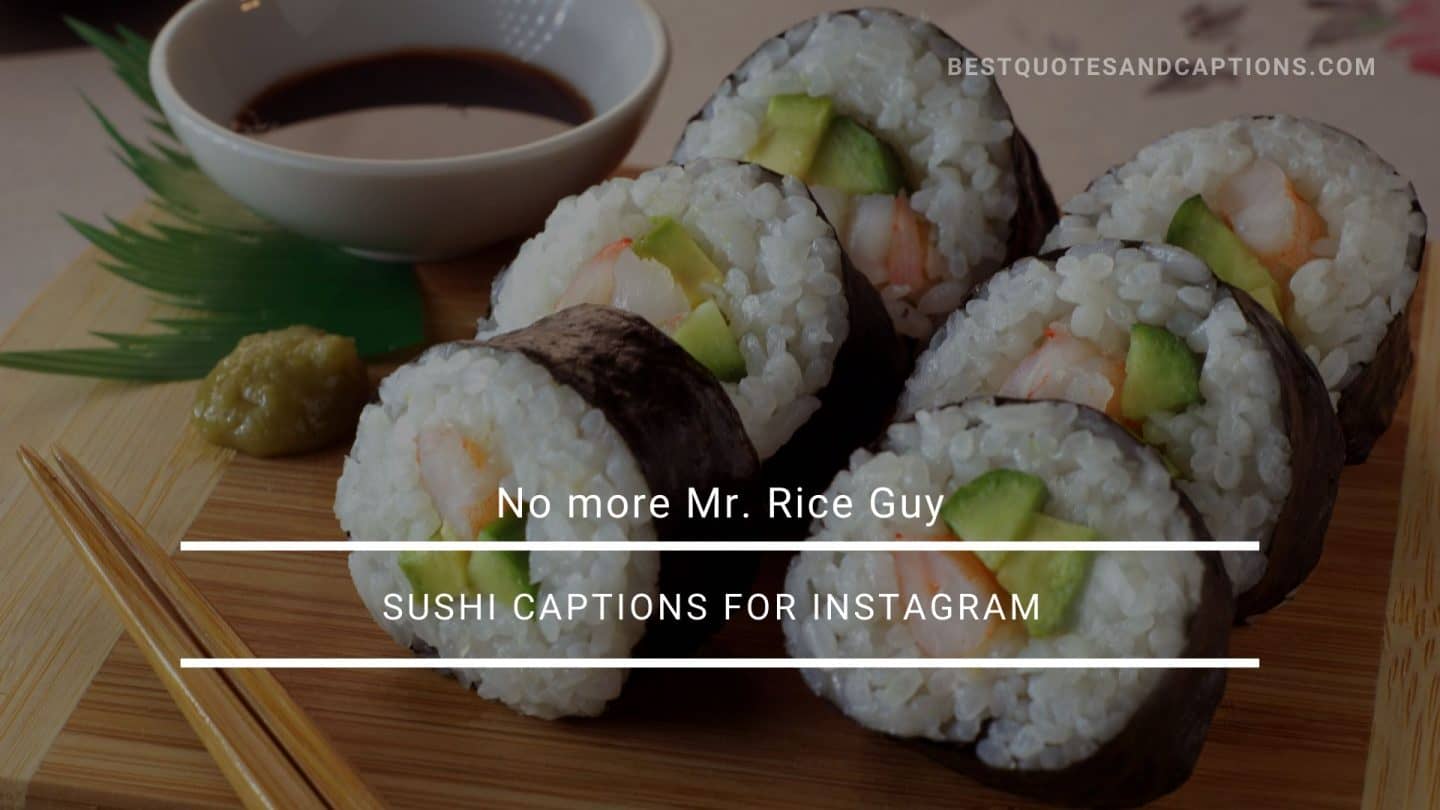 Read next: The ultimate list of food Instagram captions
Famous sushi quotes
Celebrities often say it best. So, if you need sushi quotes for Instagram or even Facebook, why not try one from someone famous? Here are a few ideas:
Don't dunk your nigiri in the soy sauce. Don't mix your wasabi in the soy sauce. If the rice is good, complement your sushi chef on the rice. Anthony Bourdain
Eating a tuna roll at a sushi restaurant should be considered no more environmentally benign than driving a Hummer or harpooning a manatee. Daniel Pauly
I have to say, sushi freaks me out more than almost anything. Kate Beckinsale
I love sushi. But after too much of it, it just starts to taste like a dead animal that hasn't been cooked. Amy Lee
I was in a sushi bar and it dawned on me – how could I discriminate between a cow and a fish? Carre Otis
I'm not making art, I'm making sushi.  Masaharu Morimoto
Kids are now eating things like edamame and sushi. I didn't know what shiitake mushrooms were when I was 10 – most kids today do. Emeril Lagasse
One of my favourite things to make is homemade sushi. I know how to make the rolls and it's really fun to do. Carly Rae Jepsen
Sometimes sushi is just superb, and other times there's nothing like a great big steak. It depends where your taste buds are at the time. Francesca Annis
The fine art of preparing sushi is something that you watch and learn. Nobu Matsuhisa
They kept saying 'It's sushi-grade!' And I'm like… 'Put some soy sauce on this. Get me some rice. And cook it. And then get me out of here. Jennifer Lawrence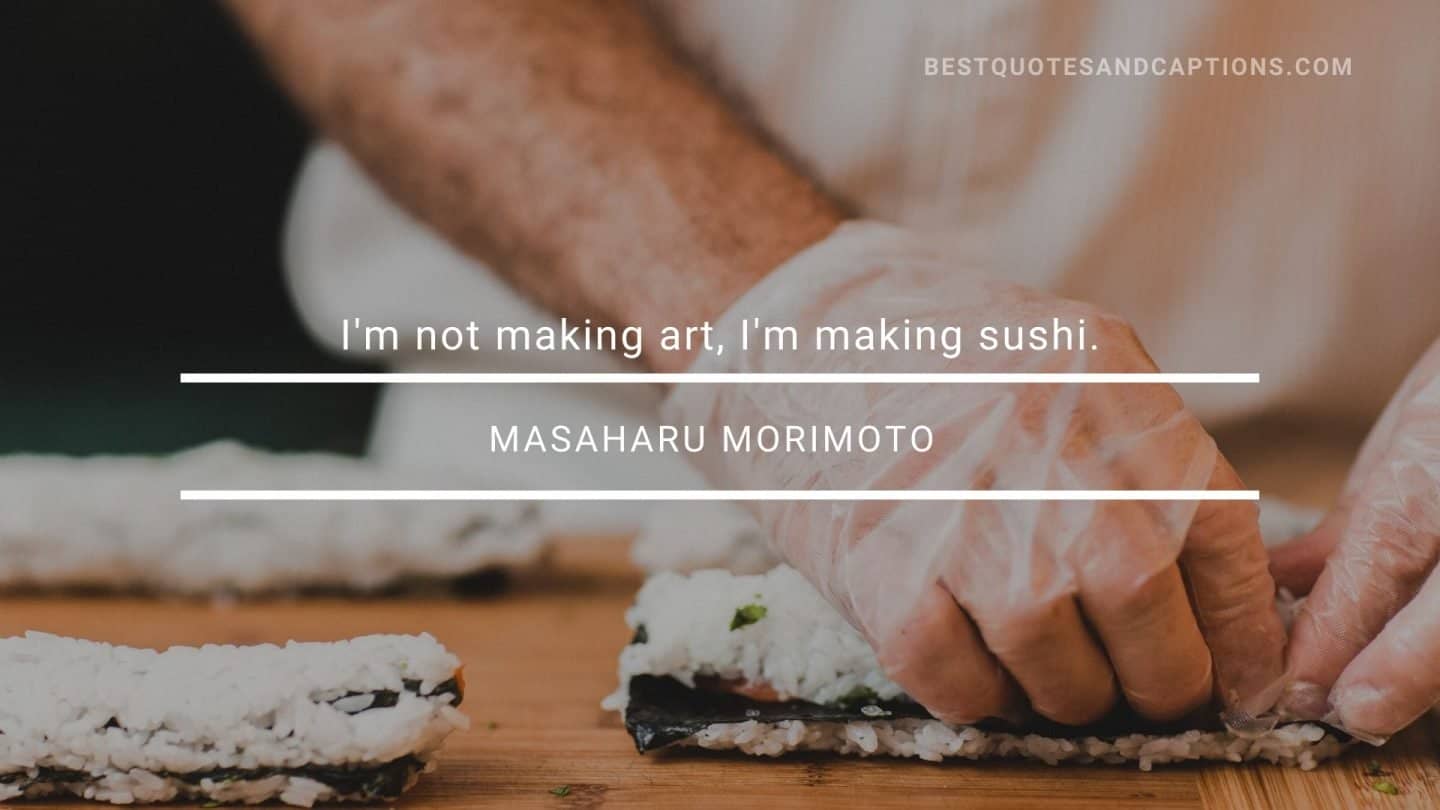 If you're wanting to make a real impact on your Instagram engagement, we'd suggest that you look into Ingramer!

With a full suite of tools, Ingramer acts as an automation partner – essentially the most powerful way to grow your account. It includes hashtag generators, and Instagram Downloader and a Story Viewer that watches other accounts' stories in a bid to attract them to follow you. With advanced targeting filters and an autobot, this is currently the best growth tool on the market.

Sign up here and use SCRIBESMEDIA to save up to 22% on some of the features!
Captions for sushi lovers
We love sushi just as much as you do. So, if you want to show your affection for those ridiculously delicious rolls, we've got you covered:
Feast your eyes on this sushi.
I wish for fish.
It's never too early for sushi.
it's sushi time and I'm feeling fine.
Love and sushi are a lot alike. you can never have too much of either.
Make everyday sushi day.
More sushi, please.
Never far from the sushi bar.
No such thing as too much tuna.
Paradise in each grain of rice.
Sashimi Saturday.
Sushi — the best food in the tunaverse.
Sushi and wasabi — better together.
Sushi-addicts welcome.
We don't skimp on shrimp.
We wish for fish in every dish.
We're all over this sushi like white on rice.
Would you like rice with that.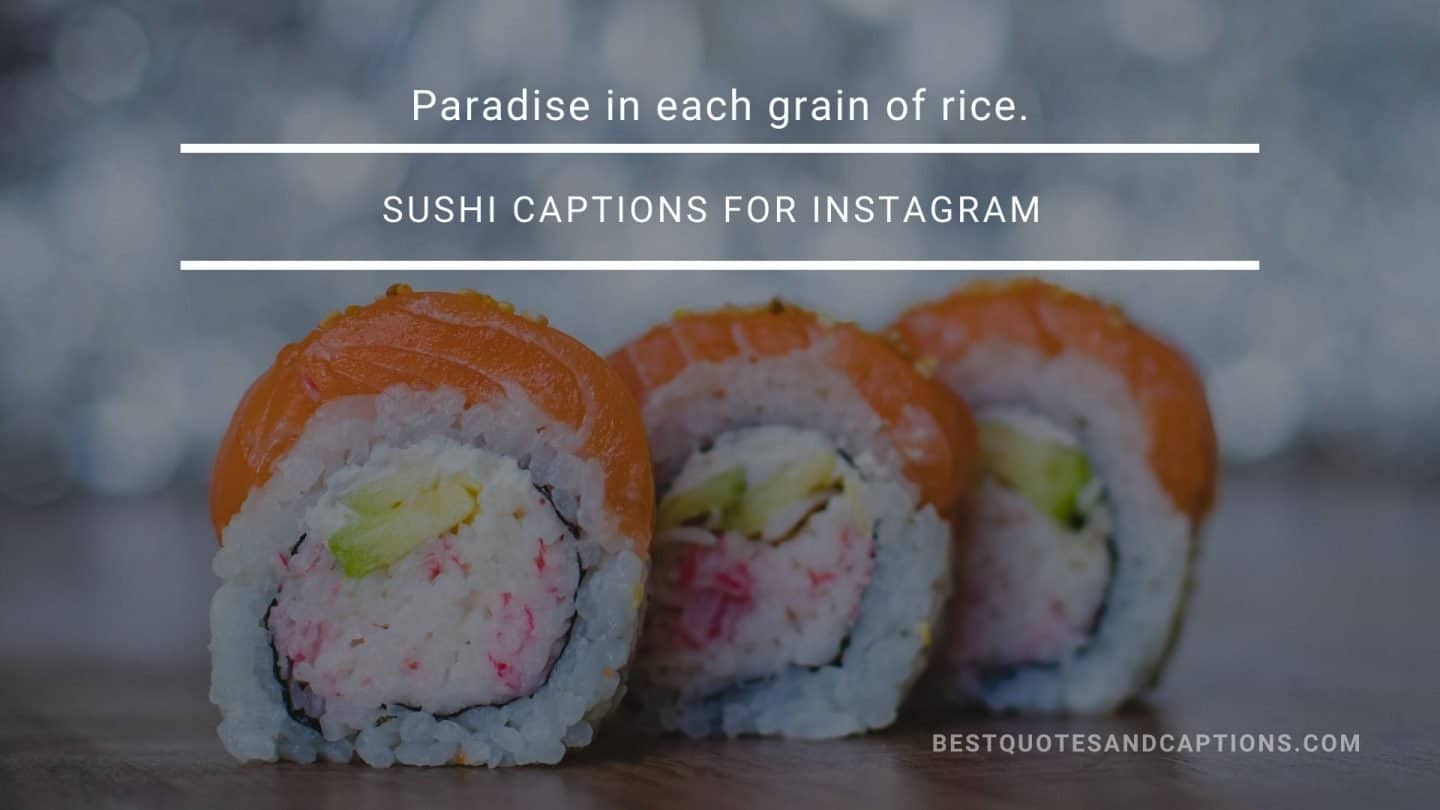 Recommended: Love Hashtags for Instagram
Funny sushi captions
Instagram captions should often be a little witty to grab attention. So, try something more light-hearted, like these captions and funny quotes about sushi:
A party without sushi is just a meeting.
Dream big, eat sushi.    
Fish, to taste right, must swim three times – in water, in butter, and in wine.    
Holy roller.        
I always thought that bagels and lox was my soul food, but it turns out it's sushi. Sara Sheridan
I followed my heart and it led me to sushi.         
Limp Bizkit Ice Cream would taste like the sweetest pair of panties in the world. It would taste like sushi. Sushi or panties. Fred Durst
Sushi doesn't ask silly questions.
Sushi, because it's cheaper than therapy.            
Teach a man to fish and you feed him for a lifetime. Unless he doesn't like sushi, then you also have to teach him to cook. Auren Hoffman
There is an I in "sushi", so get your own.
Who needs gender rolls when we have sushi rolls.
Why be grouchy when there's Hamachi.
You're the salmon to my sticky rice.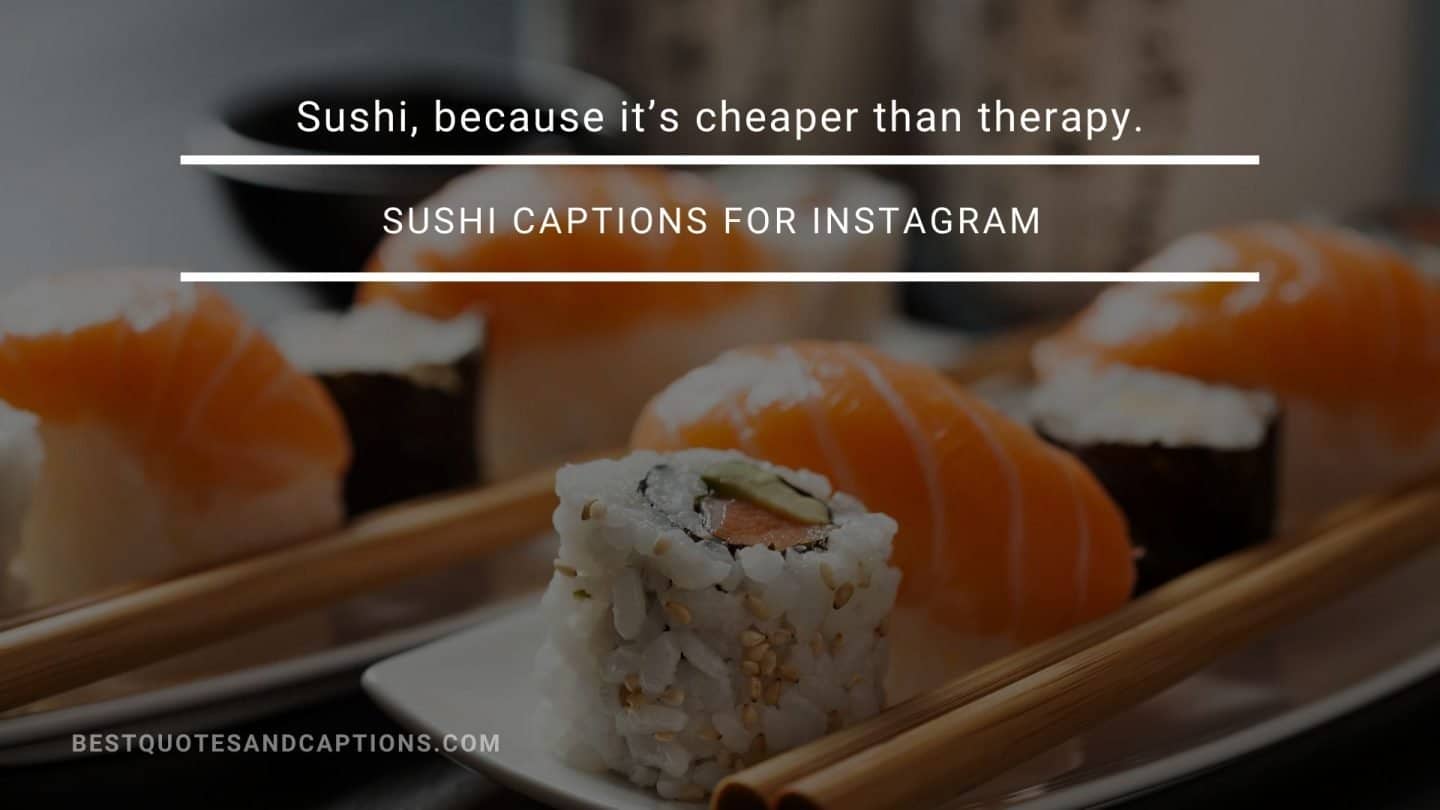 Related: The best happy status for WhatsApp
Great sushi puns
Once you start with sushi pun captions, it's like you can't stop! Salmon puns, tuna puns, rice puns – you name it! We almost had to limit ourselves in putting this list of puns about sushi together!
Dim sum? more like awesome!
Does it look like we're fishing for compliments?
Don't miso sushi night.
Don't take my tako.
Everything's darkest before the prawn.
Fish and rice are soy nice.
Holy mackerel.
I wasabi with you.
I'm soy into you.
I've got an urgin' for urchin.
Just roll with it.
Just the way we roll.
Let the good times roll.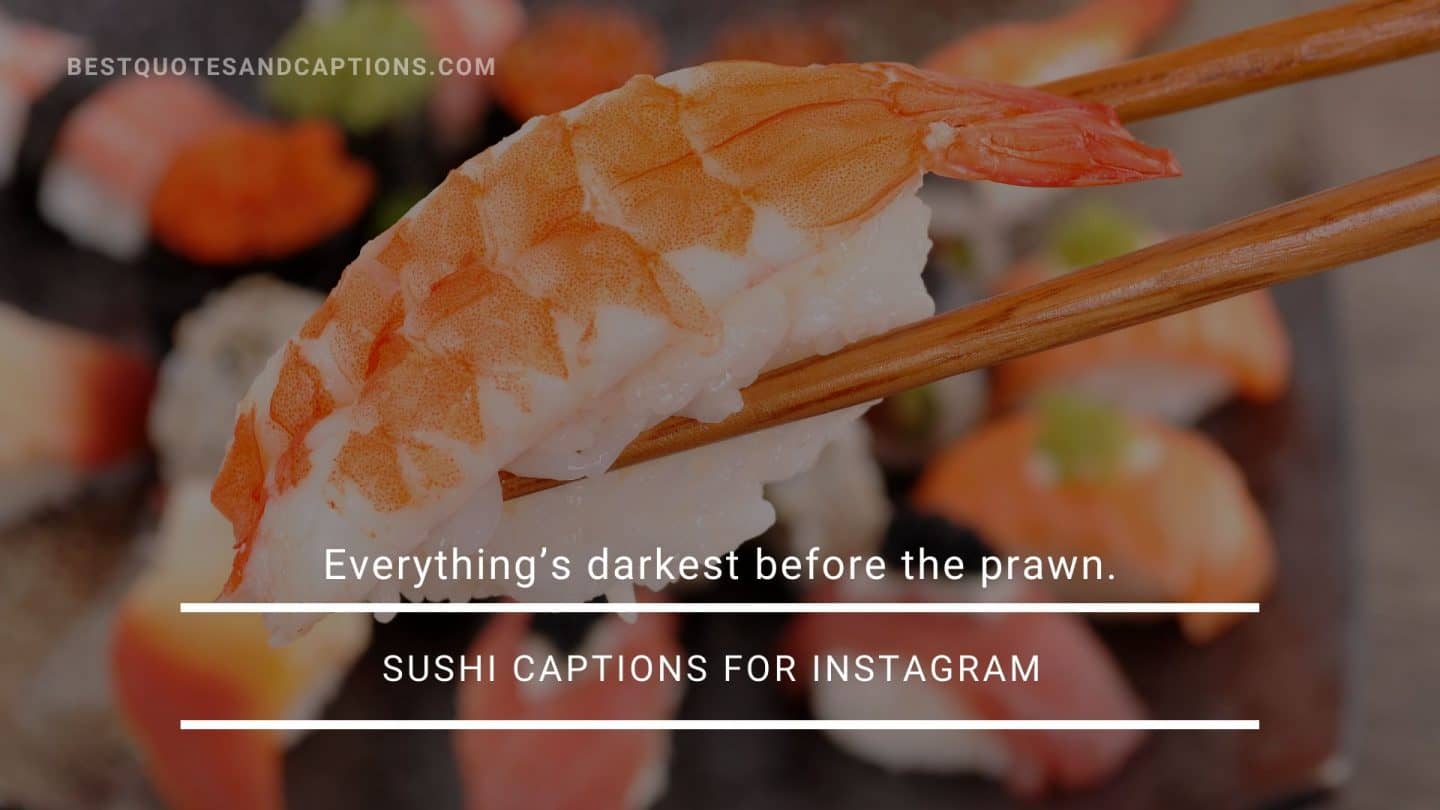 Let's get sushi, just for the halibut.
Looking for love in eel the right places.
Miso hungry.
Neither snow nori rain stays these hands from sushi.
Our sushi is crabtivating.
Roe, roe, roe your sushi boat.
Rollin' with my homies.
She believed she could, sushi did.
Soy happy together.
Stuffed to the gills.
Sushi makes miso happy.
Uni for all, and all for uni.
When we seafood, we eat it.
You've got me wonton more.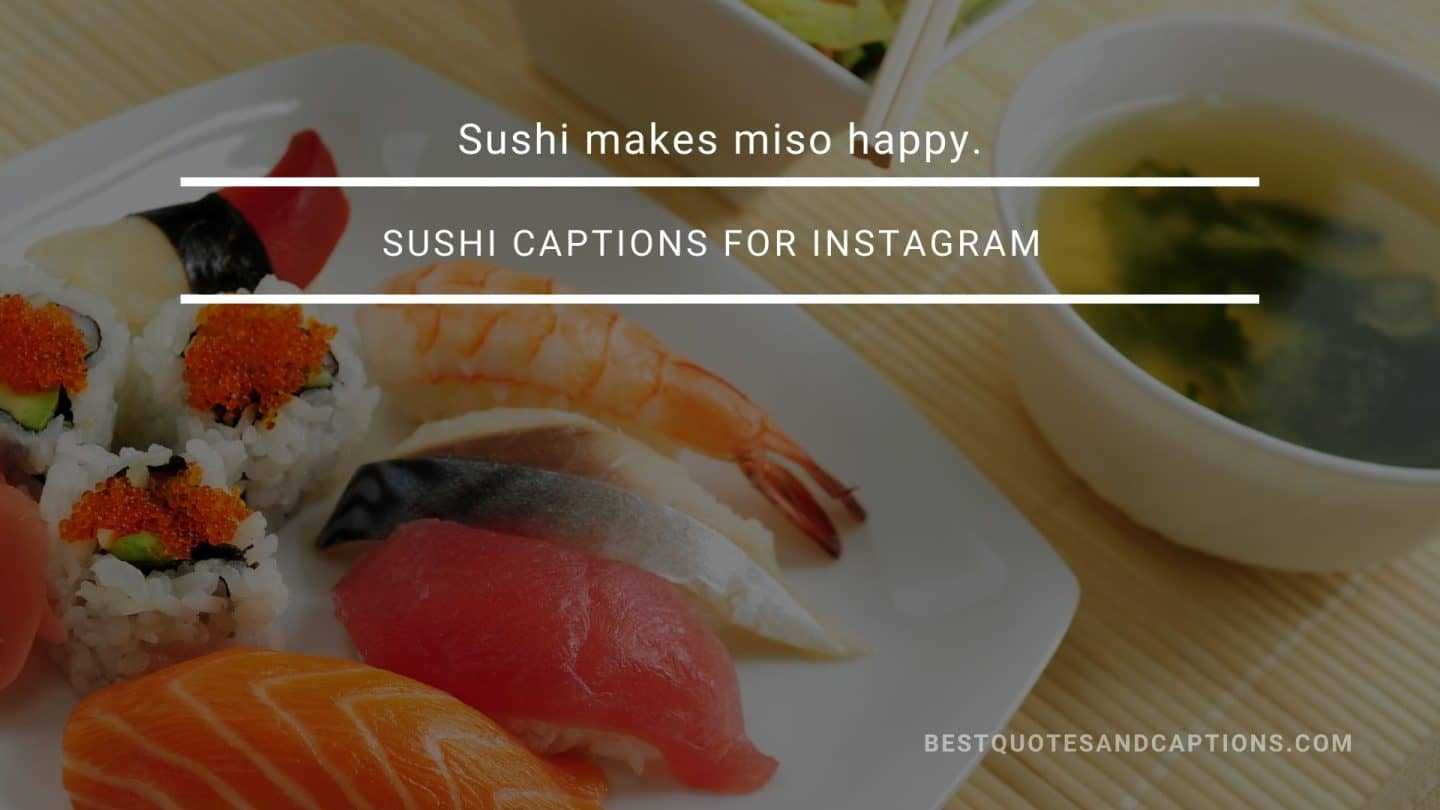 Read next: Pizza captions for Instagram
Cute sushi captions
Okay, some of these are still puns ?. But we couldn't resist even more cute sushi captions to add to your Instagram feed:
Can't wait sushi you.
I like big rolls and I cannot lie.
I love you sushi much.
it's not a date without sushi.
Let's rock this roll.
Never enough nigiri.
Rock & roll.
Sake it to me.
She believed she could, sushi did.
She knew she needed sushi.
Shrimply the best.
Sushi lover.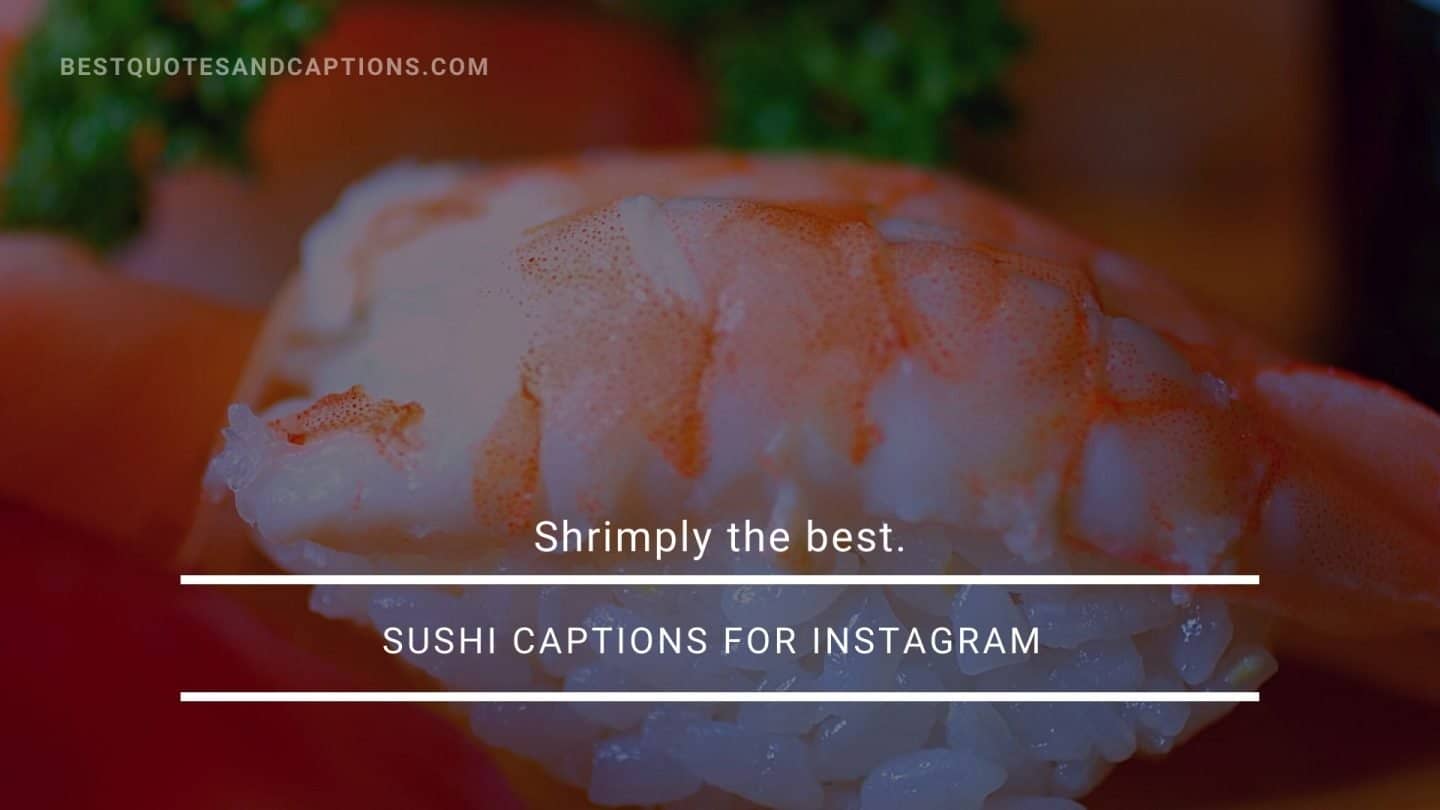 Read next: Best taco captions for Instagram
Dieting and sushi quotes
Sushi is often used as an easy way to diet, since it's so full of protein. With that in mind, we thought we'd search for some of the best sushi captions about dieting for you. Check out the best captions below:
A balanced diet is a sushi roll in each hand.        
Chopsticks just slow me down. 
Fatty tuna in your tummy.          
I always thought that bagels and lox was my soul food, but it turns out it's sushi. Sara Sheridan
I could eat my body weight in sushi. Mikey Way
I love eating sushi and eating raw and clean – no pasta and bread. Low carbs is what works for me.  Chrissy Teigen
I love lean meats like chicken, turkey. I'm obsessed with sushi and fish in general. I eat a lot of veggies and hummus.  Shawn Johnson
There's always room for more sushi.     
There's no such thing as too much sushi.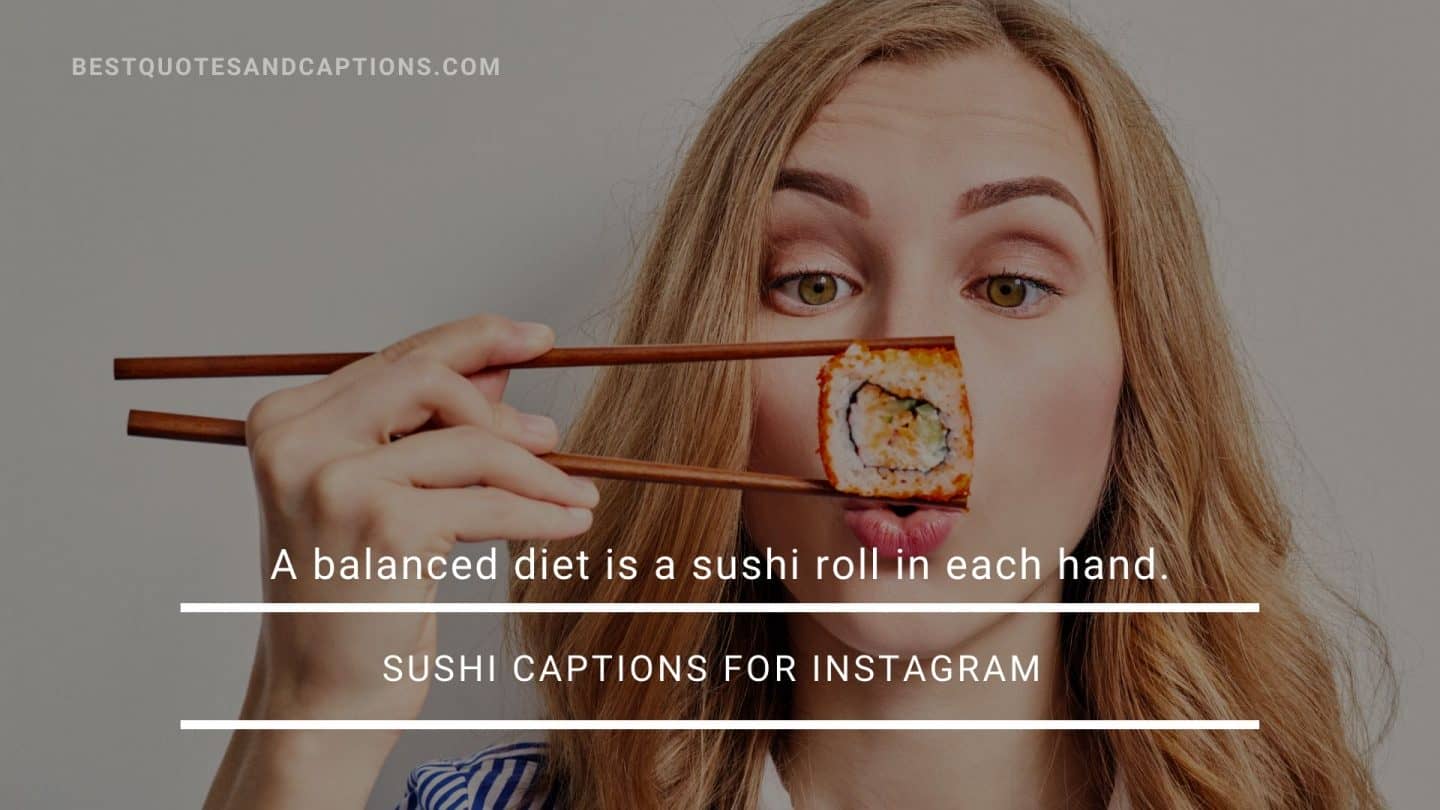 Read next: The best fitness and dieting hashtags
Short sushi Instagram captions
Keep it brief! Sometimes one or two words is enough to convey what you think about sushi in your Insta post. Here are a few short and sweet sushi IG captions to try on for size:
A Japanese feast.
Catch of the day.
From sea to sushi.
it's sushi o'clock.
Long time no sea.
Sushi goals.
Sushi is my favourite art form.
Sushi rainbow.
Sushi weather.
Sushi you later.
Sushiholic.
Sushimania.
Take your chopsticks out.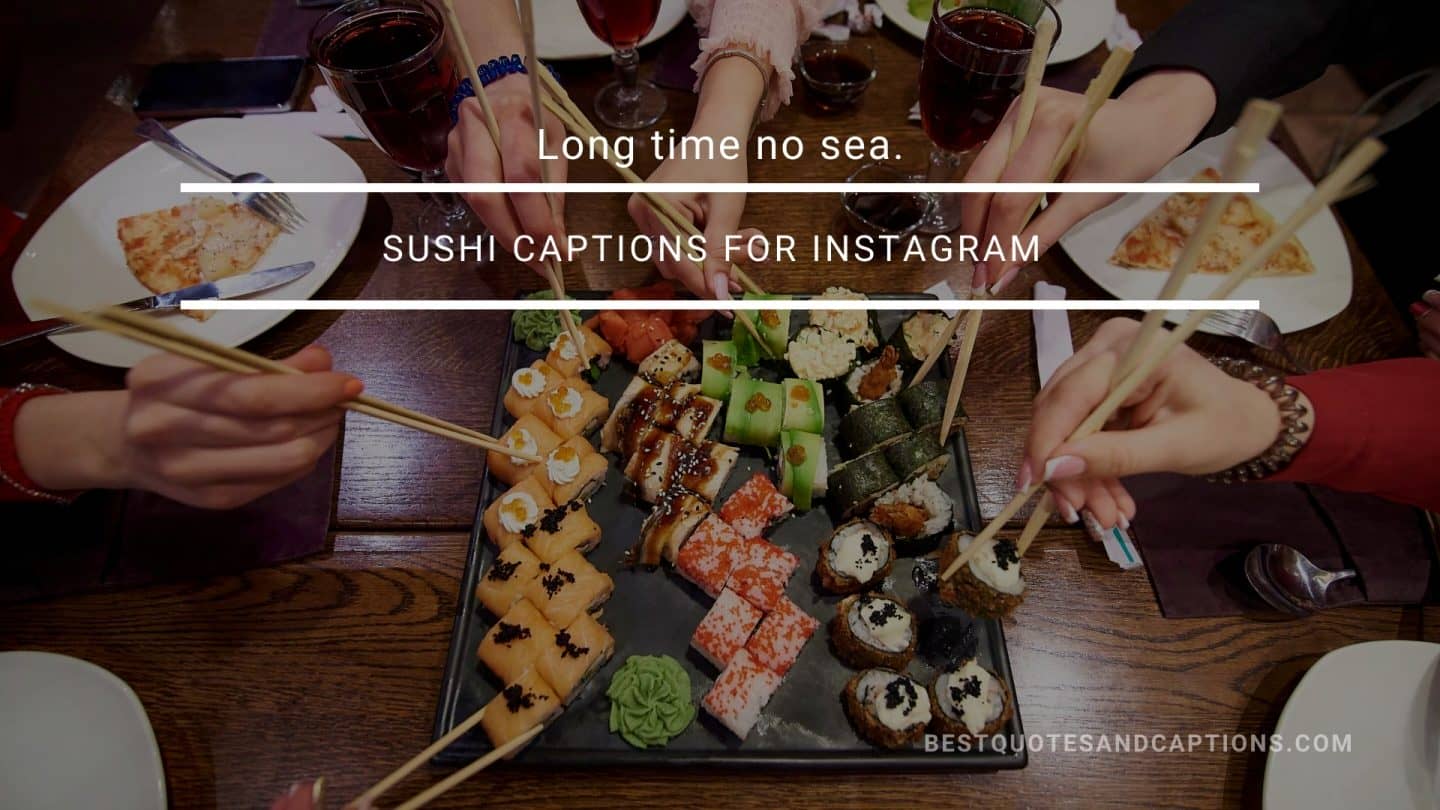 Read next: The best list of motivational captions
Good sushi captions for Instagram
None of the above tickled your sushi fancy? These are more of our favourite sushi Insta captions, for you to slay your sushi pic!
Come on in, the sushi is fine.
Let's go sailing on the sushi boat.
life happens, sushi helps.
Oh, say can sushi.
Pass the sushi.
Sharp knife, happy life.
Staying sassy with sushi.
Steamed to perfection.
This bento box rocks.
Tuna for two.
We bleed soy sauce.
You can't buy happiness, but you can buy sushi. And that's basically the same thing.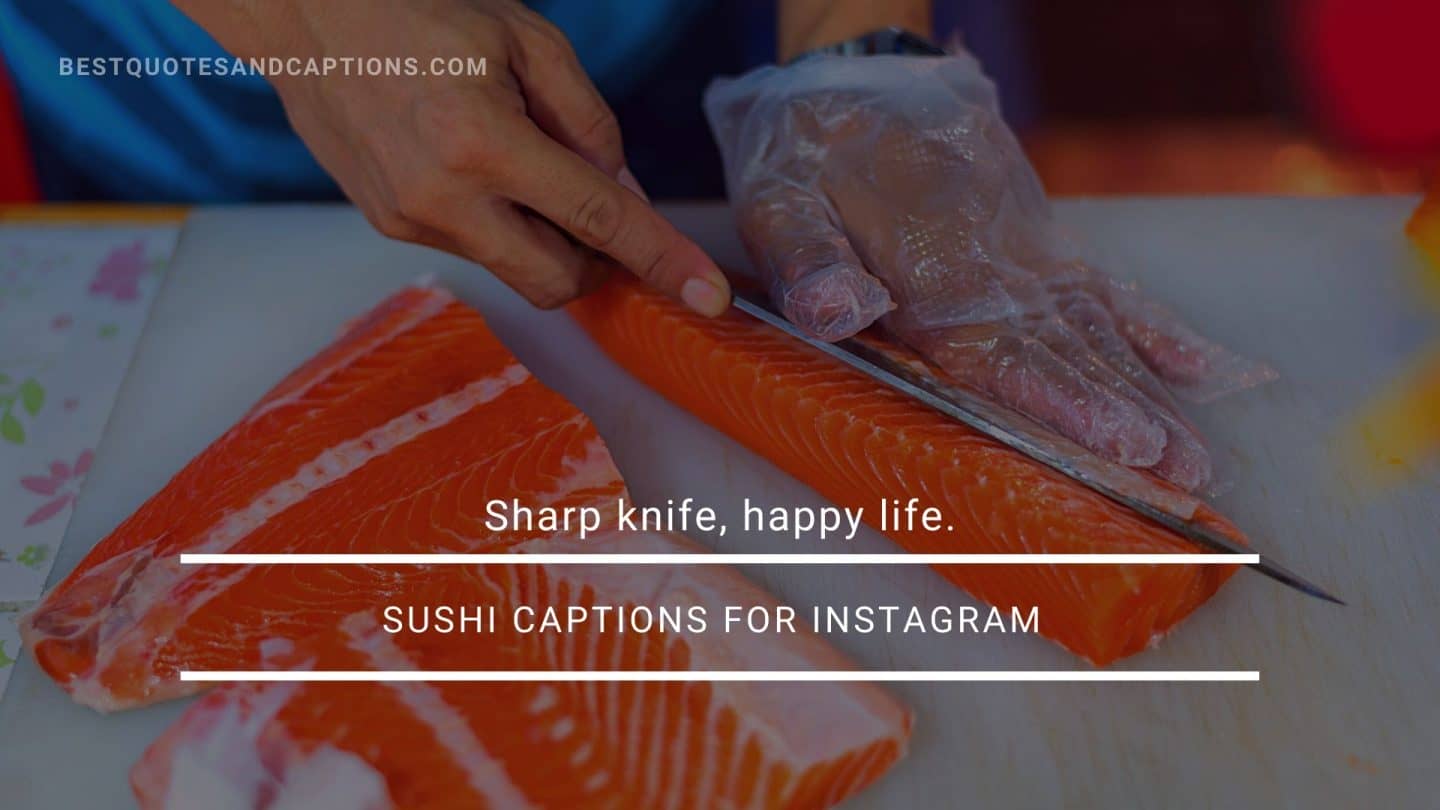 Recommended: Ultimate list of burger captions
Even more sushi quotes and captions
If you really want to create a longer caption about sushi, we've found some terrific longer sushi quotes you could use in your Insta caption, like these!
And yes, we do have some food. Maybe you'd like to join us? Unless you want to stick with your sheep sushi. Michael Grant
I don't speak Japanese, I don't know anything about Japanese business or Japanese culture. Apart from sushi. But I can't exactly go up to him and say "Sushi!" out of the blue. It would be like going up to a top American businessman and saying, "T-bone steak!  Sophie Kinsella
I love sushi, I love fried chicken, I love steak. But there is a limit to my love. Jonathan Safran Foer
In Japanese sushi restaurants, a lot of sushi chefs talk too much.  Masa Takayama
I've been making sushi for 38 years, and I'm still learning. You have to consider the size and color of the ingredients, how much salt and vinegar to use and how the seasons affect the fattiness of the fish. Masaharu Morimoto
The first time I had sushi, I hated it. And the second time was no different, and then, I just started loving it. I actually crave for sushi. It's one of the healthiest meals. My experiments with food began when I was working in New York as an architect, be it Korean or Ethiopian food or fusion food. Riteish Deshmukh
With sushi, it is all about balance. Sometimes they cut the fish too thick, sometimes too thin. Often the rice is overcooked or undercooked. Not enough rice vinegar or too much.  Nobu Matsuhisa
You could eat sushi off my bookshelf. My cleaning regime is like a battleground. I'm Genghis Khan and my cleaning products are my Mongolian army and I take no prisoners. The rest of my life is an experiment in chaos, so I like to keep my flat neat. Ryan Adams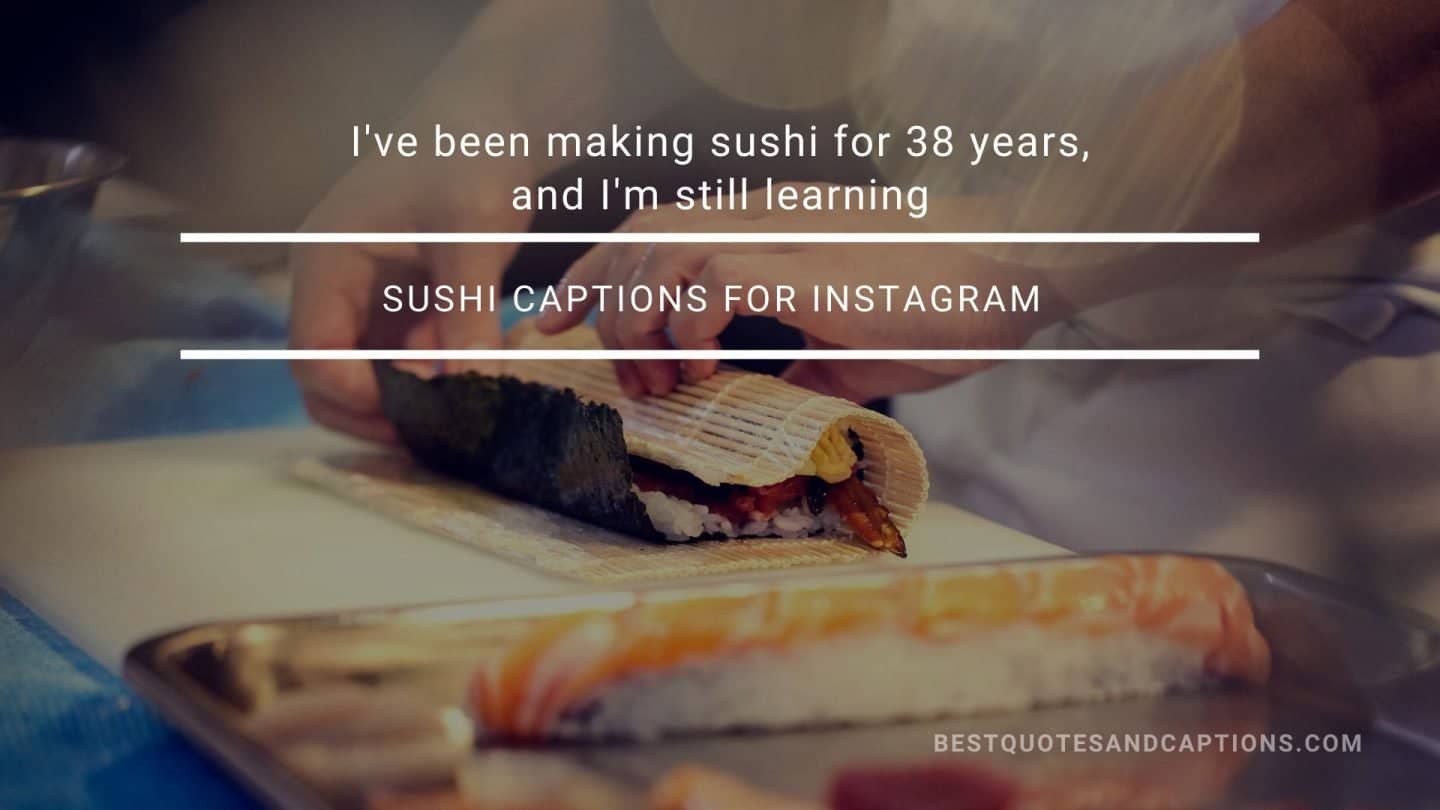 What about the sushi Instagram hashtags? Read our Instagram Hashtags Cheat Sheet here!
We hope this list has given you the perfect Japanese food caption, with all the best funny quotes about sushi for your beautiful sushi pictures! Maybe we've even inspired you to try and make your own sushi! Either way, let us know in the comments or contact us. 
Other essential Instagram growth tools
---
Want to save this for later? Why not pin it…