The world is in a bit of turmoil at the moment, and many of us feel lost, alone and in need of affection from family and friends. To help you through it, we've put together some of the most comforting quotes we could find to help you put your feelings into words.
We hope quotes like these ones will give you some comfort during difficult times.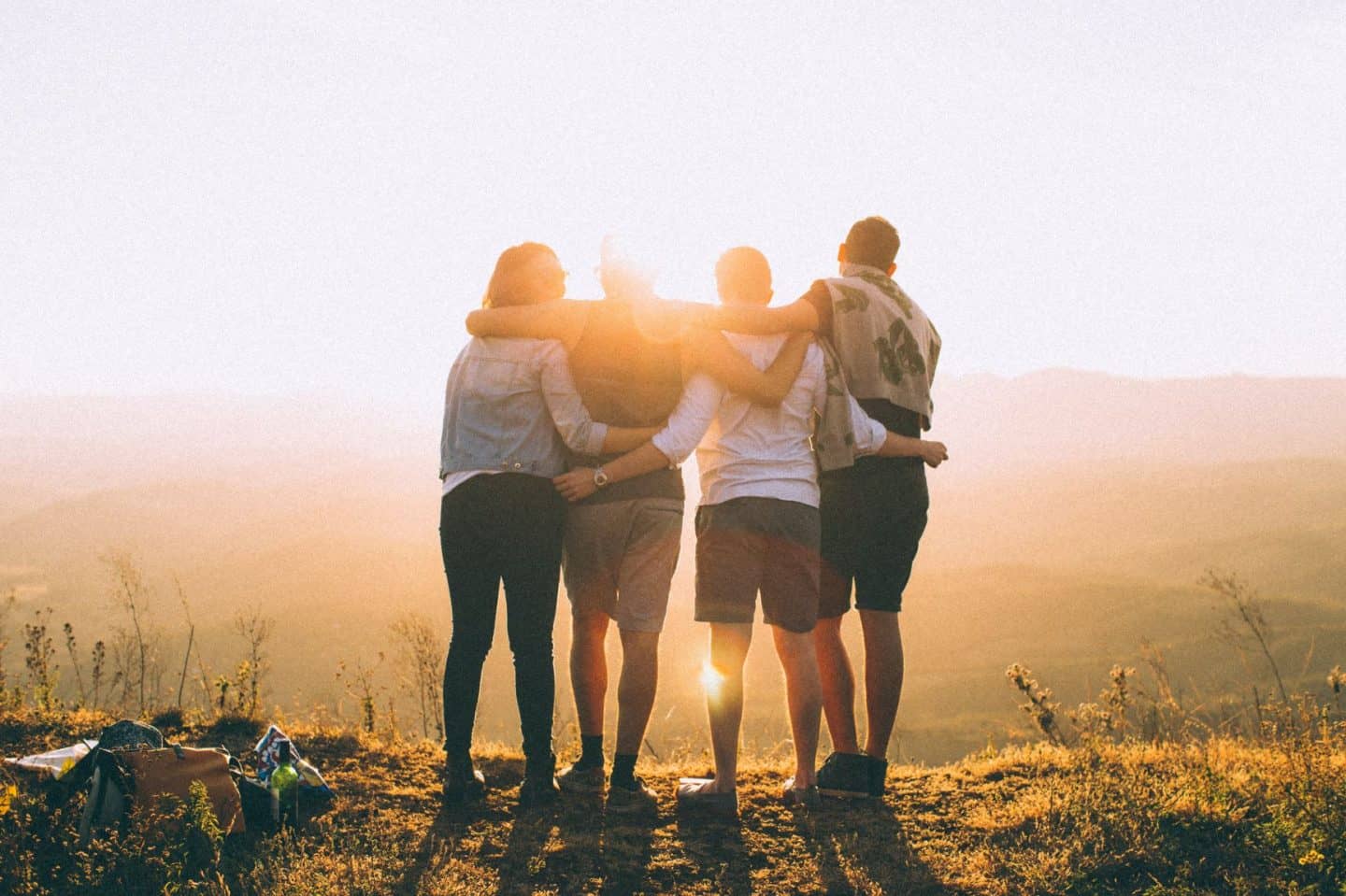 Top 10 – Best Comforting Quotes
What's our favourite comforting quote you might ask? It's impossible to select just one, so we've curated the top ten:
In three words I can sum up everything I've learned about life. It goes on. Robert Frost
Cure sometimes, treat often, comfort always. Hippocrates
Don't cry when the sun is gone because the tears won't let you see the stars. Violeta Para
Don't be discouraged. It's often the last key in the bunch that opens the lock. Unknown
Feelings are much like waves, we can't stop them from coming but we can choose which ones to surf. Jonatan Martensson
Sometimes it's ok if the only thing you did today was breathe. Yumi Sakugawa
Tears water our growth. William Shakespeare
The world offers you comfort. But you were not made for comfort. You were made for greatness. Pope Benedict XVI
There are no great people in this world, only great challenges which ordinary people rise to meet. William Frederick Halsey Jr
Words of comfort, skilfully administered, are the oldest therapy known to man. Louis Nizer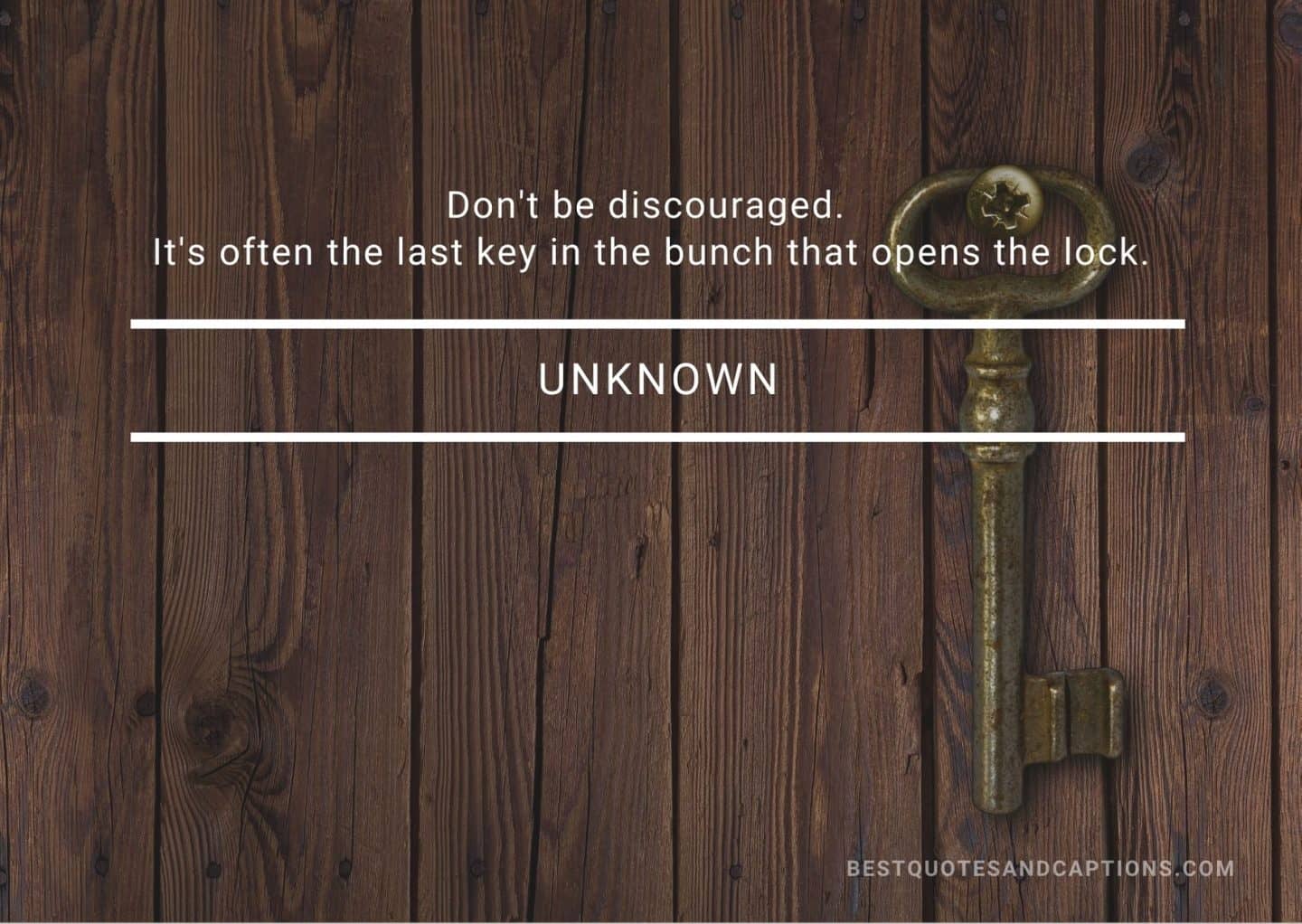 Read next: The ultimate captions for Facebook 
Famous Comforting Quotes
Whether it's from a recording artist, or a well-known actor or author, celebrities seem to deliver some really quotable quotes. Here are some of the best comfort quotes from famous people:
A problem is a chance for you to do your best. Duke Ellington
And you begin again. Sometimes you lose, sometimes you win. But you begin again. Even through your heart is breaking, in time, the sun will shine, and you'll begin again. Barry Manilow
Do not give way to useless alarm; though it is right to be prepared for the worst, there is no occasion to look on it as certain. Jane Austen
If somebody hurts you, it's okay to cry a river, just remember to build a bridge and get over it. Taylor Swift
If you look at what you have in life, you'll always have more. Oprah Winfrey
It always seems impossible until it's done. Nelson Mandela
Never give in. Never, never, never. Winston Churchill
Share your smile with the world. It's a symbol of friendship and peace. Christie Brinkley
The greatest happiness of life is the conviction that we are loved; loved for ourselves, or rather, loved in spite of ourselves. Victor Hugo
Things turn out the best for the people who make the best of the way things turn out. John Wooden
When everything seems to be going against you, remember that the airplane takes off against the wind, not with it. Henry Ford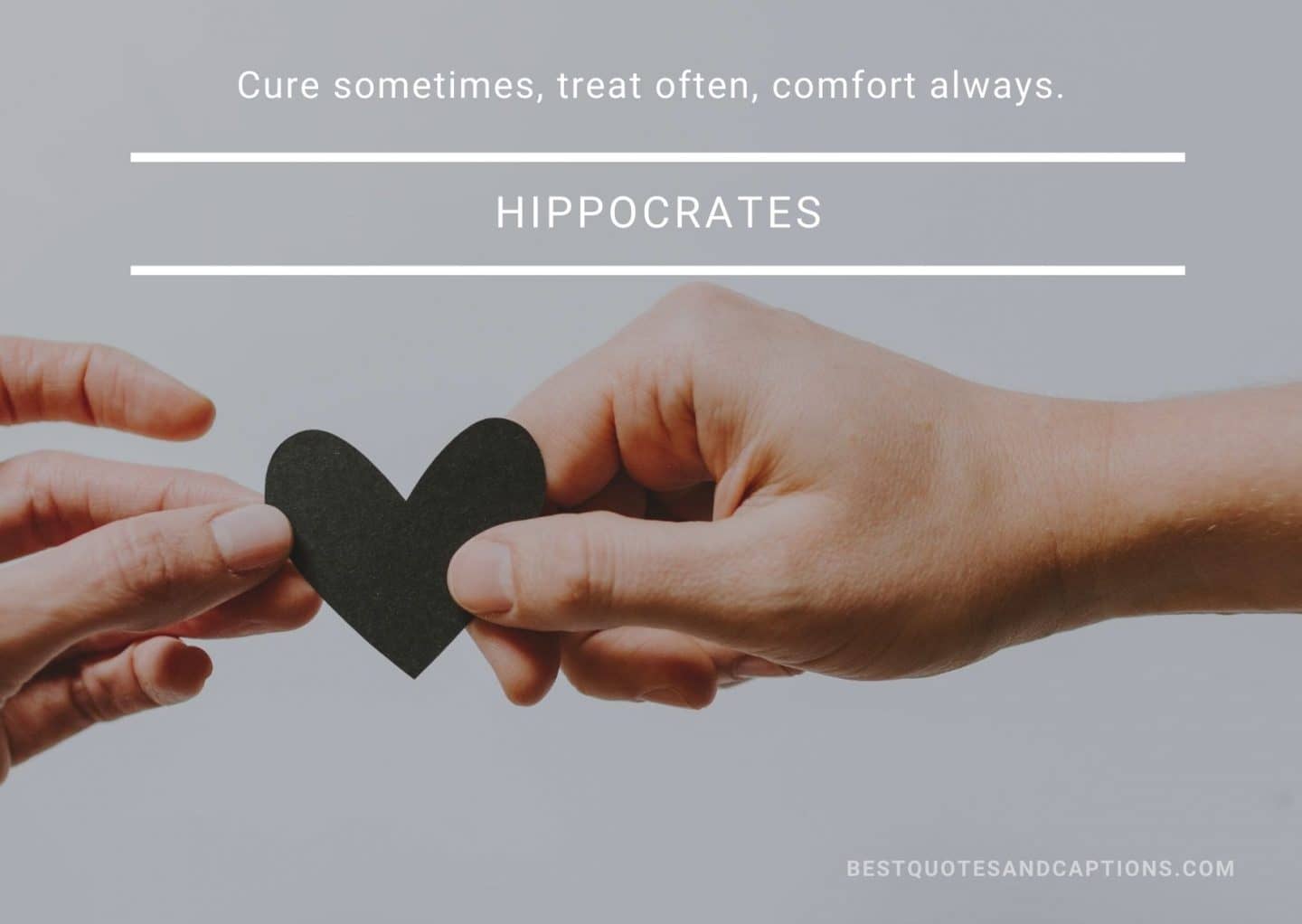 If you're wanting to make a real impact on your Instagram engagement, we'd suggest that you look into Ingramer!

With a full suite of tools, Ingramer acts as an automation partner – essentially the most powerful way to grow your account. It includes hashtag generators, and Instagram Downloader and a Story Viewer that watches other accounts' stories in a bid to attract them to follow you. With advanced targeting filters and an autobot, this is currently the best growth tool on the market.

Sign up here and use SCRIBESMEDIA to save up to 22% on some of the features!
Motivational and inspirational quotes about comfort
We love quotes so much, particularly those that help you reach your goals. With that in mind, we've picked a few of the best inspirational quotes and captions about comfort:
Accept responsibility for your life. Know that it is you who will get you where you want to go, no one else. Les Brown
Have great hopes and dare to go all out for them. Have great dreams and dare to live them. Have tremendous expectations and believe in them. Norman Vincent Peale
Hope is important because it can make the present moment less difficult to bear. If we believe that tomorrow will be better, we can bear a hardship today. Thich Nhat Hanh
If you can't fly then run, if you can't run then walk, if you can't walk then crawl, but whatever you do you have to keep moving forward. Dr Martin Luther King Jr
It is only in our darkest hours that we may discover the true strength of the brilliant light within ourselves that can never, ever, be dimmed. Doe Zantamata
Just as despair can come to one only from other human beings, hope, too, can be given to one only by other human beings. Elie Weisel
Learn how to be happy with what you have while you pursue all that you want. Jim Rohn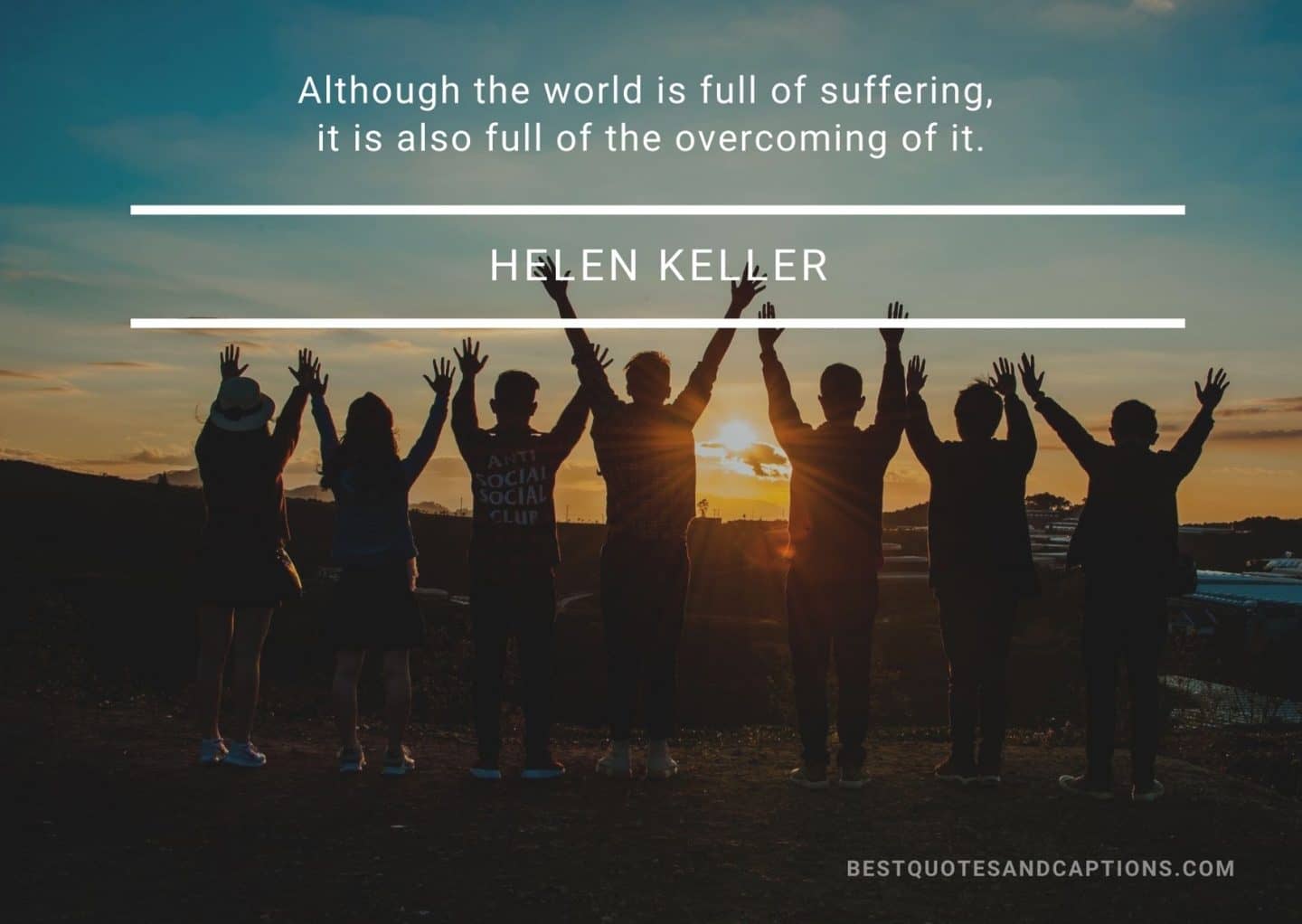 Related: The most epic list of motivational captions
Next to trying and winning, the best thing is trying and failing. L. M. Montgomery
No one is going to hand me success. I must go out and get it myself. That's why I'm here. To dominate. To conquer. Both the world and myself. Unknown
Obstacles don't have to stop you. If you run into a wall, don't turn around and give up. Figure out how to climb it, go through it, or work around it. Michael Jordan
Often what feels like the end of the world is really a challenging pathway to a far better place. Karen Salmansohn
Practice like you have never won, Perform like you have never lost. Bernard F. Asuncion
The difference between stumbling blocks and stepping stones is how you use them. Unknown
Though no one can go back and make a brand new start, anyone can start from now and make a brand new ending. Carl Bard
Use what you've been through as fuel, believe in yourself and be unstoppable! Yvonne Pierre
We should always pray for help, but we should always listen for inspiration and impression to proceed in ways different from those we may have thought of. John H. Groberg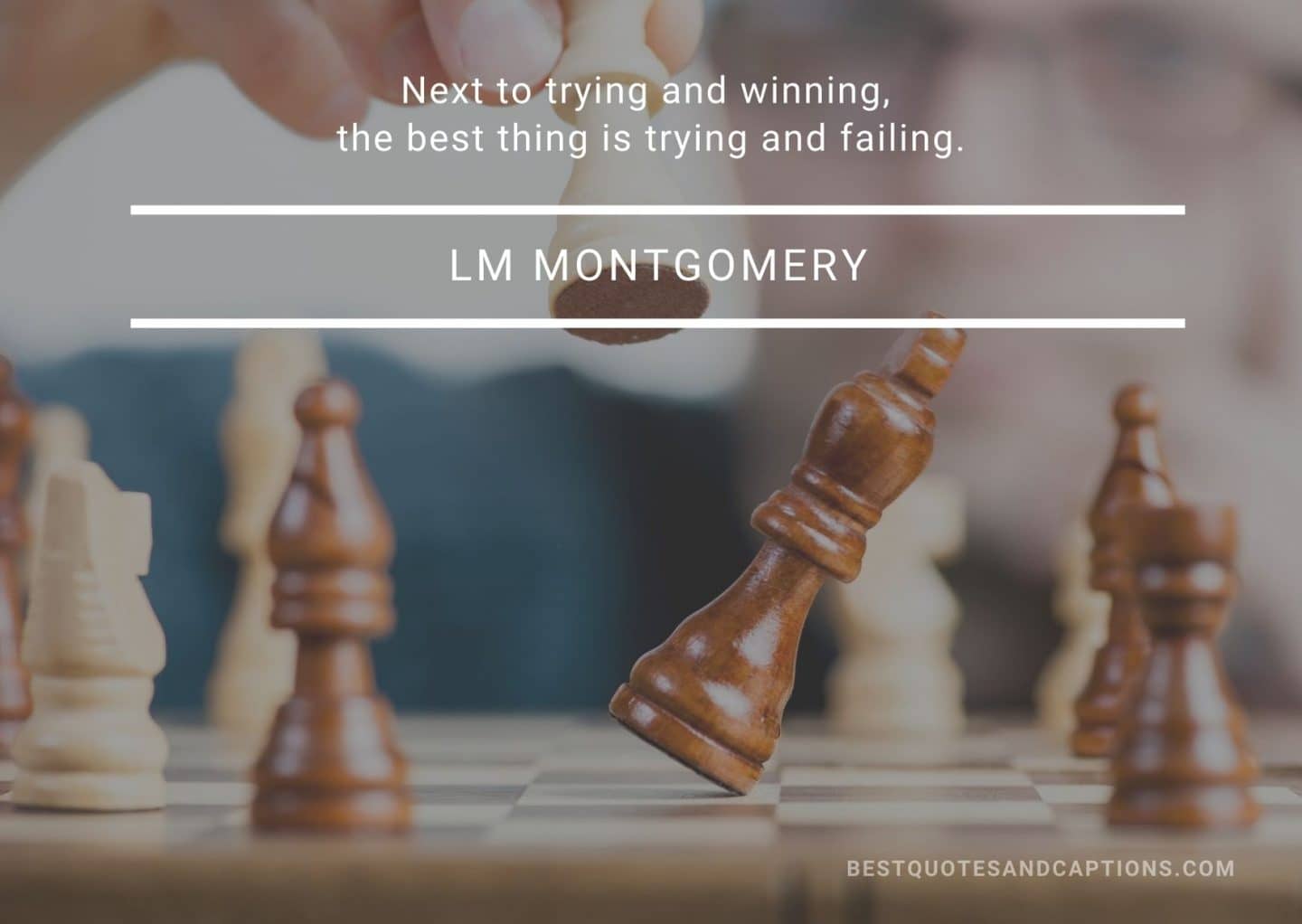 Comforting Quotes for hard times
When it all gets a little too hard, it can be almost impossible to pull yourself back up again. Sometimes you just need a few words of encouragement, and the ones below are some of the best quotes about overcoming hard times:
Courage doesn't always roar. Sometimes courage is the quiet voice at the end of the day, saying, I will try again tomorrow. Mary Anne Radmacher
Even if happiness forgets you a little bit, never completely forget about it. Jacques Prevert
I learned there are troubles of more than one kind. Some come from ahead, others come from behind. But I've bought a big bat. I'm all ready, you see. Now my troubles are going to have trouble with me. Dr Seuss
In three words I can sum up everything I've learned about life. It goes on. Robert Frost
It's not exactly like you thought it would be, you think it's a failure. What about the spectrum of colours in between? Sara Evans
Man is fond of counting his troubles, but he does not count his joys. If he counted them up, as he ought to, he would see that every lot has enough happiness provided for it. Fyodor Dostoevsky
Sometimes our light goes out, but is blown again into instant flame by an encounter with another human being. Albert Schweitzer
To have darkness behind me, in front of me a bright sky, flickering lights on the water and to feel it on the stony face of the southern sun. Julia Hartwig
When things are bad, we take comfort in the thought that they could always get worse. And when they are, we find hope in the thought that things are so bad they have to get better. Malcolm S. Forbes
You are today where your thoughts have brought you; you will be tomorrow where your thoughts take you. James Allen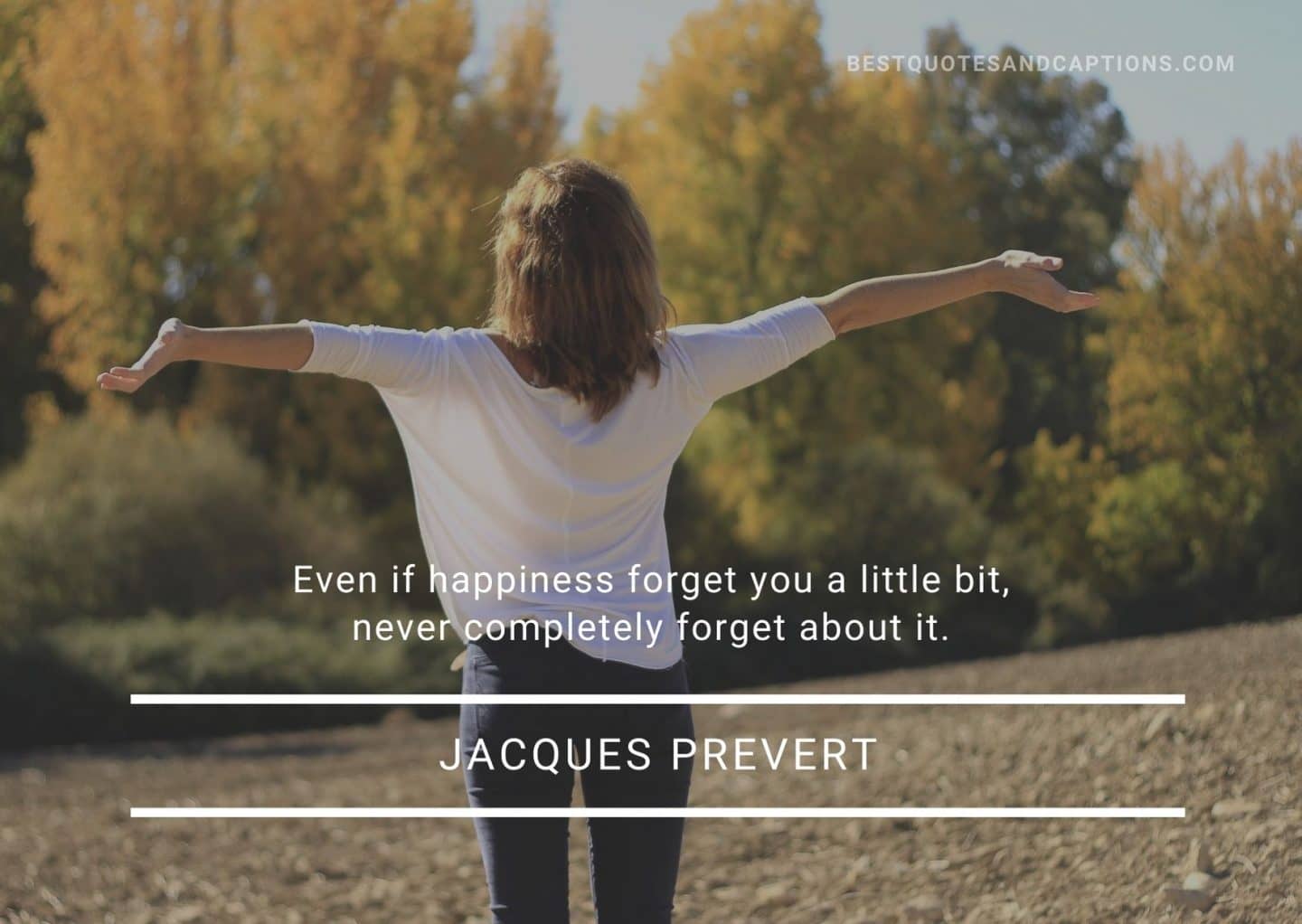 Beautiful comforting quotes
We love quotes that are written like poetry, that inspire you when you use them and capture your imagination. So, we've searched and put together some of the most elegantly crafted comforting quotes:
But there is greater comfort in the substance of silence than in the answer to a question. Thomas Merton
I give up freely what is no longer serving me. I release it to create space for what inspires me. Unknown
I have been a seeker and I still am, but I stopped asking the books and the stars. I started listening to the teaching of my Soul. Rumi
I may not have gone where I intended to go, but I think I have ended up where I needed to be. Douglas Adams
I will love the light for it shows me the way, yet I will endure the darkness for it shows me the stars. Og Mandino
In some ways, climbing in the clouds is comforting. You can no longer see how high off the ground you are. Tommy Caldwell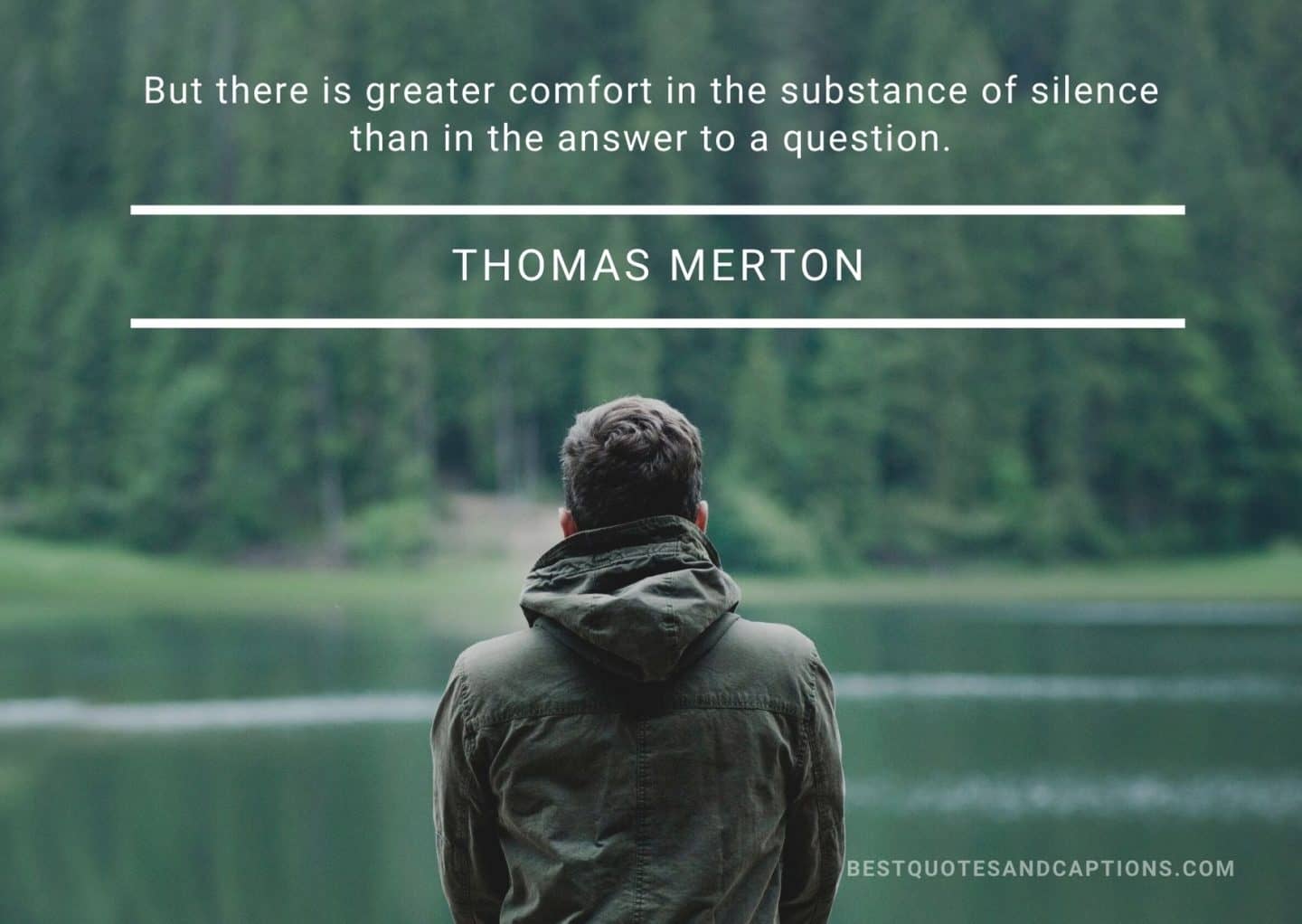 Related: Best Instagram captions – a definitive list
Let perseverance be your engine and hope your fuel. H. Jackson Brown Jr
Life's challenges are not supposed to paralyze you; they're supposed to help you discover who you are. Bernice Johnson Reagon
Nobody trips over mountains. It is the small pebble that causes you to stumble. Pass all the pebbles in your path, and you will find you have crossed the mountain. Unknown
The greater the difficulty, the more glory in surmounting it. Skilful pilots gain their reputation from storms and tempests. Epicetus
We may walk different paths, but our destination is the same… The Light. Gannon Carr
We must let go of the life we have planned, so as to accept the one that is waiting for us.
You are not a drop in the ocean. You are the entire ocean in one drop. Rumi
You cannot stop the birds of sorrow from flying over your head, but you can stop them nesting in your hair. Eva Ibbotson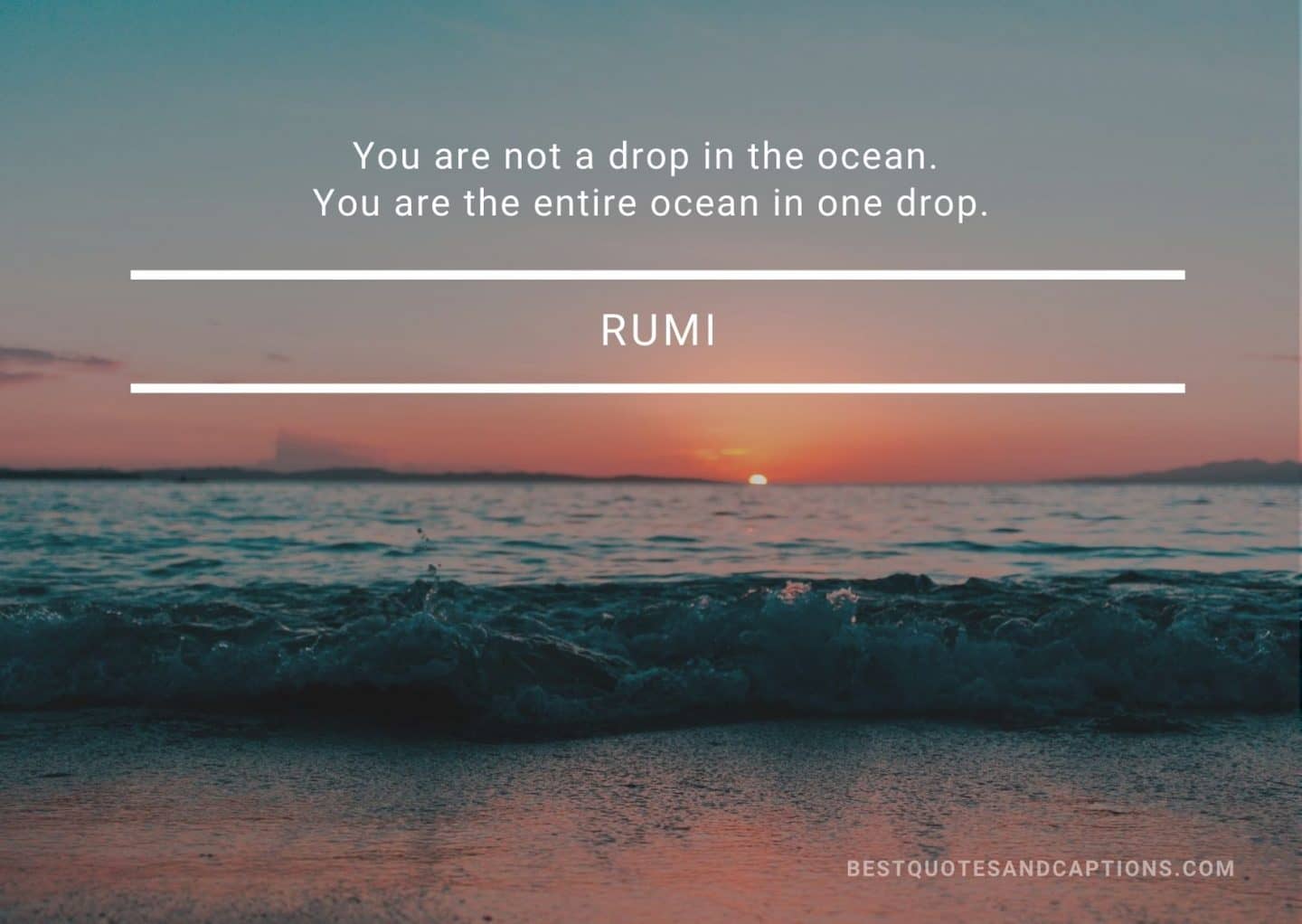 Related: The most captivating captions for girls
Comforting quotes about death and grief
There is nothing like losing a loved one. But, to help you (or someone you know) through this emotional time, we've found some beautifully written quotes about comfort for those grieving:
Grief is the price we pay for love. Queen Elizabeth II
Life is not measured by the number of breaths we take, but by the moments that take our breath away. Anonymous
Mourning is the constant re-awakening that things are now different. Stephanie Ericsson
Tears are words that need to be written. Paulo Coelho
The life given us by nature is short, but the memory of a life well spent is eternal. Cicero
Those we love don't go away. They walk beside us every day.
Though nothing can bring back the hour of splendour in the grass, of glory in the flower, we will grieve not, rather find strength in what remains behind. William Wordsworth
To live in hearts we leave behind is not to die. Thomas Campbell
Unable are the loved to die. For love is immortality. Emily Dickinson
When you are sorrowful look again in your heart, and you shall see that in truth you are weeping for that which has been your delight. Kahlil Gibran
Count the garden by the flowers, never by the leaves that fall. Count your life with smiles and not the tears that roll. Anonymous
Related: The biggest list of smile captions for Instagram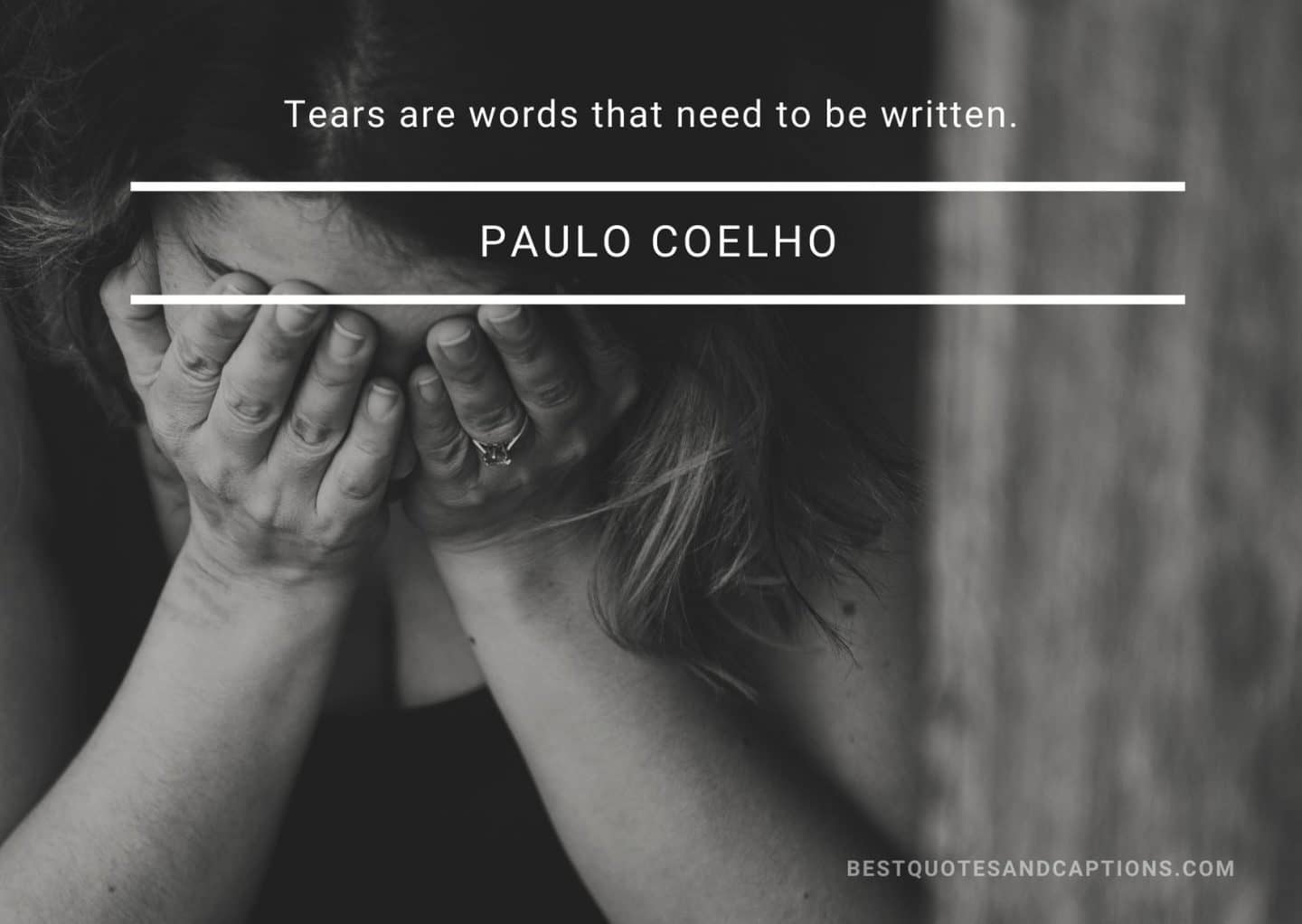 Religious comforting quotes
Regardless of your religious persuasion, verse from the many holy books can provide some much-needed comfort during this time. Here are a few examples, comforting quotes from the Bible, the Torah and the Koran (Quran).
… And whoever holds firmly to Allah has [indeed] been guided to a straight path. Quran 3:101
Assurance is the fruit that grows out of the root of faith. Stephen Charnock
Blessed be the God and Father of our Lord Jesus Christ, the Father of mercies and God of all comfort, who comforts us in all our affliction, so that we may be able to comfort those who are in any affliction, with the comfort with which we ourselves are comforted by God. For as we share abundantly in Christ's sufferings, so through Christ we share abundantly in comfort too. 2 Corinthians 1:3-5
Cast all your anxiety on him because he cares for you. 1 Peter 5:7
Do not be afraid and do not be discouraged. The Lord God Almighty himself is with you now and forever. Karen Tripp
Even though I walk through the darkest valley, I will fear no evil, for you are with me; your rod and your staff, they comfort me. Psalm 23:4
God does not comfort us to make us comfortable, but to make us comforters. John Henry Jowett
God is our Father and loves us, even when his silence remains incomprehensible. Pope Benedict XVI
God is working for you tonight. Heaven is holding conversations about. Angels have been assigned to you. Be at peace.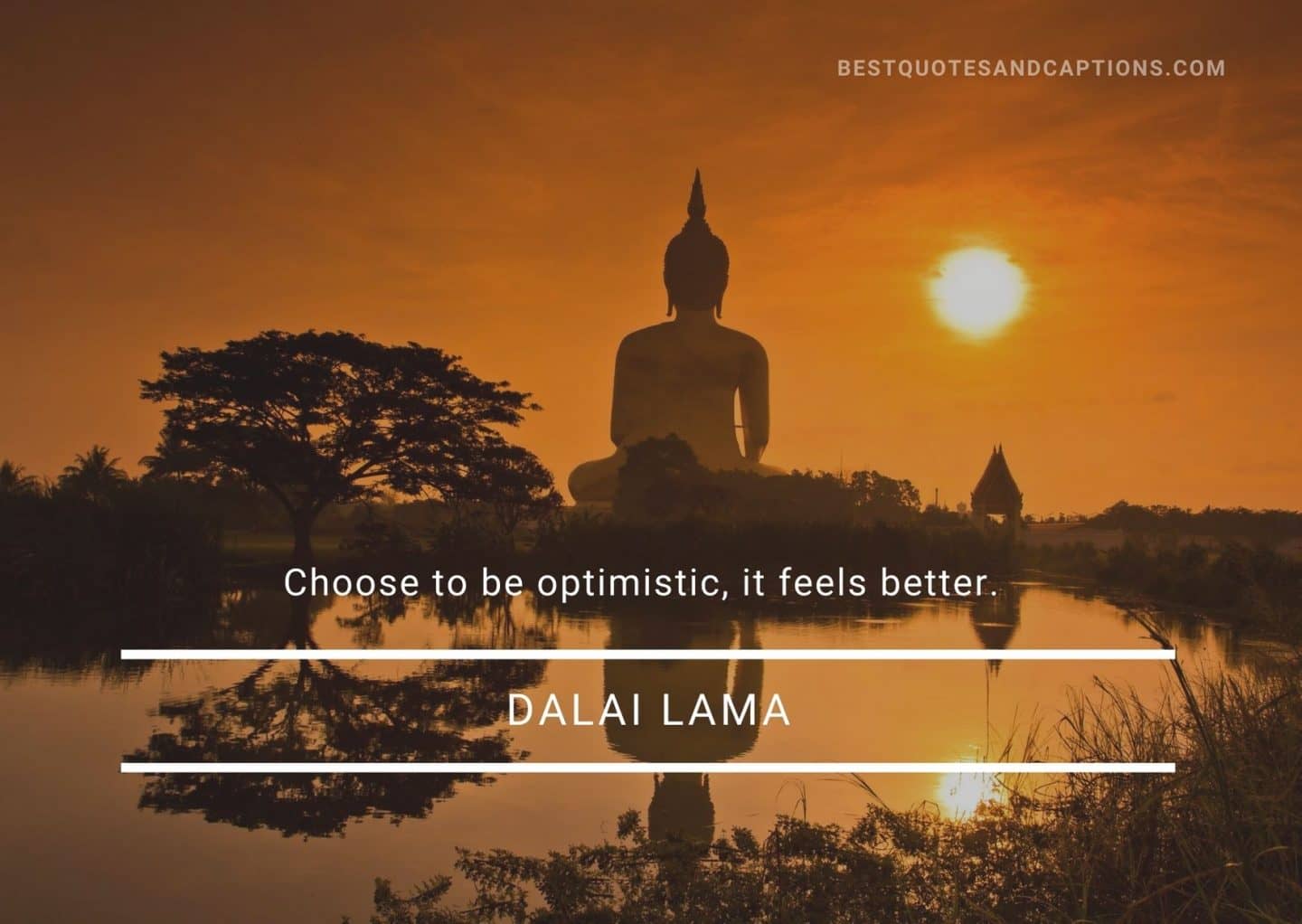 I ask not for a lighter burden, but for broader shoulders. Jewish proverb
In the darkest of nights cling to the assurance that God loves you, that He always has advice for you, a path that you can tread and a solution to your problem–and you will experience that which you believe. God never disappoints anyone who places his trust in Him. Basilea Schlink
Just checking on you and praying God takes extra special care of you today! Hebrews 4:16
Never be afraid to trust an unknown future to a known God. Corrie Ten Boom
Never let your head hang down. Never give up and sit down and grieve. Find another way. And don't pray when it rains if you don't pray when the sun shines. Leroy Satchel Paige
Oh, how very kind and good my heavenly Father has been to me! George Mueller
One way to get comfort is to plead the promise of God in prayer, show Him His handwriting; God is tender of His Word. Thomas Manton
Prayer crowns God with the honor and glory due to His name, and God crowns prayer with assurance and comfort. The most praying souls are the most assured souls. Thomas Brooks
Snuggle in God's arms. When you are hurting, when you feel lonely, left out. Let Him cradle you, comfort you, reassure you of His all-sufficient power and love. Kay Arthur
The child of God runs to his Father and expects consolation only from the Lord's hand. Charles Spurgeon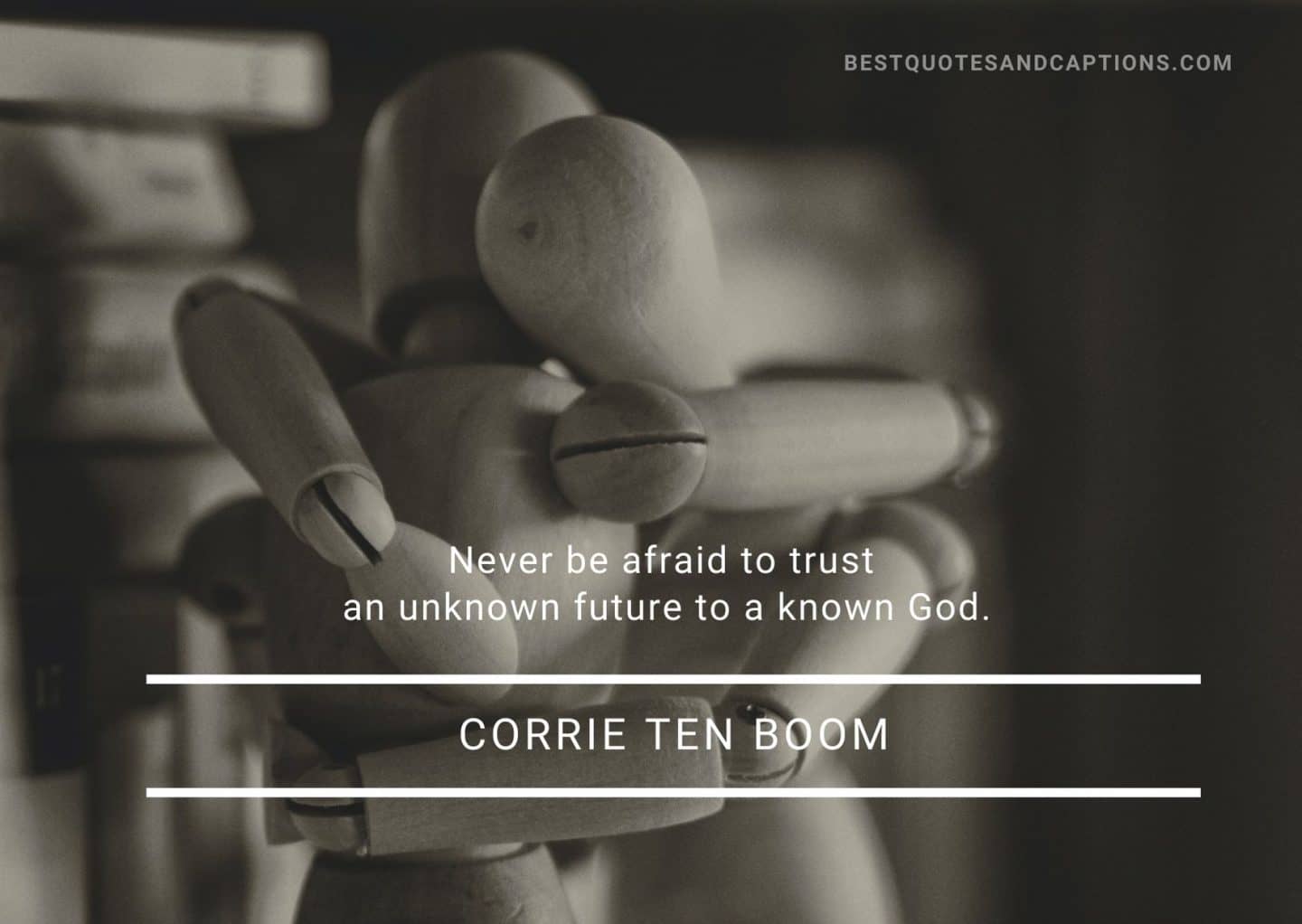 We have this hope as an anchor for the soul, firm and secure. Hebrews 6:19
We should always pray for help, but we should always listen for inspiration and impression to proceed in ways different from those we may have thought of. John H. Groberg
When God's desire is also your desire, his joy is your joy, and His purpose your purpose, you will find that you have all that ever need. Karen Tripp
When things don't go according to your plan it doesn't mean that things are not going according to God's plan. Karen Tripp
You don't have to be alone in your hurt! Comfort is yours. Joy is an option. And it's all been made possible by your Saviour. He went without comfort so you might have it. He postponed joy so you might share in it. He willingly chose isolation so you might never be alone in your hurt and sorrow. Joni Eareckson Tada
Whatever happened was good. Whatever is happening is good. Whatever will happen will also be good. Bhagavad Gita
One should not be happy or distressed over desirables and undesirables, knowing that such feelings are just created by the mind. A.C. Bhaktivedanta Swami Prabhupada
Thousands of candles can be lit from a single candle, and the life of the candle will not be shortened. Happiness never decreases by being shared. Buddha
You yourself, as much as anybody in the entire universe, deserve your love and affection. Buddha
Choose to be optimistic, it feels better. Dalai Lama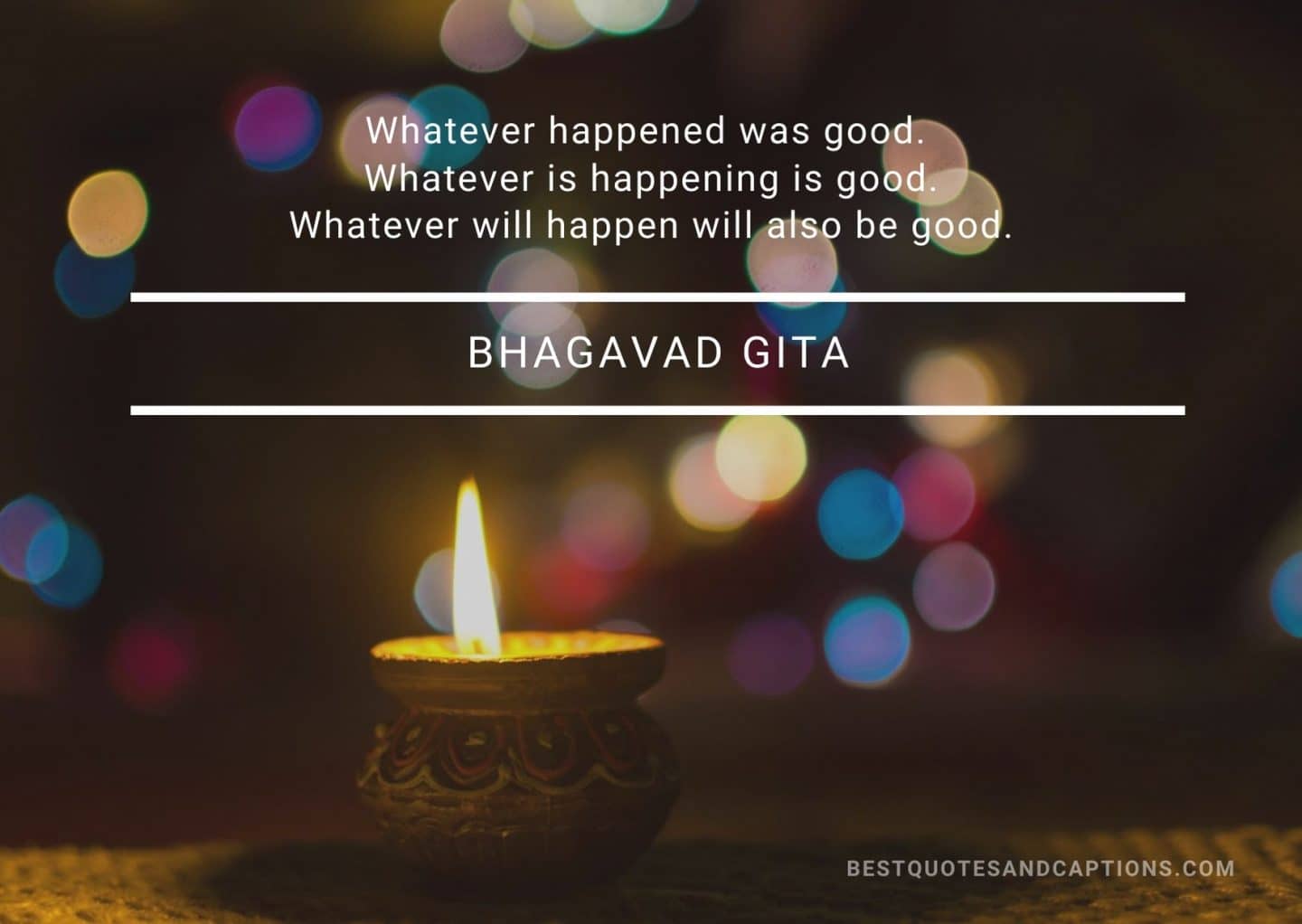 Comforting quotes about pain
Whether it's emotional, spiritual or physical, pain is just that: painful. And sometimes you just need a helpful hug or sympathy words of comfort to help you get over that pain.
It's alright to cry. It's alright to hurt. It's alright to be confused. Hope will rebuild landmarks. Hope will outlive the broken hearts. Hope will outlive the disillusioned. Alan Cox
Maybe that was why she couldn't cry, she realized, staring dry-eyed at the ceiling. Because what was the point in crying when there was no one there to comfort you? And what was worse, when you couldn't even comfort yourself? Cassandra Clare
So dry your tears. Fortune has not yet turned her hatred against all your blessings. The storm has not yet broken upon you with too much violence. Your anchors are holding firm and they permit you both comfort in the present, and hope in the future. Boethius
The best way to get rid of the pain is to feel the pain. And when you feel the pain and go beyond it, you'll see there's a very intense love that is wanting to awaken itself. Deepak Chopra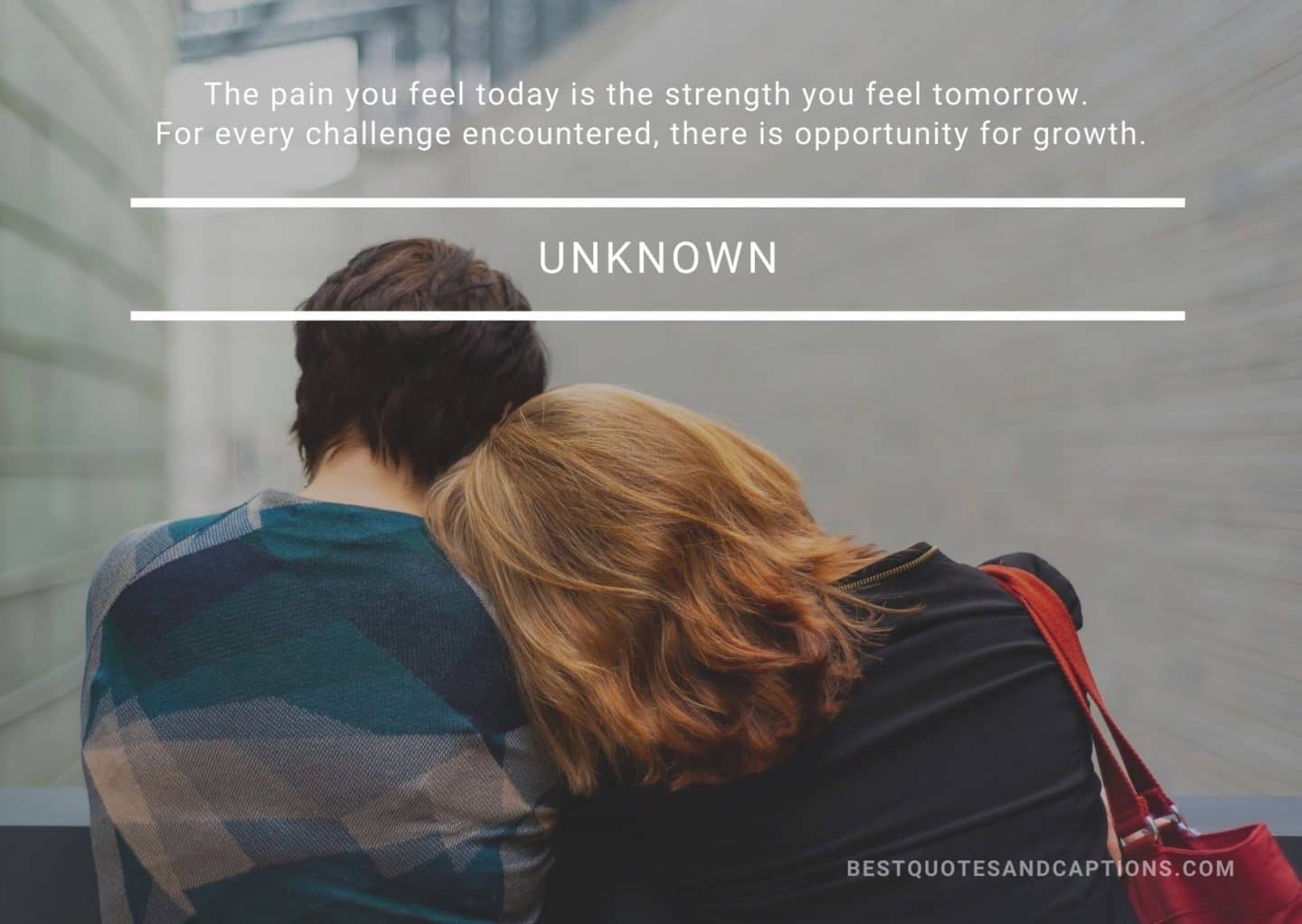 The pain you feel today is the strength you feel tomorrow. For every challenge encountered, there is opportunity for growth. Unknown
There is nothing I can say to take away your hurt, but you have my shoulder to cry on and my loving hugs. Know that I will be here for you when you need me.​ Unknown
We must embrace pain and burn it as fuel for our journey. Kenji Miyazawa
When I'm in pain I want everyone I love on the island with me, sitting around the fire, getting drunk on coconut milk, banging out a plan. Melanie Gideon
When someone is crying, of course, the noble thing to do is to comfort them. But if someone is trying to hide their tears, it may also be noble to pretend you do not notice them. Lemony Snicket
You are on the floor crying, and you have been on the floor crying for days. And that is you being brave. That is you getting through it as best you know how. No one else can decide what your tough looks like. Clementine von Radics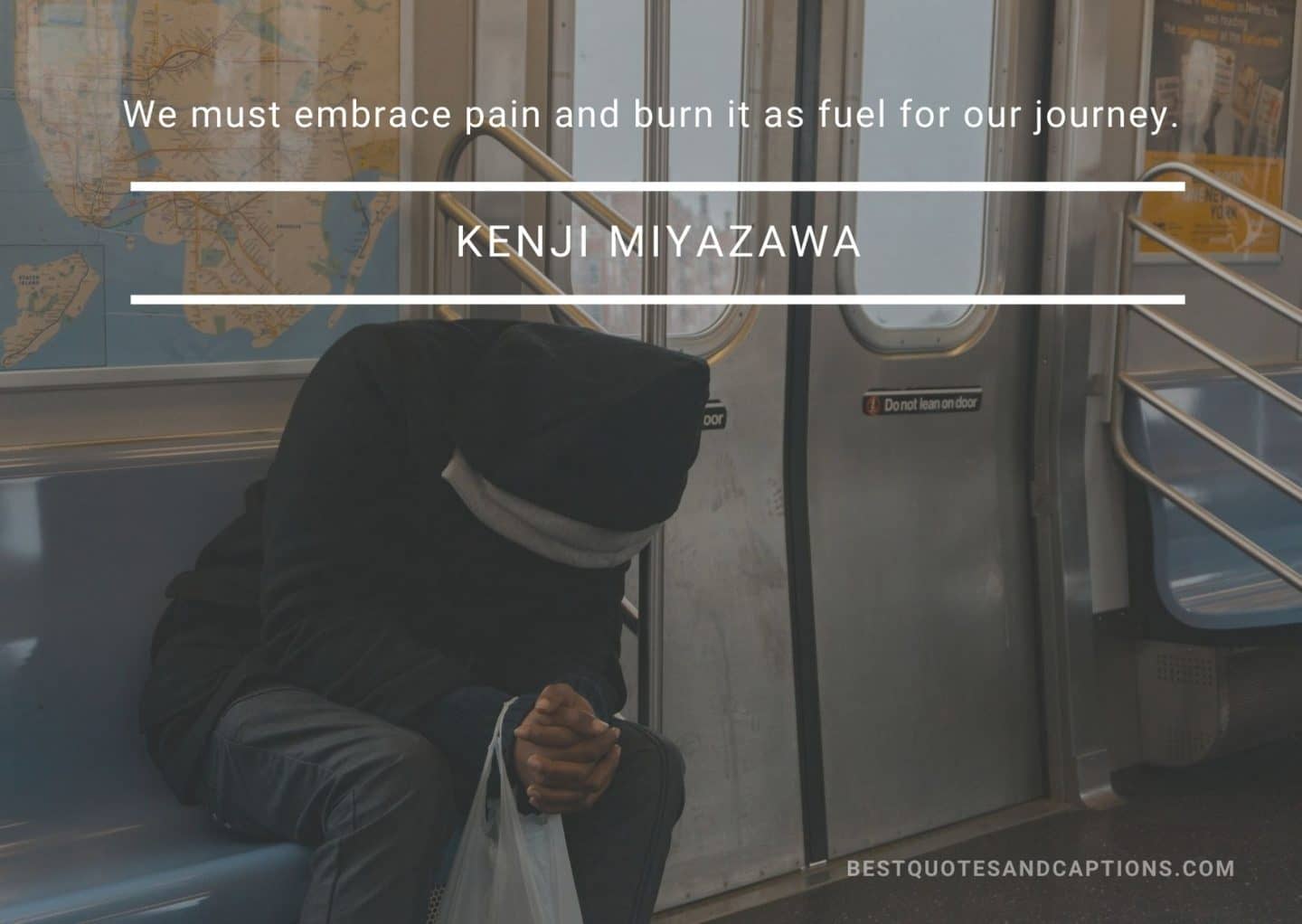 Recommended: Love Hashtags – the best list to copy and paste
Quotes about discomfort and getting out of your comfort zone
Yes, this article is all about comforting quotes, things that make you feel a bit warm and fuzzy inside. But we would be remiss if we didn't include quotes about discomfort, and how pushing yourself in times of discomfort is a good way to find success.
… one may live in a big house and yet have no comfort. Agatha Christie
Comfort is a powerful sedative. Samantha Garman
Comfort is no test of truth. Truth is often far from being comfortable. Swami Vivekananda
Comfort is your biggest trap and coming out of comfort zone your biggest challenge. Manoj Arora
If you look for truth, you may find comfort in the end; if you look for comfort you will not get either comfort or truth. C. S. Lewis
Minds, like bodies, will often fall into a pimpled, ill-conditioned state from mere excess of comfort. Charles Dickens
Of all created comforts, God is the lender; you are the borrower, not the owner. Samuel Rutherford
People need to rediscover the ability to find comfort amidst discomfort. It is only while enduring discomfort that we find solutions. Hanno Langenhoven
The lust for comfort, that stealthy thing that enters the house as a guest, and then becomes a host, and then a master. Khalil Gibran
This is no time for ease and comfort. It is time to dare and endure. Winston Churchill
We find comfort among those who agree with us – growth among those who don't. Frank A. Clark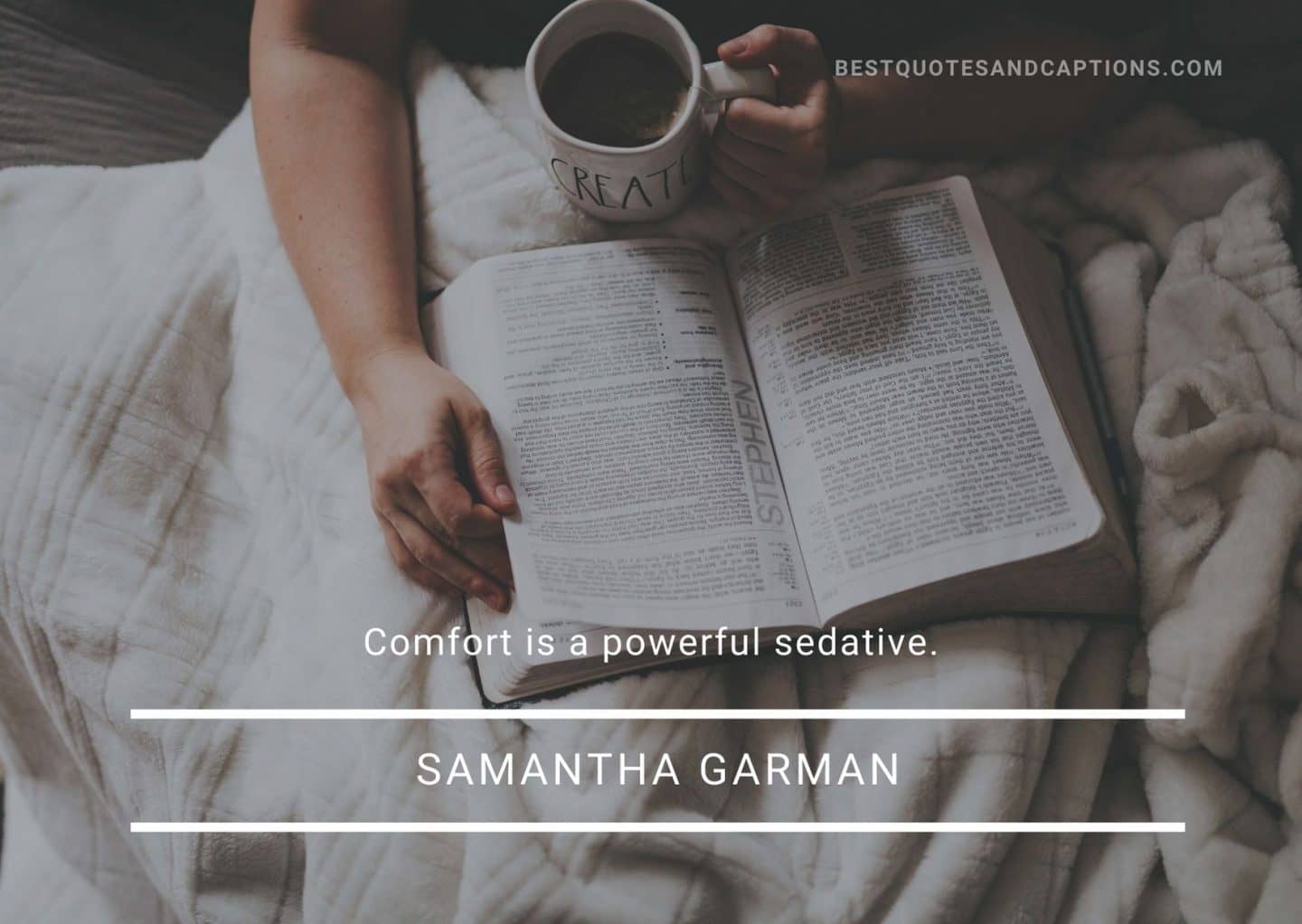 Comforting captions about healing
Whether it's self-care or physical healing, you need something restorative for mind, body and soul. To help you do just that, you could use one of these captivating quotes about healing:
A scar is proof that healing has occurred.
All healing is first a healing of the heart. Carl Townsend
Eventually you will come to understand that love heals everything, and love is all there is. Gary Zukav
Healing doesn't usually spring up instantaneously, instead it manifests itself in small yet delightful doses of normal. Unknown
Healing is a matter of time, but it is sometimes also a matter of opportunity. Hippocrates
Healing may not be so much about getting better, as about letting go of everything that isn't you — all of the expectations, all of the beliefs — and becoming who you are. Rachel Naomi Remen
Healing requires from us not to stop struggling, but to enjoy life more and endure it less. Darina Stoyanova
Healing takes courage, and we all have courage, even if we have to dig a little to find it. Tori Amos
Healing the soul first; then healing of the mind and body will follow. Zhi Gang Sha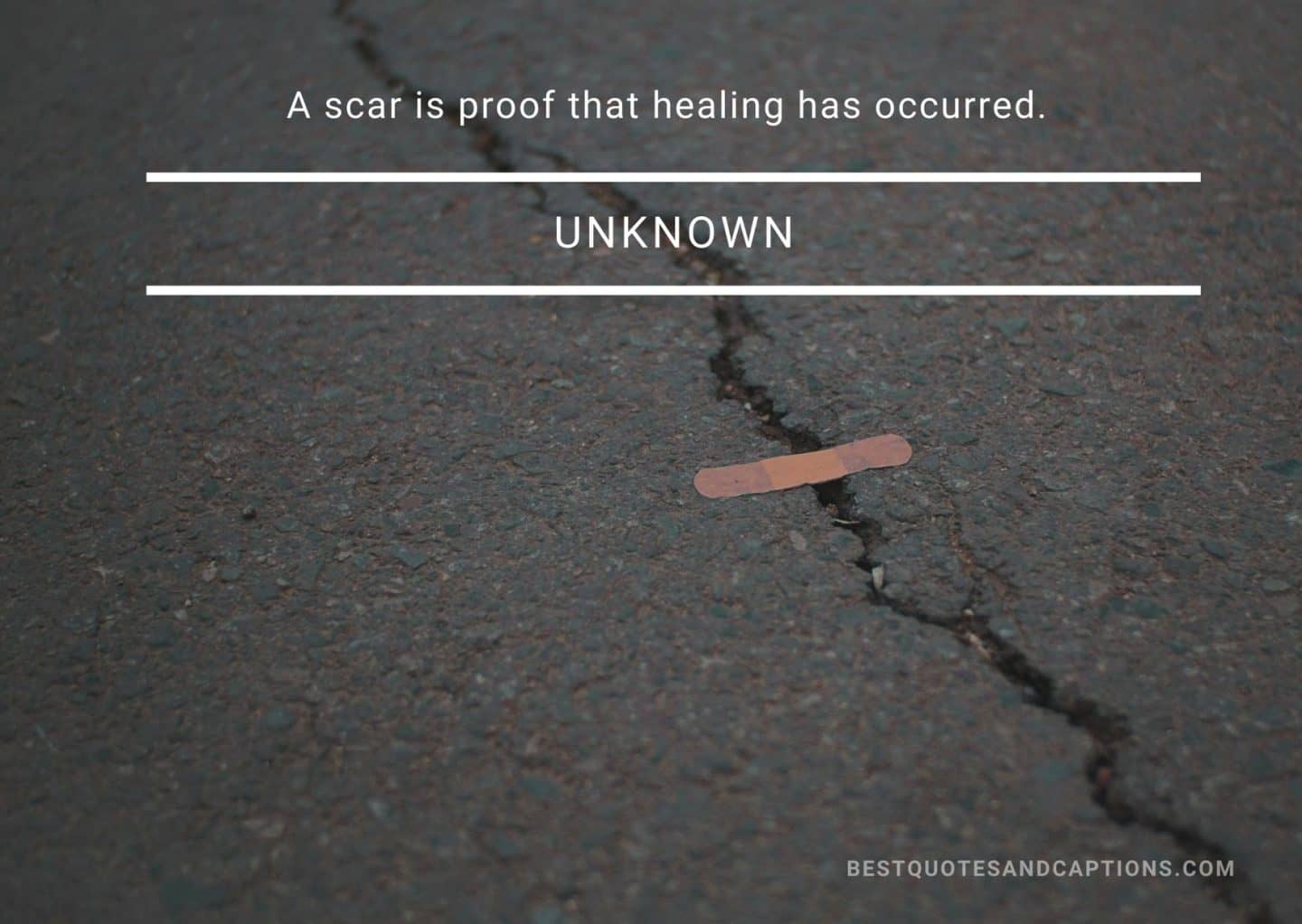 Healing yourself is connected with healing others. Yoko Ono
I think music in itself is healing. It's an explosive expression of humanity. Billy Joel
I'm touched by the idea that when we do things that are useful and helpful, collecting these shards of spirituality, that we may be helping to bring about a healing. Leonard Nimoy
Live your life from your heart. Share from your heart. And your story will touch and heal people's souls. Melody Beattie
Love one another and help others to rise to the higher levels, simply by pouring out love. Love is infectious and the greatest healing energy. Sai Baba
Of one thing I am certain, the body is not the measure of healing, peace is the measure. Phyllis McGinley
Our sorrows and wounds are healed only when we touch them with compassion. Buddha
The practice of forgiveness is our most important contribution to the healing of the world. Marianne Williamson
The soul always knows what to do to heal itself. The challenge is to silence the mind. Caroline Myss
There is something beautiful about all scars of whatever nature. A scar means the hurt is over, the wound is closed and healed, done with. Harry Crews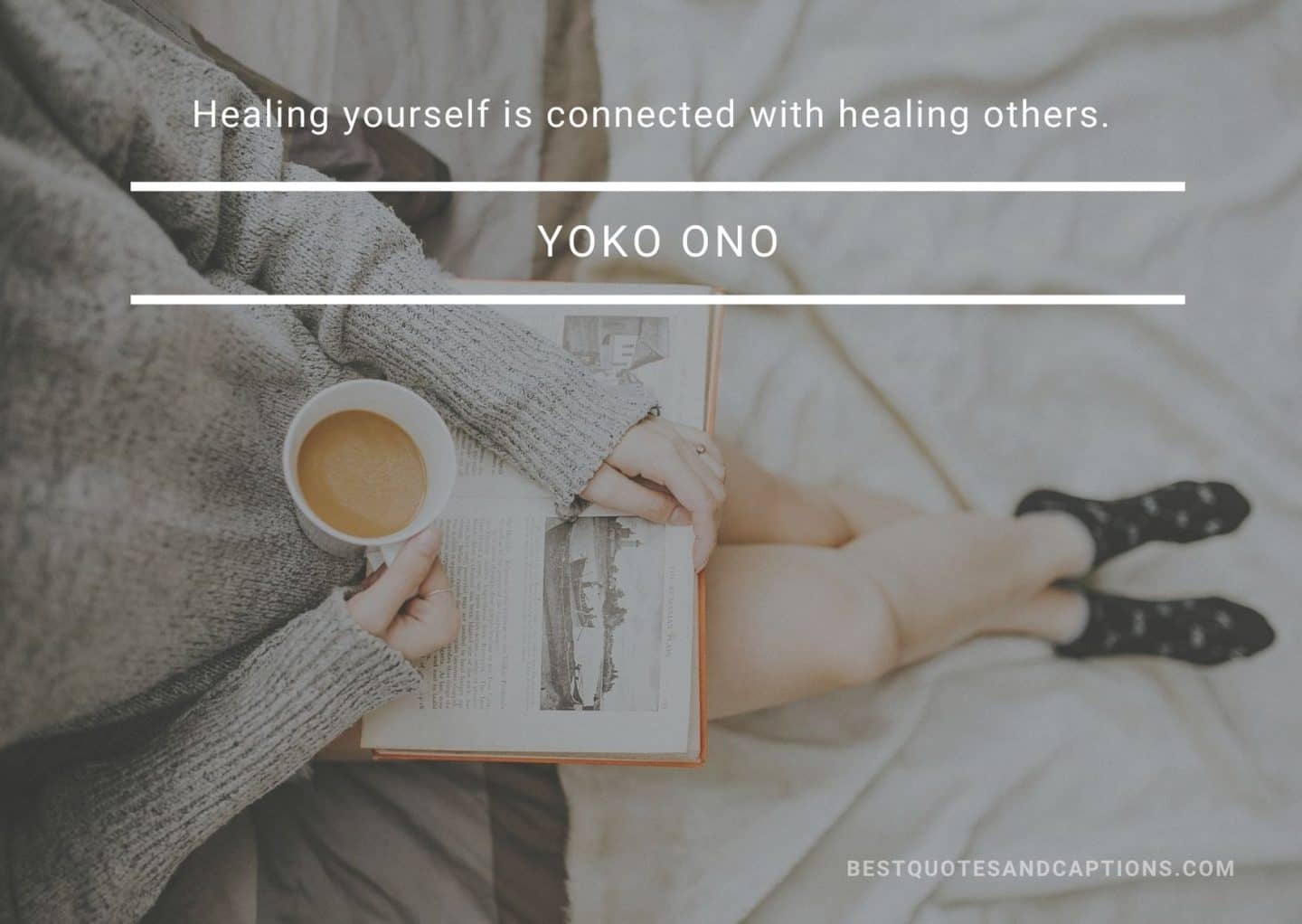 Comforting quotes to overcome adversity
Life is all about challenges and how you surmount them. So, we've curated some of the ultimate quotes to show how you can overcome adversity:
Although the world is full of suffering, it is also full of the overcoming of it. Helen Keller
Every adversity, every failure and every heartache carries with it the seed of an equivalent or a greater benefit. Napoleon Hill
He knows not his own strength who hath not met adversity. William Samuel Johnson
In times of great stress or adversity, it's always best to keep busy, to plough your anger and your energy into something positive. Lee Iacocca
Prosperity is a great teacher; adversity is a greater. Possession pampers the mind; privation trains and strengthens it. William Hazlitt
Prosperity is not without many fears and disasters; and adversity is not without comforts and hopes. Francis Bacon
The bravest sight in the world is to see a great man struggling against adversity. Seneca
The friend in my adversity I shall always cherish most. I can better trust those who helped to relieve the gloom of my dark hours than those who are so ready to enjoy with me the sunshine of my prosperity. Ulysses S. Grant
The gem cannot be polished without friction, nor man perfected without trials. Chinese Proverb
The greatest glory in living lies not in never failing, but in rising every time we fail. Nelson Mandela
Tough times never last, but tough people do. Robert H Schuller
We have nothing to fear but fear itself. Franklin D. Roosevelt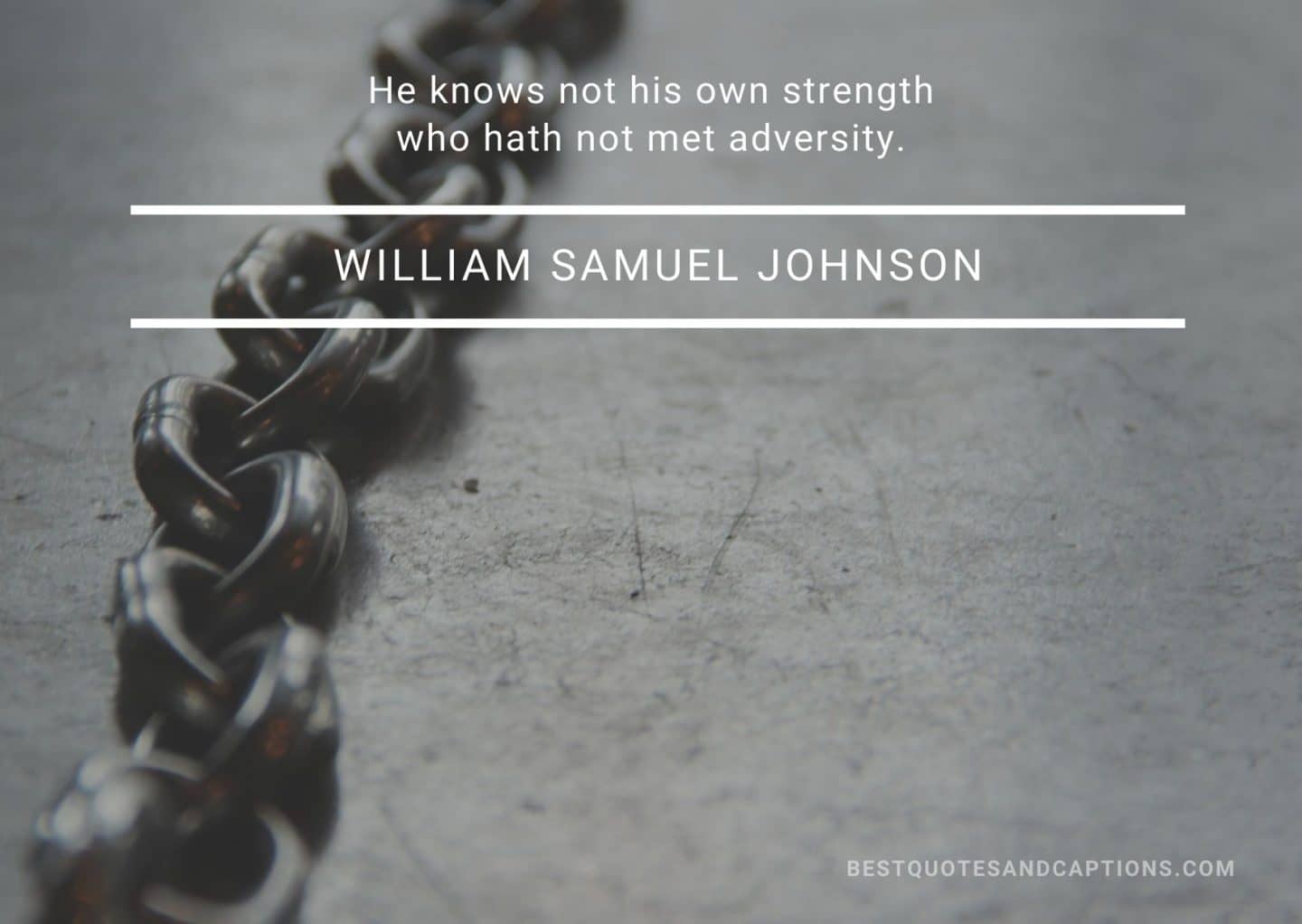 Quotes about the comfort of friendship
In tough times, you really need your friends there to support you, and hold you up. Actually, in good times too! To reflect how much friends mean, you could use one of these great comforting quotes about friends:
Find a group of people who challenge and inspire you; spend a lot of time with them, and it will change your life. Amy Poehler
Friendship is the comfort that comes from knowing that even when you feel all alone, you aren't.
I can't promise to fix all your problems, but I can promise you won't have to face them all alone.
Many people will walk in and out of your life, but only true friends will leave footprints in your heart.
Oh the comfort, the inexpressible comfort of feeling safe with a person, having neither to weigh thoughts nor measure words, but pouring them all right out just as they are.
One of the most important things you can do on this earth is to let people know they are not alone. Shannon L. Alder
Part of the healing process is sharing with other people who care. Jerry Cantrell
Sometimes, the best way to help someone is just to be near them. Veronica Roth
The greatest healing therapy is friendship and love. Hubert H. Humphrey
Related: The ultimate list of captions for friends 
The human touch is that little snippet of physical affection that brings a bit of comfort, support, and kindness. It doesn't take much from the one who gives it, but can make a huge difference in the one who receives it. Mya Robarts
To be with old friends is very warming and comforting. Ian Ziering
When you get lost in a really strange place, nothing is more comforting than found your friend whom you trust and can show the way. Toba Beta
When you go through a dark time and cannot see any light ahead, your true friends will shine like a diamond. Living on love and cents.
Winter is the time for comfort, for good food and warmth, for the touch of a friendly hand and for a talk beside the fire: it is the time for home. Edith Sitwell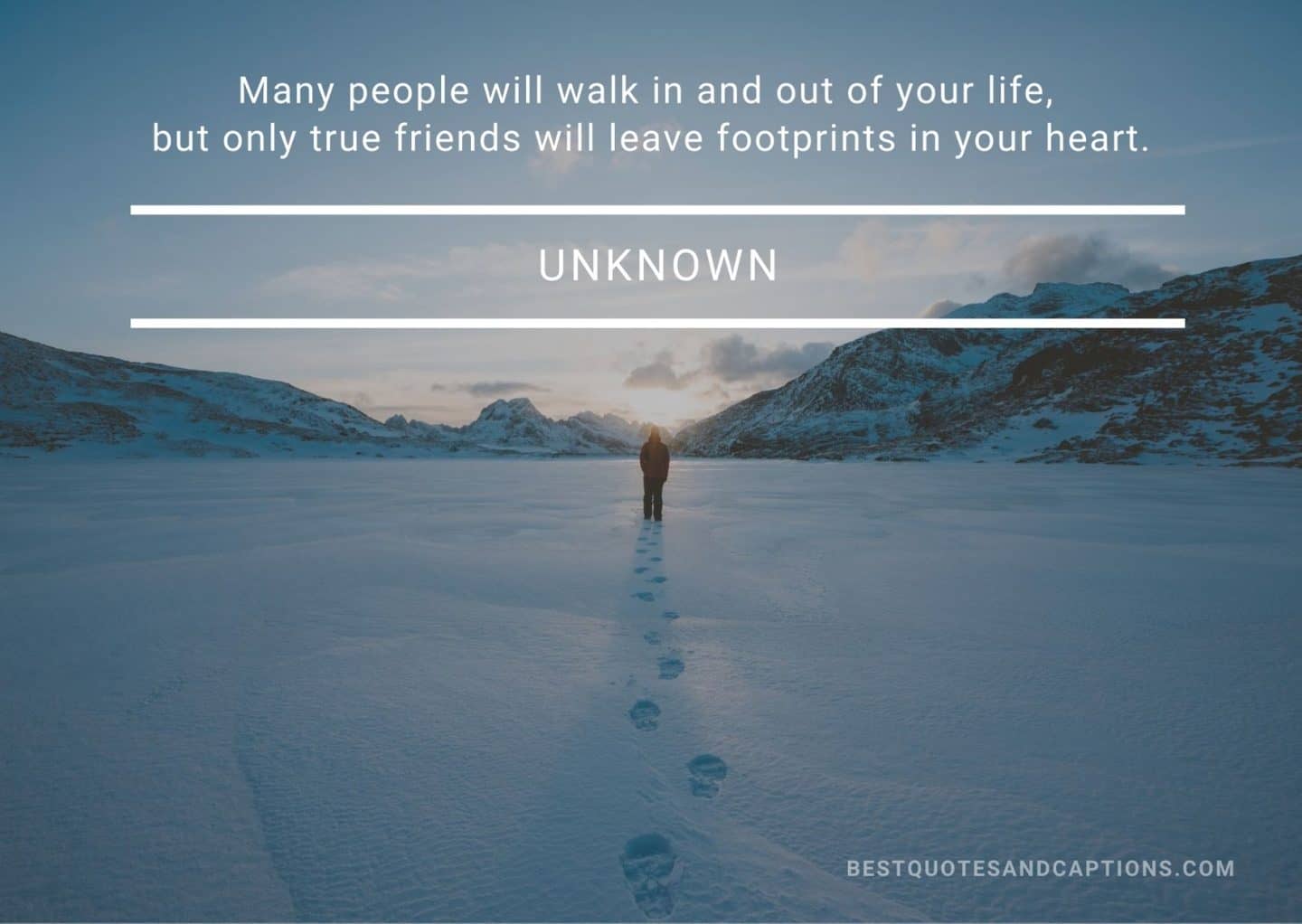 Short quotes of comfort
Need something a little shorter, and to the point? Try on one of these short comforting quotes for size:
Humour is healing. Brad Garrett
Hurt me with the truth, but never comfort me with a lie.
If your presence doesn't make an impact your absence won't make a difference.
It doesn't matter how slow you go, as long as you don't stop. Confucius
It's going to be okay in the end. If it's not okay, it's not the end.
Life begins at the end of comfort zone.
Problems are not stop signs, they are guidelines. Robert Schuller
Remember that guy that gave up? Neither does anyone else. Unknown
Time alone does not heal. It is the loyalty to life that heals. Stephanie Ericsson
We can't help everyone, but everyone can help someone. Ronald Reagan
We must embrace pain and burn it as fuel for our journey. Kenji Miyazawa
Whatever you're facing right now, there's a way out. Paul Jukes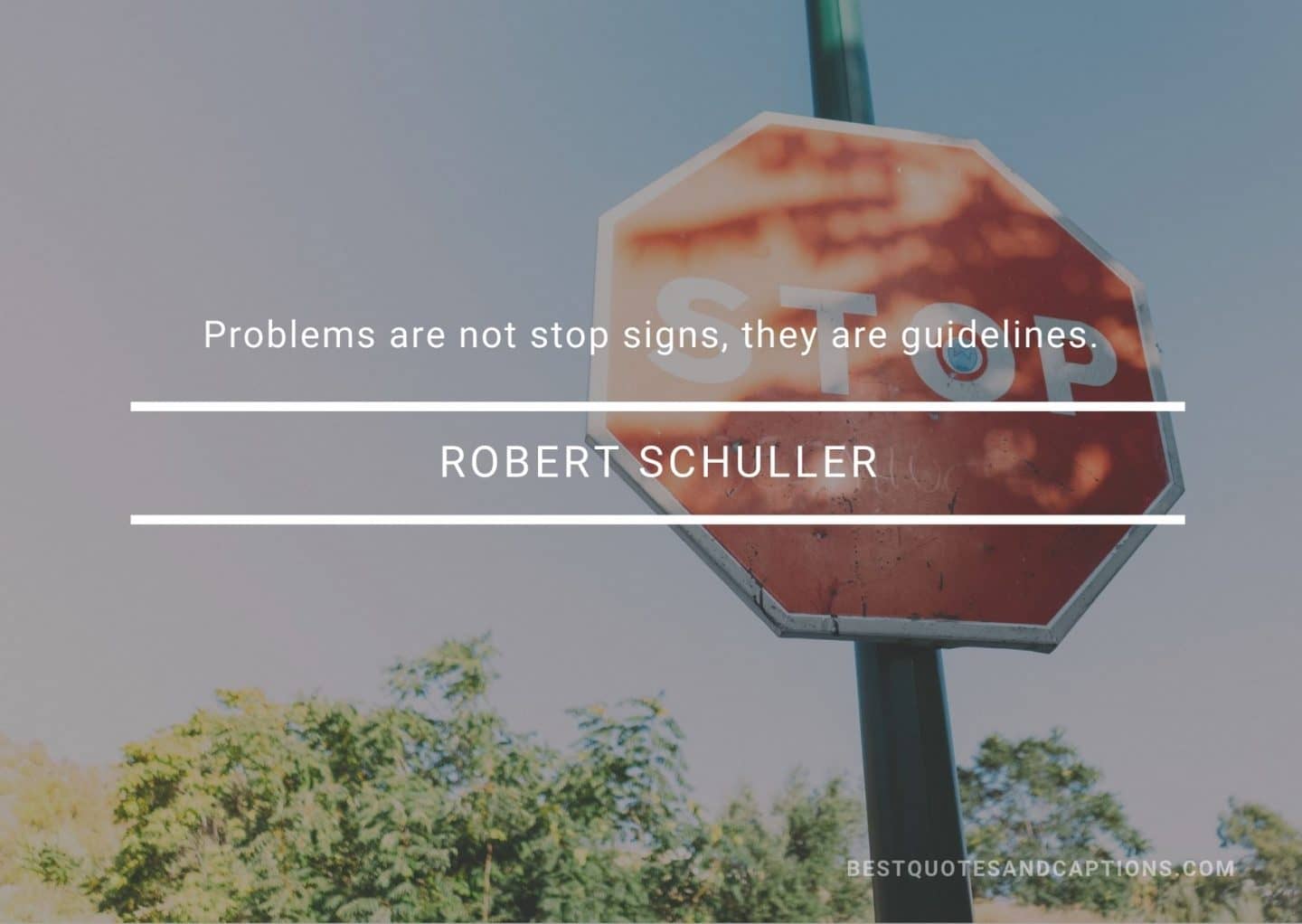 More quotes of comfort and strength
The above list didn't generate the comforting quote you need? Well here are even more comforting life quotes for you:
Believe that life is worth living and your belief will help create the fact. William James
Challenges are what make life interesting and overcoming them is what makes life meaningful. Joshua J. Marine
Don't let the fear of the time it will take to accomplish something stand in the way of your doing it. The time will pass anyway; we might just as well put that passing time to the best possible use. Earl Nightingale
Even the smallest tender mercy can bring peace when recognized and appreciated. Richelle E. Goodrich
For now, I just want things all safe and familiar. My life may not be perfect, but it is what I have known. Ann M. Martin
If there's one thing I've learned, it's this: We all want everything to be okay. We don't even wish so much for marvellous or outstanding. We will happily settle for okay, because most of the time, okay is enough. David Levithan
If you don't like something change it; if you can't change it, change the way you think about it. Mary Engelbreit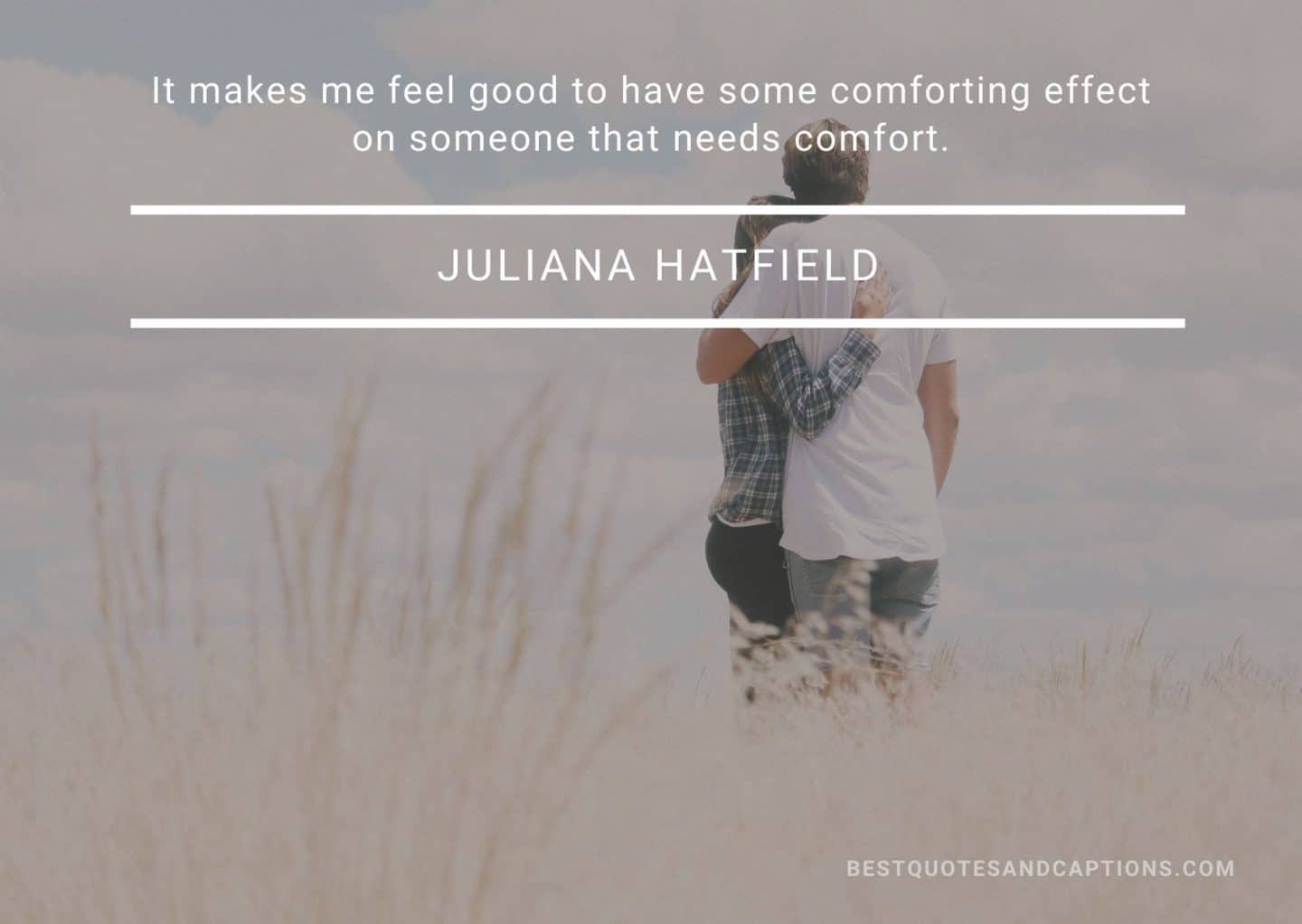 It makes me feel good to have some comforting effect on someone that needs comfort. Juliana Hatfield
It was like the way you wanted sunshine on Saturdays, or pancakes for breakfast. They just made you feel good. Sarah Addison Allen
Life is too short to stress yourself with people who don't even deserve to be an issue in your life.
May your life be filled, as mine has been, with love and laughter; and remember, when things are rough all you need is … Chocolate. Geraldine Solon
Moving on doesn't mean that you're giving up. It means that you're making a choice to be happy instead of hurt.
The brick walls are there for a reason. The brick walls are not there to keep us out. The brick walls are there to give us a chance to show how badly we want something. Because the brick walls are there to stop the people who don't want it badly enough. They're there to stop the other people. Randy Pausch
There are two types of people in the world: those who prefer to be sad among others, and those who prefer to be sad alone. Nicole Krauss
To succeed, you have to do something and be very bad at it for a while. You have to look bad before you can look really good.
Use what you've been through as fuel, believe in yourself and be unstoppable! Yvonne Pierre
We are all here on earth to help others; what on earth the others are here for I don't know. W. H. Auden
You know that place between sleep and awake; that place where you can still remember dreaming? That's where I will always love you. That's where I will be waiting. Peter Pan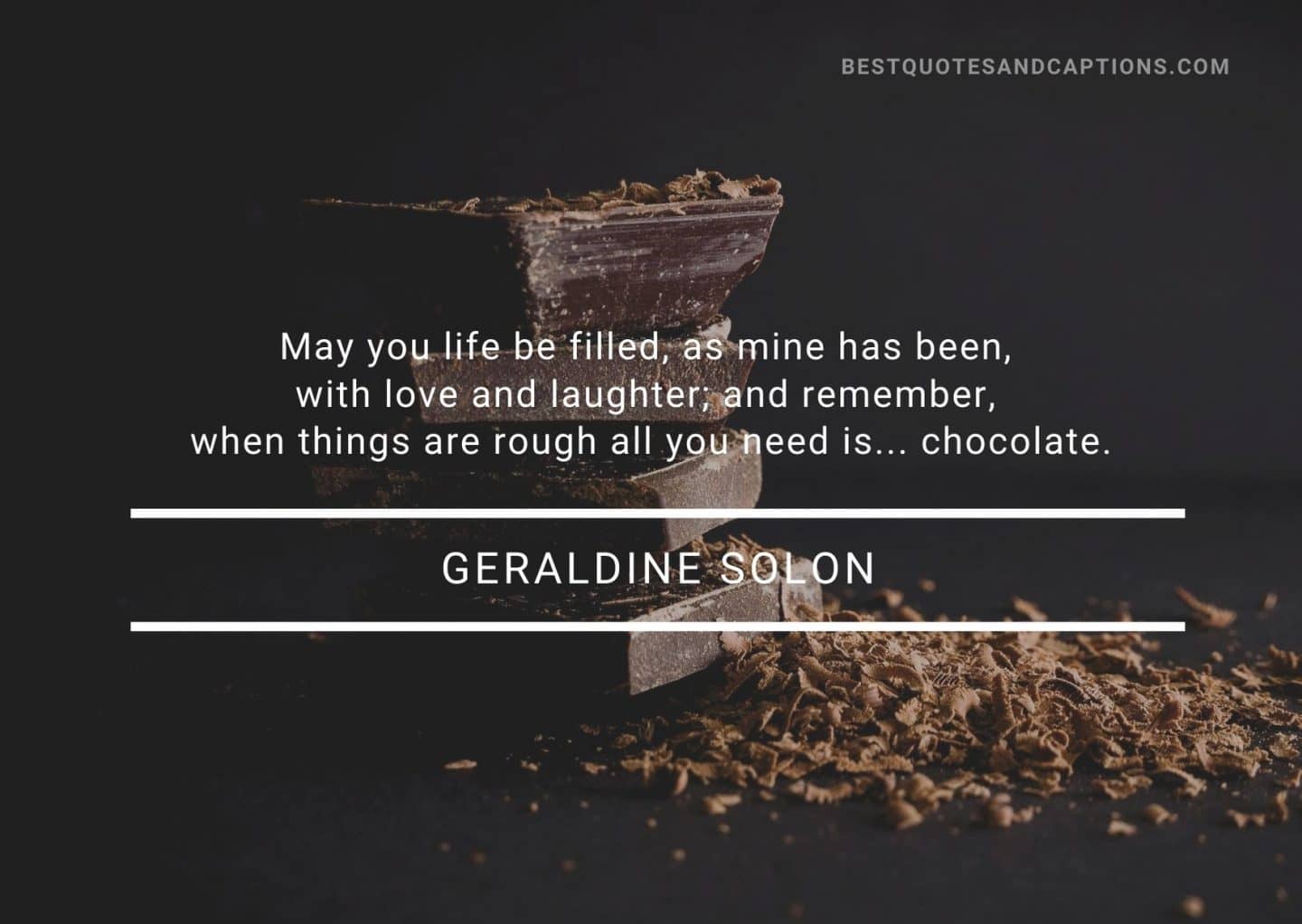 Increasing Instagram engagement on your comforting quotes
Firstly, you've made it to the end of this bumper article full of quotes about comfort – well done! Now, we know that you often want to use these kinds of comforting quotes for social media networks, like Instagram.
We're passionate Instagrammers ourselves and know a few things about how to increase engagement on your quotes when using them as captions. So, we thought we'd jot a few notes for you below:
Captions
You've selected a fantastic quote from the list above, you've got your picture ready and you want to post it? Don't forget to work on the caption! You can't just include the quote and hope for the best. Here are a few tricks for captions:
Write it in your own voice or tone. People are increasingly looking for authenticity on Instagram, so write like yourself!
Keep it short, if you can. Don't write a novel in your caption since people won't read the entire thing. Try to use the caption and then keep your remaining text brief.
Sprinkle in some emojis! These help to create natural gaps between text (so its easier on the eye)
Ask an open-ended question. People love to answer questions and it's a great way to generate comments. So, for something like comforting quotes, ask a question like: 'What gives you comfort during tough times'
Hashtags
While hashtags on Instagram aren't as effective as they used to be, they still have a key role to play in increasing engagement. Make sure you pick them wisely!
You can just use a random hashtag generator (try All Hashtag), or check your 'competitors' on Instagram or, if you really want a deep dive, then check out our Ultimate Guide to Hashtags here!
Photo Filters
While you shouldn't overdo it on filters, everyone is attracted first by your picture, not your comforting quote or caption. With that in mind, its worth looking at filters or we'd highly suggest investing in some Adobe Lightroom Presets. Take a look at some of these recommended presets.
Instagram Feature Accounts
Last, but definitely not least, you could use a repost account to try and get further reach and engagement on your Instagram post. These accounts will 'feature' your feed posts, either for free or a paid rate (we of course advocate the free!).
Want to find out more about how to get featured on Instagram? Check out this guide on Instagram Guide to Feature Accounts here.
So, what did you think of our Guide to Comforting Quotes? Has it given you some solace? We hope so! If we've missed anything, please don't hesitate to drop a note in the comments below or get in touch.
Other essential Instagram growth tools
---
Want to save this for later? Why not pin it…