Selfies are practically synonymous with Instagram. After all, didn't the platform give rise to the whole trend of pointing your camera phone towards you? Either way, you're probably wanting to find the perfect selfie hashtags for your Instagram or social media post, and we've got the answer! Here's our definitive list of the best selfie hashtags.
But, before we start, its worth keeping in mind that just pasting lots of selfie hashtags is possibly not the best way to get your post seen. If you want your post to go viral, you'll need a bit more than some random hashtags. With that in mind, we've put some advice on how to increase your engagement below.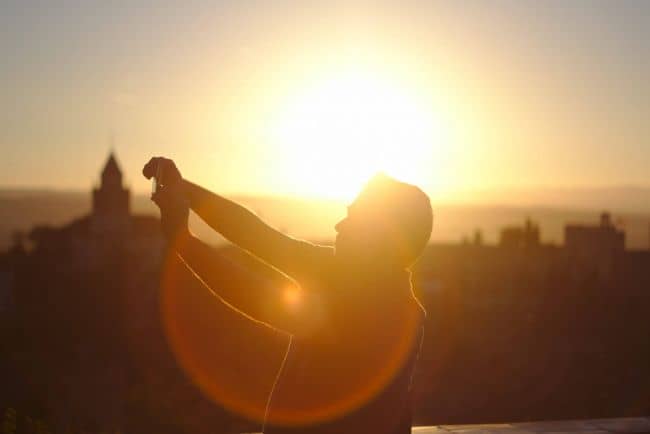 Top 10 Selfie Hashtags 2021
Now because the selfie is such a famous trend on Insta, of course you'll find a lot of very, very popular selfie-related hashtags. However, here is the top 10!
#selfie
#selfies
#selfietime
#selfiesunday
#selfienation
#selfiequeen
#selfiesaturday
#selfiestick
#selfieoftheday
#selfiee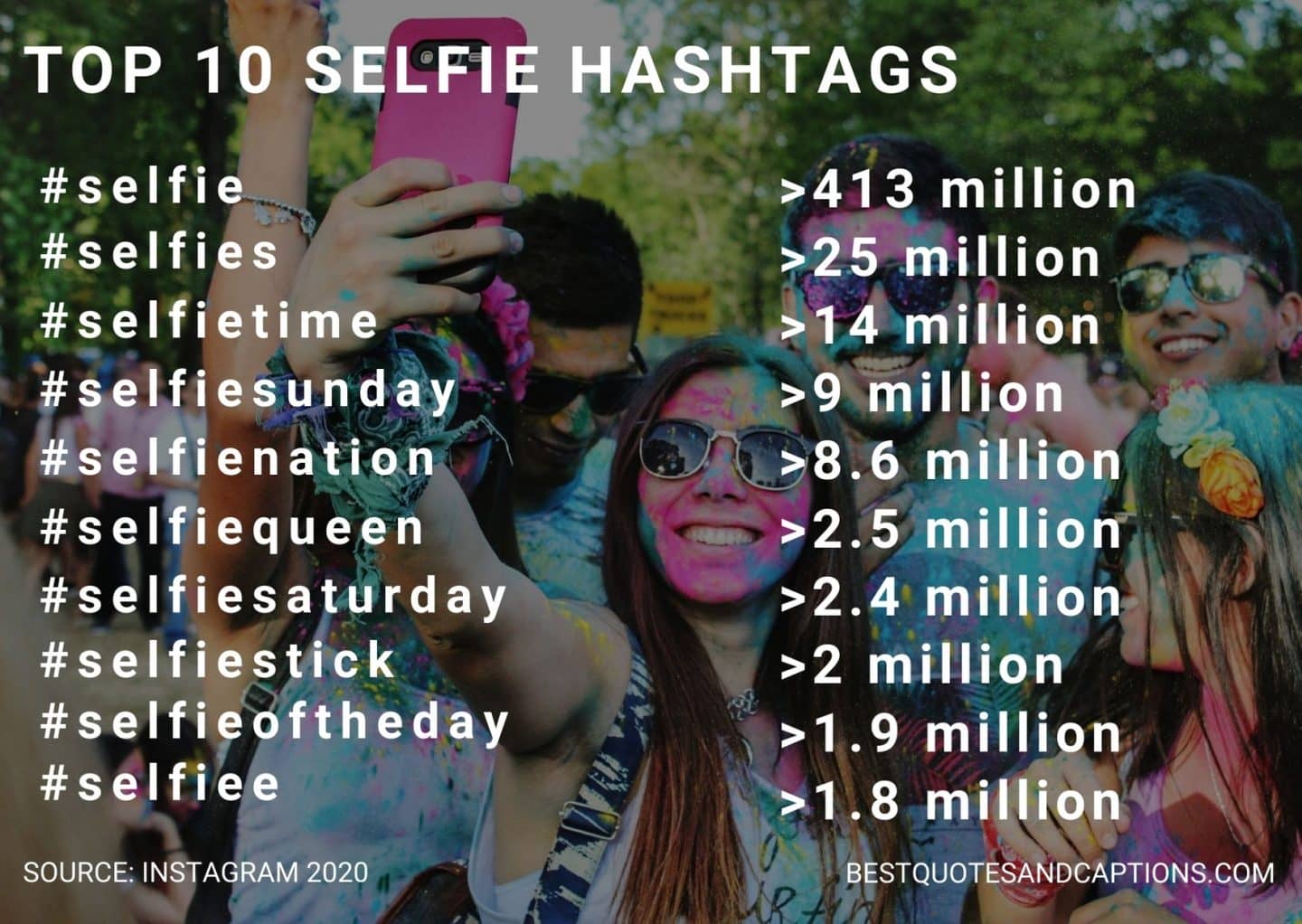 Related: The Best Love Hashtags
Selfie Hashtag Lists (Copy and Paste)
Let's not waste any time, shall we? You're probably just wanting your epic list of selfie hashtags to use. Without further ado, here are some of the best selfie hashtags to include in your posts, although we do advise you read on below to find out how to create a hashtag recipe, to get some increased engagement on that post of yours!
#selfie #selfies #selfietime #selfiesunday #selfienation #selfiequeen #selfiesaturday #selfiestick #selfiee #selfiegram #selfiesfordays #selfieaddict #selfie_time #selfie #selfielove #bidadariselfie #selfieday #selfiegirl #selfieking #selfiegamestrong #selfiemode #selfieee #selfiemania #selfiegame #selfieofday #selfie? #selfiegopro #selfiemirror
#portrait #portraitphotography #portraitmood #portraitpage #portraiture #portrait_perfection #portrait_vision #portrait_shots #portraits_ig #portraitgames #portraitvision #portrait_ig #portraitoftheday #portraits_mf #portraitstream #portrait_mood #portraits_universe #portraitmode #portraitstyles_gf #portraitsociety #portraitdrawing #portraitart #portraitsmag #portraitpainting #portraitcentral #portraitsfromtheworld #portraitshoot
#photography #photooftheday #photo #photographer #instagood #instagram #picoftheday #like #photoshoot #fashion #beautiful #model #portrait #ig #landscape #smile #instalike #l #photo #myself #lifestyle #selflove #instaselfie  #instapost  #instalove  #instatime  #instatoday  #instagame  #instasuper   #instaselfies  #instatrying #instapicture #instamirror
In case your selfie is a monochrome shot? Try these black and white hashtags:
#blackandwhite #blackandwhitephotography #blackandwhitephoto #blackandwhiteonly #blackandwhiteisworththefight #blackandwhitecat #blackandwhite_perfection #blackandwhiteart #blackandwhiteportrait #blackandwhitephotos #blackandwhite_photos #blackandwhitepic #blackandwhitepics #blackandwhite_art #blackandwhitelovers #blackandwhitephotographer #blackandwhiteoftheday #blackandwhitetheme #blackandwhiteuniverse #blackandwhitestyle #blackandwhitephotographylovers #blackandwhitephotographyoftheday #blackandwhites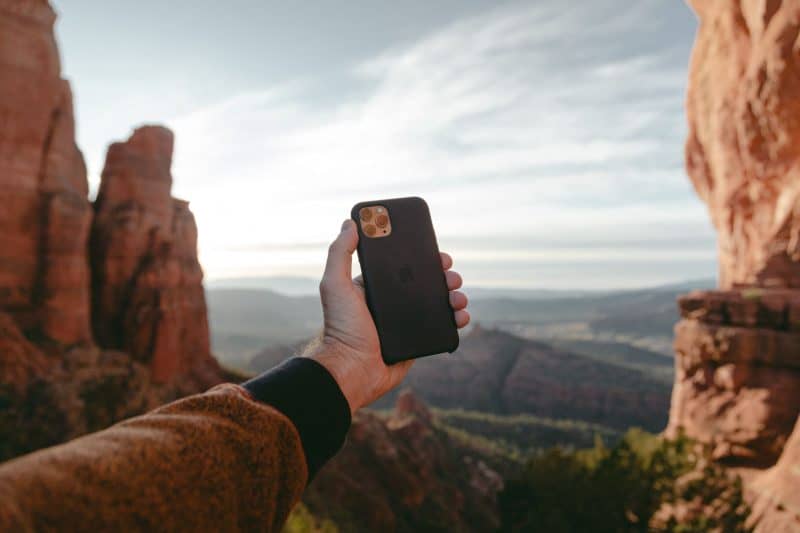 If you're wanting to make a real impact on your Instagram engagement, we'd suggest that you look into Ingramer!

With a full suite of tools, Ingramer acts as an automation partner – essentially the most powerful way to grow your account. It includes hashtag generators, and Instagram Downloader and a Story Viewer that watches other accounts' stories in a bid to attract them to follow you. With advanced targeting filters and an autobot, this is currently the best growth tool on the market.

Sign up here and use SCRIBESMEDIA to save up to 22% on some of the features!
Selfie hashtag for girl (or girls)
#girls #girly #girlpower #girlboss #girlsgeneration #girlsday #me #life #pretty #woman #sexy # #lifestyle #dress #amazing #cool #outfit #instafashion # #look #ootd
Don't forget you can only use a maximum of 30 hashtags for each Instagram post!
Why use hashtags?
Now the Instagram algorithm is a tricky one, and hashtags are no longer the best way to grow your account. That being said, they still do make a huge difference in getting you more exposure since they help to 'promote' your post to people not following you already, increasing your visibility.
If, however, getting reach on your post is not important to you or you have a private account, I guess no need for hashtags!
Want to know more? You can check out our full (free!) Instagram Guide to Hashtags here.
Creating your selfie hashtag recipe
Now it might seem simple – just copy and paste the hashtags up above, right? Wrong. The trick is to avoid using the most popular hashtags, since it will be very difficult to 'rank' in the top 9. As an example, if you're just using #selfie, there are 413 million posts doing the same! However, #selfieholic only has 122, 000 which gives you a far better chance.
That's why you should try to mix different types and volumes of hashtags together, in what we call a 'recipe'. Here's our personal recipe for Instagram selfie hashtags, which includes 28 different tags, to which you can add 2 more to reach your maximum 30!
7-8 very popular hashtags – think 100 – 500k posts but no more than 1 million
7-8 popular hashtags – try hashtags with over 10k but definitely less than 100k
5-6 niche hashtags – think about your niche or the situation. Is this about relationships? Or about love lost? Choose hashtags related to the situation or context.
3-4 branded hashtags – wearing a specific dress or shoes? What about being in a specific region or area? Find hashtags for the brand or for the place you're in
1 own hashtag – use your account name as your own hashtag. You never know when you'll grow big enough for other Instagram accounts to use it!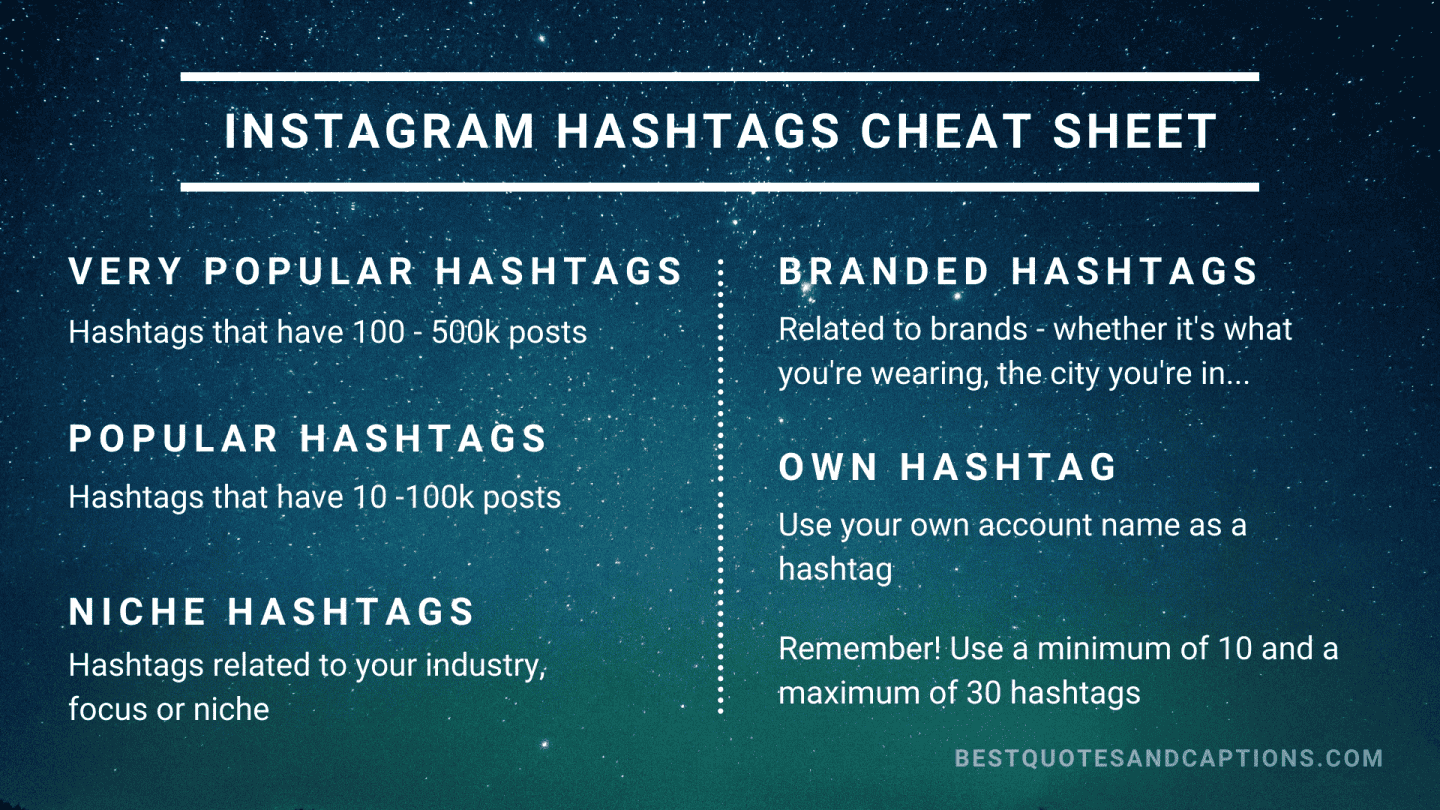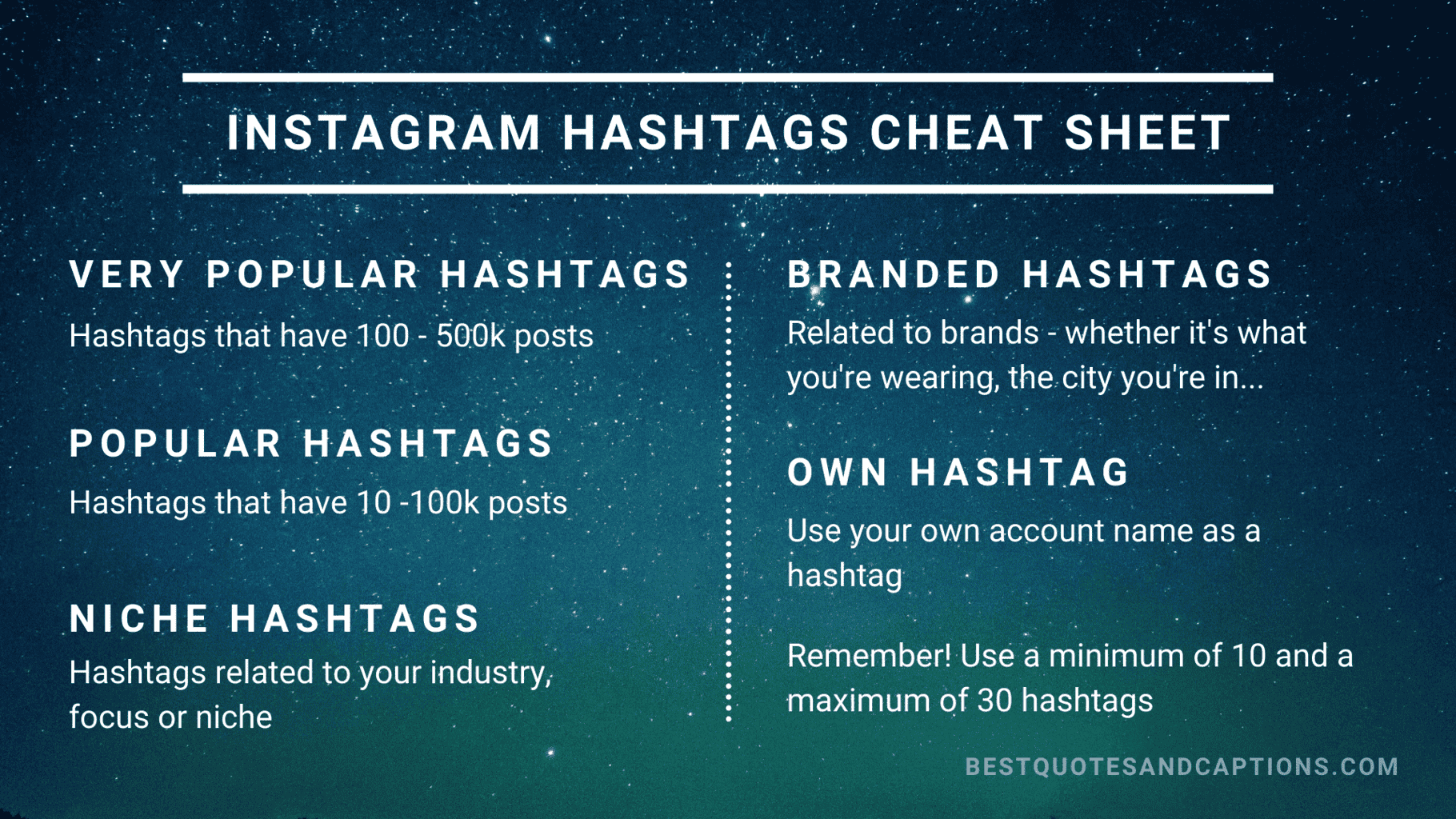 Using Instagram Search for selfie hashtags
While we've put a list of great selfie hashtags for you, obviously this can't cover every situation or the context of your selfie. So, if it isn't in the list, then try a hashtag generator like All Hashtag or Instavast, a paid service like Hashtags for Likes, or… go and use the free search in Instagram!
We told you that it's important to think about the situation or context of your image, to come up with the best hashtags. If it isn't in the list about, you can try to use a Hashtag Generator like All Hashtag and Instavast (where you can even upload a picture to get suggestions) or you can use our favourite trick – use Instagram itself!
Yup, IG has its own amazing search. Let's try it out…
If you input #selfie you'll get heaps of other results. Like we #selfieholic (125k posts) or #selfiemood (327k posts). Just keep scrolling for more options and trending hashtags.
Increasing engagement on your selfie pic
We've taught you about hashtags but what about other ways to increase engagement?
Well, first up, your picture. Make sure its well edited (but not over edited) – one of the best tools to use is a 'preset' for Adobe Lightroom. You can check some out here.
Then, your caption. Having a cracking well-written caption helps you to stand out but also to drive comments. Try to drive engagement by asking a question, or using a funny statement or quote. We actually have a guide with over 150 of the best selfie captions: A Guide to Captions for Pictures of Yourself.
Lastly, if you believe it's a great portrait or you've done it in black and white, you could consider trying to get it reposted on an Instagram feature account. These accounts profile the best photographs in a specific niche. We've gone into this strategy in our Guide to Getting Featured on Instagram.
Bonus: Selfie Hashtags in Insta Stories and Carousel Posts
First up, Instagram Stories. They're a great way to engage with your followers and friends, and actually an important part of Instagram's algorithm. But what does that have to do with selfie hashtags?
A lot. Did you know that you can use hashtags in your stories to test them out? Try to include a few hashtags – perhaps a different one per frame – and see who is viewing that hashtag in your story insights. It should give you a good idea of which hashtags work for you.
Then, it's worth talking about Instagram Carousel Posts and hashtag usage. Did you know that hashtags don't work properly in carousel posts, those posts that have more than one image? Yup – check out your statistics (if you have a Professional or Creator account) on a carousel post. Because you'll notice you get less than 100 impressions on a carousel post – the hashtags just don't work!
Instagram Selfie Hashtag Frequently Asked Questions
What is the maximum number of hashtags you can insert in a comment on an Instagram photo?
You can insert a maximum of 30 hashtags in your posts. However, it's worth trying lower numbers and mixing it up.
How do I find all the photos using a specific Instagram hashtag?
Simple, just search the hashtag in Instagram's search bar, and you'll find all the photos sorted by Top and by Recent.
Should I put the hashtags in the caption or the comment?
Either way seems to be fine. Many people prefer the comment since the caption area looks 'cleaner' but there seems to be no difference in your impressions on either method.
We hope you liked some of our hashtag ideas for selfie or selfies, and this guide! Let us know in the comments if you have any to add to our ever-growing list of best hashtags for selfies.
Other essential Instagram growth tools
---
Want to save this for later? Why not pin it…